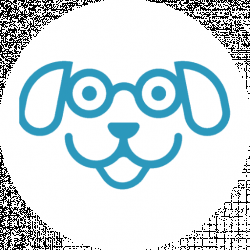 Latest posts by Scout Knows Team
(see all)
Welcoming a new dog into your home is so much more than picking out a name and deciding on a breed. It's a special bond that starts the moment you decide to save a life.
Bringing home a rescue dog is a unique experience to each pet parent. You may not know exactly what your pet went through or what their home was like before you, but if you know you're ready for the commitment and the cost of dog ownership, offering a new life to an adopted dog can be one of the most rewarding things.
Honestly, the most overwhelming part of rescuing is administrative: the endless applications, phone interviews, and in-person interviews seem designed to test your sanity. I would jump through every hoop imaginable for my Olivia. However, that doesn't make the process any less daunting.
Dog Rescue Stories: Me And Olivia
Within the first week of bringing her home I rushed her to the emergency vet. I waited for three hours in a sterile room at two in the morning. She was making a weird, throaty coughing sound. I was convinced it was life-threatening.
We paid $300 after three X-Rays and blood work to be told it was just a cough. I knew then that I even after spending years working in the pet industry, I still had a lot to learn.
Rescuing is a Journey
You enter the dog shelter and the smell of Clorox hits you. The lights are bright and seem to shine a light on the bleakness: the worn out towels folded in the corner, the soft whimpering from the rusty crates. The dog pound is not necessarily a happy place to be.
But a few moments later, you are holding a tiny white fluffball in your hands. He is licking your hand and you know in your heart that he is the one. You name him Charlie.
In the span of an hour, you feel like a family, but it doesn't end there. The learning curve, even for those who grew up with dogs, is steeper than you think.
Picking a Rescue
Before you even get to the shelter, you have the overwhelming decision of picking one to visit. You want to save a life and support an awesome organization, but are all rescues created equally?
Most organizations strive for one thing: doing what is best for the animal. The mountain of paperwork, possible home visit, vet references, and family interview seems daunting. You're even beginning to wonder if you should give up and dish out the big bucks to a breeder.
Just remember: most rescues see the worst side of humanity. We are all familiar with the heartbreaking ASPCA commercials that make you change the channel faster than you can sing the opening to Arms of an Angel. Because they see the worst, it can be hard to believe the best.
Shelters commit themselves to being the best possible advocate they can be for those who can't advocate for themselves, like pets. Stay patient with the shelter or rescue because saving the life of one of the millions of dogs who enter shelters each year is worth it.
One note here is that finding a rescue can be a very different experience in a city vs. in a more rural area. For city dwellers, we recommend reading our article on Where To Get a Dog In New York. It has common tips for finding a dog in urban centers.
Local Animal Shelter
The easiest and cheapest option is usually going to your local animal shelter. While breed-specific rescues may be a bit of a drive, you can usually find an animal shelter within your own city limits. Another perk is the adoption fees at these shelters are usually fairly low keeping the cost down. However, it's also importantto note that many public shelters, due to limited budget constraints, are usually considered "kill shelters," meaning that many dogs are unfortunately euthanized.
No-kill shelters are usually run privately and rely on volunteers that foster animals as well as donations to pay for the animals they rescue. Shelter overcrowding is a very real issue, especially in more rural communities that may not have a nearby rescue organization.
Breed-Specific Shelter
If you are looking for a specific type of pup, this is your best shot. Thousands of purebred dogs enter the rescues every year. If you have your heart set on a Golden Retriever or a Siberian Husky, a breed specific shelter is a good option for you. Not only is it easy to find well-bred animals this way, the rescues are a fantastic resource.
Since the rescue has devoted itself to one breed of rescue dogs, they can tell you everything from temperament to future health problems. For example, purebred Golden Retrievers are at high risk for hip dysplasia, so a breed specific shelter can give you some good information on treating it and early signs to watch for. They also can offer great training tips specific to the personality of the breed. The rescue organization also is aware of the space limitations, feeding needs, and other tiny details of the breed that can make the transition easier.
They could have an expert tip on house training a rescue dog too, in case you experience issues with potty training.
Questions To Ask About Adopting A Dog
Choosing a rescue can be overwhelming for everybody involved. Here are a few questions to ask a potential rescue organization before you commit:
Do you adopt to families with young children? If so, do you have any age restrictions for families?
Do you adopt to first time pet parents?
Do you need a recommendation from our current vet?
Do you adopt to those who already have animals in the house? If so, do we need to bring our current animals with us?
Do you encourage the whole family to come to the meet and greet, or is this a requirement for adoption?
Are there any training methods you require (i.e. no choke collars, no bark collars, etc?)
Are all adoptable animals up to date on shots, spayed or neutered, or otherwise cleared by a vet for adoption?
What is your policy in case the animal doesn't mesh well with our family?
Are the adoptable animals living in foster homes or onsite? Can we speak to the foster parents about the behavior and personality?
What do you know about this dog's background in terms of other animals and their relationship to humans?
Breed Considerations
Your son wants an Alaskan Malamute, but you live in an apartment in Texas. Your husband wants a Jack Russell Terrier, but you are retired in a condo. While a dog's personality matters when making an adoption decision, breed matters too. Not just for practical reasons like breed restrictions, but to anticipate potential medical conditions, grooming requirements, inherited behavior, and more.
Most rental homes have do have breed or weight restrictions. In our rental, German Shepherds, Pitbulls, Rottweilers, and other "bully breeds" are not allowed. In the property across from us, no dogs over 30 pounds are allowed.
While these rules may be unfair against some breeds, they are a reality if you do not own your own home. Remember to investigate any requirements where you live before adopting your new dog.
Age Considerations
While a dog is a big commitment in general, one decision you'll have to make is what age of dog you'd like to adopt. Puppies not only require near constant supervision in the first few months, but consistent training. Older dogs can require less training, supervision, and attention, but will sometimes come with behavioral problems or baggage from the past that is hard to change.
While some feel it is a great learning experience to get a puppy, housetraining isn't easy. Not only is it not easy, but most kids aren't exactly equipped to handle the highs and lows of housetraining.
Puppies require other basic training as well. Learning to come when called can mean life or death for curious puppies who wander into streets or get a little too interested in a wild animal. Mixing a needy puppy with young children may be a bit overwhelming for some parents, but of course it depends on the maturity of your child.
A senior animal can be perfect for those with quieter homes. Many seniors prefer the quiet calmness that comes from a senior rescue pup. They can be incredible lap dogs that require little activity and socialization. Since they have been around the block a few times, they can be less likely to suffer from separation anxiety and more likely to thanks in stride.
The only downsize is they tend to have more health problems. Expensive teeth cleanings, possible genetic disease, and of course the run-of-the-mill old age issues are generally more frequent in dogs of advanced age. Senior dogs are a great option for people who work long hours and are generally a couch potato, however.
Family Considerations
It starts with your wife browsing through dogs on Instagram. Your husband starts petting every dog he sees in public. Your daughter scribbles down "puppy" on her Christmas list. Your son says he thinks Boomer would be a cool name for a dog.
It looks like your family has their heart set on adding a new member, but you wonder if your kids (and possibly other pets you already have) are up to it. You wonder if they will be as helpful as they say. It can seem intimidating when you add a pup to your family.
You want to make sure your little ones are prepared. It can be a tough and personal decision to decide if your family is ready for such a huge commitment. You may have a responsible and respectful 5-year-old who is more than willing to fill the water bowl, or you may have a rambunctious and rowdy 9-year-old that doesn't handle responsibility well.
The most important thing is that you know your family the best. You know if your toddler will give your dog the space it may need. You know if your son will walk the dog like he said he would. While getting a dog seems like a rite of passage for most American families, it isn't always the best fit for every family.
How Old Are Your Children?
Have you ever been around a little one during the terrible twos phase? Most phases of child development include hitting, kicking, throwing, and ear-shattering screeches. While these moments are not easy on parents, they can be worse for pups.
Dogs do not have the luxury of knowing that this too shall pass. With small hands grabbing tails and other toddler habits, it is easy for dogs to get overwhelmed. This can be even worse for small dogs like Yorkies and Chihuahuas that are more fragile than a German Shepherd or a Lab.
Many rescues will not adopt to families with children younger than five for these reasons. Also, not all dogs have been around young children so it is hard to predict how they would react. Check with the rescue to see if any of their pups have a history with children to be on the safe side.
Can They Do Chores?
If you are expecting a helping hand, make sure that your children or spouse or willing to help out. While you might not task a 6-year-old with walking the dog, can they fill the food bowl at dinner time? After a long day at work and an even longer commute will your better half want to walk the dog?
While walking and feeding seem easy enough, there's midday vet visits, baths and grooming, and giving medication too. Make sure any expectations you place on your family members are age-appropriate. There is nothing worse than finally clicking on your favorite show after a stressful day to realize the dog hasn't eaten and is doing the potty dance. Save yourself the stress and hash out the details before you adopt.
Is Everyone On Board?
During the holiday season, it is easy to picture a playful puppy under the tree. You see the rush in excitement as your little ones race to hold him. While the Christmas spirit has you putting a big red bow on that Schnauser under the tree, I urge you not to.
Bringing a furry friend into your home is big commitment. It is unfair to make this commitment for your spouse or children. Family meetings are a must.
Before you pick out your pup, decide beforehand who will be in charge of feeding, walking, de-pooping the yard, and play time. If your spouse or children seem uninterested or not ready to make that jump yet, revisit adopting at another time.
Doing the Paperwork
Once you find your dog to adopt, the administrative process for different shelters is different, but you will likely be in for a good amount of paperwork. If you work through this however it's well worth it for your new family member.
In addition to the rescue paperwork, also be sure to claim legal ownership of your dog, and get their medical records and schedule any additional vaccines they may need.
Getting Prpared for Your New Dog
With a new pet it's important to have the gear, house precautions, and medical plan ready for them when they arrive.
You don't need all the dog gear and toys right away, but you will need the basics pretty much on day one when you welcome your new dog home. We recommend reading our article on gear to have on the first day with your dog.
In addition to gear, you'll also want to make sure your house is ready for this new dog, that all the sharp corners are covered so they don't hurt themselves, and that all the valuable breakable things have been protected. We recommend reading our article on how to house proof your place before bringing a new dog home.
The last thing here is to have a solid plan to take care of your dog. There's the question of what you will do with your dog when you are away from the house, and also what to do with your dog in case of a medical emergency. For this we recommend you check out our full guide on pet insurance to decide if this is right for you.
For further learnings, we recommend you check out our list of dog books new owners should read, and also our list of dog books every dog parent should read.
Be Prepared for The Dog's Past
One of the big differences when rescuing a dog vs getting a new puppy is that you don't know what was in the dog's past. Rescue dogs can sometimes come with the sweetest personalities, but can also come with hangups, reservations, or some deeply learned behavioral problems.
It's important when you get a rescue dog to be prepared to enforce and train a new routine with them. We recommend reading our article on Socializing a Dog to get prepared.
Bottom Line
Hopefully, you've determined what to look for before you bring your rescue home.
Is housetraining a no for you? Then chose an older dog that was owner surrendered. Is allergy-friendly a must? Go with a rescue organization that works exclusively in Poodles. Just remember that this is a family effort.
Everyone from your spouse to your kids needs to involved. While you may not expect your children to shoulder the responsibility, they should be able to act kindly.
Don't forget to ask plenty of questions. Give the rescuers a sense of who you are as a family. By doing this, you can ensure you get a solid match.
Bringing a fur baby home is exciting! Debating over names, picking out collars, and dreaming of all the adventures that dog ownership. You begin to think about spending Saturday's throwing a Frisbee at a park or coffee runs with with a rescue dog in tow. But rescuing a dog is so much more than that.
Rescuing means working on making life easy for your new pup. They may require unglamorous trips to the vet. They may hate being in the car. But the most important thing for your new dog is that you give them the best life you can. In return, you get a loyal and happy companion that is guaranteed to brighten up your life.
..Still not sure adoption is the right rout for you, or are you also considering getting a dog from a breeder? Check out are article on Adopting or Purchasing a Dog: Making The Right Choice For You Both.
Continue reading:
Adopting or Purchasing a Dog: Making The Right Choice For You Both
Introducing a New Dog to Your Current Dog