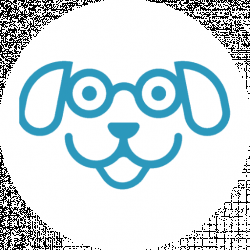 Latest posts by Scout Knows Team
(see all)
Bottom line up front:
As long as storage and price aren't an issue, Nom Nom is a perfect alternative to traditional dog food that may make you feel better about your dog's nutrition. I will order it again; it sure made things easy around here!
If I'm being honest, I'm not a huge subscription box person. I'm not big on subscriptions at all. My wife is insistent on doing them for things that we know we will use, such as paper towels and tissues. Having a household full of kids, we are bound to run out of these, so getting them on a regular basis makes a lot of sense. Food would seem like another obvious choice for a subscription.
After all, our family has to eat. But the options vary so much with subscription food boxes that I tend to avoid them.
I didn't have that same hang-up for dog food, though. I tend to buy the same canned and dry food from the pet store all the time, so the thought of not giving my dogs options doesn't really bother me (or them, for that matter). But processed dog food isn't the best for your pets.
I've always wanted to do something healthier, and trying out a subscription pet food box seems like the best opportunity. There are a couple of different options, but I decided to go with Nom Nom. I'm also happy to say I was pleasantly surprised with the experience.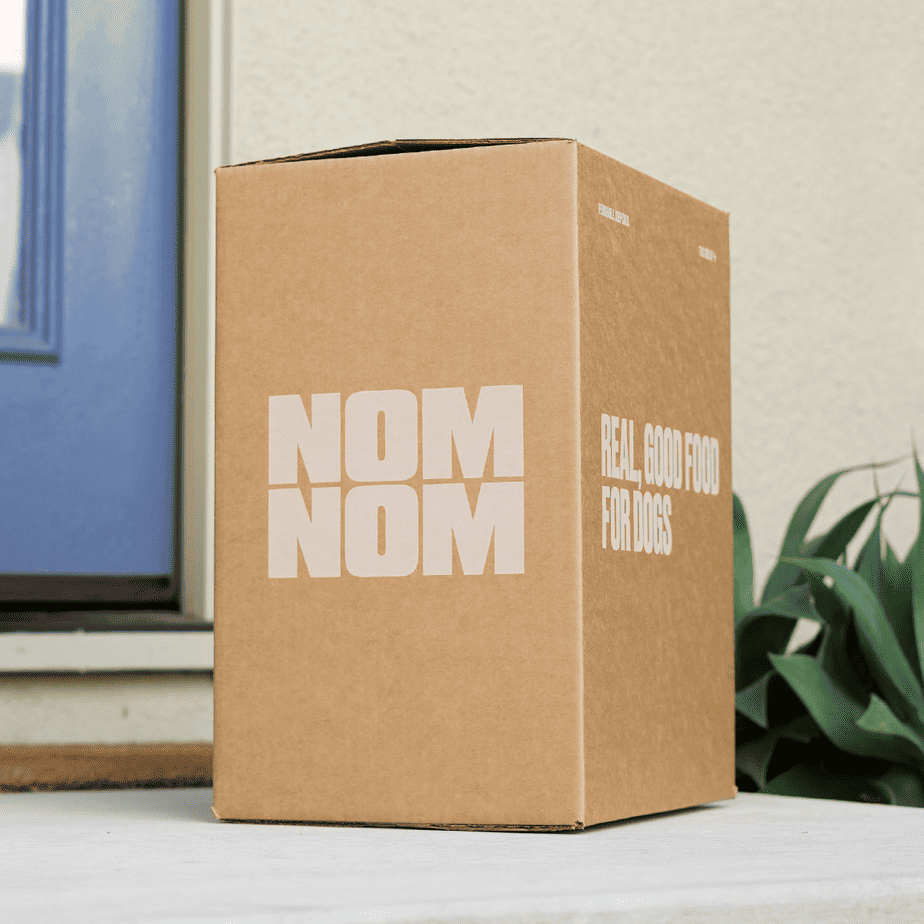 Introduction
As a newbie to the subscription box world, I was a bit nervous about all the questions they were going to ask me to deliver the food.
But their website was pretty streamlined and intuitive. They asked a couple of questions about each of my two dogs and what kind of diet I would prefer for them. Nom Nom then gives a suggested recipe for purchase, but they don't limit your choices. You can certainly mix it up and choose something differently if you like.
How to Order?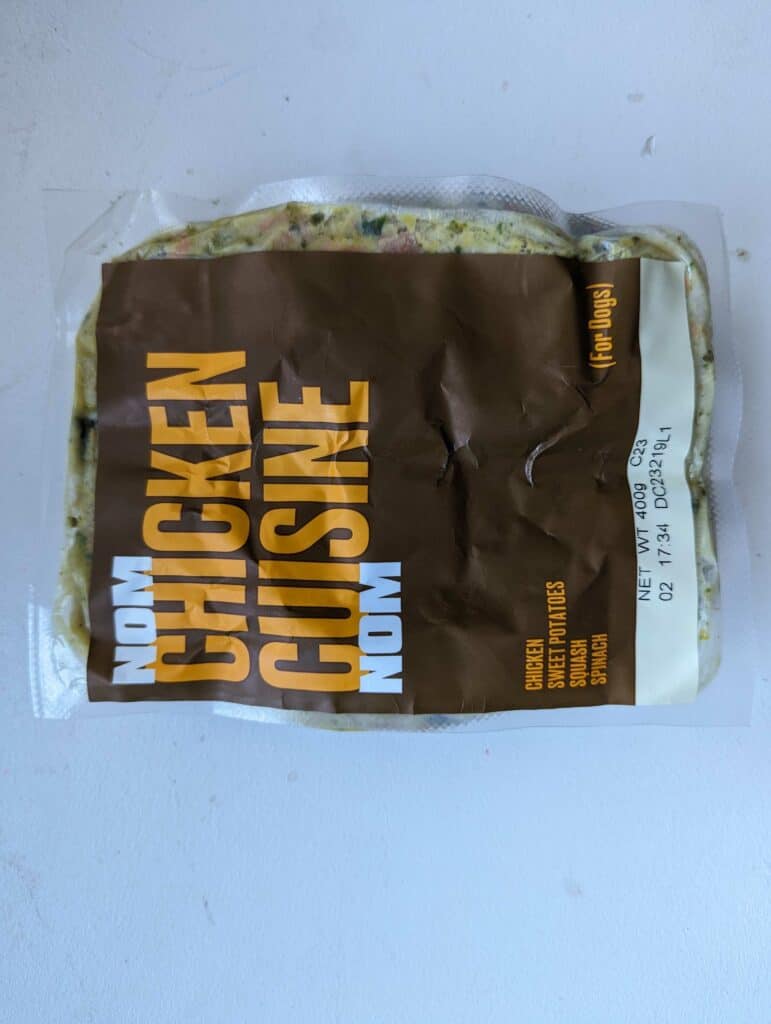 I was also a bit nervous about the particular questions they would ask about my dogs. They are both rescues, so much of their history is unknown. Even their breed is a mystery, as they are both mixed mutts. But the Nom Nom system of ordering didn't hang me up too much if I was unaware of an answer.
One thing that gives me anxiety about ordering online is the unknown of the process. Once you click enter an order, the average person has no idea what happens on the other end of the computer screen. Nom Nom eliminated a lot of this anxiety by sending out email updates every step of the way.
They let me know when food was being prepared, shipped out, and even when it was in transit. I've noticed a lot of sites don't do this, especially when it comes to the transit side of the process, as they would have to coordinate with whoever the shipping company is to provide that information.
When the time came to choose a dish, I was presented with several options based on the answers I had given to their questions:
Beef Mash
Beef
Potatoes
Eggs
Carrots
Peas
Turkey Fare
Turkey
Brown rice
Eggs
Carrots
Spinach
Chicken Cuisine
Chicken
Sweet Potatoes
Squash
Spinach
Port Potluck
Pork
Potatoes
Green beans
Squash
Kale
Mushrooms
Given that my family doesn't eat red meat, we chose the Turkey Fare and Chicken Cuisine. Not that my dogs would necessarily care, but it makes my wife and I feel better about our purchases.
Another key is that Nom Nom places dollar signs beside each meal to signify how expensive they are. Although the product itself is a bit pricey, this feature at least allows customers on a budget to plan a bit more.
How to Use?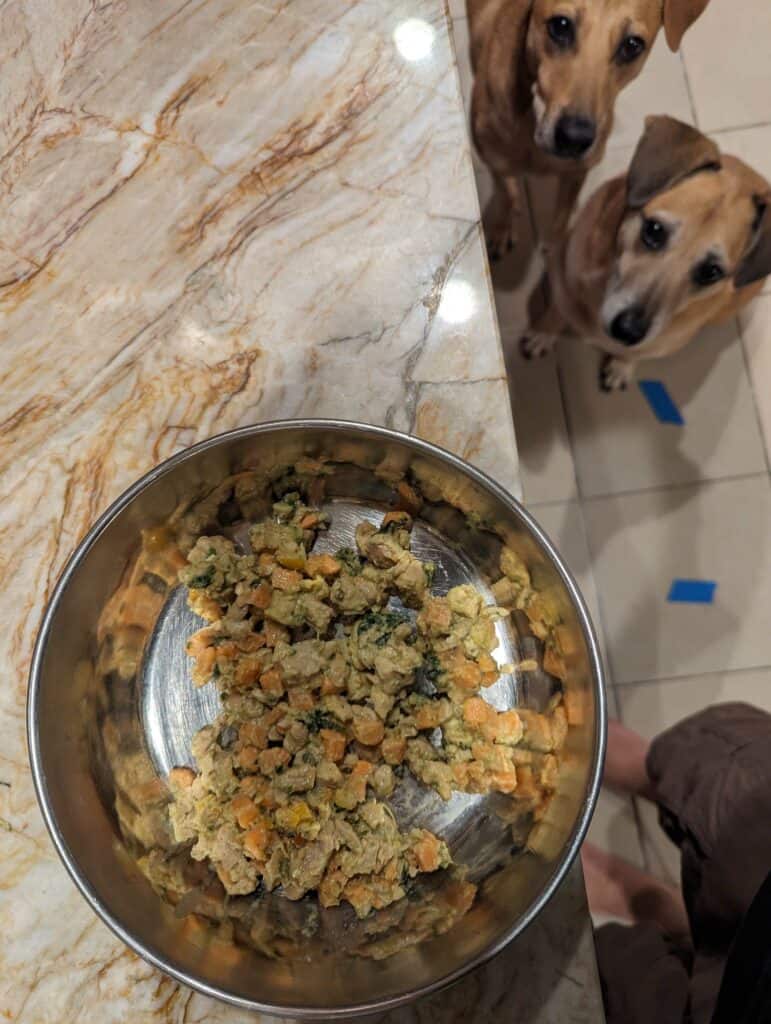 The last big hurdle I was worried about involved the actual process of feeding the dogs. Since I had to buy so much food at once for two dogs, I was unsure about their portion sizes and how long the food would last.
But Nom Nom helps with that, as well. They deliver two personalized letters about my dogs' food, preparation instructions, and even storing suggestions.
It may seem like an overabundance of hand-holding, but when it comes to my animals, I would definitely like to have too much information than too little.
How Is Nom Nom Packaged?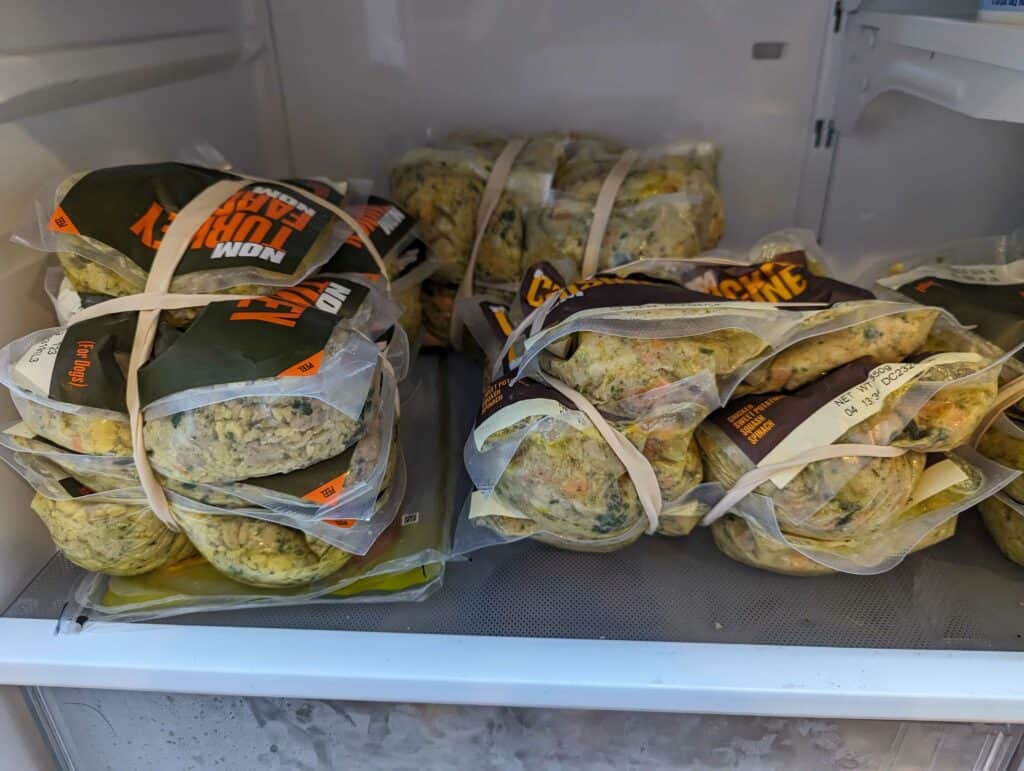 My only real critique about the experience involves the packaging. The meals themselves had fairly simple plastic wrap that was easy to peel open. I consider packaging like that standard and don't necessarily have an opinion.
However, all the food did come in a cardboard box with a transportable ice pack. In my experience ordering food online, there are two different kinds of ice packs. Some are disposable through the garbage, while others have instructions to be disposed of down the sink.
Disposing of ice packs is never fun and never feels great for the environment. I have to assume that the ones recommended to be put down the disposal are environmentally friendly. The ones that have to go in the garbage are a little bit harder to stomach, throwing away.
Nom Nom used the latter, which I don't prefer. They did use recyclable cardboard installation, though, so they should at least get points for trying.
The other gripe I had with the packaging was how they bundled the individual food packets. It wasn't well constructed or thought out.
They just wrapped it in a big rubber band around the packets and bundled them tightly. It felt kind of crude and rudimentary, but at the end of the day, it wasn't that big of a deal. The individual packaging was fine, and the quality of the product should matter more, which I'm happy to say did deliver.
Pros
A nice medley of food.
Easy to prepare.
Seamless ordering interface.
Great communication for delivery.
Cons
A bit on the pricey side.
Bulk packaging was a little sloppy.
Absence of veterinary options or dietary restrictions.
Alternatives to Consider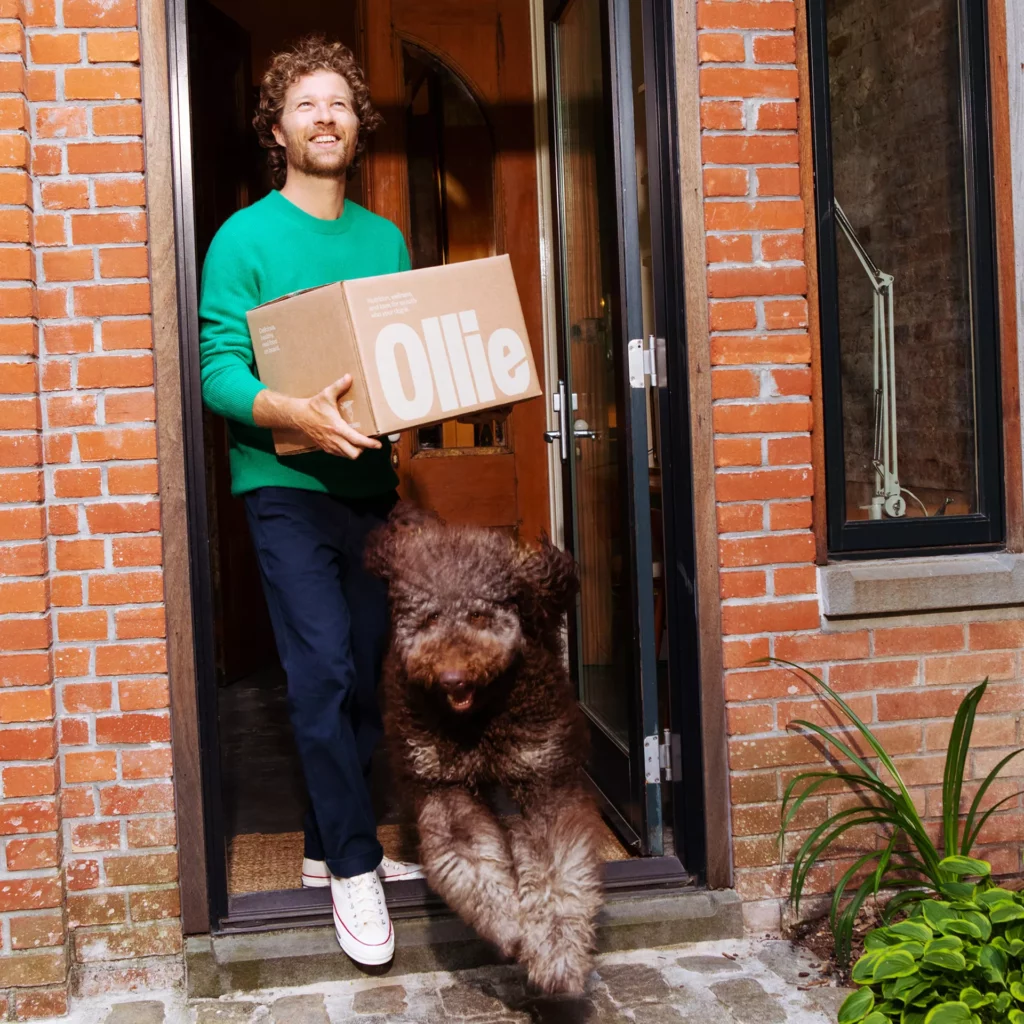 Ollie focuses on getting your pet a good deal more protein than standard delivery services. It also is recommended for dogs with stomach problems. If your pet has some food sensitivity, Ollie might be the preferable choice.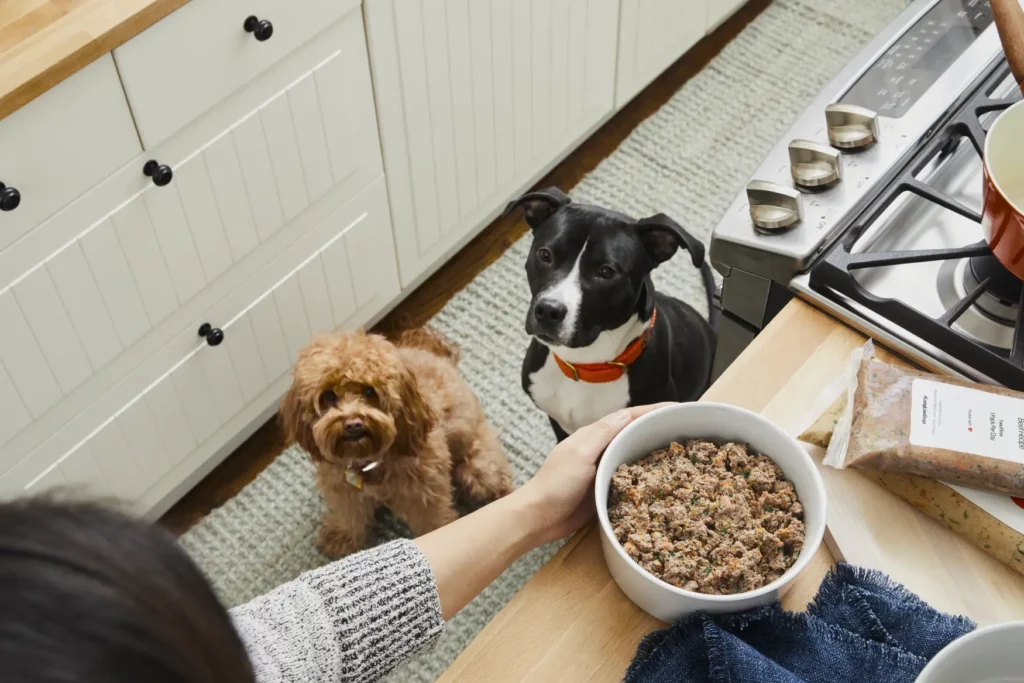 The Farmer's Dog is very comparable to Nom Nom. It advertises fresh and healthy food delivered directly to your doorway. At the end of the day, comparing the two comes down to personal preference. They do offer a bit of a steeper discount for your first order compared to Nom Nom, though.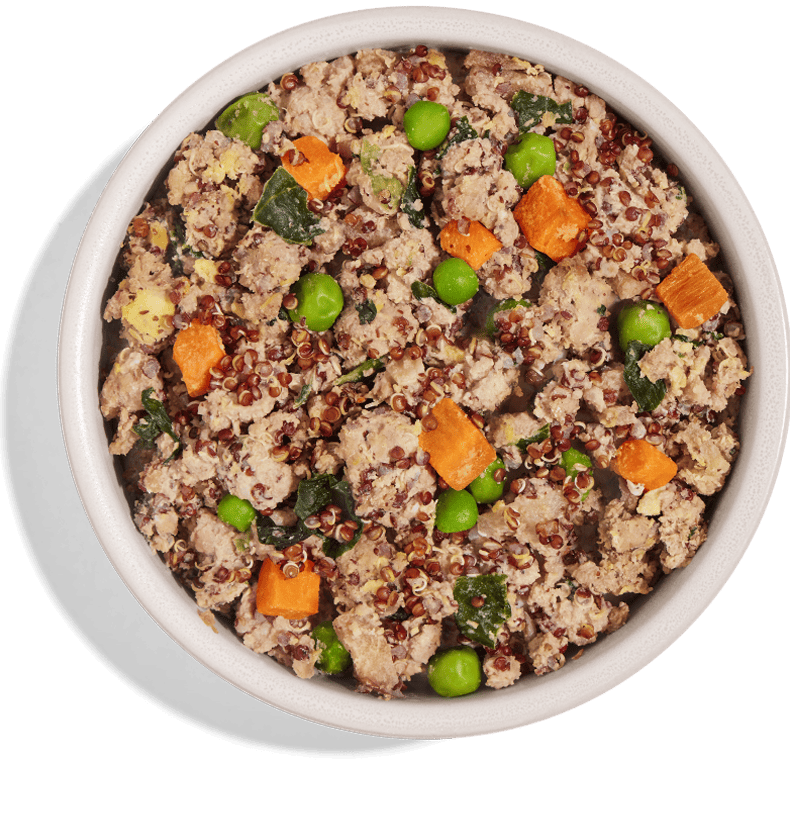 This is another vet-oriented delivery service focused on providing simple meals for dogs with stomach issues. It advertises no fillers, which eases the digestive process. It also features Unkibble, which is form of fresh and healthy kibble compared to most common brands.
FAQs
Question: Do you have to sign up for a minimum number of orders?
Answer: No. You can cancel after the first one.
Question: Is Nom Nom only available as a subscription box?
Answer: No. It's also for sale in freezers at PetSmart.
Question: Can the food be served cold?
Answer: They recommend allowing the food to defrost overnight if it's been frozen. My wife and I prefer to actually heat the food a little bit to take the chill out before giving it to our dogs, but Nom Nom doesn't list heating the food as part of their instructions.
Conclusion
Overall, I was happy with my Nom Nom experience. I thought it was a bit on the pricey side, but the discount for my first order helped. And they offer plenty of other discounts along the way if I were to continue.
But the service still offers enough bang for my buck to have it make sense. After all, I'm getting a large supply of fresh and healthy food for my dogs delivered right to my door.
The online ordering system was fairly simple, and it eliminated the paralysis of having too many choices at the pet store. You may want to look elsewhere for dogs with special medical or dietary needs. But of the subscription dog food services out there, I would believe Nom Nom to be at or close to the top.
And, in the end, my fur baby was happy with this food. That's the most important thing!