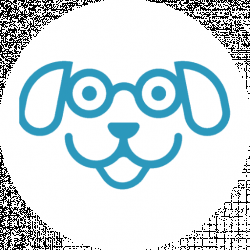 Latest posts by Scout Knows Team
(see all)
Part of the "Why I Chose" series where ScoutKnows brings you stories from dog owners in their own words about why they chose the dog they did.
With shaky hands and teary eyes, I signed my name on the bottom of her adoption papers. Seven pounds of black fur wrapped in a little white sweater, she was asleep in my lap. With a grateful hug to our adoption coordinator, we were already embracing our new role as dog parents.
My husband and I had waited for months for the right moment to bring a dog into our lives. We debated whether we should adopt or purchase, what breed would fit us best, and how much we were willing to spend. I was already experiencing the symptoms of Dog Mom Fever. I had a compulsive need to pet other people's dogs. I ordered far too many toys online. I was even picturing where he would sleep on our bed. Weeks of agonizing over every, tiny detail blinked by when I held our pup for the first time.
We had our hearts set on a male yorkie. Growing up surrounded by the bossy breed, I knew they had huge personalities in cute, little bodies. They were generally easy going animals and could get along with both dogs and humans. They loved to cuddle, but prefer to spend most of their time on a warm lap. But our adoption coordinator had other plans.
When they put a little, black poodle in my lap, I was smitten. She offered me kisses and seemed right at home sitting between me and my husband. She climbed over to him and licked his face. He was a goner, too.
While we had made all these plans for what we thought was our perfect dog, I'm glad that our rescue took the time to pick an amazing dog for us. A year later, she has blossomed into a playful poodle with a larger-than-life personality. We are so glad that she chose us to be her parents, with a little help from our adoption coordinator.
Why did we choose a rescue?
Saving a life
Do you turn the channel every time you hear "Arms of an Angel" and Sarah McLachlan asking for a donation? Than you will understand my desire to scoop up every homeless pup on the planet. I couldn't purchase an animal while knowing that there are millions of homeless pets.
Matchmaking
The rescue we used asked us a lot of personal questions about everything from our finances to our work schedule. This helped them pick out our perfect match. So, be honest with adoption coordinators instead of trying to say what you think they want to hear. They won't judge you if your ideal Saturday is binge watching Netflix instead of taking your pup on a six mile hike. They will just be sure to match you with a lazy Bulldog instead of a spunky spaniel. The bottom line is, If you are an active, marathon runner who spends their weekends hiking, you shouldn't leave the rescue with a senior Pekingese who prefers long walks only to their food bowl.
It's a bad idea to think of a shelter as your local Target. Don't walk into a rescue, look over the options, and give yourself only a few moments to size them up. Instead, work with the volunteers and rescuers who spend all day surrounded by these animals. Ask as many questions as you can and be open with them. By doing this, you can make sure that you are a good fit for the animal. This also makes it easier on both of you to transition into your new life.
Age
To be honest, I wasn't ready to meet the demanding needs of a puppy. Puppies require almost constant care and supervision in the first four months. They have strict vaccine schedules, need to be potty trained, and properly socialized. Not to mention the care required to make sure they don't chew, swallow, pee on, or break all of your worldly possessions.
Our rescue owner told us many people choose puppies for the "blank slate" factor: they don't carry baggage or bad training from a previous home. However, did you know shelters have thousands of purebred, well-trained, and well-behaved dogs? Many owners have surrendered their animals when they couldn't care for them financially or physically. Although people might be turned off by dogs that can come with baggage, most organizations try to inform adopters of any known issues.
How did the adoption process work?
Newly married, we had been planning on adding a dog to our family for over a year. We lived in a tiny home and had no animal ownership experience, so we weren't sure how rescue organizations would respond to us. Here is how our adoption process went.
1. Submit an online application
Our application talked about our work schedules, home type, how often we travel, our training philosophies, and experience with pets.
2. Interview with adoption coordinator
This was one of my favorite parts of the adoption process. We lucked out with an adoption coordinator who spent over an hour on the phone with me (instead of the usual 30 minutes) because we just clicked. We were two fanatical dog people getting together to talk about dogs. We went through the application together and talked about the type of dog we were looking for. We wanted a small-to-medium sized pup who loved snuggles, car rides, and an easygoing temperament. She let me know they had recently brought in over a dozen yorkies after a breeder passed away, and we were sold. We had really wanted a yorkie since I grew up with them and knew what to expect from them.
3. Invitation to the rescue
A few days after our interview we were invited to the farm by the rescue owner. We picked a date and time and waited anxiously to bring our pup home. The rescue owner talked to us about our application and although I had my heart set on a male yorkie, she brought out a female poodle. It was love at first snuggle. Our rescue owner had picked out this dog because she thought her personality and energy level fit our lifestyle the best. Just to be sure, we looked at a few other dogs but Olivia captured our heart. We signed her adoption papers, paid her adoption fee, and were headed home within a couple hours.
How much did it cost to rescue?
We heard the same thing from our well-meaning friends and family when we decided to adopt: "but they are so expensive!" It's true. Dogs are expensive, time consuming, and require more work than most people realize. For me, they are worth all the time, energy, and half-chewed shoes.
I don't have an unlimited income, however, so I wanted to make sure that we were making the best financial decision. After discovering that the health care was included in the adoption fee, we knew we had made the right decision to adopt. So how much does the cost of a rescue dog compare to a puppy from a breeder?
| Rescue | Breeder |
| --- | --- |
| Adoption Fee: Our donation of $299 allowed us to bring home Olivia and help further the work of the rescue. $299 | Purchase Price: From a breeder in our area, the cost of a toy poodle puppy would be $750 |
| Rental Home Pet Deposit: Nonrefundable pet deposit for our rental home $300 | Rental Home Pet Deposit: Nonrefundable pet deposit for our rental home $300 |
| Vaccines and Healthcare: Olivia came with all her yearly vaccines, spayed, and heartworm tested. She was also given flea and tick preventative and microchipped. All this was included in the donation. INCLUDED | Vaccines and Healthcare: Most puppies require around four different sets of shots and boosters by the time they are 16 weeks old. The required boosters, heartworm preventative, and fecal smear for our puppy would set us back $239. This doesn't include office visits or bloodwork. With her spay surgery ($225) microchip ($10), and flea and tick preventative ($29), her first year of just the basics would set us back $503 |
| Dog Necessities: Olivia was sent home with a collar, harness, two dog sweaters, various toys, and a bag of the dog food to transition her into our food. We did purchase a crate, a leash, food and water bowls, a bag of premium dog food, a dog tag, and treats to get her started. INCLUDED + $145 | Dog Necessities: We would need to purchase a collar, harness, two dog sweaters, various toys, a crate, a leash, food and water bowls, a bag of premium dog food, a dog tag, and treats for our puppy. $207 |
| Final cost is $744 | Final cost is $1,760 |
What Do We Wish We Knew About Rescuing?
Emergency vet visits will happen, and you are probably overreacting. The second week we had Olivia, we went to the emergency vet and shelled out $109 to tell us that the coughing noise she was making wasn't her choking. She was just coughing.
They have huge personalities if you give them the chance to trust you. When we brought Olivia home she was tired and timid. Now, she wakes my husband up every morning by licking his face for no less than five consecutive minutes and then pawing at him until she goes outside. She's more of a demanding diva than a shy wallflower and we are constantly learning new things about her.
You will forever be grateful to the person or organization who helped you find your new pet. I love the work the rescue organization does and volunteer my time and services when I can. We love to send them a Christmas card with pictures so they can see how she's doing.
You get to meet new people when you bring your pup places. We like to take our pup to dinner with us at outdoor restaurants or shopping trips for a chance to get her outside and socialize. We get stopped by people who just want to pet her and say "Hello!" which gives us a chance to meet people we otherwise wouldn't.
Your floors will never be the same. If the idea of cleaning dog poop out of the carpet makes you physically ill, you might reconsider getting a dog. Accidents will happen and it could be they roll around in an ant hill and track them inside (been there) or pee all over your brand new throw pillows (also been there). The funny thing is, if you're like me, it won't even make you that mad. You will just be kicking yourself that you didn't let them out to potty sooner or keep a closer eye on them.
Would we do it all again?
Without a doubt. Bringing Olivia into our lives changed us in ways I didn't expect. For example, our previously standoffish neighbors have fallen in love with our dog and often stop us to chat. Like any good dog owner, we make plans around our pet to make sure she isn't left alone too long. However, we didn't count on that some days we would rather stay home with her than go to that concert.
It has been quite a ride for us as we have adjusted to life together. But now, it's hard to remember a time when our little fluffball wasn't in our lives. She truly is the perfect fit for our family and by experiencing the level of joy that she has given us, we've even become more loving people. It's strange to think that a 13 pound poodle could change so much in a little over a year, but I promise you I have loved every second of it. Even the half-chewed shoes.
Continue reading:
Why I Chose Annie the Mini-Schnauzer