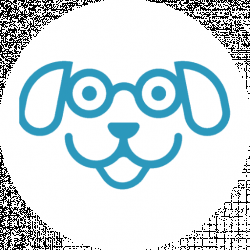 Latest posts by Scout Knows Team
(see all)
If you have a pet with diabetes, there are many things you'll need to do to ensure it stays in the best of health. Alongside medications such as insulin, many pet owners also choose to consider their pet's diet. If your goal is to keep a healthy level of blood sugar, there are better food options a pet owner can choose. Some people choose to go for a prescription diet to maintain their dog's best health. However, for some, a prescription diet doesn't seem like the best way.
For some, their dog's blood sugar levels can be taken care of just as well with a non prescription diabetic dog food. These foods tend towards a high protein and low fat and low carb diet. They can help aid weight loss and maintenance, which can hugely help out a pet's health, particularly if they're suffering from diabetes.
But choosing which of these pet food options to go for can be tricky. There is a range of different options in terms of helping out with diabetes in canines. Finding high-quality dog food which best suits your specific pet's needs can seem impossible.
Luckily, our guide to the best non prescription diabetic dog food is here to help. We've looked into tons of different options in order to narrow down our list to the very best on the market. We've organized each of our options with pros and cons to help you make a more informed (and hopefully satisfactory) decision when looking after your canine diabetes. Want to know more? Read on.
Top Pick
Top 5 Rated Best Non Prescription Diabetic Dog Food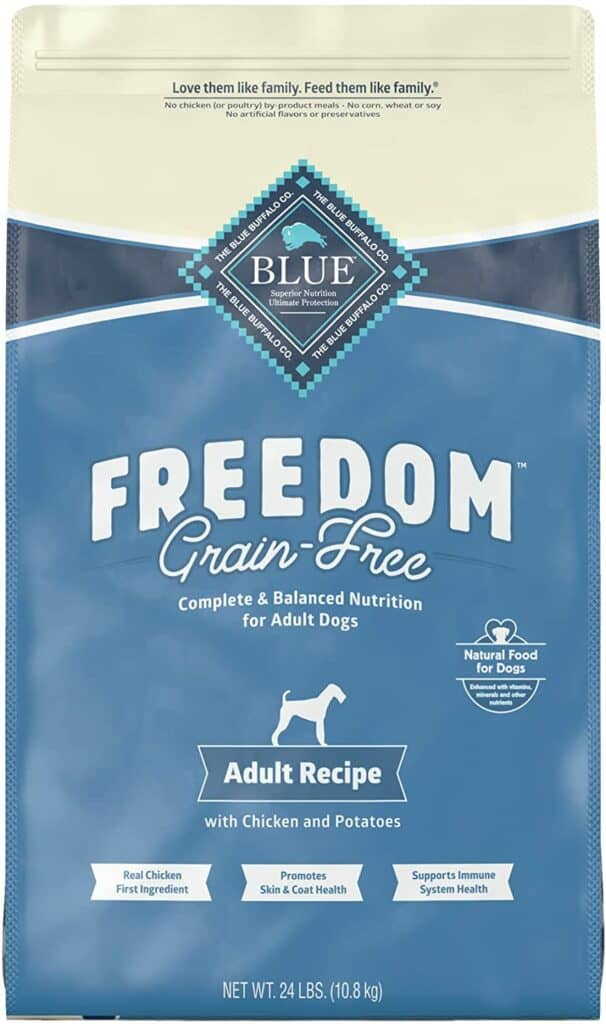 This dry option is a totally grain free food, which can help it maintain a low carbohydrate diet. It's based around natural and healthy ingredients such as chicken, potatoes, and peas. This also means it's gluten-free. It's rich in fatty acids, which can help maintain healthy skin and coat. It's free of known allergens and filler ingredients, making it exceptionally high quality.
Pros & Cons
People claim this is a perfect option for pets with a sensitive stomach. The pure and natural ingredients tend to help aid digestion and minimize potential stomach upsets.
This food is lower in calories than other, carb-heavy options, meaning it can be ideal for weight loss or maintaining a healthy weight, the key to treating diabetes.
The main drawback of this food is the high price tag. It's really a question of how much you care about quality. If it can help treat diabetes, then it's certainly more affordable than additional vet care down the line.
Top Pick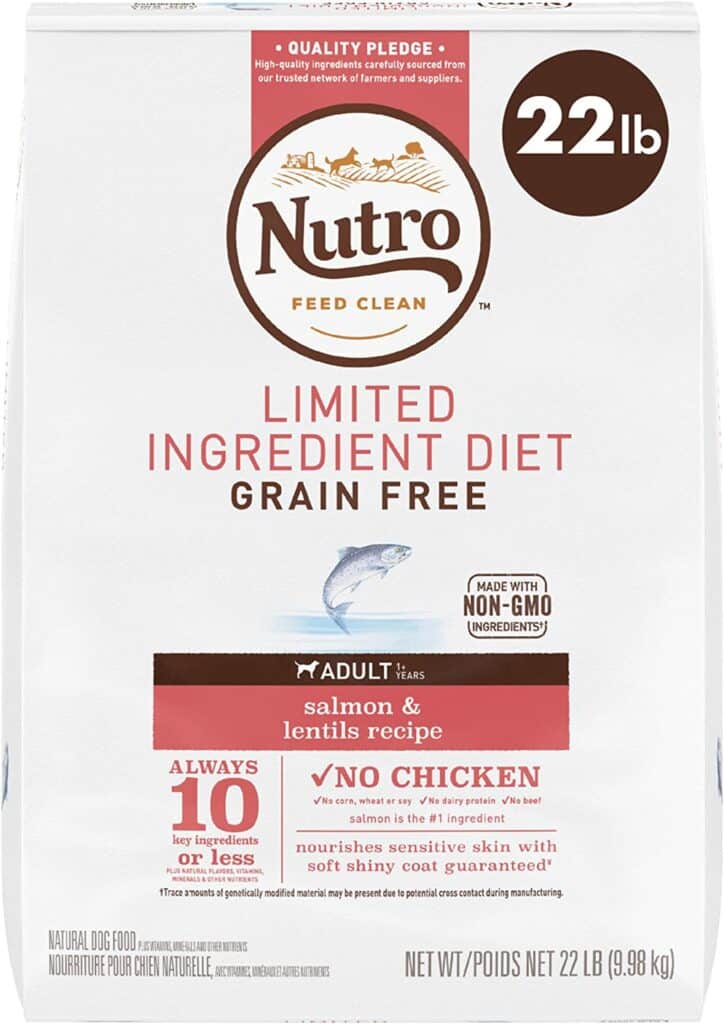 This is another great option in terms of a minimal ingredients list. It's based around salmon and lentils and is free of grains, soy, corn, corn syrup, wheat, and dairy. This makes it a healthy choice, both in terms of potential allergic reactions, and in terms of maintaining a healthy weight. It also contains additional vitamins and minerals to help ensure your pet is getting everything they need from their meal.
Pros & Cons
Many particularly love this dog food option for those with allergies. It's less irritating to many pets, particularly those suffering from skin and coat reactions.
The natural ingredients make it better for maintaining blood glucose levels than other foods which are based around cheap, filler ingredients.
One issue with this option is that going for a grain free diet isn't necessarily the best option for all dogs. For those who aren't susceptible to grain intolerances, there can be issues relating to going grain-free and heart problems. Make sure that you get informed before switching up your pet's diet.
Runner-Up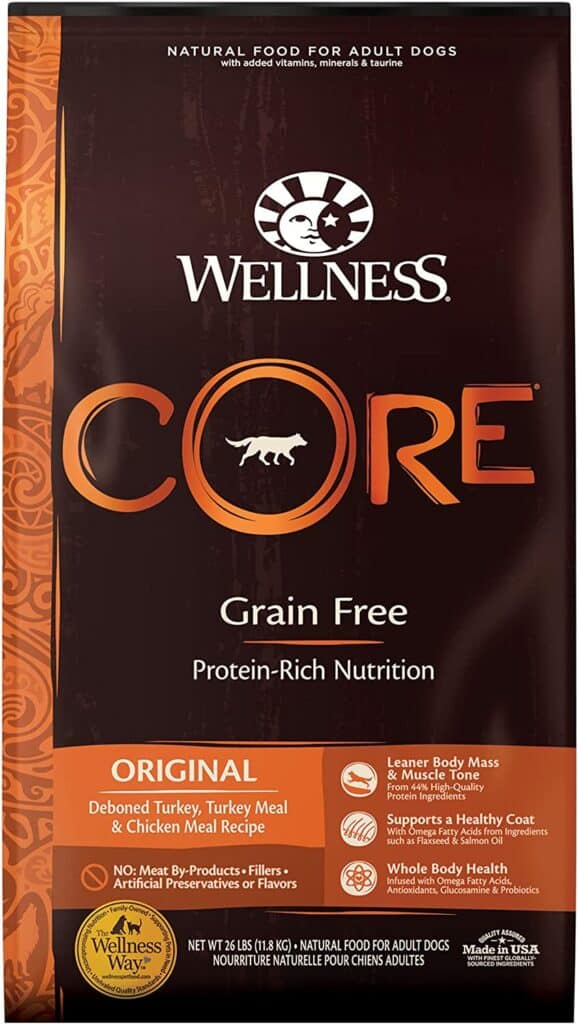 This option is particularly rich in protein, which can be ideal for treating diabetic dogs. Feeding your pooch a natural food with high protein and low carbs can be great for their general health. It's designed to be rich in the essential vitamins and mineral's your pooch needs. It's free of fillers and potential allergens, and never has artificial colors or flavors. It's also made in the USA, which can make customers believe it's more reliable.
Pros and Cons
People love how affordable this dog food is, particularly in comparison to other options of a similar standard. This could be a great way to test your pet on a grain-free, more natural food option and see if it helps out with their diabetes.
Dogs tend to love the natural, meaty flavor of this food option, which is great.
The bag is resealable, which is fantastic for maintaining freshness, particularly if you go for a larger size of the bag.
This food is based entirely around poultry, which can cause issues for certain stomachs. Make sure you're cognizant of your own pet's needs when shopping for their specific diets.
Best Budget Choice
Wellness CORE Grain Free Dry Dog Food | Amazon
This is healthy, 100% natural grain-free dog food for adult dogs made with turkey, chicken, salmon oil and fruits and vegetables to help support your dog's optimal health and fortified with antioxidants, probiotics, vitamins and minerals, including fish and flax omega blend for healthy skin and coat.
Buy at Amazon.com
We earn a commission if you click this link and make a purchase at no additional cost to you.
09/24/2023 12:10 am GMT
Best Non Prescription Canned Food For Diabetic Dogs
This turkey based wet food is made from very high-quality ingredients. It's designed to have optimal levels of protein, which can help your pet to build muscle and lose fat. This can be essential, particularly for an animal suffering diabetes. It's low in fat but packed with essential vitamins and minerals.
Pros and Cons
This food is a great option for pets who don't love dry dog food. While dry kibble tends to be lower in calories, many animals don't want to eat it. Having a low calorie, high protein wet food can help with fussier pets who need to maintain a healthy weight and blood sugar levels. Many combine a small amount of this tastier food with their dry options to make a homemade dog food their pets love.
Many find this food to be very reasonably priced. It comes at a comparable cost to more standard pet food options, so it's great to be able to get a specialized option at this price point.
Wet food is always more difficult to store than dry. You'll likely need to purchase a lid for the can and keep it in the fridge.
Some comment that this food can be harder on pets with more sensitive stomachs, pointing out slight upsets and issues with gas.
Best Non Prescription Treats For Diabetic Dogs
Royal Canin Satiety Canine Treats | Amazon
Royal Canin veterinary diet satiety canine dog treats are specialized treats that support a healthy weight in dogs that are currently on a Royal Canin veterinary diet satiety formula.
Buy at Amazon.com
We earn a commission if you click this link and make a purchase at no additional cost to you.
Even pets who are trying to lose or maintain weight can need some treats from time to time. This option is a great additional purchase on top of items for your diabetic dog's meals in order to help them maintain their usual lifestyle without causing any health complications. These treats are designed to not cause issues in a more calorie controlled diet, but still, be tasty and satisfying for your pooch.
Pros and Cons
One of the biggest advantages of this product is that dogs actually enjoy the taste of these treats. Many weight management treats or treats designed for diabetic dogs, tend to skimp on taste, which makes them not particularly useful to pet owners. However, according to many customers, these treats still have the taste and spark of joy that a pet needs.
Some owners complain about the strong smell of these treats – although, it seems then this only affects human noses, and to a canine, they still smell delicious.
These treats are based around wheat, so will not be suitable for dogs with gluten allergies or intolerances.
---
Visionary Pet Foods really lives up to its name. They believe that dogs should be powered by fats and protein, not carbs, and we agree! This, of course, is especially true if you're dog is diabetic. That's why this Keto Low Carb Beef Recipe Dry Dog Food is a fantastic choice for non-prescription diabetic dog food.
Per one cup of this kibble, there's just 1g of net carbohydrates and 0g of sugar. It doesn't get much healthier than that. The ratio for this food is 60% fats and 40% protein with <1% carbs. If you like buying in bulk then don't worry; this food comes in 3.5-lb bags and also 22-lb bags for those that want to stock up.
Visionary Pet Foods also manufactures other flavors of delicious low-carb dog food and treats so your dog never has to miss out on anything because of their diabetes again.
Blue is a company that began because they desperately wanted to help their dog live a full and healthy life and in order to do so they needed to find a natural, healthy food to feed them that would give them all the nutrients they need without any unnecessary fillers. A few years down the line and they're helping dogs like yours today but manufacturing food without grains, wheat, and soy.
This low-carb Turkey & Chicken Grill Canned Dog Food is ideal for any dog that doesn't enjoy just plain kibble. Even if they do like kibble, it's still nice to offer your loved fur baby a little variety in their diet. This canned food does not contain any meat by-products, artificial flavors, preservatives, or gluten. Instead, it's packed with natural and tasty ingredients that promote healthy muscle growth and improved health and energy in your pet.
Instinct Raw Boost Grain-Free Dry Dog Food | Amazon
High animal-protein, grain-free, boosted nutrition with bites of freeze-dried raw meat, Instinct Raw Boost Grain-Free Recipe with Real Chicken is a better way to feed kibble. Unlock your dog's potential to thrive and put more of the pure, real nutrition of raw into every bowl.
Buy at Amazon.com
We earn a commission if you click this link and make a purchase at no additional cost to you.
09/24/2023 04:31 am GMT
Instinct is a brand that believes we can do things differently. We've been feeding our dogs processed and over-manufactured food for decades and they believe it's time to take it back to basics and feed our pets some more raw food. There's a lot of evidence to say that feeding our dogs raw food has health benefits but of course, it always depends on the dog. If you're wanting to feed your diabetic dog a slightly more raw diet then this Raw Boost Grain-Free Dry Dog Food is a great way to go.
This food is made without grain, potato, soy, wheat, corn, preservatives, and by-product meal. It's able to be shelf-safe because the raw ingredients have been freeze-dried. This also helps lock in all the natural nutrients that your dog needs. There are four meat options to choose from; duck, chicken, beef, or salmon and the first ingredient in each of these is always meat. Not only that, it's cage-free, USA reared, or wild-caught so you know you're providing your pup with the best there is to offer.
Buyer's Guide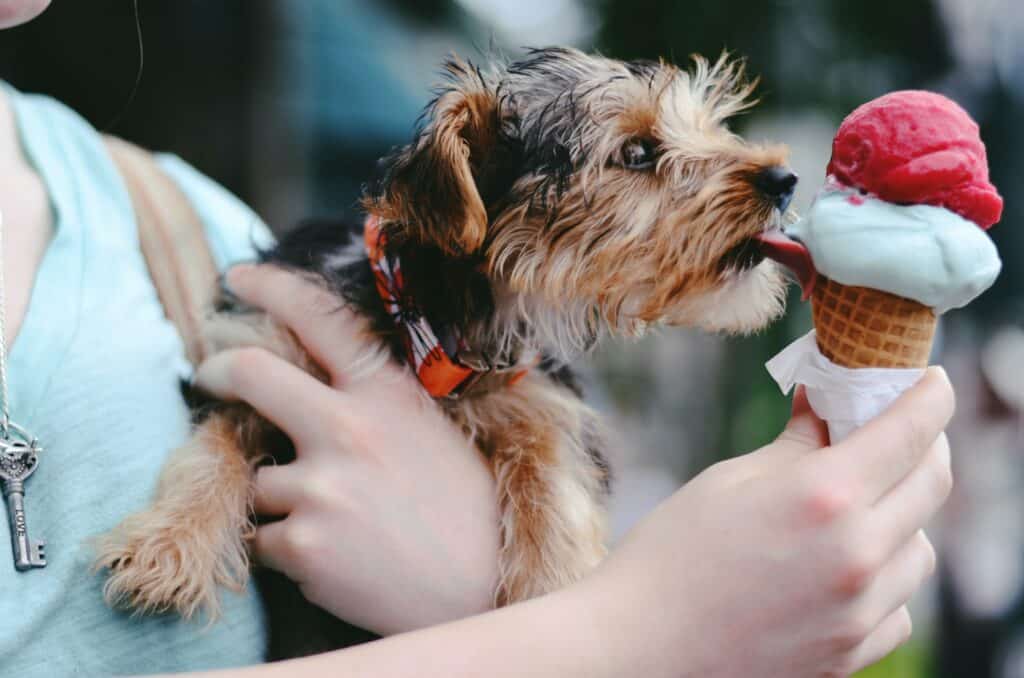 Choosing a non-prescription food for your diabetic dog can be very tricky. It tends to be a good way to look after their health while still being affordable, but choosing the right one can seem almost impossible.
Our buyer's guide is here to help. If you decide to go another route, we found the best prescription dog foods here.
What is Diabetes in Dogs?
Diabetes mellitus is a form of endocrine disorder in which the body doesn't produce enough of the hormone insulin. This hormone is secreted by the pancreas, and a lack of it means instability in blood glucose levels.
What are the Causes of Diabetes?
Some types of diabetes are just genetic. However, it can be brought about in certain dogs through persistently unhealthy habits, primarily related to diet. If a pet has continually very elevated blood sugar, their pancreas can stop being able to produce enough insulin to break it down. This can lead to pancreatitis and diabetes.
If a dog with diabetes is left untreated, they can slip into diabetic ketoacidosis. This is when the body starts to burn fatty acids, which result in high levels of acidic ketones in the body. It can be extremely dangerous.
What are the Symptoms of Diabetes?
There are several warning signs to look out for regarding diabetes. One is increased water consumption, as it can make your pet excessively thirsty. They may also suffer from more urinary tract infections, or other symptoms commonly associated with kidney disease.
How can Diabetes be Treated?
The primary course of action in treating diabetes is through insulin injections. However, if your dog is suffering from insulin resistance diabetes, it needs to be managed in another way. This is when diet comes into play.
What to Look for in Non Prescription Diabetic Dog Food
There are certain things you should be looking out for when making this sort of purchase. You want your choice to be high in protein, low in fat, high in complex carbohydrates, sensitive to allergies, and with more natural ingredients.
On top of this, there are other aspects to consider, too. You may need to go for food with high fiber if your dog has specific digestive issues. It's also worth taking into account your pet's (and your own) personal preference. Get to know what style of meals your pooch prefers. Look for flavors they enjoy. And if you prefer to serve only dry, or only wet food, then make sure you think about that before making a purchase.
Frequently Asked Questions
Question: What are the advantages of a non prescription dog food for diabetes?
For a diabetic, the right diet can help hugely with managing symptoms and maintaining health. But prescription food can be expensive and not easily accessible. Going for a none prescription option aligned with the typical needs of a diabetes sufferer could be of massive help to pet owners.
Question: Who should buy a non prescription dog food for diabetes?
With advice from a vet, most pet owners with a diabetic pooch could go for one of these options. These types of foods are also great for dogs with other health concerns outside of diabetes. They tend to have minimal ingredients, so can be great for dogs with a sensitive stomach, dogs with allergies, or pets with issues with their weight.
Question: Are there any downsides to non prescription dog food?
It may be that relying on a diet solely to help with your dog's health issues may not be good enough. It's always important to consult your vet or a medical professional when trying to treat a chronic condition.
Question: Are there any other methods to help out with canine diabetes?
There are many ways to help out a pet suffering from diabetes. Being consistent with the food, portion size, and feeding times can help out massively. Make sure they're still enjoying walking and exercising as much as they need. You should also combine your dietary changes with proper insulin management. Making sure these injections happen at the same time every day (and preferably just after eating) can be key.
Other Non Prescription Diabetic Dog Foods We Reviewed
Best Gluten Free Non Prescription Diabetic Dog Food
Best Ketogenic Non Prescription Diabetic Dog Food
Best Raw Non Prescription Diabetic Dog Food
This grain free food offer superior digestibility.
It has particularly high levels of omegas three and six to maintain a shiny and healthy coat and skin.
It also has high levels of glucosamine, which can help protect dogs' bones and joints. This makes it a great choice for an older pooch.
Dogs love the taste of this turkey based option.
Some say this protein rich option is too rich for their dogs, and claim there are certain stomach issues they face.
Best Ketogenic Non Prescription Diabetic Dog Food: Ketona Chicken Recipe Dry Food For Adult Dogs — Low-Carbohydrate, Ketogenic, Grain-Free Dog Food
Ketona Chicken Recipe Dry Food for Adult Dogs | Amazon
Keto is a dog's natural diet. Fat and protein are essential for dogs. Carbs aren't. Your dog's ancestors ate meat, fat, and nothing else for 99.9% of their genetic evolution. Mother nature knows best.
Buy at Amazon.com
We earn a commission if you click this link and make a purchase at no additional cost to you.
09/24/2023 06:21 am GMT
This is a fantastic option for diabetic dogs who need to be on a ketogenic diet.
It's grain free, and particularly low in carbohydrates, making is supremely high in proteins for muscle building.
There's almost no sugar in this food, which makes it helpful for diabetes sufferers.
It can also help to maintain a healthy weight, essential to treating diabetes.
Some have issues with the taste of this food, claiming they have a hard time making their pets want to eat it.
Instinct Raw Boost Toy Breed Dry Dog Food | Amazon
Instinct Raw Boost natural dry dog food combines high protein, grain-free kibble with all-natural bites of freeze dried raw chicken. Cage-free chicken is the #1 ingredient.
Buy at Amazon.com
We earn a commission if you click this link and make a purchase at no additional cost to you.
This option combines high protein kibble with freeze dried raw meat to emulate a naturally healthy diet.
It contains multiple additional ingredients including calcium, phosphorus, and glucosamine, to maintain all around health for your pet.
It's highly versatile, as water can be added to make this into wet food, or it can be used as dry kibble or even as treats.
This is also a great option for maintaining a healthy and shiny coat for your pet.
It's worth noting that it's very important to be careful when going for a freeze dried raw food. It can go bad if not looked after properly, which can cause massive health issues and even food poisoning for your pet.
Conclusion: How to Choose the Best Non Prescription Dog Food for Diabetes
Canine diabetes can sound scary – and, indeed, it is a serious condition. But with the right treatment, it can absolutely be managed, allowing your dog to lead a happy and healthy life. While there's no substitute for vet-prescribed medication, there are extra things you can do to make your dog's health better-taken care of. A high-quality diet is one of the very best ways to do this. Choosing the right non prescription food can make all the difference, both to your dog's and your own quality of life.
If you're interested in learning more about raw dog foods, check out our article on the very best options.
If you want to know more about low glycemic dog food, we also have a dedicated article on that topic for you to enjoy.
Have you ever tried opting for a non prescription food option for a diabetic pet? How did it work out? Do you have a particular recommendation we haven't mentioned? Let us know in the comments below!
Continue reading:
Best Diabetic Dog Food Homemade