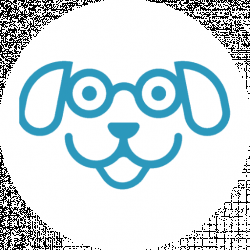 Latest posts by Scout Knows Team
(see all)
If you're the proud owner of a husky, you know that these fluffs can be super active, very sneaky, and also quite stubbornly fussy about food! We'll have a look at some of the best dog food for huskies here, to ensure they're getting the nutrients they need for their active lifestyles. Read on for tips and a full buyer's guide.
Huskies are high-energy dogs, having been bred as working dogs that needed to pull heavy humans on sleds over snow. They need a well-balanced diet with high protein content, certain nutrients, and a high calorie count to help them keep up with their active lives.
Top 5 Rated Best Dog Food For Huskies
| Recommendation | |
| --- | --- |
| Top Choice | No products found. |
| Runner Up | No products found. |
| Budget Choice | No products found. |
| Best Food For Husky Puppies | No products found. |
| Best Raw Food For Huskies | No products found. |
Our Top Pick: Wellness Core Natural Grain-Free Dry Dog Food
No products found.
Wellness remains one of the top dog food brands on the market, and for good reason. The tag-line on their food reads "Supporting your dog's optimal health to the core", and their food certainly supports that statement.
With a protein content of 34% and a fat content of 16%, this will do well to support your husky's active lifestyle and fulfill their nutritional needs. Omega-3 and -6 fatty acids, calcium and phosphorous, vitamin E, and glucosamine and chondroitin sulfate round this out very nicely.
With a four-star Amazon rating with over 1000 reviews, you can rest assured that this food will be a great option to ensure your pet has a healthy, natural, protein-rich diet.
Pros
High in protein
Good fat content
Grain-free
High-quality, all-natural ingredients
Added vitamins and minerals
Real meat and vegetables
Contains probiotics and prebiotics
Comes in various flavors
Cons
Slightly pricey
Buying from certain suppliers is not recommended – read the reviews on Amazon before buying!
Our Runner-Up Pick: ORIJEN Dry, Biologically Appropriate & Grain-Free
No products found.
ORIJEN is another brand that is making quite a name for itself, and it lives up to that name by providing healthy, nutrient-dense, biologically-appropriate dog food that supports your dog's health.
This high-quality dog food is chock-full of good stuff, with 38% protein (from whole, natural meat sources), 20% fat, and quality carbs (including beans, peas, pumpkin, spinach, carrots, apples, and pears). The protein variety is actually quite astounding in this food, with a large variety of different, real-meat sources.
ORIJEN follows the WholePrey diet formula, meaning this food contains 85% meat inclusions and 15% vegetables and fruits, and no fillers! With EHA, DHA, glucosamine and chondroitin, and omega-3 and -6 fatty acids, this is a great, healthy option for your husky!
Pros
High in protein (38%)
High in fat (20%)
Quality carbohydrates
All-natural
85% of meat inclusions
Vitamins and minerals
Cons
Slightly pricey
Make sure to buy from a reputable supplier!
Best Budget Pick: Purina Pro Plan Large Breed Adult
No products found.
Purina Pro Plan continues to come in as our favorite budget pick, as you can get a very large bag for a lower price than any other. Their Pro Plan range is decent dog food, containing 26% protein, 12% fat, and real meat as its first ingredient. This is NOT a gluten-free option and contains some ingredients that may be considered nutritionally useless fillers.
It also contains poultry by-product meal, which can cause food allergies. While the ingredients are not quite at the same standard as the others on this list, the food is decent enough to feed your pup, and contains DHA, omega-3s and 6s, and glucosamine, making it good for large breeds.
Pros
Affordable
High protein
High in fat
Contains glucosamine
Added DHA
Contains Omega-3 and -6 fatty acids
Cons
Contains poultry by-products
Not gluten or grain-free
Ingredients not as high-quality as others
Best Dog Food For Husky Puppies: Merrick Grain-Free Puppy Food
No products found.
Merrick is a well-known brand and scores all the points for being healthy and full of nutrients. Grain-free makes it easy on your little husky's tummy, and the all-natural ingredients make it organic and protein-rich for your puppy.
With real, de-boned chicken as its first ingredient, and fruits and vegetables making up its carb count, you will be hard-pressed to find a better recipe to feed your little husky pup. It also has a good dose of DHA which is great for growing pups' development, omega-3 and -6 fatty acids, and the all-important glucosamine and chondroitin to keep your pet's joints strong and flexible.
Pros
High in protein (28%)
Good fat content (12%)
Quality carbohydrates
All-natural ingredients
Omega-3 and -6 fatty acids
Added glucosamine and chondroitin
Grain and gluten-free
Cons
Best Raw Dog Food For Huskies: Ziwi Peak Air-Dried Recipe
No products found.
Raw food is … Well, raw meat and other bits, and you can get it from any number of suppliers around the country. But if you want to feed your husky raw but keep it in close-to-kibble style, Ziwi Peak is the way to go.
Their recipe contains 98% fresh meat (organs, bones, and green mussels), and is all-natural. Air-drying ensures that no nutrients are lost in the process, and it contains no grains so your pup can steer clear of possible allergies.
New Zealand green mussels are a natural source of glucosamine and chondroitin, so your pup will be getting the most natural ingredients in this meal, every time.
Pros
High protein
98% fresh meat
Organ, bone, and green mussels
Air-dried for nutrient preservation
Grain-free
High-quality dog food
Cons
---
Buyer's Guide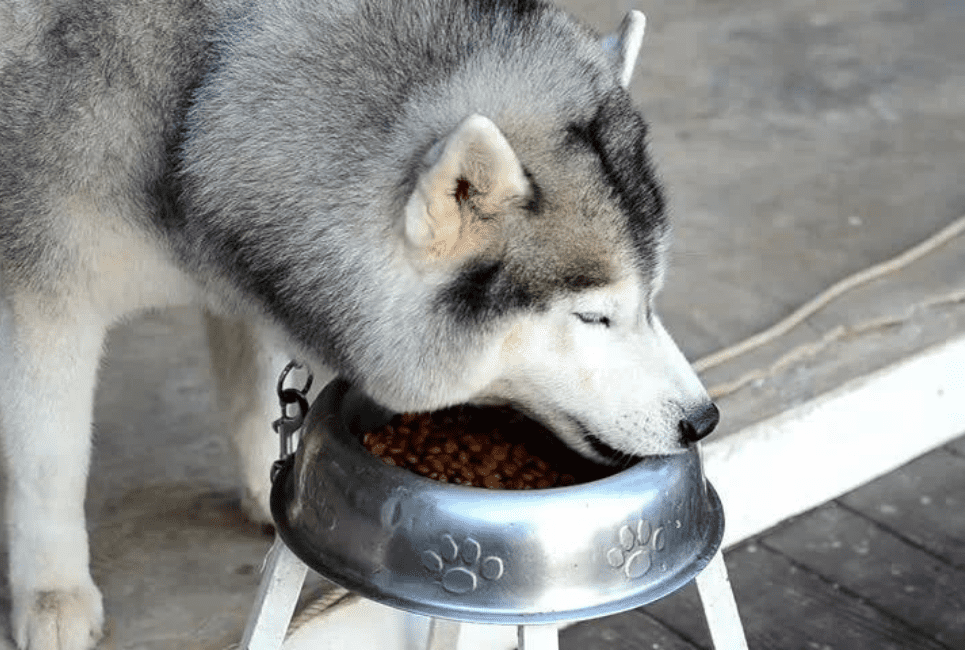 If you have a husky or are considering getting one, there are some specific things that you should know. Huskies differ from other breeds in a few ways, health, and nutrition-wise.
Huskies' Nutritional Requirements
A typical adult husky will grow to around 50 pounds (give or take a few either side!). This means that he will need about 1300 calories per day, so you will need to do some mathematics (sorry!) to work out how much you need to feed your husky at each meal.
Provided your pup is getting enough exercise, there are certain numbers to hit when it comes to the nutrients in their food. Huskies tend to eat less in comparison to other dogs of similar size, despite their bouncy nature. They, therefore, need something higher in calories to make sure they're getting enough nutrition in perhaps fewer (or smaller) meals.
You should pay particular attention to the crude protein and fat content of your chosen food. Carbs can be on the lower side, and should be natural sources of carbohydrate and not "fillers" that offer zero nutrition! The ingredients going into your pup's food should always be whole, natural ingredients as far as possible.
Protein
Due to their evolution as high-energy working dogs, Huskies need a high-protein diet to maintain good lean muscle mass and bone density. It is recommended that their food of choice contains between 24 and 30% protein. Husky puppies will also require higher protein content than other puppies!
This should come from real meat sources if possible. Meat meal is an acceptable substitute if your pup can't deal with real meat for some reason. Meat by-products are frowned upon, and plant-based proteins are all right but not as nutrient-rich as meat.
Carbohydrates
While carbs are a necessary part of a dog's diet, huskies can get by with lower carbohydrate intake. Dog owners should take careful note of what carbs are on the ingredient list, and avoid fillers such as wheat and grains and their derivatives. Whole foods are always best, and dense veggies such as sweet potatoes, carrots, and peas make for healthy carbs.
Fats
Next to a high protein, a husky's meal should have a decent amount of fat in it. Perhaps it's because they were bred in the freezing cold, but Huskies need between 12 and 16% fat in their meal. This should preferably be from animal sources (such as pork fat or chicken fat) rather than things like vegetable oil.
Other Vitamins & Minerals
Vitamins and minerals that are helpful include glucosamine and chondroitin for joint health, calcium and phosphorous at a ratio of 1.2 to 1. Other useful things are omega-3 and -6 fatty acids which help joint lubrication and keep your dog's coat super shiny. For puppies, DHA is a specific fatty acid that helps with brain and eye development. Probiotics are always helpful for digestion.
Additions of artificial colors or flavors can increase the chance of food allergies, so a natural diet is always the best bet!
Possible Husky Health Issues
There are some specific problems that Huskies can be prone to. If you're aware of these early on and take good care to prevent them, your husky can live a healthy life!
Eye Problems
Those beautiful and distinctive husky eyes come with some risks, and you should take good care of your husky's eyes to give them the best chance of not developing issues. Some common problems include cataracts, progressive retinal atrophy (degeneration of the retina), and corneal dystrophy, which is a hereditary condition.
Lactose Intolerant
This is something that most dog owners don't realize about their little fluffs. Huskies tend to become intolerant to milk from the age of about 10 weeks, so try to avoid foods that contain dairy products!
Hypothyroidism
When the thyroid decides to do its own thing and produce the wrong amount of hormones, it can cause weight gain, lethargy, and your pet may sleep more than normal. It's definitely recommended to ask your vet about treatment, and pay attention to your pup's diet as well – it can make a big difference to this condition.
Zinc-Responsive Dermatosis
These pups tend to have some zinc-absorption problems, which can lead to hair loss and skin problems. This can be remedied with zinc supplements, but should always be checked with your vet first!
Follicular Dysplasia
Similar to the one above, this condition can affect husky puppies (3-4 months of age) and leads to hair loss and skin discomfort. Although there is no treatment for it, it can be managed through diet and application of particular remedies such as shampoos.
Hip Dysplasia
Perhaps due to their very active natures, Huskies are prone to dislocation of the hip and elbow joints. For this reason, it is advisable to choose a food that contains glucosamine and chondroitin. Although these are usually recommended for large breed dogs, it will definitely help reduce the chances of your pup suffering this condition!
Considering Getting a Husky?
If you've been drawn in by those eyes and want to get yourself a husky companion, be sure to get one from a reputable breeder. Although Scout is an advocate for rescuing pups in need, getting a pet from a puppy mill only encourages unethical breeding and puppies coming from mills can suffer a multitude of health issues.
If you want a pup with less fur to brush than a full husky, consider the boxer husky mix which is lower maintenance.
Frequently Asked Questions
Is my husky a large breed or medium breed dog?
Huskies are right on the cusp of medium and large breeds but usually named as a medium, as generally a medium breed is considered to be up to 55 pounds in weight. When considering food, though, as huskies can be considered to fall under large breed as they need glucosamine to keep their joints strong.
Why do huskies have blue eyes?
Huskies have a particular genetic trait that makes them very prone to blue eyes. Huskies can have brown eyes, though, and it also happens that they can have two different colored eyes.
Why is my husky so picky about their eating?
Huskies are one of the 8 closest dog breeds to the wolf, and as such, their eating instincts are quite honed. If they perceive even something slight about the food that doesn't sit well with them, they will avoid it. It is, therefore, better to introduce new food slowly until you're sure they like it! Be aware, too, that huskies can sometimes get bored with eating the same thing for too long.
What does it mean that huskies are "self-regulating" eaters?
What this means is simply that huskies won't often eat when they aren't hungry. They have fantastic instincts and tend to eat in accordance with how active they are and how many calories they burn.
Is a raw diet okay for a husky?
Raw feeding is a controversial topic, but some dog owners swear by it. You can definitely feed your husky dog raw food, but it is advisable to make the change slowly and ensure your dog is okay with it.
Other Best Dog Food For Huskies We Reviewed
Treats For Your Husky
Wet Food to Supplement Your Husky's Dry Food Diet
Treats For Your Husky
Stella And Chewy's Raw Coated Biscuits
No products found.
These biscuits are protein-filled, grain and gluten-free, and are made from all-natural ingredients. Grass-fed and cage-free protein sources make these as ethical as they are tasty and nutritious!
Key Features
High in protein
Grain-free
All-natural
Tasty (apparently!)
Wellness Wellbites Soft & Chewy
No products found.
We know Wellness makes healthy stuff, so you can be guaranteed these treats will not only be tasty, but they'll be good for your pup too. Coming in 5 different flavors, these grain-free, moist and meaty treats are made with whole ingredients.
Key Features
Whole, natural ingredients
5 flavors
Reputable brand
Soft and chewy
Wet Food to Supplement Your Husky's Dry Food Diet
Nutro Hearty Stews Adult Natural Wet Dog Food
No products found.
Nutro makes great quality dog meals, and this wet dog food would be a good supplement to your husky's dry kibble. The wet stuff isn't usually enough on its own, but it makes a nice addition and also keeps your husky from getting bored.
This grain-free, non-GMO stew contains no poultry by-products or artificial colors, flavors, or preservatives. It also comes in 5 different ingredients, so there's no chance of your husky pup getting bored with this one!
Key Features
Non-GMO ingredients
5 different flavors
No poultry by-products
Blue Buffalo Wilderness High Protein, Grain-Free, Natural Adult Wet Dog Food
No products found.
With real meat as ingredient number one, and quality protein sources (turkey and chicken), this is a quality choice to add to your husky's diet. No corn, wheat, or soy, and no poultry by-products mean that this is a healthy option.
Available in a few flavors, this high-protein food will be a great addition to any pup's diet. Mix with kibble, or give it to your pup by itself as a snack.
Key Features
High in protein
Quality protein sources
Grain-free
No poultry by-products
Buy in a pack of 12
Conclusion
Huskies need quite a particular type of nutrition, so if you own one of these beauties you should do your research on what would be best. The best dog food for huskies we've listed here are all reputable, healthy options, but that doesn't mean you should stop here and not do your own research!
Whatever you choose to feed your husky, make sure it's all-natural, high in protein, and has all the essential vitamins and minerals to keep your pup healthy and happy!
Do you have any question after reading our complete review and buyer's guide? Do you have any experience with feeding huskies? We want to hear your thoughts, so don't hesitate and drop us a comment below! We're here to give you tips and get the conversation started!
Continue reading:
Holiday Dog Treat Recipes You Need To Try
Do You Think Dogs Can Eat Sugar Cookies? (Symptoms That Might Occur)