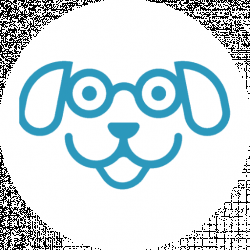 Latest posts by Scout Knows Team
(see all)
We like to share the holidays with our pets, and for most humans, food is a part of our celebration. I know that some of you slip your dogs a person food tidbit now and then. But, most of us know that isn't the healthy way to share holiday treats together.
Dogs can enjoy special Christmas goodies during this time of year. You just have to remember that there are special formulas that work for dog treats.
Today, I want to briefly go over some foods you should never feed your dog, some natural dog treats you can buy, and a few recipes to share with your friends that are dog safe.
Forget the traditional cookie swap, bakers out there. It's time for a holiday dog treat swap! Here's what you need to know.
Foods That Are Toxic To Dogs
Before you start doing any cooking or your dog, you have to understand which foods are toxic to dogs. There are still more foods that, while not poisonous to dogs, are bad for their health.
Other foods can actually be good for dogs! Let's look at a list of both. Please keep in mind that these lists are not comprehensive.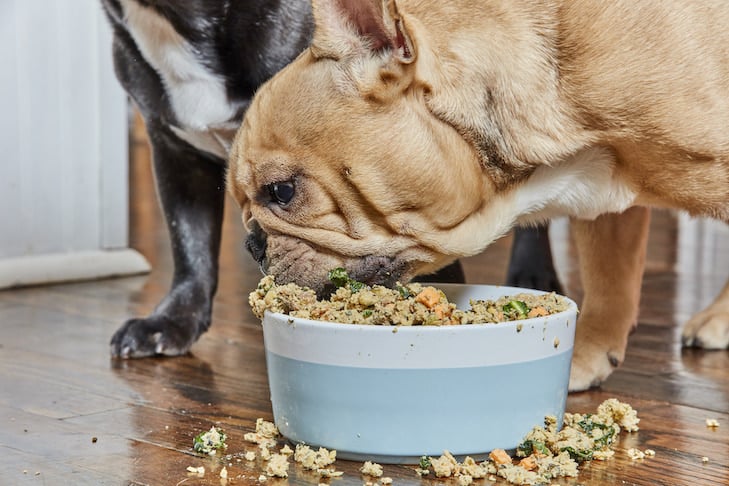 Safe Human Food For Dogs
By 'safe' I don't necessarily mean you should pump your dog full of any of these ingredients. It just means that your dog isn't like to have any toxic reaction to these foods. I've made some commentary next to each one to explain any small level of risk.
Flour is ok in extreme moderation, insomuch as it's not toxic to dogs. It's a processed food, so it isn't good for them, but if a cookie recipe calls for a small amount of it, that's probably ok. Watch your dog for allergies. I'll give you some allergy symptoms later.
Eggs are also ok to give to dogs, however the yolks are fatty. This is an 'in moderation' food.
Sugar is a tough one. I'm putting it in the 'safe' list because it isn't strictly toxic, but it is not recommended for dogs because they can't digest it correctly. Try to choose dog treat recipes with little to no sugar. Test out how the recipe performs if you cut the sugar called for.
Honey is safe, unless your dog has an allergy. It isn't much better than sugar, however, so use it in strict moderation.
Peanut butter is super fatty, but you can add a little to your dog treat recipes. It isn't toxic like some nuts can be. Do watch for allergies, just like with all of the ingredients in this article.
Quinoa, cooked, is okay for dogs unless your dog is grain free. Quinoa is a grain, but it has a lot of protein and a low glycemic index which makes it a favorite for some dog cooks. By that, I mean people who cook for dogs. We don't let Scout in the kitchen just yet on account of the lack of thumbs thing.
Carrots are good for dogs! They contain vitamin A, vitamin C, and vitamin K. In your cooking recipes, you'll shred or chop and cook the carrots, which makes them more digestible. If you feed raw carrots for any reason, make sure you cut them into small pieces so they aren't a choking hazard.
Sweet potatoes, cooked, are healthy and safe for dogs. They can be substituted for or with pumpkin in a lot of recipes you'll find for dog treats.
Canned or cooked pumpkin can help your dog feel full and adds helpful fiber to her diet. Pumpkin also contains vitamin A, vitamin C, beta-carotene, potassium, zinc, calcium, and magnesium.
Squash is technically a fruit, but I'm listing it here because it feels like a vegetable. Cooked squash is a lot like pumpkin and is healthy in dog treat recipes.
Ginger in moderation is probably fine, but can upset a dog's stomach in large quantities.
To speed things up, here are a few dog safe foods that you probably won't see in cookie recipes, but are ok to feed if you do:
Green beans add healthy vitamin A, vitamin C, vitamin K, and manganese to your dog's diet.
Peas are also safe for dogs with the pods removed.
Celery is safe, cut into small pieces.
Cooked potatoes are ok in moderation if they are peeled, but not nutritious.
Cucumbers are fine, but peel and cut them into small pieces before you hand over to Rover.
Tomatoes are controversial, but they seem fine in moderation.
Fruit You Can Feed Dogs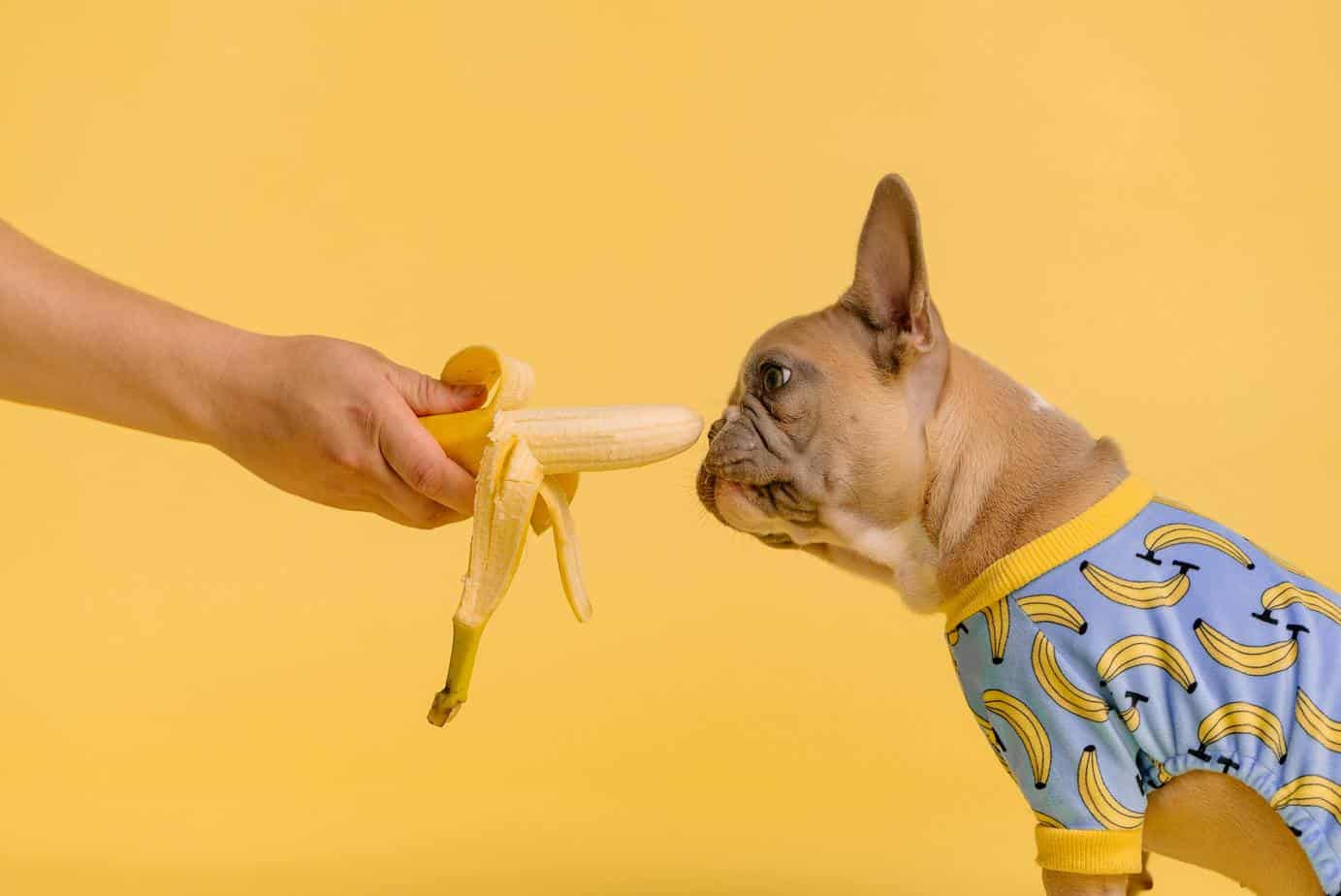 It's relatively common for some fruit to end up in dog treats, so here is a full rundown on safe fruits for dogs:
Apples: Peel and remove seeds first. Apples contain potassium, fiber, phytonutrients, flavonoids, and vitamin C.
Bananas: totally safe for dogs and high in potassium.
Blackberries: safe, with some good stuff like antioxidants (anthocyanins), polyphenols, tannin, fiber, manganese, folate, omega-3, and vitamins C, K, A and E.
Blueberries: safe, with antioxidants, selenium, zinc and iron, and vitamins C, E, A and B complex.
Cantaloupe: safe and a great source of vitamins A, B complex, C, fiber, beta-carotene, potassium, magnesium, thiamine, niacin, pantothenic and folic acid.
Coconut: safe, sparingly, but not the already sugared kind.
Kiwis: safe source of fiber, potassium, and vitamin C.
Mango: if peeled and pitted.
Oranges: Safe if peeled and seeded, but can cause upset stomach because of the acidity. Oranges have beneficial fiber, potassium, calcium, folic acid, iron, flavonoids, phytonutrients, and vitamins A, C, B1, and B6.
Pears, with the seeds removed are safe.
Strawberries: safe with seeds removed and no leaves or stems because there is some controversy over the toxicity of the greenery. Strawberries contain fiber, potassium, magnesium, iodine, folic acid, omega-3 fats, and vitamins C, K, B1, and B6.
Raspberries: safe and beneficial, with fiber, antioxidants, potassium, manganese, copper, iron, magnesium and vitamins C, K, and B-complex.
Watermelon: safe with rind and seeds removed.
Unsafe Foods You Should Never Feed Your Dog
These are definitely off the list of ingredients you can use in homemade dog cookies:
Grapes
Raisins
Chocolate
Plums
Avocado
Peaches
Nuts are risky, but peanut butter is on the ok list. As for other nuts, I wouldn't add them into your dog treats.
Why You Shouldn't Feed People Food To Dogs
Any human food you give to your dog should be done in moderation. There are a few reasons for this:
Some human food can cause allergic reactions you won't know about until you try
Most human food is fatty or contains a lot of carbohydrates. Your dog already eats a formulated diet so he doesn't really need any of that. It's easy to overdue it.
You can promote begging behavior or induce a situation where your dog tries to steal food when you aren't looking.
We're talking about Christmas treats here, though. Feeding a few goodies made with safe ingredients during the holidays is an acceptable exception to the rule.
Signs Of Allergies In Dogs
Give your dog a homemade dog cookie and then watch for the following signs of food allergies in dogs:
Chronic ear inflammation,
Gastrointestinal distress and diarrhea or excess gas,
Licking at their feet or skin, and
The famous carpet-butt drag or a lot of licking at their hind end.
If you see any of these symptoms, let your vet know and discontinue the offending food. Most of these symptoms should subside over time, but follow your veterinarian's directions about what to do next.
Healthy Dog Treats You Can Buy For The Holidays
If cooking isn't your thing or you don't have time to whip up a homemade batch of dog treats, there are some pre made dog treats that are healthy and festive for the Christmas season. Here are some of my favorites.
Pumpkin Crunchers Dog Treats come in fun star shapes and several flavors. There are some oats in these treats, so they aren't grain free. My dog eats these very sparingly because she's food sensitive, but she tolerates one or so a week during the holidays with no problem.
Cloud Star Holiday Oven Baked Gingerbread is not that healthy, I'll be honest. It's so cute, though, I'm including it here. Buy a packet and hand a few out to your friends with dogs so you all use them super sparingly.
Fruitables Greek Vanilla Snowflake Yogurt Treats are healthy and low-cal treats shaped like darling little snowflakes.
These holiday dog treats look like Christmas cupcakes and would make a great gift for a friend's dog or your own. The packaging is really high-end, too.
Easy Homemade Dog Treats Recipes For Christmas Doggie Treats
Time to put your chef's hat on and get to baking! Most of these recipes are easy to pull off, so don't worry. I know lots of you are going to think they're fun!
I really love the idea of having some friends over and cooking up treats for your dog or setting up a doggie treat swap.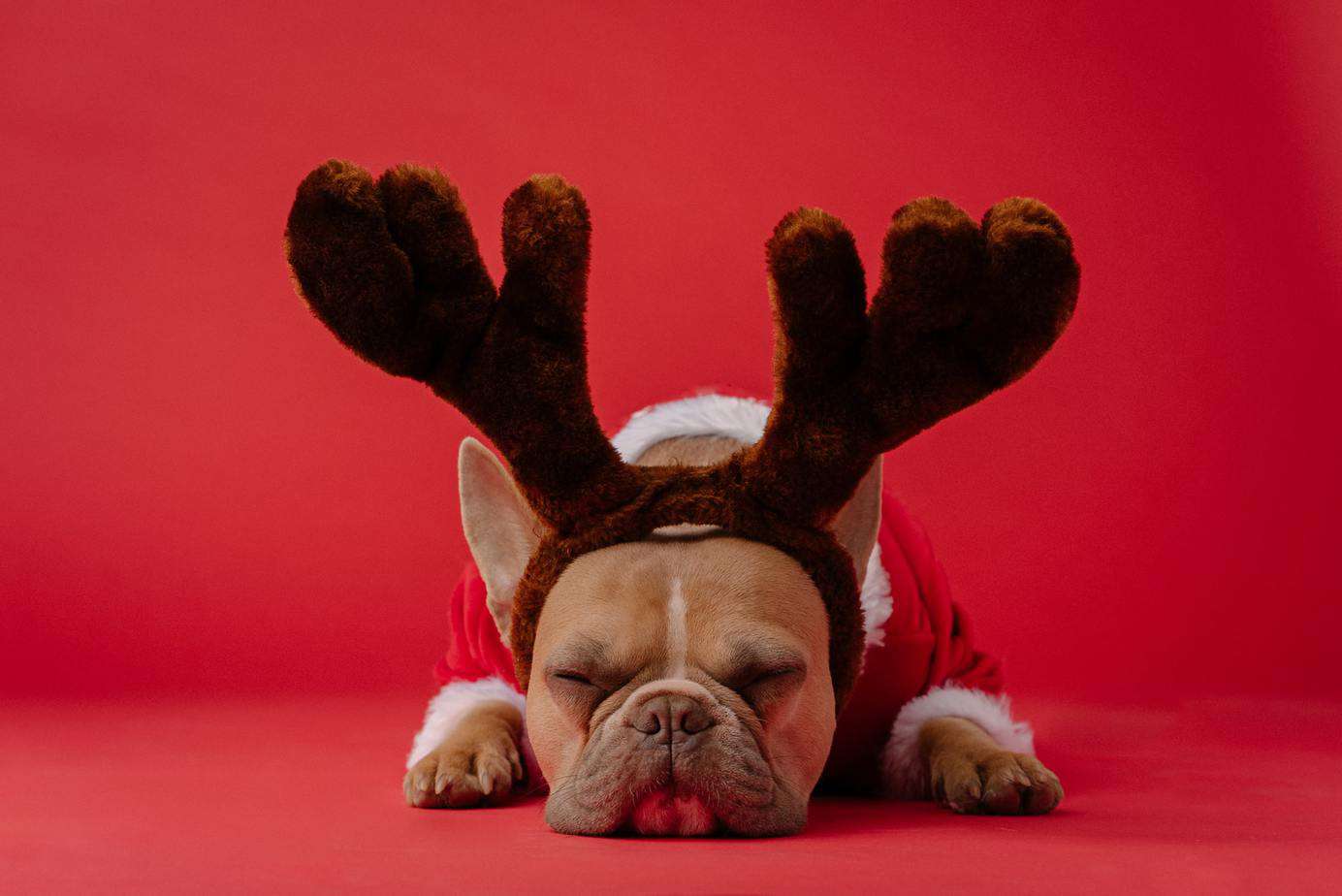 Peanut Butter Oatmeal Dog Treats
Super simple dog treat to the rescue! This recipe isn't specifically a holiday dog cookie, but you can make some easy variations to them or use seasonal cookie cutters.
The flour can be substituted with any type of gluten free flour you choose. Additionally, substitute water or broth for the milk if your dog is lactose sensitive. This recipe is adapted from RasaMalaysia.com.
Preheat your oven to 350F before you start mixing and assembling.
Ingredients
1 cup milk, water or broth
1/2 cup natural creamy peanut butter
1 large egg
2 cups all-purpose or gluten free flour of your choice
1/2 cup oatmeal
Procedure
Blend milk or liquid you're using and peanut butter in a blender and whip it up. Toss in the egg and blend again until combined.
In a separate bowl, combine the flour and oatmeal, then slowly add your wet ingredients to the bowl and mix gently until the mix forms a dough. Then, you need to knead for a few minutes.
Now, it's basic roll-out cookie procedure. Roll your dough on wax paper or a lightly floured surface to about 1/4? thick. Grab some cookie cutters and get to shaping!
Transfer your shapes to a parchment lined baking sheet and pop them in the oven for 30 minutes or until they're brown on top.
After you make these a time or two, you can adjust the baking time to get crispy (bake longer) or chewy (bake slightly less) treats.
Dog Candy Cane Recipe
I've seen a lot of rawhide dog candy canes, but I'm not sold that rawhide is safe for all dogs. You have to make sure they aren't ingesting the treat and I'm not willing to take that risk.
My suggestion is to make your own! There are a lot of steps, but they're easy and fun. Gather your kids or significant other to help you roll them out. You can reminisce about preschool days with play-dough.
This recipe is adapted from Dog Treat Kitchen.
Ingredients
3 cups all purpose or gluten free flour
1/2 cup nonfat powdered milk
1/2 tsp baking powder
1 cup chicken broth
2 large eggs
2 tsp red food coloring or, preferably, beet juice
1 large egg (for an egg wash)
Set aside some flour for the kneading process.
Procedure
Combine dry ingredients with a whisk in a medium size bowl.
In a smaller bowl, combine the eggs and broth and whip together.
Like pasta, make a well in the center of the dry ingredients and pour the wet ones into the indentation.
Slowly combine by mixing from the center, a little bit of dry ingredients at a time, until a dough forms.
Knead away for two minutes.
If the dough is sticky, add just enough flour to even that out so you roll it easier.
Cut the dough into two pieces.
Make an indentation in one half of the dough and color with the food coloring or beat juice. Gloves are handy for this step.
Let that dough chill in the refrigerator for two hours or pop into the freezer for 30 minutes.
Preheat your oven to 350° F
Use a cookie scoop or spoon and make tablespoon sized balls with the dough, keeping the colors separated.
Roll with your hands until each ball is in a rope around 5 inches long.
Line a baking sheet with parchment paper or a silicone baking mat.
Grab a red and white rope and twist them up! Curve the end to get a candy cane shape and place it on the baking sheet.
Repeat with all of your ropes and coat with egg wash and a pastry brush.
Into the oven they go, to bake for 10 minutes.
When they're done, pop them on a wire rack to cool completely.
These treats will only last about two weeks in the fridge, but up to 6 months in the freezer.
Sweet Potato Dog Treats
This recipe isn't technically a holiday recipe, but it's easy and brilliant. It's also healthy and downright cheap. What's not to like!?
Ingredients
Large, fresh, raw sweet potatoes
Procedure
Preheat your oven to 225 F. You're going to cook this low and slow.
Clean the sweet potatoes well and scrub off any mold on the skins. You don't need to peel them and it doesn't matter how many potatoes you have.
Slice each sweet potato lengthwise into 1/2- to 2/3-inch strips, like bacon. Line them up on a parchment-lined baking sheet.
Into the oven they go for 3-4 hours or until they're the consistency you like. You can taste test them yourself. Let them cool completely before storing them in an airtight container.
This recipe comes from the Humane Society.
Homemade Grain Free Dog Treats
Two of the recipes above do double duty as homemade grain-free dog treats: the sweet potato jerky and the dpg candy cane recipe (with grain free flour).
Here is another one that involves cookie cutters, making it perfect for holiday time.
Ingredients
1 1/2 cup coconut (or other grain free) flour
1/2 cup natural nut butter with no artificial ingredients
4 eggs
1/2 cup coconut oil
1 cup + 2 tbsp sweet potato puree, unsweetened applesauce, or pumpkin puree
1/3 cup shredded carrots, zucchini, squash, or other safe, firm vegetable
Procedure
Preheat oven to 350.
Get a mixing bowl and plop everything in there, no finesse needed.
Mix it all until a dough forms. If your dough is too dry, add one more egg.
Get two sheets of parchment paper, place the dough between them, and roll it out.
Cookie cutter time!
Move the shapes over to a parchment or silicone mat lined baking sheet.
Bake 12-15 minutes. The cookies should be crisp and hard like a gingersnap.
Cool them down and put them in an airtight container.
Freeze any treats you can't use within a couple of weeks.
Pretty easy, right?
This recipe was adapted from Lexi's Clean Kitchen.
Homemade Dog Treats Pumpkin
Sure, there are some pumpkin dog treat recipes in this post already, but what's one more among friends? These are soft treats so they're different than the others and especially good for older dogs or dogs with poor teeth.
Ingredients
1 1/4 cup plain canned pumpkin
2 eggs
1/2 cup to 1 cup rolled oats
2 1/2 cups (or more) organic whole wheat flour
1/2 teaspoon ground cinnamon
1/2 teaspoon ground ginger
Procedure
Set your oven at 350 degrees F and line a cookie sheet with a liner or parchment paper.
In a medium size bowl combine wet ingredients.
Add dry ingredients in but add the flour slowly. If you use more oats the mix needs less flour.
Stir, stir, stir and shape into little patties.
Put the patties onto the baking sheet and bake for 20-30 minutes.
You want these to remain soft so test them around 15 minutes to see how done they are.
Cool and store in the refrigerator or freezer. These only have about a two week fridge life.
This recipe is adapted from Beamer's Corner.
Let Your Dog Eat Your Cookies, Not Santa's!
Now you have a bunch of healthy dog treats to share with your short, hairy friends this festive winter season. Whether you buy some or make your own, you'll be crossing the human-canine cultural divide to share a tradition with your best friend.
That is totally what the holidays are about.
Why not head over to something I wrote about what you can do if your dog eats santa's cookies, while we're on the subject of dogs and treats.
If you try out one of these recipes, don't just Pinterest it, drop a photo and summary of your experience in the comments section. You may be noticing a trend here, but Scout and I both agree that comments sections on pet blogs are for pictures of pets. In this case, pets and pet cookies.
Wishing you a bright holiday season from my family to yours!
Continue reading:
10 Dog Treat Recipes Rover Will Drool Over