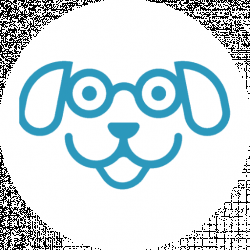 Latest posts by Scout Knows Team
(see all)
A combination of two very popular breeds, the Boxer Husky mix is half Boxer and half Siberian Husky. This is an interesting mix as both breeds are highly intelligent, working dogs.
Although, there are pros and cons associated with both breeds and you can't be sure which traits your Boxsky will inherit, so let's take a look at what you can expect with this rare mixed breed.
History of the Boxsky
Before the first boxer husky mix puppies were born, it would have been hard to predict the temperament and appearance of this crossbreed.
Although we can't predict what characteristics your boxer and husky mix might end up with, we can take a look at both breeds to get an idea of which personality traits they could inherit.
Boxer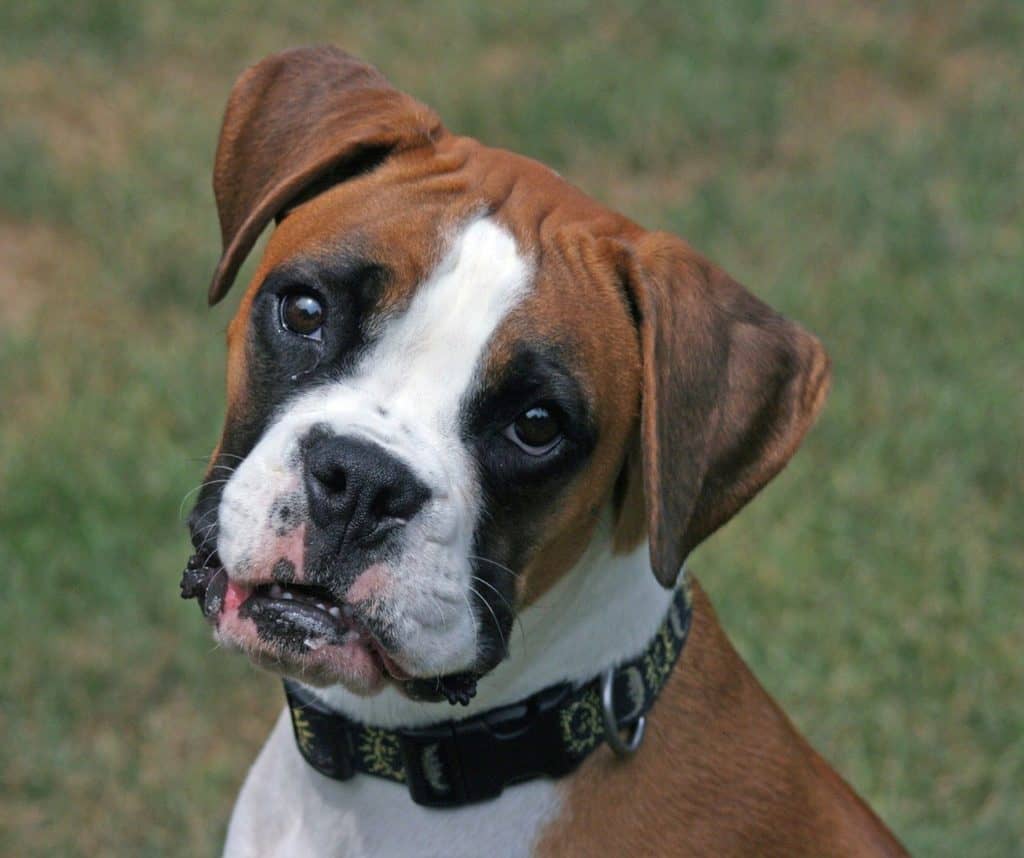 Originating in Germany in the 19th century, Boxers were bull-baiting dogs and later butcher's helpers who worked to control cattle in slaughterhouses.
After World War I, they started to be imported to the United States becoming one of the most popular dog breeds in the country.
They were also one of the first breeds to be used as police dogs which attests to their intelligence and reliability if trained professionally.
Of course, with high intelligence comes the need for a lot of attention. This can make them great companions but also hard to leave alone all day. Being active dogs, they also need a lot of exercise so you might want to get your running shoes on if you're thinking about a boxer Siberian husky mix breed.
Siberian Husky
If you were worried about how much exercise a boxer breed might need, you can't expect anything less from the husky half of your husky boxer mix.
Descendants from the original sled dogs, Siberian huskies can still be found all over the northern hemisphere from Alaska to Greenland and they are still working sled dogs.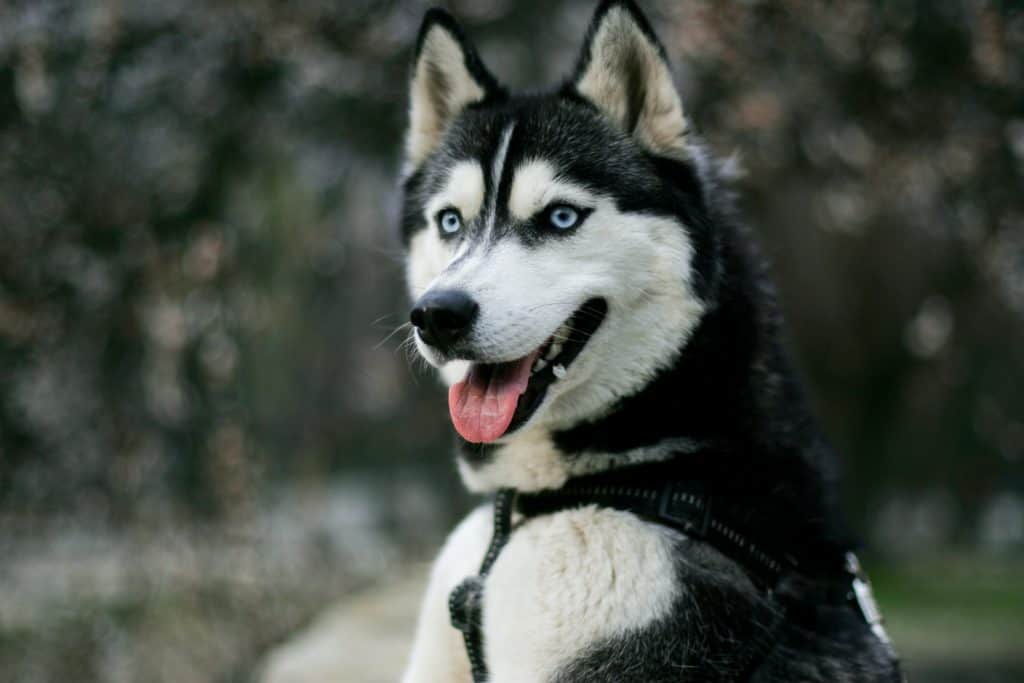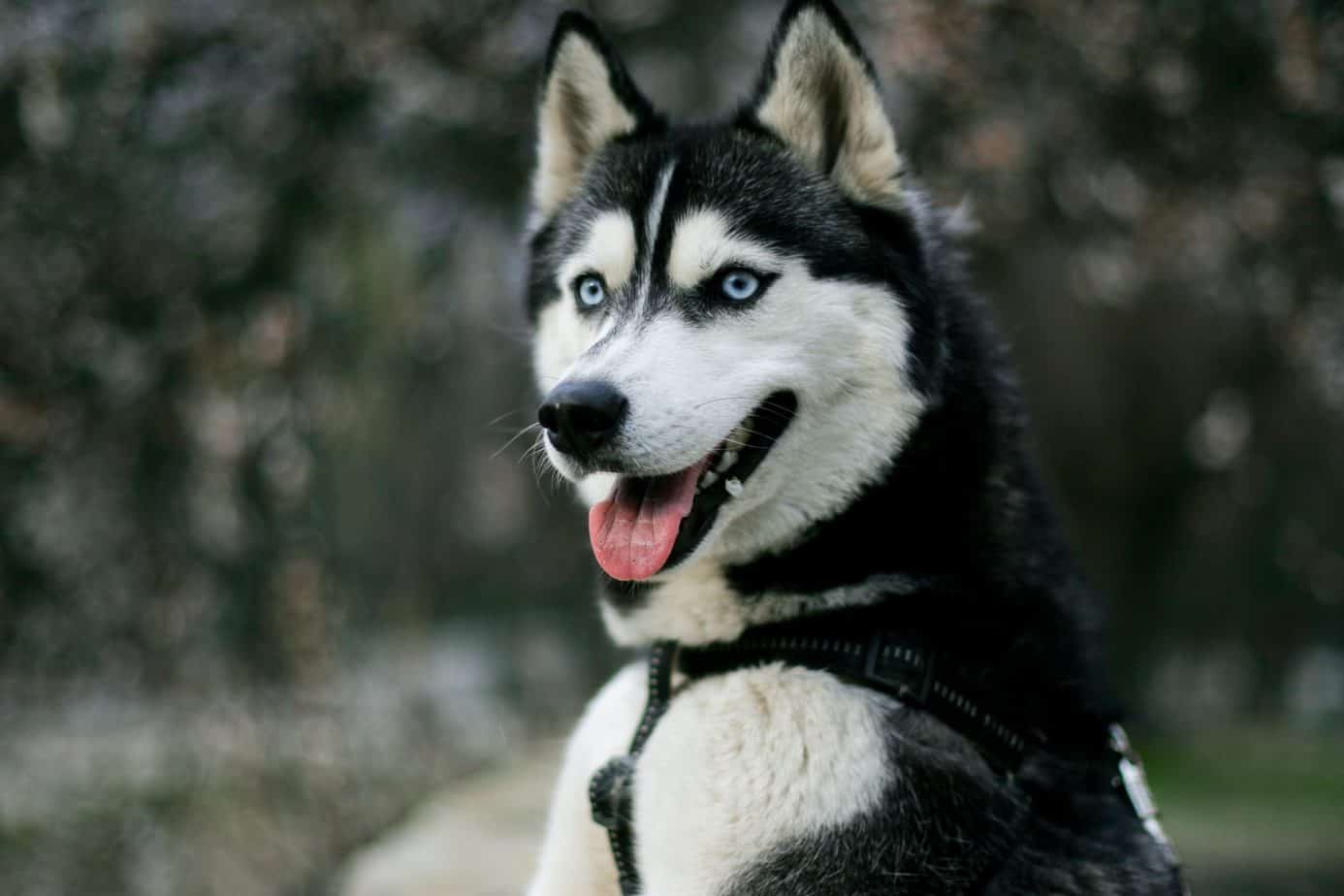 This breed has been around for over 3000 years and is believed to have come from northeast Asia. During the Alaskan gold rush, sled dog races were a form of amusement and many dogs still compete today.
Having become accustomed to the harshest conditions, Siberian huskies are pretty low maintenance pets. But again, they will need plenty of exercise to stay a healthy weight as they were bred to regularly run for miles whilst pulling substantial weight.
If you happen to not live in a winter wonderland and have a sled to hand, you'll want to make sure your husky boxer mix is getting plenty of long walks to burn some of their left-over energy.
Unlike a boxer, the Siberian husky breed is somewhat independent and stubborn making them less trainable but also less prone to attention-seeking. But we don't know exactly which traits your boxer husky puppies might inherit so you could still end up with a more needy boxer like pup.
Appearance and Personality
You'll already know that boxers are famous for that squashed muzzle, but what happens when you cross this with the long snout of a husky?
Boxer husky puppies can inherit the facial structure of a husky or boxer depending on their genetics. Their ears can also be either pointed like a husky or floppy like the boxer so the general look of this mixed breed is super unique.
Height
A Boxer averages around 21 to 25 inches in height. Similarly, Siberian huskies have a withers height of around 21 to 23.5 inches so you can expect your boxer husky mix to be in the same range of 20-25 inches.
Weight
The weight of a boxer mixed with husky is between 35 to 70 pounds. Huskies are generally more lightweight at 35 to 60 pounds whereas boxers can carry more weight at 55 to 70 pounds so the weight range of a boxer husky mix puppy can vary.
Coat
Again, the coat is a part of this mixed breed's appearance which is hard to predict. Siberian huskies have a thicker coat, including a topcoat and undercoat, which helps them to deal with freezing temperatures. They can also be a range of colors such as black and white, brown, grey or copper red.
Boxers are easier to identify from their classic short hair coat. Most boxer dogs are fawn or brindle colored with a white underbelly. So, the mix of the two coats can result in a range of different colors and patterns for your new puppy.
Because of the blend of colors and patterns, a lot of boxer husky mix dogs can have unique facial patterning which makes them even more adorable.
Although the boxer is short haired, the long coat of the Siberian husky will mean that you can expect medium to high shedding and your boxsky will need regular brushing.
Temperament
Boxer husky mix dogs have inherited a lot of great characteristics from both breeds. They are well known for being loyal, intelligent and affectionate which makes them great family pets. They are also very active and require a lot of exercise as both breeds are working dogs.
Being highly independent, training can take a lot of patience and dedication. But with their inherent dog nature, boxer husky puppies can learn to follow commands in time.
Although not aggressive, they do have a predatory instinct that can take over if you let them roam free. Don't be surprised if you end up chasing your dog for miles when they see a cat or another small dog and their primal nature kicks in.
The Good: Boxsky Pros
Although not a very common breed of dog, there are a lot of good things about the boxer mixed with Siberian husky. Let's start with the positives as there are many good things about this rare mix.
Affectionate Companions
You might be wondering; will my husky boxer mix be as needy as a boxer or as independent as a husky? Well, the good news is that this mixed breed is known for being great family pets especially because of their protective nature.
Coming from tribes, huskies are used to living in groups and socialize well with both humans and other dogs. The boxer part makes them crave affection so, unlike with huskies, you can sneak in a cuddle on the sofa with this mix.
Although great family dogs, they can get quite enthusiastic at playtime so watch them with small children – though they share plenty of love as well.
Energetic
If you're looking for a running companion that will keep you motivated on a hike or a walk, a boxer husky mix is just the dog you need. As mentioned, their working dog background means that they need a lot of exercise to keep up with the amount of energy they are used to expending.
Your boxer husky mix will need around 60-80 minutes of exercise a day so if you're not super active, this might not be such a beneficial trait.
Protective
A trait that makes them a great companion and very affectionate can also help to keep you and your family secure. If trained properly, husky boxers can be used as guard dogs and keep watch over your home and children.
Inherently curious and suspicious, you can trust your boxsky to always be aware of your surroundings which is great peace of mind if you are out at work all day and no one is at home.
The Bad: Boxsky Cons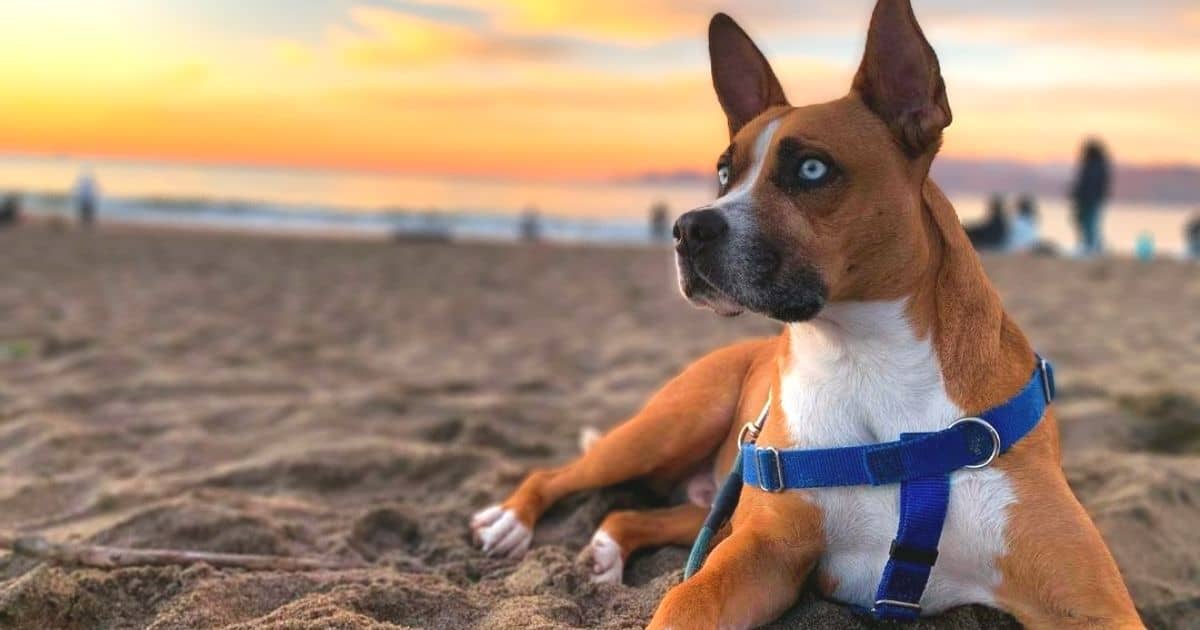 Of course, finding the right dog means being aware of things that might not suit you down to the ground. Let's take a look at some of the not so good things about the boxer husky mix.
Need a Lot of Space and Exercise
This could be a pro or a con depending on how you feel about exercise. Although having a dog can be a great source of motivation to get more active, if you aren't a big fan of exercise a boxer husky mix might be a bit too energetic to start off with.
They also need to be kept on a leash during walks as they are prone to chasing other small dogs and animals thanks to their inner predatory nature. If you're used to letting your dog wander off by itself, this could be an issue – especially if they are showing signs of hip dysplasia.
Of course, having a dog with a lot of energy means you'll need to live near wide open spaces and have a selection of different walks to keep it stimulated. This means a husky boxer mix isn't the best city or apartment dog and would be much happier out in the countryside with a large yard.
Not the Easiest to Train
Although boxers can be very obedient, the Siberian husky spirit in this boxer husky mix is known to take over when it comes to training. Huskies may know their purpose and are working dogs but when it comes to training to do anything other than pull a sled, they are more stubborn than other mixed breeds.
Any dog can be well trained to listen to their owner but boxer husky mix pups will require a little more patience. Remember the trick is to start them young so get into a puppy class as soon as possible, this will make sure to give your boxsky the chance to socialize with other dogs.
Possible Health Problems
Health issues can be common with any mixed breed.
For husky boxers, potential problems include hip dysplasia, cataracts, congenital heart defects and certain types of cancer to name a few.
Wobbler Syndrome
Wobbler syndrome can be inherited from the boxer side of the family and causes compression of the spinal cord and nerves in the neck. This compression results in a loss of feeling in the feet and legs causing dogs to wobble or walk strangely.
It is a debilitating condition that can cause pain but it can also be treated medically by managing pain and restricting activity.
Cushing's Syndrome
Boxers are commonly affected by Cushing's syndrome which occurs when the dog's body produces too much cortisol. Pituitary dependent syndrome causes tumors to grow in the pituitary gland in the brain.
Other issues like adrenal dependant syndrome occur due to a tumor in the adrenal glands near the kidneys. Both variations can be detrimental to health but surgery can cure the disease.
Cataracts
This problem can be inherited from the husky parent side due to autoimmune disorders which are common in huskies. Cataracts are common issues impacting the opacity in the dog's eye which can affect their vision and if left untreated may cause permanent blindness.
The combination of two breeds with different health concerns means that boxer and husky mix dogs are more prone to a wider range of health problems so this is always something to consider with a mixed breed.
Food Requirements
Keeping your dog healthy means knowing exactly what kind of diet they need. With a medium weight dog like the Siberian husky boxer mix, they will need one cup of food three times a day and the food will contain plenty of vitamins and minerals.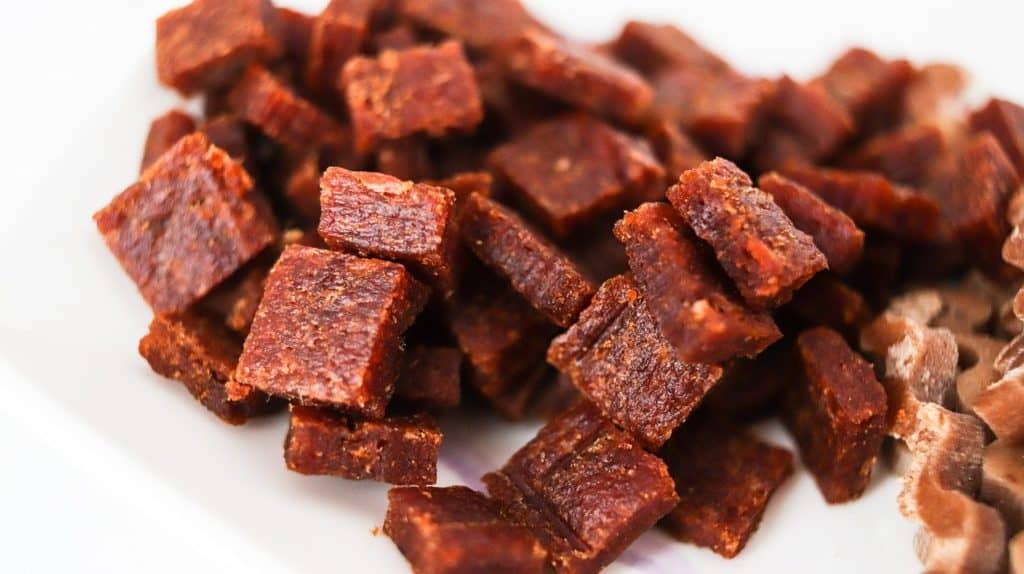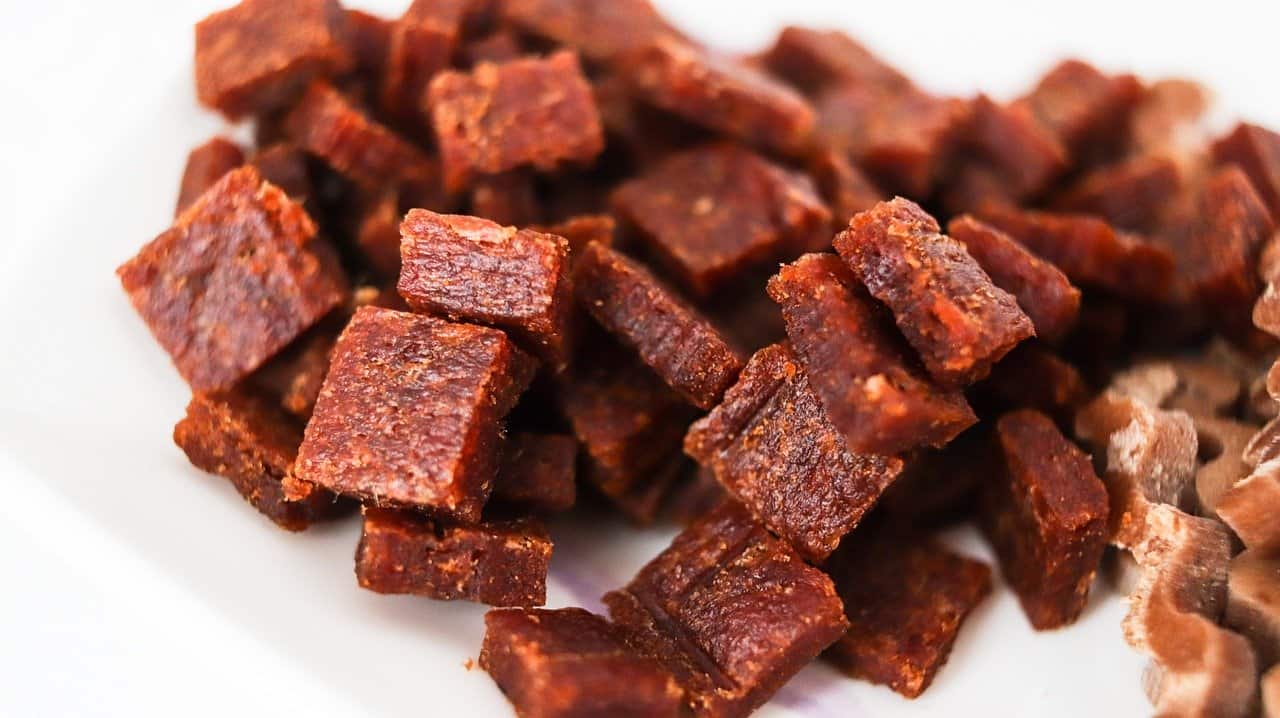 Remember that certain foods can cause harm to any dog. Your boxer husky mix will appreciate some raw meat or fibre-based cereal but some human food can be harmful.
Citrus fruits can cause indigestion and grapes and raisins can be toxic for dogs. Make sure to learn about these harmful foods before you feed your boxsky anything other than high-quality dog food. I know that it's tempting to share everything with your dog but make sure you aren't causing him any harm first.
Scout's Pick
Diamond Naturals Premium Large Breed Formulas | Amazon
Made with ingredients of exceptional quality, Diamond Naturals provides complete, holistic nutrition for every pet. Each Diamond Naturals dry formula is enhanced with superfoods and guaranteed probiotics, for optimal nutrition and digestive support.
Buy at Amazon.com
We earn a commission if you click this link and make a purchase at no additional cost to you.
03/22/2023 09:38 am GMT
Grooming
Thanks to that thick husky coat, your boxer and husky mix will need daily grooming to avoid matting and help with the shedding process. The best equipment you can get for this kind of coat is a toothed-comb.
However, if your boxsky adopts more of a short hair coat from its boxer parent, you can use a curry brush and just give it a weekly once over.
If you are allergic to dog fur or asthmatic, this is something to consider when buying a dog that might shed frequently. One solution is to look for a short hair boxer and husky mix. The good thing is they won't need regular baths unless you have a particularly mucky pup.
Other Accessories
Once you've got your food and grooming supplies, there are a few other accessories you will want to think about for a boxer husky mix.
Many owners have found that for dogs of this size, a harness is much easier to use on walks than a collar and lead. Harnesses offer more control which is exactly what you'll need if your boxsky happens to spot a smaller animal.
Husky boxers are also prone to get agitated if they are stuck inside all day or not getting enough exercise. I would recommend giving them as much exercise as possible but if they are still hyper, an indestructible dog chew toy could help to keep them occupied at home and stop them from chewing up your furniture.
Where to Get a Boxsky
This special breed of dog can cost between 800-1000 USD. Always look for a reputable breeder instead of puppy mills where dogs and puppies are often kept in poor conditions.
For the best results, look at the boxer husky parent to make sure that they are pure breeds or you could end up with all sorts of breeds mixed into your husky boxers.
You can also adopt from an animal shelter. Although there's less certainty about the breed and where they come from, you'll be giving an abandoned dog a home. There are several legitimate sites where you can adopt a dog or other pet.
Conclusion
Although there are some important things to consider when adopting or buying a boxer husky mix, such as health problems and considerable commitment to exercising them, I think these things are worth the trouble for a loyal and loving pet.
The combination of characteristics from huskies and boxers makes for a unique looking dog with a pleasant personality. All dogs can have their little quirks but the important thing is to get them into training quickly so you always keep them under control.
We can't guarantee which traits your boxer and Siberian husky mix will inherit but we can tell you that your dog will be totally unique if you opt for a boxsky.
Continue reading:
The 7 Best Dog Brushes For Your Husky (Grooming Tips)