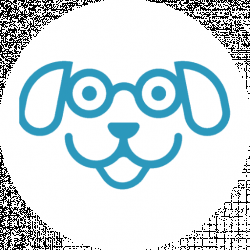 Latest posts by Scout Knows Team
(see all)
Rottweilers were originally bred to pull carts and drive cattle, and though they don't do much of that nowadays, they are still very strong and active dogs. Getting the best dog food for Rottweilers for your pets is crucial because of their size and the long list of health problems to which the breed is prone.
No products found.
Top 5 Rated Best Dog Food For Rottweilers
| Recommendation | Best Dog Food For Rottweilers |
| --- | --- |
| Top Choice | No products found. |
| Runner Up | No products found. |
| Budget Choice | No products found. |
| Best Dog Food For Rottweiler Puppies | No products found. |
| Best Grain-Free Dry Dog Food for Rottweilers | No products found. |
Our Top Pick: Eukanuba Breed Specific Adult Dry Dog Food
Our top pick is the Eukanuba dry dog food which was formulated specifically to meet the nutritional needs of Rottweilers. The primary ingredient in the recipe is chicken, which provides the protein your pup needs to develop and maintain lean muscle. The other ingredients include cornmeal, whole grain sorghum, and barley.
All of those combine to provide a healthy mix of protein and carbohydrates. Chicken fat is also present, along with fish oil, both of which supply fat for your pet's energy-intensive activities. The recipe also includes Vitamin E and Beta-carotene, which boost the immune system and prevent the onset of many of the diseases which often afflict Rotts. It also contains calcium in significant quantities to help maintain your pet's bones.
You can only buy this product in a single flavor, and though there are usually multiple size options, the 30-pound bag is most commonly in stock. Since it's a dry food though, there's no problem with storing it and using it as needed.
Pros
High protein level
High calcium content
Formulated specifically for Rottweilers
Contains proprietary 3D Dentadefence ingredients to prevent tooth decay
Contains Chondroitin and Glucosamine
Cons
Contains chicken by-product
Single flavor option
Our Runner-Up Pick: Royal Canin Breed Health Nutrition Adult Rottweilers Dry Dog Food
No products found.
Royal Canin is a popular high-quality dog food brand, and this product is also popular among Rott owners. The entirety of the formulation is made just for Rottweilers, from the ingredients down to the shape and size of the kibble. That means it'll be easier to get your pets to take to it and stay on it in the long term.
The primary protein source in this product is chicken by-product meal. It's supplemented with brown rice, wheat, vegetable oil, and other ingredients. The recipe is high in protein, appropriate for active working dog breeds but not so much as to post a problem to the digestive system.
The kibble is shaped to ease the process of picking it up and chewing it, but it's also designed to force your pooch to eat slowly. That might seem like a small thing, but it's really not – too-quick eating is one of the major causes of bloat in Rottweilers, which could lead to severe pains and can even be fatal.
Pros
Contains essential vitamins, and minerals
Exclusive, bloat-preventing kibble design
Contains taurine, EPA, and DHA to promote cardiac function
Promotes lean muscle gain
Contains essential amino acids
Cons
Chicken by-product meal is the first ingredient listed
No flavor and size options
Best Budget Pick: Blue Buffalo Life Protection Formula Natural Adult Large Breed Dry Dog Food
No products found.
For our budget pick, we've gone with what's is definitely the obvious choice on value for money scale. This BLUE product is made from chicken, fish, or lamb as the first ingredient depending on which flavor option you choose. For carbs, the choices are brown rice and oatmeal, both of which are healthy, wholesome ingredients for your pup's energy needs.
Although this product isn't made specifically for Rottweilers, it's made for large breeds, and thus covers the Rottweiler breed quite well. It contains protein to help your pup maintain healthy body weight, and the carb sources are also carefully chosen to introduce a lot of fiber into the dog's diet. That will make your dog feel satiated and less likely to overeat.
The ingredients are all natural, so you don't have to worry about food allergies as a result of artifiicial colors, flavors or preservatives.
Pros
100% natural limited ingredient list
High dietary fiber
Premium protein sources
Contains glucosamine and chondroitin for joint maintenance
Contains Lifesource Bits – an exclusive mix of minerals, vitamins, and antioxidants
Appropriate for all life stages
Multiple flavor options
Multiple size options
Affordable price
Cons
Not formulated specifically for Rottweilers
Best Dog Food For Rottweiler Puppies: Iams Proactive Health Puppy Dry Dog Food – Chicken
No products found.
Although many dog food brands are appropriate for all life stages, getting your Rottweiler puppy food that's made specifically for young dogs will be better, in the long run. Those products are usually made to provide the specific nutritional needs of fast-growing dogs, and the kibble is also usually smaller to make it easier for your pet to eat and digest.
The Iams Rottweiler puppy food contains farm-raised chicken as the primary ingredient. That gives your pup a wholesome source for all the protein he needs to grow out and develop the muscular frame that Rotts are known for. Whole grain corn and sorghum supply the carbs, while tomatoes, carrots, and other fruits and vegetables provide vitamins and minerals.
In addition, there are up to 22 essential nutrients which are found in mother's milk which have also been included in this formulation. That makes it ideal to supplement the diet of very young pups and even when they grow somewhat older.
Pros
Contains omega fatty acids
Made specially for puppies
High protein content to facilitate fast growth
Contains calcium for bone development
Premium, sustainably sourced ingredients
High fiber content for healthy digestion
Multiple size options
Cons
Best Grain-Free Dry Dog Food for Rottweilers: Instinct Raw Boost Grain Free Recipe Natural Dry Dog Food
No products found.
This Instinct product is made with freeze-dried chicken as the first ingredient. That makes it a great source of protein for your pooch. Because the chicken pieces were freeze-dried while raw, most of the ingredients will have been retained, meaning that each bite will give your pet more nutrients than other, more heavily processed products.
In addition to the chicken, the rest of the ingredient list is made of similarly wholesome foods such as apples, carrots, cranberries, and others to provide all the other necessary nutrients.
The recipe also contains probiotics and omega fatty acids to promote digestive function and skin/coat maintenance, respectively. Since it's grain-free and does not contain soy, wheat, corn or artificial chemicals, this is also a great option if you're looking for a product with minimal allergenic risk.
Pros
Fully natural ingredient list – no artificial colors, flavors or preservatives
Gluten-free
Contains amino acids and omega fats
Good for starting off a raw food diet
Minimal processing for nutrient retention
High-quality control since it's made domestically
Multiple flavor options
Available in multiple sizes
Cons
---
Buyer's Guide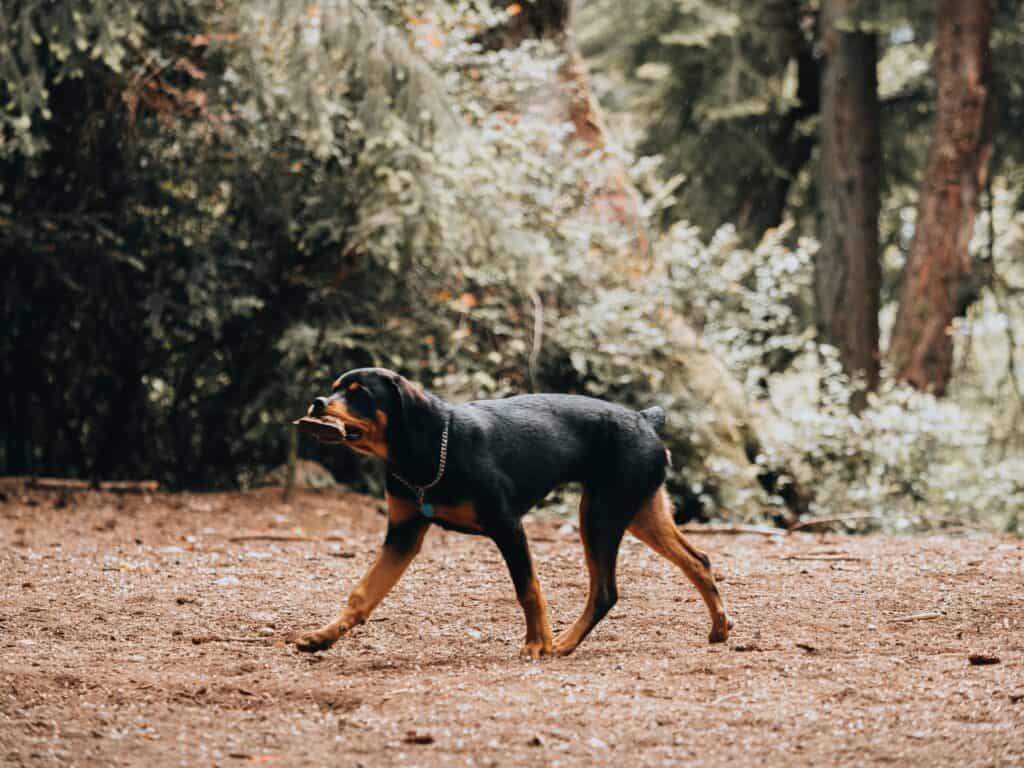 Rottweilers are large, muscular dogs with certain special needs when it comes to nutrition and diet. Give your Rott a well-balanced diet, and you'd have set him up for long healthy life. Get it wrong though, and it won't be pretty, to say the least. Here are a few things you should keep in mind while choosing the best dog food for Rottweilers.
Ideal Ingredient Proportions
In choosing the best dog food for Rottweilers, you should take the time to inspect the ingredients list in order to understand exactly how much of each nutrient is in a product. Choose products with a balance of all the macro and micro-nutrients so you can be certain your pet is getting everything he needs for a long, healthy life.
Protein should be the most prominent ingredient in the food. The exact proportion, however, will vary depending on how active your pet will be. Generally, 20% to 30% is good because it's high in calories. However, if your canine is very active, then up to 35% would suffice.
Fat is essential as an energy source and also to keep the skin healthy and the coat shiny. Aim for between 10% to 15%. Like the protein, working/very active/athlete dogs will need more – up to 18%.
Carbs are essential too, but the lower the quantity, the better. Carbs can contribute to allergies and obesity, especially in large dogs which already have a predisposition to be big. Choose food with less than 20% carbohydrate content.
Vitamins and minerals generally come in very small proportions, so just watch out to be sure everything that's essential is present. If you're selecting from this list of the best dog food for Rottweilers, all the products have the necessary vitamins and minerals.
Common Rottweiler Health Problems
Joint Diseases
Rottweilers are predisposed to a condition which is caused by the breaking down of the cartilage in the joint where two bones meet. It can also occur if the cartilage develops calcium spurs and can no longer protect the bones as a result. The condition is known as Osteochondritis Dissecans and can lead to pain, swollen joints, and lameness or arthritis.
The other common joint disease among Rottweilers is hip dysplasia and elbow dysplasia. Both are genetic and degenerative, though it can be managed effectively through an optimal combination of diet and medication.
Both conditions can be exacerbated by your pet being overweight since that would put more pressure on the bones and joints. Hence, keeping your pet at a healthy weight level is essential to combating them. Also, for Osteochondritis, growing too fast can be a factor. Be sure to feed your dogs moderately and if possible, with large breed puppy food while they're young. That'll help them grow at a measured pace and prevent over-stressing of the bones.
Bloat
Unlike the human version, the canine version of bloat can often be a severe and even fatal condition. It occurs when a dog's stomach is swollen with too much gas.
It can be caused by eating too quickly or exercising too soon after eating. Serve your dog's meals in moderate portions two or three times a day and allow him to rest after eating.
Obesity
Rottweilers are prone to weight gain, and it can lead to several other medical conditions if left unaddressed.
Feed your pet moderately and make sure he gets lots of exercise. That should be enough in most cases. Where it isn't, see a vet quickly.
Cancer
As in humans, cancer is a very severe condition. It can be treated but the chances of success are low. To prevent its onset, feed your dog food that's made from wholesome ingredients.
Prioritize products which contain antioxidants and stay away from those which include artificial chemicals.
Frequently Asked Questions
Question: How much should I feed my Rottweiler?
It depends on the life stage of your pet. If it's an adult, between 4 and 10 cups of dry food should be ideal on a daily basis. Although the range is quite wide, the exact number will depend on your pet's sex (males tend to be bigger than females), size and level of activity.

Large breed puppies should be fed according to the vet's directions because they grow quite rapidly from birth till around 4 – 5 weeks. After that, you can begin to feed a cup or two of dry food. Bear in mind that Rotts usually reach their full adult height before attaining adult weight. Don't make the mistake of overfeeding your pet because he looks a bit lanky.
Question: How often should I feed my pet?
Whichever schedule you choose, it's important to keep it consistent. Generally though, feeding your pup twice should get good results.

That way, you'll avoid overfeeding him at any one time, thus reducing the risk of bloat. Keep an eye out for signs of being over-full, excess flatulence, and weight gain or loss to adjust the schedule or quantity.
Other Dog Food For Rottweilers We Reviewed
Canned Food
Food for Muscle Mass Gain
Canned Food
Wellness Complete Health Natural Wet Canned Dog Food Senior Chicken & Sweet Potato
No products found.
If you prefer to feed your Rottweilers canned food, then you should be considering this Wellness product. It's targeted at seniors, but the formulation is also appropriate for adult dogs generally.
It's made with the premium ingredients that the brand is known for, and the quality control is exceptional, so there's minimal risk of getting a bad batch. There's more moisture in the meal, so it's helpful if your pets don't ordinarily take enough water alongside their food.
Chicken and ocean fish provide the protein intake your pet needs, while ground barley, rice bran, and sweet potatoes supply the carbs. Carrots, Canola oil, and others are included to take care of the vitamin and mineral needs. Those provide Vitamins A, E, and D3 along with biotin and other nutrients essential for the immune system, eyesight, digestion, and other body functions.
Features
All natural ingredients
Premium chicken as primary protein source
Domestic production – high quality control
Contains essential vitamins
Single flavor and size
Blue Buffalo Wilderness Grain-Free Canned Dog Food
No products found.
Another entry on this list from Blue Buffalo, this product comes in two flavor options. You can choose the duck & chicken grill or the salmon & chicken grill. Either way, your Rottweiler will get a formulation that's delicious and chock full of all the nutrients she needs.
The first ingredient depends on the flavor you choose, but either way, it'll be a premium protein source with the kind of quality pet owners have come to expect from BLUE over the years. The recipe is balanced and contains carbs, fats, vitamins and minerals along with other micro-nutrients. That makes it a great cross between dry dog food and a raw diet which often requires additional nutritional supplementation.
In addition, the pricing is very reasonable for the value you get, when compared to other options in the market.
Features
Premium ingredients
Exceptional customer service in case of inquiries
Two flavor options to choose from
Contains all essential vitamins and minerals
Provides a balanced diet
Highly palatable
Food for Muscle Mass Gain
Purina Pro Plan SPORT Formula Dry Dog Food
No products found.
The Purina Pro line is more renowned among pet parents for their therapeutic food products, but your dog doesn't need to be sick to benefit from this one. It's made specifically for large breed dogs and promotes lean muscle development to make your dog look and feel like the working dogs of old.
It contains a whooping 30% of protein and 20% of natural fat to supply Fido with all the energy he needs to stay active for extended periods. By staying active and getting exercise, your pet will begin to develop lean muscle.
Chicken is the first listed ingredient, with cornmeal providing the carbs along with other wholesome ingredients. The formulation is rich in anti-oxidant to boost immune function and protect your dog from the activity of free radicals.
Features
Great for the immune system
High protein and fat content
Ideal for very active dogs
Contains anti-oxidants
Promotes metabolism
Contains calcium, omega fatty acids, and essential vitamins
Conclusion
If you have a Rottweiler, you'll need to keep it active and well-fed. In terms of quantity and quality, the food you give your dog will be the biggest determinant of its health.
Go through this list of the best dog food for Rottweilers and consider exactly what your pooch needs. One of our picks here will certainly be just what you need. Place your order, get it and begin to feed it to your dog for a long, healthy life.
Continue reading:
Breed Restrictions for Apartments: Most Common Dogs Not Permitted
How Pet Insurance Covers Knee Ligaments