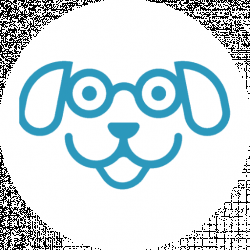 Latest posts by Scout Knows Team
(see all)
Over the past year, we have reviewed a lot of dog foods. One category that has gained a lot of popularity is limited ingredient dog foods. Why would you want a dog food with fewer ingredients listed? Don't dog's love variety? While dogs do love variety, some ingredients are harder to digest or are more likely to contribute to some health issues.
Top Pick
Top Rated Limited Ingredient Dog Foods
| Recommendation | Limited Ingredient Dog Food |
| --- | --- |
| Top Choice | No products found. |
| Runner Up | No products found. |
| Budget Choice | No products found. |
Our Top Pick: Nutro Limited Ingredient Diet Grain-Free
Runner-Up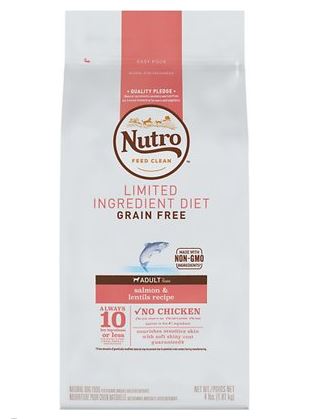 Nutro is a brand that is often unavailable in grocery stores, but luckily Amazon carries it at a decent price. They consistently offer top quality non-GMO ingredients in all their formulas. This limited ingredient dog food has everything even the most sensitive dog's need to have a great meal with no distress. This is one of the popular brands that is a venison meal for dogs. It is worth pointing out that this formula is entirely chicken-free and contains no corn, wheat, soy or dairy, making it ideal for dogs that experience allergies regularly.
If you are struggling to figure out what your dog is most sensitive to, you might be able to save yourself a lot of frustration by simply choosing a dog food that contains absolutely none of the most common allergens. While the price tag may seem a little high, remember that this is grain free dog food and very concentrated so a bag is going to last longer than you think.
Our Runner-Up Pick: Natural Balance L.I.D. Limited Ingredient Diet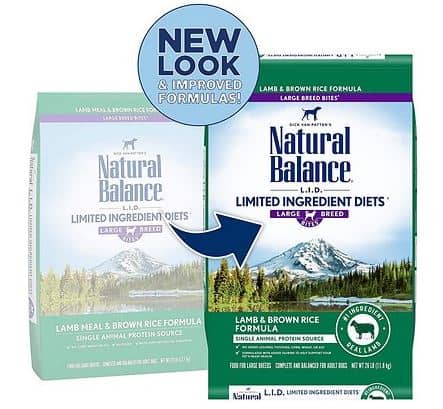 Sweet potatoes and fish create a flavor that your dog will love. Easy to digest ingredients and a grain-free formula offer concentrated nutrition that can help sensitive dogs out a lot. Natural Balance is a very trusted name and they stand behind their products. This version of kibble has no artificial colors, flavors, or preservatives. If your dog has skin allergies then a fish based dog food can be the answer to their woes.
While adding any fish oil to their diet is good, it is convenient when there is a source already in their daily food. In fact, while fish is a main ingredient, they add additional salmon oil to make sure that your dog is getting a lot of Omega-3 and 6 fatty acids as well as DHA. DHA has been shown to promote healthy brain development and function. This would be a good food for pregnant or nursing dogs with allergies too!
Best Budget Pick: Taste of the Wild Grain-Free Dog Food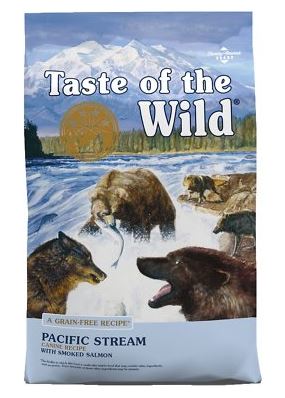 Taste of the Wild makes a lot of my dog food lists. It is just hard to beat in terms of ingredient quality, availability, and price. This version contains venison as the primary protein source. Even dog's that are very sensitive to a lot of proteins like poultry and beef, can usually eat venison based dog foods just fine. While Bison is another protein in this food, it is higher quality and fed less GMO's than the old dairy cow beef and byproducts found in a lot of commercial dog foods.
Taste of the Wild contains no corn, wheat, soy, artificial colors and flavors, and no cheap by-products. Added probiotics encourage healthy digestion so your dog has fewer stomach issues and gets the most nutrition out of every bite.
---
Buyer's Guide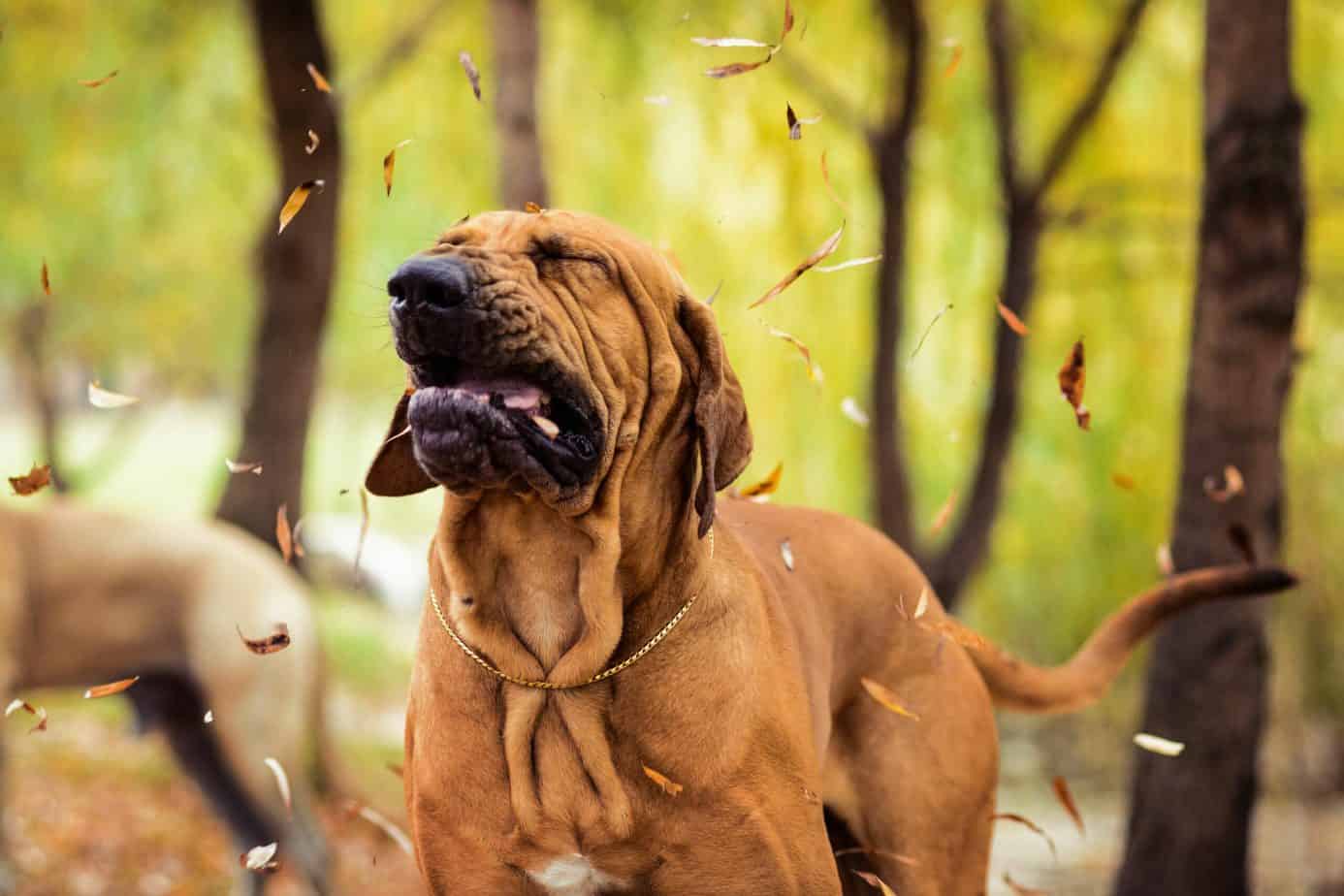 Dogs with Allergies Benefit from Limited Ingredients
Is your dog itchy? Does your dog seem to have a rash or redness? Unfortunately, some breeds are more prone to allergies than others. Overall, dogs are experiencing more allergies than in the past. Dog foods with limited ingredients help you have better control over your dog's diet. A lot of veterinarians recommend diet changes when they diagnose your dog with an allergy.
Limited Ingredients Combat Stomach Issues
Some dogs are just more sensitive than others. Our Lab mix, Leroy Brown, is very sensitive to any diet change. While the Great Pyrenees are fine with treats they have not had before, Leroy gets diarrhea and vomits if he eats anything besides his kibble and a few meat scraps. We just have to be careful about how many snacks he has and he is fine. Also, we avoid changing brands really fast. We go back and forth between different flavors of Diamond Naturals.
Underlying conditions and medications can also cause dogs to have more sensitive stomachs. As a dog ages, the problems may become more apparent or require a diet change.
Price Versus Ingredients
Limited ingredient dog foods are made with a lot of care and that means they cost more. Finding a limited ingredient formula dog food can be difficult if you are not ordering them or going to a specialty pet store. All of the dog foods discussed in this article can be ordered on Amazon. Many of the formulas can be set up as an auto order item so you don't run out and you can enjoy 5-15% savings off the regular Amazon price. This is a good way to help reduce the cost of a more expensive kibble.
Remember that allergies and sensitivities can be hard to pinpoint. Your vet can help you find the problem. Scout recommends a diet change if your dog has allergies. Sometimes just changing diet can make a huge difference in the health of your dog.
Thanks for reading! Scout hopes you have discovered a fabulous limited ingredient solution for your dog! Remember to check out our in depth dog food reviews for the low down on individual dog foods. Scout can help you avoid buying the wrong foods so you save time and money.
Other Limited Ingredient Dog Food We Reviewed
Purina Beyond Grain-Free Dry Dog Food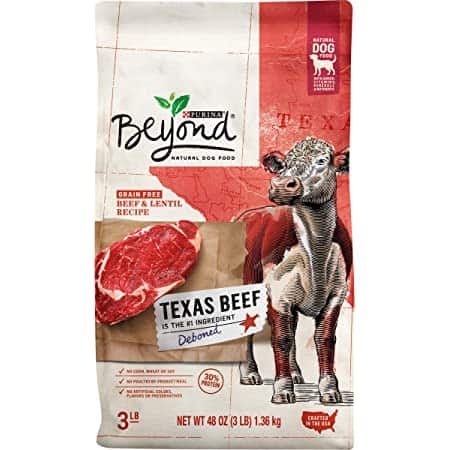 Purina is capable of making great dog food. Pet parents just have to be sure that they are picking one of the better formulas for their dog. Purina is a big producer of pet foods so they try to cater to those across the spectrum of dog owners.
Purina Beyond is a newer brand that offers a grain free limited ingredient kibble at a very affordable price. This white meat chicken and egg-based recipe is easy for dogs to digest and contains no poultry by-products. While this may not be a suitable dog food if your dog seems to be sensitive to poultry, it is a good option for dogs that don't tolerate grains like corn, wheat, or soy. Beyond has no artificial colors or flavors either. While Amazon has a decent price on this food, you can also find this brand at a lot of grocery stores, making it very convenient.
Blue Buffalo Basics Limited Ingredient Grain-Free Formula
Top Pick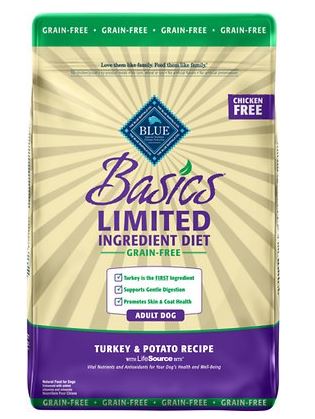 Wholesome turkey and potato are the main ingredients in this popular limited ingredient dog food from the renowned Blue Buffalo brand. First of all Blue Buffalo has no cheap ingredients or fillers and they never use artificial colors and flavors. This formula has no corn, wheat, soy, dairy, chicken, beef, nor any by-products. For a sensitive dog, Blue Buffalo is a great solution that is easy to order and find at pet food stores. Many grocery stores carry Blue Buffalo.
I like that Blue Buffalo includes pumpkin because that helps with digestion and adds some sweet flavor that entices even the pickiest eaters. Fish oil is a source of Omega-3 and 6 fatty acids and can help dogs that have severe skin issues and allergies.
If you like to try other options, you can try Against the Grain Nothing Else Dog Food which is made of 100% duck.
Continue reading:
Zignature Kangaroo Limited Ingredient Formula Grain-Free Dry Dog Food Review
Nulo Freestyle Grain-Free Adult and Puppy Dry Dog Food Review