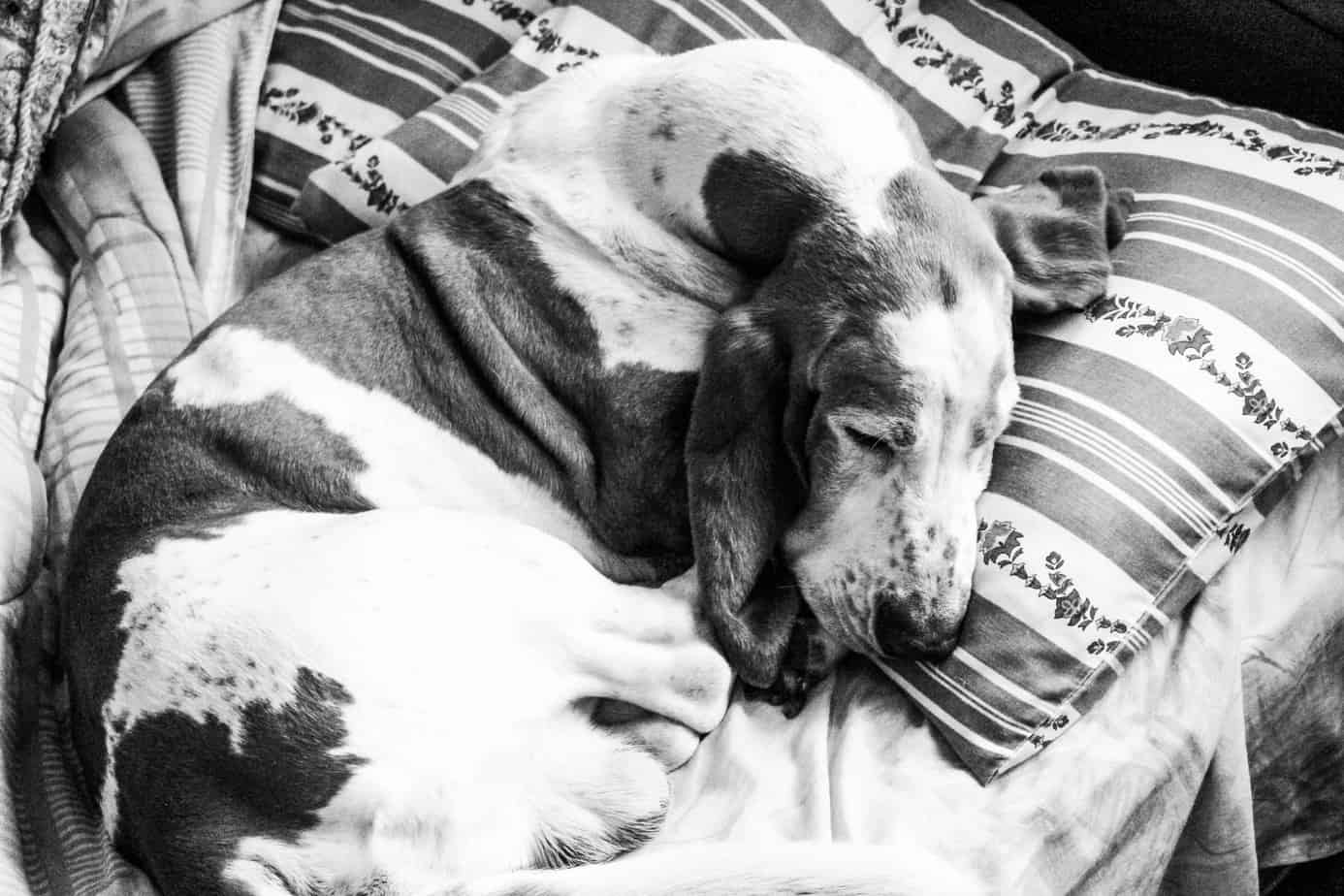 Canine hypothyroidism can affect all aspects of a dog's life. Like a human's, a dog's pituitary gland produces thyroid stimulating hormone, or TSH. Hypothyroidism is a thyroid problem that occurs most commonly in middle-aged and older dogs. This means that the thyroid is not working properly which can lead to a range of unpleasant side effects.
The most common symptoms are skin diseases, weight gain, lethargy, intolerance to cold temperatures. Some dogs are more likely to suffer from hyperthyroidism than others. If you have a German Shepard, Golden Retriever, or Irish Setter then you need to pay particularly close attention to any symptoms. The condition is most common in medium to large breeds of dogs.
In some cases, hyperthyroidism can be linked to raw food diets. If your dog is not on a raw food diet, then it's unlikely that their food is the source of the problem – but that doesn't mean it's not still critically important. A "clean," high-quality diet with minimal filler is essential for combatting hypothyroidism successfully.
Every kibble on our list is worth considering, but the best of the best is the Wellness CORE Natural Grain-Free dry food. It's grain-free, high protein, and loaded with antioxidants. It's also readily available at most major pet stores, unlike many hyper-specific holistic formulas. For the rest of our picks, including our honorable mention, keep scrolling.
Hyperthyroidism vs. Hypothyroidism
Before you can consider the best dog food for hypothyroidism or the best food for hyperthyroidism, you need to know the difference between the two thyroid ailments. The thyroid gland is located near the throat and has a shape similar to a butterfly. In a nutshell, it is a control center for your body. The hormones secreted through the thyroid gland impact the actions of the heart, brain, organs, and muscles. Thyroid function is responsible for the hormone release that ensures the body uses energy properly.
The biggest difference between hyperthyroidism and hypothyroidism is the hormone output by the thyroid gland. In hypothyroid dog or humans, the gland is an underactive thyroid gland. The pituitary gland doesn't produce enough TSH. This means that there is an underproduction of thyroid hormones. This causes your thyroid function to slow down, negatively impacting the dog's metabolism and body functions.
Signs of hypothyroidism in dogs include:
Weight gain
Dry fur and dry skin instead of healthy skin
Pain
Swelling
Mood changes
Decreased activity levels
Fatigue
This kind of thyroid problem can negatively impact your dog's life and reduce their lifespan without proper thyroid medication medication and treatment.
Hyperthyroidism is the opposite of hypothyroidism in dogs and people. Hyperthyroidism sees an increase in the dog's metabolism and an over-production of thyroid-stimulating hormone TSH from the pituitary gland. The most dangerous aspect of hyperthyroidism is the potential for tumor growth. The signs of hyperthyroidism are mostly opposite of the symptoms of hypothyroidism.
Clinical signs of hyperthyroidism in dogs include:
Weight loss
Overheating
Sleep problems
Anxiety
Fatigue
Personality and mood changes
Dog hypothyroidism and hyperthyroidism may have different impacts on your dog's life but can be equally detrimental.
Diagnosing Hyperthyroidism
The symptoms of hyperthyroidism can mimic a lot of other conditions so the only way to know for sure that your dog has this condition is to have your veterinarian run tests. Do not try to self-diagnose and treat. There are so many things that can be causing issues with a dog. You don't want to treat a problem only to find out that you are ignoring the real issue.
Hyperthyroidism is something to be concerned about because it is often caused by a thyroid tumor. Treatment sooner rather than later is of course best. A blood test is the surest way to determine if your dog is suffering from hyperthyroidism. A periodic blood test in middle-aged to older dogs is recommended anyway to catch problems before they get any worse.
Diagnosing Hypothyroidism
When the clinical signs of hypothyroidism in dogs start to make an appearance, you should take your canine companion to the vet immediately. The detection methods for dogs with hypothyroidism is similar to the process with people.
Blood Tests
Blood tests are the first step in finding a hormone imbalance or hypothyroidism in dogs. Blood tests often measure the level of TSH as produced by the pituitary gland. Alternatively, they may test for the presence of the thyroid hormone thyroxine. If the test shows a low level of thyroxine and a high level of TSH, the presence of hypothyroidism is indicated.
Blood tests can also measure levels of iodine in the blood. As an iodine deficiency can be the cause of hypothyroidism, this is one way to look at the overall picture. Most humans get plenty of iodine in their diet. By giving your dog the best dog foods for hypothyroidism, this shouldn't be a problem for long.
Is it Something Else?
Overeating is a big sign of hyperthyroidism but unfortunately, it is so common in dogs, especially in the USA that dog owners don't even realize that there may be a different reason for their dog's weight gain. If your dog is middle-aged or older and one of the at-risk breeds, then it is worth it to get them tested for disorders that might be contributing to the weight gain. As stated before, a blood test is the only sure way to determine if hyperthyroidism is the culprit. Tackling the weight issues of your pets can help them live a lot longer and healthier life.
With dog hypothyroidism, the symptoms can also be indicative of something else. It could be a different hormone imbalance or some other autoimmune thyroiditis or disease. That's why it is so important to take your dog to the vet as soon as you realize something is wrong.
Diet Options
Treating hypothyroidism isn't a one-size-fits-all approach, and the same is true for the type of food you pick. The kibble on our list is a good place to start, if they don't work for you there are a few things you need to keep in mind when making your selection.
Breed-Specific Formulas
Some dog foods such as Royal Canin have breed specific formulas that are designed to consider the unique nutritional and health needs of each breed. There is a lot to be said for such attention to detail and the research that goes into these dog foods.
Grain Free
Regardless of any disorders, there is a big argument to be made for grain free dog food. Soy, wheat, and corn are often produced with Genetically Modified Organisms (GMOs) and they are used as cheap fillers that lack nutritional benefits. When dogs are getting a lot of cheap grains they tend to gain weight more easily which makes the symptoms of hyperthyroidism worse. Some dogs have allergies to grains that can contribute to skin problems which are another sign that a dog may suffer from hyperthyroidism.
Cooked At Home Diet
It can be hard for a lot of pet owners to keep up with homemade dog food. Making sure dogs get the right amount of calories, as well as the proper levels of vitamins and nutrients, can be a challenge. Involving your veterinarian can make it a bit easier or at the very least make sure you are giving a good dog vitamin to fill in any gaps from recipes you might be using.
Keeping the calorie count at a reasonable level can be a challenge and it is so important in dogs that are struggling with weight issues. Gradually reducing calories can be easier for some dogs than any drastic change in the number of calories they are getting per day.
Changing Your Dog's Diet Should Be Done Gradually
Scout always has to stress how important it is to not suddenly change any of her friend's food routines. Sudden changes can cause any number of internal upsets. Even dogs that normally are good about using the bathroom outside may find they can't make it out the door. Gassiness, bloating, belching, vomiting, and more can all occur if you just change dog food all at once. Rather than going through all that just start replacing your dog's regular kibble with a small amount of the new food and keep increasing the ratio of the new dog food over a week long time period. Most dogs do just fine adjusting to a new food at this pace.
The Best Dog Foods for Hypothyroidism
Taste of the Wild Dry Dog Food With Smoked Salmon | Chewy
Formulated with novel proteins including real smoked salmon, this grain-free recipe includes peas and sweet potatoes that deliver the highly-digestible energy your active pup needs, along with natural antioxidant support from real fruits and vegetables and dried chicory root for prebiotic support and healthy digestion.
Check Price
Buy at Amazon.com
We earn a commission if you click this link and make a purchase at no additional cost to you.
This company and the flavors it offers gets a lot of positive feedback from both dogs and their human parents. For starters, it is widely available. Big companies such as Tractor Supply carry it as well as a lot of smaller feed stores and others (including Amazon). The grain-free characteristics are a major plus because you can eliminate the chance of grains making skin conditions worse. Some formulas such as the salmon formula contain fish oil that can further treat skin issues. The lack of grains combined with quality balanced proteins makes it easier for dogs with hypothyroidism to maintain their weight.
Blue Buffalo has a good reputation for quality dog food. This formula combines meat, veggies, and rice for a wholesome and balanced blend that is formulated to help adult dogs maintain a good immune system and healthy weight and skin condition. No Blue Buffalo formula contains any by-products or fillers, making it one of the best dog foods for hypothyroidism. Joint health is also addressed through the use of added glucosamine. There are a lot of Blue Buffalo flavors to choose from and the quality is top notch so feel free to explore the different types to find the right one for your dog.
Purina definitely has brand loyalty and variety going for it. This premium blend of chicken and rice has everything your dog needs to maintain a healthy weight, shiny coat, and good energy levels. While this formula does contain some grains, care is taken with regard to quality and amounts. If your dog is used to traditional dog foods then this formula can be a good choice that gives them some of the grain they are used to, but in a smaller portion and of higher quality. Prebiotics help your dog have better digestion. Dogs love the combination of crunchy kibble with meaty pieces. If you have a senior dog over 7 years of age you can get this formula in a blend specifically made for senior dogs as well.
Another go-to for pet parent's over the years has been Hill's. The sensitive stomach and skin formula is great for dogs with hyperthyroidism because it combats the skin and digestive issues that often accompany the condition. Vitamin E helps with skin and coat while dog parents can feel good about the lack of artificial colors and dyes that are found in this formula. This same formulation is also available in a slightly different formula for small and toy breed dogs so you can get a very specifically designed dog food for a great price. This choice is also a good dog food for hypothyroidism.
While Rachel Ray is most familiar to a lot of people through her cooking show, it just so happens she has concentrated her efforts in the dog food department as well. This dog food contains no fillers poultry byproducts that can sometimes aggravate the symptoms of hyperthyroidism. Dog owners report that their pooches have less digestive issues after starting on this food. The price is good for a natural based dog food and it is readily available at a lot of stores as well as Amazon. There are some grain products in this formula but it is only a little corn and soy. Rice makes up most of the grain in this formula and all ingredients are from the USA so for pet parent's that are still on guard against foreign pet foods with all the scares and recalls, this dog food makes a solid choice.
While wellness costs a bit more than what some of us are used to paying for a dog food, it is important to realize just how much nutrition and quality you are getting for the price. For starters, this dog food has absolutely zero grains that can interact and exacerbate the symptoms associated with hyperthyroidism. This USA-made dog food has nothing artificial in it. There is 80% more meat in these formulas than traditional dog foods. This means you are getting a lot of great lean protein that can help dogs maintain a healthy weight and activity level.
Omega Fatty acids naturally found in the wholesome ingredients help with skin and coat so allergies and other skin conditions are not as much of a problem or even eliminated in a lot of cases. Fatty acids are good for dogs or people with hypothyroidism. In general, try to find a dog food with plenty of fatty acids regardless of if you have a dog with hypothyroidism or other thyroid disease. Wellness gets top marks from Scout for being easy to get and offering quality at a reasonable cost.
Blue Buffalo's grain-free formulation is a big hit with dog parents. Part of this has to be because Blue Buffalo has such a fabulous overall reputation and it is still in the $2 per pound price range. This particular dog food is available in formulations for large breed dogs, healthy weight, beef, or lamb so pet parents have a lot of choices that can help enhance their dog's health and have a positive influence on their weight.
Scout loves that Blue Buffalo goes the extra mile to make a kibble that is sized so that all dogs can eat it with ease. This means that small dogs don't have to struggle to eat any of these formulas. A balanced level of Omega-3 and 6 fatty acids help make this dog food create the perfect conditions for a shiny coat with no flaking skin. Fatty acids are good for dogs or people with hypothyroidism. In general, try to find a dog food with plenty of fatty acids regardless of if you have a dog with hypothyroidism or other thyroid problems.
The lean animal protein can contribute to a healthy weight that is sometimes hard to achieve for any dog let alone if they are having to deal with thyroid problems.
This dog food is pretty awesome. They take pride in offering a very balanced and high-quality grain-free formulation made only with top-quality USA-sourced ingredients. Honestly, the ingredient list on this dog food almost sounds good enough for a person to eat.
Pork meal, beef, and lamb, plus dried blueberries, flavorful rosemary, sage, and thyme are sure to delight your dog. This food is great for sensitive stomachs because it contains probiotics that help your dog get the most out of the food they are offered. While this is not cheap dog food you need to consider that your dog will eat less of any quality grain-free formula so it will go further than you might expect.
FAQs
Question: What can happen if I give regular food to my dog with hypothyroidism?
Answer: If your dog has hypothyroidism and you keep him on regular dog food diet, his symptoms will eventually become worse and this can even lead to death.
Question: Can hypothyroidism in dogs be cured?
Answer: Unfortunately no. This condition cannot be cured, but there is a lifelong treatment you can give to your dog such as evothyroxine sodium tablets which is the only thing that is FDA approved to this day.
Question: Is there a particular breed that is affected with hypothyroidism?
Answer: This condition mostly affects medium-sized dogs and is present in breeds like Golden Retriever, Cocker Spaniel, Doberman Pinscher, and Miniature Schnauzer and early symptoms start as weight gain, excessive hair shedding and baldness.
Why You Should Consider Changing Foods
Changing dog foods is one of the easiest and most cost-effective ways to help your dog combat thyroid problems like hyperthyroidism and hypothyroidism. Any reduction in symptoms you can achieve means that your dog may not have to take as many medications and they very well might be able to lead a more active and fun life with you and your family. Scout knows that you love the canine members of your family and hopes this list of dog foods has offered some scrumptious options to help out for a lifetime of health and good times.