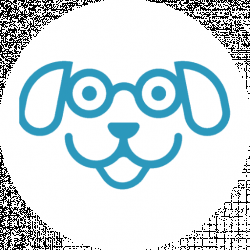 Latest posts by Scout Knows Team
(see all)
Raw feeding has become a popular new food diet for dogs. It is also known as BARF, which sounds really unappealing but stands for Biologically Appropriate Raw Feeding, or Bones And Raw Food (which is easier to understand). The best raw dog food delivery services around the country add to its popularity – what's not to love when you can get your pup's food delivered right to your home? Wouldn't that be amazing!
Although psychology automatically makes the word BARF sound like a bad thing, there are many advantages to this method of feeding. Basically, your pup will be eating raw, unprocessed foods. The big draw of BARF is that this is how your pup's ancestors used to eat in the wild – the most natural, universal way of feeding for canines.
If you feel your dog's diet would be improved by going raw, check out the best raw dog food delivery services around at the moment. Not only will your dog's health benefit, but these meal delivery services will bring the food right to your door.
Top 5 Rated Best Raw Dog Food Delivery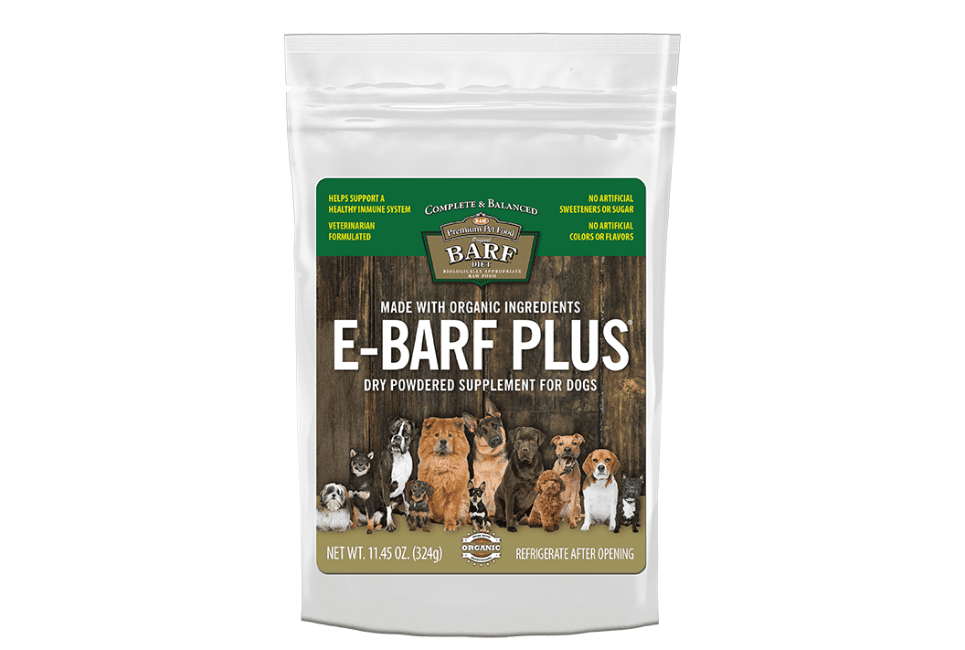 BARF World, as its name suggests, is all about the BARF diet. These are the guys who coined the phrase, so to speak, so you know they're all in when it comes to feeding your dog the right stuff! Their president is one of the original creators of the BARF diet, and it all came about based on the miraculous transformation of her own dog when switched to a raw diet.
Their whole-food blend is a complete and balanced diet of raw meat, fresh vegetables and fruit, and raw bone. It's also grain-free, so pups who may have a sensitivity to grains don't have to worry. Their ingredients are USDA-sourced, and they use human-grade quality meat. They also use garlic in their meals, so in addition to the excellent vitamins and minerals it offers, your pup will also be safe from vampires!
BARF World offers various items, including dog food (beef, chicken, lamb, and combo), treats and chews (elk antler chews, puppy protein powder), and supplements (probiotic powder, omega-3 oil, and flea and tick powders). They also sell essential oils for pets, with particular varieties for allergies, anxiety, and healthy ears. These guys are the real raw deal – you won't go wrong using BARF World products!
Pros
The original creators of the BARF diet
Whole-food, grain-free blend
High-quality, USDA-approved ingredients
Added vitamins and minerals
Various food items available
Other health-related items available
Great informative blog
Affiliate program available
Membership program also available
Affordable
Cons
If you aren't home when your food is delivered, it can thaw and will need to be used sooner – plan accordingly!

Besides having a cute name, Raw Paws have a great selection of raw food and treats available. Tripe flavors include beef, chicken, turkey, goat, and duck. They also offer food such as duck necks, raw smelt (fish), chicken necks and feet, and turkey tails. You can also order freeze-dried food if this is preferable!
Treats include freeze-dried tripe bits in various flavors, tripe sticks, jerky, chicken hearts, sweet potato chips, and omega-3 and -6 chews. Your pup will be spoiled for choice if they eat Raw Paws!
Shipping for freeze-dried items is free on orders over $49. For frozen items, a minimum order of $199 has to be placed. You can set up an auto-ship shipment, so you don't have to remember to place your order every month. They also have a Pet Birthday club! If that doesn't swing your vote their way, I don't know what will.
Pros
Affordable
Free shipping for orders over $49 (freeze-dried items) and $199 (frozen items)
Comprehensive Knowledge Base
Variety of choices available
Free warehouse pickups
Pet Birthday Club!
Cons
If you aren't home when your food is delivered, it can thaw and will need to be used sooner – plan accordingly!
Some states are unable to receive frozen items due to shipping time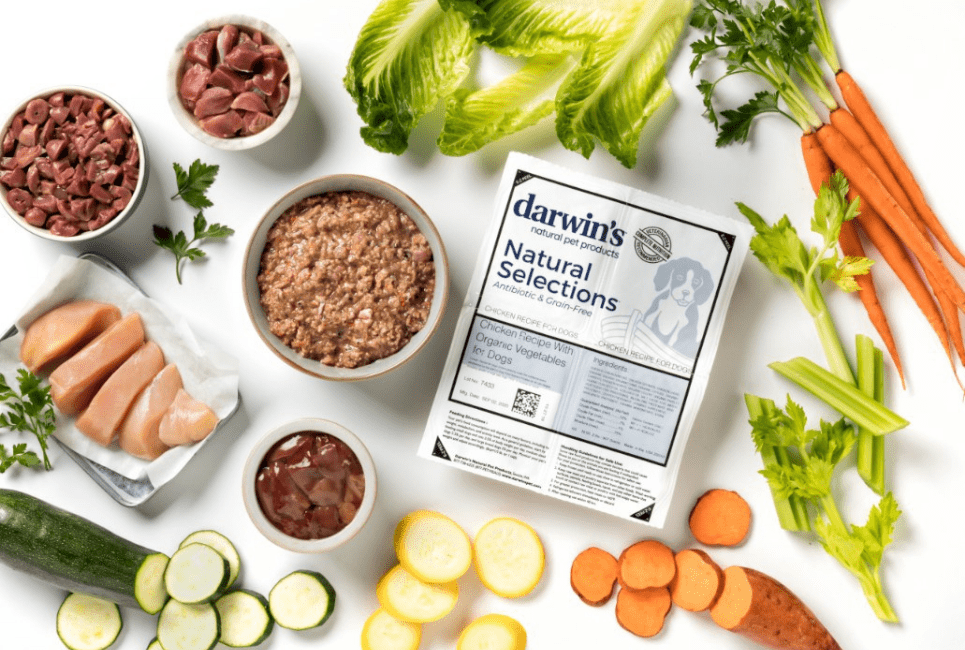 Darwin's makes the budget pick a spot for raw dog food delivery because of how customizable their options are – you pay for exactly the amount you need of the product you need. As they say, all dogs are different (in age, size, activity, and so on) and so have different dietary requirements. You can customize your orders to suit your pet, and you can also choose between different proteins and vegetables. They also have special discounts for service dogs!
Their meals range in price according to protein you select, chicken being the most affordable at $4.79 per pound and lamb being the priciest at $7.19 per pound. The meat is steroid-free, pasture-raised, grass-fed, and contains no antibiotics or hormones.
They will deliver your order right to your home, and they offer an auto-ship function that means you don't need to replace your order every month. You'll also get an email reminder before each shipment, so you're well aware of what's happening when! Their delivery service is free in certain areas in Portland and Seattle; otherwise, the cost is calculated by weight.
Being committed to your pup's health, Darwin's also offer prescription meals for pets with particular health issues. If you're a first-time customer, they also have a special offer for you!
Pros
Completely customizable orders
Affordable
Ships across the United States
High-quality ingredients
100% real meat and veggies
Email reminders about orders
Service pups get a special discount!
Cons
Free shipping only in certain areas
Best Freeze-Dried Raw Dog Food Delivery: Vital Essentials
Vital Essentials has the impressive distinction of being the only pet food company worldwide to be USDA-certified, EU-certified, and GFSI 22000 (ISO) certified. This alone should tell you that the quality of their products is well above average!
They use the ALPHA prey model diet, which comprises of meat, bone, and whole organs. You can choose from quite a variety of products, including frozen and freeze-dried entrees, frozen raw bones, and even freeze-dried snack bars. All of their products are AAFCO compliant and made from quality ingredients.
Vital Essentials are also Pet Ambassadors and support rescue organizations and shelters. They have stores all over the US, and some have the capacity to deliver. If yours doesn't, Amazon also stocks their products and can have them delivered right to your door!
Pros
Most certified company in the country!
High-quality, AAFCO-compliant products
Variety of products and flavors
High-quality ingredients
If your store can't deliver, you can collect or buy from Amazon
Cons
Some stores don't deliver!
If you buy from Amazon, be sure to choose a reputable supplier
Other Raw Dog Food Delivery Services Worth Mentioning: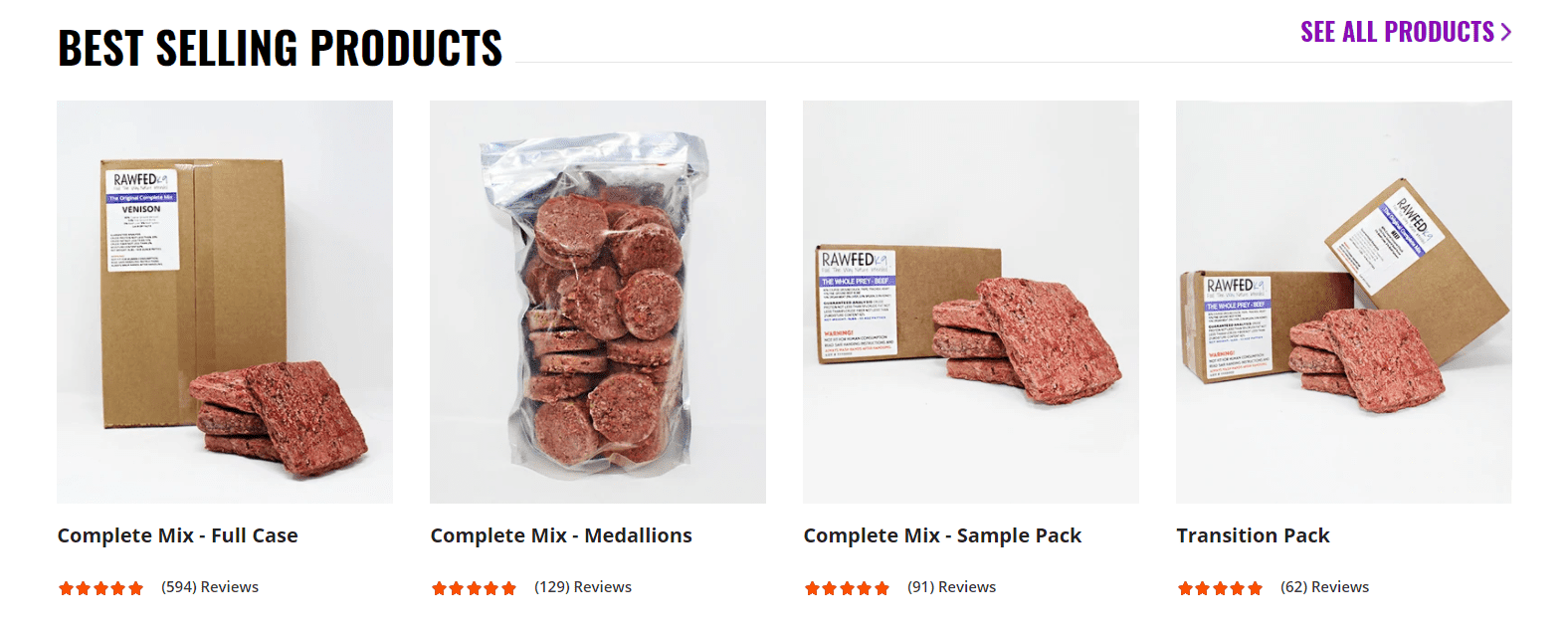 These guys use the Prey Model feeding ratio of 80/10/10 – 80% meat, 10% bones, and 10% organs. They have a range of different proteins, and each package comes with a mix of proteins (selected by you).
Free shipping
Very affordable
Various protein choices
No vegetables or fruit
Selection of two – 3 proteins per pack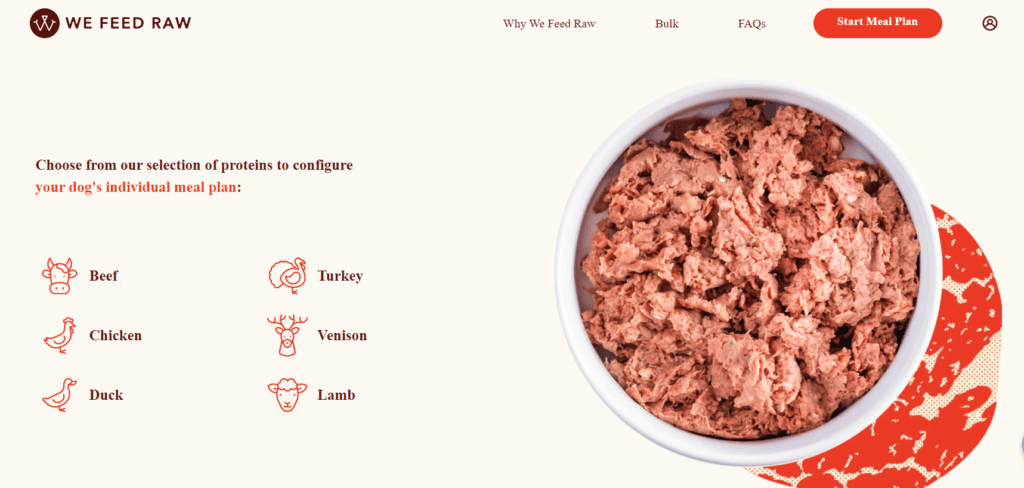 These guys use grass-fed, USDA-inspected meat to create their meals. It's 100% human-grade meat, all-natural, hormone and antibiotic-free. You can also buy in bulk for 2 or 4 weeks.
Affordable
Free shipping for orders over 20 pounds (East USA)
Check the zone map for prices of Western USA
Grain-free
Wide variety of protein choices
---
Buyer's Guide
If this is your first intro into raw feeding, the idea of making such a drastic change to your dog's diet can be intimidating. Googling info can also be confusing, as there are many different opinions out there.
We've answered some of the most common questions about a raw diet and its nutritional value. Research is essential, as the effects really vary from pup to pup.
What Does A Raw Diet Consist Of?
The other acronym for BARF is Bones and Raw Food, so it is somewhat self-explanatory. To break it down a bit more specifically, it usually consists of muscle meat, sinew and ligaments, fat, liver, other organs, and bones. This Starter Guide offers a more in-depth explanation and breakdown.
When Should You Consider Putting Your Pup On A Raw Diet?
If your pet suffers from digestive issues, a diet of fresh food may be the key to solving those problems. Also, if your pooch's coat and skin are lackluster and they don't look healthy, if they are lethargic, or they are visibly unenthusiastic about dry food, they may benefit from a change to raw.
What Are Some Pros And Cons Of A Raw Diet?
All diets have both positives and negatives, and BARF is no exception.
Pros
Increase in energy levels
Healthier, shinier coat
Cleaner teeth
High protein content
All-natural
Improves immune system
Cons
Could take a while for your dog to get used to the switch
Potential hazard with choking on bones
There is a chance of bacteria in raw meat
How Should I Start My Dog On A Raw Diet?
If your pooch is used to eating processed dog food and is new to a raw diet, you will need to introduce the new food slowly. Even though this is the most natural way of eating and the way their ancestors did it, pup's stomachs are accustomed to a particular kind of food. Switching over may take some time to get used to.
It may be a good idea to introduce some raw toppers to your dog's meal or start with raw food treats before going all in. If your pet likes them and has eaten them over the course of a few days, you can start introducing raw food as part of their meals. You will need to do some poop examination while making this change – the stool will be the best way to tell how your pup's tummy is handling the raw stuff.
Introduce raw treats or toppers over a few days
If they handle the treats well, add a small amount of raw food to your dog's current food
Keep this up for a few days
If your pooch's poop looks normal, up the amount of raw food you are adding to their current food
Continue with the poo-nalysis and subtle introduction of raw food, until the old food has been completely replaced with the new food
Making Homemade Dog Food
One of the beauties of feeding raw is that you can get creative with making your own food at home. As long as you have the right ingredients and a good mix of protein and vegetables, you can easily make your dog a healthy, nutritious meal right in your own kitchen.
How To
Use a ratio of 5:1:1 for meat with bone, organs, and vegetables
Meat can be chicken, beef, turkey, duck, rabbit, pork, sardines, or other fish (fish should be frozen first to avoid worms)
Organ meat can be liver, kidney, heart, or spleen from any of the above animals
Fruits and vegetables are easy to digest carbohydrates and also add some fiber. Any greens are good to use. More info here!
A moderate amount of fish oil or flaxseed oil is recommended
For some more in-depth info on the food-making process, some pet food recipes, and some other interesting and useful info, check out this article by DogsFirst.
Frequently Asked Questions
Is a raw diet really more healthy for my dog than other food?
This is a topic of much debate. While some say that raw feeding is dangerous, others are staunch advocates of the effectiveness and health benefits of feeding this way.

The idea behind raw feeding is a logical one, but it ultimately depends on the dog. Some pups' tummies will welcome raw meat, while others won't enjoy it. Research and a short-term physical test will be the only ways to tell if raw feeding is right for your pup.
Are there any dangers to raw feeding?
Depending on your dog's health before they start with raw food, there can be risks. Generally, the most spoken about dangers are bacteria in raw meat and the potential hazard of choking on bones.
When should I NOT feed my dog raw food?
There are no known conditions that prevent a pet from eating fresh meat. If, however, you start introducing raw food and your dog's stomach really doesn't like it, or they start developing new symptoms they never had before, it may be best for both of you to stick to the old food.
Can puppies eat raw food?
They can. You will need to take care to ensure they get all the nutrients they need. Read through this post to get a better understanding of how to feed your puppy.
Other Raw Dog Food Items We Reviewed
Meal Mixers To Introduce Your Dog To Raw
Raw Snacks Your Pup Will Love
Meal Mixers To Introduce Your Dog To Raw
Stella & Chewy's Dried Meal Mixer Super Blends
Stella & Chewy's is a great raw brand for dogs and cats. These mixers are a great way to introduce your dog to raw foods. Simply add a scoop or two to their normal meal, and if they enjoy it and their tummy handles it, you can take the next steps to transition to a raw diet full-time.
Of course, even if you prefer to stick to dry food, these can be a nice little treat to top your pup's meal every now and then! Read our full review on these tasty toppers for more info.
Features
Nutrient-rich protein (cage-free chicken)
Wholesome fruit (blueberries, banana, strawberries)
Responsibly-sourced ingredients
Probiotics and Anti-oxidants
No added hormones
Bite-sized morsels
Instinct Freeze Dried Raw Boost Mixers
No products found.
Instinct is another great raw brand, and this offering will add a bit of raw beefiness to your pet's usual meal. Use to help transition your pooch from dry food to a raw diet, or simply as a little treat over their usual food. Check out our review of this magical mixer for some more information!
Features
All-natural beef and beef organs
Grain-free
Non-GMO vegetables and fruits
Responsibly-sourced ingredients
Freeze-fried to remove moisture
Raw Snacks Your Pup Will Love
Stella & Chewy's Freeze-Dried Raw Dog Treats
No products found.
Pure beef is the only ingredient in this rocking raw snack. These snacks are super for getting your pup's stomach used to raw, or simply adding an extra dash of protein to their daily nutrition.
Features
High in protein
Poultry-free
Grain-free
All-natural
Conclusion
Raw dog food diets are controversial, but it's up to pet owners to do the research for themselves. Whether you choose to feed your pup dry dog food or fresh food, what matters most is your dog's health and wellbeing.
The pet food companies listed here are committed to providing high-quality food for dogs that adhere to AAFCO standards and is USDA-inspected and approved. Pet parents can rest assured that these fresh dog food delivery services have your pet's best interests at heart.
Have you used a service that is not on this list of best raw dog food delivery services? Share your experiences with other dog owners by letting us know in the comments below!
Continue reading:
A Raw Diet for Rover: The Basics
Merrick Backcountry Raw Infused Large Breed Dry Dog Food Review