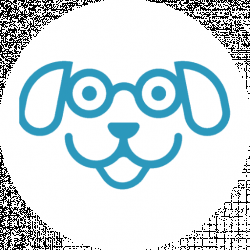 Latest posts by Scout Knows Team
(see all)
Looking to purchase dog food from a classic and well-trusted dog food brand? Unsure of who to put your coin behind? Our Victor Dog Food Review is here to help.
At A Glance
Parent Company: Mid America Pet Food
Started: Began as a family company in 1950,
Headquartered In: Mount Pleasant, Texas, USA
Where to Buy: Chewy, Amazon, local pet food suppliers
Types of Food: Wet, Dry
Real Meat in First 5 Ingredients? : Yes
Ever Recalled? : No
A Deeper Dive Into The Brand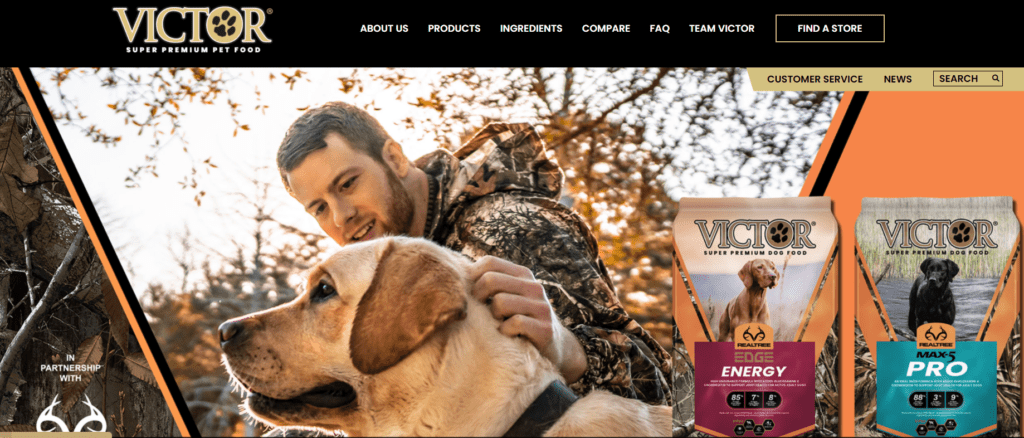 Victor was founded as a family run company in 1950, and still retains some of those values. While it's been purchased by a bigger conglomerate in 2007, many of the manufacture and supply traits remain the same. All ingredients are grown or acquired in the United States, which is both more sustainable and more reliable.
It's a premium dog food brand with a focus on affordability without compromising on ingredients. This means there are no cheap filler ingredients within the products, and high levels of meat and thus protein.
All of the Victor manufacturing and ingredients are done within a 200 mile radius of their Mount Pleasant headquarters. This allows them to create fresh and high-quality food and a lower price.
Many pet parents swear by this mid-range, high-quality range of products. The company and their products have an excellent reputation online. One potential downside, though, is the exclusivity of these products. They aren't available for purchase in many larger stores but can be ordered online through Chewy and Amazon.
What Is the Variety Of Foods They Produce?
In the past, Victor focused their range primarily on dry foods. However, they now also stock wet food options. They comes in different ranges: the Classic, the Select (for more specific dog's diet requirements), the Purpose (for dogs with specific health concerns), and their range of canned foods. Victor also stock foods for cats and for horses, too.
Dry Foods
Classic Hi Pro Plus
Classic High Energy
Classic Multi Pro
Classic Professional
Select Grain Free Yukon River Canine
Select Grain Free Chicken Meal & Sweet Potato Recipe
Select Grain Free Lamb Meal & Sweet Potato Recipe
Select Chicken Meal & Brown Rice Formula
Select Ocean Fish Formula With Salmon
Select Beef Meal & Brown Rice Formula
Select Lamb Meal & Brown Rice Formula
Purpose Performance
Purpose Nutra Pro
Purpose Senior Healthy Weight
Purpose Grain Free Active Dog & Puppy
Purpose Grain Free Hero Canine
Purpose Grain Free Ultra Pro
Wet Foods
Canned Grain Free Cuts In Gravy With Chicken & Vegetables Stew
Canned Grain Free Cuts In Gravy With Beef & Vegetables Stew
Canned Grain Free Turkey & Sweet Potato Stew
Canned Lamb & Rice Formula Paté
Canned Chicken & Rice Formula Paté
Recall History
As far as we can see online, there have been no dog food recalls with Victor dog food. For such a long-running company – and especially as one which is a part of a major conglomerate – this is undeniably impressive. While one isolated recall incident likely shouldn't be enough to put you off a brand, a consistent issue with food quality is absolutely worth taking into consideration when trying to look after your dog's health. Nonetheless, the fact there's never been such an incident is an undeniable pro to this company.
Best Victor Dog Foods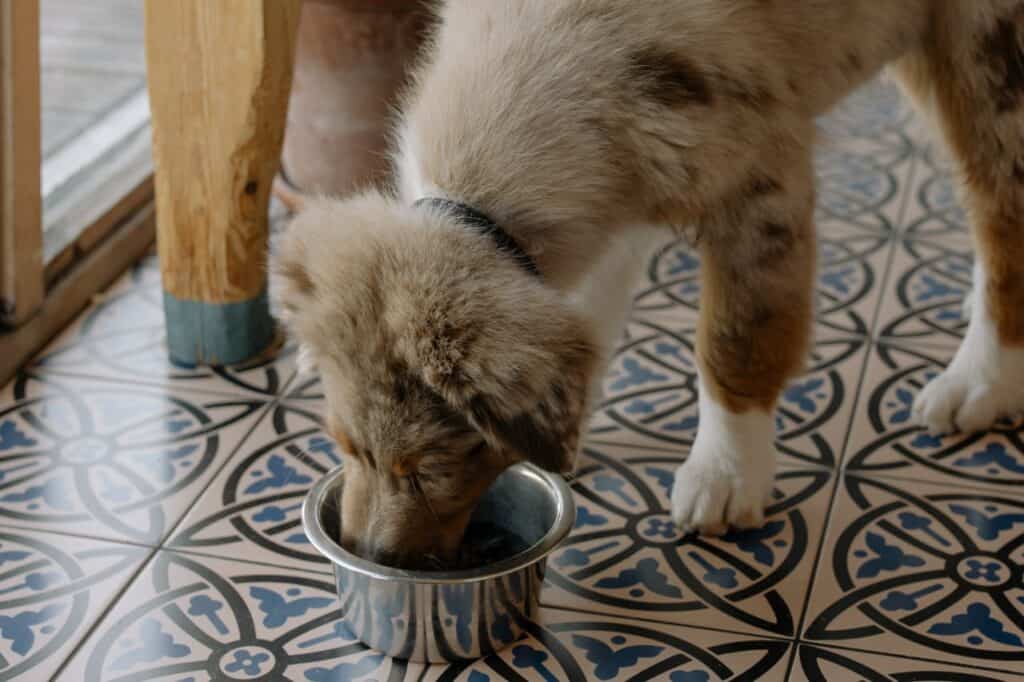 Victor predominantly makes dry foods, but in recent years has expanded the range to include some canned, wet food options. They have a focus on natural, avoiding any artificial coloring or flavoring. They also elusively use plant-based preservatives, which are better suited to sensitive stomachs and far less likely to induce an allergic reaction in your pet. The foods are also free of cheap fillers like corn and soy – plus, more specific dietary requirements are catered for with different options in the range.
Every Victor food recipe is built around four core ingredients alongside the meat and the additional veggies or carbohydrates. These additional ingredients are designed to help your pet properly digest their food and absorb the maximum nutrients they need. They can also help to deliver additional benefits to your dog's health. These are prebiotics for digestive health, minerals to help sustain a healthy metabolism, yeast for gut health, and probiotics for bolstering a healthy immune system.
Here, we take a closer look at some of the most popular, top-rated, and best selling options from Victor dog food. We explore the details of each product, in order to help you decide if it's the right option for you.
Victor Classic – Hi-Pro Plus, Dry Dog Food
No products found.
This is a great overall option for a dog without specific dietary requirements – but who still needs a healthy and well-balanced food. It's based around high-protein meat and fish meal. It is also fortified with additional health-boosting ingredients like minerals, vitamins, omegas, fatty acids, and extra protein. There are high levels of protein and nutrients which give it a superior value to money. The high protein content also makes it an excellent option for dogs in need of this extra protein, such as growing puppies, those recovering from injury, or pregnant or nursing mothers.

Victor Dog Food Grain-Free Active Dog and Puppy Beef Meal and Sweet Potato
No products found.
This option is particularly suited to a dog with a sensitivity to grain or a grain allergy. It's again built around pork, beef, and fish meals, which make it higher in protein and lower in fat. It's fortified with additional vitamins, minerals, and probiotics, plus omegas to keep your dogs bones healthy and coat shiny and attractive. The high protein levels support a sustained level of energy in your pet, plus prevents spikes in blood sugar. This can help balance metabolic function and can prevent unhealthy weight gain.
Victor Classic – Professional, Dry Dog Food
No products found.
This is a classic recipe which is suited to almost any dog. It's nutrient dense, and the recipe is built around beef, pork, and chicken meals. It's high enough in protein to be suitable for puppies, athletes, and pregnant or lactating females, but not too high in protein that it isn't suitable for all other dogs, too. Again, it has the additional health-boosting ingredients such as probiotics, vitamins, minerals, and omegas, designed to promote a healthy immune and digestive system. Although the food does contain grains, it's gluten-free, which is perfect for dogs with sensitives and makes it easier for any pet to digest. It's also ideal for dogs with food allergies to other meat proteins.
Victor Select – Beef Meal & Brown Rice Formula, Dry Dog Food
No products found.
This option has high quality beef meal as its only protein source. This makes it great for dogs with allergies or sensitivities to other meats or protein sources. While it's a high protein food, it's lower in protein than other of our top rated options. This makes it more suitable for older dogs, who are no longer growing, or dogs with low to medium activity levels, rather than more athletic and energetic dogs. It's less of a good choice for a breed puppy or a pregnant or nursing dog. It's gluten-free and fortified with vitamins, minerals, and fatty acids to enhance its nutrition levels for your dog.
Victor Grain Free Turkey & Sweet Potato Stew Dog Food – Canned, 12/13.2 Oz. Cans
No products found.
If it's wet food you're after, this is our pick for the top canned food option from Victor dog foods. It's specifically formulated with a recipe that's based upon a nutrition profile for a healthier pet. It's bolstered with vitamins, minerals, pre and probiotics, and essential fatty acids. This option is also free from artificial flavors, colors, and preservatives, any of which can cause a reaction in a dog, and have no health benefits. Turkey and sweet potato offer high levels of protein and complex carbohydrates and are more easily digested than grains or other carb sources.
Victor Dog Food Customer Reviews
While Victor is a relatively small dog food brand, it has a legion of super dedicated fans. Those who like the brand, really really like the brand. What stands out about the range is the huge variety. It's designed to suit a huge range of very specific needs. One area where Victor is fairly unique is in its higher protein options. Many high crude protein foods are also huge on calorie content, making them problematic in terms of weight gain. Victor's aren't, making them among the most healthy choices for dogs who need to be one a high protein diet, like pregnant or nursing mothers, newborn puppies, or athletic, high energy pets.
What Do People Like About This Brand?
High quality ingredients. The fact that meat meal always features so highly in the ingredients list is a huge pro for those looking to emulate a more natural diet for their pet. It also ensures your dog is getting the protein they need to grow and repair muscle.
Fortified with additional ingredients. The way Victor includes a comprehensive selection of vitamins and minerals in each of their food options is absolutely ingenious. It means that pet owners can rest assured that if they choose Victor, their dog is getting the vitamins, minerals, pre and probiotics, and fatty acids they need for a well-rounded diet and maximum health.
Huge range. The massive selection available within the Victor range means that there's something for everyone. It's also well organized in order to help you best choose the most suited option for any of your pets concerns.
Health benefits. It's clear this company puts dog health first – which makes it feel more trustworthy. It also means if you have a dog prone to certain health concerns, you can likely find a food in the range to help. The grain-free options are excellent for pets with digestive issues, for example. If you're worried about your dogs joints or potential problems with dyplasia, going for a high protein, muscle building food can mitigate the problem.
Fair price. While Victor isn't the cheapest dog food option on the market by any consideration, it's also nowhere near the priciest. For the quality you get in terms of ingredients, we find it to be fairly priced, and a good mid-range option.
Trustworthy company. Victor being started as a family business means many want to place more trust in the brand. Even though they've been acquired by a bigger conglomerate, they still retain these family values. The fact there has never been a Victor recall shows that the brand takes what they do very seriously, and always put dog health over profit.
Ethical practices. The choice to ensure all ingredients are sourced in the United States, and within a two hundred mile radius of the Texas factor, shows the company is also thinking about sustainability and fairness.
What Do People Dislike About This Brand?
Difficult to find. One of the biggest downsides to Victor is the lack of availability in brick and mortar stores. The fact it's more difficult to track down, and typically has to be purchased online, may be enough to put some customers off. Many wish they could try before they buy, rather than making a big investment in a larger, pricier purchase that their dog may end up not liking.
Not the tastiest. Many report that in spite of the high-quality ingredients promised by any food in the Victor range, they were disappointed by their dog's reaction to the food. While health should always come first, if you have a food your dog refuses to eat, then you could be in trouble. No matter what clever ingredients or nutrients are included, if your dog isn't ingesting them, they're essentially useless. While a dog can be trained on to a certain diet over time, it's worth bearing this in mind. If, for example, you have a pet who's a particularly fussy eater, you may be better looking elsewhere for your dog food purchase.
Conclusion
We think what makes Victor dog foods stand out from the crowd is their excellent ingredients list. The fact they're all built around high-quality meat meals means they're high in protein, which better mimics a more natural (and therefore health) diet for your pet. This also allows dogs to better build muscle and strengthen joints. Protein also keeps your dogs metabolism at a healthier, balanced level, and prevent unnecessary and potentially dangerous weight gain.
The additional ingredients Victor chooses to add to their foods are another huge pro. These foods are designed to be a complete one stop shop to allow your dog to get everything they need from their meals. If you go for a well-suited Victor option, it's likely you'll not need to concern yourself with any additional supplements. Your dog's body – joints, bones, muscles, coat, immune system, and digestive system should all be taken care of with this choice.
What's also impressive is what isn't in Victor dog foods. They're free of cheap fillers, and the range offers many grain-free puppy food options. Even those which contain grains are gluten free, which helps your dog with digestion and minimizes weight gain.
Of course, there are some downsides to the Victor dog food range. One is that these options can be super difficult to find in store. While the internet means you can easily purchase the food online, many are less comfortable with this buying format. Another downside is the price – although pound for pound, this food is super nutrient dense, and thus offers better value for money than you may originally think. On top of this, some owners report they had issues making their dog eat the food. It's based on health, and thus may be less immediately tasty for your pet. However, you can introduce the food through a slower process to smooth the transition.
If you're still interested in purchasing a high quality dog food, but unsure Victor is the right choice for you, don't fear. Scout knows has a huge range of different dog food advisor related content, right here.
We also have guides to specific concerns related to dog food, like our guide to the best food for small dogs, here , or our guide to the best lower priced, more affordable dog food, here.
We also have a ton of specific dog food brand reviews, including ranges from American Journey, Adirondack, and Zignature.
If you like more options, try checking out our review for Victor Professional Formula dog food.
Have you ever tried Victor dog food? Which option did you go for – and did you have a positive or negative experience with the brand? Do you have different favorite dog food brands? Perhaps for a large breed? Let us know in the comments below!
Continue reading:
Victor Professional Formula Dry Dog Food (Review 2022)
Victor Active Dog Puppy Formula Grain-Free Dog Food (Review)