Latest posts by Alex Adekunbi
(see all)
The pitbull is a medium-sized dog breed, and the name is one of the most popular terms used to refer to a group of breeds descended from terriers and bulldogs. They are very strong and active canines, which means that to keep your pooch healthy, you'll have to do your research and get the best dog food for pitbulls that supports both characteristics.
Top Choice
No products found.
To maintain a healthy weight balance and muscular growth, your dog will require protein – lots of it. Protein is the key element to your dog's body, so an adequate supply will be essential. For their high activity level, they'll need carbs to convert into energy. Other nutrients, including fats, vitamins, etc. will also reinforce their health in different ways, so you'll need to make sure that you get pet food which is a well-balanced diet and full of everything your pup needs.
Top 5 Rated Best Dog Food For Pitbulls
| Recommendation | Best Dog Food For Pitbulls |
| --- | --- |
| Top Choice | No products found. |
| Runner Up | No products found. |
| Budget Choice | No products found. |
| Best Dog Food For Pitbull Puppies | No products found. |
| Best Senior Dog Food For Pitbulls | No products found. |
Our Top Pick: ORIJEN Dog Food, Original, Biologically Appropriate & Grain Free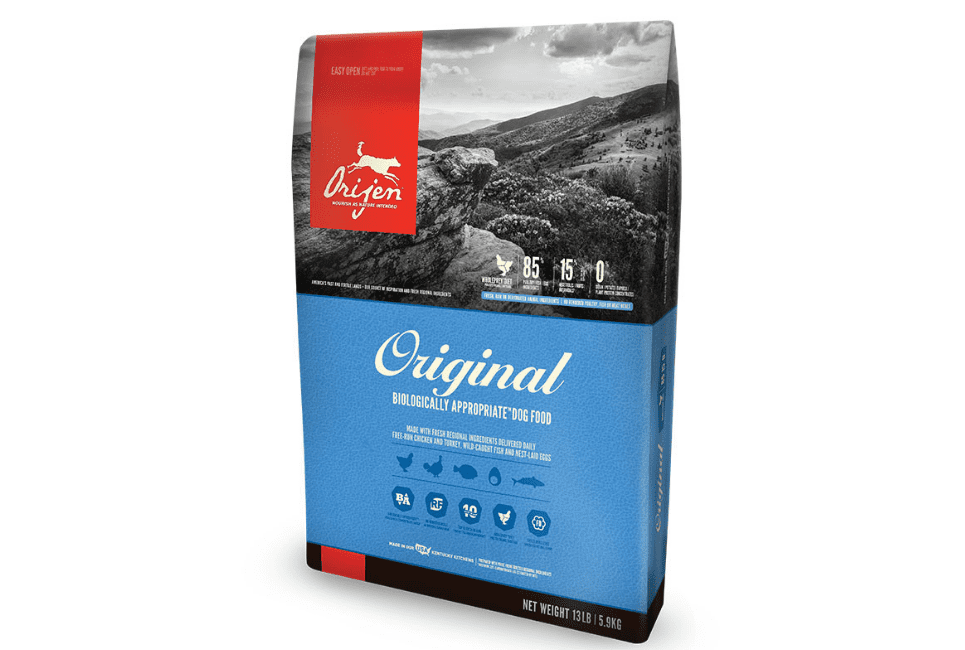 Our top pick food for pitbulls is the ORIJEN Adult Original, made by one of the most popular dog food brands. The recipe is heavy on meat, which reflects the brand's philosophy of giving dogs food that's as close to the canine diet in the wild as possible. That explains the "biologically appropriate" term on the packaging.
The recipe is high in protein (up to 30%) derived from chicken and turkey which are raised using the free-run system. It also contains eggs, herring, and flounder to provide a complete array of animal proteins to fuel your pooch's growth. Carbs are also present, making up around 20% of the recipe, which makes it adequate for a super active pet.
The rest of the recipe is composed mostly of fruits and vegetables which provide vitamins, minerals, and other nutrients. Those are crucial in a variety of ways ranging from bone development and eyesight improvement to the maintenance of an effective immune system. That will help ward off disease and keep your pup healthier for longer.
Pros
A balanced proportion of nutrients
Affordable price
Made from fresh ingredients
Good protein diversity
Highly palatable
Appropriate for all life stages
Excellent customer service to attend to any inquiries
Available in multiple sizes
Cons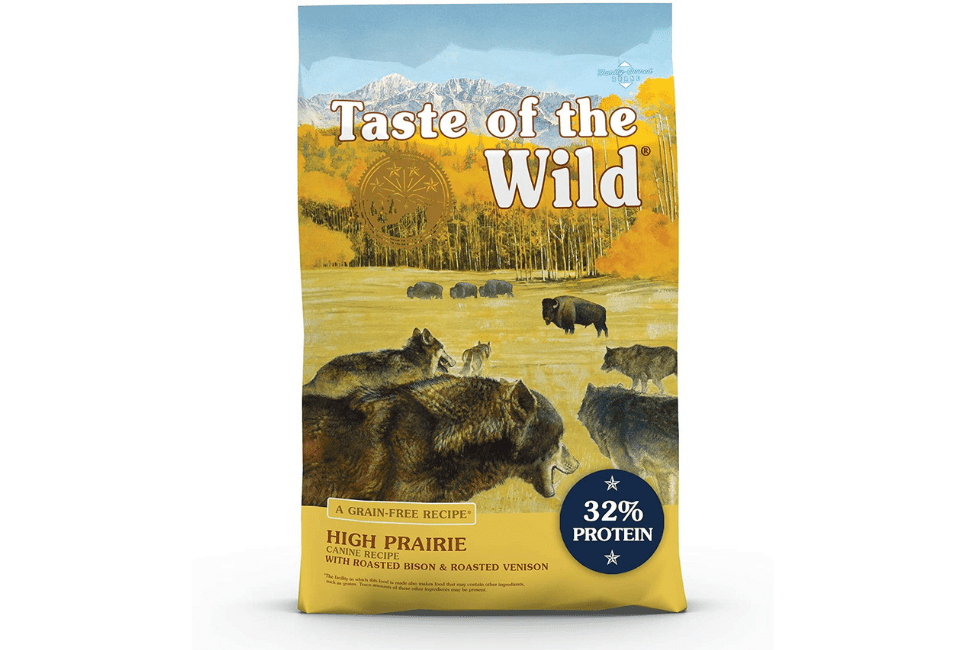 Like our top pick, this product is made by another very popular brand in the dog food industry. The level of popularity goes to show the quality of their dog food products, so it's no surprise that they've made one of the best dog food for pitbulls. The Premium High Prairie product is made primarily from bison, which is a rich source of complete animal proteins.
The bison is supplemented by chicken and lamb meal for even more protein content. The carbs are supplied using sweet potatoes and peas, which are healthier alternatives to grains. Tomatoes, blueberries, raspberries and other fruits and vegetables provide the rest of the ingredients necessary for your dog's health.
Among those, the food is heavy on antioxidants and omega fatty acids, which help your dog maintain a fine, healthy coat and skin. In addition, the recipe includes probiotics which are able to boost digestive function, improve metabolism and generally keep things moving smoothly in your pooch's gut.
Pros
Available in multiple sizes
Contains antioxidants
High omega fatty acids content
Highly digestible
Low cost
100% natural – free from artificial colors, flavors and preservatives
Sustainably sourced ingredients
No filler content
Promotes lean muscle growth
Cons
Only available in a single flavor
Best Budget Pick: Wellness Core Natural Grain-Free Dog Food Original Turkey & Chicken
No products found.
If you have a budget that's somewhat limited, you should be looking toward this Wellness Core dry dog food. It's made with premium ingredients and contains all the essentials but still manages to come in at a really affordable price point. This despite the fact that the formulation contains no grains and instead provides carbs in the form of peas and potatoes
The protein content comes from turkey and chicken, which are highly palatable for most dogs though a small percentage is allergic to poultry. Salmon oil is also present, which is great because your dog will be getting all the immense health benefits of omega-3 and omega-5 fatty acids, which are predominant in salmon products.
Carrots, kale, broccoli, spinach, apples, and other similar fruits and vegetables provide all the vitamins and other necessary micro-nutrients. Another area where this food stands out is in the sheer variety of flavor options which are available – 7 of them, including one that's made from duck and rabbit!
Pros
Available in several flavor options
Contains a healthy mix of fruits and vegetables
High protein content
High omega fatty acids content
Premium ingredients
No grain content
Great value for money
Great taste
Cons
Best Dog Food For Pitbull Puppies: Blue Buffalo Wilderness High Protein Grain Free, Natural Puppy Dry Dog Food
No products found.
If your pitbulls are still puppies, then giving them food that's formulated specifically for puppies would be great. Apart from the fact that puppies are more delicate, age-specific food also gives the right proportion of ingredients for dogs which are growing rapidly and developing their body functions to maturity.
Our pick as best puppy food for pitbulls is this Blue Buffalo Wilderness product. The ingredients are made to satisfy a young canine's craving for meat while also complementing all the other nutrients a pup would get from his mother's milk and feeding generally. These include ARA
(Arachidonic acid) and DHA (Docosahexaenoic Acid) which promote cognitive development and retinal health.
To complete the wholesome and nutrient-rich recipe, the product includes BLUE's proprietary mix of antioxidants, chelated minerals, and vitamins which promote the development of a healthy immune system and also supports the digestive system and other organs in your canine's body.
Pros
Made from premium ingredients
High quality control
Available in multiple sizes
Contains essential amino acids
Lifesource Bits provide all necessary micro-nutrients
Grain free
Highly palatable
No by-product meals
No artificial flavors or preservatives
Cons
Best Senior Dog Food For Pitbulls: CANIDAE All Life Stages Dog Dry Food
No products found.
Although this CANIDAE product is named "all life stages" and marketed as such, its formulation actually makes it best suited for senior dogs and less-active ones. It contains a reduced proportion of fat and protein, which is great because otherwise, your senior dog would just continue to pack on the pounds since he's not getting as much exercise as he used to.
The priority for a senior dog's diet is to maintain the organs and systems to keep them in good working order, and that's where this product excels. It provides a good mix of antioxidants, probiotics, vitamins, and minerals which strengthen all organs and prevent failure, which is one of the leading causes of pet fatality.
The foremost ingredient is chicken meal, along with brown rice, peas, potatoes, and oatmeal. Although it contains chicken meal and some grains which many pet parents won't be happy with, it's still a decently healthy recipe, and it provides all the essential nutrients, which is the most crucial consideration when it comes to senior dogs.
Pros
Low fat content
Reduced protein
Available in multiple sizes
Available in multiple flavors
Contains omega fatty acids
High probiotic and antioxidant content
Cons
---
Buyer's Guide
Pitbulls are great companions, and despite their depiction in popular culture, they are actually quite playful and gentle. As we said earlier though, they are very active and require the right ingredients to maintain their unique build and athleticism.
Ingredients to Watch For
Protein
Protein is the most important ingredient in the best dog food for pitbulls. The same goes for every dog, but it's especially true with pitbulls. The nutrient is essential for building and maintaining the breed's popular muscular build.
Not all proteins are equal, however. It's important to choose products made from high-quality protein sources such as poultry, beef, lamb and different types of fish. Aim for between 30% and 45% protein content to fuel your pooch's active lifestyle.
Natural Fats
Although fat gets a bad rep in human and canine diets, it's actually a great source of energy in all the best dog food for pitbulls. It's where your pup will draw energy from, to remain active all day long.
In addition, fat is crucial to taste. Food with enough natural fat will generally taste better and be more palatable for your pets. Shoot for between 15% to 25% fat content.
Carbs
Dogs need more carbohydrates when they are younger, but between 25% and 30% is a good range for carb content.
Carbs can also be helpful as an energy source when broken down into fat and are also useful for maintaining muscle mass. Generally, prioritize whole carb sources such as brown rice, oats, and sweet potatoes.
Minerals and Vitamins
Fruits and vegetables are the major sources of these two ingredient groups. Calcium, sodium, iron, and phosphorus are all essential, and if you're buying high-quality dog food from this list, you can be sure they are all present in adequate quantities.
Frequently Asked Questions
Q: What foods should I avoid for my Pitbulls?
Pitbulls don't generally have specific dietary constraints as a breed, but the same rules that apply to dogs generally should be followed.
Go for whole ingredients and stay away from corn, wheat, and soy. They mostly have little nutritional benefit for pitbulls and are just used as filler content. Same goes for sugar and preservatives – they could cause weight gain and even trigger food allergies.
Q: What are the common pitbull health problems?
Bloating is the most common breed-specific health problem that pitbulls face. It's called gastric torsion scientifically and can be severe and even fatal. Make sure your pet doesn't eat too much at once and avoid extensive physical activity shortly after eating.
Joint issues are also common among pitbulls and other bully breeds. You should take your dog to a vet as soon as you notice signs of pain. There are medications available to relieve the pain and treat the condition.
Other Dog Food for Pitbulls We Reviewed
Raw Food
Food For Pitbulls With Sensitive Stomachs
Raw food
Although there is still some disagreement among pet owners, the general sentiment is that keeping food as natural as possible is ideal for dogs just as it is for humans. That means raw food products for your pitbull. Though not raw as in fresh, bloody meat, these products are made from meat that is them air-dried to be as close to raw meat as possible in convenient packaging. If you want to take that approach, here are our recommended products:
Ziwi Peak Air-Dried Dog Food Recipe
No products found.
This Ziwi product is made from carefully-selected meat which is then air dried carefully to prevent nutrient loss which usually occurs in the course of processing most dry dog food. You can choose to buy this is in a variety of flavors. There are the common ones such as beef, chicken, and lamb, but you can also buy it in mackerel & lamb, tripe & lamb as well as venison. Whichever ones you choose, the recipes completely exclude grains, potatoes, rice, fillers, sugars, and other common ingredients.
The limited ingredient list is great because it reduces the risk of allergic reactions, and makes it less likely that your dog would suffer any illnesses as a result of eating this food. The other major ingredients apart from meat, organs and bones are Green Mussels, which provide natural Glucosamine and Chondroitin, both of which are essential for joint health.
The formulation is highly digestible, so it'll ease the stress on your pet's kidney and other digestive organs. Lastly, since you can get it in multiple sizes, you can be sure of always having fresh food for your dogs.
Features
Completely natural – no artificial ingredients whatsoever
High protein content
Premium ingredients and high-quality processing
Excellent quality control
Quality grass-fed beef
No antibiotics or growth hormones
Zero grains or sugars
Quite pricey
Stella & Chewy's Freeze-Dried Raw Super Dinner
Like the previous product, this one from Stella and Chewy's is also a died raw food. The difference is that instead of air-drying, it is freeze-dried to preserve the nutritional content. You can buy it in multiple sizes and in an even wide variety of flavor options than the Ziwi. There's beef, chicken, duck, rabbit, lamb, and venison. You can also opt for chicken & salmon, turkey, salmon & beef or beef & salmon.
In addition to the protein source options, this product contains organic fruits and vegetables to balance out the recipe. This is one area in which it surpasses the other raw product. Keep that in mind if you want your dog to have a wider spread of ingredients in his grain-free diet.
There are no added hormones, fillers or other additives, so you can be sure your pet is getting a fully natural diet. It has plenty of protein as well as enough fiber. That makes it ideal for dogs which are especially active to keep them feeling satiated and prevent unhealthy weight gain.
Features
Wide variety of flavor options
Multiple sizes available
High protein content
Healthy calories level
Convenient to serve as-is or by rehydrating
Sustainably sourced ingredients
High level of quality control due to domestic sourcing and processing
Food For Pitbulls With Sensitive Stomachs
CANIDAE Grain Free PURE Dry Dog Food
No products found.
If your pitbull has a sensitive stomach, you'll need to be extra careful with his diet. Every mistake puts your pet at risk of illness, pain, or even death if the reaction is severe. To avoid that, vets generally recommend limited ingredient diets since there's less to react to.
However, a limited ingredient diet still has to provide all the essential nutrients which your pitbull needs for a healthy life. This CANIDAE product solves both problems exceptionally. First, it contains healthy protein sources, and you can choose from them depending on what suits your dog best. All the other nutrient groups are also represented in the diet by whole ingredients such as sweet potatoes, lentils, peas, etc. while excluding common allergy triggers such as wheat and soy.
There's a high vitamin content in the recipe as well, so your dog will be getting all his vitamin B6, B12, D3, and other vitamin needs to promote healthy development In addition, customers have shared that their dogs found the taste very flavorful, which is great because you won't find it difficult getting your dogs on this healthy diet.
Features
Multiple protein sources to choose from
Low risk of skin allergies
High palatability
Available in multiple sizes
Fully natural ingredients
Contains essential vitamins and anti-oxidants
Contains omega fatty acids
Conclusion
Keeping pitbulls is a wonderful experience that every dog-lover should experience at some point. They are fun, energetic, and very playful.
Luckily, getting their diet right and avoiding food allergies is not a difficult prospect. They have no onerous requirements for their health and well-being apart from high protein content. If you're looking for the best dog food for pitbulls, just go through this list of main ingredients and brand suggestions, and place your order to get just what you need to keep Fido happy and healthy!
Continue reading:
Working Dogs: Little & Big Heroes