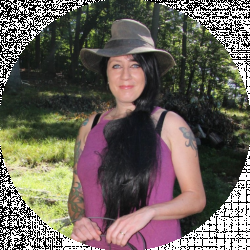 Latest posts by Samantha Biggers
(see all)
Sometimes even the most well-behaved dog needs their own space in a house that is a bit away from the crowd. Meal times and family events are times that an indoor kennel may be useful. These don't have to be traditional style kennels; just a few dog gates can make a kennel area throughout your home. Here are some things to consider when looking for an indoor kennel solution to fit your lifestyle and budget.
Size and Activity Level of Your Dog
Some dogs are more rambunctious than others and size does matter. There are some really big dogs that mind well and only need a minimal amount of barrier to know they are supposed to stay in an area. On the other hand, there are plenty that will step or jump over a barrier if they can. The latter is not a good candidate for a fence-like barrier unless it is very tall.
Portability
Panels are popular for creating pet areas throughout your home. Pet parents like them because they are lightweight and portable. Soft pens are phenomenal when it comes to portability. If you have a dog that doesn't tend to chew on their stuff or panic when enclosed, a soft enclosure can work. If your dog has never been in an enclosure, softer ones can be damaged as they get used to it.
Every dog parent that travels might want to have several styles of indoor kennels available to use. A soft one could be great for occasionally staying with relatives or at hotels and other places of lodging. Just because that AirBnB listing says that you can bring a pet doesn't mean you won't want to contain your pooch at times.
Puppy Safety
Having a kennel area can help keep puppies out of trouble and safe. This also helps create an area where puppies can get away from kids and other pets so they have some time to rest. Kids love having a puppy but might not realize that puppies have periods of play followed by a lot of needed rest. When this doesn't happen, puppies can get grouchy.
How Much Room do you Have?
Any kennel is going to take up some space, which means you need to be realistic about how much room you have to offer up for a kennel.
Materials
There are plastic and metal gates and kennels. Durability can vary drastically based on the materials used and your dog's habits. If this kennel is something you travel with or use outside occasionally, then it might have a shorter usable life.
Large Wire Kennels
These kennels are nice because they can be broken down and stored or moved easily. You can get them in all sizes online and shipped to you. If they are used for transport, it is imperative to make sure they are put together well so they do not come apart in the back of a vehicle. Using some zip ties or other closures to add extra strength where they come together is one way to deal with this issue. If you are careful and buy a quality cage, collapses should not happen if it is put together the right way.
Some of these wire kennels are made to be moved and the size changed to fit the space at the time. For those that want the most kennel for their money, the large wire style is the way to go.
AmazonBasics Single-Door Folding Metal Dog Crate – Large (42x28x30 Inches)
This budget, basic wire kennel will suit any home and can be a good choice for crate training or transport. The paw protector wire pattern means your dog is less likely to get a paw through the wires and stuck.
BestPet Hammertone Finish Heavy Duty Pet Playpen Dog Exercise Pen Cat Fence S, 32-Inch
While this is designed mostly for outdoor use, you can customize the size of the pen by only using some of the included panels. This octagonal pen is a good way to set aside space for dogs or puppies when you have friends or family coming over or have a new puppy that needs its own space for awhile.
The sturdy metal framework is made to last. The height of the panels are just at 32″ so some really large dogs may be able to get out of this if they really try. Dogs that are used to being in some type of enclosure or that are really small will do well with this style.
Pets have a lot of room with a panel style pen. Scout really likes that you can customize the size. For those that travel between several homes and need a pen that can move with them, it would be hard to find anything better and in the same price range.
Optimizing Space
Any kennel is going to take up some space. There are some reasonably priced kennels that double as nice end tables so you can make the most of a space and allow your kennel to blend into the decor. For those that just need a kennel occasionally, these may be a good choice because they fit into home furnishings.
Casual Home 600-44 Pet Crate, Espresso, 24 Inch
This dog crate from Casual Home looks like a nice Mission Style end table, but it is a comfortable and inconspicuous second home or safe space for a smaller dog. This furniture style kennel offers a ton of style for the money spent. If I were buying this I would add a clear finish or a piece of tempered glass to the top so that it could be used for an end table without adding wear and tear to the crate part over time. Combine with the crate mattress below and for under $100 you have a great little getaway for your dog and some extra counter space too!
MidWest Quiet Time Pet Bed Deluxe Mocha Ombre Swirl 23″ x 18″
Internet's Best Decorative Dog Kennel with Pet Bed | Double Door | Wooden Wire Dog House | Large Indoor Pet Crate Side Table | Espresso
Scout likes how this stylish end table style dog crate opens up several ways to give your dog more choices when it comes to how open their space is. After all, there are times where you might want to just open up the sides and make the crate seem more like a canopy and a dog's bed. This is a kennel for dogs that don't try to chew up their surroundings or get out. While sturdy, it does have a lot of wood components that are vulnerable to chewing.
Big Plastic Pet Carriers
These are made for transport mostly but can be used indoors for a kennel. They do not let in as much light so they are more dog house like and isolate your dog from being able to see and interact with family and friends more than the wire kennels. In fact, some of the wire kennels are too open for some dogs that like to get back in a cozy space.
Petmate Compass Kennel
Every Dog Parent Needs a Kennel or Carrier
If you go places with your dog, or you have to keep your dog confined briefly due to injury, you will find an indoor pen to be a valuable tool in making the process easier. Those that only transport their pet a few times of year should just invest in a good plastic pet carrier that can double as a shelter if needed or a fold away wire pen. Both can be used indoors when needed and you can even use the plastic kennels to store some pooch supplies in when not in use.
Scout hopes this post has helped you come to the conclusion that kennels can help make life more comfortable for your pooch and travel much easier.
Continue reading: