Latest posts by Rachel Poli
(see all)
Crate training is an important part of raising a pup. It allows them to have their own safe space, and it teaches them they can be home and alone by themselves for a little while. It also shows your pet that you will return home from work. However, if your pet spends a lot of time in their kennel, it may be a good idea to buy them something to make it a little more comfortable. That's why we took a look at the best dog crate pads.
There are a lot of different crate pads on the market, but handpicked a few that looked like the better options. We took into consideration the size of the kennels as well as material your pooch will be lying down on. We also looked at some other features of a pad such as it bring waterproof. So, with that said, here are our picks of the best dog crate pads.
Top 5 Rated Best Dog Crate Pads
| Recommendation | Best Dog Crate Pads |
| --- | --- |
| Top Choice | No products found. |
| Runner Up | No products found. |
| Budget Choice | No products found. |
| Best For Puppies | No products found. |
| Best For All Around Use | No products found. |
Our Top Pick: Orthopedic Dog Crate Pad by Big Barker
No products found.
Our top choice is the orthopedic dog kennel pad from Big Barker. This particular mat is a great fit for any kennel as it's a rectangle in shape and fits perfectly in the plastic tray that lays at the bottom of most crates. It's four-inches thick as well for ultimate comfort for your pup so he won't be lying down on the hard plastic tray or the metal bars of the kennel.
The orthopedic foam is high-quality as supports healthy joints, which is a plus if you're furry friend loves to be in their kennel. The best part of all, for you, is that it's waterproof making it easy to clean when it inevitably gets dirty, or your pup has an accident.
Key Features
Four size options are available – small, medium, large, and x-large
Perfect fit for the bottom of your pup's kennel
Four-inch orthopedic foam
Machine washable
Waterproof and tear proof, durable during accidents and digging
Not chew proof
Our Runner-Up Pick: Milliard Quilted Padded Orthopedic Dog Bed
No products found.
Our runner up choice is the Milliard quilted padded orthopedic dog bed. It doubles as a pad and is a great fit for most different sizes of kennels. The bed only comes in small, large, and x-large, though there's some wiggle room to buy two smalls to make a medium. Or, you can leave extra space in your pup's kennel for toys, food, and water. The bed itself is flat with a quilted top and is a rectangle shape that will easily fit itself snuggly in a kennel.
This pad is thick with orthopedic foam that's in an egg crate shape ensuring the ultimate comfort for your pup if they're in their kennel for the majority of the day. Plus, the cover is removable and is machine washable, so it's easy for you to clean.
Key Features
Available in three size options – small, large, and x-large
Perfect fit for all kennels
Thick comfort for pups of all ages
Orthopedic egg crate foam
Removable cover is machine washable
Non-slip bottom
Best Budget Pick: DERICOR Dog Bed Crate Pad
No products found.
Our budget pick for the best dog crate pad is the DERICOR dog bed crate pad, which is definitely the most wallet-friendly on this list. It's a one-inch thick mat made with fleece and cotton that your pooch will surely enjoy. It's soft and plush so that your pup will be comfortable in their kennel all day long.
This particular product is also great because it's lightweight and portable. While it's not great for the outdoors, it is machine washable and you can use it for more than just the inside of your furry companion's kennel.
Key Features
Affordable
The mat comes in five size options plus two different color options
One-inch thick fleece and cotton
Comfortable and double-sided
Portable and lightweight
Can use for more than just the inside of their kennel
Machine washable
Best For Puppies: K9 Ballistics Tough Dog Crate Pad
No products found.
The next one on our list of the best dog crate pads, is the K9 Ballistics tough dog crate pad. We believe this is one of the better options for puppies. Usually, if you're crate training, it's because you just brought a puppy home or maybe you adopted an older dog who is not quite used to being home alone and has separation anxiety. Using this tough mat will lift a weight off your shoulders during the crate training time.
This product is great is because its made to last and is durable against chewing, scratching, and digging. If you have a teething puppy, this is a great option for you to consider. The company claims the bed it's 100% chew-proof, though they have a 120-day chew-proof warranty in case your pet damages the bed within the first 120 days of buying it. This is a great reason it's perfect for puppies or pups with separation anxiety and other worries.
Key Features
The bed comes in six size options plus nine colors to choose from
Chew resistant and durable against digging and scratching
It's waterproof in case of accidents
It's machine washable
1.5-inches thick of polyfill
Sewn closed, there are no zippers or velcro for your pup to chew or choke on
Easily fits in kennels
Has a 120-day chew-proof warranty
Best For All Around Use: AIPERRO Dog Crate Bed
No products found.
All of the products on this list fits inside kennels perfectly, but this particular product, the AIPERRO dog crate pad, is one of the best to use not only as a kennel pad but for other uses as well. The pad is a perfect fit for kennels, but it's also great in all seasons keeping your pup cool in the summer and warm in the winter. It has a non-slip bottom so you can place it on a slippery floor and it's also lightweight and slim making it easily portable.
Your pooch will love this mat as it keeps its shape no matter how your pup uses it. It's durable, though not chew-proof or dig-proof. However, the orthopedic foam and plush velour stitched together will give your furry friend ultimate comfort that they won't ever want to get up.
Key Features
Affordable
There are four size options and two colors to choose from
Fits in all kennel sizes, but slim and lightweight to move around and use elsewhere
Non-slip bottom
Keeps its shape
Is machine washable
Made with orthopedic foam and plush velour on the top
Not chew or dig-proof, but durable
---
Buyer's Guide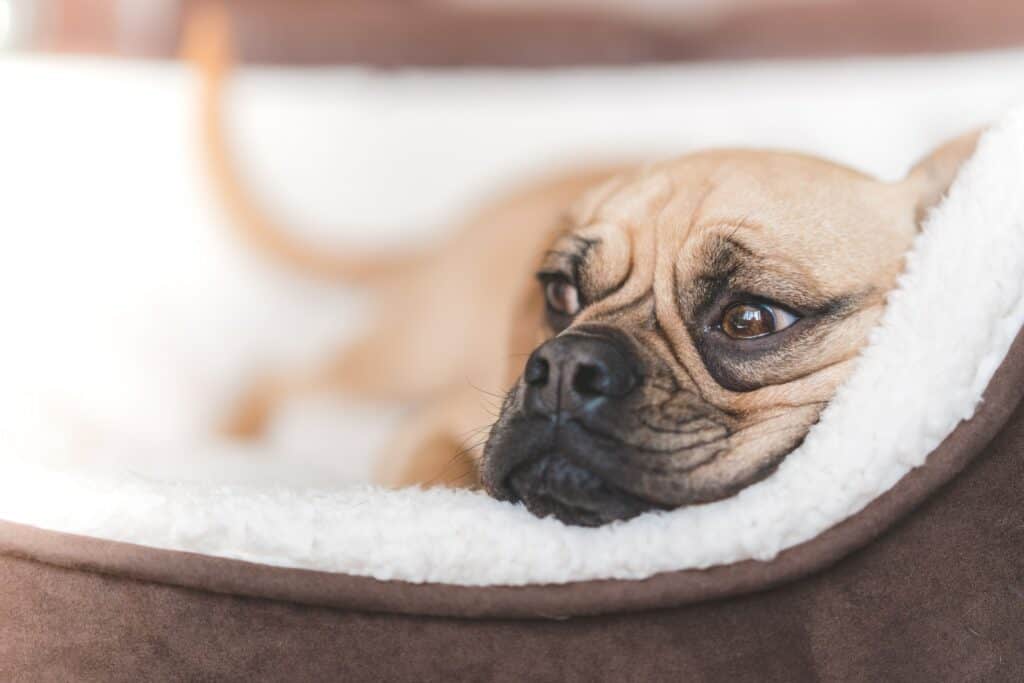 When it comes to buying a crate pad for your pup, it's not easy to decide which is the best one for them. It's not as simple to look up a dog bed or mat and pick out which one looks nice or which is the most affordable. There are a lot of things to consider when it comes to buying a kennel pad and this buyer's guide is here to help.
Advantages To Having A Crate Pad
Giving Your Pup Extra Comfort
If your pooch is home alone a lot throughout the day and they spend the majority of their time inside their kennel, then getting a pad is a great idea. Most of the pads on this list are made with orthopedic foam and have thick padding. This is comfortable, of course, but it also supports health needs such as achy joints and arthritis pain. When your furry friend is lying down in a confined space most of the day, having a comfortable mat is great so that they don't get too stiff from lying down for a long, extended period of time.
Allowing Extra Security
Giving your pup a sense of extra security is another great reason to buy a pad. Crate training is not easy for some dogs, and they may not like being inside their kennel at first. Also, some pups may have separation anxiety from you or anxiety in general from being in a confined space. There are a lot of pets out there who were surrendered or abandoned, and we don't always know their background story. Giving them their own comfortable, plush mat is a nice way to show them that being in their kennel isn't a bad thing. It shows them that the kennel is their space and that it's safe.
Who Should Buy A Crate Pad
Crate Training
If you're crate training your pooch, getting a mat for the kennel is a great idea. It's added comfort for your pup so they may be willing to get inside their kennel when you leave for the day. Plus, it may be so comfortable that they may use it as their bed and they will want to lie down and lounge throughout the day even if they don't have to be inside their kennel. It'll get your pet used to being inside their kennel and is also an incentive to get them in there if they're a little reluctant.
How Often Your Dog Is In Their Crate During The Day
Most people work throughout the day for about six to eight hours. If your furry companion needs to be inside their kennel for that amount of time, then giving them a mat is a nice idea. It'll be more comfortable for them, and they won't get as stiff from the orthopedic foam and plush material since they're lying down most of the day. Eventually, you may be able to leave the house with your pup outside of their kennel, but it'll still be there if they want a comfortable place to lie down.
If They're Sleeping In Their Crate At Night
Some people enjoy having their pup sleep in bed with them. Others use the kennel as their dog's bed. If you put your pooch in their kennel during the night and have them sleep in there, then buying them a pad will make it truly feel like a bed and more at home for them. It will give your pup a better night's sleep as well because they'll be comfortable and, depending on the material and foam you get, they won't get too stiff from being in a confined space all night.
How To Choose The Best Dog Crate Pad
Material
Take a look at the material the pad is made of. Most of the pads on this list are made with orthopedic foam which is comfortable and supports your dog's joint and other body health. Some are thicker than others; some may flatten out over time and no longer be as comfortable. The top is sometimes quilted or plush. The beds are made in many different ways, and you want to make sure the material you guys will be comfortable for your pup and also last long.
Size
When buying a crate pad, you want to make sure that you have the size of the kennel correct. You can buy a pad that's smaller than the kennel so your pup will have some wriggle room for a bowl or food and water or you can buy a pad that's fitted nicely along the perimeter of the kennel. If you buy one that's too large, however, it'll stick out of the kennel, and you won't be able to close it.
Other Helpful Features
Is your pup a biter or chewer? Do they scratch and dig a lot? Are they still being house trained and have occasional accidents in the house? Then you may want to look at some other features of the pads. For example, there are waterproof mats, ones that are machine washable, and easy for you to clean. There are some beds that are more durable than others and resist chewing and scratching.
Frequently Asked Questions
Should I keep the pad inside the crate at all times?
You don't have to. If you use it as your pup's bed, then you can take it out and use it however you'd like. However, if you're crate training or your pooch is in their crate most of the day, it's best to leave it in, so they get used to it and are comfortable.
How often should I wash the crate pad?
Whenever you see the pad is visibly dirty, then it might be time to give it a wash or spot-clean it depending on the stains. If your pup sheds a lot, like mine does, I'd wash it once a week.
Will having a pad in the crate help with crate training?
It should help with crate training, yes. It'll show your dog that the kennel is theirs and it's a safe, comfortable spot for them. However, I have known some dogs to be stubborn and not care about that. So, it depends on your pup's temperament as well.
Other Dog Crate Pads We Reviewed
The Best For Large Crates
The Best For Indoor And Outdoor
Best For Large Crates
MidWest Homes for Pets Deluxe Pet Beds
No products found.
There are a few crate pads out there that don't necessarily come in all sizes. There are some that are better fitted for large crates for larger breeds. This MidWest Homes for Pets deluxe pet bed is one of those mats that are meant for bigger kennels. It's available in seven different sizes, though the smallest is for a medium to large crate size.
This is a great product for your larger pup because it's a swirl pattern giving it a little extra comfort and is made with plush poly fiber cushion. Plus, it's machine washable.
Key Features
Affordable
Seven large sizes options available plus four different colors to choose from
Ideal for big dogs and crates
Soft, poly fiber plush and swirl pattern all around
Has a non-slip bottom
Machine washable
Comes with a one-year warranty
Hero Dog Dog Bed Mat Crate Pad
Hero Dog Large Dog Bed Mat | Amazon
The large dog bed is slipped resistance & durable, the orthopedic crate bed comes with plush fleece, is not easy to break but not for scratching or bitting, is shed-resistant, is low maintenance, and is long-lasting.
Buy at Amazon.com
We earn a commission if you click this link and make a purchase at no additional cost to you.
06/27/2022 03:47 am GMT
This mat from Hero Dog is another great crate pad for large dogs and kennels. It comes in eight different sizes but they go all the way up to extra large for bigger breeds. Plus, it's durable against scratching from your pup's large paws. The orthopedic foam is great for older dogs or disabled dogs as it supports their joints and other pressure points.
This product has a non-slip bottom and is also slim and lightweight making it portable.
Key Features
Affordable
Available in eight size options and three color options
Ideal for large crates
Great for older dogs and disabled dogs
Plush fleece with orthopedic foam
Supports joints and other pressure points
Non-slip bottom
Slim, lightweight, and portable
Durable, but not chew-proof or completely scratch-proof
Best For Indoor And Outdoor
Kimi Homes Dog Crate Mat
No products found.
This dog crate mat from Kimi Homes is a product for not only crate use but indoor and outdoor use as well. It's super easy to clean since it's woven with outdoor mesh that allows water to flow right through it. So, in a way, it's kind of waterproof but not exactly. It's easy to clean even though it's not recommended to through in the washing machine with your own clothes. You can simply take the hose or showerhead and given it a good rinse. This is one of the reasons it's great to go outside. If left out in the rain accidentally, it won't get ruined.
Key Features
Affordable
Six size options
Easy to clean
Breathable, woven mesh
Spine support
Made with polyester fiber
Lightweight, slim, and portable
Conclusion – Best Dog Crate Pads
There are so many options to choose from when it comes to buying a dog crate pad. It's a good idea to do your own research before you buy, but these are the best dog crate pads we found for our beloved furry friends.
Do you have a crate pad or bed in your pup's kennel? If so, what brand do you use? Let us know in the comments below!
Looking for more information? You can check out our post on the Best Dog Crate Covers or the Best Large Dog Crates here on Scout Knows.
Continue reading:
The Best Puppy Pads for Your Dog
How to Keep Your Dog's Paws Clean