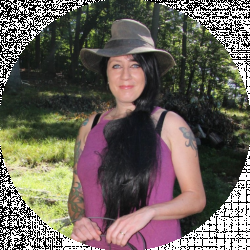 Latest posts by Samantha Biggers
(see all)
There are a lot of dog beds out there but finding one for a large dog can be more challenging than you would like. Scout has put together this list of great dog beds that will help your dog get a restful sleep and support their hips and joints when needed. Finding a dog bed at a good price that fits a really large pooch is another challenge altogether. We are going to show you some dog beds that meet all types of budgets.
Shape of the bed
Some dogs like a nest style bed or just a big pillow-like bed. There are also dog couches that are made to look basically like a people couch in many ways but they are changed to more appropriately fit a dog. The couches are harder to fit for a really big dog. Nests and pillow-like beds can be shorter than your dog and still allow them to curl up or spread out to be more comfortable. A dog couch can result in dogs having to put their head or legs in positions that are not so great for their hips and joints. It is very important to make sure this type of bed actually fits your dog.
The Cuddlers
If you have more than one dog or you have cats that like to cuddle with your dog then you might consider just getting a very large dog bed that fits them all rather than several small ones. Chances are that this might cost you less in the long run.
Scout hopes this list of dog beds helps you find the right one for your big lovable pooches.
Chomp Proof Beds
Some dogs like to chew on everything, especially new things in their lives. Dog beds often get chewed up. Foam dog beds and those without a lot of fluffy fiberfill are some of the better choices.
Memory Foam
Dog memory foam bed is a fantastic product for senior dogs and big breeds that need some extra support. You can get beds that are very firm if you have a dog that really doesn't like it soft and fluffy.
Scout would love to get your input on what big dog beds you have had a good experience with.
These are the crème de la crème of dog beds. They are not easy on the budget but they last for a very long time. You can also get replacement covers and inserts so you don't necessarily have to buy a new bed if something becomes worn or damaged.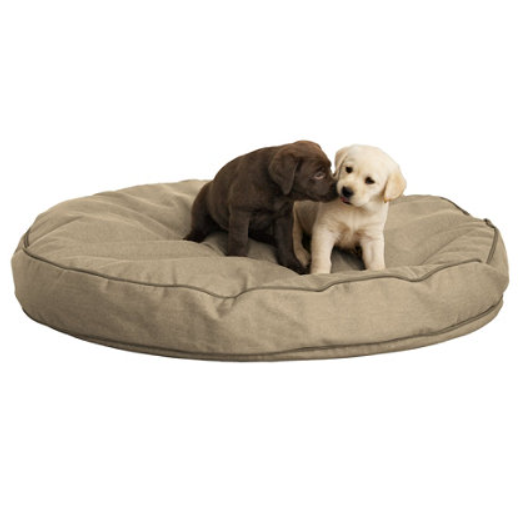 Elevated Dog Beds
Sometimes your pooch needs to beat the heat and that means an elevated dog bed or a gel cooling mat. These are both inexpensive. You can always put a pillow style bed on the elevated dog bed for more support and comfort and to provide additional warmth when it starts to get cooler.
Elevated beds have the advantage of being easy to clean and they never trap moisture on your floor. If you have a smart dog, they can sometimes drag their bed over a mess they create to hide it. An elevated bed cannot be dragged around like that.

The Original Elevated Pet Bed By Coolaroo – Large Nutmeg
This elevated dog cot is an affordable and practical choice for hot climates and other areas during spring and summer. If you are the proud dog parent of a large pooch with a double coat or long hair, then an elevated bed may be all that your dog really likes. The comfort level your pooch likes may surprise you.
MidWest Quiet Time Pet Bed Deluxe Gray Ombre Swirl 46″ x 29″
A pillow mattress style bed is a classic design that is suitable for a lot of dogs. This poly fiber cushion is an excellent choice for different breeds. If you are in doubt about what type of bed to get this is a safe one to go with. The longer-than-wide design encourages a natural full length laying position for your dog.
This bed has a non-skid bottom that is made to not scratch any floors. The entire bed is machine washable and with a price this good you can buy two so you can throw one in the wash and still have a nice place for your dog to lay.
FurHaven Jumbo Plush & Suede Orthopedic Sofa Pet Bed for Dogs and Cats, Espresso
This is a bestselling dog bed for a reason. This sofa style bed is also appealing to dogs that like a nest style bed. The sleeping surface is a bit smaller than the overall dimensions but some dogs also like to have a pillow for their head so the arms can pull double duty on either side.
This choice makes a good giant dog bed for those with multiple pets that like to sleep together at least some of the time too! For those on a budget, it is hard to beat this supportive egg crate foam bed with a canvas base that provides slip resistance without harming even the most delicate floors.
Big Barker 7-Inch Pillow Top Orthopedic Giant (60 X 48 X 7-Inch) Bed for Dogs – Khaki
Ok, we know that this is dog bed that costs a lot more than any of the others on this list. However, you get a lot of quality and a very large bed for giant pooches that struggle to get comfortable on most commercial pet beds out there.
The Big Barker is a full 7 inches thick and a whopping 4 feet by 5 feet if you get the largest size! This is definitely a big enough bed for a few dogs to get comfortable on or if you have a giant breed like a Great Dane or Mastiff, this bed will stand the test of time. A full 10-year warranty comes with this bed.
Big Dog Bed Alternatives
It is easy for one to think that all dogs will enjoy a big fancy bed. There are some dogs that seem to prefer a harder surface. For these dogs, a well-padded mat can be a solution. Even an outdoor grade rug is a viable choice for dogs. Fleece blankets are inexpensive and easily washed. If a dog damages them or causes a mess, you can throw them away without losing a lot of money like you would with an expensive bed.
Andersen 280 WaterHog Fashion Polypropylene Fiber Entrance Indoor/Outdoor Floor Mat, SBR Rubber Backing, 4′ Length x 3′ Width, 3/8″ Thick, Charcoal
50 x 60 Inch Ultra Soft Fleece Throw Blanket Wholesale Case Pack 12
DIY Dog Bed Option
There are a ton of cool ways to make your own dog bed.
If you have a fabric or upholstery store nearby, you can have a piece of foam cut or get a remnant at a discount and then cover it with fleece blankets that you have attached velcro to make a slipcover. You may have to do some sewing either by hand or with a machine to make a slipcover for a dog bed. There are also commercially made dog bed covers that you can have a piece of foam cut to size. You can also just use sheets that are sized for a toddler or twin size mattress and put that over your piece of foam.
Toddler Size Or Twin Size Mattress
Sometimes you can get small mattresses for a very low price. You may even consider buying a gently used one. If you have a larger memory foam or solid foam mattress that has lost its comfort for you, it still may be usable for a dog bed. Using an electric knife, you could cut an old queen-sized mattress into two giant dog beds! Of course, you could use this type of mattress to mix it up and make several smaller dog beds along with a large one! For extra comfort, you can throw a fleece blanket on top.
Zinus 6 Inch Hybrid Foam and Spring Mattress, Twin
This mattress costs far less than a lot of dog beds and you can just buy twin size sheets and cover it with them. This allows you to change the cover of your dog bed much more easily and you can vary the type of sheets you use based on the season. Cozy flannel for your pooch in the winter and soft and cool cotton in the warmer months!
If you are worried about keeping out dirt, fleas, and other things that can invade pet beds, you can purchase a mattress encasement bag and then put sheets on top of that. For those that really want to keep the cleanest pet space possible this is not a bad solution.
The Best Bed for your Dog
Scout hopes that you have the tools you need to put together a dog rest area that is perfect for your giant pooch. Remember that puppies are still in a learning phase so you may want to hold off on buying a really nice bed for them until they get over their major chewing phase. At the same time realize that your puppy may be small now but giant breeds can grow very fast and quickly outgrow that small bed you bought them. A Great Pyrenees puppy can gain an amazing 2 lbs per day at peak growth!
Continue reading:
Bil Jac Large Breed Dry Dog Food Review
Nutro Wholesome Essentials Large Breed Lamb Dry Dog Food Review