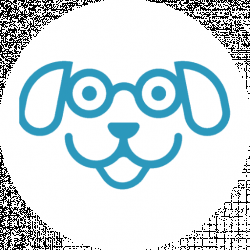 Latest posts by Scout Knows Team
(see all)
There is nothing more endearing to me than to see my little Harley snuggle up to her bed. In fact, she has more than one bed around our home. Harley received a small doggie house from her uncle one Christmas. She went inside to sleep until one day she decided her house would be better used to stash her toys.
I've come across various doggie parents whose little canines love their dog houses. In the spirit of canine house shopping, I searched and came across the eight best small dog houses for little canines.
This Little Dove Teepee makes a comfortable house/tent for both little dogs and cats. The tent is made from 100% durable, canvas cotton teepee material that is machine washable. Pine poles make the teepee's frame stable. The tent measures 24 inches tall, 20 inches wide, and fits dogs weighing up to 15 pounds.
The teepee comes with skid resistant bulbs and a rubber protector that protect your floor while keeping the teepee from sliding. As an added decoration, the teepee also comes with a small clack board where you can write a little message or your little one's name.
Petsfit's Outdoor Wooden Dog House is big enough to fit dogs smaller than standard poodles. The house measures 16 inches wide by 18 inches high and has a depth of 16. 5 inches with plenty of room for your little one to move about and sleep.
Its waterproof exterior will keep your small dog dry, safe and warm during extreme weather conditions. The house is made from kiln-dried cedar that is later treated with a natural color stain. If you want to the house to include a porch and window, you'll have to order the 33 inches long by 25 inches wide, and 23 inches tall house. Although this house can fit a small dog, you can also order a bigger size to fit a larger breed.
The Arf Frame Dog House is the ideal home for your tiny fur baby. The house is built from Cedar or stained Whitewood that produces a fresh aroma. This extra small house is roomy inside. Its interior measures at 17 inches wide, 16 inches deep and 17 inches high. It has a door opening measuring that is 7.75 inches wide and 10.25 inches high.
Moreover, the Arf Frame Dog House has a raised floor and a sheet lined inner-roof. Most importantly, it is non-toxic, weather resistant, and made from solid, lightweight and durable wood. Best of all, it is easily assembled.
Little steps, a balcony, and sunbathing deck are a few amenities that make the Merry Products Wood Pet Home appealing. Built to be used indoors or outdoors, this beautifully designed dog house will make your little canine the envy of the block.
The interior measures 17.3 inches tall, 17.3 inches wide, and 15.4 inches deep. It has been specifically designed for small dogs that can fit the interior. In addition to a roof-top balcony, the house comes with a door measuring 9.3 inches wide and 11.3 inches tall. Additionally, the lounge area inside the house is raised to keep your little dog dry.
Doggies who are indoor pets will enjoy the Home Sweet Home portable house from Best Pet Supplies, Inc. This comfortable and beautifully crafted house was made with little dogs and cats in mind.
The interior is crafted with Polyfoam which molds to your little one's position laying down. The Polyfill provides the home with cushioning comfort and sturdiness. An anti-skid base comes with the house so it remains in place when placed on the ground. Additional relief comes from the plush pillow that comes with the house.
For small and teacup indoor dogs, the Pretty Love Brick House makes a nice little shelter inside your home. The house measures 18 inches tall, 15 inches wide and 16 inches deep giving your little pal plenty of room to sleep and move around. The house collapses and is easy to assemble. The material is very lightweight so you can carry it with you when traveling. Most importantly, you can easily clean it by wiping the dirt with a wet cloth.
The Lovupet Small Wooden Bunny Rabbit Hutch-Guinea Pig House-Small Animal House was designed with lots of room in mind for little dogs and critters. The house is made from solid pine wood and an interior that is 13.5 inches wide, 16 inches deep and 11.6 inches high. The roof is made from waterproof asphalt material so your little one remains protected from the weather. The roof comes with a hinged roof that enables easy access to clean.
The house comes with a skylight that allows easy access to feeding, cleaning. It also circulates the air.
Lifeunion's Dog Tent House is made for outdoor fun and adventure. The house is easy to assemble, it's lightweight and easy to carry. The tent's fabric is made from 600D water-proof polyester cover and is framed by extra strong fiberglass poles that cross each other.
This house is moisture proof, waterproof, dust-proof, and UV protected. With plenty of air flow, your little one will enjoy the outdoors during travels to the beach or park. your dog can even enjoy the fresh air from your backyard while being protected from the sun and its ultraviolet rays.
These are the best small dog houses for small dogs we could find. Dog houses for small canines vary in shape and design. It seems as if the smaller the dog, the more creative the houses. If your little one has an indoor or outdoor house keep in mind that he or she may outgrow it. So, don't be surprised if one day you find toys inside the house instead of your little pup.
Continue reading:
Does Your Pooch Have Small Dog Syndrome?