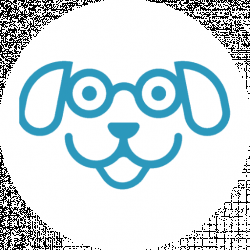 Latest posts by Scout Knows Team
(see all)
Travel is inevitable. Inevitably, we will have to leave the house, and sometimes our pets can come with. If you have a small dog, then you'll need to look at small dog crates to transport them in.
After all, our pets are not just animals – they're part of the family, and why not take them along when we travel?
Dog crates can also be used at home when your pup needs a timeout or a safe space. It's a kind of indoor kennel, like having their own room in the house.
While we wouldn't suggest leaving your pet in one of these the whole day while you're at work, they can definitely be used to create a space in which your dog feels comfy and safe.
Dog crates come in all sizes, but we'll be looking at the best crates for small dogs. Here are our top 5.
5 Top Rated Small Dog Crates
Our Top Choice: EliteField 3-Door Folding Soft Dog Crate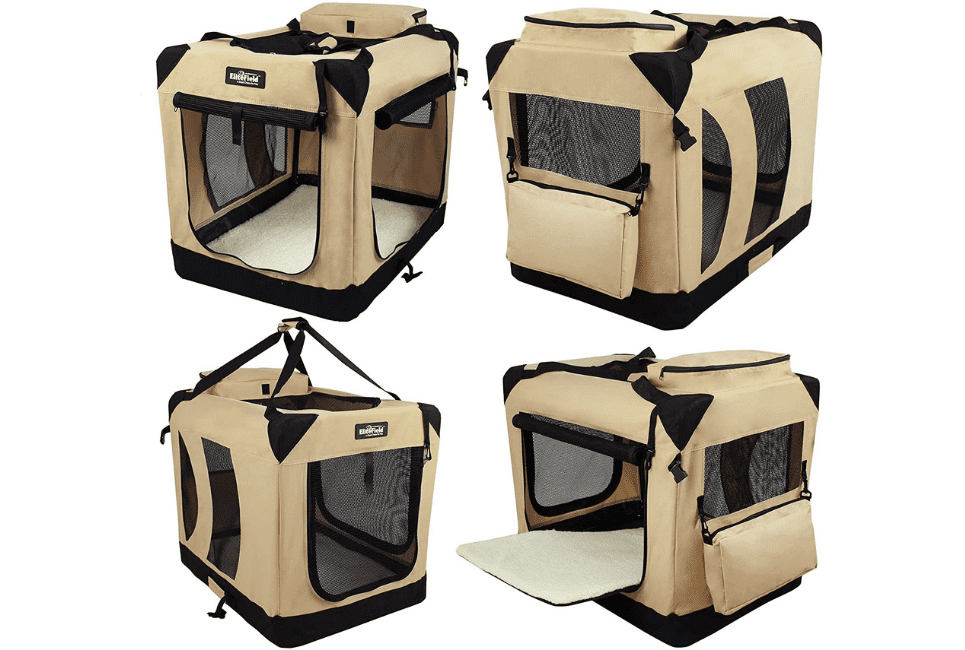 EliteField's soft dog crate is a fantastic accessory for inside, outside, and wherever else you'd like to take it. Well constructed and expertly finished off, this soft-sided doggy carrier can be assembled or folded up in seconds, making it super easy to use any time, anywhere.
Soft sides and a fleece bed make it comfy for pups of all breeds, and soft handles make it comfy for humans to carry too. 2 accessory bags add a good bit of value to this carrier, as does the zipper lock on the mesh doors (to prevent those Houdini pets from breaking free).
This is a superb soft dog carrier, whether you're in the car or simply chilling at home. It's also more spacious than most, giving your pup a little more freedom and comfort.
Pros:
Extra height and length compared to others
Durable – metal frame and high-quality mesh fabric
Well ventilated
Easy to carry
3 doors allow for a spacious feeling and full view
2 accessory pockets
Easy to clean
Collapsible (free carry bag included)
Fleece bed included
Comes in multiple colors
2-year warranty
Cons:
May not be suitable for air travel
Chewable (especially for puppies)
Our Runner-Up Choice: Petnation Port-A-Crate Indoor & Outdoor Home for Pets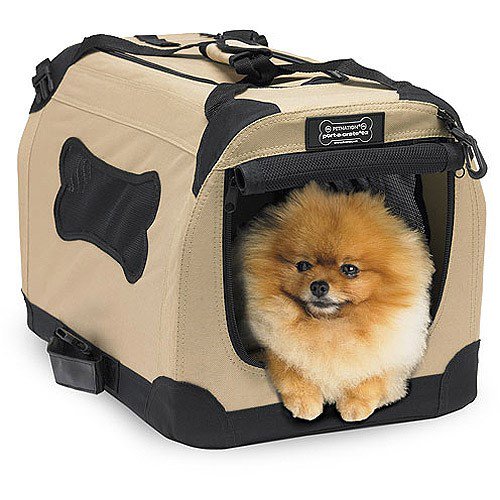 This lightweight yet durable dog basket is kind of like your pup's very own fancy tent. Durable, heavy mesh fabric over a steel frame makes this one hardcore dog box for inside or outside use.
The mesh windows provide good airflow and the doors can be rolled up and secured, so your pet has enough freedom of movement.
Cleaning is a breeze, and the material is water-resistant and can be removed from the frame for a more thorough wash if necessary. The Port-A-Crate also is non-toxic, has no sharp or small pieces that can be harmful, and has rounded corners for extra safety.
Petnation also reminds buyers to remove their pet's leash before crating them, and to never leave your pet in a vehicle alone, even if they are in the comfort of a Port-A-Crate! They make great products, but they care about the well-being of pets and pet owners too!
Pros:
Lightweight and durable
Non-toxic material
Rounded corners for extra safety
Water-resistant and easy to clean
Well ventilated
Foldable for easy storage
Soft and comfortable (still may need extra pillows, though!)
Cons:
Some bigger models don't have a carrying strap
May not be suitable for air travel
Can be chewed
Best Budget Choice: MidWest Homes For Pets Dog iCrate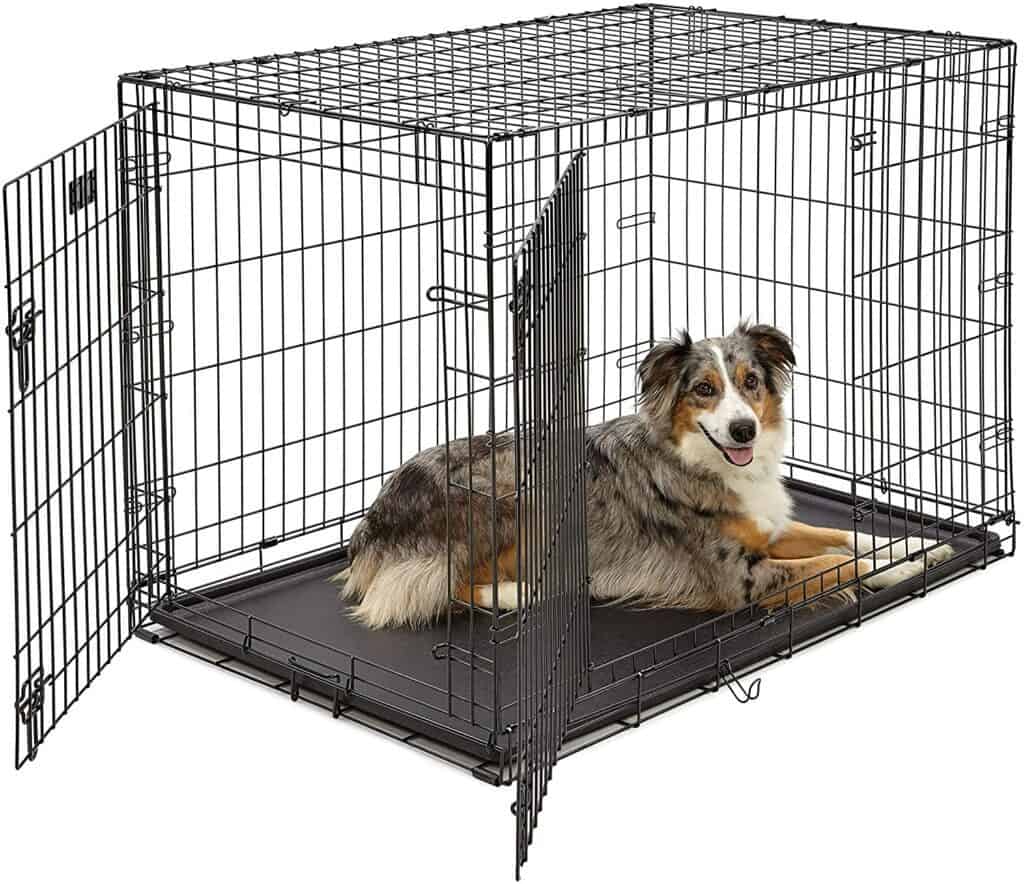 Simple yet effective. The iCrate is created from wire and is designed to be your pet's "home while you're away from home". A wire crate with a soft Electro-Coat finish, rounded corners and roller wheels for extra protection, the iCrate is a great option.
Perfect for training, transport, or simply creating a space for your puppy to hang around in when they're at home. The wire design allows great ventilation as well as full range of vision, which means your pup will feel a part of what's going on around him even if he is in the box.
The iCrate can also be compartmentalized, by using divider panels. This is useful for puppies who have yet to grow into the crate, and for training purposes. There is a lot to choose from in terms of add ons and accessories for these kinds of crates, including bedding, food bowls, and crate covers.
The ease of use and affordability of this one makes it our best budget pick.
Pros:
Portable
Very affordable
Folds up for easy storage or moving
Single or double door
Easy to assemble
Rounded corners for extra safety
Roller feet to protect floors
Removable plastuc tray
Easy to clean
Electro-Coat finish
Heavy-duty slide bolt door latches
One-year warranty
Cons:
Not approved for shipping and travel
Best Travel Dog Crate: Petmate Sky Kennel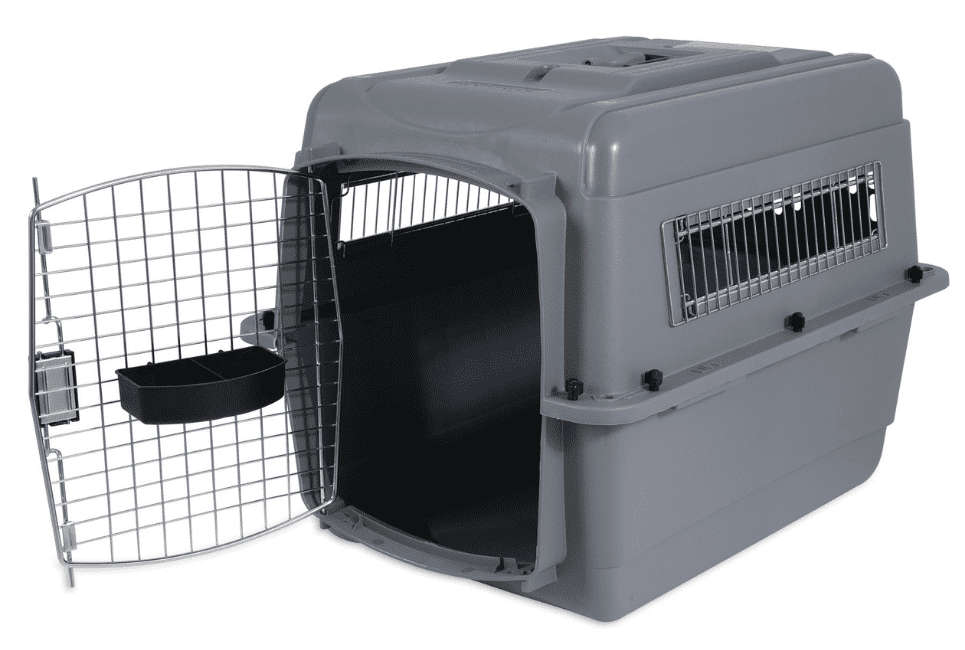 Traveling with your pup in tow can be stressful, but the Petmate Sky Kennel makes things a lot less complicated both for your pup and for yourself. As its name suggests, the Sky Kennel is designed for long-distance travel, particularly airline travel.
Constructed from heavy-duty plastic with wire vents on all sides, the Sky Kennel allows your pet safety and breathing space. Your pup has full range of vision too, which can be very important when it comes to making a pet feel comfortable.
You'll also get a clip-on bowl so your pet can be fed and watered while inside, and for trips where you have to be separated, pet ID stickers and "Live Animal" stickers are provided.
This heavy-duty carrier is perfect for any type of travel with your pet. Be sure to size it correctly (3 – 4 inches bigger than your pet in all directions) and put a soft pillow in there, and you'll be good to go!
Petmate has a variety of other models available too, so if the Sky Kennel isn't quite what you need, you can compare and find what works for you.
Pros:
Heavy-duty and durable
Easy to clean
Portable
Easy to assemble
Meets most air travel requirements
360-degree ventilation and viewing
Comes with clip-on water/food bowl
Chew-proof (except for excessive chewers with too much time!)
Cons:
Bigger kennels don't have a handle
The advertised size is from the outermost parts of the crate, NOT the inner space – this can be confusing, so be sure to do the research to get the correct size for your pet
Best Non-Portable Home Dog Crate: Casual Home Wooden Pet Crate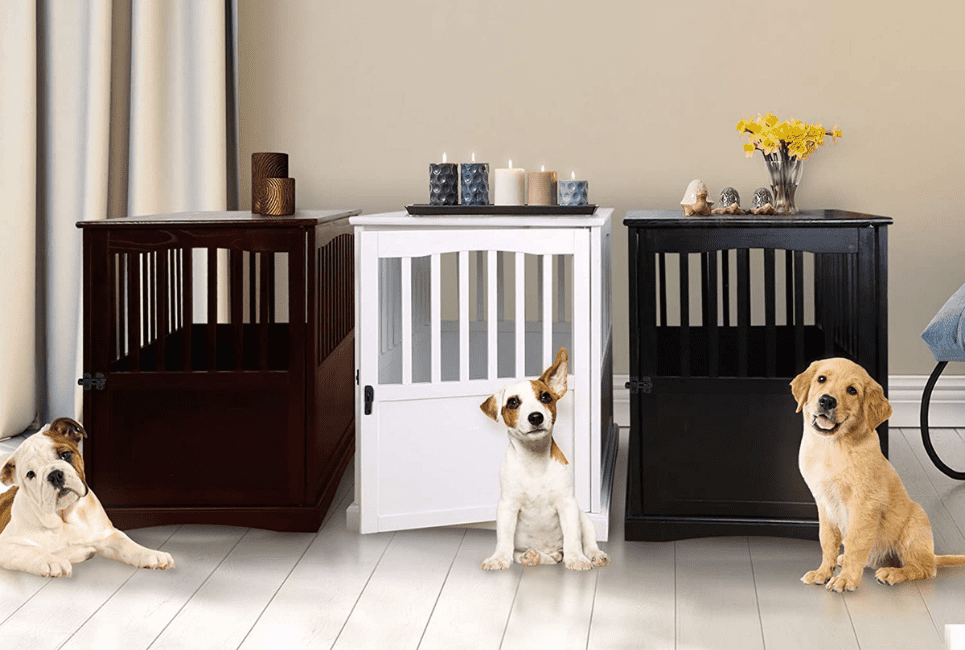 Designed to look like a wooden end table, this pet home is a stylish way to give your pup their own space without having a conspicuous puppy house lying around.
It's made from dark wood, which means it's pretty durable as long as your pooch doesn't chew on it (although they do claim to be chew-resistant!) The door is lockable, so you can keep your pup safe if need be.
You can choose various sizes, and as this one is a piece of furniture as well as a doggy home, you may want to consider both the size of your dog and the space you have available. You may also want to be sure your pup is crate trained already – the table look may confuse them, and the wood may not handle messes.
Pros:
Stylish and fits in with home decor
Lockable door
Affordable in comparison to other products
Easy to assemble
Cons:
Chewable! (especially for puppies)
No removable tray (for pup messes)
Average quality furniture piece and may scratch easily
---
Buyer's Guide
When it comes to choosing the best small dog crates, there are some things you need to be aware of. Here you'll find some info and advice on what to pay attention to when shopping for one for your dog.
Why Use A Dog Crate?
Dog crates are fairly versatile, but they have some basic functions. The main reasons to use a one would be:
For moving pets safely, easily, and comfortably when traveling (whether by road or by air)
Giving your pet their own space – like their own room in the house, where they can go to relax
Training your pups – either potty training or obedience training
Who Would Use a Small Dog Crate?
Well … Small dogs. The humans involved may vary though.
Small dog owners
Humans wanting to potty train puppies
Dog trainers
Pet owners who enjoy traveling with their pups
People whose pooches need their own space
How To Choose The Best Small Dog Crate
While this doesn't need to be a complicated experience, there are certain things that you do need to put some thought into (for your own sake, as well as your dog's). Consider the following when shopping for dog crates:
Types
Dog crates come in a variety of types and materials:
Wire Dog Crates
Metal Dog Crates (heavy-duty)
Plastic Dog Crates
Wooden Dog Crates ("furniture" type included)
Soft-sided (with a metal frame)
The type you choose should depend on where you plan on using it.
Are you going to use it to carry your dog for travel purposes? An easily movable dog carrier would be best. Is it for home use only? Perhaps you would like something that blends into your decor. Does it need to be a collapsible dog crate, or are you happy to have it standing all the time?
Type of Dog
The size of your dog is obviously important here, and matching your pup to an appropriately sized crate is crucial for their comfort. It needs to be a few inches taller, wider, and longer than your dog is to allow them full freedom of movement and space to turn around and lie comfortably.
The temperament of your pooch is also something to consider. Is she easygoing or more prone to stress? Does she chew on things? A chilled out pup might be totally okay in a wire dog cage for a little while, but a pup who suffers from separation anxiety and stress might need something a little more comforting, like a soft-sided space.
Another thing that makes a difference is whether or not your dog is already crate trained. If they are, you can use pretty much any small dog crates (the only one that may be confusing for them is a crate that looks like furniture).
If they aren't, you may want to get a less fancy one to train them with first. Puppies are easily trained with crates that have dividers, and are easy to see out of. A wire type is great for a training crate. Potty training is also something to consider. You really don't want your pooch to make a mess after he's been put inside and have to sit in a dirty space until he can be let out.
Some Things To Remember
Always remove your dog's leash before putting them in a crate (for safety purposes – if leashes get caught and your pup can't get free, it can cause injury)
Make your dog's little space as comfy as possible. Make sure that your pet has some kind of soft surface in there, especially if it is a "relax" space for them
The crate is never intended to be used as a form of punishment! You want your pup to associate being crated with calm and contentment, not fear and frustration
Unless you are traveling and unable to let them out, don't keep your pet confined in the crate for too long
If your pet is going on a long trip, make sure to send food and water along with them (airlines should feed your pet at regular intervals)
There are accessories available for most crates. These are things such as covers for wire crates, padding for the floor, and food and water bowls.
Never leave your pet unattended in a car, whether they're in a crate or not!
Frequently Asked Questions
How big a crate is big enough for my dog?
Your pooch should be able to stand without stooping, turn around comfortably, and be able to stretch when lying down.
The rule of thumb is 3 – 4 inches bigger than your pet in all directions.
What are the requirements of a pet carrier for air travel?
You can find out all the info about the International Air Transport Association's requirements in this article.
What material is best for a dog crate?
This depends on a few things. If you care to see more, read this article.
When is a dog crate not a good idea?
If you have an older dog who has not been crate trained or a naturally jittery pup, they may be intimidated by the small space and automatically think they are being punished.
Be very aware of your dog's temperament and how they react to a crate the first time they come in contact with one.
You may choose to do crate training, but if they are old or too fearful, forgoing a crate may be the best option.
Other Small Dog Crates We Reviewed
Heavy Duty Dog Crates
Dog Crates For Puppies
Heavy-Duty Dog Crates
PARPET Empire Heavy-Duty Pet Dog Crate Kennel
This is the most hardcore of dog crates. Made out of 0.5 inch metal bars with a powder-coated finish to prevent sharp edges, this durable dog cage has 2 slide-bolt latches made of steel to ensure your furry friend stays put.
It is not the most portable, although it has wheels for moving easily between indoors and outdoors. Once your pet is inside here, you can rest assured they aren't going anywhere and will sit safely where they are until you return.
Features:
Heavy-duty metal frame
Powder-coated bars for safety
Roller wheels for easy transport
Easy to clean
Removable metal tray underneath
Requires two people to assemble
WarmieHomy Heavy-Duty Aluminum Dog Carrier
An unusually shaped carrier made of aluminum bars. The design allows it to fit easily in vehicles. It is easy to assemble and comes with full instructions.
Features:
Made of strong, durable aluminum
Unusual shape allows for easy fit in cars
Easy to assemble
Easy to clean
Dog Crates For Puppies
Richell Pet Training Kennel
This plastic dog box will work for adult dogs as well as puppies. Any crate for puppies is likely to be chewed on at some point, but the plastic makes this one fairly durable.
You can use this to crate train your pup, and as their own personal space when they grow out of the training phase.
Features:
Opens from top and sides
2 storage trays on the top
Can be used with Paw Trax potty training pads
Detachable base for easy cleaning
Lockable wheels underneath for mobility
Conclusion
The best small dog crates on this list have something for everyone (and every pup).
Be sure to take some time to figure out exactly what you want out of a dog crate – size, durability, mobility, and comfort. Read dog crate reviews to get advice from real, live people (and see cute pictures of real, live dogs).
Although this list is geared more towards small dogs, many of these crates have options for larger dogs too.
Do you use a super small dog crate we haven't included on this list? Let us know in the comments! If you are also planning to buy a dog house, you might want to check our list of the best dog house for small dogs.
Continue reading:
Best Small Dog Houses for Small Dogs
Best Dog Harness for Small Dogs