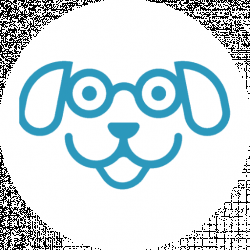 Latest posts by Scout Knows Team
(see all)
Wet or dry food? That is one question that constantly divides pet food forums. Dry food comes with the advantages of being cheaper and more convenient. Wet food, on the other hand, is more appetizing for dogs and easier to digest. But what if you could get the best wet dog food to mix with dry and thus strike a perfect balance?
The practice of mixing wet and dry dog food has been growing in popularity. It helps pets get the best of both worlds and also makes high-quality feeding easier on owners' wallets. If you're already mixing Fido's meals or are just starting, here are the very best products you can use.
Top 5 Rated Best Wet Dog Food To Mix With Dry
Natural Balance is one of the most popular dog food brands among pet owners, and for good reason – their products are made with great ingredients, and the formulas are excellent. The Ultra Premium product is made with beef as the main ingredient, although you can get it in chicken and lamb, and there's even a vegetarian version!
It provides protein complete with amino acids – just what your pup needs for an active, healthy lifestyle. In addition to the protein sources, the other ingredients in the formula include oat bran and brown rice. Both of them provide carbs that are less starchy and thus healthier (better for weight management, especially )than what you'd get with some other ingredients.
Green peas and carrots are also present in the formula, helping to provide your dog with fiber. The fiber content will benefit the digestive system and also help to keep your dog satiated and prevent overeating. Furthermore, since there are no artificial chemicals in the formula, it's also very easy on the organs, and there's less risk of food allergies.
Pros
Multiple flavor options
Has a vegetarian option
Can be bought in different sizes
High fiber content
100% natural – no artificial flavors, colors or preservatives
Contains essential vitamins
Extensive safety testing
Omega-3 and Omega-6 for healthy skin and coat
Cons
You'll have a choice between chicken and beef when buying this Hill's Science Diet product. The high protein content will help your pup develop and maintain lean muscle mass.
The other major ingredients in the formula are mostly vegetables, all of which were chosen for their easy digestibility and their nutrient content. Giving your dog food that's easy to digest helps their digestive system by reducing the workload and allowing the organs some rest. When overworked, the organs can begin to fail, resulting in very serious health conditions. This recipe helps to avoid that.
Customers have reported that the recipe was absolutely appetizing for their pets. That's great because it means when you mix the gravy with dry food, your pet will be more receptive.
Pros
High protein content
Easily digestible
Highly palatable
Promotes healthy skin and coat
Contains essential vitamins and minerals
Ideal for adult dogs
Two flavor options
Cons
Blue Buffalo Freedom Grain Free Natural Adult Wet Dog Food | Amazon
If your dog doesn't do well with grains, switch to BLUE Freedom grain-free wet dog food. Made from the finest natural ingredients enhanced with vitamins and minerals, this mouthwatering recipe starts with high-quality lamb and is packed with healthy fruits and vegetables.
Check Price
We earn a commission if you click this link and make a purchase at no additional cost to you.
06/09/2023 12:41 am GMT
Like our runner-up pick, you can only get this product in a single size – 12.5oz. However, that minor inconvenience is offset by the sheer variety of flavor options you can choose from. Also, affordable pricing makes this product a particularly great deal for the money.
All the flavor options start off with a source of protein which provides the ingredient in its most complete form to facilitate your pup's development. The rest of the recipe is made up of fruits and veggies. Those provide your pet with complex carbohydrates and fiber for a wholesome diet.
The recipes are all devoid of poultry by-product meal and other similar fillers which are used by some manufacturers to add bulk to their products. Instead, your pet will be getting minerals, vitamins, and other healthy calories from wholesome ingredients such as peas, carrots, and potatoes.
Pros
Affordable pricing
Low-fat content
High nutritional value – contains all essential nutrients in great proportion
High fiber content
Gluten-free
100% natural ingredients
Cons
Only one can size available
Wellness Core Natural Wet Grain Free Canned Dog Food | Amazon
Wellness CORE Natural Grain Free Wet Canned Dog Food Turkey, Pork Liver and Duck Recipe is healthy, 100% natural fish-free, gluten-free, grain-free dog food for adult dogs made with turkey, pork liver, duck, chicken, sweet potatoes, greens and botanicals to help support inner wellness and fortified with vitamins and minerals, including fish and flax omega blend for healthy skin and coat.
Buy at Amazon.com
We earn a commission if you click this link and make a purchase at no additional cost to you.
06/09/2023 12:12 am GMT
If you're specifically looking for grain-free dog food, then this Wellness Core product just might be the right one. The formula is heavy on high-quality proteins but has eliminated grains and all the starch they come with completely. Instead, the rest of the formula is made up of fruit and vegetables.
,
The protein provides the building blocks for healthy body mass without the risk of your pup beginning to have weight problems. The vegetables and fruits provide the fiber that'll keep your dog satiated while providing essential nutrients such as vitamins, minerals, and omega fatty acids. It's all natural ingredients too, meaning that there are no artificial colors, flavors, or preservatives in the recipe.

To make this product even healthier, Wellness Core made the formula to include a lot of probiotics and prebiotics which help to maintain the digestive system and keep it free from infections.
Pros
Free from artificial chemicals
High protein content
Contains probiotics and prebiotics
Contains omega fatty acids
Gluten free
Multiple flavor options
No by-products
Cons
If your dog is one that has a sensitive stomach and you want to begin mixing her food, you'll have to be extra careful to be sure that the mixture is one that's palatable, easily digestible and suitable for a somewhat weaker digestive system.

That's where the Purina Pro brand comes in. Known for making health-focused pet food, they made this product specifically for canines with sensitive stomachs. It's made from a limited ingredient list, thus reducing the chances of stomach upset due to any ingredient. Soy and wheat have been eliminated, for instance, as were artificial colors, flavors, and preservatives.

Salmon and rice are the main ingredients, providing protein and carbs which canines need for proper development. Your pet will be getting the major nutrients from high-quality sources, with the micronutrients coming from similarly premium ingredients such as potato and carrot.
Pros
Limited Ingredients
High omega fatty acids content
Affordable price
Fully natural
Reduced risk of allergic reactions
Cons
---
Buyer's Guide
There are benefits and drawbacks to feeding your pets, either dry food or wet food. However, it just means that mixing the two is a great way to get the benefits on both sides while minimizing the drawbacks. Here's all you need to know to begin mixing your pet's meals like a pro!
Why You Should Mix Wet and Dry Dog Food
The first thing is that when you mix, you'll be balancing out the textures of the meal. Dry food is often well…dry. Even if you add some water and make it semi-moist dog food, it still won't go down quite as well as canned food products which have oily, tasty gravy. Making your dog's meals easier to digest helps by putting less strain on the digestive system and possibly even elongating your dog's life by keeping their organs healthier for longer.
Mixing the two also mitigates the oiliness of wet food, so your dog will be getting a texture that's highly palatable. Most pet parents who mix their food report that their canines had better appetite than they usually did with either wet or dry products.
In addition, mixing helps to keep the meals better hydrated, meaning that your dogs will get a healthier quantity of water. There are financial gains too since you'll be able to offset the costs of an exclusive canned diet by reducing how much you spend on cheaper dry food.
How to Mix Properly
When you start out mixing your pet's meals, it can be tempting to just mix roughly equal portions of each product into the plate. In reality, there are significant differences between the composition and caloric content of wet and dry food. Wet meals contain fewer calories and more water, to start with.
You should ask the company (most of them have helplines staffed with experienced vets) or your veterinarian for guidance. Over time, you'll be able to calculate the portion sizes by looking at the ingredients list and water content.
How to Choose the Best Wet Dog Food To Mix With Dry
The first thing is to consider the ingredients in relation to the dry product you intend to mix it with. Once you're clear as to the ideal proportions of nutrients for your pet's needs and any special dietary considerations (a grain-free diet, for instance) you can then buy products that complement each other.
In addition, you should consider the age, size, and breed of your canine. The ideal food for a large breed puppy is markedly different from what's ideal for a toy breed senior. Read the labels thoroughly to be sure everything is in line with your pet's needs.
Also, you'll need to consider the textures of the products you intend to mix. Pet parents have generally reported getting the best results when they mixed foods of different flavors to provide variety in their pets' diets. Go for products with kibbles, gravy, and chunks of different sizes.
Frequently Asked Questions
How do I start mixing my dog's food?
In short, gradually. As with any major changes to your pet's diet, you should begin introducing the new food into your dog's diet in small increments.

Begin with a tenth or so on the first day and increase it every day so that you'll be serving a full mixture by the seventh day. Watch out for how your dog reacts and decide if you should continue or stop.
Can I mix therapeutic foods?
This is a common question because therapeutic foods which are prescribed as part of a treatment regimen are often not as tasty as normal products. So you might want to mix your pet's meals to encourage her to eat more.

You can do that, but you'll need to consult a vet first to be sure that the product you want to mix in won't dilute or counter the intended effects of the original diet on your dog's body.
Can I serve them separately?
Yes, you can. If there's any reason why you don't want to mix the wet and dry food into meals, you can serve them to your pets separately. Beware though, that most dogs will eat canned food first whenever they have the choice, so be sure you're putting just enough that they'll have to eat the dry meal too.

If you want to serve them at different times, you can do that too. One common practice is to serve dry food in the morning to allow your dog to eat breakfast and snack on the leftovers through the day. The canned meal or homemade dog food is then served in the evening.
Other Small Breed Best Wet Dog Food To Mix With Dry We Reviewed
Wet Food for Small Breeds
Canned Food for Large Breeds
Wet Food for Small Breeds
Cesar 36 Count & 60 Count Variety Pack Soft Wet Dog Food | Amazon
Now your dog can have their favorite flavors in savory dog food that provides a complete and balanced meal just for them. Cesar Home Delights and Classic Loaf in Sauce Dog Food Trays give dogs the nutrition they need in the delightful flavors they crave.
Buy at Amazon.com
We earn a commission if you click this link and make a purchase at no additional cost to you.
06/09/2023 12:18 am GMT
Many of the best wet dog food to mix with dry is suitable for all breeds. However, buying a product that's specially made for smaller dogs comes with its own advantages. You can see it in the packaging – instead of the large cans, this CESAR product comes in small trays. Those are just perfect for small/toy breeds to enjoy without leftovers which could go stale or make a mess.
,
You can buy it in different flavors too. From chicken (slow cooked and grilled) to beef, porterhouse, and even filet mignon. Even if your small breed pups are picky eaters, you'll be sure to find something they absolutely love!

The ingredients differ depending on the flavor you pick, but the animal protein sources are all supplemented by high-quality carb sources. These include yam, wheat flour, spinach, parsley, beet, etc. If your dog has a gluten allergy though, this won't be an ideal option.
Features
Wide flavor variety
Convenient packaging
Premium quality protein
High vitamins and mineral content
Contains gluten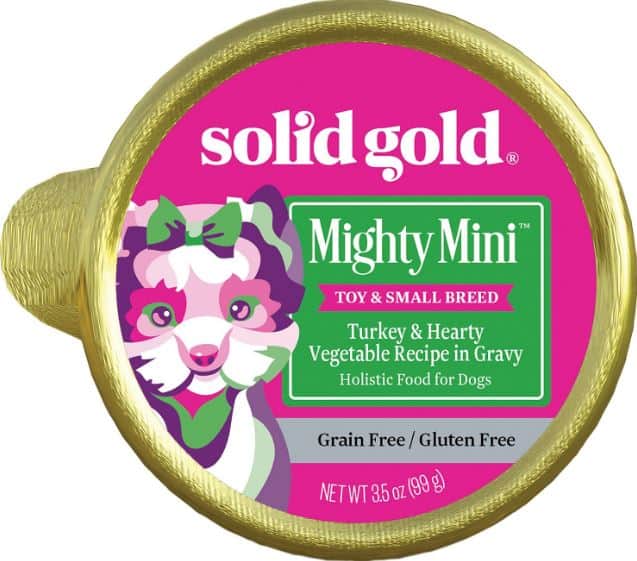 Solid Gold Small & Toy Breed Wet Food | Chewy
Make no bones about who's the boss in your home—the littlest ones call all the shots. Mighty Mini is a grain & gluten-free meal that's big on flavor and nutrition and small on kibble size—perfect for small breed dogs.
Check Price
Buy at Amazon.com
We earn a commission if you click this link and make a purchase at no additional cost to you.
This product is ideal if the gluten in the CESAR small breed dog food put you off. It contains no grains or gluten and is instead made from turkey for protein, an assortment of vegetables for fiber and other essential nutrients. You can also get the chicken, chickpea & pumpkin recipe. If you want even more omega fatty acids, the chicken, salmon & vegetable Recipe.

Whichever one you choose, the formula is high in protein, containing more than 40% protein on a dry matter basis. That means your pup will get all the energy she needs to play around all day and maintain healthy body weight.

The omega fatty acids in the formula are great for canines' skins and coats, making them shiny and soft to the touch. You'll also get the benefit of an all natural recipe from artificial chemicals in any guise. Woof woof for clean eating!
Features
Completely natural – no artificial colors, flavors or preservatives
Very high protein content
Gluten free
Multiple flavor options
Small kibble sizes – perfect for small breeds
Canned Food for Large Breeds
Nutro Ultra Large Breed Adult Dog Food | Amazon
ULTRA Premium Large Breed Dog Food is rich in essential nutrients for optimum pet health. Our premium natural dog food features a perfect combination of three lean proteins from chicken, lamb, and salmon to ensure optimal amino acid levels.
Buy at Amazon.com
We earn a commission if you click this link and make a purchase at no additional cost to you.
This Nutro Ultra food is intended to be served to adult dogs, although some customers have reported success from feeding it to their older dogs as well. Whether you're using it as senior dog food or even puppy food though, what's certain is that this special formulation is ideal for large breed dogs.
The protein content in the food comes from not one but three sources – chicken, lamb, and salmon, all of which combine to provide your pet with energy and lean muscle mass. Up to 14 fruits and vegetables (which Nutro describes as superfoods) make up the rest of the recipe, providing essential nutrients.
In addition, Glucosamine and chondroitin are two of the micronutrients provided by the fruits and veggies, and they help to keep your pet's joints healthy, which is something that medium breed and large breed canines often struggle with. Also, the formula is completely natural and contains no artificial chemicals or by-products – as if you needed any more convincing, right?
Conclusion
High-quality dog food of the canned or dry variety is crucial for your dog's health, whether you decide to mix or not. Choosing the very best products will be a crucial determinant of your pet's health.
Overall, the choice between dry and wet dog food is often a difficult one to make but as you've seen in this guide, you can and should take a third option to maximize the benefits on either side.
The great thing is that you can begin easily by choosing from this list of the very best wet dog food to mix with dry. Make your selection, place the order and treat your beloved canine to healthy, nutritious and tasty meals from now on.
Scout's Pick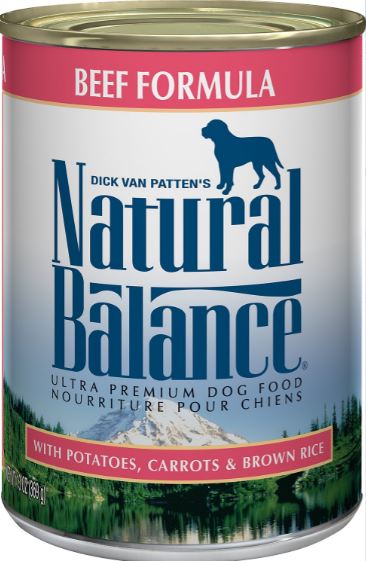 Continue reading:
Evanger's Grain-Free Rabbit Wet Dog Food Review