If you're new to being a pet owner, it might seem like a dog is a dog and that's the end of it. Not so! There is a vast range of breeds and each has their own needs when it comes to love, exercise, and, of course, food. If you own a large breed puppy, we are going to review the best dog food for large breed puppies in this post.
You wouldn't feed a bodybuilder a steady diet of soup and processed carbohydrates, would you? Just like you wouldn't feed a baby a protein-heavy, high-volume diet. Dogs are like humans in this way – particular types of dogs, and pups in certain stages of life need more specialized nutrition. Large breeds naturally need a bit of a higher calorie, higher protein food than their smaller counterparts. Puppies need certain specific nutrients that are different from adult dogs, as they are still growing.
Large breed puppies, therefore, need quite a particular mix of stuff in their food. It needs to provide them with building blocks for growth, enough energy, and supplements to promote strong bone growth without overdosing them on calcium. This list reviews some of the best dog food for large breed puppies that you can be confident will have your puppy happy and healthy.
Top 5 Rated Best Dog Food For Large Breed Puppies
| Recommendation | |
| --- | --- |
| Top Choice | No products found. |
| Runner Up | No products found. |
| Budget Choice | No products found. |
| Best Mixed Food | No products found. |
| Best Glucosamine-Free | No products found. |
Our Top Pick: ORIJEN Dry Dog Food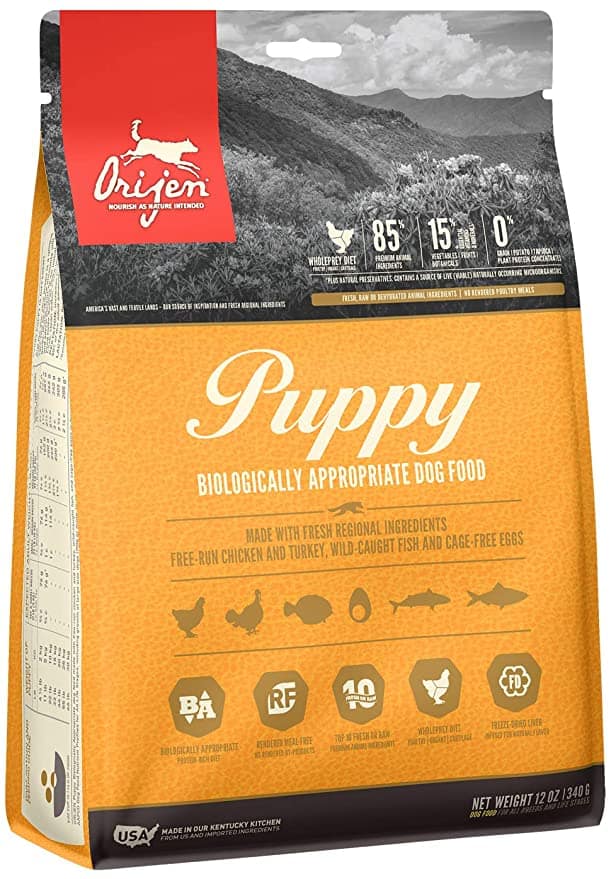 ORIJEN Puppy Large is a meat-focused, limited carb food. 38% protein and 20% carbohydrates makes sure that your pup has all the building blocks he needs to grow and the energy to do what puppies do best.
85% of this dry puppy food is made up of meat inclusions, and 15% is made from fresh veggies and fruits. This means the main ingredient is pure protein, which is great for a growing pup. There are no plant protein concentrates, and it is also grain and tapioca free! Fatty acids, calcium, and phosphorous supplement the raw nutrition, and a good dose of glucosamine and chondroitin sulfate protect your little large breed's joints as they grow.
ORIJEN's WholePrey diet ensures that this food comes as close as biologically possible to what pups would have eaten in the wild, centuries ago. This is the most biologically-appropriate food and consists of fresh meat, cartilage and bones, and organs – nature's variety of nutrients, and no artificial ingredients or artificial flavors. If you are changing your pup's food, be sure to introduce this slowly – the largely raw content might take some getting used to!
Pros
High-quality ingredients
High in protein (38%)
Limited carb content
Omega-3 and -6 fatty acids
Glucosamine and chondroitin for healthy joints
WholePrey diet is biologically appropriate
Grain-free
Cons
Slightly more pricey than others!
Our Runner-Up Pick: Holistic Select Natural Dry Dog Food Grain-Free Large & Giant Breed Puppy
No products found.
When your puppy food has the word "holistic" in its name, you know you're getting quality stuff! Formulated especially for large and giant breed puppies, this food contains no less than 25% protein, 16% fat, and 6% fiber for a super blend of all-natural ingredients. These ingredients are supplemented with Omega-3 and -6 fatty acids, vitamin A and E, and a calcium and phosphorous blend to strengthen bones without them becoming brittle.
It's also a grain-free puppy formula, so puppies with more sensitive stomachs or food allergies should be perfectly okay with it. There's also a healthy dose of salmon oil, which promotes healthy eye and brain development in growing pups. No unnecessary fillers, corn, or by-products makes this a healthy product to be feeding your pet! You can check out their review on DogFoodAdvisor for more info.
Pros
Holistic and all-natural
No by-products
Grain-free dog food
High protein (27%)
Added vitamins and minerals
Bigger kibble size
Cons
Some customers have warned about ordering from suppliers other than Holistic Select themselves – be aware! Other suppliers can provide you with questionable products.
Check out our in-depth review for Holistic Select Large & Giant Breed Dry Dog Food chicken meal and oatmeal recipe.
Best Budget Pick: Purina Pro Plan Large Breed Puppy
No products found.
Of all the dog food brands, Purina continues to find their way into our budget spot because they offer bigger bags of quality food at lower prices than their competitors. They also happen to be a highly reputable brand and have a four-and-a-half star rating on Amazon based on over 1000 reviews.
With 28% protein content and around 13% fat, this is a good balanced nutrition for your puppy. Calcium, phosphorous, and glucosamine provide natural strengthening of joints, bones and teeth. DHA and anti-oxidants promote healthy development. It also contains vitamin A and linoleic acid, so your pup's coat will always be healthy and shining.
Pros
Very well-priced
Reputable brand
High protein content
Good fat content
Good calcium and phosphorous ratio for strong bones
Contains glucosamine to protect and strengthen joints
Promotes a healthy coat with vitamin A and Omega-6 fatty acids
Cons
Be sure to buy from a reputable seller – some customers have reported receiving bad food from some
Best Mixed Food For Large Breed Puppies: Instinct Raw Boost Large Breed Puppy Grain-Free Recipe
No products found.
If dry puppy food doesn't quite cut it for your large breed but you aren't willing to commit to an entirely raw food diet, Instinct Raw Boost is the best of both worlds. Your pup's kibble will be grain-free (and minus the corn, wheat, and soy), high protein (33.5%), and high calorie (at 495 per cup).
Pieces of freeze-dried raw chicken give a nice little protein boost and add the raw component of this food. Calcium and phosphorous supplements for growing large breed bones and teeth, and DHA for healthy brain and eye development make this a very well-rounded food for your fluff.
This would also be a great option if you are considering switching your pup from dry puppy food to a raw diet. While you should always do thorough research before making that decision, if you have chosen to make the switch, you can use this as a transition food to get your pup used to bits of raw before going all in.
Pros
Dry and raw food mix
Great quality ingredients
High in protein (38%)
High calorie
Calcium and phosphorous ratio
DHA supplementation
Grain-free
Cons
Lacking in glucosamine and chondroitin
Best Glucosamine-Free Dry Food For Large Breed Puppies: Wellness Core Natural Grain-Free Dry Dog Food Large Breed Puppy
No products found.
Wellness Natural Pet Food brings us this healthy, balanced nutrition for large breed babies. While glucosamine is great for strengthening joints, if your dog can't have it for any reason they can still get a well-rounded, healthy meal for a large growing puppy with this!
The bigger kibble size makes it easier for your pup to really chew on them, and the all-natural ingredients make it great for a growing pet. The back of the package provides you with a list of things you should be looking at when it comes to your pet's wellness, and judging by their 4-star status, this puppy food provides all of those. It contains no allergens such as wheat, corn, poultry by-products, or artificial flavors or colors.
It also has a nice little dollop of salmon oil in there, which is a great supplement for developing pups. As DHA (which is found in salmon oil) is transferred from mom to pup in the mother's milk, it is recommended to feed this to expectant mothers before the pup is born to give them ahead start!
Pros
Well-rounded, healthy option
All-natural ingredients
No wheat, corn, or soy
Contains DHA which aids in the development of the brain
Good calcium and phosphorus ratio
Superfood-infused
Contain Omega fatty acids for healthy skin and coat
Cons
No glucosamine can be seen as a disadvantage, but can be useful for some pups
---
Buyer's Guide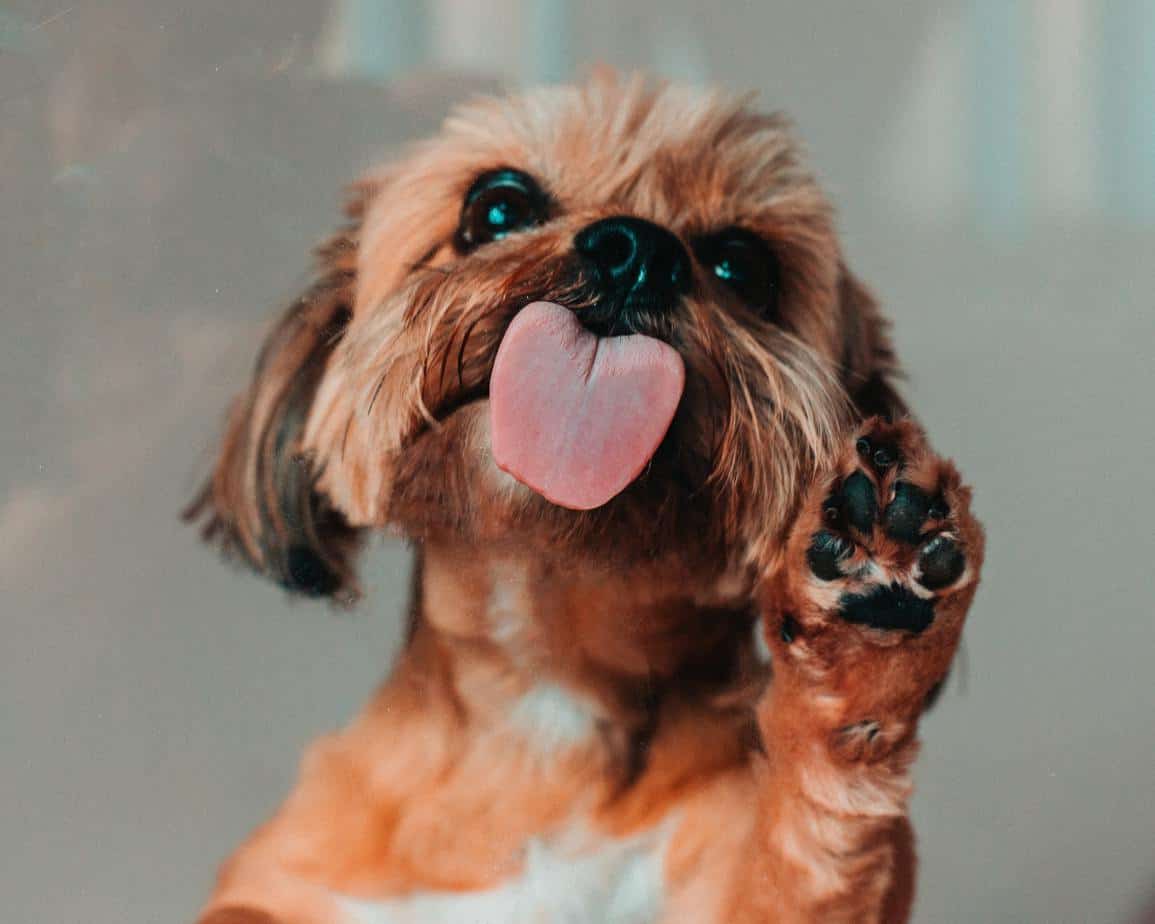 If you have a large breed puppy, you might be wondering why their food needs to be any different from a small breed. Indeed, if you have both a large and a small breed dog, it may be tempting to feed them the same food. This is not the greatest idea though – while it may save you cash now, it could result in costly vet's bills later.
Before we go into why large breed dogs need their own specialized food, there's another question that can stump some dog owners. What qualifies a dog as a large breed?
Difference Between Medium, Large Breed, and Giant Breed Dogs
This subject is one that doesn't seem to have definitive answers. It depends on who you ask and what you read. We can give some guidelines, though, and the rest is up to you to discern. The two criteria looked at here are height and weight, and these are generalized categories!
Small Breeds
The littlies weigh anywhere up to 35 pounds, and come in at below 16 inches tall.
Medium Breeds
Medium breeds weigh between 35 and 55 pounds and are 16 – 22 inches in height, in adulthood.
Large Breeds:
Large breed adults are usually over 55 pounds in weight and 22 inches or taller at the shoulders.
Giant Breeds:
Giants are often considered to be any breed that grows to 110 pounds or over (50kg), and 24 inches or taller at the shoulder.
Of course, these numbers are based on healthy, average-sized dogs. You may have a really tiny spaniel, but he still qualifies as a medium breed. In the same vein, your Labbie may be tipping the scales at 50 pounds, but he's still a large breed, not a giant.
Bulldogs and Salukis are two dogs that are often mistaken due to their disproportionate height/weight ratio. Breeds generally fall into specific categories, so if you are really unsure, Google the breed of your dog and see what they say!
What Makes Large Breed Dogs Prone To Bone and Joint Problems?
One of the biggest problems large breeds suffer from is elbow and hip dysplasia. This is due to:
Their Weight
Large breed adults are pretty weighty. Often, they also have high energy and do a lot of moving around. This can put a strain on their joints, and if the joints aren't strong enough, they can dislocate.
Excessive Calcium
There is a misconception that the more calcium is ingested, the stronger bones will be. Well, that is half true. A certain amount of calcium is needed to strengthen bones, but too much of it has a bad effect. Bones can become brittle and easy to break if too much calcium is present in the body.
How To Choose The Best Food For Your Large Breed Puppy
The largies have some specific dietary needs, so when shopping for food you should look at:
Calorie Content
Because large dogs usually expend more energy, they need a fairly high-calorie food. If they eat fewer calories than they burn during the day, they will be underweight. If, however, they eat too many calories, they will become overweight and put more pressure on their joints. Total calories per day should be in the 3200 – 3800 range, depending on the puppy.
Protein Content
Protein is essential for growing pups. While most of these have a protein percentage content in the 30s, typically large and giant puppies only need around 22% (according to AAFCO). So as long as the food you like (or your pup likes) has a protein content in the 20s, you'll be good to go.
Carb Content
Developing pups need some carbs to give them that energy. The content varies quite a lot by food – anywhere from 20% to 50%. Make sure these are good carbohydrates – vegetables, fruits, and grains (if you don't mind them) are good options. Some carbs are not easily digestible and are used more as fillers than nutrition.
Fat Content
Healthy fats are great for lubricating joints and adding some loss to coats. Fat contents up to 16 or so percent are all right and it should be no less than 9%.
Calcium and Phosphorus
AAFCO recommends 2 to 4.5 grams of calcium per 1000 calories. Be sure to check this before you buy, as too much calcium can cause brittle and easily breakable bones. The ratio of calcium to phosphorus should be between 1:1 to 1:3.
Glucosamine
Glucoasamine and chondroitin are supplements that strengthen and protect joints. For large breeds, this is pretty important to prevent elbow and hip dysplasia.
Other
Other common additions are vitamin A, vitamin E, DHA (found in salmon oil), and anti-oxidants. If you are unsure of what something is, Google is your best friend!
Frequently Asked Questions
Do large and giant breed dogs need the same nutrients?
Generally, the nutrients needed are very similar. Large breed dogs tend to have sturdier frames than giant breeds, and also are a little higher-energy. This means they need higher-calorie food than their giant friends. Both benefit from the inclusion of glucosamine and chondroitin for joint health.
How can I estimate how large my puppy will be as an adult?
This chart is fantastic for helping figure out how big your pup is likely to get. The breed of your pup should give some guidelines, but if you are uncertain then you can use this tool to give you a good idea.
What are some examples of large breed dogs?
Large breed dogs include Labradors, German Shepherds, Golden Retrievers, Huskies, Dobermans, Rottweilers. Some of these can get big enough to fall into the "giant" category, but they are classed as large breeds.

Have a Rottweiler? Check out these dog foods perfect for Rottweilers.
Other Dog Food for Large Breed Puppies We Reviewed
Wet Food For Large Breed Puppies
Wet Food For Large Breed Puppies
Adding wet food is a great supplement to dry kibble. It can be a tasty little treat, and if your pup has trouble staying interested when they eat, this can help.
Nutro Puppy Wet Dog Food
No products found.
You can buy a 12-pack of this canned, grain-free puppy food for a great price. With farm-raised chicken making up the protein content, this Tender Chicken and Sweet Potatoes recipe will have your pup scoffing it up in no time.
There is no chicken by-product, corn, wheat,or soy products, so if your pooch has digestive issues, this should be good to go for them. While this should not be used as the primary food source, it is a great supplement for growing large breed pups.
Features:
Real, high-quality protein
Non-GMO ingredients
Grain-free
No poultry by-products
Merrick Classic Grain-Free Canned Food Puppy Plate
No products found.
Merrick is a known and reputed brand and this grain-free, premium protein and real veg pup meal is a great topper to your dog's dry food. No grain and 10.3% protein make this one great as a supplemental food for growing puppies.
If you're getting this food for the first time, try one can before buying all 12, as some customers have reported a no-return policy. Also, be sure to buy from a reputable seller – some can be dodgy. Be aware too, that dodgy sellers are not necessarily a reflection on the brand!
Features:
Reputable brand
High-quality dog food
Quality protein
Grain-free
Whole-food ingredients
Conclusion
For most of us, our dog's health is right on par with the health of our children. Your dog's diet is something worth putting some thought into, especially when they are puppies. Adult dog food won't do it for a puppy, so you will need to stick to large breed puppy food specifically in order to make sure your doggy gets balanced nutrition in each bite!
Do some research before choosing the best dog food for your large breed puppy. If you decide on one that isn't on this list, let us know in the comments!
Looking for more options? Check our in-depth review of Wishbone Pasture dog food. A high-quality dog food perfect for large dogs. If you own a Labrador, check out our list of the best dog food for Labradors.
Continue reading:
9 Best Foods for Great Dane Puppies (Review & Recall)
The 9 Best Dog Foods For Mastiffs And Their Puppies In 2022