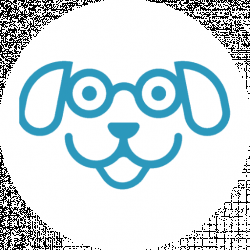 Latest posts by Scout Knows Team
(see all)
For people who do not want an overly large dog but still want a strong, powerful one, the Boxer breed is often the ideal choice. When raised carefully and fed with the best dog food for Boxers, the dogs develop into well-muscled, energetic, and playful dogs that are a joy to have around the home.
No products found.
As with any other breed though, there are many considerations you'll have to keep track of as you raise your pet. The most important one is the quality of the food you give them. Here are our top picks and a buying guide to help you make that decision.
Top 5 Rated Best Dog Food For Boxers
| Recommendation | Best Dog Food For Boxers |
| --- | --- |
| Top Choice | No products found. |
| Runner Up | No products found. |
| Budget Choice | No products found. |
| Best Dog Food For Boxer Puppies | No products found. |
| Best Raw Dog Food for Boxers | No products found. |
Our Top Pick: Eukanuba Breed Specific Adult Boxer Dog Food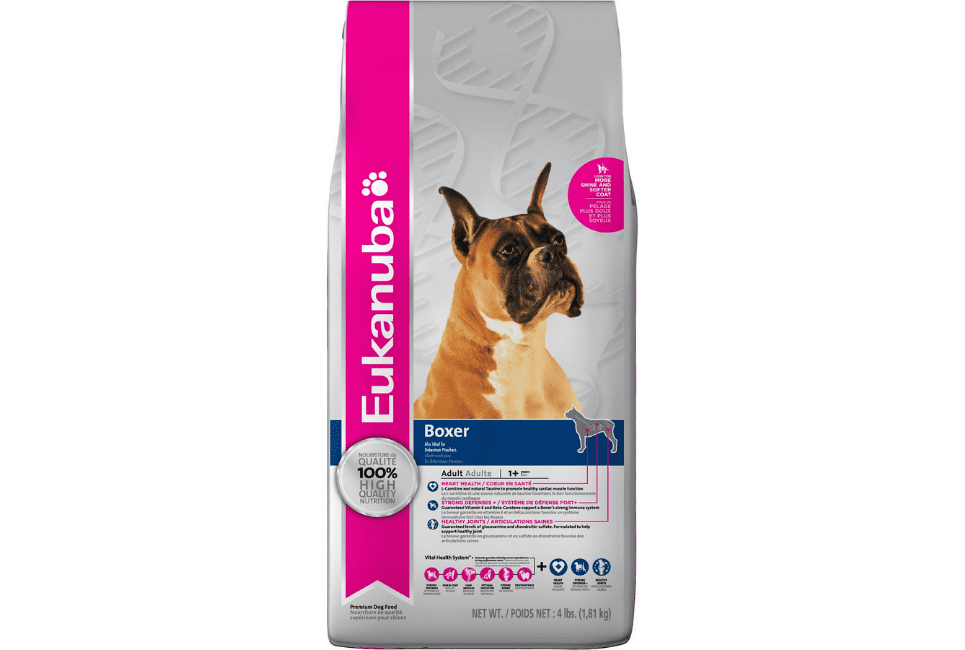 Eukanuba's products might not be the most popular dog food brands out there, but they have been growing in popularity recently. One of the reasons for that is their breed-specific food, including this great one for Boxers. Because it's made especially with Boxers in mind, it has the perfect proportions of nutrients to keep your pet in optimal health.
The first ingredient is chicken, and it gives the meal the healthy protein kick that your pet needs to grow and maintain his build. In addition, the rest of the ingredient list includes fish oil, brewer's rice, dried beet, and other ingredients. Combined, they provide all the carbs, vitamins, minerals and other nutrients which your pup needs.
To combat tooth decay and other dental issues, the recipe contains Ekukanuba's '3D Dentadefense System' which contains a special formulation of ingredients to combat tartar build-up and promote teeth health generally. You can only buy this product in 30-pound bags, but the inconvenience is offset by the fact that it's quite affordable for such a high-quality product.
Pros
Chicken as the first ingredient
Contains diverse Vitamin sources
3D Dentadefense System
Contains essential nutrients for healthy skin and coat
Promotes cardiac health
Includes nutrients for healthy bones and joints
Affordable pricing
Contains glucosamine and chondroitin
Cons
Single flavor and size options
Our Runner-Up Pick: Wellness Core Natural Grain Free Original Turkey & Chicken
No products found.
For our second choice, we have Wellness food, which is one of the most popular dog food products on Amazon. The recipe is heavily focused on protein, with the nutrient being supplied by premium turkey and chicken as the first ingredients.
It contains zero grains and no artificial chemicals in the form of colors, flavors or preservatives. That makes it a great choice if your pet is prone to food allergies or if you just want to feed him a cleaner diet generally.
The rest of the ingredient list is made up of real vegetables and fruits such as apples, blueberries, broccoli, spinach, and many others which contain all the essential micro-nutrients for a healthy canine. Wellness also gives an assurance that all its nutrients are non-GMO, so that's an extra assurance of a healthy meal for your pup.
Pros
100% natural ingredients
Sustainably-sourced, non-GMO ingredients
Contains all essential miro-nutrients
High-quality protein sources
Available in multiple sizes
Grain-free
Contains Salmon oil for omega fatty acid
Cons
Best Budget Pick: Taste of The Wild Grain-Free Premium High Prairie Adult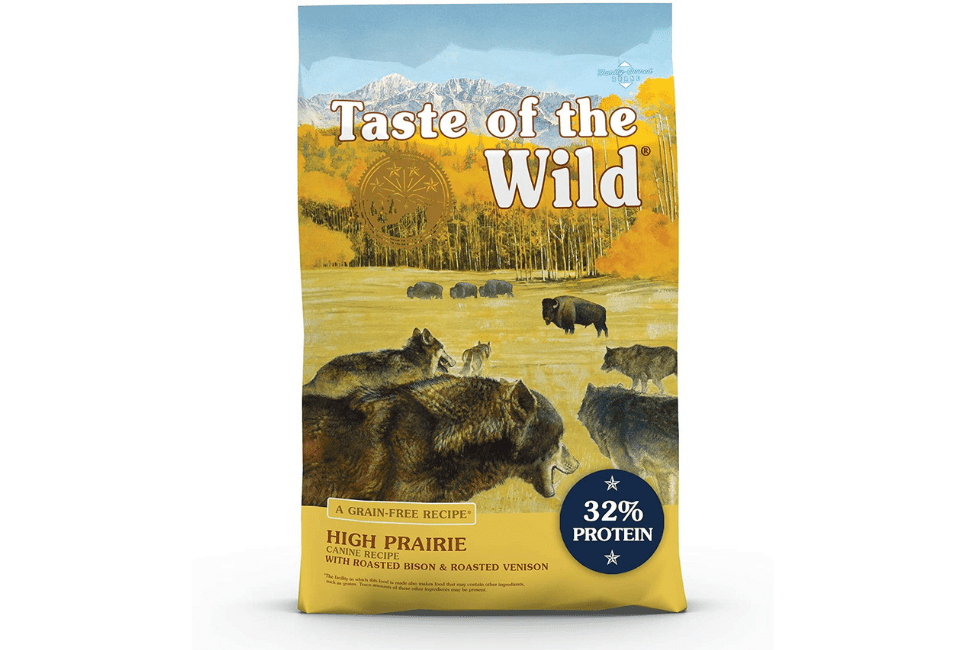 From Taste Of The Wild, this product has all the features of great canine food at an impressively low price point. The first ingredient is roasted Bison. That's a great source of complete animal protein, but it also comes with an excellent amino acid profile. With such a stellar protein, your pooch is bound to grow well and maintain a strong build with enough exercise.
The next few ingredients on the list are fruits and vegetables which supply vitamins, minerals and antioxidants. Together, they help to promote the health of your pet's various organs and systems. Everything from your pet's digestive system to his skin and coat will benefit from the range of essential nutrients.
Also made with sustainably-sourced ingredients, you can count on TOTW's quality guarantee and acclaimed customer service. You can also buy these in 5, 14, 28 and 30-pound bags, so there's a lot of room to choose what's most convenient.
Pros
Made with high-quality protein
Contains premium fruits and vegetables
Contains proprietary probiotic formulation for digestive health
No grains
No artificial colors, flavors or preservatives
High anti-oxidant content
Great for skin and coat development
Available in multiple sizes
Cons
Best Dog Food For Boxer Puppies: Royal Canin Breed Health Nutrition Boxer Puppy
No products found.
Some of the products we've highlighted so far are suitable for all life stages. However, just as getting a breed-specific food is usually better, choosing a product that's specially made for puppies is the best way to go if you're feeding young dogs.
This Royal Canin product is tailor-made to meet the nutritional requirements of Boxers between 8 weeks and 15 months of age. At that stage, the pups need a lot of high-quality protein to fuel their growth. They also need energy sources as they become increasingly active, along with vitamins and other nutrients to strengthen their organs. The ingredient list provides all those in perfect quantities.
The recipe provides enough calcium to help your puppy develop the breed's strong bone structure and prevent conditions like hip dysplasia. To make eating convenient, the kibble is smaller and in a shape that's ideal for Boxer puppies.
Pros
Specially made puppy formula
High-quality protein sources
Calcium and other ingredients for bone development
Prebiotics for optimal digestive health
Special kibble design
Contains ingredients for optimal joint health
Affordable price
Cons
Best Raw Dog Food for Boxers: ORIJEN Regional Red Dry Dog Food, Biologically Appropriate & Grain Free
No products found.
If you want to feed your Boxer 'biologically appropriate food' or a diet that's as close to the natural diets of canines in the wild, you should be looking at this ORIJEN adult dry dog food. It's made primarily from fresh and raw meats which make up around 85% of the recipe.
With the remaining 15% made up of vegetables and fruits and zero grains, your pet will be getting a truly natural diet with high protein content for growth and energy. The product is suitable for all life stages, so it's great for bringing up your pup with a raw diet without having to change it down the line.
Because the ingredients are mostly fresh and raw, the food is highly palatable, and owners have generally reported that their canines seemed to relish it. You can also get it in a variety of sizes, so it'll be convenient to dish out just what you need without worrying about spoilage before you use up a bag.
Pros
Made from fresh ingredients
High protein content
Premium ingredients
Suitable for dogs of any age
Convenient, varied sizes
High palatability
Cons
---
Buyer's Guide
As we said in the introduction, the muscular build of the Boxer breed and their highly active personalities require the right kind and quantities of food to sustain.
If you're unsure which of the products on this list to buy for your Boxer's diet, here are some things you should consider:
Ideal Boxer Diet
The physiology and temperament of any breed is the determinant of what you should be feeding them. Boxers expend a lot of energy in the course of a day and also need to maintain their build without becoming overweight.
High-Protein Food
Boxers, like all other large breed dogs, require a lot of protein in their diet. It's important for fueling their growth and helping maintain their muscles. That need is heightened with Boxers', particularly muscular build.
Protein can be gotten from animals or plants, but animal protein is essential for healthy Boxers. Many amino acids are only present in animal protein. In addition, animal protein is easier to digest for dogs than protein from plants.
Average to High-calorie Diet
Calories get a bad rap nowadays, but they are actually essential to providing your pet with enough energy for all his running around through the day. Carbs are generally the most calorie-dense nutrients, and they'll serve the purpose of supplying energy to your pooch's system.
If you feed a Boxer with too little calories, your dog's body will begin to burn up its energy stores, and your pet will begin to look gaunt. In extreme cases, it might even lead to muscle atrophy. On the other hand, feeding your dog with food that's too calorie-heavy will lead to obesity. The trick is to find the sweet spot and get meals that supply just enough calories, like the ones on this list.
Low/Moderate Fat Content
Fats are another source of energy, but they also have other benefits for the body as long as they are taken in moderate quantity. Generally, you should mix and match the number of carbs and fat in your pet's diet. More fat and less carbohydrate or vice versa, which is what you'll see with the best dog food for boxers in our list.
Boxers' Special Micro-nutrient Needs
Apart from the major nutrient groups, Boxers also have certain special needs in form of micro-nutrients. Even though they are called micro-nutrients and are only necessary in very small quantities, they play crucial roles in keeping your dog healthy.
Calcium
The first on the list is Calcium. It's not surprising when one considers the amount of stress that Boxers put their bones under in the course of staying active. Calcium helps to maintain the strength of the bones and teeth and also facilitates muscle contractions.
This also affects cardiac health, since the heart is a muscle itself. Keeping the heart working optimally is essential for getting enough oxygen through the body and keeping all the organs functioning well. Leafy vegetables and fish are the most common sources of calcium in dog food.
Taurine
It is an amino acid that's essential for the functioning of a few organs, especially the brain, heart and, eyes. Taurine deficiency can adversely affect those organs and in particularly bad cases, lead to enlarged heart size (dilated cardiomyopathy). Meat and high-quality animal proteins generally are great sources of Taurine.
L-canitine
Another amino acid, this one facilitates the movement of fatty acids into cells where they are processed and used as energy sources. It also helps improve blood flow by dilating blood vessels through synthesizing nitric oxide. It can also be found in animal-based protein sources such as meat, fish, poultry, and milk.
Frequently Asked Questions
What Foods Shouldn't I Feed My Boxer?
The specific foods which you really need to avoid feeding your pet will depend on his individual physiology. Generally, though, you should avoid giving your Boxer caffeinated food (can affect heart function adversely), candies (can lower blood sugar level dangerously), and garlic/onion(can cause anemia).

The best dog food for Boxers in this list are all healthy and do not contain any of those potentially harmful ingredients. You can check through them to see what great Boxer meals look like.
How Much Should I Feed My Boxer?
As a puppy between 2 – 6 months, your puppy should be eating about 320 grams per day divided into four meals. Between six months and a year, you can maintain the quantity but divide it between two meals.

Adult Boxers should be eating between four and six cups of dry food kibbles daily in two meals. Be sure to time the meals properly so your dog can rest before going on walks or other exercises, to avoid bloating.
Other Dog Food for Boxers We Reviewed
Food For Weight Control
Low sodium Food
Food For Weight Control
Blue Buffalo Wilderness High Protein Grain Free, Natural Adult Healthy Weight Dry Dog Food
No products found.
From BLUE, this high protein recipe is the ideal product if you want to help your pup maintain healthy body weight. Boxers, need to be very active in order to prevent undue weight gain. Where they cannot get much activity due to illness, age or any other reason, a low-carb, low-fat diet will be essential to preventing obesity.
The first ingredient is deboned chicken, supplying complete animal protein. The rest of the list comprises peas, fish meal, sweet potatoes, carrots, and other healthy nutrient sources. There are no grains at all in the recipe, in line with the goal of having low carbohydrate content.
In addition, the formulation includes BLUE's proprietary "Lifesource Bits" which combine antioxidants, vitamins, and minerals to support the immune system and other organs in your canine's body.
Features
High Protein
Low carb and fat content
100% natural ingredients – no artificial chemicals included
Ideal caloric content
Contains LifeSource Bits
Wheat and gluten free
Ideal for adult canines
Affordable price
Hill's Science Diet Dry Dog Food, Adult, Perfect Weight for Weight Management, Chicken Recipe
No products found.
The Hill's Science Diet is very popular among dog parents as a health-focused line of products, and this one fits right into that. Its recipe was designed specifically to trigger weight loss while also providing essential nutrients for lean muscle maintenance.
The protein content is supplied mostly with chicken, but other ingredients such as flaxseed, carrots, oat fiber, and pea fiber provide combine to produce a highly-nutritious meal. Due to the high fiber content, the formulation also encourages weight loss by keeping your pet satiated for longer.
Despite the fact that it contains grains, they are carefully proportioned to keep the complex carbohydrates content at a healthy level. It contains no artificial flavors, colors or chemicals, and includes antioxidants which help to strengthen various body functions.
Features
Highly palatable
Exceptional Quality Assurance
Great for healthy skin and coat
Low caloric content
Multiple sizes available
Single flavor option
Low Sodium Food
Royal Canin Breed Health Nutrition Boxer Adult Dry Dog Food
No products found.
Sodium is an important nutrient of any diet, whether human or canine. However, dogs that suffer from heart, liver, or kidney disease will usually need to reduce sodium intake. Apart from reducing fluid build-up in the body, reducing sodium can also reduce stress on internal organs which process nutrients.
This Royal Canin food is a good option if you've been directed by a vet to place your Boxer on a low sodium diet. It contains a holistic set of ingredients for a balanced diet and has specially made kibble for slower ingestion and to make the meals easier to digest.
The recipe contains a significant amount of L-carnitine, which is helpful for maintaining muscle mass. You can buy it in a variety of sizes, so convenience won't be an issue.
Features
Improved Digestibility
Balanced nutrient content
Low fat and protein
Available in multiple sizes
Single flavor option
Conclusion
In all, choosing to raise a Boxer is a great decision. They are fiercely protective but also gentle and playful with family members. The foods in this list are the very best dog food for boxers, and they run the gamut of all you'll need to help your pet live a long, healthy life.
All you have to do is place the order. When you receive it, introduce your canine to the new meal, and you'll see that tail wag – then you'll you've made the right choice.
Continue reading:
What It's Like to Own a Wolf Hybrid Dog (Characteristics)
6 Most Beautiful Golden Retriever Mixes You Must See
The 5 Best [Must-Have] Dog Food For Schnauzers And Their Puppies