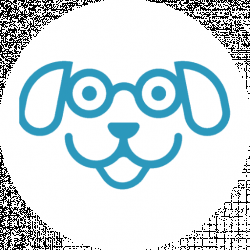 Latest posts by Scout Knows Team
(see all)
Frenchies are sweet and compassionate companion dogs. That's definitely something I can attest to, especially since I have Bruno. I got Bruno months ago, and he happens to be the friendliest Frenchie on earth. I heeded the shelter's advice and educated myself on Bruno's care, especially his nutrition.
Now…
In this article, I'll tell you everything I learned regarding a Frenchie's nutrition, from how to choose a dog food to nutritional requirements and more. For me, Taste of the Wild Grain-Free Dog Food is the best dog food for French bulldogs.
Let's get going!
The 5 Best Dog Foods For French Bulldogs Reviewed
This is no doubt the best French bulldog food in the market today. My Bruno loves it so much, and I love it too because the ingredients are carefully chosen to make sure your Frenchie gets a nutritionally balanced meal.
What makes this dog food stand out is its formulation designed to be safe for all Frenchies, including the sensitive and allergic ones. Instead of using poultry meat, which Frenchies are usually allergic to, it uses bison, beef, and venison which are amazing sources of protein for excellent muscle development.
Another thing that I love about this dog food is it's grain-free – this means no more unending farts for Bruno. It uses sweet potatoes and peas to fulfill your furry companion's energy needs. These veggies are easy to digest, so they won't cause bloating and indigestion.
This dog food also has real fruit bits (blueberries and raspberries) for your dog's micronutrient needs and dried chicory root which contains prebiotics for good digestion. On top of it all, it's drizzled with minerals and amino acids to make sure your bulldog absorbs all the nutritional goodness in his food.
This product has no unhealthy ingredients. There are no preservatives, artificial flavors, and food coloring. Above all, it doesn't contain allergenic food such as wheat and corn. This dog food really is suitable for French bulldogs and is a relief to fur parents.
Pros
Safe and wholesome, even to allergic French bulldogs
Doesn't contain any allergenic ingredients
Well-balanced in terms of nutrients
Has added micronutrients and prebiotics for good digestion and nutrient absorption
Easy to digest
Cons
Not good for Frenchies who react negatively to a grain-free diet
Takeaway
This product is highly recommended if your French bulldog likes a grain-free diet. This is, by far, the best food for a French bulldog because it checks all the boxes.
I recommend this next product to all fur parents who are watching their fur babies' weight. Blue Buffalo is specially formulated to help your Frenchie lose or avoid gaining those extra pounds. This dog food is packed with protein and is low in fats, carbs, and calories. This makes it ideal for losing weight.
It uses lean chicken, a rich and easily-digestible source of protein. The next ingredients are healthy whole grains – such as brown rice – for minimal carb and caloric intake. It also contains the right amount of fiber from veggies and fruits to aid in digestion. This dog food has the perfect blend of ingredients that helps with weight management.
What's amazing about this product is that it doesn't have any fillers: no empty calories or excess carbs and proteins. Everything in it has nutritional value to help your Frenchie prevent extra weight while still maintaining a balanced diet.
To give its formula an extra boost, Blue Buffalo packed it with antioxidants to help your dog's body fight damaging free radicals that threaten its immune system. In other words, it has antioxidants to protect your dog from various diseases.
The only downside of this product is that it's not suitable for Frenchies who are allergic to chicken.
Pros
Excellent for weight loss and management
Contains the necessary nutrients for a balanced meal
No fillers, preservatives, and artificial flavors
Packed with antioxidants
Cons
Not suitable for dogs allergic to chicken
Takeaway
When fed to Frenchies who aren't allergic to chicken, this dog food aids in weight management which is extremely beneficial because they're prone to obesity. This is made for all fur parents who find it challenging to keep their pooch in shape.
There are two great things about this product. First, it's specially formulated for French bulldogs, so you're sure it's good for your Frenchie. Second, it's the best food for Frenchies with sensitive tummies.
Royal Canin's first ingredient is Brewer's rice which is highly digestible, and that's what makes it ideal for dogs who have digestive problems. Its protein sources are easy to digest too.
This dog food has L-Carnitine, an amino acid that converts fat into energy, to help moderate the amount of fat in your dog's body. It also contains the right amount of protein to ensure muscle health and development.
Royal Canin has added value too. Vitamins, minerals, and supplements are infused in it to make sure your Frenchie has enough energy levels. It has good sources of carbs and absolutely no fillers to make sure every bite is packed with only the necessary nutrients for your doggo.
Overall, the ingredients in this formula are carefully chosen to make sure it doesn't cause gas and indigestion. So, if your Frenchie has a sensitive tummy, you now know what to buy. A bonus feature of this dog food is the kibble design that makes it fun to chew.
This dog food's downside is the wheat gluten it contains. This ingredient can cause allergies to some Frenchies.
Pros
Formulated to ease a sensitive stomach
Prevents gas and indigestion
Contains balanced nutrients
Supplemented with micronutrients
Easy and fun to chew
Cons
Contains wheat gluten, an allergenic
Takeaway
This product is beneficial if your Frenchie isn't allergic to wheat gluten. This is the relief for digestive distress that you've been scouring the market for.
The next product on this list is the best dog food for French bulldog puppies because it's specially designed for their development.
Compared to the previously mentioned dog foods, Wellness CORE has more protein content from poultry meat and salmon oil, making it suitable for growing puppies. The younger a Frenchie is, the more protein he needs for his muscles to develop properly. Therefore, he will need high-protein foods like this.
Aside from protein, this dog food is also low in fat content and has the right amount of carbohydrates. It also doesn't contain fillers that can add weight. Therefore, this dog food is good for keeping your pooch in shape.
Wellness CORE is also grain-free which means it doesn't contain wheat gluten, a common allergenic. This also means there's no excess fiber that can cause indigestion in some dogs. Also, it's infused with taurine to keep your pooch's heart healthy and protected against complications.
To top it all off, this dog food has no artificial flavors, preservatives, and meat by-products. All it has is pure goodness to make sure your Frenchie puppy has strong muscles, good digestion, and healthy weight.
Despite its benefits, however, this dog food has chicken and turkey in it, so it's not suitable for bulldogs who are allergic to poultry.
Pros
High in protein; ideal for developing puppies
Grain-free; good for digestion
Has taurine for good cardiovascular health
Low in fat for weight management
No meat by-products
Cons
Contains poultry meat which is a common cause of allergies
Takeaway
This is product is the best food for a French bulldog puppy who's not allergic to poultry products. It aids in good digestion and weight management. Aside from that, it also keeps a Frenchie's little heart healthy.
The last one on our list is the most budget-friendly product you can find so far. Nonetheless, it is still good for Frenchies of all ages because of the number of nutrients it contains.
Canidae's main ingredient is chicken which makes it appealing to Frenchies who are not allergic to it. It's also rich in protein and is highly digestible. Therefore, this product is good for adult bulldogs who often experience indigestion along with puppies who need to grow strong muscles.
This product also contains healthy whole grains, such as brown rice, which are good sources of fiber to promote good digestion. However, it doesn't contain wheat gluten and corn, so it's suitable for many French bulldogs out there.
The whole grains also provide the right amount of carbs that a regular and moderately active Frenchie needs. All these nutritional benefits make this dog food inclusive and suitable to bulldogs of all ages and sizes. It's even perfect for other breeds.
The only downside of this product is the chicken meat and insides it contains which are not good for other dogs.
Pros
Good balance of nutrients suited for many dog breeds
Aids digestion
Has the right amount of carbs to give energy without adding unnecessary weight
Has a high amount of protein; perfect for growing puppies
Budget-friendly
Cons
Contains poultry products
Takeaway
This dog food is great for many dog breeds of all ages and sizes because it's high in protein, low in fats and carbs, and has enough fiber. It's also economically priced which is perfect for fur parents on a budget.
Brief French Bulldog Profile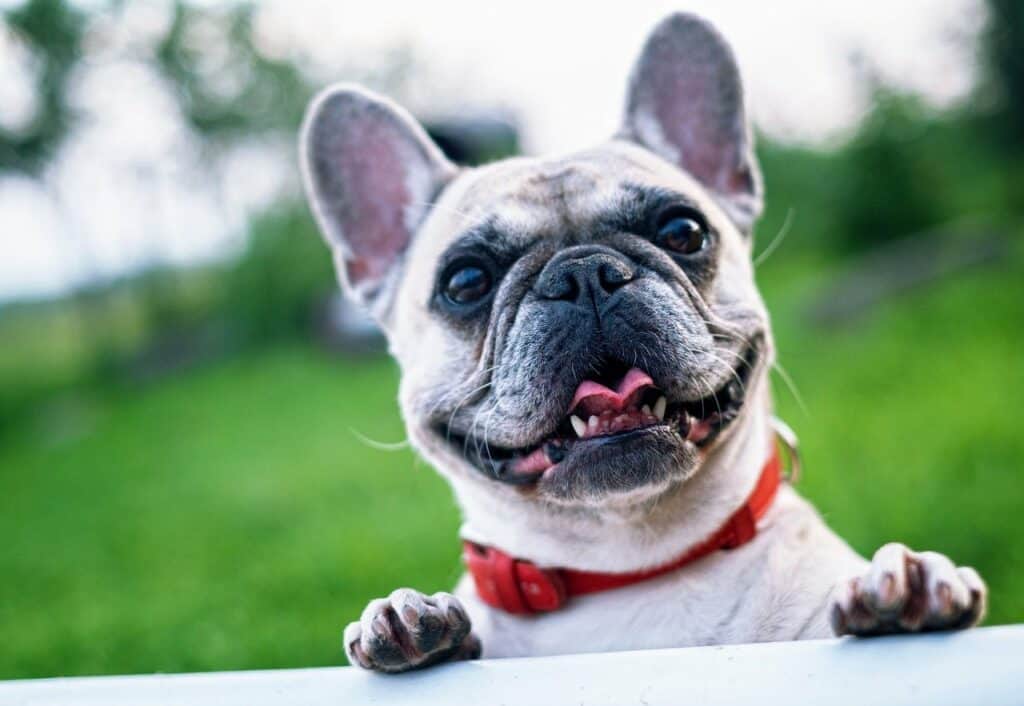 French Bulldogs enjoy companionship, making them one of the world's best companion dogs. According to the latest ranking published by the American Kennel Club, a French Bulldog is the 4th most popular dog breed.
Aside from their easy-going, playful, and affectionate personality, the French bulldogs' needs are easy to sustain. They're easy to groom because they don't shed and drool so much. They're also trainable and non-aggressive (because they're not prey-driven), making them excellent house pets, even for newbie dog owners.
However, French bulldogs are prone to flatulence and allergies. They're also prone to obesity because they're not picky eaters. Considering all these facts, you must learn a lot about your Frenchie's nutrition, so let's start talking about that.
Nutritional Requirements Of French Bulldogs
A French bulldog needs proteins, fats, and carbs to grow healthy, but their intake of these macro-nutrients varies in amount. They also need micronutrients such as vitamins and minerals.
Protein Needs
Even though Frenchies are small, they have similar stature to a regular bulldog. They're very muscular and front-heavy. Their muscles are meant to be well-developed and strong. To make this happen, make sure that your bulldog's food contains 18% of protein. If your Frenchie is still a puppy, it needs at least 22% because it's still growing.
If you're wondering why only 18% is required, it's because of allergies which are mostly caused by proteins, especially from chicken or poultry. For the protein source, go for animal meats as they're highly digestible and contains the amino acids.
Plant-based proteins are fine options, but they don't contain some of the amino acids needed by Frenchies. Therefore, I recommend you go for animal-based proteins.
Caloric Needs
Although French Bulldogs are active and playful, they're not pumped with energy. They can't even join you for morning walks because of their short limbs and stocky builds. Therefore, they only need a low-to-moderate number of calories.
You should be mindful of this because a Frenchie can easily get overweight. Ditch processed calories and go for healthy whole-grain foods such as whole oats and brown rice (some dog foods have this). Apparently, when it comes to weight-loss-friendly calories, what works for humans works for pets as well.
Your adult furball's caloric intake limit should be 550 to 600 per day or a maximum of 35 calories per pound of its weight. If for some reason your Frenchie is more active than a normal French bulldog, he should take in 750 to 825 calories per day so his energy levels are supported.
Carbohydrates
Your Frenchie is most likely prone to digestive distress and gas, just like my Bruno. So, when it comes to providing it with carbs, choose dietary fiber. It's easy to digest and unlikely to cause allergies. Keep your Frenchie on a low-carb diet because he doesn't need all that energy to be a lap dog or couch potato.
Fats
Fats should only comprise 5% of your Frenchie's diet. It's a major source of energy that your pet doesn't need much of. Unburnt fats contribute to weight gain, so you should strictly follow this limit. Also, choose healthy fats. Look for dog foods high in omega 3 and omega 6.
Micronutrients
Micronutrients should always be present in any dog breed's diet. Phosphorus and calcium are essential for your Frenchie's bone to develop healthily. Vitamins A, B, and C alongside potassium, iron, and zinc are needed for cellular and tissue development as well as for optimal growth and bodily functions.
How To Choose A Dog Food For Your French Bulldog
Now that you know the macro- and micro-nutrients your pooch needs, let's discuss how you can choose the best dog food for him. More specifically, let's determine the factors you should consider when buying dog food. They're as follows:
Age and Stage of Development
Age dictates the number and amount of nutrients needed by a Frenchie. The younger ones need more nutrients than adults to ensure healthy growth. For example, I mentioned earlier that bulldog puppies need more protein in their diet compared to the adults. There are special dog food formulas in the market for Frenchie puppies.
The developmental stage also matters. Aged, pregnant, and lactating Frenchies also have nutritional needs of their own. Consult your vet regarding the number and amount of nutrients they need so you can find a dog food that's specially formulated for them.
Allergies and Other Physical Conditions
Allergies, flatulence, and sensitive stomach are three of the most common health concerns of a Frenchie's fur parent like you and me. So, make sure you know about foods that trigger these in your Frenchie.
Allergies can be caused by protein from chicken and beef – some plant-based protein as well (although less likely). Flatulence or gas can be triggered by wheat and corn, and I learned this the day Bruno never stopped farting. The gluten in wheat is what causes gas. To some Frenchies and other dog breeds, wheat and corn also cause allergies.
These rules are not generic. Frenchies react differently to various food types so be mindful of your pooch's reaction to its food. Always talk to the vet for advice.
Weight
Know that a French bulldog should only weigh 28 pounds at most. If yours weigh more than that, you have to change his diet. Lessen his intake of calories, fat, and carbohydrates and get him more active.
There are dog foods that are formulated for Frenchies that need to lose weight, such as the Blue Buffalo Protection Formula I mentioned above.
Energy Levels
Generally, French bulldogs are not energetic. They tire easily due to their short limbs and the structure of their skull. Their nose, for example, affects their breathing. They only do short walks and active play but not for very long. Therefore, they should don't need many energy-giving nutrients and enough protein for muscle development.
However, some unique little pooches are more active than others. If yours is one of them, consult your vet on what diet changes should be made.
What Not To Feed To Your French Bulldog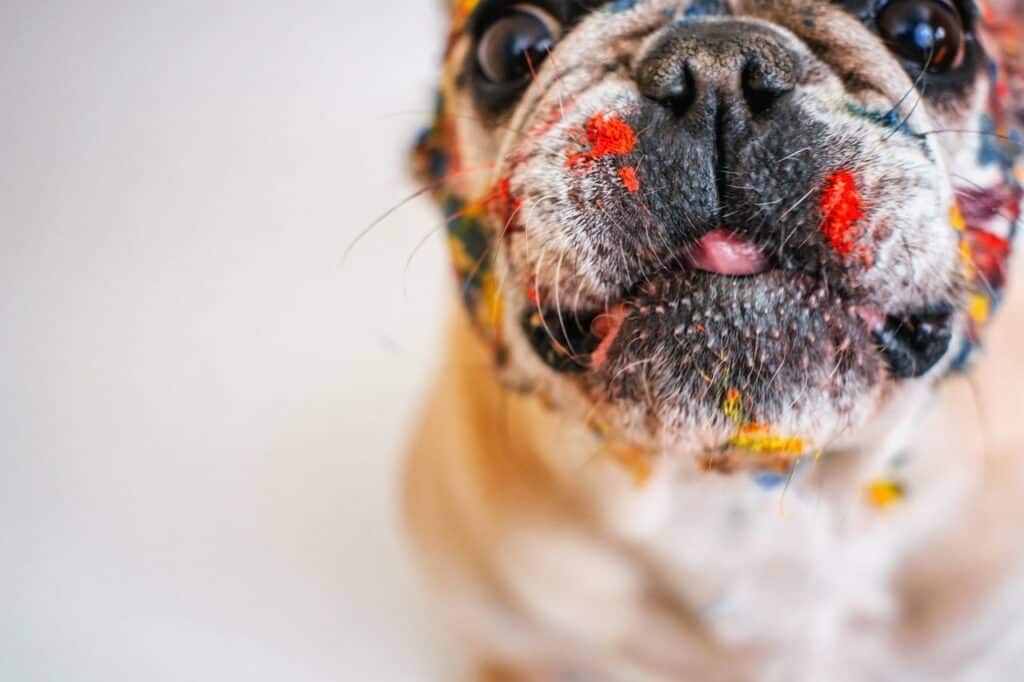 I believe you already know what not to feed your furry pet based on the previous topics and the common unhealthy food components. But just so you can have a quick reference, I'll list them down below:
Preservatives – Avoid dog food with preservatives at all costs. These chemicals can harm your dog. Always choose natural/organic food.
Food coloring and artificial flavors
Allergenic food like corn and wheat
Fillers – These are nutritionally empty ingredients that can make your Frenchie full. An example of this is too much fiber. A moderate amount can aid digestion but too much can interfere with it. Excess carbs are also considered fillers.
Too much protein (because they can cause allergies)
How Much And How Often Should Your French Bulldogs Eat
There's no single correct answer to this. The amount of food your adult French bulldog needs is dependent on his nutritional requirements which are dictated by age, development stage, activity, physical conditions, etc. Asses these factors first to get an idea of how much food you should feed your dog.
As per the frequency, you can divide the amount of food your dog should eat in a day into 2 or 3 meals. For example, if he needs to consume 600 calories per day, feed him 200 calories 3 times a day or 300 calories twice a day.
Avoid stuffing your little poochie in one meal to avoid bloating and gastric problems. Secure his food pack somewhere inaccessible so he won't overeat.
For puppies, the recommendation is 1 ½ cups per day divided into 3 meals.
Alternative Diet: Healthy Raw Food For Your Frenchie
If you're one of those fur parents who doesn't like formula food, I'm sure you'd appreciate this. Given all the recommendations and restrictions I mentioned above, you can easily prepare raw meals for your Frenchie. Follow the recipe below.
Ingredients (consult your vet if you want to add other ingredients):
1 ½ to 2 cups of ground or finely chopped lean meat of your choice (depends on your Frenchie's preference and allergies)
½ to 1 cup of veggies (thinly sliced or broken down by a blender)
2 to 3 teaspoons of fish oil
Nutritional food supplements (optional)
Procedure
Heat oil in a pan.
Once hot, pour in the lean meat.
Once the meat is half cooked, pour in the vegetables. The sequence should depend on how long each veggie cooks.
Cook until the meat is tender, and the veggies are soft and easy to chew.
You don't need to add seasoning for this recipe.
Now, let's join Kaiju in watching his Frenchie-mom make a home-cooked meal for him, in this video:
Conclusion
In conclusion, the best dog food for French bulldogs is the Taste Of The Wild High Prairie Grain-free Dry Dog Food. It has the perfect balance of nutrients that promotes good digestion, weight control, and overall health of any French bulldog. It also doesn't contain allergenic ingredients like poultry, wheat gluten, and corn. In other words, it has everything a good dog food should.However, if you're on a budget, the CANIDAE All Life Stages Chicken & Rice Formula Canned Dog Food is also a great option for Frenchies of all ages that aren't allergic to chicken.
Continue reading:
The 5 Best Must-Have Dog Food For English Bulldogs in 2022
The 5 Best [Must-Have] Dog Food For American Bulldogs For 2022