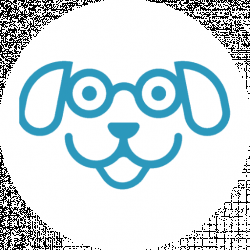 Latest posts by Scout Knows Team
(see all)
They are agile and active. Quick on their feet, they can cut through any lane at speeds as much as 40 miles per hour by the virtue of their aerodynamic bodies. Greyhounds are remarkable beings.
They have fascinated the nobility of all ages, and their admirable nature welcomes them into any household with open arms.
But…
Greyhounds also need a hearty meal to stay active and strong. As far as I have seen, the one thing that these paw side-kicks cannot withstand, is sluggishness. They are mean to be proactive.
This necessitates the use of high-protein foods to keep them happy and healthy. Selecting the best food for your Greyhound pals may be a daunting task but fret not, this article will help you do just that.
My personal favorite is American Journey Active Life, but there are other excellent options on the list as well, so be sure to stick till the end.
Rundown: Best Dog Foods For Greyhounds, 2020
I have listed some of the best food products for Greyhounds in this rundown. They are all highly appraised and have been well-received. I have also included options suited for puppies and older Greyhounds, so let's dig in.
American Journey Active Life Formula Large Breed Salmon, Brown Rice & Vegetables Recipe Dry Dog Food
American Journey Active Life is the perfect nutritional blend for your pet. It incorporates lean (fat-free) proteins, primarily from deboned salmon, and vital minerals to boost your dog's muscle and bone health.
Calcium and phosphorus are essential for strengthening the bones of your paw-tner and this meal is loaded with them, but not excessively. The recipe also features many antioxidants and vitamins extracted from natural sources such as fruits and vegetables.
The basic goal of this nutritional blend is to support lean muscle growth and to help your dog stay active. The antioxidants included in this recipe are essential for countering the aging process and giving your pet a stronger bodily defense against a plethora of diseases.
Active Life also includes healthy grains such as barley and brown rice in the mixture as carbohydrates, abundantly. Unhealthy and substandard ingredients like corn or wheat are not present in the mix. You should always avoid foods that include such ingredients as they can cause severe digestive distress for your pet.
Since salmon is the prime ingredient, you can also expect a healthy portion of omega-3 and omega-6 fats. Apart from improving the skin and coat appearance of your pet, these fats do wonders with their metabolic health too.
All of these features combine to make American Journey Active Life the overall best dry dog food for Greyhounds on this list. The best part about this recipe is that it features all nutritional goodness without any artificial ingredients or preservatives added.
Features
The primary protein source is deboned salmon
Healthy grains such as barley and brown rice are added
Vitamins, antioxidants, and minerals included in the mixture
Calcium and phosphorus included in optimal concentrations to boost bone strength
No artificial ingredients included
The energy content is 3,326 kcal per kg
Pros
It is perfect for larger dog breeds including the Greyhounds
No fillers or artificial ingredients included (avoid these at all costs)
A perfect blend of nutrients with a major proportion of proteins
Surprisingly affordable
Cons
It is not gluten-free, this can be a problem for some dogs
Packaging doesn't look impressive
Verdict
American Journey Active Life offers a perfect protein-rich diet minus all harmful or filler ingredients. It is specifically made for larger dog breeds and is essentially a complete diet for your Greyhound.
Taste Of The Wild never fails to impress with its natural 'meaty' flavored foods. Loaded with proteins and zero on grains, this recipe is ideal for tuning your Greyhound for peak performance. It perfectly replicates the diet of your pet's distant ancestors.
Pacific Stream features lean protein embodied by smoked salmon. The food also incorporates all other elements of a balanced diet except saturated fats. The latter is not suitable for Greyhounds as they generally have a slim profile.
Sweet potatoes and peas are excellent carbohydrate sources, and also make the food easily digestible. Dried up chicory root is another noteworthy ingredient as it is a wellspring of essential prebiotics, which assist the K9 probiotic strain in improving gut health. The recipe is also rich in vitamins and antioxidants extracted from fruits and vegetables.
The protein fractions of the diet help dogs build up an excellent muscle tone. In any dog food, proteins are very important in the recipe, but they are present in a great amount in this one. Similarly, healthy fats (unsaturated) are also present in high numbers and they can strengthen the immune system of your pet.
Some proteins included in the recipe are derived from vegetable sources. You may want to check with your vet if this dog food is recommended for your pet. Although it's not that big of a deal, but as a fellow dog-person, I know how people feel about the health and safety of their pawed companions.
The high nutritional value, coupled with essential probiotics and prebiotics make Taste Of The Wild Pacific Stream an awesome product. It also excludes any artificial ingredients like additives, flavors, and preservatives. All in all, it is a wholesome, high-protein, and grain-free diet for your pet.
Features
Smoked salmon is the prime protein source
Peas and sweet potatoes provide much-needed carbs and also aid in digestion
Natural vitamins, minerals, probiotics, and prebiotics added
No artificial ingredients added
The energy content is 3,600 kcal per kg
Pros
It is an excellent grain-free option that delivers a natural 'meaty' taste
It enhances the coat appearance of your pet
Even the pickiest eaters will have no problem with this diet
No artificial ingredients included
Cons
It sells out fast and may be out of stock when you check it out (try Autoship on Chewy)
Some people complain about the bag design
Verdict
Taste Of The Wild Pacific Stream is the undisputed champion of flavor in the dog food realm. It is an excellent, perhaps even the best grain-free dry dog food for Greyhounds. The best part is that your paw-pal will chow it down before you can even say "lunchtime."
The Merrick Backcountry Great Plains Red Recipe is an excellent meat-heavy diet for your pet. The blend is based mostly on high-protein ingredients. The prime protein-source is deboned beef, which is mixed with other meats including that of lamb and rabbit.
If you wish to serve your paw-tner with a natural "raw" diet, this is the one for you. Since no artificial ingredients or fillers like poultry by-products are included, you don't have to worry about allergies or digestive issues.
The freeze-dried blend also contains an assortment of vegetables, fruits, and sweet potatoes (as the major carb-source). In addition to providing healthy calories, the recipe incorporates several essential biochemicals to boost the health of your pet.
Chondroitin and glucosamine are examples of such biochemicals. The duo work in unison to channel fluidity in joint-motion, allowing your pal to stay active for longer. Similarly, a host of vitamins and antioxidants combat aging, fight diseases, and boost the metabolic processes of your canid companion.
The omega fats are another noteworthy component of the diet which enhances your pet's coat appearance. Despite having a major protein fraction, the recipe does not fail short on any other grounds, which makes it a popular choice.
Features
Freeze-dried ingredients
Beef is the major protein source; blended with lamb and rabbit meat
Salmon meat as a source of Omega fats
Fruits, vegetables, and sweet potatoes are also part of the mixture
The energy content is 3,704 kcal per kg
Pros
The recipe has a natural taste to it
Meat-heavy
Readily accepted by Greyhounds
Essential biochemicals included in the mixture
No artificial additives included
Cons
Some people may not like the inclusion of sweet potatoes
Meat chunks can sometimes fall to the bottom of the bag (shake before use)
Verdict
Merrick Backcountry Great Plains Red Recipe is an excellent meat-heavy dog food for Greyhounds. The contents are all-natural, smartly proportioned, and will enhance your pet dog's appetite.
Nutro Wholesome Essentials Large Breed Puppy Farm Raised Chicken, Brown Rice & Sweet Potato Recipe Dry Dog Food
So far I've mentioned three amazing dog foods that adult Greyhounds will love, but what about puppies? While growing up, Greyhounds have different nutritional requirements as compared to a fully grown individual. Not to worry though, Nutro Wholesome Essentials is here to help you out.
This recipe uses chicken as the primary protein source for your pup-pal. The high protein content is perfect for supporting a growing Greyhound's needs. However, the balance is perfect to maintain your puppy's weight at an optimal level and does not over-accelerate the growth.
Fats are another important component of the mixture but they are present in a well-balanced ratio. They also ensure healthy growth and development, as they work in unison with proteins to build a stronger and more active body.
The basic energy source for most activities, however, comes from carbohydrates. This requirement is fulfilled by the brown rice blended into this mix, which also aids in digestion. The recipe goes easy on the gut, which is a major concern in the case of puppies.
Since the manufacturers don't use cheap or unhealthy ingredients in the preparation of this recipe, this is the best food for your Greyhound puppy. The healthy proportion of minerals, most notably calcium and phosphorus, enhance bone health and regulate metabolic pathways.
Moreover, to encourage a healthy and active lifestyle, biochemicals like chondroitin and glucosamine are also part of the mixture. They maintain healthy joints and promote smoother joint movements. The recipe offers the complete package and includes nutrients vital for the complete development of your pet.
Features
Chicken is the major protein source
Brown rice added to provide carbohydrates and to improve digestion
Healthy proportion of proteins and fats
Chondroitin, glucosamine, vitamins, and minerals added
Designed specifically for puppies
The energy content is 3,653 kcal per kg
Pros
It is very affordable
Perfect for Greyhound puppies
Just the right mixture to promote growth and development
No artificial ingredients included
Cons
The biggest packing is no more than 15 pounds
Some puppies may not like the taste
Verdict
Nutro Wholesome Essentials has been created specifically for puppies. The nutrient mixture is ideal for promoting overall growth and for encouraging a healthy lifestyle.
As years pass by, your Greyhound will lose the vigor of youth and submit to the tranquil waters of old age. Unless… You could help, and this you can do indeed. To keep the spark alive for your senior side-kick, Solid Gold Young At Heart stands as one of the best dietary options.
Chicken-based whole proteins are blended into a mixture of highly nutritious yet easily digestible ingredients to make this recipe. This allows your Greyhound to stay youthful even in later years. The fiber-rich spinach fractions (and similar components) aid digestion, which makes the recipe perfect for sensitive tummies.
This ease of digestibility is important. In the later years, your pal will become increasingly sensitive. The digestive system is a clear indicator of this issue. Hence, foods like Young At Heart are made while keeping such factors in mind.
The recipe is both grain-free and gluten-free. Artificial flavors, colorings, preservatives, and filler ingredients are also completely absent. So much so, the manufacturers even avoided GMO ingredients (genetically altered) and instead clung to natural foods only.
Young At Heart also incorporates several probiotics to improve gut health. The formula effectively addresses the problems your Greyhound may encounter in later stages and does its best to provide a wholesome diet to keep your pal active and healthy.
Features
Chicken-based whole proteins
Fiber-rich contents and probiotics included improving digestion
Minerals, antioxidants, vitamins, and other biochemical also included
No GMO ingredients included, similarly, artificial additives and fillers are also absent
The energy content is 3,285 kcal per kg
Pros
Effective in maintaining a healthy weight
Does pretty well even with sensitive tummies
A highly nutritious diet with a yummy taste
Affordable
Cons
Limited bag size options
It lacks glucosamine
Verdict
Solid Gold Young At Heart is a perfect diet for older Greyhounds. It incorporates highly nutritious ingredients in an easy-to-digest recipe which works very well with upset tummies.
What To Look For In Dog Foods For Greyhounds?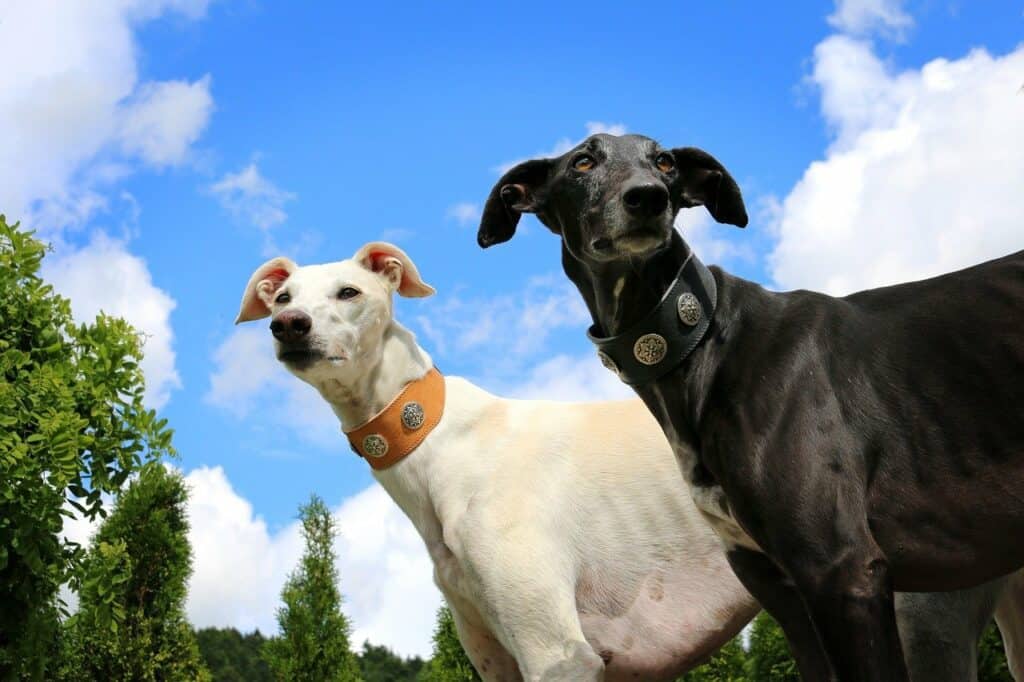 You're probably excited about getting a new dog food product for your pet, and I understand your excitement. But before you move on with one of the options mentioned above or any other product you come across in the market, make sure that you know what to get and what to avoid. Choosing the right dog food is a serious matter, so don't rush it. Instead, consider the following points:
Healthy Ingredients
Proteins and fats are the foremost nutritional requirements of a Greyhound. The former constitutes the biggest fraction of any high-quality dog food. Whole proteins are the most important calorie source in any nature-oriented recipe.
That is not to say that other components are not important. A balanced diet is the best thing you can give your dog and this means that those proteins should be blended with other ingredients such as veggies and fruits, or the occasional grains.
This not only adds variety but also makes the diet much more nutritious. For instance, sweet potatoes, peas, and brown rice are some of the most common carbohydrate content for any dog food. Similarly, fiber-rich ingredients can enhance digestion.
Fats are another quintessential ingredient in any dog's diet. But saturated fatty acids are not healthy (in high concentrations) for your Greyhound, and that's why the unsaturated forms are preferred. These include the omega fats which enhance fur appearance and boost overall health.
Essential Additives: Probiotics, Prebiotics, Antioxidants, Vitamins & Minerals
Probiotics and prebiotics are important for your pet's digestive system. The former are microbes that improve gut health while the latter act as food sources for those microbes. They work in coherence to make the food easily digestible.
Antioxidants are a set of chemicals extracted from fruits and vegetables that improve blood circulation, slow down aging, and combat diseases. Similarly, vitamins are important biochemicals that regulate several metabolic pathways ensuring the healthy state of your pet.
Calcium and phosphorus are essential for bone growth and maturation. Other minerals play essential roles in the development and in sustaining the physiology of your Greyhound. Lastly, biochemicals like L-carnitine, chondroitin, and glucosamine are important for keeping your sidekick active.
Say No To Artificial Additives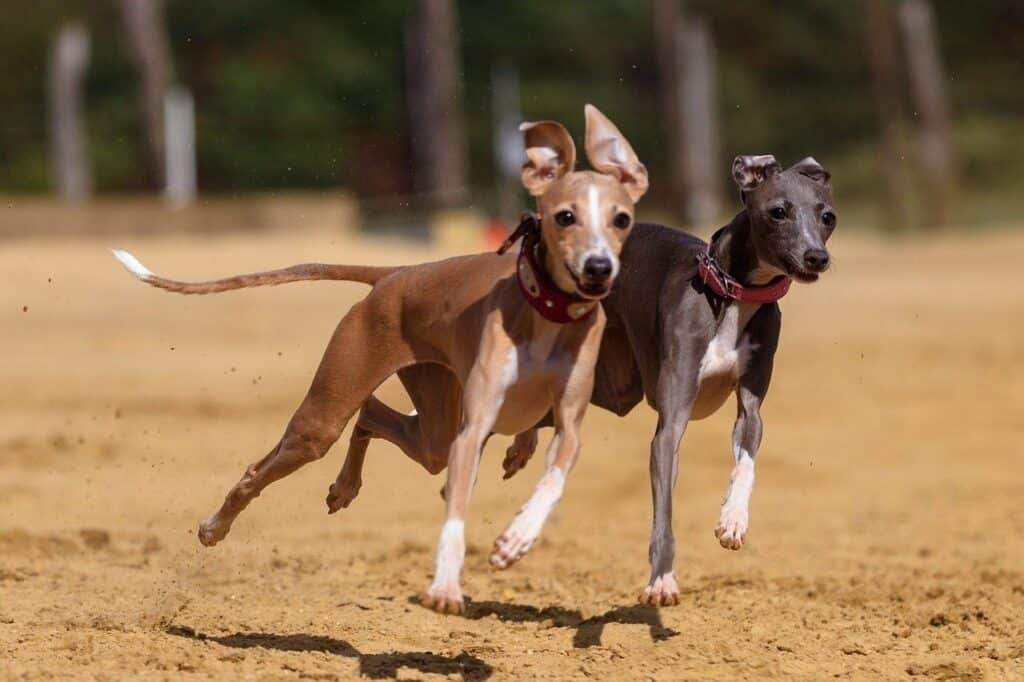 An ideal dog food should not have even the slightest trace of artificial chemicals. "100% Natural," nothing short of it can be considered fit for your pet's consumption. Cheap products often have artificial flavors in them to mask the taste of substandard ingredients.
Such chemical additives are potential allergens. If your pet turns out to be allergic, then it's going to be a nightmare. But even if your dog does not react negatively to such chemical-adulterated foods, they still do much to harm the poor being.
Flavors and preservatives are synthetic compounds that accumulate inside the living tissues and cause irreparable damage. They are not part of any natural diet and hence you should not force your pet to consume foods that contain such chemicals.
Avoid These Ingredients
Just as chemical additives can be dangerous for your pet, so can some other ingredients. Remember, not everything qualifies to be food for your pet. You should always avoid products that contain substandard or harmful ingredients, such as:
Corn, wheat & soy – these are filler ingredients and can cause digestive problems.
Meal by-products – unless specified which meal exactly, avoid products labeled with such ambiguity.
GMO-based ingredients – these are not natural and hence should be avoided.
Consider The Dietary Needs Of Every Life Stage
There can be no generalizations in this matter. On average, a Greyhound should consume anywhere between 250 to 300 grams of meat (with other ingredients added) per day. This requirement varies from stage to stage, and you should consult an expert dietician before setting up a feeding schedule.
An adult weighing around 70 pounds will need 1,740 calories per day. Females can do well with two to four servings while males need three to five feeding times spread throughout the day. In either case, avoid free-feeding as that can make your pets obese.
Younger individuals should not be fed with too much protein, lest they grow abnormally fast. Instead, you should use dedicated puppy foods for younger Greyhounds. Similarly, use gut-friendly old-age foods for an older individual.
Hopefully, with this knowledge, you can buy the perfect dog food for your Greyhound and accustom your pet with the best feeding habits.
Before surfing away, be sure to check out this amazing YouTube video: "Dogs 101 – Greyhound – Top Dog Facts About the Greyhound." It explores some amazing facts about your pet and perhaps after watching it, you'll look at your companion from a very different angle.
Conclusion
All the products mentioned on this list are equally impressive and they excel in their respective areas. Your Greyhound will love the flavors and will do pretty well with the nutritious contents included in these recipes. They have all been well-received by users.
Of all the options mentioned, my favorite is the American Journey Active Life. This is because it delivers a decent overall result, works excellently for larger breeds like Greyhounds, does not include any artificial or filler ingredients, provides a nutritious combo, and is very affordable too.
For puppies and older individuals, I recommend Nutro Wholesome Essentials and Solid Gold Young At Heart, respectively. This is because they have been specifically created for these purposes.
In any case, be sure to make a gradual transition to a new food to avoid any distress for your pet. Hopefully, by now you have a pretty good idea of the best Greyhound foods available in the market, and the quality parameters you must check before making a purchase.
Continue reading:
10 Best Large Dog Kennels for Big Dogs in 2022
The 8 Best Dog Leash For Large Dogs – Get Hold Of Your Giants!