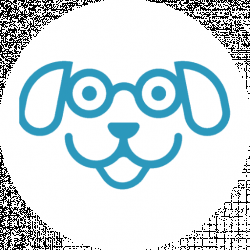 Latest posts by Scout Knows Team
(see all)
According to the American Kennel Club, the English Bulldog is the fifth most popular dog breed in the United States. Along with being famous for its goofy and extremely cute face, it's also notorious for its food allergies.
With an English bulldog:
You can't just try every food and hope something will stick. The fact that these dogs are susceptible to numerous health issues. For English Bulldogs, the right food is the difference between expensive vet bills and a long, healthy life.
So…
What do English bulldogs really eat? We consider the Taste of The Wild Grain-Free High Prairie to be the best food for English Bulldogs, but make sure you keep reading to learn about other quality options!
The 5 Best Foods for English Bulldogs Reviewed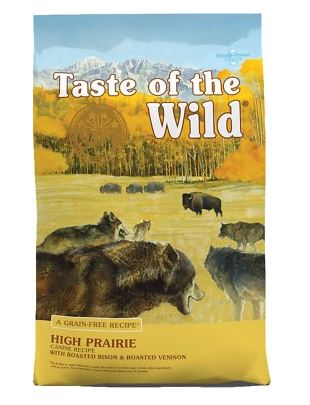 The Taste of The Wild Grain-Free High Prairie recipe is our top choice dog food for English bulldogs. Formulated by one of the most popular dog food brands in the States, it offers several different flavors and has meat as the main ingredient.
The first ingredient of this recipe is real buffalo, with numerous supplemental sources of protein, which include roasted venison, beef, and bison. These ingredients help strengthen the muscles of your dog. It also contains 32% protein, several essential fatty acids, and grain-free carbohydrates. It's further made with fresh vegetables and fruits to boost nutrition, while the chelated minerals help ensure healthy digestion.
We love this formula because the roasted meat provides our dogs with good energy, and we don't have to worry about any allergic reactions. Lastly, it blends probiotics with fatty acids, making it easier for your bulldog to obtain healthy body weight.
Pros
Supports a healthy coat and skin
No artificial flavors or preservatives
Grain-free
Nutrient-rich recipe with omega fatty acids
Cons
Not GMO-free
Fat content might be too high for some dogs
Takeaway
All in all, this Taste of the Wild recipe is one of the best foods for English bulldogs. If you don't want to go through the hundreds of dog food options, go for a tried and trusted brand like this one This formula offers complete nutrition without anything that will disturb your bulldog's stomach.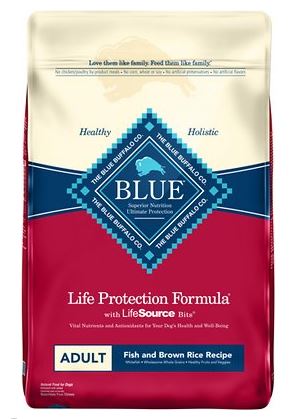 Specifically formulated for breeds that have problems with weight gain, such as the English Bulldog, the Blue Buffalo Life Protection helps ensure that your dog maintains a healthy weight. The Adult Fish and Brown Rice formula is made with deboned whitefish and several other natural ingredients that your dog will surely love!
We consider this product to be one of the best dog foods for English bulldogs because it addresses a major issue commonly faced by the breed – weight gain. Formulated with fiber-rich ingredients, it helps keep your dog satisfied. This is also cost-friendly.
We like this product because it contains all the essential carbohydrates and proteins that are needed to meet the energy levels of adult dogs. The Omega 3 and 6 content of this formula help promote healthy skin and coat.
All vitamins, minerals, and antioxidants in this product were carefully selected and blended by animal nutritionists and holistic veterinarians, so you can be sure that this meal supports your dog's immune system and life stage requirements while maintaining a healthy oxidative balance at the same time.
However, there is one thing we didn't like. This formula contains grains, which can be a trigger for several skin conditions. Most bulldogs do better with a lower carb meal.
Pros
Meat is the main ingredient
Helps maintain a healthy weight
Calcium strengthens teeth and bones
Promotes joint health
Helps ensure healthy digestion
Cons
Formula is not grain-free
Brand has some reputation issues
Takeaway
All in all, if you know for certain that your bulldog will not have a reaction to grains, then the Blue Buffalo Life Protection is an excellent choice. Made with garden veggies, fruits, and real meat, this formula will certainly improve the health of your dog's immune system.
If your bulldog has or is prone to allergies, then it's important that you choose a product that has all-natural ingredients, like the Earthborn Holistic Grain-Free Recipe. Along with being holistic and all-natural, this recipe is formulated with only a couple of main ingredients, which help in reducing the risk of food sensitivities and allergies.
This product uses rabbit meat as the only source of animal protein and complements it with fresh pumpkin to give your dog the right amount of carbohydrates. It also has several omega fatty acids to ensure a shiny coat and healthy skin, while its dried fermentation products aid in digestion and optimal nutrient absorption.
As a dog owner, you'll be happy to know that your loyal companion will enjoy a unique meal with special ingredients, like phosphorus and selenium. These components help support bone structure, and you won't have to worry about nutritional deficiencies and food allergies again!
Pros
Environmentally friendly packaging
Supports healthy heart
Grain-free, non-GMO
Chelated minerals
Cons
Fiber content might be too high for some dogs
A Bit expensive than other dog foods
Takeaway
If you're looking for the best dry dog food for English bulldogs, then you can pamper your little companion with this product, while addressing their digestive and skin sensitivities at the same time.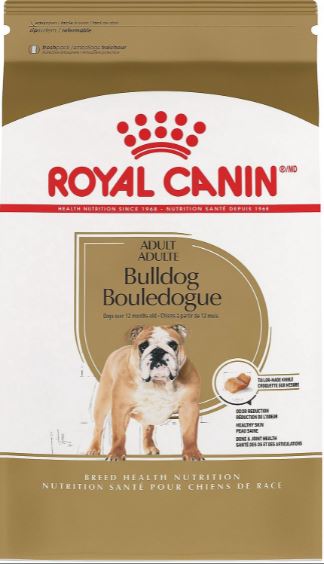 Royal Canin Bulldog Adult Dry Dog Food | Chewy
Whether you call yours an English Bulldog or British Bulldog, this exclusive breed-specific diet is uniquely formulated for your mid-size dog with specific nutrients to help him thrive.
Check Price
We earn a commission if you click this link and make a purchase at no additional cost to you.
Royal Canin Dog Food is a breed-specific formula made for the numerous needs of bulldogs and is formulated by a brand that's considered to be top-quality.
If you are a bulldog pet parent, you know how difficult and challenging it is to find the right food. That's why it's great to find a product that's formulated just for them. Royal Canin also offers a puppy version for this product, which we consider to be the best food for an English bulldog puppy.
We love both these versions because it enables you to easily transition from puppy to adult food without worrying about switching brands or a dramatic formula switch. Formulated with an optimal blend of carbohydrate sources and precise fibers, this product reduces flatulence and helps improve the digestive system of your dog.
It is fortified with fish oil and essential nutrients to reinforce skin health, while the kibble itself is wave-shaped to help your dog easily pick it up. This formula also protects your dog from demodectic mange and wrinkle infections.
We love the fact that this product was made by nutritionists and veterinarians to achieve the perfect mixture for your dog's bones, joints, and skin.
However, this product includes grains and mixed meat, which can cause allergic reactions. When you're trying to choose the best dog food for an English bulldog, then it's better to go with as few ingredients as possible.
Pros
Promotes healthy skin
Improves joint health
Reduces gas and bloating
Wave-shaped kibbles
Cons
Not ideal for puppies or bulldogs under 12 months of age
Takeaway
If you have extensive knowledge about your dog's sensitivities and know for certain that the long ingredient list of the product won't cause any issues, then the Royal Canin Dog Food is a reliable option. Since bulldogs are highly susceptible to abdominal issues, this product contains high protein that's easily digestible.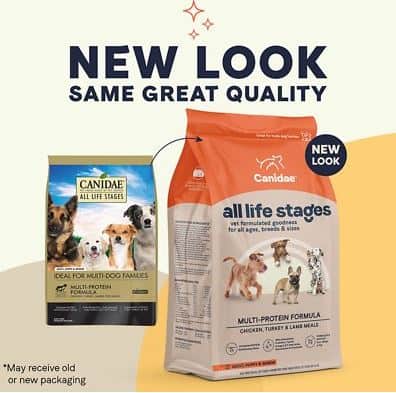 Canidae All Life Stages Dry Dog Food | Chewy
Make mealtimes easy, tasty and nutritious with the CANIDAE All Life Stages Chicken, Turkey, Lamb, and Fish Meal Formula Dry Dog Food. This vet-formulated recipe is speci?cally designed for dogs of all breeds, sizes and ages.
Check Price
We earn a commission if you click this link and make a purchase at no additional cost to you.
Suitable for all life stages, Canidae Dog Food is made with high-quality ingredients that will benefit your canine their entire life. It's great that it does not include any artificial ingredients or fillers, so you can rest easy knowing that your companion will get nothing less than the best.
The formula does not contain wheat, soy, or corn, making it safe for English Bulldogs. Furthermore, its protein sources include lamb meal, fish meal, chicken meal, and turkey meal, while it uses peas, papaya, and brown rice for carbs.
The Canidae dog food also contains an excellent combination of probiotics and prebiotics that help enhance the digestive functions of your dog. Glucosamine and chondroitin further help maintain healthy joints. With this formula, you can start protecting your pal's joints when he's young, instead of waiting for him to grow old.
Pros
Suitable for all life stages
Made with high-quality proteins
No allergens
Cons
Takeaway
One of the best foods for English Bulldogs, this formula is ideal for dogs of all sizes and ages. It's the perfect option for families that have more than one dog as they won't have to worry about getting different types of dog food for each pet.
As English Bulldogs are prone to weight gain, it's essential that they follow a nutritional and balanced diet. This breed has distinct dietary needs, so there are several different things you'll need to consider before you make your purchase. Let's see what they are!
Weight Maintenance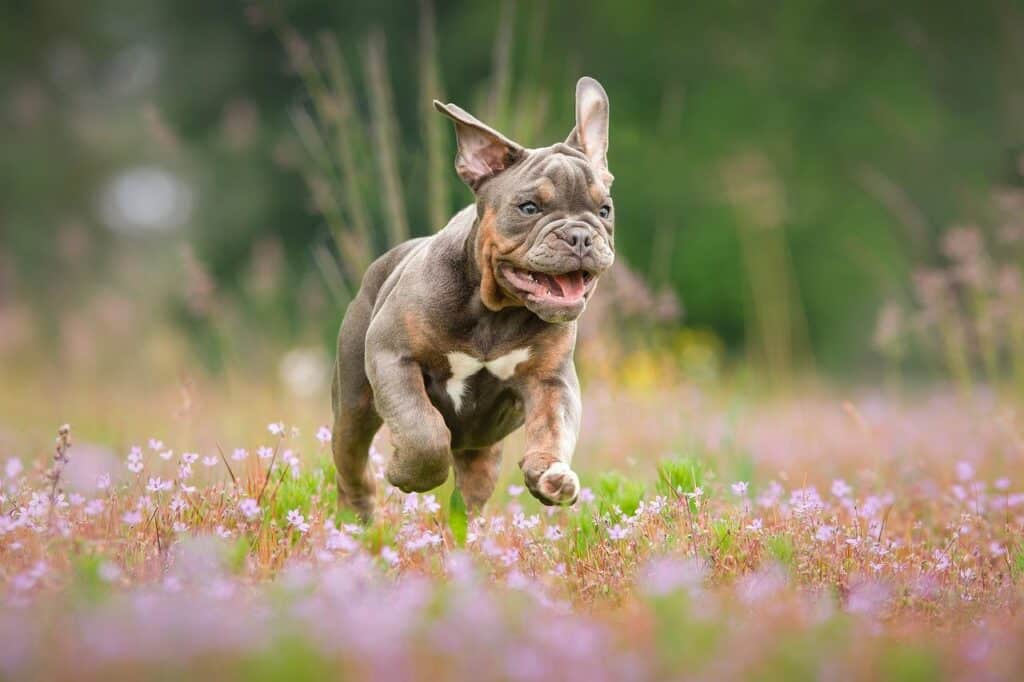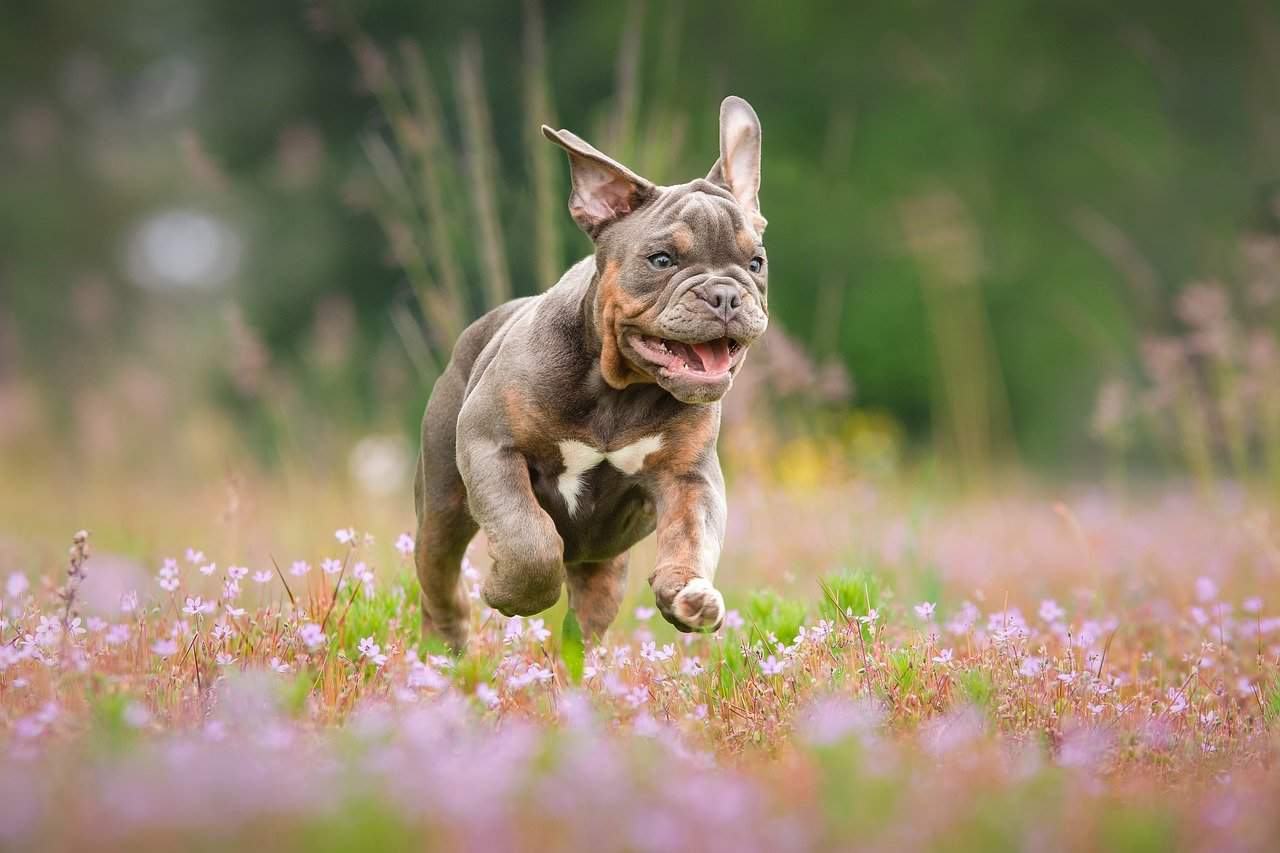 The most important thing you want to check is whether the formula will help your bulldog achieve and maintain a healthy weight. High-quality dog foods include high fiber content, nutrient-dense ingredients, prebiotics, and probiotics.
All these things help reduce gas and bloating while enabling you to feed your dog smaller portions. That means you'll use less dog food and will spend less on it.
Also, make sure that you consult your vet or use the brand's meal guide on the package. This is better than keeping your dog's dish full and allowing him to free-feed or just giving him one big meal per day.
Allergy Reduction
It's advisable to choose a dog food that's formulated with only a few ingredients and does not contain any preservatives or additives. It's also better if you skip grain and stick to only one type of meat as the main ingredient.
We know that this recommendation seems like the complete opposite of the high-fiber one, but it's important to remember that there are several fiber sources other than grains. These sources include vegetables and fruits and are much easier for bulldogs to digest.
Age
Consider the age of your dog before you purchase his food. The best food for an adult English bulldog will be different from the food that would best suit an English bulldog puppy. Typically, puppies require more DHA and protein to support healthy growth.
Adults need more moderate fat and lower protein, while seniors need the lowest fat content to prevent weight gain problems. If your bulldog is growing old, then it's better to choose a product that promoted joint health.
Budget
We all agree that your bulldog deserves nothing but the best, but make sure that the dog food you purchase is affordable. Dry products are generally affordable, while brands that are difficult to find locally are more costly.
It's essential that you choose the right product the first time, as a trial and error of switching foods due to their price can be harmful to your bulldog.
Common Health Problems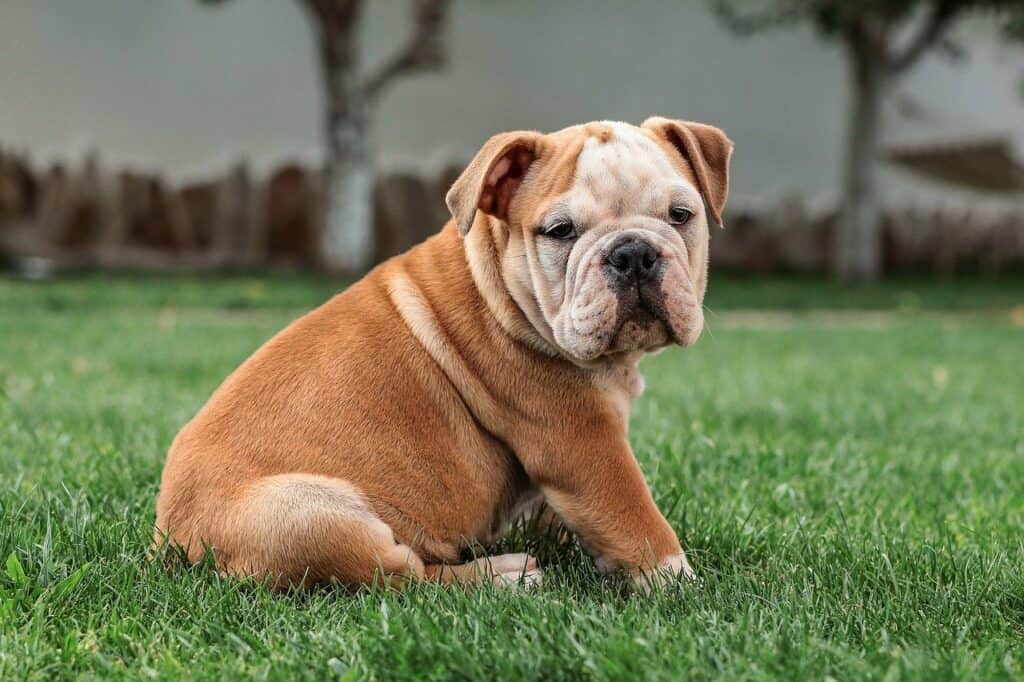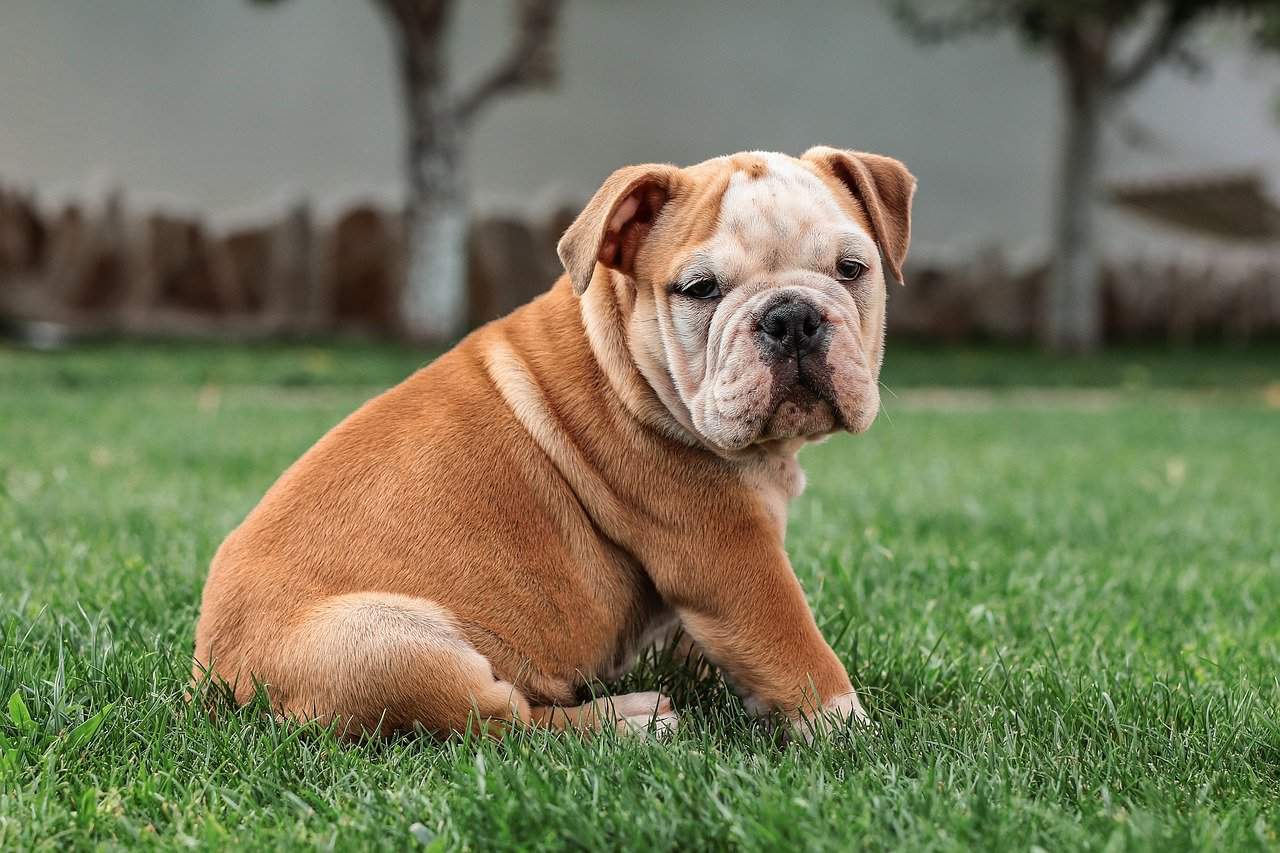 The most common health issues in English bulldogs include tear stains, skin allergies, bloating, gas, and hip dysplasia. To protect your dog from skin and other allergies, make sure you choose a dog food that doesn't contain food allergens, like wheat and corn. Products that have proteins, such as fish and beef, are also great for preventing allergies.
Bloating And Gas
This happens when your dog does not get enough fresh and whole foods. Thus, it's important that you avoid dry foods that include corn ingredients. Lack of proper vitamins and minerals will also worsen the problem.
In order to avoid bloating, you'll need to feed your bulldog a balanced and healthy diet with plenty of vitamins and minerals. Make sure your dog also gets regular exercise to minimize bloating.
Tear Stains
This is usually due to the build-up of toxic waste. Thus, it's essential that your dog gets enough wholesome and natural foods that don't include any additives and have lots of complex carbohydrates.
Others
Make sure that your dog's diet contains omega-3 fatty acids to alleviate hip dysplasia and support healthy joints. Also, since bulldogs eat a lot, free-feeding them can cause weight gain, which can further lead to added pressure on their joints.
That's why it's important that you start scheduled feeding. Keep an eye on your dog's food intake and don't give them treats as much as what they're fed on their regular mealtime.
It's also advisable to take him on regular walks, so the risk of obesity is reduced.
Conclusion
So there goes almost everything you need to know about an English Bulldog – his proper nutrition, and his dietary habits. The lifespan of a bulldog in around 8-10 years, so make sure you use the best dog food possible to ensure he lives a long, healthy life.
The Taste of The Wild Grain-Free High Prairie is our top pick for the best food for an English Bulldog because it offers complete nutrition without disturbing your dog's digestive system. It also helps him achieve healthy body weight.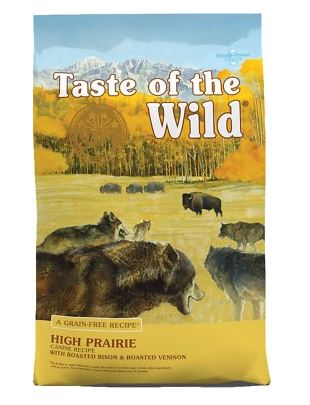 We have one last piece of parting advice for you… When you make your choice, make sure you stick to it as changing your pal's food can have a negative impact on his overall well-being..
Continue reading: