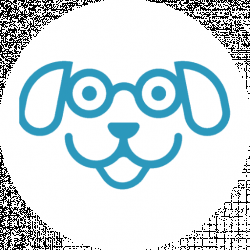 Latest posts by Scout Knows Team
(see all)
American bulldogs have become a popular choice for both family pets and companion dogs around the world over the past few years. Thanks to their kind, loyal, courageous personality and attractive looks! American bulldogs have muscular bodies and have an athletic and sporty nature.
As a pet parent, you don't have to spend hours searching for the best dog food for an American bulldog anymore.
Because…
We've done all the work for you! The right nutrition is important for your pet, so keep reading to know the best dog for an American bulldog.
Although the market has hundreds of premium-quality dog foods, we believe Purina ONE SmartBlend True Instinct is the best overall food choice for an American bulldog because, for one, it has 30% protein with real salmon blended with tuna as their main ingredient.
Now, let's get going!
The 5 Best American Bulldog Foods Reviewed
Purina One SmartBlend offers a nutrient-dense formula for your adult American bulldog. This True Instinct dog food makes your pup's mealtime more delicious and full of proper nutrition. It features dry tasty kibble that provides 30% of crude protein with real Salmon and Tuna being the main ingredients.
Why we choose Purina's salmon & Tuna flavor for an American Bulldog is because it contains 2 times more tender, meaty morsels. Your dog will have no issue chewing and biting these soft meat chunks!
It is proven to give your bulldog a stronger immune system, strong muscles, healthy joints, and an active lifestyle. The SmartBlend formula is manufactured with a deeper understanding of the nutritional needs of an American Bulldog breed.
Moreover, this dry food recipe is rich in antioxidants and omega fatty acids to help support a dog's healthy radiant coat, bright eyes, and skin. This means your dog will get a yummy and balanced meal each time.
Since all growing bulldogs require high energy food to match their active lifestyle, the Purina SmartBlend is an all-natural formula with added minerals and vitamins including Vitamin A, B, and E. Plus, glucosamine helps with healthy teeth, bones, and joints.
It's free from preservatives, artificial flavors, colors, fillers, and poultry by-products. Each ingredient added is vital to your dog's health and active lifestyle.
The Purina True Instinct is available in 7.4, 15, 27.5, and 36lbs packaging options. The daily feeding amount depends on the overall weight of your dog.
When tested on our adult American bulldog, it contains exactly the right amount of protein to match the dog's active energy. Besides, it works well for dogs with some serious health issues or sensitive stomachs.
A great dry-food choice to suit an American bulldog's diet needs! It supports your dog's overall health and well-being.
Pros
High in proteins
Minerals and vitamins added
More tender and meatier morsels
Free from preservatives and artificial flavors
Cons
Some bulldogs may not like the taste
Takeaway
The Purina One True Instinct is a healthy food choice trusted by many Bulldog pet parents because of its complete nutrient-dense formula. If your American Bulldog loves fish-based proteins, you won't go wrong with this dog food. A true real taste of salmon and tuna!
Fortified with vitamins and minerals, this is the best food for an American Bulldog to provide them with the right amount of proteins to make sure that they're on the top level of energy.
Looking for an American bulldog food that's not only tasty but also a great nutrition source? We recommend what most pet experts and veterinarians recommend; the Wellness Core Grain-free formula to support bulldog growing high-energy requirements.
This 100% natural pet food is made from high-quality meat ingredients, selected fats, and grain-free carbohydrates that are combined in the right proportions. Feeding your American bulldog Core can really make a difference. Thanks to the high 34% protein, and just 16% crude fat!
This is what makes Wellness Core stand out. It offers a complete and balanced diet to feed your adult American bulldog. As a bulldog parent, you want them to get loads of energy to keep up with the tasks. So, turkey with chicken flavor has high levels of protein to keep your dog's muscles strong and toned. The low-fat level allows for a leaner body mass which is great for this breed's physique.
Real deboned turkey is the main ingredient combined with the chicken meal recipe. This dry food for adults is specially crafted for entire body health. Ingredients like salmon oil and flaxseed are a great source of omega fatty acids. These support a healthy shiny coat and skin.
Turkey and chicken meals are good sources of chondroitin sulfate and glucosamine. In addition to essential minerals and vitamins, it contains an adequate amount of taurine to support heart health.
For digestive health, Wellness CORE Grain-Free formula is infused with prebiotics and probiotics. Using fresh fruits and vegetables adds vitamins and minerals to this dog food kibble.
Another benefit is that Wellness Core doesn't contain any filler, soy, wheat, corn, artificial preservatives, colors, or flavorings yet your pet dog will surely love it.
Natural food for an adult Bulldog with added minerals, vitamins, and taurine… A great option for parents of an obese American Bulldog; this protein-rich food helps with muscle toning that leads to leaner body mass.
Loaded with prebiotics and probiotics, making a portion of great food for dogs with digestion issues.
Pros
Real meat recipe
Rich in antioxidants, vitamins, and minerals
Great taste
No preservatives
Cons
Not best for diabetic dogs
Takeaway
Most of the dogs don't like having packaged food because of its smell and taste. If this is the case with your American Bulldog, then Wellness Core dry food is the best suitable choice. It has the best taste and flavor of real deboned turkey and chicken meal without any artificial fillers and flavors.
Another renowned brand Blue Buffalo is one that offers great nutritional value dog foods. Their Life Protection Formula made from high-quality ingredients is a good choice to feed your adult American bulldog.
It contains real deboned chicken as the main ingredient for the right balance of high-quality protein. This will help in building and maintaining healthy muscles while essential carbohydrates provide energy, so your dog can keep up with his active lifestyle. Unlike other flavors, this uses whole grains (brown rice, barley, and oatmeal) for superior nutrition.
Fruits and veggies such as sweet potatoes, carrots, peas, and berries are rich in antioxidants, vitamins, and chelated minerals for a better and healthier immune system. To spell out what more is packed in this premium dog food – Vitamin A, Vitamin C, Vitamin E, Lutein, Beta-carotene, Quercetin, Zinc, Iron, Magnesium, Potassium, and Fiber, this dog food has it all.
The blend of phosphorous and calcium will promote strong bones and teeth while glucosamine is present for overall mobility support. Life Protection Formula also contains the right balance of omega 6 and 3 fatty acids. This is guaranteed to give your bulldog a nice shiny-looking coat and skin.
What makes this dry food different is the cold-formed exclusive LifeSource Bits to retain the potency of its ingredients. When used for the American Bulldogs, the LifeSoucrce Bits have shown to improve oxidative balance and a healthy immune system.
Like all our dog food recommendations, this formula also doesn't contain any sort of artificial coloring, flavoring, preservatives, corn, wheat, soy, or poultry by-products.
We choose this premium dog food formula for your American Bulldog as it fulfills all energy and fitness requirements. The finest natural ingredients enhanced with minerals and vitamins are great to fuel up your dog's energy levels.
Pros
Real chicken
No addition of poultry by-product meal
Rich in antioxidants, minerals, and vitamins
No soy or wheat
Cons
Takeaway
If you want to provide your American Bulldog with dry food that has a precise blend of all food varieties, Blue Buffalo is a recommended choice of veterinarians. It includes real meat, vegetables, fruits, wholesome grains, and LifeSource Bits so your dog doesn't miss any of the nutrients needed for their healthy well-being. Being stage-specific makes it the ideal choice for all growing American Bulldogs.
This brand – Nature's Recipe has a long 35 years history of making natural, tasty, and healthy dog food. Ranked among the best dog food for American Bulldogs, it's complete nutrition for your much-loved pet dog.
We choose this exceptional formula as it offers the right blend of meat, fruits, and veggies to provide the nourishment that your bulldog needs. 27% of the crude protein content comes from the main ingredient which is salmon, 14% carbohydrates, and 4% dietary fiber is from sweet potato and pumpkin. Plus, it's very easy to digest due to the small-sized kibble, making it a good dog food for all life stages.
Salmon is also a great source of omega fatty acids. This first ingredient not only helps with muscle growth, strength, and maintenance but also supports brain development. Besides, a healthy, clean, and shiny coat is a bonus.
Antioxidants and many other active nutrients present in food contribute to the overall well-being of your pet dog. Your Bulldog is sure to have a healthy digestive system, sturdy bones, healthy joints, and strong muscles with Nature's Recipe Grain-free dog food. This salmon recipe is highly recommended for dogs with sensitive tummies or other infections.
No added preservatives, colors, flavors, soy, wheat, corn, or chicken by-products; all-natural recipe! Available in 4, 12, and 24lbs bag, it's budget-friendly yet high-quality healthy dry dog food for your pet dog, from puppy to full-grown.
Pros
Delicious taste
Easy to digest
Rich in proteins, mineral, and vitamins
No additives or preservatives
Cons
It has an unpleasant smell
Takeaway
Nature's Recipe Salmon, Sweet Potato & Pumpkin is a high-quality food for your dog. The natural recipe with added vitamins, minerals, and antioxidants not only tastes great but also fulfills your dog's daily nutritional needs.
Healthy digestion, strong muscles and bones, shiny skin and coat, and nutrients for an active lifestyle is what this Nature's Recipe dry dog food provides.
Diamond Naturals has a good reputation among dog parents as its dog food is made from all-natural organic ingredients. This formula uses real pasture-raised beef as their number 1 ingredient to provide proteins for muscles and bones.
The brand also combines superfoods like kale, pumpkin, blueberries, chia seeds, papaya, oranges, carrots, coconut, and flaxseeds. These allow for optimized nutrition that helps your adult dog stay active and fit.
The thing which sets Diamond Naturals dog food apart is the presence of K9 strain probiotics.
Proprietary probiotics are infused to every kibble to support your dog's gut health. These live active cultures beneficial good bacteria that aid in digestion and build a stronger immune system. This ensures that your American bulldog receives the right nutrition even if the dog has a sensitive stomach.
Also, more nutrients are absorbed by the dog's body when food has added probiotics. Thanks to chicory root prebiotic fiber! It also uses soluble fiber from pumpkin and insoluble fiber from dried coconut to support digestive health. Omega 3 and 6 fatty acids present in ingredients responsible for the dog's beautiful healthy skin and coat.
A blend of real beef, veggies, and fruits gives this dry food kibble a very authentic taste that bulldogs will enjoy eating.
Pros
Digestive support
Real-beef protein
No artificial flavors
Vitamins, minerals, and antioxidants
Cons
Takeaway
If you're in search of the best holistic nutrition for an American bulldog at a budget-friendly price, this is your lucky day! Diamond Naturals dog food is your affordable, yet reliable choice. It uses the best natural ingredients to provide the best quality diet.
Specially formulated for adult dogs with real beef protein that every American Bulldog would love to eat, it offers high nutritional value. Superfoods and K9 strain Probiotics adds to promote the overall health and well-being of your active bulldog.
How To Choose The Best Dog Food For An American Bulldog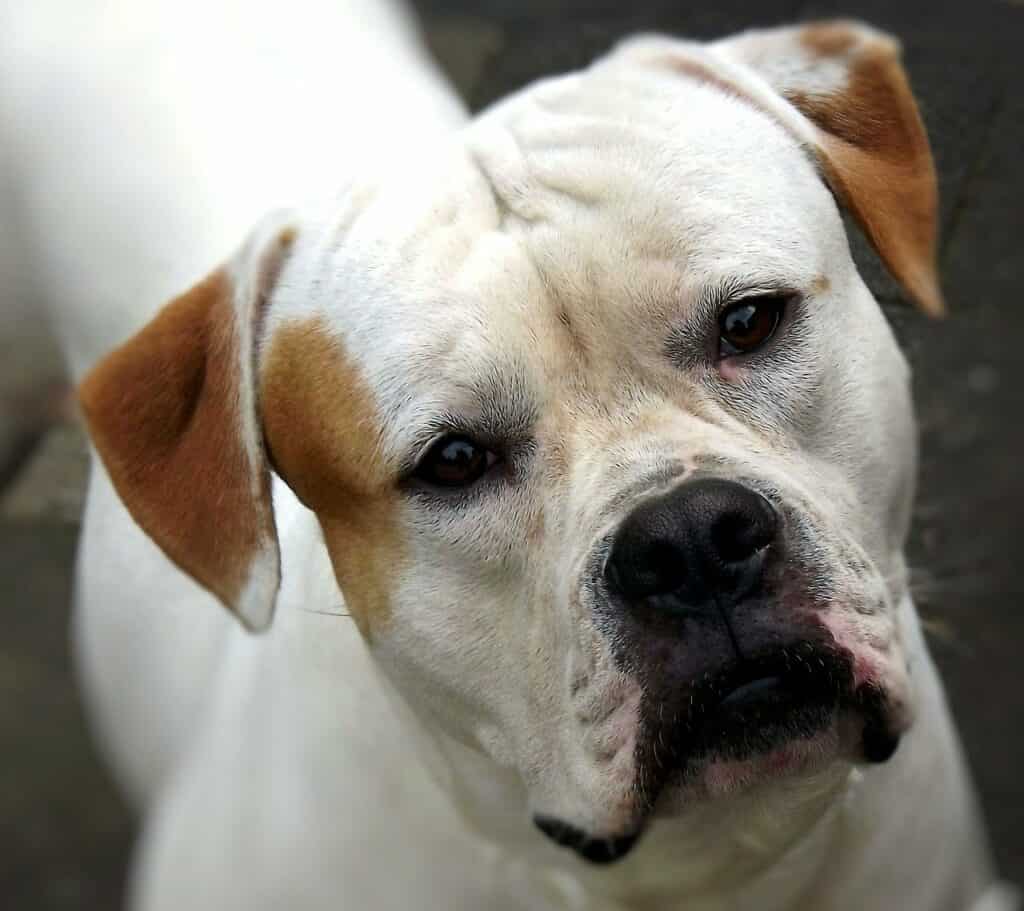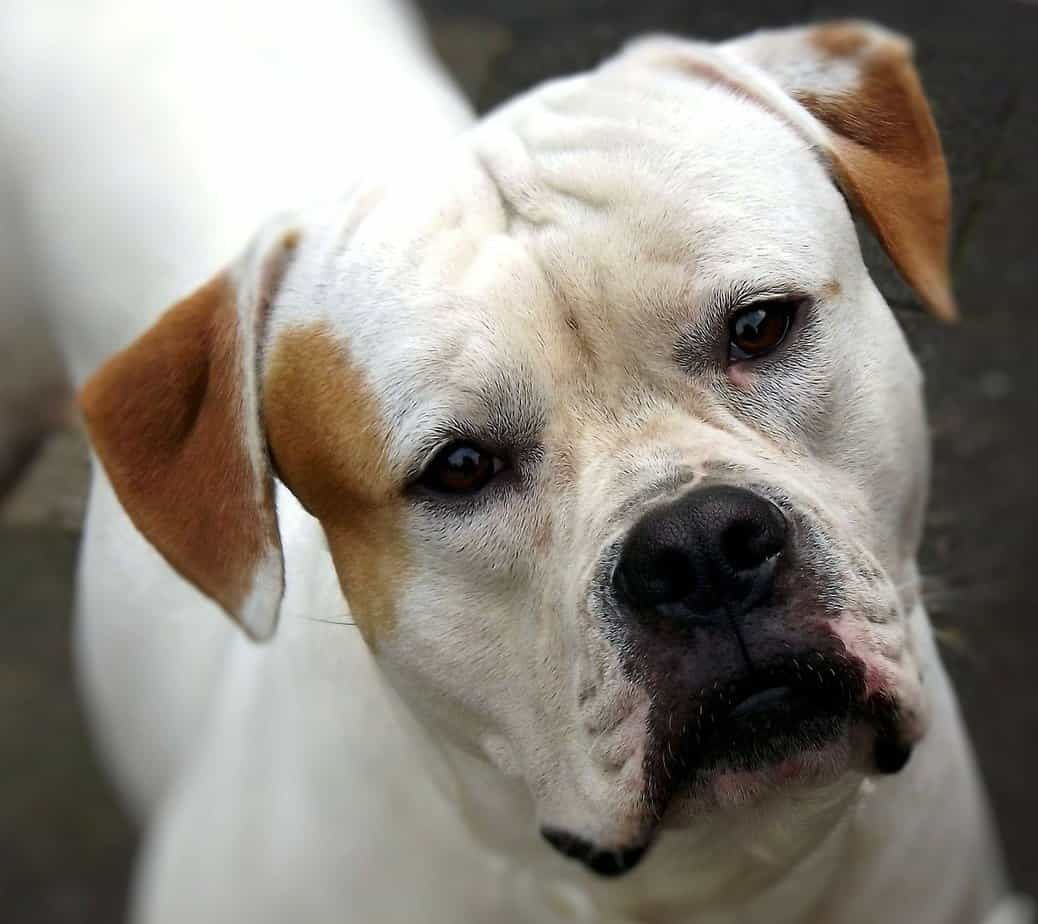 To ensure you give your bulldog pet the best-quality diet possible, it's important to CONSider some of the following things.
Proper Nutrition For An Adult American Bulldog
When it comes to American bulldog nutrition, they need to be fed properly. Dogs are scavenging carnivores and require meat. Always find a diet that's rich in meat or in other words; animal proteins with lowered levels of fat for an adult or an old American Bulldogs.
Rich protein levels also mean high fat and excess calories that can make your dog overweight or obese. A protein-focused diet should be your goal. This makes sure that your dog doesn't put on extra weight. Look for dog food brands with fresh real meat as their first ingredient for strong muscle support.
Preferably for American bulldogs, a grain-free diet based on whole-food carbohydrates is best. That is to provide them with the high level of energy they need. Pick food that's grain-free.
Plus, a diet with nutrients, vitamins, omega fatty acids, prebiotics, and probiotics is necessary to keep their coat, skin, and digestive system in the best condition possible.
For mobility, the best 2 ingredients are glucosamine and chondroitin sulfate to help support bones and joints. Although phosphorus and calcium help with bone strength and growth, high levels of calcium in a large-breed dog diet can lead to bone deformities. But remember that overfeeding your dog with these ingredients can lead to osteoarthritis.
Dog food that contains fruits and vegetables like carrots, potatoes, spinach, apples, broccoli, kale, berries, peas, parsley, is also a good choice. These naturally contain vitamins and minerals that help keep the immune system strong.
All of the above are the building blocks of a happy, healthy, and active dog life.
Nutrition For Puppy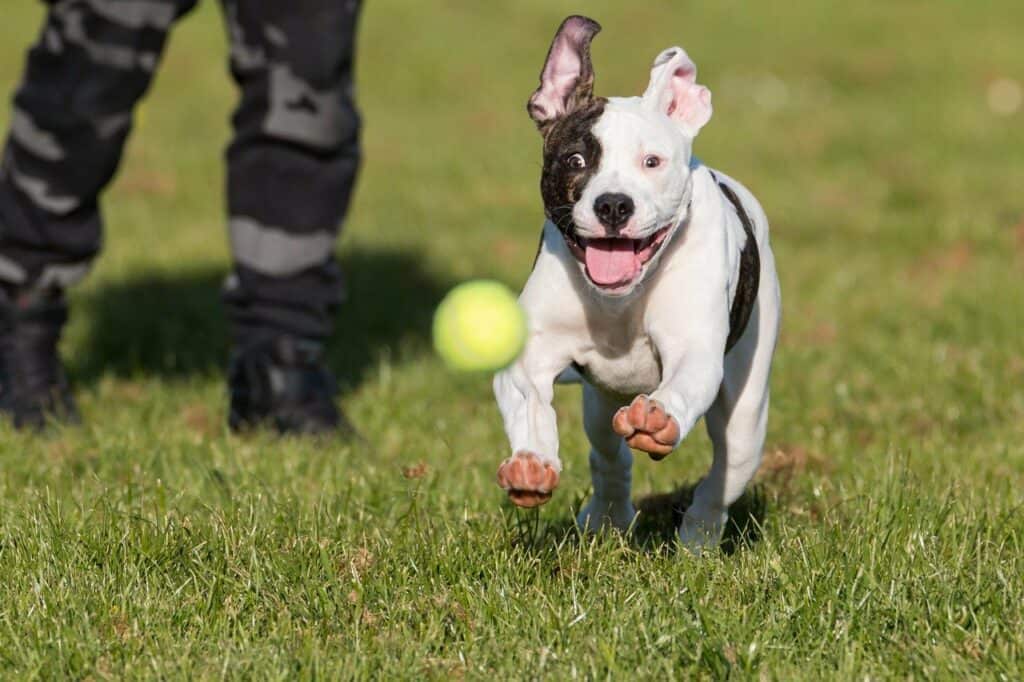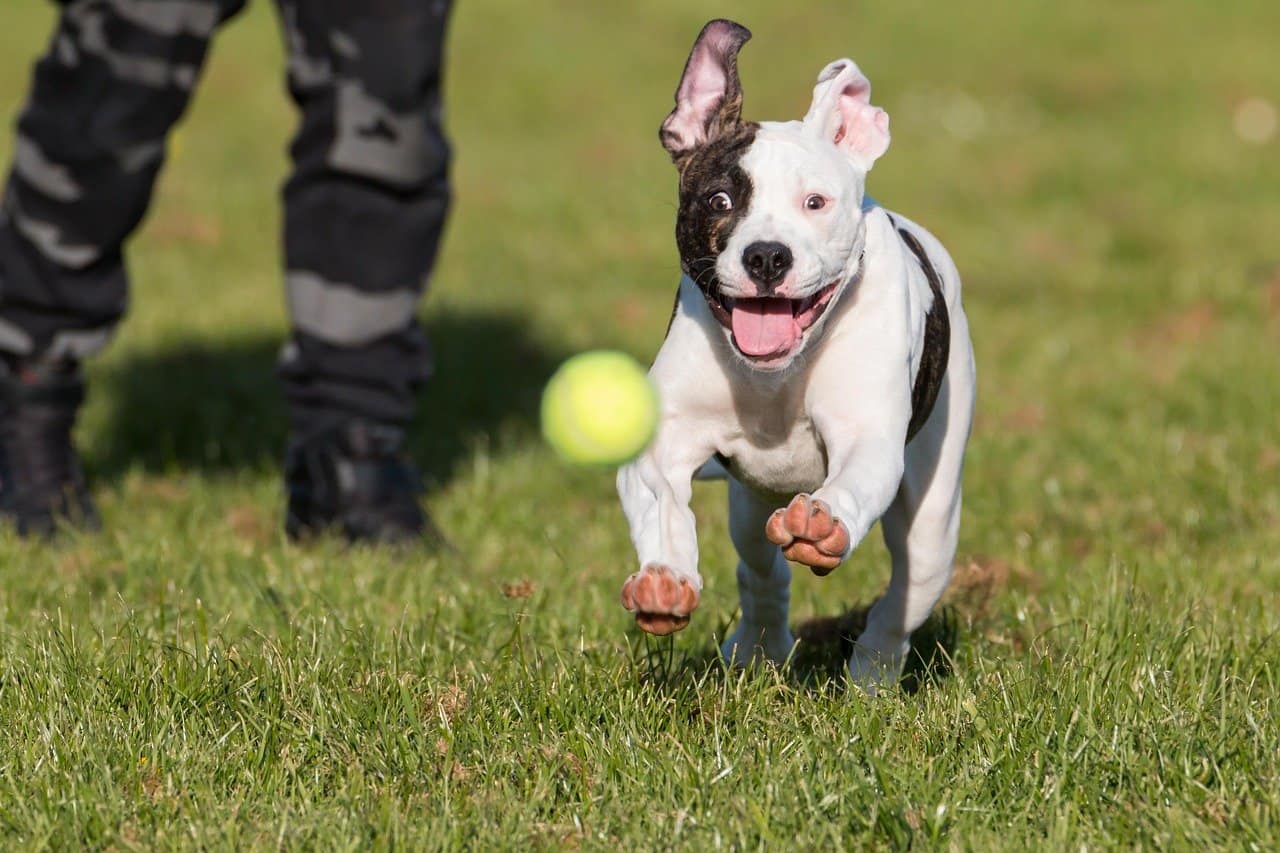 Make sure you provide your puppy bulldog with the best diet. Nutritionally, a puppy has different needs than an adult dog. A puppy is in the growth stage and increases in size each day. Besides, puppies have small tummies and yet, they also need more energy-giving foods.
Small-sized palatable kibble works best for chewing with their tiny teeth. Small tasty treats for small puppies is another good choice but make sure all their nutritional requirements are being met.
Having said the above, it will all come from a food formula that has higher fat and protein content. Also, antioxidants and loads of DHA are needed to make your little puppy smarter and easier to train.
Foods like Wellness Core and Nature's Recipe all stages make a great puppy diet. They all offer the right energy, perfect nutrition balance, and guaranteed DHA for your little pet.
According to the Association of the American Feed Control Officials (AAFCO), American Bulldog puppies should have 22% of protein, and adult dogs to have at least 18% protein in their diet. The recommended fat percentage for puppies and adults is 8% and 4-5% respectively.
Taste And Flavor
Most of the dogs like food that has strong meat flavors made from lamb, beef, turkey, and chicken. Other fish-based dog foods are made from salmon, tuna, sardines, or anchovies and rich in antioxidants, omega acids, essential minerals, and vitamins. However, not all dogs are attracted to meaty aroma or flavor.
If your American bulldog is a picky eater, you're not out of luck… There are a ton of different dog food brands that has a wide variety of recipes to suit your pet's particular needs.
Ingredients To Avoid
American bulldogs are more prone to allergies than other dog breeds. One thing to remember is that ingredients like soy, corn, wheat, or gluten can cause allergies or other health issues. It's better to go for a dog food that's free from these ingredients if your pet has a sensitive stomach. There are dog foods that are non-GMO and free from soy, corn, or wheat.
As the American bulldog diet requires protein, make sure that brands don't blend animal by-products in the ingredients. Pet foods made from poultry by-products or meals are high in proteins but use low-quality animal meat that can cause infection.
A Misconception
American bulldogs are often mistaken as an American Staffordshire or Pit Bull. However, they are not related at all, an American bulldog is not overly aggressive or easily tensed up by nature, unlike the two other breeds mentioned.
Personality
They are known to be very determined, brave, and confident dogs. These characteristics help an American bulldog in guarding and working tasks. The American bulldog breed is very gentle, devoted, and loving to their owners and considered family members. This combination of temperament makes them a good companion as well as work dogs.
Looks
This powerful athletic-looking large dog breed has broad heads, large wide nose, broader chest, and facial wrinkles with defined cheek muscles. American Bulldogs are fairly low maintenance when it comes to grooming. This is because they have short, tight yet soft to touch coat that might have brown, black patches with low-shedding.
Size
Male American bulldog weighs about 70-120lbs and can grow 71cm tall. On the other hand, females are a bit shorter and lighter in weight. They weigh around 60-90lbs while grows up tall to 60cm height.
Lifespan
The average life expectancy of an American bulldog is around 10-16 years when properly cared for and fed a good-quality nutritious diet.
Exercise
American Bulldogs are vulnerable to many diseases like obesity that can lead to hip dysplasia and/or osteoarthritis. In addition to feeding a healthy diet, they need a lot of daily exercise to keep them active and lean. This also allows for mental stimulation.
Meet Bailey!
Meantime, before we get this review all wrapped up, let's take a peek into Bailey's life and see how gentle and affectionate she is.
Conclusion
Therefore, the best overall dog food for your bulldog buddy has to be the Purina ONE SmartBlend True Instinct. This renowned dog food brand provides an optimal level of nutrition that the American Bulldog breed requires for growth and activity.
This dry-food is formulated without whole grains, soy, wheat, or any chemicals. It contains a precise amount of protein, calcium, phosphorus to support joints, bones, muscles, and a lean body for larger breed dogs. It's what you're looking for – A protein-packed, complete and balanced dog food.
Continue reading:
The 5 Best Must-Have Dog Food For English Bulldogs in 2022