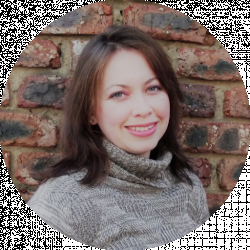 Latest posts by Talitha van Niekerk
(see all)
When you have a home full of exuberant pets bouncing all about, you are sure to have pet messes to deal with. Two market leaders in the potty mishaps cleaning department are Angry Orange and Nature's Miracle. Both product ranges are extensive and come highly recommended, but which is best?
Being a dedicated pet owner myself, I decided to dive into the ring with these two odor control and spot removal brands to see which would be the champion.
With Angry Orange and Nature's Choice being some of the pet market heavy-hitters, I wanted to know what made them different and what made them special.
Bottom Line Up Front Summary: These are both great products that work as intended. That said, if you are sensitive to ingredients and want a bit more transparency, Nature's Miracle is the better choice. However, for truly "bad situations" it's worth busting out the power powerful Angry Orange here.
Main Differences Between Angry Orange and Nature's Miracle
The main differences between these two pet stain removal and odor control products are as follows:
Angry Orange has cold-pressed orange oil as an active ingredient, whereas Nature's Miracle has protein-based enzymes and various cleaning chemicals.
Angry Orange has an orange scent, whereas Nature's Miracle has an original scent and various fresh scents.
Angry Orange has a spray bottle application, whereas Nature's Miracle has both a spray bottle and a pour bottle.
Angry Orange can be used for both cat and dog trains, whereas Nature's Miracle has specific products for cat stains and dog stains.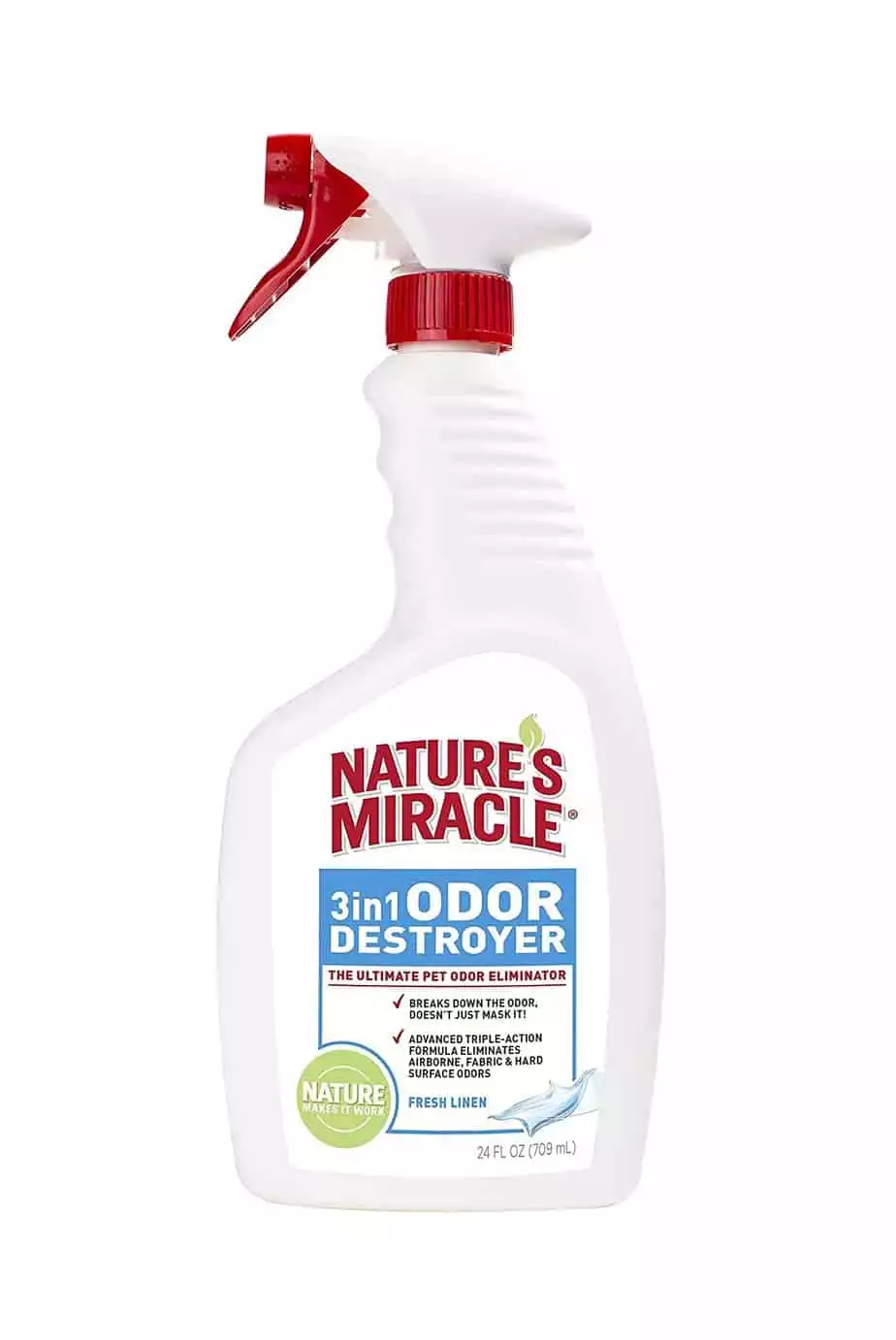 Buyer's Criteria: What Makes a Good Stain Treatment and Odor Repellent
I drew up a list of stringent considerations that both product lines had to satisfy to be crowned as the best pet stain remover and the best pet odor remover. I was adamant; I wanted these products to satisfy my criteria.
Before I even look at a brand, I want to know whether the following are on offer:
Stain Removal Power
A spot treatment should do just that. It needs to quickly and effectively treat the area of the spill. While I do understand that some products require an overnight application, I also want a spot treatment to be fast, so I can clean up before my oh-so-strict mother-in-law arrives. So, an effective spot and stain remover must work, and quickly!
Angry Orange is made from cold-pressed orange oil that is extracted from orange peels. Nature's Miracle has a much longer list of ingredients, some of which are chemical in nature and others that are proprietary information and therefore withheld from public record. Both brands use enzyme-based cleaning to deal with pet messes.
Odor Retarding Power
With pet stains, especially old ones I discover the next day, the accompanying smell can be a real friendship breaker. I want to know if the odor repellent I choose has the butt-kicking power to really make my house smell great, not like a chemical factory. In addition, the product smell shouldn't hang around weeks after the stain is long gone.
Nature's Miracle is available in two scents: original and fresh scent. With scented products, there are usually some chemicals involved in achieving the fresh smell we all love; however, Angry Orange has an all-natural scent that is derived from the citrus oil that the product is made from. All Angry Orange products have a potent orange or citrusy smell due to the orange oil main ingredient.
Safe and Environmentally Friendly for Pets
My pets are my kids, and they walk around bare-paw on my carpets and floors, so I want to be sure that I use something that won't irritate their skin or upset their stomachs (if they lick the spot). Nor do I want something that can cause them to break out in hives. While some chemicals are great at stain removal, I don't want the product to remove my pets too.
Some products are specifically formulated to control order and clean stains for either cats or dogs. Nature's Miracle fits this category because it has products specifically designed for cats or dogs. Angry Orange, on the other hand, is so confident in the multi-purpose nature of their formulation that their products are all suited to both cats and dogs. This can save you a buck if you have cats and dogs and need to clean up after both.
Cost, Efficiency per Ounce, and Ease of Application
Instead of spending hundreds of dollars on a spot and odor treatment, I'd rather spend more on my next chew toy for Rufus, so I want something cost-effective, something that doesn't require the use of the whole bottle on a tiny spot, and something I can apply without first going to college to get a degree in the product application. Essentially, I want quick, cheap, and easy.
Both Angry Orange and Nature's Miracle's range of products use a spray-on application system. Reviews generally remark that the spray bottle for Angry Orange is poor quality, while the applicator system for Nature's Miracle is somewhat more durable. Some of Nature's Miracle products also come in a pour bottle, which allows for dilution in some cleaning tasks.
A Direct Comparison of Angry Orange and Nature's Miracle Product Lines
There is a range of products in both the Angry Orange and Nature's Miracle lines, but for this review, I decided to look for directly comparable products. This is what I found:
Odor Eliminator Products
Angry Orange: ANGRY ORANGE Pet Odor Eliminator for Strong Odor – Pack of 1 Citrus Deodorizer for Dog or Cat Urine Smells on Carpet, Furniture & Floors
Nature's Miracle: Nature's Miracle P-5452 3-in-1 Odor Destroyer
Stain Eliminator Products
Angry Orange: ANGRY ORANGE 24 oz. & 1 Gallon (Refill) – Ready-to-Use Citrus Pet Odor Eliminator Pet Spray – Urine Remover and Carpet Deodorizer for Dogs and Cats
Nature's Miracle: Nature's Miracle Urine Destroyer for Dogs
In-Depth Review: Angry Orange Vs Nature's Miracle
Considering these four products, I decided to award a winner in each category (odor eliminator and stain eliminator) based on my buying criteria. But let's look at each of the products for the two categories first.
Category One: Odor Eliminator
Sometimes you want a quick spray that you can apply to help conceal a stain you haven't had a chance to clean up yet if you get unexpected visitors. Cleaning up the stain is secondary in this case as you're more worried about the smell than anything else. The top leaders here are: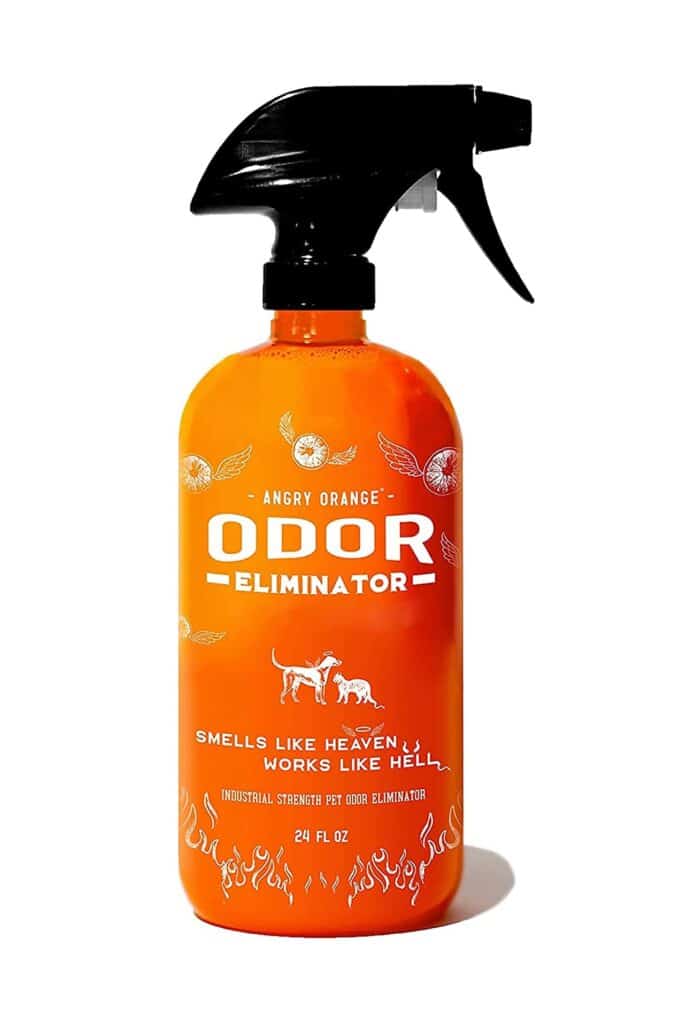 This is a really popular market leader with almost 70,000 reviews on Amazon at the time of press, and it has a rating of 4.4, indicating how much pet owners like it.
I decided to look at the deets on this product:
Made from natural citrus peels from oranges
A small spray amount required
No mixing required
Comes premixed in a handy spray bottle
For use on multiple surfaces such as carpets (as a carpet cleaner), hardwood floors, tiles, car interiors, upholstery, and garbage cans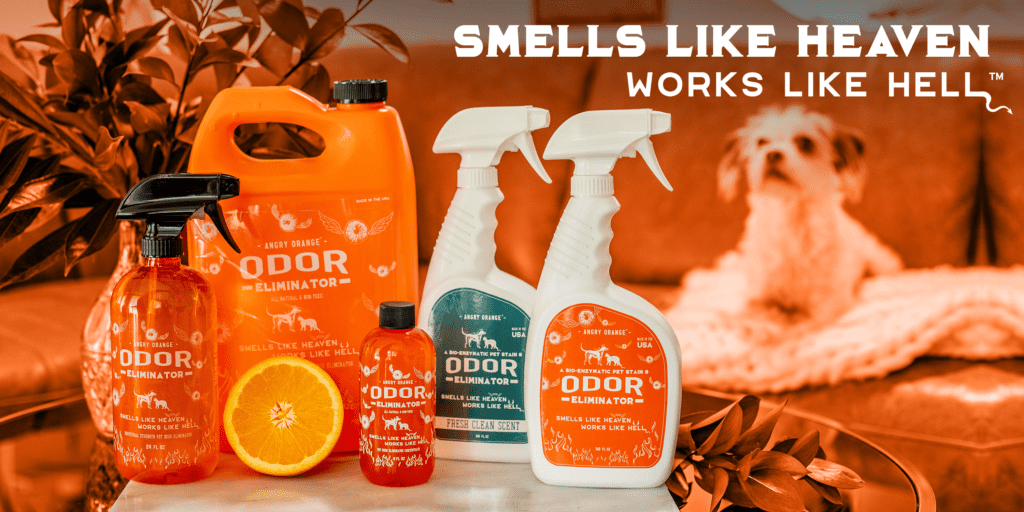 While this seems quite normal, the information is somewhat limited. Angry Orange doesn't really advertise their list of ingredients, apart from stating that the product is made from cold-pressed oranges or orange oil. A few customers had noted that the product gave their dogs a skin infection on their paws, so I was cautious.
It turns out, you need to dry the area before allowing the dogs to have free reign. When wet, the product can transfer to the soft flesh of a dog's paws, which can lead to an allergic reaction. Once the product is dry, there are no issues.
As a whole, Angry Orange's Odor control spray is a very popular product with pet owners. Comments about it all rave about the quality of the product, but the reviewers mention the spray bottle is lousy. This is an easy fix though as you can simply decant the solution into an industrial-type bottle.
Another downside to Angry Orange's Odor Eliminator is that it isn't very attractive to cats. Some dogs also don't respond well to the orange smell. This can lead to your pets feeling unwelcome in your home.
Luckily, my dogs were okay with the smell, but then again, I didn't need to spray it heavily as my paw-kids are potty trained and only occasionally have accidents in the house. If you had to spray this liberally, it might actually chase the humans out of the house too.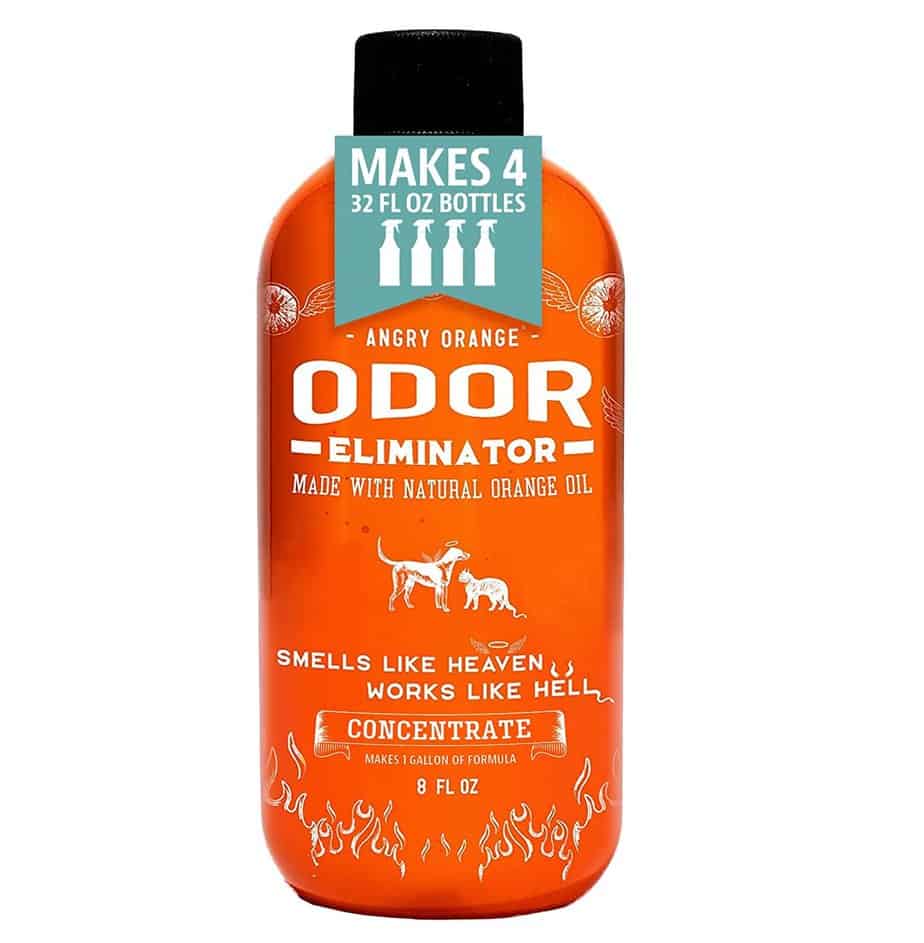 Angry Orange Pet Odor Eliminator | Amazon
A little goes a long way with the Angry Orange pet odor eliminator for home use. It's a carpet deodorizer that targets strong, lingering smells at the source and destroys them.
Buy at Amazon
We earn a commission if you click this link and make a purchase at no additional cost to you.
06/06/2023 08:27 am GMT
How to Use Angry Orange
One rookie mistake is to fill your spray bottle directly with angry orange concentrate from the bottle. Don't do this!
If purchasing the concentrate form (most common), only use 2 tbsp for every 32 oz spray bottle.
One concentrate bottle of Angry Orange makes up to a full gallon of solution.
How to Use Angry Orange on Carpet
Apply the spray (not the concentrate) about 6-12 inches from the affected carpet area. Spray 5-6 times and let sit. If the smell / stain lingers after 6-12 hours, apply a second dose. Repeat until the odor is eliminated. This shouldn't take more than 3-4 tries, ideally just one.
Note: there is no need to scrub it in for effect. Angry Orange works by breaking down the enzymes over time.
How to Use Angry Orange in Laundry
Don't use Angry Orange in laundry as it is not recommended or specifically tested for washing machines (or dryers).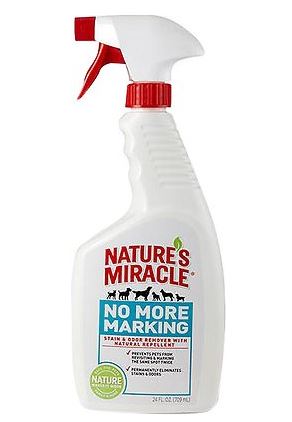 Compared to Angry Orange's Odor Eliminator, Nature's Miracle Odor Destroyer has a slightly different approach. The handy spray bottle not only masks odors but actively removes the microparticles that cause the odor through enzyme action. This is not a spot treatment to remove stains or messes, but it specifically targets the leftover organic particles that cause the odor in the first place.
I was already quite impressed with Nature's Miracle, so I dug a little deeper.
Comes in a lemon or fresh linen scent
Contains active enzymes to dissolve soiling particles that cause odor
Two function spray bottle
Does not repulse cats with the scent
No mixing required
Comes in a spray bottle
Scent doesn't linger in an unpleasant way
I loved the scent of Nature's Miracle. While I love the smell of oranges, this was a pleasant and slightly milder option. Plus, I loved that my house didn't smell like a cleaner can.
Application is easy enough. For airborne odors, I simply spray this into the air. If I know where the odor is coming from, such as with a stain, I can simply spray the product onto the affected area. For carpets (like a carpet shampoo) and upholstery, I soak the area with several sprays. Hard surfaces such as floors and wood can be lightly sprayed, left for a few minutes, and then wiped dry.
As with most things in life, this is not a perfect product, but it comes pretty close. Some customers remarked that the spray bottle tends to spray large droplets that don't hang as long when it comes to airborne odor treatment. I found the bottle to be sturdy, but the nozzle was a bit temperamental.
One point I should make is that some consumers mentioned fanning the sprayed area to help speed up drying times. This isn't a good idea. The affected area needs to dry slowly so the enzymes can remove any odor-causing particles.
You can even add a dose of the formula to your laundry for pet odors that may have soaked into clothing items. I haven't tried this, but I recommend you try a little of the formula on an out of sight corner, ensuring the fabric is not stained by the chemical components of Nature's Miracle.
I did notice that Nature's Miracle does have a strong scent that can linger while the product is drying. If you have sensitive lungs or are slightly asthmatic, you may find that the scent is too strong and overpowering.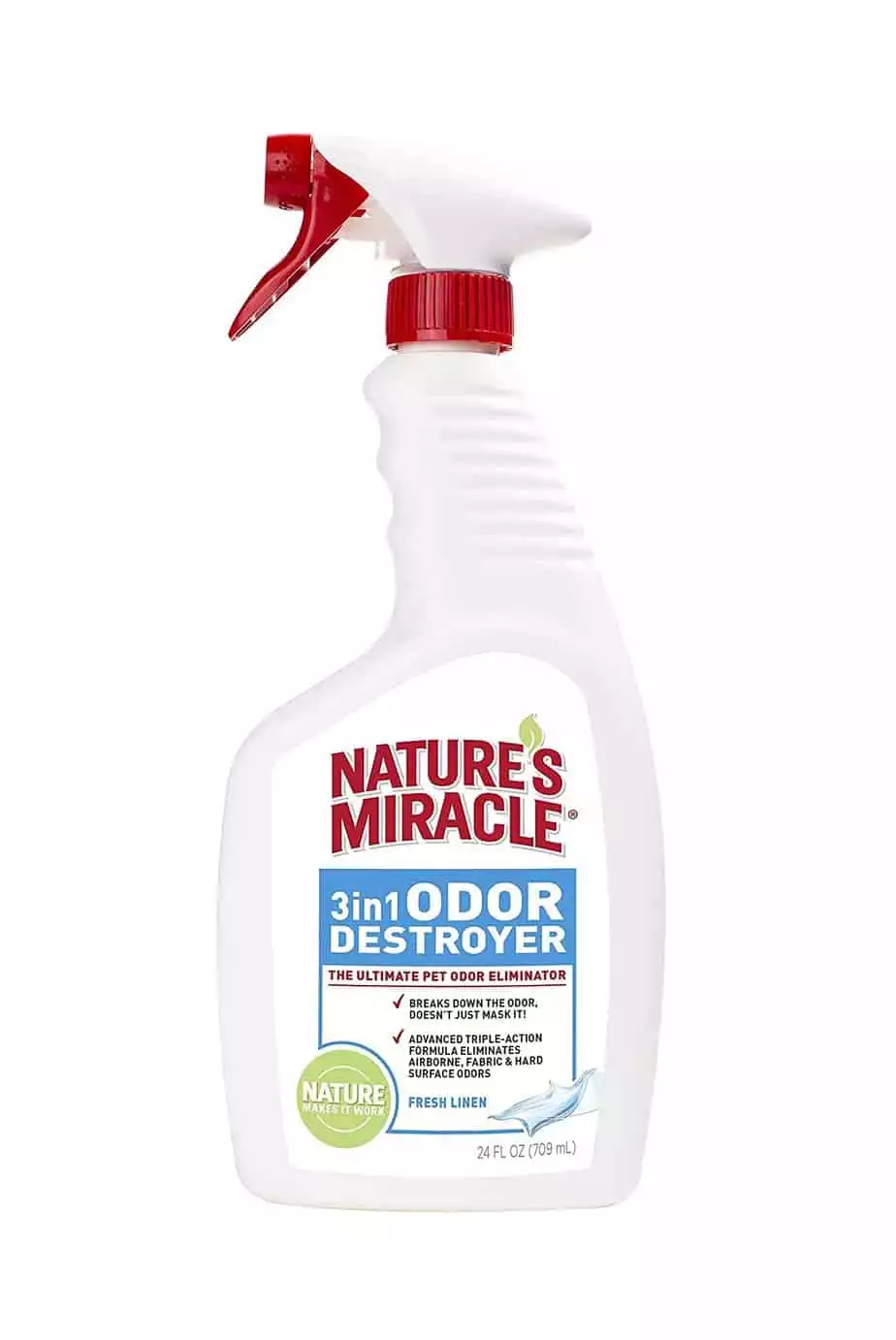 Category Two: Stain Eliminator Products
While the smell may be your main concern with pet messes, cleaning up messes and stains can really help reduce the smell too. Angry Orange's formula is popular as a pet stain remover as well as odor elimination. Compared to Nature's Miracle, both products provide a satisfactory cleaning.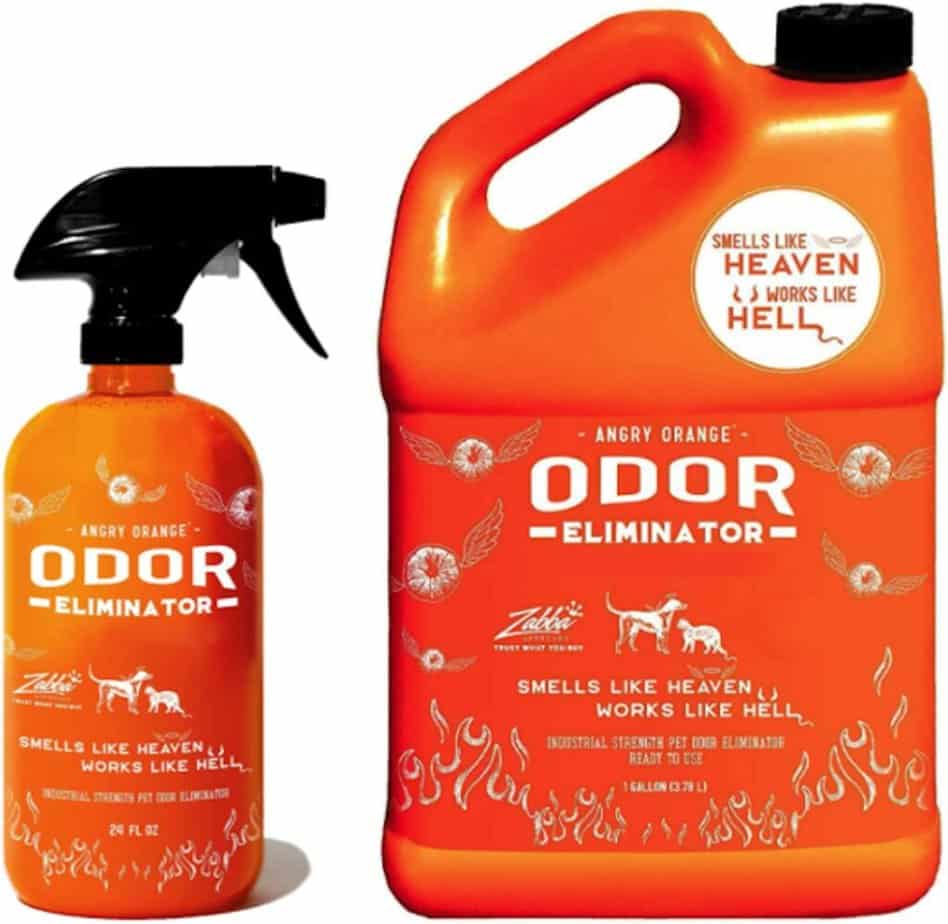 There really doesn't seem to be much difference between Angry Orange's Odor Eliminator and their cleaning solution, and that's because the product is essentially the same. What I did like is the large 1-gallon refill jug.
Other details on the product include:
Powerful dog and cat stain remover (general pet stain remover)
Fresh orange scent
Made from natural orange oil from fresh orange peels
No mixing required
Pet safe (once dry)
Can be used on any surface
As with the regular Angry Orange Odor Eliminator, this large volume refill spray is a winner for cleaning out odors and stains. My concerns are the same as with the first category: the impact of the solution on my pets. I did prefer the scent to the other more chemical products on the market, but I was careful to let the area where the spray has been applied dry properly before allowing my dogs anywhere near it.
Because of that concern, I would not recommend using this on your dog or cat's bedding, at least not in the neat form. Adding some Angry Orange to your laundry and washing your pet's bedding may be okay as there's some airing out that happens, which will possibly leave you with wonderfully stain-free bedding that is also safe for your pet.
I was prepared for the weak 24-fluid ounce spray bottle, and I purchased a better quality industrial spray bottle. This helped the product achieve better coverage and there were no unpleasant spills or sticky hands from applying it.
Angry Orange Pet Odor Eliminator | Amazon
The secret to a fresh-smelling home is that the best pet odor neutralizer on the market comes in a small, orange bottle.
Buy at Amazon
We earn a commission if you click this link and make a purchase at no additional cost to you.
06/06/2023 10:41 am GMT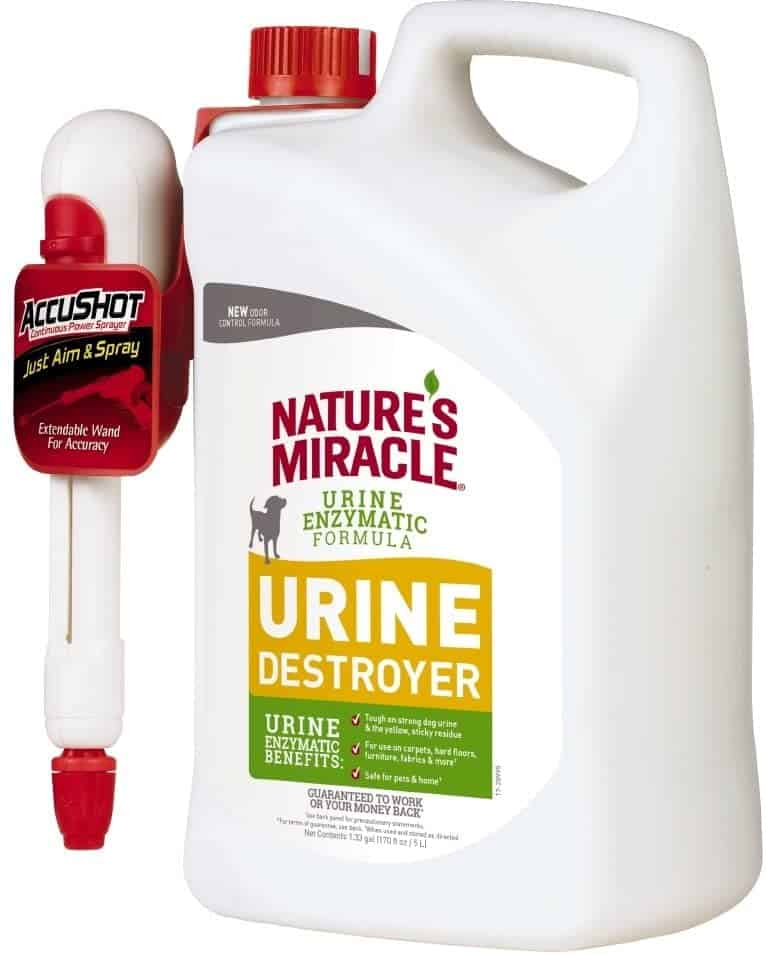 With a bumper pack of 1.32 gallons, this is some serious stain-removing power at your control. Nature's Miracle Urine Destroyer for Dogs is specially formulated to remove all dog urine and any yellow residue. The ingredient list is somewhat long and there are several chemicals in the product, but it certainly gets the job done.
The pet urine destroyer is suitable for use on most surfaces, except for untreated hardwood floors. Simply apply with the accushot sprayer to thoroughly dose the soiled area. Allow the enzyme-based cleaner to work on the biomass of the stain. Usually, 10 minutes are sufficient to clean up your average pet stain. If your dog has produced something more copious, you may need to reapply to clean up any deeper stains.
Once the cleaning time has elapsed, simply blot with a clean cloth. Dry the area thoroughly, secure in the knowledge that your dog won't be pottying in the same spot again as the Urine Destroyer will remove any traces of ammonia that could re-attract dogs to the same place.
This product in the Nature's Miracle line has an impressive 4.6 rating, and it is very popular with pet owners too. It cleans and deodorizes in the nick of time.
When applying this stain remover, it is best to use a blacklight to help reveal all of the urine stains, especially if the stain has dried. Be sure to soak the stained area thoroughly to achieve a complete clean.
A final note is the smell of the product. Some customers noted that they can't stand the very pronounced perfume smell of the Urine Destroyer, but this is probably due to the heavy biological smell of the enzymes working on the pet stains. If not for the perfume, you would probably end up with a horrendous public toilet smell, so I was less bothered by this.
A clean carpet is a good trade-off in my books.
3 Alternatives to Angry Orange and Nature's Miracle
If neither Angry Orange or Nature's Miracle ticks your odor busting, stain cleaning boxes, then consider any of these handy alternatives that are on the market: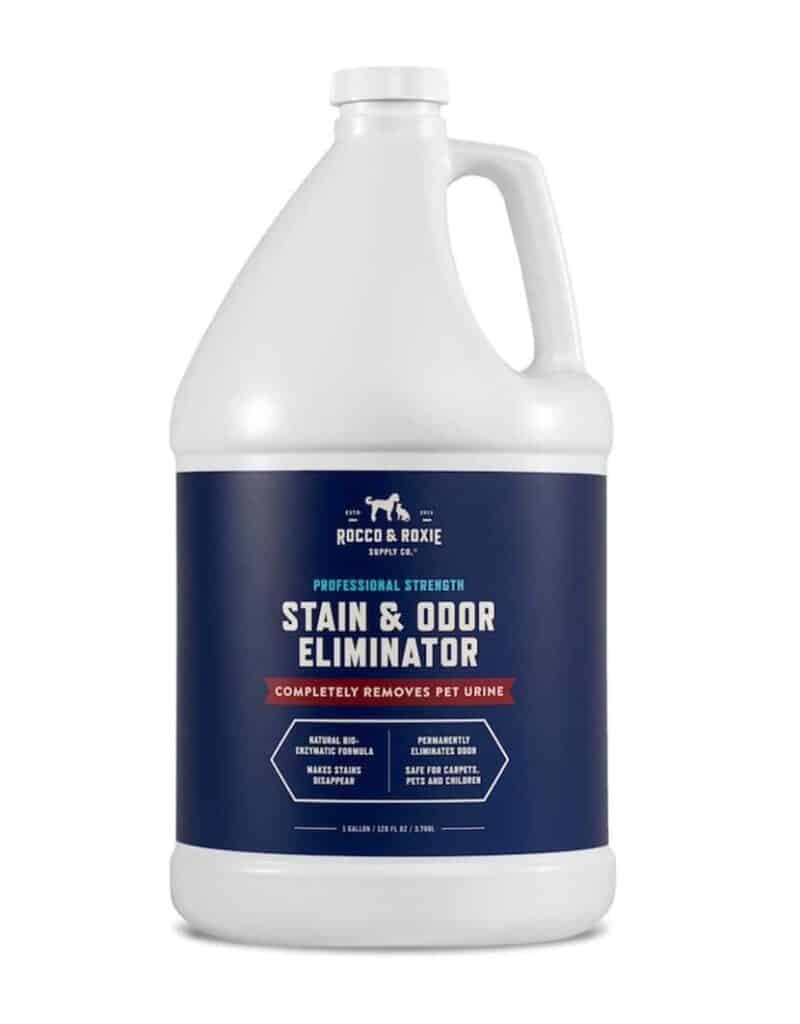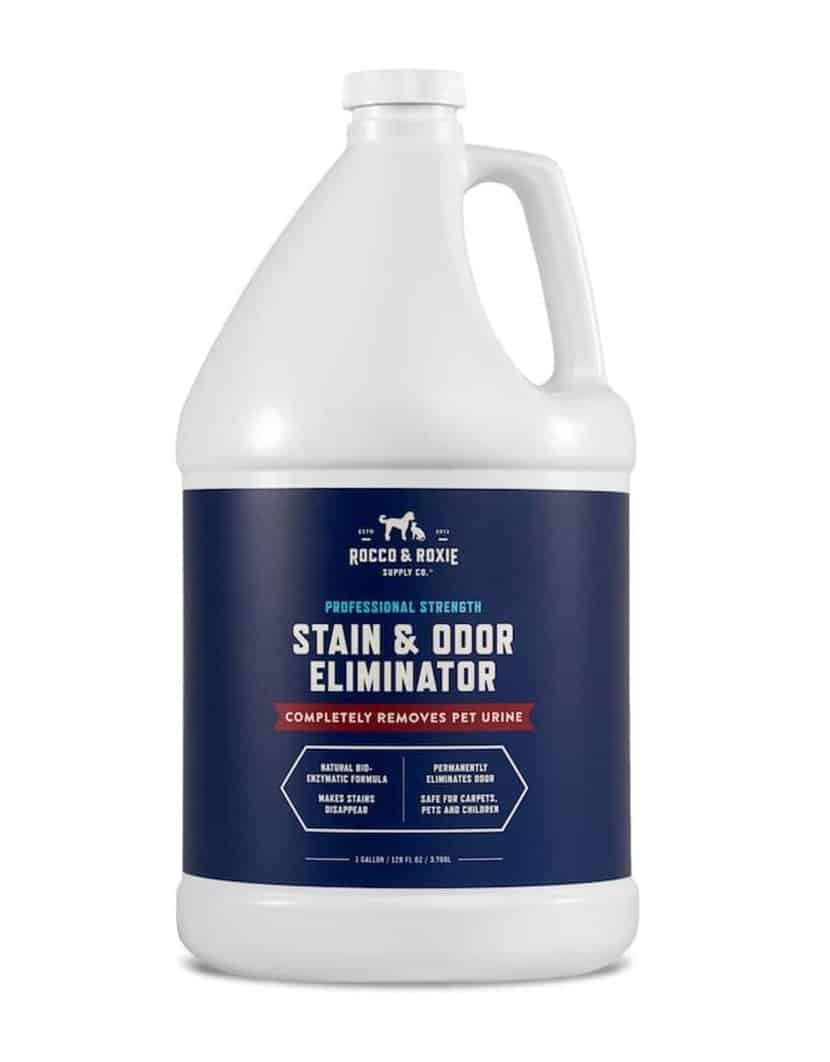 If you are still concerned about the safety of a cleaning product for your precious pooches or your rugrat crawling kids, then this is the option for you.
With extensive animal and human safety testing, this enzymatic cleaner and odor remover is guaranteed to be safe. It has also been tested by the Carpet and Rug Institute (CRI), so your rugs are safe too.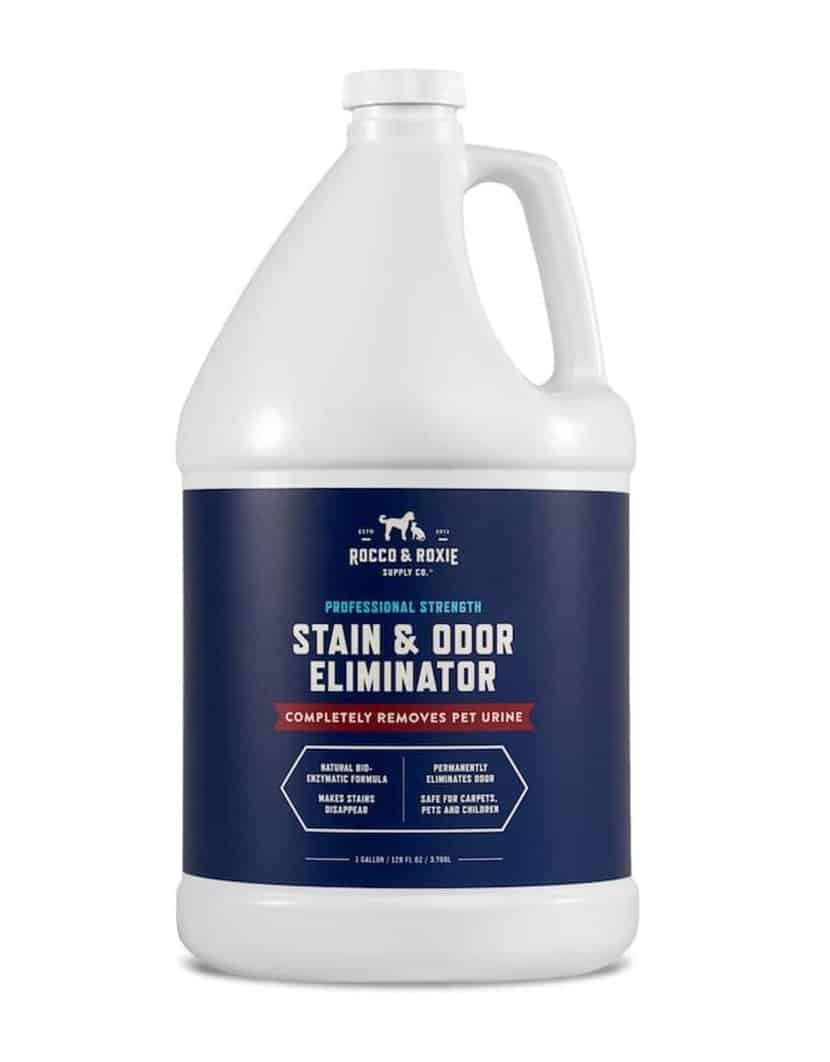 Rocco & Roxie Stain & Odor Eliminator | Amazon
If it's gross, it's gone. Not just the stain, but the stink. From stinky yellow pet urine and feces to vomit and other organic spills, our professional strength formula tackles them all.
Buy at Amazon
We earn a commission if you click this link and make a purchase at no additional cost to you.
06/06/2023 09:27 am GMT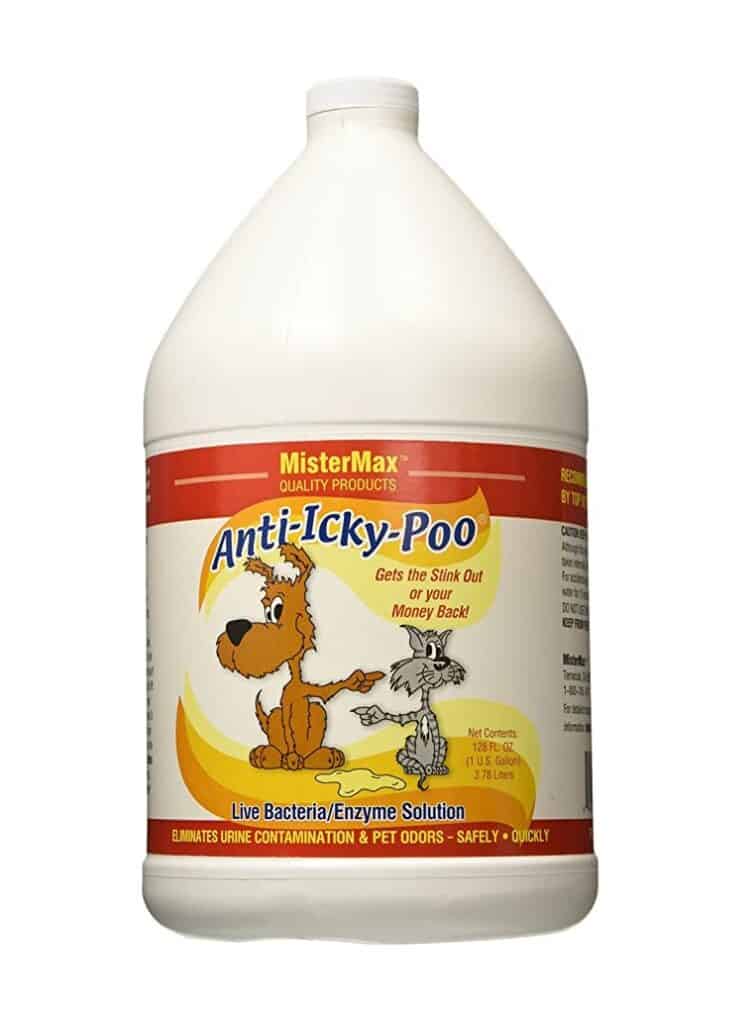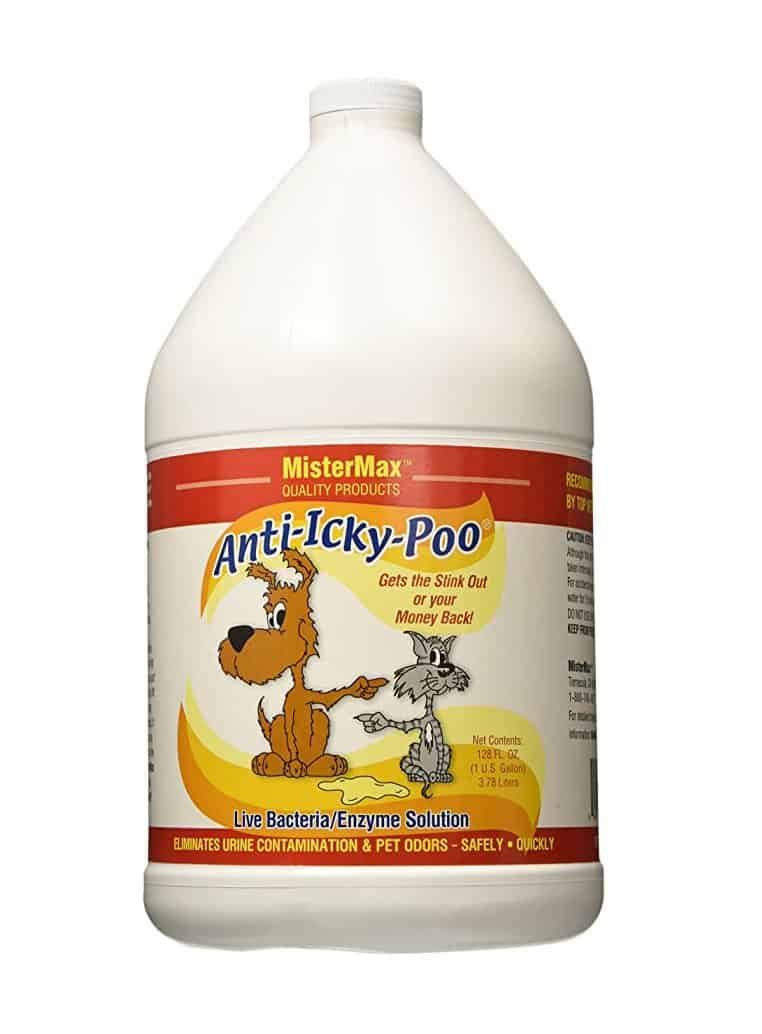 Way more than just a cool name, Mister Max offers real and speedy odor removal. Best of all, you can use the powerful enzyme and protein formula to clean up a range of other stench causing problems too.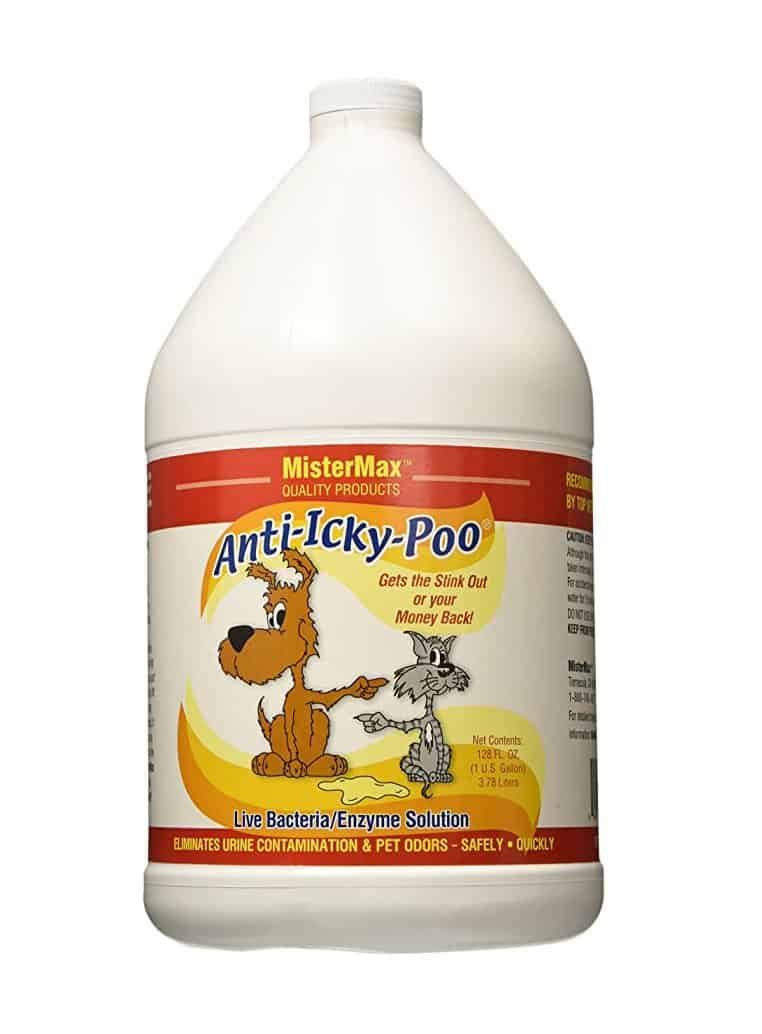 Mister Max Original Scent Anti Icky Poo Odor Remover | Amazon
Anti-Icky-Poo uses a combination of proteins and enzymes that break down and deodorize offensive substances, including urine, feces, vomit, sweat, skunk, sour milk, rotten vegetables, tobacco, char, and smoke, the smell of dead animals, and much more.
Buy at Amazon
We earn a commission if you click this link and make a purchase at no additional cost to you.
06/06/2023 09:51 am GMT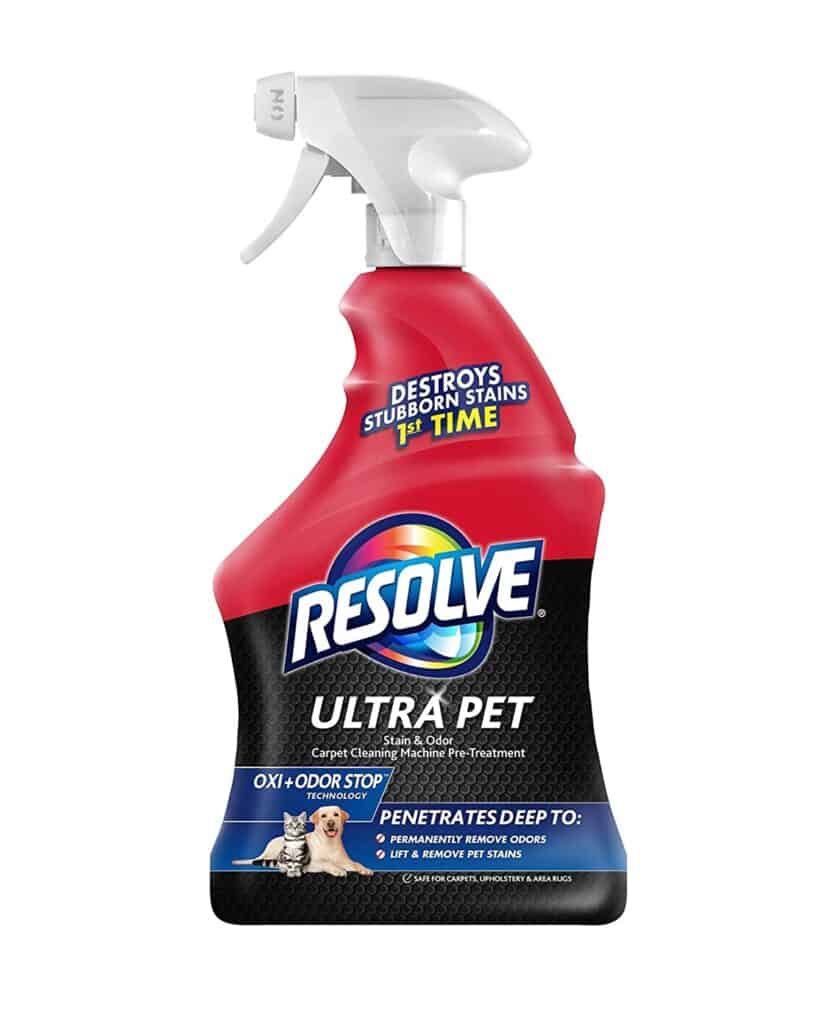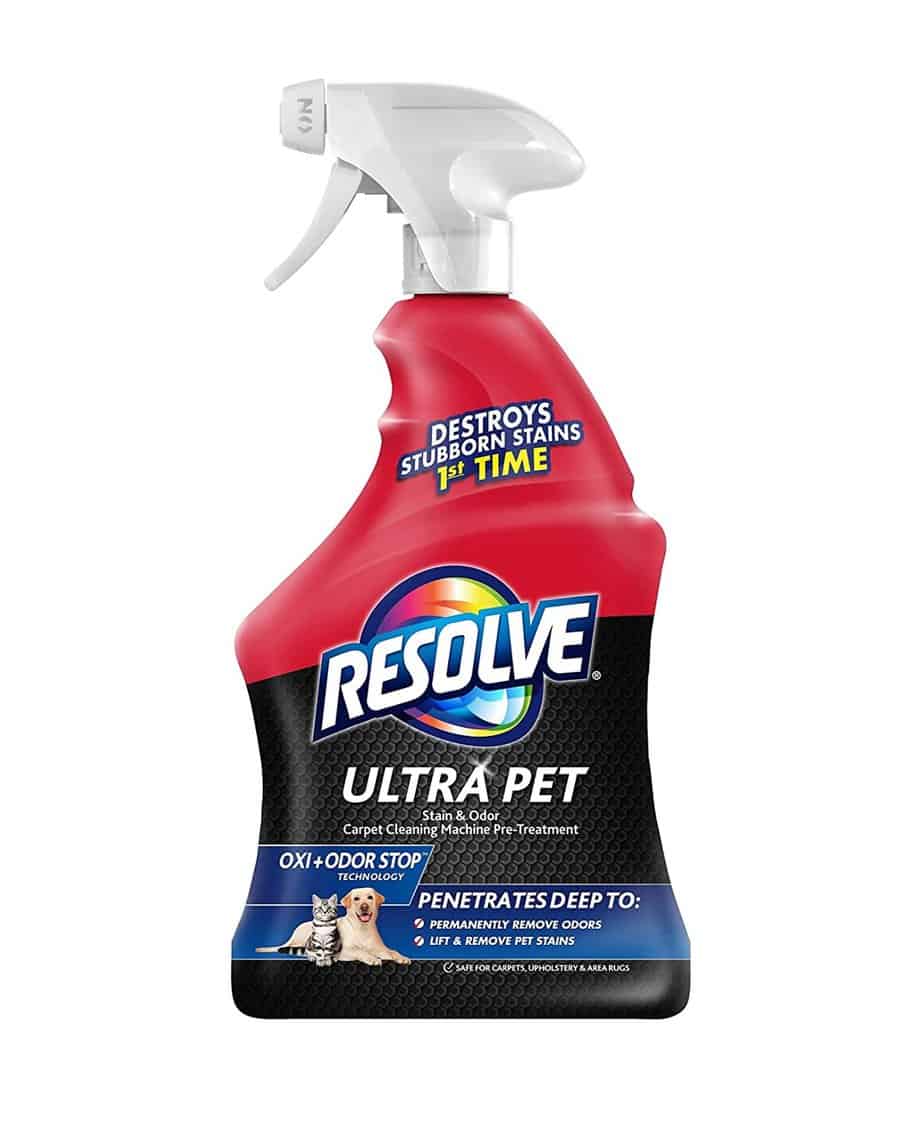 Another firm favorite, Resolve's range of stain and odor cleaning products are hugely popular and maintain a firm rating of 4.7 among pet lovers. This product offers a light and clean scent, and it removes the odor or stain at the source. Using oxy-cleaners, this product cleans up stains and spills without enzyme action. For those who are sensitive to the chemicals that accompany enzyme cleaners, an oxy option may be best.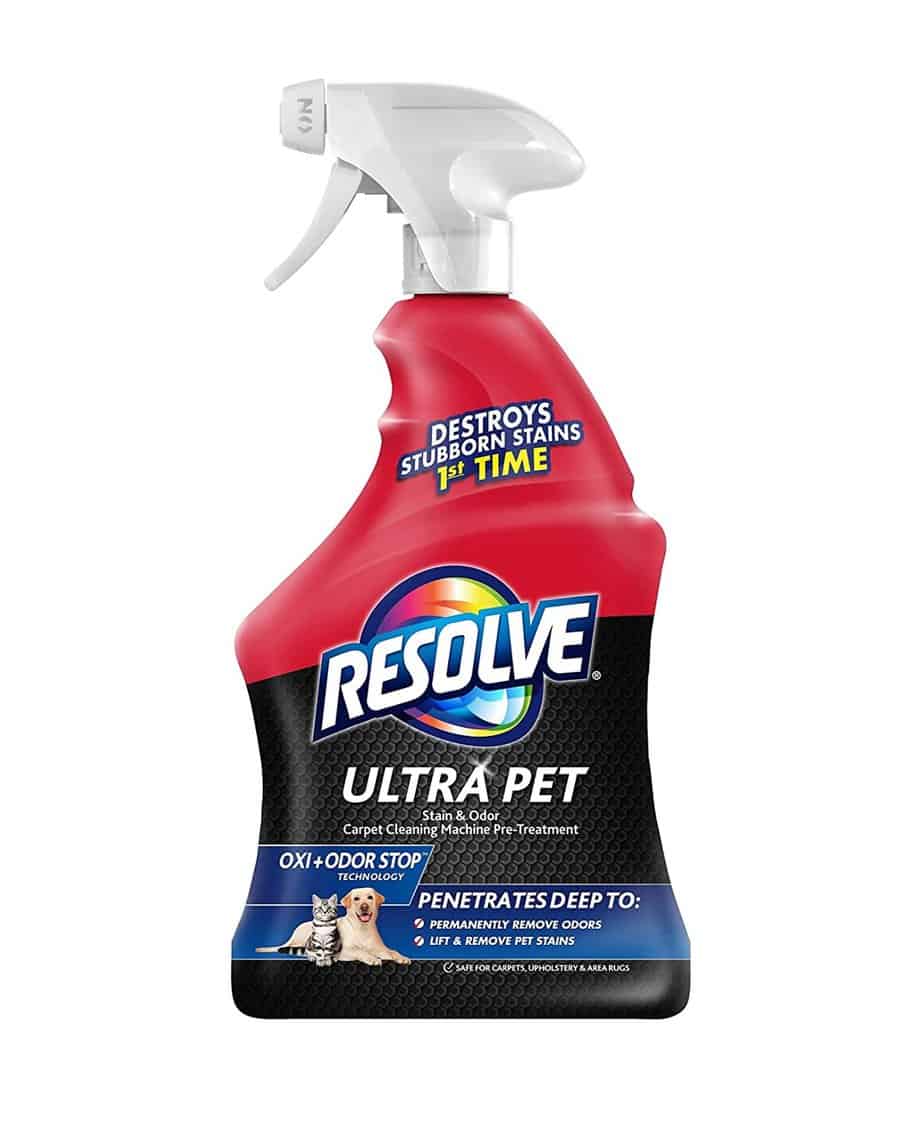 Resolve Ultra Pet Stain & Odor Remover Spray | Amazon
Removes tough pet stains like urine, vomit, and feces from rugs and carpets also works great on everyday stains like red wine, grape juice, and greasy food.
Buy at Amazon
We earn a commission if you click this link and make a purchase at no additional cost to you.
06/06/2023 05:51 am GMT
Angry Orange vs Nature's Miracle FAQs
Question: What enzyme breaks down dog urine?
Answer: When cleaning pet stains, you want to be sure you can break the mess down by fully dissolving the stain. This means you need an enzyme cleaner, and for dog urine, nothing works better than proteases, which is an enzyme that acts on protein-based substances like wine, urine, food, and other stains.
Question: Which pet stain remover contains natural enzymes?
Answer: While several pet stain removers contain enzymes, the top choices include Angry Orange, Nature's Miracle, Rocco and Roxie, and Biokleen Bac-Out.
Question: Can I use Angry Orange on pet bedding?
Answer: According to the manufacturer, you can use the spray on odor remover on pet bedding. Lightly spray, avoiding a buildup of product on the bedding. If you need to remove a stain, then use the stain remover, treat the area, then rinse it thoroughly. Some dogs are known to have an allergic reaction to the orange extract that is in Angry Orange, which can lead to skin irritations. This is why rinsing the dog's bedding after treating spots is best.
Question: Is Angry Orange recommended for the treatment of cat bedding?
Answer: No, while Angry Orange will remove the stain and odors from a cat's bedding, it will also repel your cat. Cats are naturally repulsed by the citrusy smell of orange. Therefore, using Angry Orange on cat bedding is not recommended.
Question: How long does Nature's Miracle take to work?
Answer: While you can smell the solution, it means that Nature's Miracle is still busy with enzymatic cleaning. An enzymatic cleaner can take up to 24 hours to notice the full difference. Once you can no longer smell the specific scent of the cleaner, it means that the cleaning process is done.
Question: What causes dogs to pee in the same spot?
Answer: Pet urine contains ammonia, which is what they smell when they look for their next potty place. If you use an ammonia-based cleaner, you will be advertising where your dog should pee. Rather use an enzyme-based cleaner to remove all traces of ammonia, and therefore, keep your dog from pottying in the same place again.
Question: Which is the more natural cleaner, Angry Orange or Nature's Miracle?
Answer: Angry Orange is made from cold-pressed oil derived from citrus peel, and this makes it a more organic and natural cleaning formula. Nature's Miracle contains several chemical formulations that are used as carriers for bacteria that produce enzymes.
Question: is Angry Orange an enzymatic cleaner?
Answer: Yes, Angry Orange is also an enzymatic cleaner, as are most pet odor solutions. It's just a fancy way of saying Angry Orange contains enzymes that break down the uric acid (and other chemical bonds) common in pet urine and poop.
The Final Verdict: Angry Orange or Nature's Miracle?
Bottom Line Summary: These are both great products that work as intended. That said, if you are sensitive to ingredients and want a bit more transparency, Nature's Miracle is the better choice. However, for truly "bad situations" it's worth busting out the power powerful Angry Orange here.
While I found both Angry Orange and Nature's Miracle effective at cleaning and deodorizing the areas where my dogs had spills, I did prefer the cleaning action and stronger spray bottles of Nature's Miracle. The Nature's Miracle Odor Destroyer really does what its name says: it destroys the micro-particles of stains that cause a pet odor.
Likewise, I really found the power shot feature on the pet Urine Destroyer useful, and with the clear instructions and full disclosure of ingredients, I will definitely opt for Nature's Miracle as my go-to for pet stain and odor removal.
While both product ranges require careful and responsible use, I have found that the cold-pressed orange oil of Angry Orange does seem to linger when applied to carpets and grouting. In other words, Angry Orange is fast acting and doesn't leave lingering pet odor.
This might mean it's overkill as compared to an enzymatic cleaner like Nature's Miracle. That said, some jobs require the heavy duty stuff…
I do fear it can lead to pet allergies. I am also somewhat concerned that the full ingredients list doesn't seem to be available, making it hard to check if it contains anything my beloved paw-children might be allergic to.
Therefore, my money is on Nature's Miracle for all my pet stain and odor needs.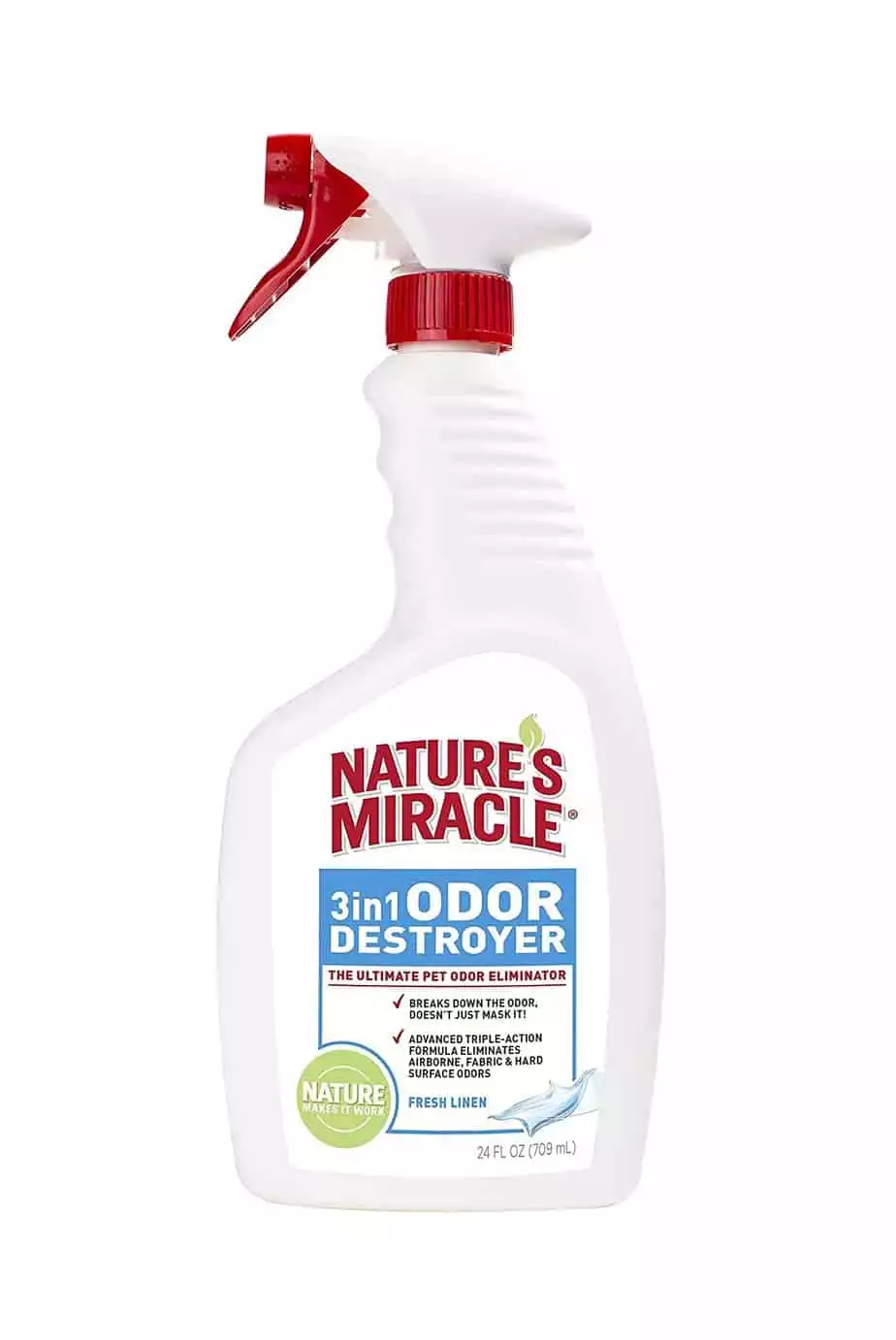 Which stain remover or deodorizer do you prefer?
Continue Reading on Pet Mess & Pet Odor Control: