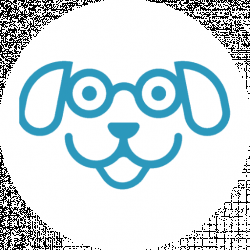 Latest posts by Scout Knows Team
(see all)
Beagles offer a sense of adventure that dog owners can't resist. It is easy to see why they are among the most popular dog breed choices around the world:
They are too adorable to resist.
If love were a life-form, it would be a Beagle. These cute pups know exactly how to reward their owners for all the care they receive, and I am sure that everyone who's ever played catch with their puppy sidekicks will agree.
To ensure that their health shines bright and their bodies stay energized to run along with their adventurous spirit, people seek the best food for their Beagles. Although Beagles don't have any complex dietary requirements, they still do need high-quality dog food to stay in pristine shape.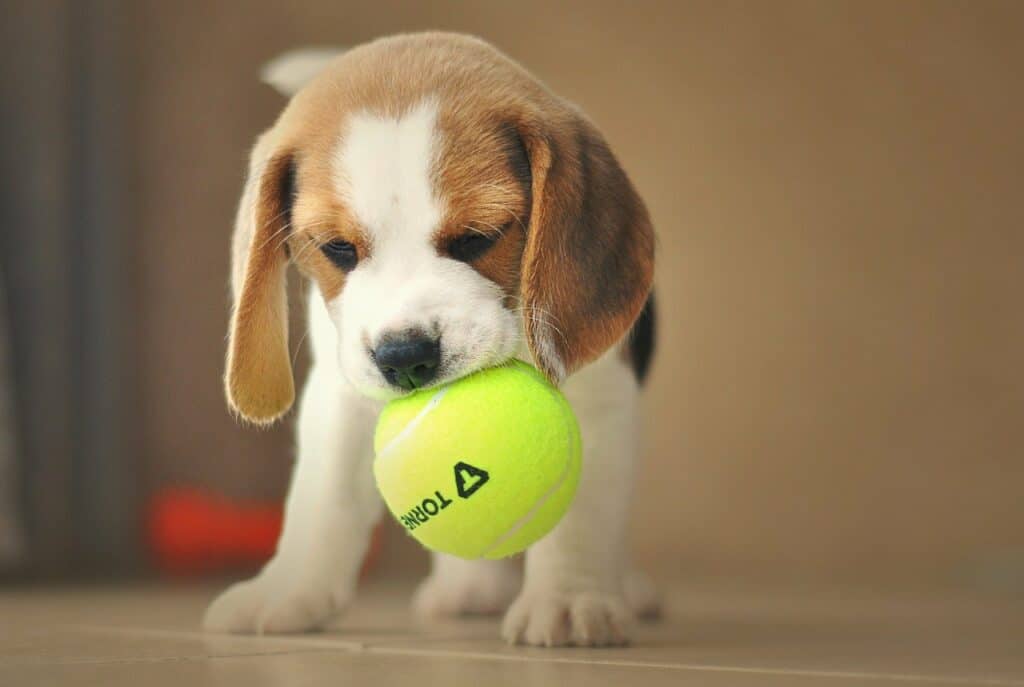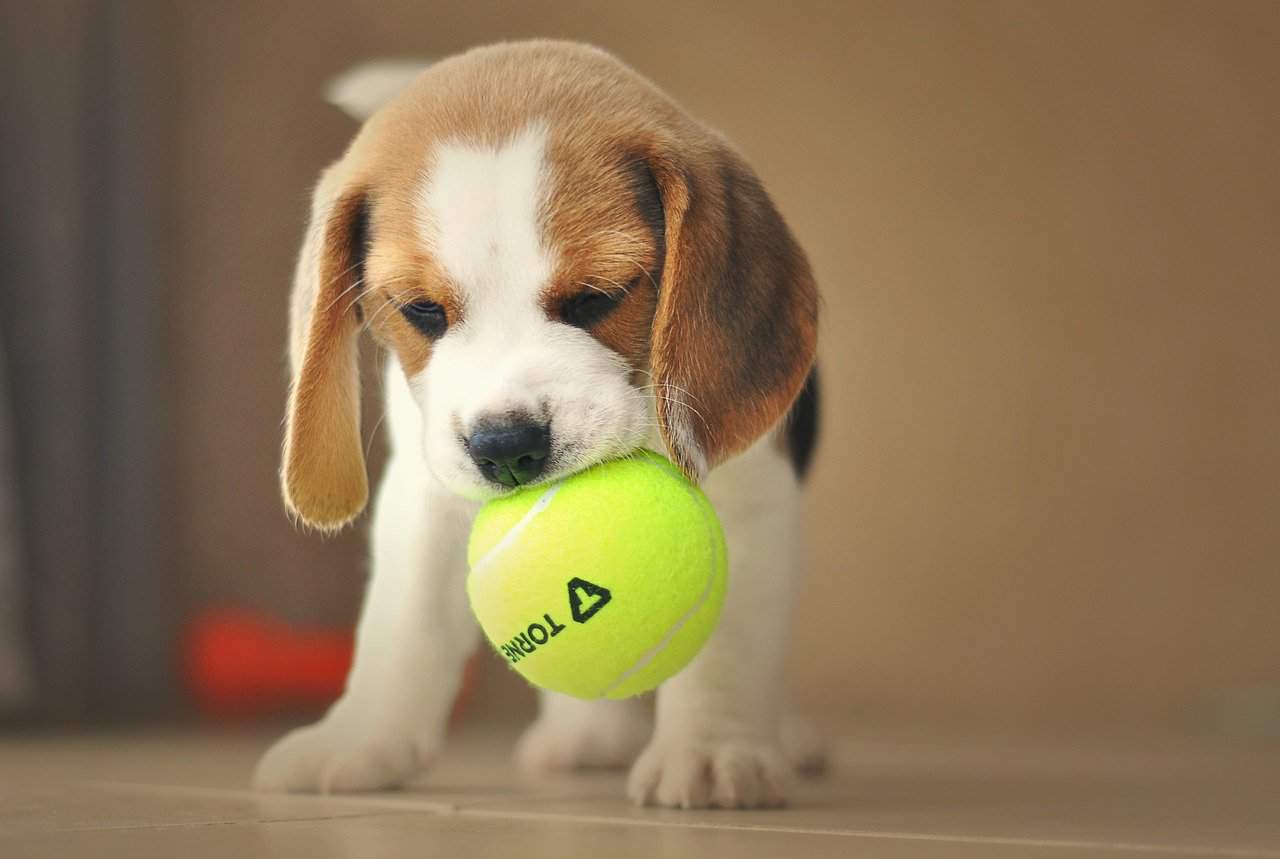 Proteins and essential vitamins are an important component of such products, and this article will explore some of the best foods for Beagles available in the market.
You are probably wondering "what is the best dog food for Beagles?" I would say that Blue Buffalo Wilderness Rocky Mountain Recipe stands as the best puppy food for Beagles. However, this article will cover similarly impressive dog food products too.
Rundown: The 5 Best Dog Foods For Beagles
These are some of the best foods for Beagle puppies that have been proven to boost their health and in some cases, control their weight (if that's your concern). The products are unique in their own way, and each can be construed as the best in their abilities.
Since Beagles are prone to upset stomachs, it is important to avoid dog foods with unhealthy grain, corn, or soy added to them. The Blue Buffalo Wilderness Rocky Mountain Recipe offers a highly nutritious and easily digestible option without any unhealthy grain or poultry by-products. This recipe is structured specifically for smaller dog breeds and offers a high protein content to help them stay healthy and active.
The food also incorporates natural antioxidants, extracted from berries. These health-boosting compounds not only give your pup an enhanced vigor but also reinforce the immune system and delay aging. Concurrent with the high protein content, Blue Buffalo also offers the optimal carbohydrate portions owing to the peas and sweet potatoes added to the mixture.
Don't be misled by the high caloric value of this food, it is also effective in preventing fat build-up, keeping your companion active and lively. L-Carnitine is instrumental in countering fat deposition, while the added glucosamine promotes mobility.
This natural and digestion-friendly recipe is ideal for uplifting the adventurous spirit of your Beagle and has earned the "best food for Beagles" spot on this list.
Features
Beef is the primary protein source
No grain or poultry by-products added
Natural antioxidants and assorted biochemicals added to boost your dog's health
The energy content is 3,641 kcal per kg
Pros
The recipe is based on high-quality and natural ingredients
It is ideal for Beagles as it has been specifically made for small-sized dogs
It does not cause digestive distress
Several natural biochemicals included to boost your dog's health
Cons
Verdict
Since this food has been designed specifically for smaller breeds like the Beagle and includes easily digestible ingredients, it is a solid high-protein diet.
Be sure to make a gradual transition to a new food, in two weeks, to avoid any digestive distress for your pet.
Taste of the Wild delivers exactly what it sounds like, the flavor and nutrition of a natural protein-rich diet, the kind that your Beagle's ancestors fed upon.
This grain-free and high-protein product is the best food for Beagle puppies, not only because of its excellent nutrient mix up but the taste as well. Buffalo, Bison, beef, and venison are the primary protein sources for this food, but there are no grains or soy which can cause disturbances in the gut.
This nutrient-rich dog food also incorporates other elements of a balanced diet into the mixture. It is loaded with natural vitamins and antioxidants, extracted from fruits and vegetables, instead of using synthetic alternatives. Similarly, the manufacturers have also added omega-3 and omega-6 fats which are major health boosters.
To make the food easily digestible and to improve your pet's gut health, Taste of the Wild also offers probiotics blended into the mixture. And to top it all up, this food does not contain artificial chemical additives, flavors, and preservatives, it is all-natural.
Since the brand adheres strictly with all safety regulations, it has earned the trust of consumers, and the cost-effectiveness makes it all the better.
Features
Major ingredients include lean meats (Buffalo, Bison, venison, and beef)
The recipe does not include even a shred of grains or artificial additives
Natural vitamins, antioxidants, and probiotics included
The energy content is 3,719 kcal per kg
Pros
It is based on natural ingredients
Beagle pups love the meaty taste of the mixture
Impressive energy content
No chemical additives included
Cons
Some people have reported problems with the packaging
Verdict
Taste of the Wild is loaded with nutrients and delivers a high energy content for your Beagle. The best part is that it is completely natural and does not include any chemical adulterants in the mixture.
You may have gone on the wrong foot by feeding your Beagle puppy excessively, and now your companion is one chubby little fellow. Don't get me wrong, I don't judge, it happens (or perhaps your pet has a genetic predisposition). But you'll want to control your pups' weight as it directly correlates with their health.
This is where Blue Buffalo Life Protection Healthy Weight kicks in as a competent weight loss solution for your Beagle.
This dog food recipe features lean and deboned chicken meat, although no poultry by-products are included, and delivers an excellent taste as well. Don't let the term "weight loss" deceive you, you won't be starving your pup, but instead feeding them with a balanced diet that is designed to optimize their body mass.
Weight loss should also not reflect poorly on the nutritional value of this product as it offers the perfect mixture of all vital nutrients.
The L-Carnitine fraction is important for burning excess body fat. However, nutritious components like minerals (most importantly, the bone-forming calcium and phosphorus) and vitamins also form a major chunk of every bite. Omega-3 and omega-6 fats also play an important role in improving your dog's health and pelage appearance. This food is hence an imperative weight optimization option that does not compromise with your dog's health.
Features
Lean chicken meat is the primary protein source
No poultry by-products or grains added
Loaded with essential biochemicals
Balanced diet with weight loss (and optimal weight regulation) recipe
The energy content is 3,251 kcal per kg
Pros
The ingredients are of top-notch quality
The absence of grains and poultry by-products makes this food easily digestible
Components from fruits and vegetables add to the nutritional value of this food
Ideal for weight loss
Cons
Some dog owners claimed that their Beagles did not like the taste of it
Verdict:
Almost everyone who bought the product applauded the quality of its ingredients and the results it produced (weight loss).
All the products mentioned so far don't have any grains added to them as it is generally considered unhealthy for some dogs. However, the exact case can and does vary from individual to individual, and Beagles are not generally picky.
If your dog can shed some pounds and will do fine with a small fraction of healthy grains blended in a holistic dog food recipe (consult the vet first), then Solid Gold may be the one for you.
Pollock, a highly nutritious fish from the waters of Alaska, is the prime protein source of this recipe. This creates a healthy, high-protein low-fat diet that is teeming with health-boosting omega-3 and omega-6 fats.
Several nutritious whole grains also form a significant fraction of the recipe. Solid Gold takes it easy on your pup's digestive tract owing to the many probiotics that aid in digestion and improve gut health. These ingredients also affect the fur appearance and immunity potential of your paw-tner, providing a well-balanced and holistic diet.
Features
Lean protein source: Pollock
Several berries, vegetables, and healthy whole grains included
A completely balanced and holistic diet
The energy content is 3,410 kcal per kg
Pros
The addition of Pollock is the main selling point of this food (high-protein, low-fat meat)
The combination of ingredients is excellent
Healthy whole grains included
Omega-based fats are a major health booster
Cons
Beagles are not picky, however, some individuals may not like the taste of this food
Verdict
Solid Gold is a highly nutritious low-fat diet for your canid companion, it provides a holistic mixture of nutrients that keep your pup in top shape. Be sure to ascertain beforehand that your pet is okay with whole grains.
Before moving on, let's address the more pressing question. You are probably wondering "what is GMO and why Non-GMO is good?" Genetically Modified Organism, shortened as GMO is an artificially altered being. From a nutritional perspective, several crops, poultry, and cattle are GMOs. They are generally not considered healthy because they are unnatural.
This makes Nutro Wholesome Essentials an excellent food choice for your Beagle. All ingredients included are totally natural, without even the slightest hint of genetic alteration. Lean lamb is the major protein source, and this protein-rich diet also includes a considerable fraction of fiber to aid digestion and weight optimization for your pup-pal.
Essential biochemicals including many vitamins and antioxidants also boost the food's nutritional value. This low-calorie diet ensures that your pet receives just the optimal level of nutrition for maintaining pristine health. All in all, this product delivers what anyone would expect: a complete diet, natural and wholesome, without any hint of GMOs.
Features
Pasture-raised lambs provide the basic protein fraction
No artificial adulterations or GMOs added
Essential biochemicals and fiber included
The energy content is 2,963 kcal per kg
Pros
The fiber content makes it highly digestible and gut-friendly
This food promotes weight optimization of your pup
It only contains 100% natural ingredients
Well-balanced proportion of nutrients
Cons
Some said that their dogs did not respond well to the increased fiber content
Verdict
If 100% natural is your thing, and if it also means that there should be no genetic modifications, then this dog food is what you're looking for.
What To Look For In Dog Foods For Beagles & What To Avoid?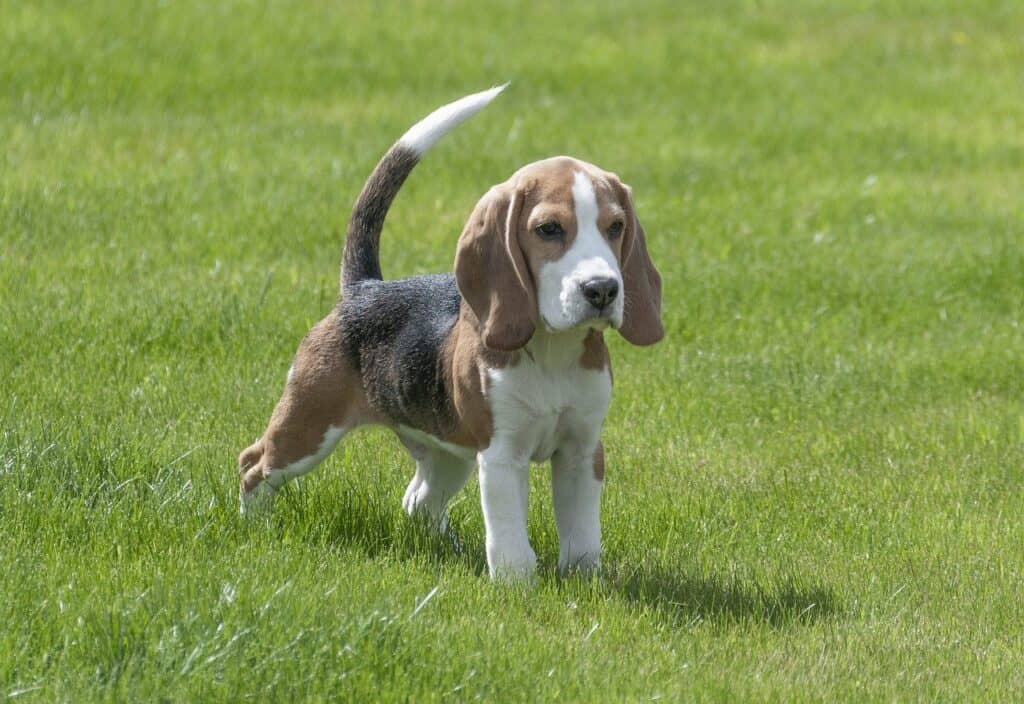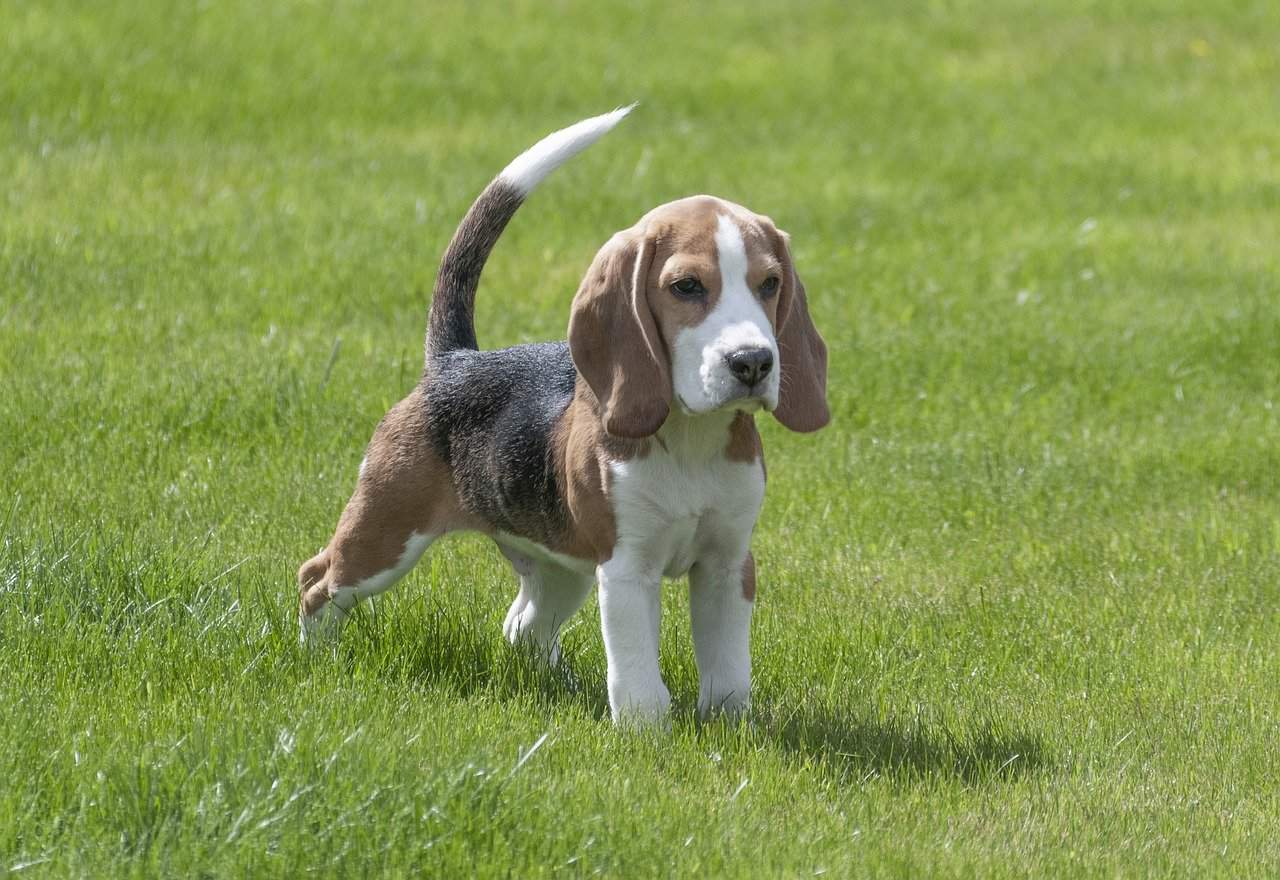 Before you go on and dig your paws into one of the options mentioned above or any other dog food for your Beagle, be sure to give this section a read, it will be worth it. Choosing a dog food is not as simple as it may seem, it is a highly calculable and strategic undertaking. You must consider the following factors before you fixate on buying a dog food product for your Beagle puppy.
1. Protein Portions Are Top Priority
Protein is the one thing on which there can be no compromise when dealing with dogs. Dogs are naturally carnivores, their ancestral forms, which resembled wolves, relied primarily on a meat-based diet. All of the products mentioned on the list above have a primary portion of proteins either from buffalos, chickens, fish, beef, venison, or a mixture of sources.
Having a high-quality protein fraction is a must for any acceptable dog food product. Low-quality products often include wheat, corn, or poultry by-products as fillers, avoid such products at all costs. Ideally, a product should have several lean meat ingredients for its protein portion.
2. No Artificial Ingredients
Naturally made high-quality dog foods have a pretty decent taste. The nutritious contents make it appealing for your pet, however, since such ingredients are lacking in low-quality foods, they don't taste as well. To make up for this loss, companies add artificial flavors to the mixture, while this may seem fair and harmless, the contrary is true.
These flavors are chemicals, your dog may be allergic to them and contract a severe health complication as a result. Similarly, food colors are also potential health threats and hence are not included in high-quality products. Some manufacturers go as far as to even exclude any GMO-based ingredients from the recipe which should be avoided as they are unnatural.
3. Meat Meals & By-Products – Yay Or Nay?
Most people don't fancy meat meals or by-products added into dog foods, and for good reason. A high-quality product relies wholly on high-quality proteins, as discussed in the earlier section. While there is nothing wrong with such ingredients, there are a lot of complications to consider.
Your pet may be allergic to such ingredients or unable to digest them properly. If such ingredients are labeled properly and specifically, i.e. "chicken meal", and so on, then there is no problem. You can easily decide whether or not it will be okay for your pet, but in case, the labeling is ambiguous, don't buy such a product.
4. The Importance Of Probiotics, Essential Biochemicals & Minerals
Probiotics are beneficial bacteria that aid the digestion process of your dog. Having a few strains of these bacteria can create a strong impact on your pups' health, and allow them to get the best from their diet. Similarly, prebiotics is also vital additives, which serve as food for these beneficial bacteria, indirectly helping out your pup.
Other important biochemicals include vitamins which are the driving force for your Beagle's metabolism. Vitamins serve various functions such as improving bone health, boosting immunity, enhancing blood circulation, and regulating several biochemical processes.
L-Carnitine is instrumental in burning excess body fat while glucosamine and chondroitin will free up your pet's joints, allowing them to stay active for longer. Minerals such as calcium, phosphorus, sodium, and potassium are some of the most important elements that your pup needs to live a healthy life. They are often used as co-enzymes and prosthetic groups for cellular proteins, allowing the body to function properly.
5. Consider The Portion Needs Of A Beagle
Beagles are a small breed, and while that makes them highly adorable, it also means that their portion needs cannot be compared with that of a standard breed. Generally weighing between 20 and 25 pounds, these dogs can only fare well with foods designed for small-sized breeds. They generally require about 30 kcal for each pound of their body weight.
However, puppies need greater portions as their body has to expend a high amount of energy to support their growth. Their needs average around 40 kcal per pound, meaning that an average Beagle demands around 600 to 800 kcal per day, depending on age. Keeping this in mind, you need to find a food product that can deliver at least 300 kcal per serving (mentioned on the packing).
Two servings of such a diet, every day, will fulfill your dog's requirements.
6. Avoid Foods Containing These Ingredients
Here's a quick rundown of a few things that should NOT be present in high-quality dog food. If even one of the following is part of a mixture, turn away from it and never look back:
Preservatives: Just like artificial flavors and colors, preservatives are also chemicals that pose a serious health threat to your pup-pal.
Unbalanced Proportions: While one cannot deny the importance of nutrients, balance is everything. Unless a dog food is effectively balanced between different nutrient types, the food may cause more harm than good. The most common issue is increased body weight.
Soy, Corn & Wheat: Your dog is most probably allergic to soy, in addition to corn and wheat. Even if that's not the case, such ingredients do disrupt the digestive process.
7. Place Of Origin & Price
While this does not apply to every product and brand, but generally, dog foods made in the USA, Canada, Europe, Australia, and New Zealand tend to be better in quality. This is because these countries have stricter product safety regulations. You should also check if the product you're about to buy is certified by any regulatory body.
While shopping for dog supplies, you will stumble upon many cheap options and while the price tags may be strong motivators, you should avoid such products. Cheap price equals cheap quality. This does not necessarily mean that only the most expensive dog foods are the best, but if a product is any good, it will be priced accordingly.
Before moving on, why not check out this amazing Beagle 101 video? It lists everything that you need to know about Beagle care, and it can be especially useful for people who've taken up a puppy recently.
Bottom Line
All of the products mentioned on the list above are perfect for your Beagle pup. Not only do they incorporate vital nutrients in optimal concentrations, but some also offer the perfect balanced diet for weight optimization.
The best dog food for Beagles for me is the Blue Buffalo Wilderness Rocky Mountain Recipe as it is ideally suited for smaller dog breeds.
Your Beagle puppy is going to love this, but before you leap forward with this, do consult your vet to see if it's right for your dog. Products are forwarded to address general needs, and your dog may have some special requirements, if that's the case, tread lightly.
One last thing, Beagles can show signs of distress if you abruptly change their diet, hence, do so in "puppy steps", and everything will work out for the best. On to your dog-life, and I'll catch you with the next one.
Continue reading:
How to Read a Dog's Body Language
How to Cope When Your Dog has Cushing's Disease