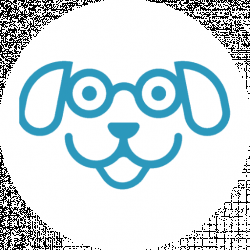 Latest posts by Scout Knows Team
(see all)
There are few things more precious in life than the sweet gaze of a puppy asking for their meal. The responsibility of caring for your little one can be a lot at times since your Maltese cannot tell if they're allergic to certain ingredients.
So…
You must proceed with caution when feeding them.
Luckily, there are brands out there that use quality ingredients and formulas. Keep reading for our reasons why Nutro Wholesome Essentials Natural Dry Dog Food for Small & Toy Breeds is the best dog food for a Maltese, and more!
Top 5 Best Dog Food For Maltese Reviewed
Nutro Wholesome Essentials Small Breed Adult Farm Raised Chicken, Brown Rice & Sweet Potato Recipe Dry Dog Food
This brand of dog food has delivered outstandingly for a lot of Maltese owners. The reviews are overwhelmingly positive, and if you take a look at the list of ingredients you will know why.
Nutro food is made out of animal origin protein; the main ingredient in this formula being farm-raised chicken. Not chicken by-product, not chicken fats or flavor, but actual chicken, brown rice, and sweet potato. It is a clean, healthy formula that will ensure your Maltese has every nutrient they need to lead a happy, healthy life.
If you do not mind the price of this brand, then this should be your first choice. I believe it has the perfect balance of protein, healthy carbohydrates, and fats so your puppy can be energized and live a long life.
They are transparent with what they use in their food and the list of ingredients is, indeed, clean and appealing. There are no unhealthy filler ingredients such as corn derivatives or alfalfa, and they even added extra vitamins and minerals.
Their choice of grain is also great, as brown rice has the right amount of fiber to ensure proper digestion for your puppy. There is nothing artificial in their formula, and it is well thought out and made with sensitive dogs in mind.
The smaller kibble promotes healthy chewing and digestion for your small companion, so you can be assured of your best friend's mealtime.
If you are informed and serious about the potential dangers of GMOs in food, you need not be with this brand. It has non-GMO ingredients, and that makes me feel that the steeper price might be worth it if it buys that amount of peace of mind.
Pros
Non-GMO ingredients.
Real, top quality source of animal protein
Natural fiber source for healthy digestion
Omega 3 fats to promote healthy skin and shiny fur
No artificial additives, coloring, or flavors
Small kibble designed with toy breeds in mind
Cons:
The price is a lot steeper than for other brands
It only comes in one size
There is not much I can say about this brand that their list of ingredients does not already say for itself, so I will just conclude this part saying that this dog food will please even the pickiest of Malteses, making it the Most Nutritious Option, and overall the best dog food for a Maltese.
Another fantastic option provided by Nutro is the NUTRO ULTRA. It is a great deal; cheaper than the top recommendation, but not at a loss of quality. It also contains real chicken as a source of protein but it also has lamb and salmon. This is great since you always want to feed your dog a top-quality, diverse source of protein, just like they would get in nature.
The protein levels are enough for a small breed, and it contains heaps of dried fruit and vegetables. This proves amazing because you will know that your puppy gets all the vitamins and minerals they need to promote bone and muscle health. A healthy circulation and constant energy levels are also added benefits your dog will get.
It also contains a great deal of whole brown rice, which you already know is a great source of carbohydrates and fibers. This assures your dog will have all the energy they need to roam freely around the house, and that their digestion is easy and event-free (you know what I mean).
I think this one is a great option since the ingredient list is also very clean and you know you are feeding your puppy crème de la crème. It comes in three different sizes, so you can get the one that fits your lifestyle.
If your little companion has a sensitive stomach, this is the best option for them. You know this is the case because it is catered specifically for gut health and a long, happy, untroubled dog life. Some senior dogs might get gut issues with age, but this will assure that that won't be the case.
Pros:
Top of the line ingredients
Great for sensitive stomachs or dogs with allergies
Comes in different sized packages
Vet recommended
No fillers, additives, or by-products.
Cons:
A bit more expensive than other brands
Size of kibble is a bit large than might be an issue for Maltese puppies
This is a dependable option for an adult or senior Maltese, containing great ingredients that you can rest assured your dog will gobble up in no time. Nevertheless, you might want to check with your veterinarian if this is recommended for your puppy Maltese.
A great option that will not break your bank and still deliver the quality you expect from your Maltese's meal would be Blue Buffalo. The list of ingredients is not as readily available as it has been the case with Nutro, but the ingredients they do mention are of high quality and will support the health of your little one.
This kibble is high in protein. Although 30% might be a little bit overkill for small breed dogs, it comes from real meat. It is also beautifully balanced with whole grains and healthy fats, making for a complete, balanced diet.
The formula has a patented ingredient called Life Bits, which is Blue Buffalo's mix of vitamins, antioxidants, and minerals. These support the immune system of your companion.
The formula is also gluten-free which makes this food very tolerable for dogs with sensitive stomachs and it has proven its value to a lot of small breed owners around the world.
If you choose this brand for your Maltese, please make sure they get enough exercise because the high amount of protein will not be beneficial to sedentary dogs.
Pros:
Contains healthy ingredients and the patented "Life Bits" formula
Gluten-free
Recommended for dogs with health issues
Highest quality source of protein
Contains Omega 3 and Omega 6
No fillers, additives, or by-products
Cons:
Kibbles can be too large for puppies
30% protein-content is overkill for small breeds
This one is a great option if you have a runner on your hands, and it is a lot cheaper than Nutro. It might not be the best for a sedentary or a senior Maltese, because the excess protein is not synthesized and may cause digestion issues.
Another great "title" from Blue Buffalo is their Life Protection Formula, which is by far the most popular.
Dogs everywhere love it, and you will love it because it makes your dog happy. This one comes in 3 different flavors so you can choose whatever is good for your dog. The options are Chicken, Fish, and Lamb. They all come with whole brown rice for your little friend's healthy digestion.
This formula also contains the patented "Life Bits", as well as flaxseeds and a plethora of fruit and veggies. It contains no by-products which will please even the most finicky of dogs.
The kibbles are small enough for your Maltese to enjoy without worries. If you feel like your dog has difficulties eating it, you could add a little bit of water with it so it's easier on their teeth.
This is a great option for any kind of small breed, especially for Maltese, since you know their stomachs can be pretty sensitive at times.
Pros:
Contains balanced protein, carbs, and healthy fat levels.
Contains "Life Bits®"
3 different flavors to choose from
Affordable
Cons:
Ingredients are NOT non-GMO
Can be difficult to read the ingredients' list
This formula is by far the most popular, but I feel it is also a bit overkill for smaller breeds. But it is great and loved by owners everywhere. Try it if you have one of those picky eaters by your side.
The most affordable type of dog food for Maltese will be the one provided by Nature's Recipe. It comes in 4 and 12-pound bags so I feel that is very convenient. Their first ingredient is farm-raised chicken, which is a lot better than chicken by-products as we've already learned. It will provide your small companion the true, natural, healthy protein they need in order to grow and sustain muscular activity.
There's a lot of healthy chicken-derived protein in there. It says it is fortified with essential minerals for your dog's bones. The other active ingredients are beans and peas, sweet potato, and pumpkin, so this dog food is mostly made of meat and vegetables, which is exactly what your pooch needs.
The kibble is small and was made so for smaller breeds, like your Maltese in mind. No dental issues in the long run. So if your Maltese is not eating enough, or being apathetic at times, you could try giving them this particular brand of food and see how they respond.
Pros:
Contains quality ingredients
High quantity of vegetables and carbs
Suitable for dogs with sensitive stomachs
Affordable
Cons:
Small amount of Omega 3 compared to its Omega 6 content
Not easily available
This is the best bang for your buck since it will do your picky Maltese good. Some whole grains are not necessarily bad for dogs, so don't buy with that specific quality in mind, unless you know your dog has a sensitive stomach, a grain allergy, or gluten intolerance.
How To Choose The Best Dog Food For Your Maltese?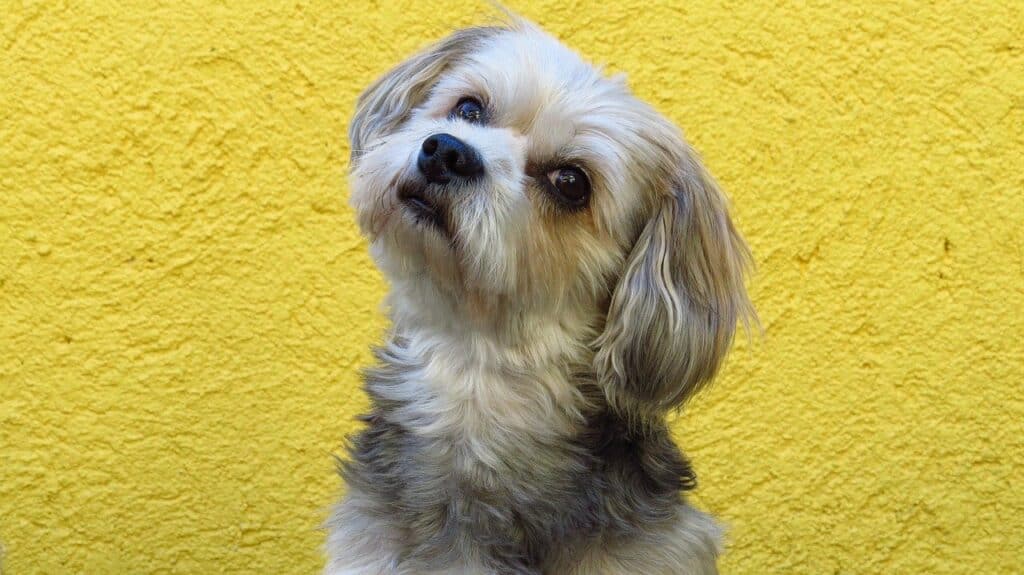 You already know your little companion is prone to have a sensitive stomach and be a little picky and finicky when it comes to his meals. So how do you choose a brand of dog food you can stick with and that you will know is the best option to offer your Maltese a long and happy life?
Your dog must have a balanced diet in carbohydrates, healthy fats, and especially protein so he maintains recommended and consistent levels of energy. This is also important for his muscles and bones to be supported for optimal development.
If given the choice, your Maltese will choose wet food over dry food. However, that might not be the best option for them. An exclusively wet diet will cause runny bowels for your dog. On top of this, the texture of wet dog food can be detrimental to their little teeth, so it is better to choose the best dry dog food for your Maltese. You can then supplement it with a touch of wet food sometimes so you can make them excited for meals as well.
A Word On Grain-Free Diets
For a long time, it was speculated that a grain-free diet would be best for your Maltese since heavy grains would cause allergies or intolerances. However, most modern brands use whole, healthy grains and the matter was recently discussed for more scientific study.
Dog food containing grains is generally harmless, and it is still under debate whether grain-free formulas fed to your Maltese over prolonged periods can be detrimental. It is best to feed your dog both varieties and see how well they respond.
If you suspect that a certain brand containing grains is making him feel a little sick, you can switch to a grain, gluten-free brand and see if there are any improvements. However, please do not forget to check with your veterinarian before replacing your friend's diet.
What Is The Best Food For A Maltese Puppy?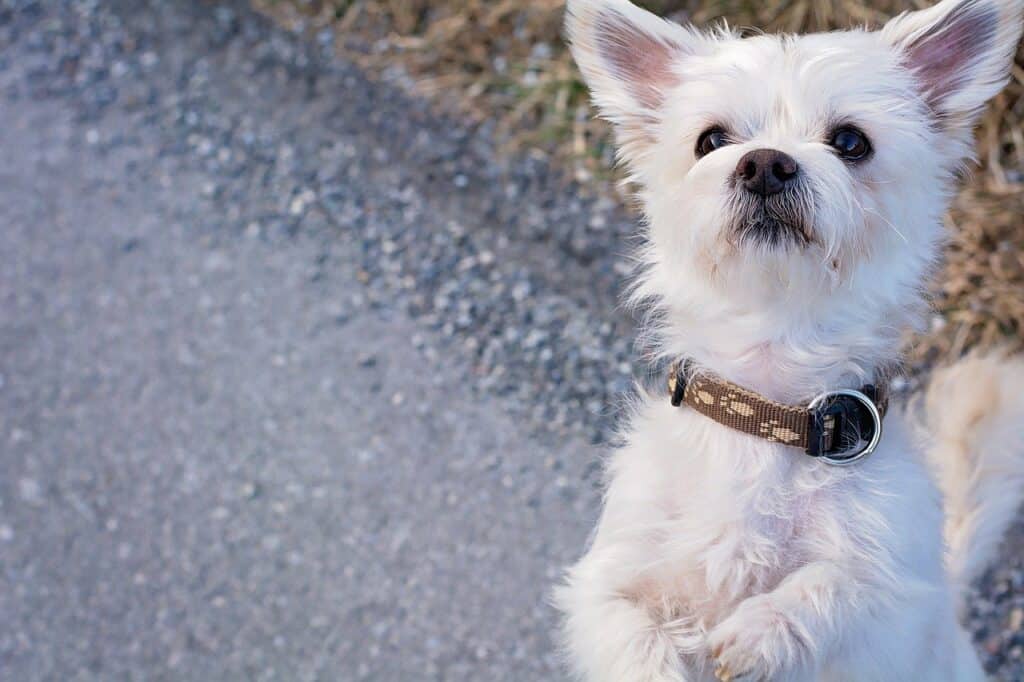 A Maltese puppy is so precious, and you probably want to change the formula he's being fed at the breeder. This is certainly encouraged if you are going to upgrade to a better formula. However, you must check with the breeder for what they've been giving your puppy and make the switch accordingly.
On top of that, please do not forget to make the change gradual, so your new puppy is not taken by storm by all the changes happening in his life. This could cause some puppies to stop eating altogether, and you do not want that.
Also, please keep in mind that from week 8 until around the 12-week mark, it is recommended that you free feed. This means leaving your puppy food at their discretion, so they can feed whenever they feel hungry.
When choosing a brand it is important to remember that the best food for a Maltese puppy is one that does not contain fillers, such as corn, soybean or wheat by-products, oat hulls, corn bran, etc.
Another thing to look out for when shopping for food should be artificial additives. A small breed like a Maltese can be negatively impacted by artificial coloring, flavors, etc, so try to look for a list of ingredients that are mostly whole, natural sources.
How Do I Know If My Dog Likes The Food I've Chosen For Him?
Small and toy breeds tend to be fussy and picky with their food, so if you notice that your dog is not eating, you might want to take a look at that ingredient list.
Do not let your dog be without a brand of food they enjoy for several days. As soon as they show signs of not wanting to eat their kibble, please take them to the veterinarian's office and discuss your options.
Keep An Eye Out For Allergies And Be Resourceful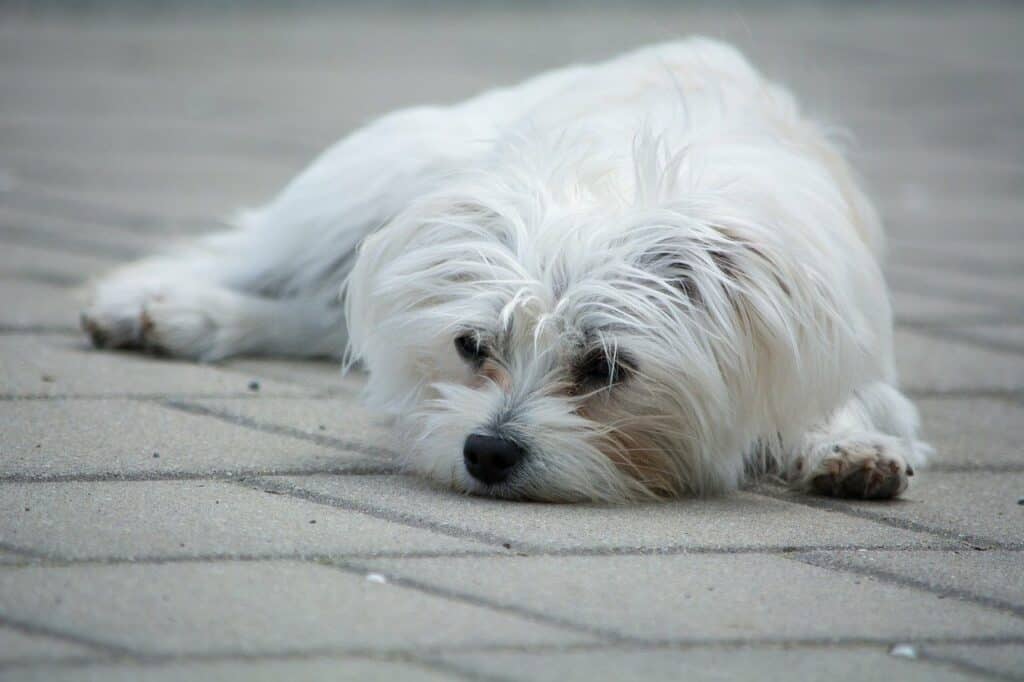 Knowing whether your Maltese has any allergies or what ingredients are causing them harm, can become a daunting task. And because your little friend cannot tell you when he's feeling sick, it becomes more of a guessing game.
Luckily, there are also tests online that can help you determine whether your puppy has any allergies or intolerances by testing a strand of their hair. This will prove vital for choosing a brand you will know for sure does not cause them any harm. Take a look at a provider for this kind of service I've found.
If you'd like to learn more about how you can feed your adult or puppy Maltese, what is the best puppy food for a Maltese, and more, you can visit Pet Maltese, where you will find valuable information written by professionals:
Pet Maltese site is a fantastic resource, not only for information about their diets but on their behaviors, ways to train them, tips for dental care, how to care for their ears and fur, and a lot more.
Takeaway
Caring for your Maltese puppy should not be a difficult task. They are indeed a little bit more pretentious than other breeds, but it's all worth it when they come to sleep in your lap and coil on your side.
The best dog food we've found for Maltese is the Nutro Wholesome Essentials Natural Adult Dry Dog Food for Small & Toy Breeds.
It contains only the best ingredients and is suitable for dogs with a wide variety of intolerances and allergies – so you know that by choosing it, you are bringing home the best dog food for your Maltese.
This food contains none of the harmful fillers or additives we've talked about and it is a well-rounded diet that is guaranteed to support the health of your dog for years to come.
Frankly, if they made something like this for humans, I'd be all over it!
Continue reading:
Should You Adopt A Puppy Or An Older Dog?
Best Dog Harness for Small Dogs
Best Dog Clippers for Grooming