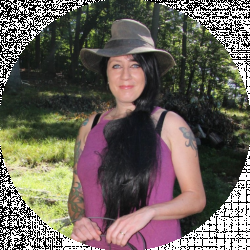 Latest posts by Samantha Biggers
(see all)
Puppies bring a lot of joy into a household but they also present some challenges while learning to take on the world around them. As a new dog parent, there is a lot to learn about how to feed your puppy so they get what they need to grow strong and healthy. Scout has put together a treasure trove of information on just what you should be feeding your puppy at every life stage. Good nutrition now means a strong and healthy companion in the coming years.
No products found.
Milk & Solids: Feeding Very Young Puppies
Sometimes dog parents find themselves with very young puppies who are still not quite ready to just eat solids. Puppies that are less than 6 weeks old may still need and want some milk. Bottle feeding a puppy is possible, but most of the time some warmed milk replacer in a dish or soaking dried puppy food in milk replacer is all that is needed.
Some puppies need more help than others learning how to eat differently. Sticking a dish of milk replacer under their nose so they get a good sniff or even gently putting it to their lips is a good way to get them started. Since really young puppies don't have a lot of teeth, soaking puppy food is a good idea even if you just use a little warm water. Always throw out what they don't eat within a few hours so it doesn't spoil. At this stage puppies should have the opportunity to eat whenever they want and as much puppy food as they can consume. They are growing very quickly and developing. Giant breed puppies such as the Great Pyrenees can add 2 lbs a day to their weight. That is a lot of puppy!
Tips for Bottle or Tube Feeding Puppies
While bottle feeding a puppy should only be done if totally necessary, it can save a puppies life. Sometimes a mother may not have enough milk to feed all the puppies she has, or one puppy may be weaker than the others and not able to compete for food. Pet stores have special bottles that have nipples designed for puppies specifically. Milk replacers are easy to find on Amazon or at a pet store.
If you find yourself without milk replacer, then goat's milk works wonderfully, especially in an emergency. Dried powdered goats milk is very nutritious and you can mix it a little thicker if you have a weaker puppy so they get a lot of nutrition at once. Never use cow milk for a puppy as it lacks the nutrients puppies need.
Establishing a Feeding Schedule for Your Puppy
Having a good routine is an important part of welcoming a puppy into your home. While sometimes routines can get thrown off, being as consistent as possible is key to a well-trained puppy with good manners. Assign an area that is where your puppy can eat and drink each day, and stick to it. You may put this area next to where their bed is or right outside the door in a fenced back yard. Make sure you buy a food and water bowl that is just for them and use the same one every day. Young puppies coming into a household with other dogs might need to be fed where other dogs cannot reach them and get to that delicious high-calorie puppy food you just put out!
A Note on Backyard Chickens
If you have other animals, it is important to remember that they may try to get in on the action when it comes to feeding time. Chickens have gained a lot of popularity in the backyards of those even in cities and they absolutely love to eat dog food if given the opportunity. With plenty of dog foods containing chicken as a main ingredient, this can be a very bad thing for chickens and dogs alike. You don't want your puppy to feel like they have to fight off chickens when they are eating. In some cases this can lead to puppies injuring or even learning to kill your chickens in defense of their food.
Breed and Size of Puppy
The breed and size of your puppy is going to affect how often and how much they want to eat. Generally speaking, a puppy should be allowed as much food as they want up to 6 months of age unless they show signs of obesity or lack of control. Different breeds have varying metabolisms as well. Slower and lower energy puppies don't burn as many calories as active and energetic breeds.
Your Work & School Schedule
Hey, Scout gets it, you have a busy and active lifestyle juggling home, work, and school life. This means your puppy feeding schedule has to work with your lifestyle. If you are really busy during the day, you may consider just having an auto feeder filled with kibble so your puppy can eat whenever they want. This should really only be explored as a last-resort option, though. A puppy that is still in need of milk is going to need to be fed by you personally on a more regular basis, which is another reason why getting a really young puppy is not something to rush into. After a certain age, they can usually lick up milk from a dish but until you get to that point, there really needs to be someone there to care for the puppy.
Best Puppy Food on a Budget
Sometimes you may have a stricter budget and need a quality puppy food. If you have a smaller breed that doesn't need to eat a lot then what you consider budget food may be different than if you have a large breed that is going through four times as much a day. A big bag of dog food is going to last that toy poodle puppy for 6 months or even a year, whereas a Great Dane is going to eat through it in a week or two!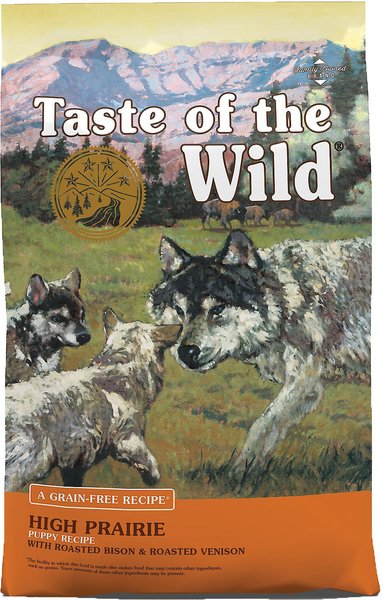 This grain-free option is a flavorful hit for dogs as well as pet owners. A bag goes a long way because it does not have fillers like corn, soy, and wheat. Quality fish proteins, vegetables, fruits, bison, and venison along with probiotics are what you find in this easy to find and feed brand. While you can order this dog food online easily through Amazon, you can also find it locally at pet stores and national chains like Tractor Supply. While some may not think $50 for 30 lbs is very budget friendly, your dog doesn't have to eat as much of this food to get proper nutrition because the calories are not hollow carbohydrates. If you want to get a smaller bag you can get this formula in a 5 lb or 15 lb size but it is more expensive per pound to purchase this way.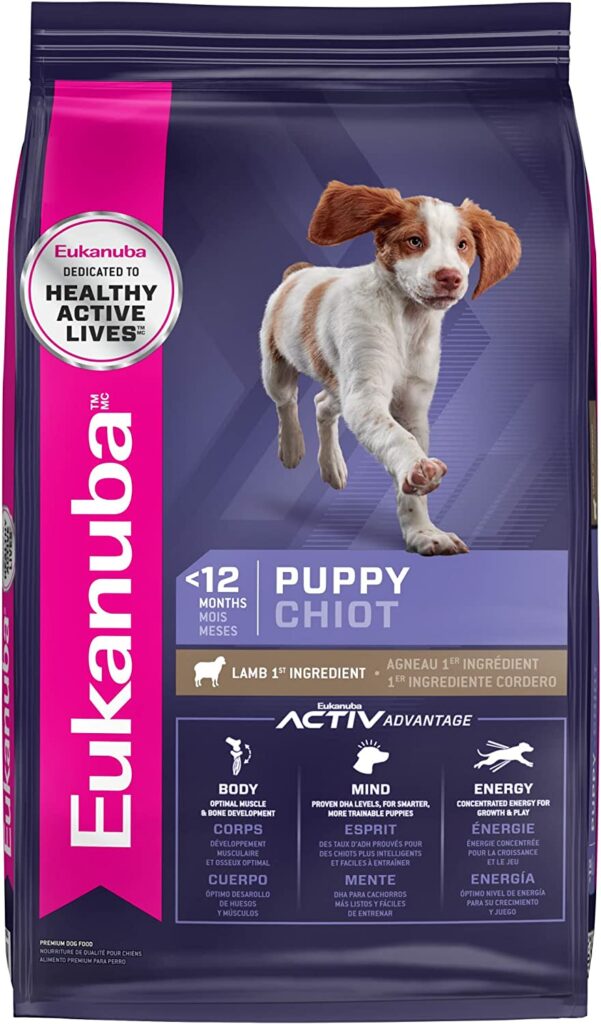 Eukanuba Puppy Dry Dog Food Lamb & Rice
Eukanuba has been around a while, but plenty of pet owners have yet to discover all that this amazing puppy food can offer.
Check Price
We earn a commission if you click this link and make a purchase at no additional cost to you.
06/05/2023 03:32 pm GMT
Eukanuba has been around a while, but plenty of pet owners have yet to discover all that this amazing puppy food can offer. While it is not grain-free it uses rice instead of corn, soy, or wheat, which makes it a better overall choice for the health of your puppy. Beet pulp and probiotics help with digestion, so your puppy gets the most nutritional benefit out of what they are eating. Natural sources of DHA promote brain and eye development for one smart puppy!
Best Puppy Food for Small Dogs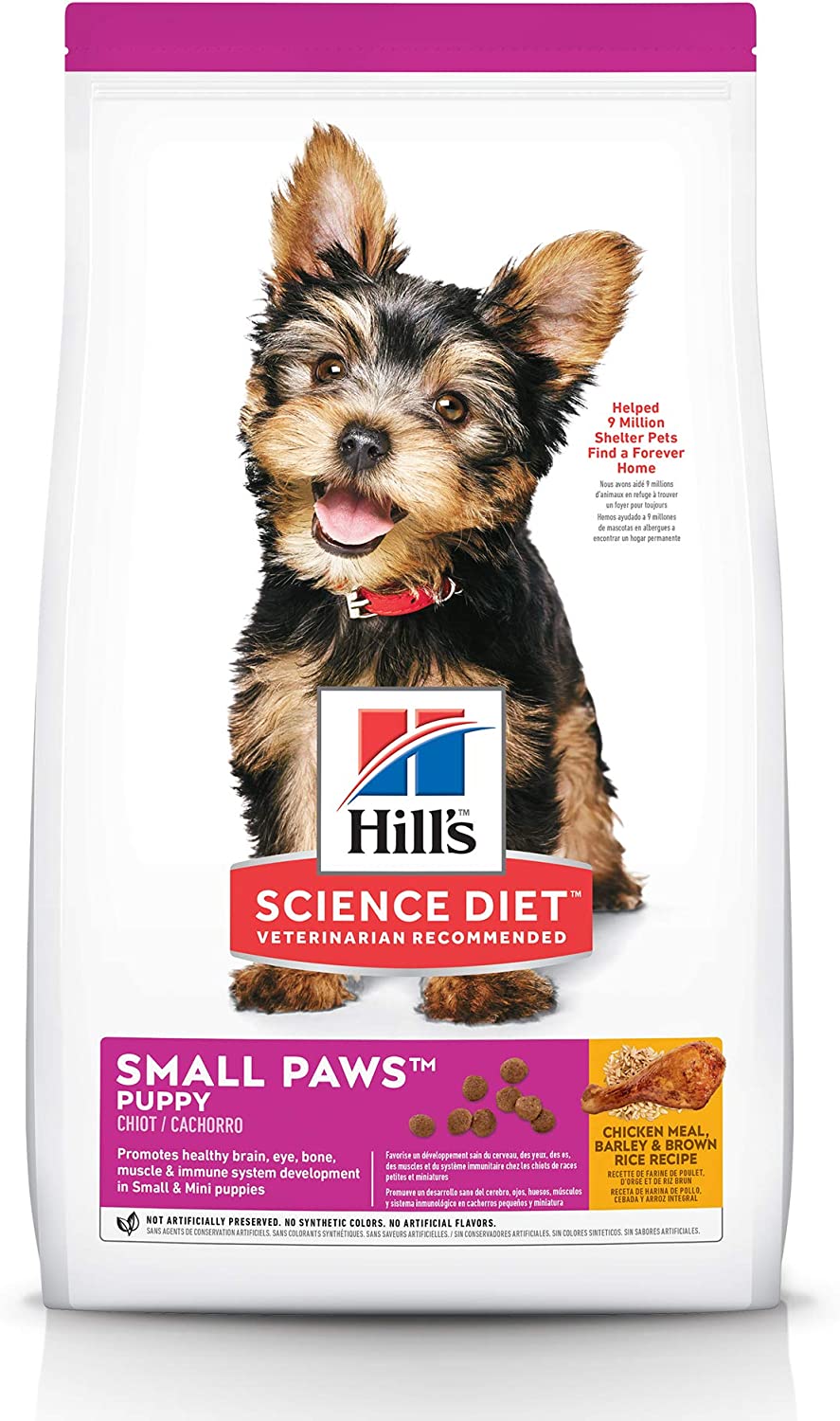 Small breeds definitely have their own nutritional needs. Your puppy needs to have food that is a size they can easily get their mouth around, which is important to remember when choosing a puppy food. Some kibble that is okay for a big puppy is overwhelming and hard for a little dog to chew properly and could lead to digestive issues from swallowing the food whole!
Hill's uses quality chicken and barley. This has real chicken in it, not just ground up bones. It is a bargain as well because the 15.5 lb bag lasts a long time and you don't have to worry about the food going stale before your dog eats it thanks to the handy velcro closure. This saves a lot of money and waste because you don't have to buy small and expensive 5 lb bags, like with a lot of other brands. This formula has no artificial colors or flavors either, so it is safe for sensitive puppies. Immunity boosting ingredients and antioxidants also promote a long and healthy life for your small breed dog.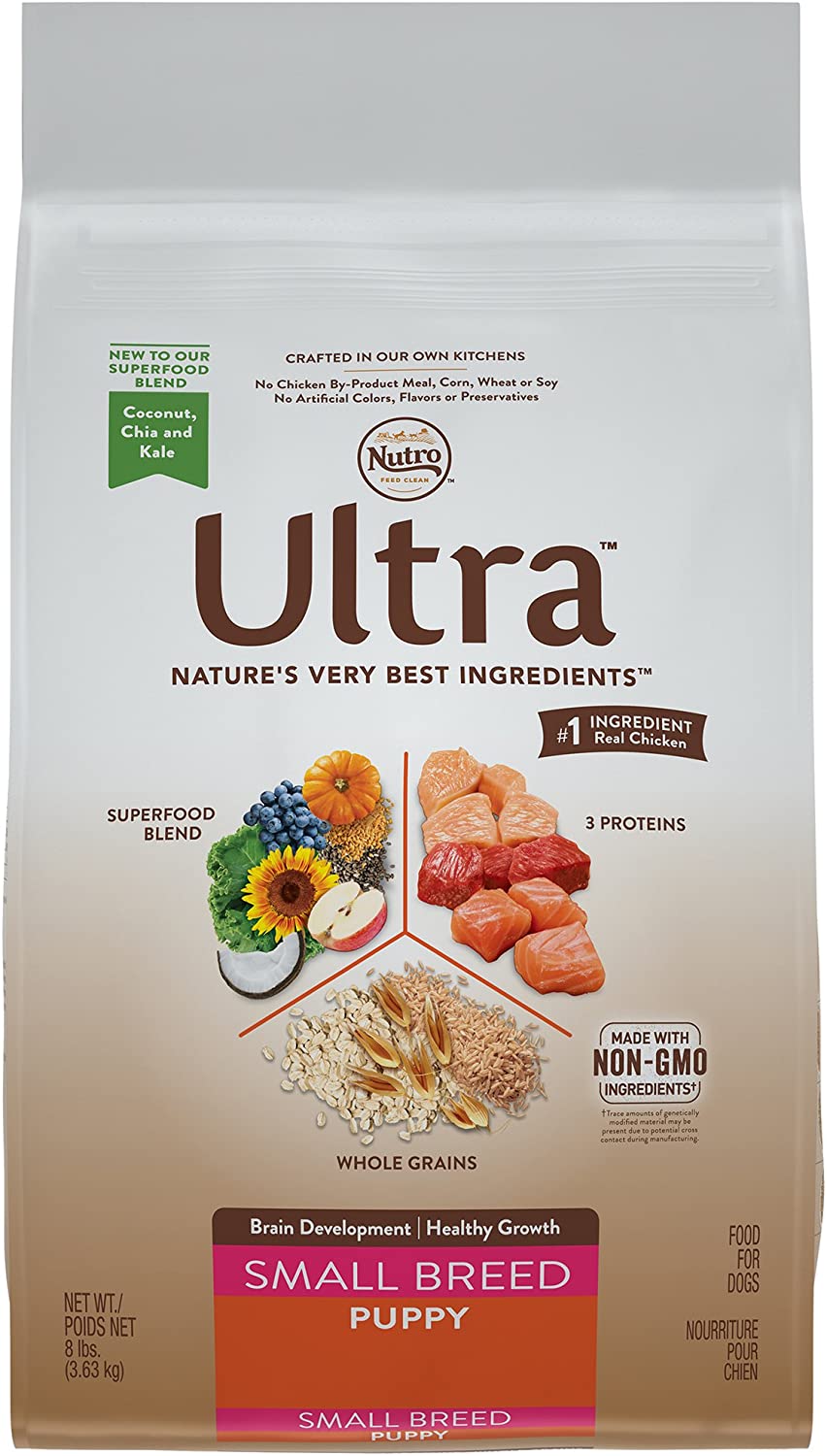 Nutro 1
While this is not an inexpensive dog food, you are getting a lot for your money.
Check Price
We earn a commission if you click this link and make a purchase at no additional cost to you.
While this is not an inexpensive dog food, you are getting a lot for your money. With an ingredient list featuring sun-ripened blueberries, pomegranate, cranberries, farm-grown spinach, carrots, vine-ripened tomatoes, and three delicious proteins, this is a puppy food that supports healthy immune system function and brain development. Natural DHA is found in the salmon included in this formula, and the ingredient list sounds delicious to dog and dog parent alike! When you have a dog food that is this balanced and nutritious, it is not hard to get even picky eaters interested. When you have a small breed, 8 lbs goes a long way so make sure to seal this up to protect against decomposition due to the complex blend of meat, fruits, vegetables, and whole grains.
Best Puppy Food For Medium Dogs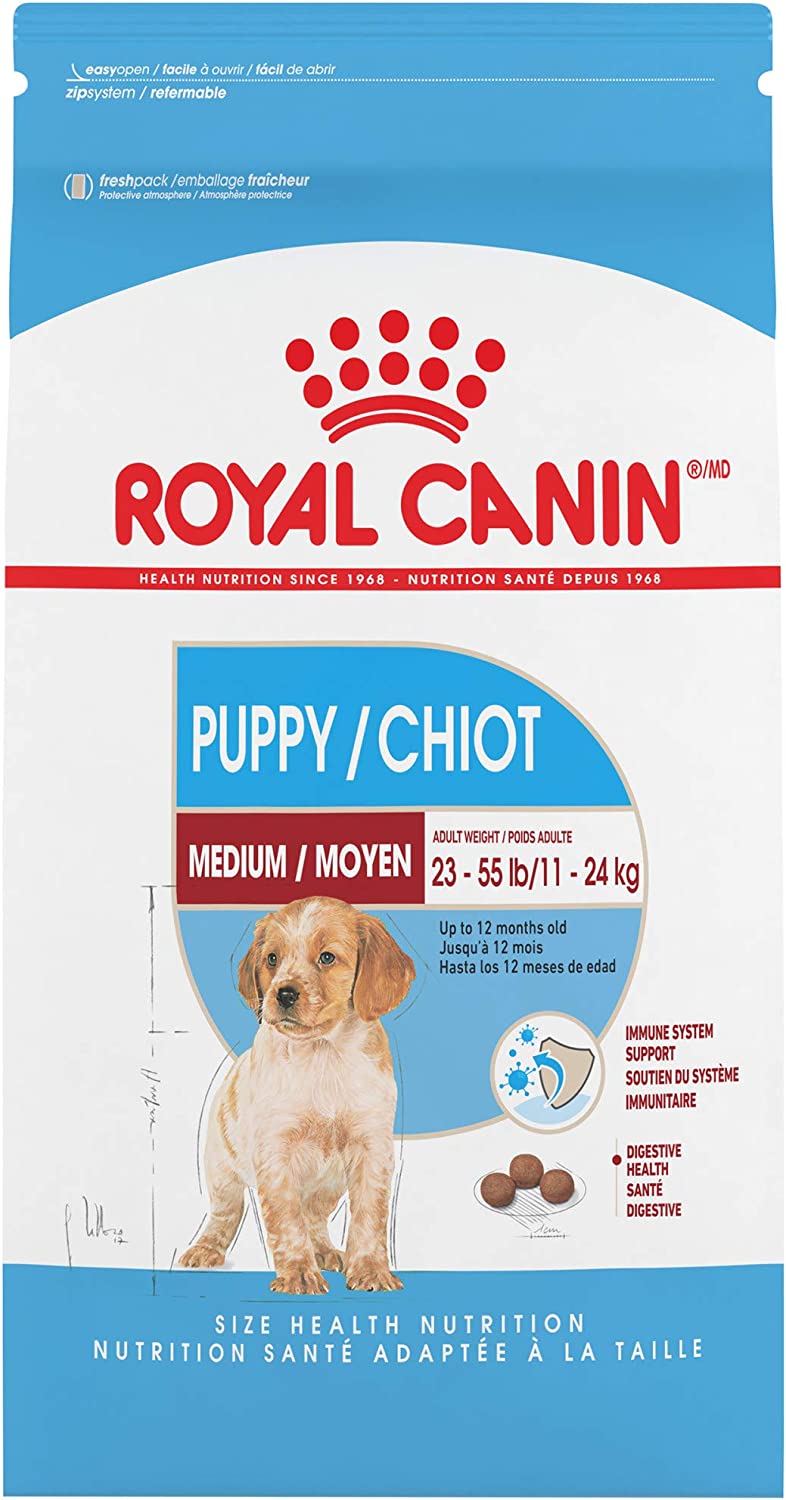 Royal Canin is well known for creating precisely blended foods for different size dogs, life stages, and a complete line of breed specific adult dog foods. This dog food helps with digestive health and is specially formulated for high energy puppies that will eventually become 21-55 lb dogs. This medium growth rate balanced food promotes good development and building blocks while making sure your puppy maintains a healthy weight. Chicken and brewers rice are the first ingredients. There is some corn in this puppy foo,d so if you are looking for truly grain-free then this is not the puppy food for you. We like that this puppy food can be resealed easily using the included Ziploc-style closure so you can rest assured that it stays fresh. This formula also pays special attention to the phosphorous and calcium levels required for medium breed puppies that grow a lot in a shorter period of time than large breed puppies.
Artemis™ Fresh Mix Medium/Large Breed Puppy Dry Dog Food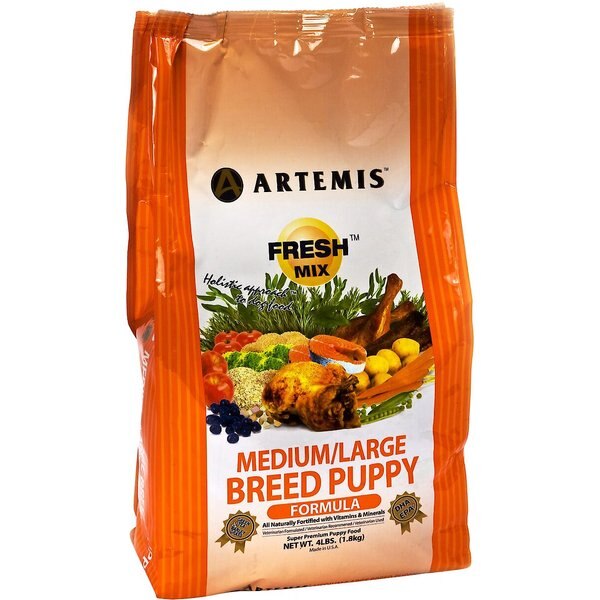 This premium puppy food comes from a company that takes a very holistic approach to puppy health. Turkey, chicken, eggs, blueberries, apples, spinach, potatoes, carrots, peas, and more are found in this puppy food. If you read through the whole list it is is easy to see that when feeding this your dog is getting a very balanced diet with a lot of vitamins and minerals that promote healthy development. Natural DHA sources ensure good brain and eye health while probiotics help with digestion. If you are looking for the best quality in puppy food, then look no further than Artemis. Make sure to seal well after use as with any fresher and more natural puppy food formula. Artemis Fresh Mix Medium/Large Breed Puppy is ideal for those dog parents that have a mixed breed puppy that they know is going to be at least medium sized but possibly larger as well as for multiple puppy households that have two different sizes puppies.
Best Puppy Food For Large Breed Puppies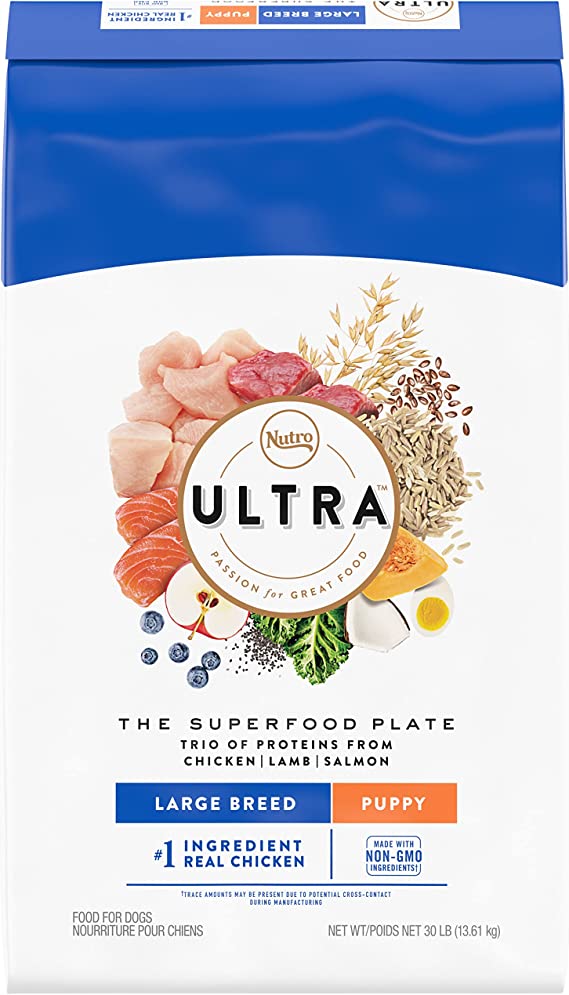 Chicken, Beef, Fish, Tomatoes, Blueberries, Cranberries, Sunflower Seed Oil, and a variety of whole grains round out this premium yet affordable puppy food. This puppy food has no corn, wheat, soy fillers, artificial colors, flavors, or preservatives. Natural DHA for brain development as wells as chondroitin and glucosamine for strong and healthy joints round out this large breed puppy food. All Nutro feeds are made in the USA of the highest quality ingredients for your peace of mind. Natural Antioxidants from fruits and vegetables help boost the immune system of your puppy.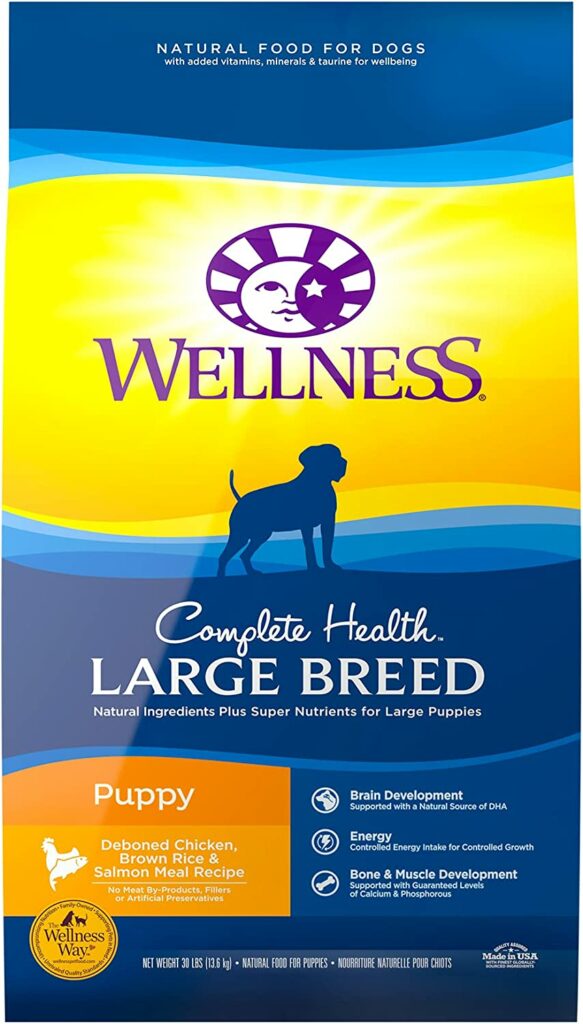 Wellness understands that larger breed puppies have advanced nutritional needs related to their longer growth cycle and their potential for very large to giant sizes in some cases. It takes a lot of nutrition for a puppy that is 60 lbs or more at the end of the first year of life. With giant breeds that are a 100+ it really means a lot to their health to have a good puppy food for developing a large frame and healthy brain. Deboned chicken is the first ingredient in this food and what dog doesn't love a bunch of chicken? This blend of quality ingredients has 20% less fat than their regular size puppy food and calories are kept at a good level. This is important so that your large breed puppy has a healthy growth rate without adding on too much weight too quickly as they develop bones, teeth, and strong muscles.
When to Stop Feeding Puppy Food
Many puppy formulas are designed to be fed for the first year of life. After that, your dog's nutritional needs begin to change. The high calorie, protein, and fat content of puppy food is not appropriate for dogs that have already been through their main developmental growth. Feeding puppy food for too long can even lead to an overweight dog in some cases! For giant breeds, your veterinarian may tell you it is okay to feed puppy food a bit longer than a year but it is best to ask them for guidelines before feeding longer than the standard year.
Transitioning to Adult Food
Making any major changes to a dog's diet should be done gradually. Experts recommend slowly transitioning a puppy to adult ration dog food. This is really easy. Doing this over the course of a week should ensure a smooth transition. Replace a small amount of puppy food with adult dog food and space out the replacement over the course of a week. If your puppy is eating 2 cups a day, for example, then replacing a 1/4 cup a day with adult dog food should work out well. Just be sure to observe your puppy for any reactions they are having to the transition. Dogs can have allergies or stomach issues just like us people.
Dog Food Choices
No matter what life stage a dog is at there are a ton of quality puppy dog foods out there. Just because you buy one brand when your dog is a puppy doesn't mean you have to choose the same brand of adult dog food. Plenty of dog parents do stick with the same brand, however, if they have been happy with the quality and have grown to trust that brand. As your puppy becomes an adult he or she may experience allergies or other issues that may be addressed by changing dog foods. Just like you, a dog can be sensitive to some ingredients. The most important thing is to buy a quality food that provides a balanced diet for your dog's unique needs. Scout hopes this list has helped you in your quest for taking the best care of your new friend.
Continue reading:
When Is The Best Time To Get A Puppy? (Seasons and Status)