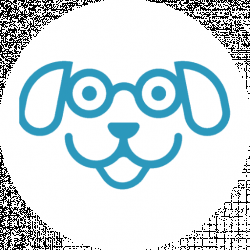 Latest posts by Scout Knows Team
(see all)
Finding the perfect dog food for your pooch can be a tricky phase of your parenting. And it's really not any different with your Goldendoodle as with many other dog breeds.
You worry about getting dog food that would trigger unknown allergies. Good thing is, Groodles are hybrids – they have lower allergy risks or health issues.
What if you buy a 20-pound bag and she wants to have no business with it after a week?
Not to mention you have to keep that soft golden fur shiny and scenting – not perfumy, but doggy.
Relax, I've put a ton of time to research some of the best dog foods for Goldendoodles. From puppies, adults, to seniors. If she has serious skin issues or allergies, you'll find one in our top hypoallergenic picks.
Also, you can pick up a thing or two on how to find the best dog food for your Goldendoodle if you're a new fur parent using the guide at the end.
Best Dog Food For Goldendoodles Reviewed
Top 5 Ingredients
Deboned salmon
Salmon meal
Whitefish meal
Sweet potatoes
Potatoes
Merrick grain-free Salmon and Sweet Potato recipe is easily one of the best dog foods for your Goldendoodle.
Most of its nutritional value – about 60% percent – consists of only whole animal protein. It has some of the finest lineups of protein ingredients I've seen in commercial dog foods – deboned salmon, salmon meal, whitefish meal, deboned whitefish, topped off with a pair of plant proteins.
If your pooch hasn't suffered previous food allergies or stomach infections, you can get the beef or turkey recipe. It'll save you a few extra bucks, which is even better if you like to stash up dog food.
However, you'd be giving up a sizable dose of omega fatty acids. Not a problem if your pooch's fur is in good condition. On the bright side, they contain more protein.
As you'd expect from the best dog foods, the kibble is coated with probiotics and contains essential vitamins, like chondroitin sulfate and glucosamine.
Surprisingly, this dog food has low calories, so you don't risk overfeeding your pooch, especially if he's a senior.
Pros
Nutritious animal protein as the first three ingredients
Great for skin and coat health
Rich in essential vitamins and supplements
Contains high doses of omega fatty acids
Tested and accepted by many Goldendoodles
Tasty ingredients that are rarely rejected among dogs
Cons
Takeaway
If you have (or don't want to) try out many dog foods before finding the "right" one for your Goldendoodle, go for any of the Merrick grain-free recipes.
Their Lil Plates is easily the best dog food for a miniature or Goldendoodle puppy as well.
Top 5 Ingredients
Bison
Lamb meal
Sweet potatoes
Peas
Lentils
Canidae is one of the best dog food brands for dogs with allergies.
Their Pure bison recipe is prepared with limited ingredients to meet this standard. Also, the main animal proteins (bison, lamb, and pork) would be different from anything your sensitive Groodle has tasted before.
Real bison is the first ingredient, which is great, then followed by a pork meal. This leaves almost no chance for sensitivities. Plus, it's only limited to about 7 key ingredients, so your pooch would enjoy clean and high-quality sources of protein. Perhaps this is why it has relatively low protein content, which is great for a calm or aging Goldendoodle.
Not to forget, it also contains chondroitin sulfate and glucosamine. These vitamins help fight osteoarthritis in your goldie poo to keep her active throughout her years.
While the popularity of this dog food among dogs with allergies is unquestionable, it's getting expensive. It would be unreasonable to put your Goldendoodle on this diet if you're on a budget. The retail price jumped by about 50 percent in under a month with no noticeable increase in quality.
Pros
High-quality key ingredients
Great for Goldendoodles with allergies
Builds stronger joints
Contains high levels of omega fatty acids
Uses only 10 food ingredients
Cons
Takeaway
This is not protein-packed dog food, but many dog owners have applauded its reception by their allergy-prone pooches.
If your Goldendoodle has skin allergies and it fits your budget, go for it!
Top 5 Ingredients
Deboned turkey
Turkey meal
Chicken meal
Peas
Potatoes
Wellness is one of the pioneers of holistic nutrition in dog foods. To continue this culture, they have to prepare their recipes with only healthy ingredients and vitamins.
And the Wellness Core grain-free recipe doesn't fail to deliver. This protein-packed dog food has turkey and chicken as its first ingredients, has no byproducts, and is packed with probiotics and essential vitamins.
The Core recipe is also packed with delectable fruits and carbs that supplement your Groodle's main energy sources. The potent amount of crude fat from animal sources in this dog food also plays a key role.
Wellness core also supplies a great deal of omega-6 and omega-3 fatty acids for better skin and coat health. What's better is that they are derived from a plant (flaxseed) and animal (salmon oil) sources.
What's more, you can find glucosamine and chondroitin in the recipe. This would help your dog grow without irregularities in his gait or suffer other growth issues.
Pros
Protein-packed for active adult Goldendoodles
Can replenish shabby fur
Lots of fruits and vegetables
Contains a high dose of essential omega fatty acids
Cons
Quite too many ingredients
On the pricey side
Takeaway
This would make a high-end dog food for most adult Goldendoodles and comes at a matching price. Be sure to start your pooch on a small bag, in case your pooch has a sensitive stomach or food allergies.
Top 5 Ingredients
Salmon
Ocean fish meal
Sweet potatoes
Potatoes
Peas
Goldie poo would love a dog food that's prepared with similar ingredients her ancestors ate.
This is a highly nutritious recipe and not just a showoff of ancestral ingredients from TOTW.
The source of fish protein in the recipe is quite generous. It also contains fruits and vegetables that would give your Groodle the necessary extra energy boost.
However, the Pacific Stream recipe has a number of fish meals. They aren't exactly harmful in any way to a Goldendoodle, but there are better fish sources if you are willing to splurge.
On the flip side, the Pacific Stream supplies sufficient fat and from plant and fish oils. This would help to keep the luster on your Goldendoodle's fur.
The recipe includes some fruits and vegetables, like tomatoes, raspberries, and blueberries as extra carb sources.
Since it's devoid of chicken, chicken meal, grains, or other common food allergens, it's unlikely for even picky to refuse this dog food. However, you should be aware it contains canola oil, in case it's going to be an issue with you or your Goldendoodle.
Pros
Affordable option
Impressive lineup of mainly fish protein
Contains fruits and vegetables
Contains necessary probiotics for stronger immunity
Free of common food allergens
Cons
Most of the fish protein are fish meals
Takeaway
TOTW Pacific Stream is one of the few quality options at its price point. It is high in protein and fats and is unlikely to steer allergies in your Goldendoodle.
Top 5 Ingredients
Salmon
Fish meal
Potatoes
Lentils
Peas
It's quite uncommon to find a cheap and holistic kibble for dogs with food-related sensitivities. But Diamond Naturals Skin and Coat manage to pull this off.
It is an all-life stage grain-free formula with wild-caught salmon as its first ingredient. Fish meal comes next. This is a good sign since it contains animal protein as its top ingredients, unlike what you'd find in other cheap dog foods.
The skin and coat formula as you'd expect; contains a reasonable amount of omega-3 and omega-6 fatty acids. And many fur parents have testified to their pooch having a softer coat after switching to this food.
It's also formulated with other essential vitamins, including DHA, which is a big plus. DHA can improve a young Goldendoodle's cognition.
All in all, you'll get a lot of bang for your buck with its cost per ounce and calories per serving. The only issue is that several dog owners say their pooch lost interest after a while of using this food – nothing a mix with canned food won't solve though.
Pros
Cheap
Animal protein as the first two ingredients
Reasonable supply of fatty acids for better skin health
Contains DHA
Cons
Not the tastiest dog food
Takeaway
This isn't strictly the best puppy food for your Goldendoodle, but it's a decent option that would fit well into even the lowest budget. Surprisingly, this recipe contains nutrients that would improve or maintain healthy skin and fur, but I won't count on it for repair.
Top 5 Ingredients
Chicken
Brewers rice
Corn gluten meal
Whole grain wheat
Animal fat
Purina Pro Plan is one of the best dog food for puppies, Goldendoodles inclusive. Not only because it's budget-friendly, but also because it has a highly-nutritious ingredient selection.
Despite containing grains, it has a lower fiber content than many grain-free puppy food, which is remarkable. In short, you can rest assured that it'd be healthy and nourishing for your Goldendoodle puppy.
It's a little bit surprising that this kibble isn't a top-seller. Perhaps because it also has a special large breed recipe – for dogs that would grow larger than 50lbs.
This dog food contains critical vitamins for puppies – like DHA and calcium. And dosed potently to ensure your pooch grows up right.
However, it doesn't have the highest protein levels, in case you have an energetic Goldendoodle pup. Nonetheless, its 28 percent protein content – from quality ingredients – is way better than the barest minimum.
Finally, Purina's customer service speaks well of their products. Unlike many cheap dog food brands, they answer questions about the ingredients and vitamins in their recipe.
Pros
Uses high-quality grains
Affordable
Supplies potent dose of necessary vitamins for growing Groodles
Maintains and improves coat luster
Clinically recommended for pups
Cons
Average protein content
No longer has chicken bits
Takeaway
Purina Pro Plan can easily make the "best" dog food for your Goldendoodle puppy. Not only is it affordable, but it fosters healthy growth and would improve the shine on a puppy Groodle's coat.
Top 5 Ingredients
Kangaroo
Kangaroo meal
Chickpeas
Peas
Sunflower oil
Zignature is one of my favorite dog food brands because of its innovative use of novel meats.
Novel meats, such as the kangaroo in this recipe, pose a low risk of triggering allergies in a pooch. If your pooch is sensitive to common meats, like chicken, she's likely to eat this tasty recipe.
It has a single meat protein (kangaroo and kangaroo meal) making up 65 percent of its protein content. The only other protein sources are chickpeas and alfalfa meal.
Of course, being a limited ingredient diet is also one of the reasons it's a great choice for sensitive dogs. And, it's nutritious enough to be fed to puppies.
It has a remarkable amount of omega-6 and omega-3 fatty acids. Not only does this mean your pooch would maintain a healthy coat, but it also testifies to the quality of its protein sources.
However, I'm not so impressed that fats only come from plant-based sources (flaxseed and sunflower oil).
Pros
Single source of meat protein
Great for Goldendoodles with allergies and sensitive stomach
Outstanding levels of omega fatty acids
Edible for puppies
Cons
Takeaway
Zignature Kangaroo (or any of their other novel meat) recipes would sit well with allergic Goldendoodles. Being one of the expensive brands, you should still start your pooch on a small bag.
Top 5 Ingredients
Deboned chicken
Chicken meal
Brown rice
Barley
Oatmeal
Blue Buffalo is one of the most popular dog foods on the market, and it's no surprise.
This kibble is one of the few cheap ones with acceptable quality, but even more, can be fed to any type of dog – this formula has ranging variety.
So, a puppy, miniature, adult, or even senior Goldendoodle can be fed this kibble.
The only issue is, it's not guaranteed your Goldendoodle would like the taste of its ingredients. It contains corn and chicken, which are common allergens.
This recipe contains LifeSource bits. They are blueberry-like chips enriched with antioxidants. The only thing is, some pooches spit out or don't even touch these bits in their serving.
Also, it contains a bunch of fruits and vegetables that provide extra energy. However, it only has flaxseed as its source of omega-6 and omega-3 fatty acids. Moreover, it has only glucosamine, which is better paired up with chondroitin sulfate.
Needless to say, this dog food has been successfully fed as a staple diet with little issues. And it's definitely worth the money.
Pros
Good bang for the buck
Grooms healthy skin and coat health
Contains glucosamine
Popular among fur parents
Cons
Single plant-based ingredient for omega fatty acids
Takeaway
If you are one of those pet parents that doesn't fancy "grain-free" dog foods, try out the Blue Buffalo Life Protection formula. It's an affordable option with a list of healthy grains, like brown rice and oatmeal.
Top 5 Ingredients
Beef
Chicken
Liver
Wheat gluten
Carrots
Sometimes, it's beneficial to put your pooch on a mixed diet – wet dog food plus kibble. This is especially noteworthy if your pooch is a finicky eater.
Purina doesn't disappoint with this tasty entree though. The Pro Plan savor can is packed with slices of beef and vegetables in gravy. You can also find little toppings of carrots, green beans, and potatoes in this juicy delicacy.
This entree is considerably rich in protein, which is quite impressive as its one of the more affordable options. However, it has miserably low-fat content.
If you're worried about what might happen to your Goldendoodle's fur after that statement, it's supplemented well enough with omega-6 fatty acids.
Pros
Affordable
Has large chunks of meat and bits of vegetables
High protein
Cons
Most fur parent's wish the gravy had more vegetables
Takeaway
If you don't want to skimp or splurge on wet dog food for your Goldendoodle, Purina Pro Plan Chicken and Vegetable entree would do the job.
Top 5 Ingredients
Deboned duck
Beef broth
Vegetable broth
Deboned venison
Deboned buffalo
The wilderness blend is another tasty canned food that would easily make a 5-star cuisine for your Goldendoodle. It has 3 delicious novel types of meat – duck, buffalo, and venison – forming a large part of the meal.
You can tell right off the bat it'd make a delicacy for your pooch as soon you open the can. The welcoming aroma – at least for canned dog food – hits your nostrils right as you sight the generously large chunks of meat, with sides of carrots and green beans.
Among the other lines of Merrick canned dog food recipes, It's my personal favorite because of its consistency in quality.
Despite being an "all-breed" dog food" you may have to cut the chunks of meat into smaller pieces if your Groodle is still a little puppy.
Back to nutrition, the Wilderness Blend particularly contains a high-fat content, sourced from multiple high-quality ingredients. It combines a "pure" animal form, like salmon oil, with plant sources such as flaxseed and sunflower oil.
This dog food is also edible for a sensitive Goldendoodle since it's chicken-free and grain-free.
Pros
Contains both animal and plant essential oils
Large chunks of meat
Appetizing aroma like real food (for dogs at least)
Palatable canned food for sensitive, picky, or allergic Goldendoodles
Cons
Meat chunks may be too big for a smaller pooch
Takeaway
There's no denying your pooch would find the Merrick Wilderness Blend mouth-watering and nutritious. But if she's clinically diagnosed with allergies (not a finicky eater), consult your vet before taking my word for it.
How To Pick The Best Dog Food For Goldendoodles
Understanding Your Goldendoodle's Diet Needs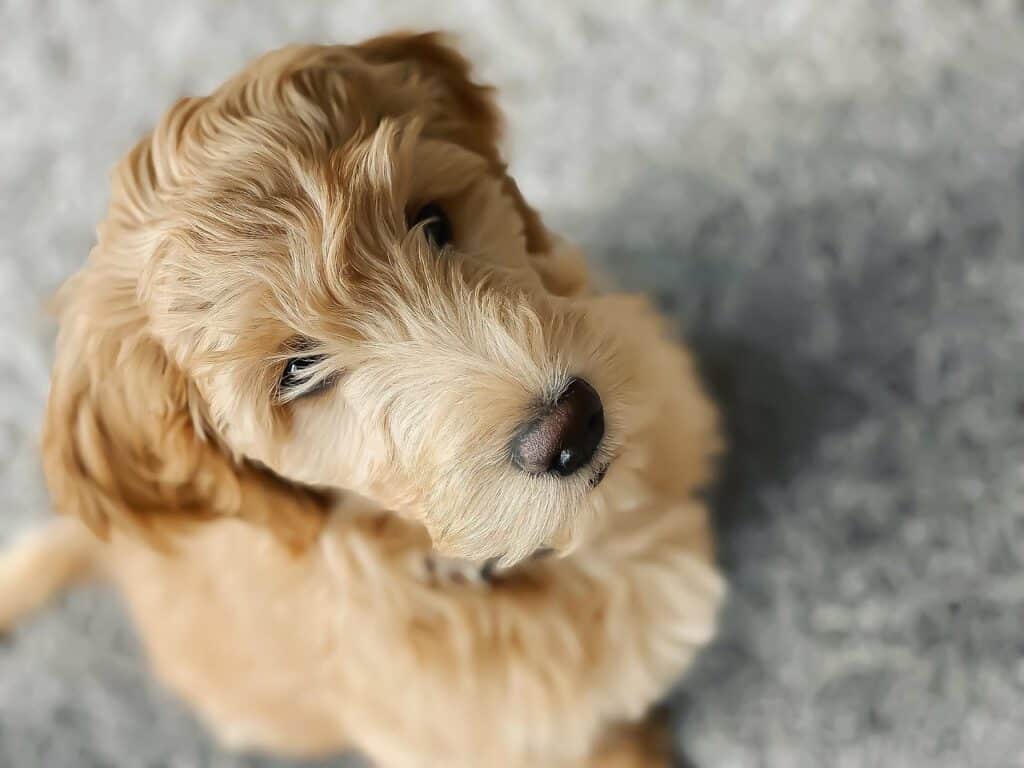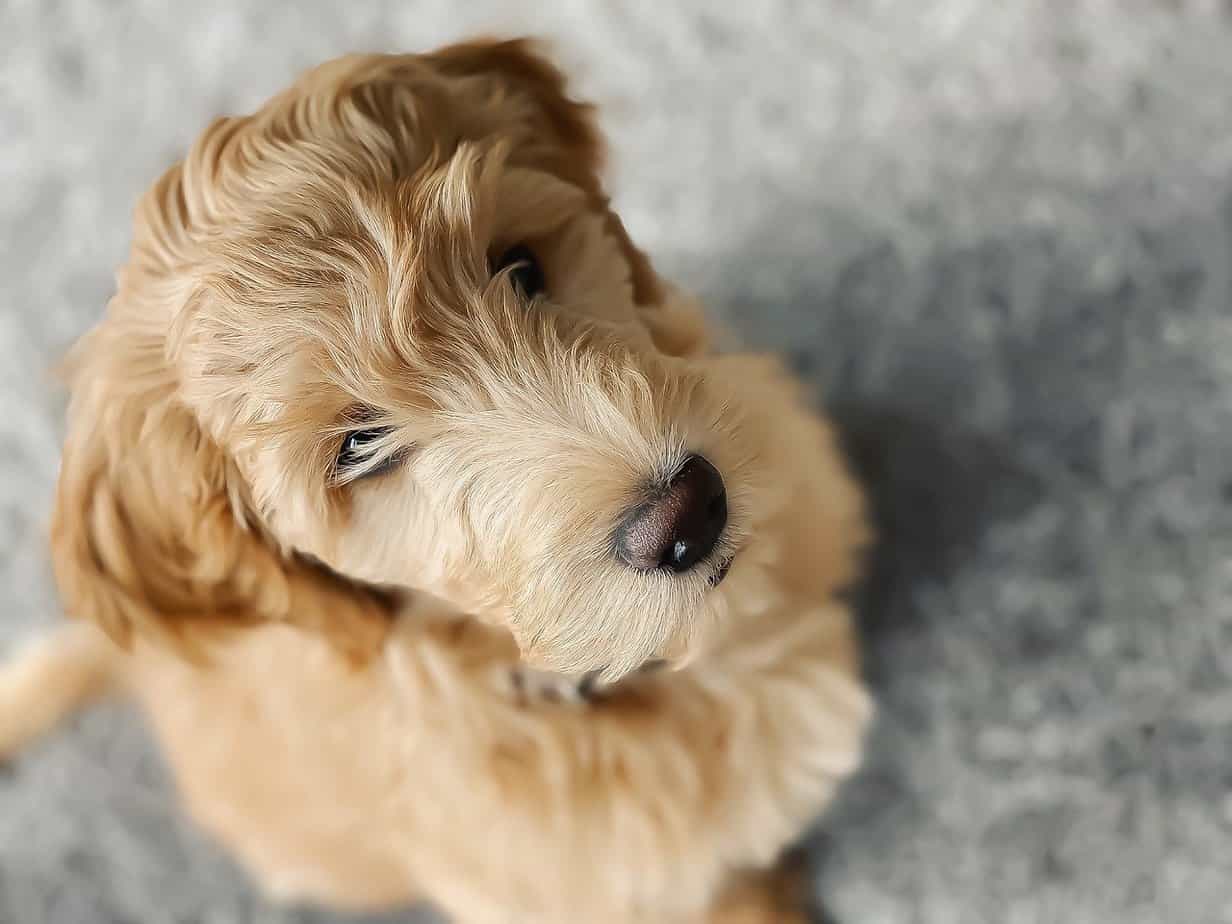 As you might already know, your pooch's diet isn't a "one size fits all" affair. You need to know the general activity level, weight, and other factors.
After that, you can set up a feeding schedule for your Goldendoodle.
Try as much as possible not to free feed her, especially as an adult. This can cause bloat or other stomach issues. Not to mention she might pick a habit of begging, and her cute eyes might deceive you that she's hungry all the time.
Time to time, you can feed her raw food. It tastes better than kibble and is healthier. This doesn't necessarily say a kibble or canned dog food is toxic to your Goldendoodle.
Is Kibble Or Commercial Dog Food Bad For My Goldendoodle?
Not exactly. As long as you buy quality dog food, your pooch would be just fine. To be safe, ensure the dog food is free of preservatives and chemicals and uses healthy proteins as its first ingredients.
The manufacturer would already have this listed on the bag so it won't be much of a hassle.
If you can, add a variety to your dog's kibble diet with raw food and canned dog foods. You should do some research before you feed leftovers or prepare a homemade diet – to prevent food poisoning or risking an unbalanced diet.
Feeding Your Goldendoodle
The Goldendoodle grows to become a relatively large-sized pet. Some standard Groodles even grow to be as large as 100lbs but most reach a peak weight of 45lbs.
Perhaps more striking is the Goldendoodle's fur coat. The combo of the shaggy retriever's coat and the beautiful wooly coat of the poodle is cute on sight, cuddly on touch.
To keep your Goldendoodle's fur adorable, you'll need to feed her dog food that's rich in omega fatty acids. They also help to better absorb other vital nutrients.
Key Nutrients To Consider When Choosing The Best Dog Food For Your Goldendoodle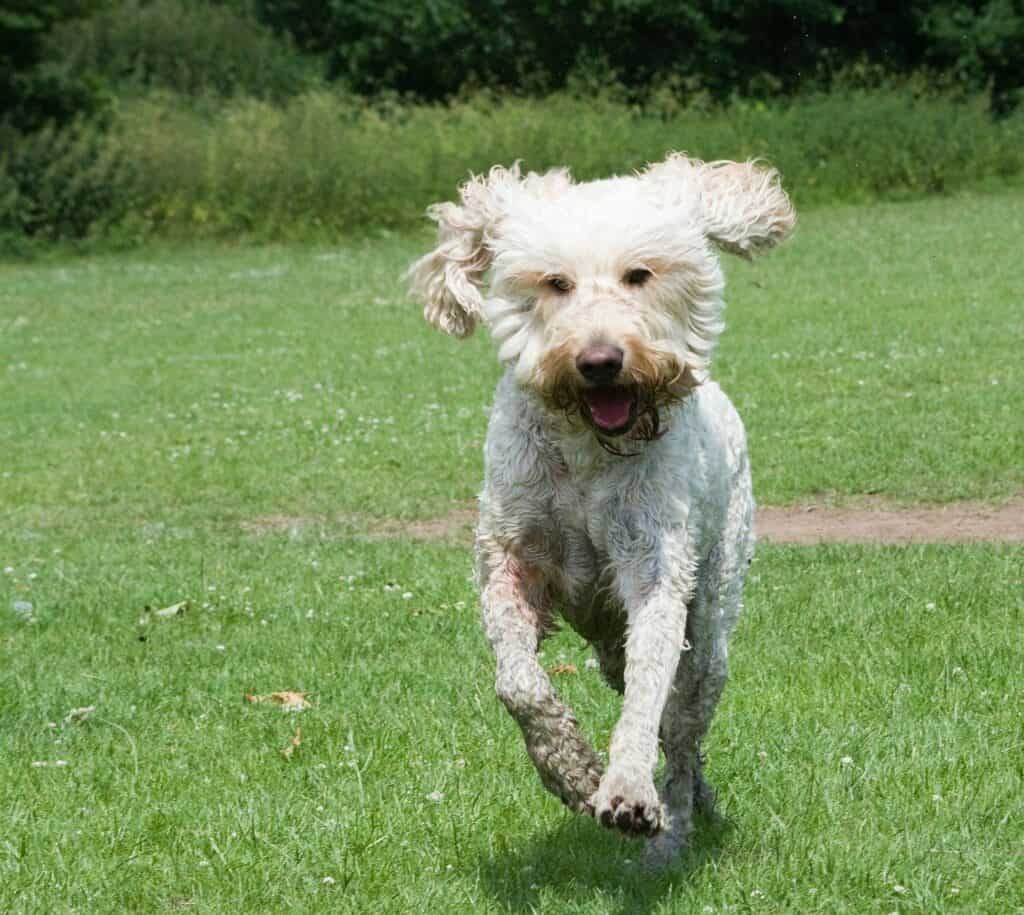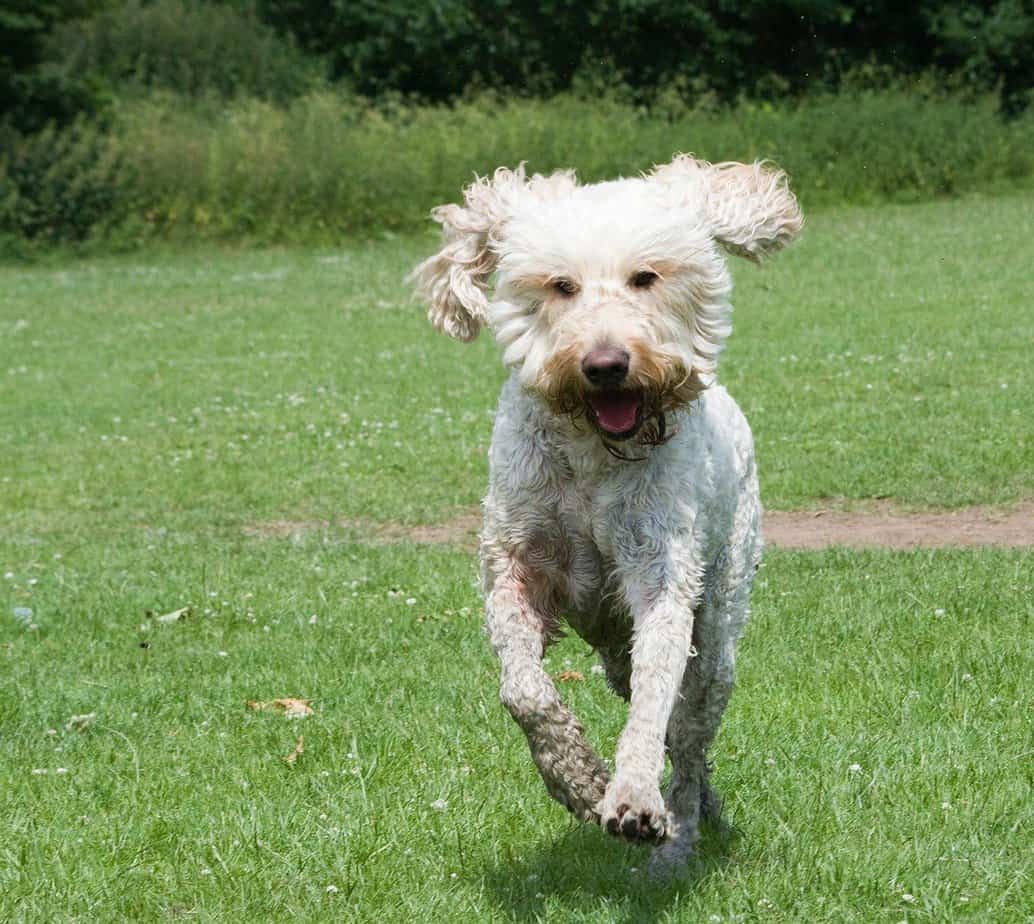 Protein
Aside from containing essential amino acids (that dogs can't synthesize protein helps your pooch grow lean muscle mass.
Protein makes up the most part of a high-quality dog food, more than 50 percent.
AAFCO recommends that adult dog food should contain at least 18 percent crude protein, and a minimum of 28 percent for puppy food. These are only the barest minimum, and the quality of the ingredients is what matters the most.
Fortunately, the dog foods I've recommended in the review all contain animal protein among the first five ingredients.
Fats
Contrary to what you may think, fats are a healthy source of energy for your Goldendoodle.
Fats also contain essential fatty acids – omega-6 and omega-3 – which keep your dog's skin shiny and healthy. The crude fat content, of course, should be in moderation, say between 12-18 percent.
Carbs And Veggies
Carbohydrates, such as grains, potatoes, legumes, and vegetables supplement energy and fiber in dog food.
However, carbs aren't requirements for your dog's nutrition. Rather they are used in commercial dog foods to bond the kibble, and, of course, to cut back on production costs – more like animal protein costs.
In essence, your dog food is better off with fewer carbs. Anywhere below 30 percent is great.
Better yet, feed your Goldendoodle any dog food with less than 5 percent crude fiber. It might be difficult to find the percentage of carbs in the food without asking the manufacturer directly.
Kibble Size
Before I forget, you should pay attention to the size of the kibble if you own a miniature Goldendoodle. Standard or medium Groodles would have no issues gobbling down any kibble.
That said, always check to see if the size of the kibble would fit your pooch's mouth. This is especially if you would be feeding her adult breed kibble (not toy or small breed ones).
Also, wet dog foods usually have meat slices that most likely won't fit a pup's mouth. You don't want to split her food into pieces before every serving, do you? Ok. I'll stop playing mom.
Wrapping Up
I don't need to go on and rant about how awesome Goldendoodles can be – you got one already!
Keeping that cute little pooch in her best shape is now your responsibility.
With the right dog food, your Goldendoodle would grow up fine. Don't hesitate to add a variety to her diet on some days. And stick to a feeding schedule for your adult Groodle.
With that, I'll leave you to carefully pick from the quality dog foods I've listed above. If you are left undecided, Merrick Grain-Free Salmon and Sweet Potato would make a perfect kibble, if you can afford to make it a staple diet.
Experience any development in your Goldendoodle's physique? Is she still finicky with kibbles?
Continue reading:
Against the Grain Nothing Else Dog Food (Review 2022)