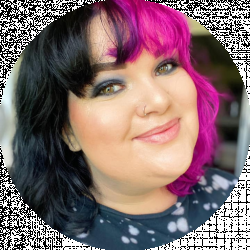 Latest posts by Alizabeth Swain
(see all)
When Pepper was a puppy, I had this wooden egg chair I used to love sitting in while writing. One day while sitting in the chair, I heard this annoying crunching sound. I looked around the room and couldn't figure out where the sound was coming from. I got up from my chair, and underneath my feet was my dog, Pepper. I looked to see what she was doing, and she was chewing on the base of the egg chair. The entire base was destroyed, and I had to throw away the chair.
So, you could say my dog is a chewer. She's a pitbull and boxer mix, so you know she has powerful jaws. There aren't many chew treats that stand up against her jaws, so I'm always looking around to see if I can find a bone that will last more than a few hours.
Now that Peppers is getting older, I'm getting more worried about her health. I loved that I found Red Barn pet products. They have these 12-inch Bully Sticks that are perfect for chewing on. I like that there were several different sizes to choose from, but I still went with the most heavy-duty option Red Barn had available.
Did this Red Barn bully stick stand up against my aggressive chewer? You'll have to find out in this Red Barn bully Stick review and guide!
Bottom Woof Upfront
The Red Barn Bully Stick did an okay job standing up against my aggressive chewer. It didn't last for as long as I was hoping it was going to, but it still kept her distracted for a little while. I think the Red Barn Bully Stick would be better for smaller-sized dogs who don't have as powerful jaws.
What Is a Bully Stick?
When I bought the bully stick from the Red Barn website, I wasn't sure what a bully stick was. A bully stick is a chew toy treat made from beef "muscle." It's different from other chew treats because it doesn't splinter, so you don't have to worry about any choking hazards like you do with other types of chewing treats. Beef "muscle" is the only ingredient in a bully stick.
What Is Red Barn?
Red Barn is a small family business producing high-quality, healthy dog treats. My favorite part about this brand is all of its products are certified by the Safe Quality Food Initiative. That means you can trust their treats' quality and know they're safe to give your dog.
All of their bones and treats are claimed to be beneficial for your dog's dental health, so you don't have to worry about buying additional treats to support the health of their teefers! I've seen wayyyyy too many sad Facebook posts about dogs getting sick or having to be put down because of toxic ingredients in their dog treats.
Thankfully, you don't have to worry about that with Red Barn!
Ordering Pepper's Treats
Ordering dog treats shouldn't be that hard, right? Thankfully the ordering experience with Red Barn was effortless! The Red Barn Bully Sticks weren't the only thing I ordered from Red Barn, so if you're interested in reading about their bones, slices, or rings, I recommend checking out my other reviews.
I loved how easy it was to use Red Barn's website. The menu was easy to navigate, and all I had to worry about was adding in my info!
Unboxing Pepper's Bully Sticks
I wanted to find dog treats I could give Pepper to keep her out from under my feet while cooking, cleaning, or playing with my son. I also tend to give her treats to chew on while it's raining outside, and she isn't able to get much energy out.
Now, Pepper can chew. My problem is because her jaws are so strong, she goes through bones and treats SO fast. I hate when I give her something to chew on, and it splinters all over the floor. That leaves me with much more housework, which is the opposite of what I'm trying to accomplish.
The Red Barn box was pretty cute. It could have been more exciting, but I liked how they designed the package. It felt natural and wholesome, like their treats are! My box didn't survive after I brought it inside the house. Pepper was too excited to get into her package that she tore right through the cardboard with her front paws.
I love that the actual bully stick wasn't individually wrapped in plastic. There was very minimal plastic waste!
How Did The Red Barn Bully Stick Hold Up?
One stick is around $10. Red Barn claims this stick is sourced from free-range and grass-fed cows. In addition, you won't find any artificial colors, preservatives, or flavors inside this stick.
Red Barn cooks all of its bully sticks in natural juices. Pepper could smell that when I pulled the Bully Stick out of the box. I didn't think the stick smelled bad. I'm the type of person who hates walking into the pet store because of the smell of beef bones and food. This bully stick didn't have a foul scent to it. It almost smelled like a very well-done steak.
I wish that Red Barn had included the precaution they included on their website on the package. They said that there are natural oils on this bully stick that can transfer onto furniture or carpet. I wish I had known this before I had allowed Pepper to chew on this bully stick on her dog bed. It isn't the end of the world that the oil stain some of her dog bed. However, I know I would be ticked if this had stained a couch or an area rug. I've never seen this with any other chew stick before, so this information was interesting.
When I first gave Pepper her Red Barn Bully Stick, it wasn't flexible. As she started to chew on it and get it all soaked in her drool, I took it away to see if anything had changed about the bully stick. The bully stick began to turn into a soft, chewy texture. It reminded me of a super soggy gummy worm of sorts.
What I loved as Pepper began to get into the dog bone was how it didn't smell bad. I expected her breath to smell like the bully stick, but it didn't! But, because of how strong Pepper's jaws are, this bully stick didn't last very long. She was able to get it soggy within 5-8 minutes. After it got soggy, I had to say goodbye to the bully stick. Pepper always snaps these in half, and once she can get them in her mouth, she chews them. Don't worry; they're still too small for me to worry about her choking!
This treat lasted her about 10 minutes from start to finish. It's alright, but I wouldn't say that's what I'm looking for when I give Pepper a treat.
Pros and Cons
If you want just a quick glance of the pros and cons of the Red Barn Bully Sticks, here's my view:
Pros
Minimal plastic waste
No stinky dog breath
Boosts jaw strength and lowers anxiety in your pup
All natural, no filler or cheap ingredients
Didn't splinter
Cons
Didn't last my medium-sized power chewer very long
Can leave oil stains if left on certain fabrics
No options available for medium to large size breeds
Alternatives
If you feel like there are better options than the Red Barn Bully Stick for you and your pup, don't worry! I've got a few alternatives I would highly recommend you look into for your dog:
1. Downtown Pet Supply 12-inch Bully Sticks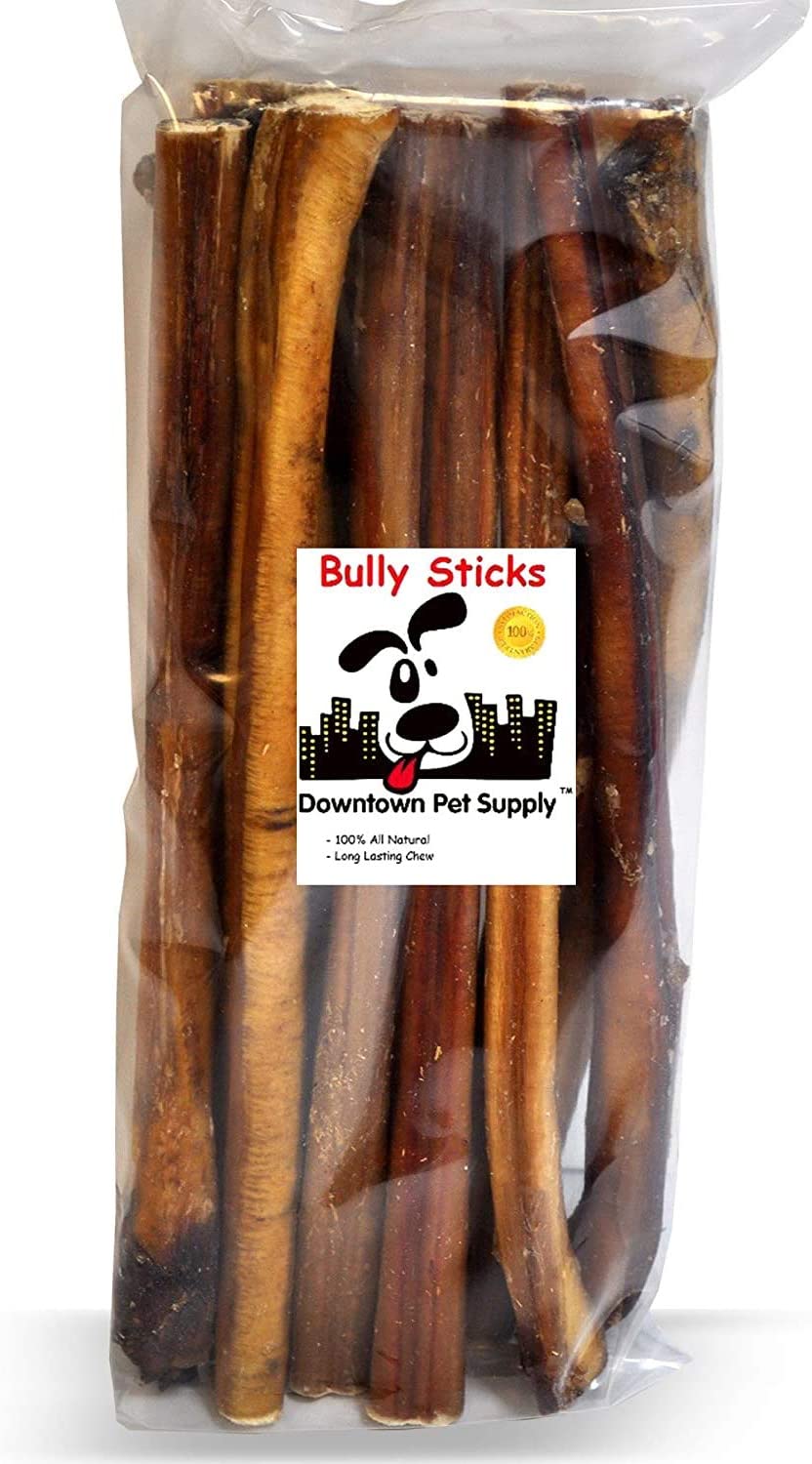 I love these Bully Sticks because they're approved by both the USDA and the FDA! Downtown Pet SupplySources all of its ingredients from free-range and grass-fed cattle, just like Red Barn does. Plus, you don't have to worry about any filler or artificial ingredients inside their dog treats.
The only thing about these bully sticks isn't they are priced a little bit cheaper than Red Barn's products. So, if you want to save money but don't want to sacrifice quality, look into these bully sticks.
2. Jack & Pup Bully Sticks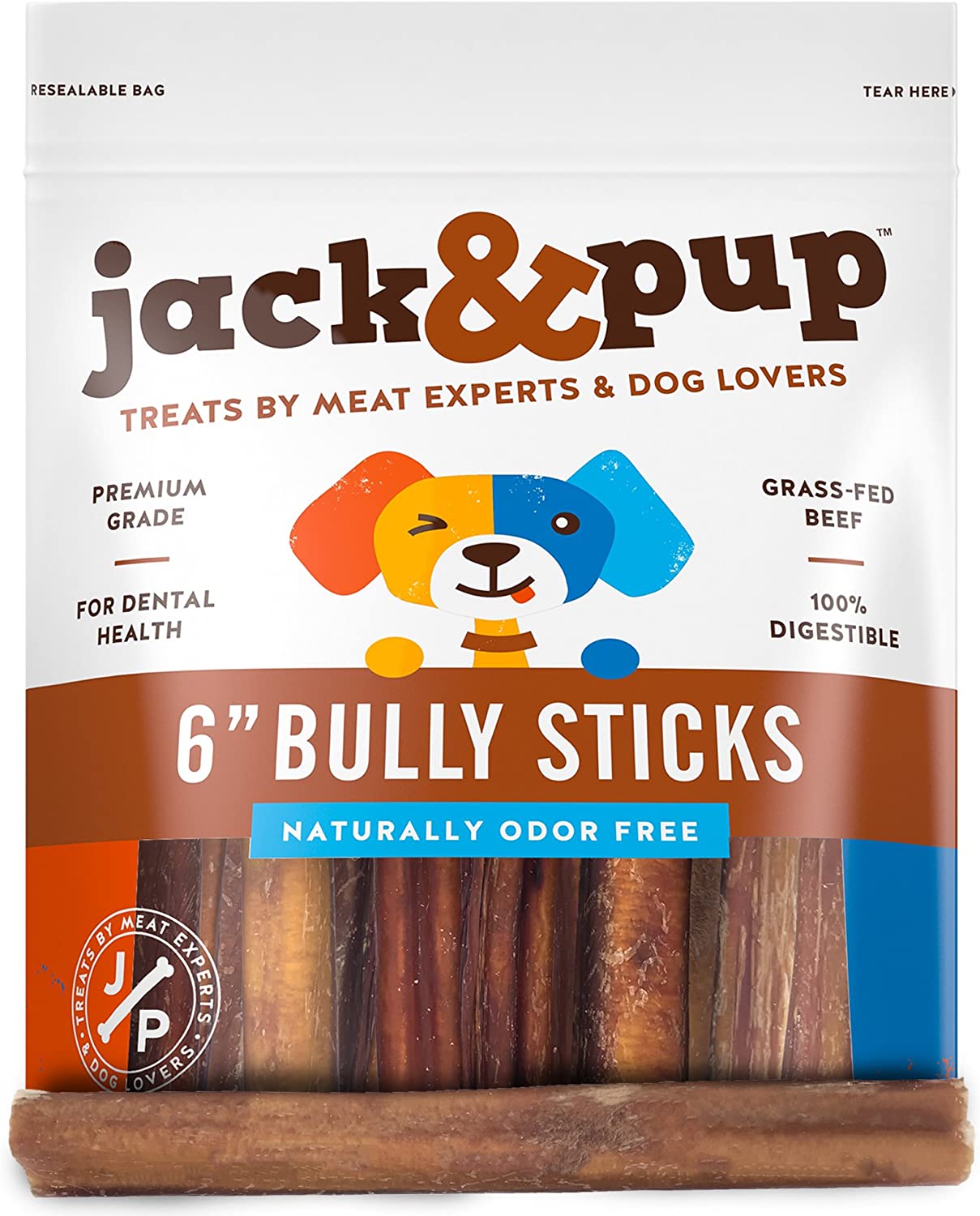 I love these Bully Sticks because they genuinely are odor-free. If you're super sensitive to smell, I recommend you look into these bully sticks. These are on the smaller side, so I recommend you look into these if you have a small dog. Plus, these bully sticks are sourced from free-range and grass-fed cattle without any filler antibiotics, chemicals, or hormones.
Jack and Pup ensure their Bully Sticks are odor-free because they have a longer dry time than other dog treat brands. They offer a pretty good variety of shapes and sizes, so if your pup is picky, You'll have a pretty good variety to work with here.
3. Cadet Bully Sticks Dog Treats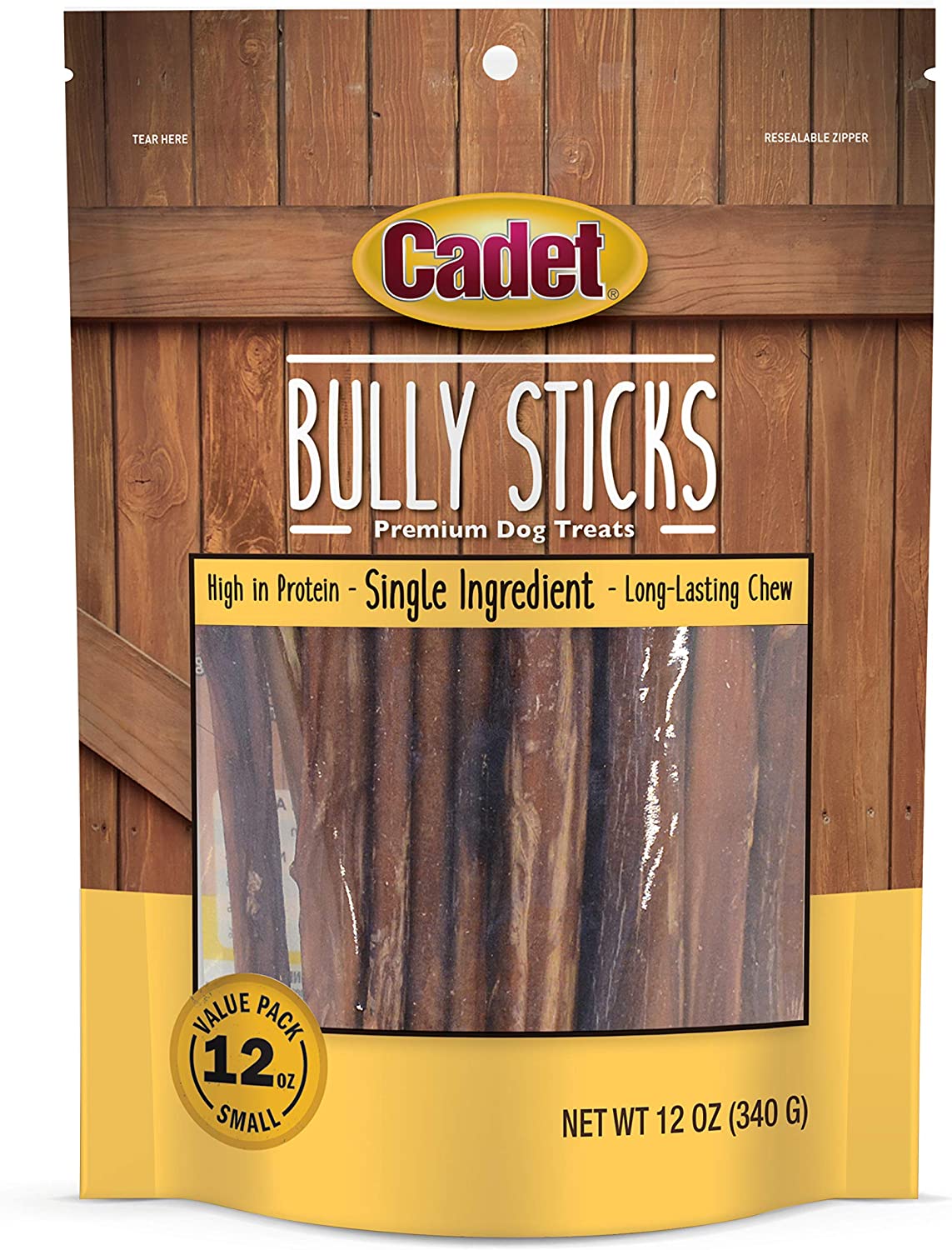 These Bully Sticks are excellent for large breeds or heavy-duty chewers. I tend to use these for Pepper the most often. I like them because they aren't super high calorie (which is important, so Pepper doesn't pack on the pounds in the winter). I love the size options they have; I can buy in bulk and not worry about making sure I have treats in the house for her! My favorite part of these treats is they're all made (and inspected) in the USA.
FAQs
Question: Where do Bully Sticks Come From?
Answer: To keep this PG, Bully Sticks are made from the boy parts of a cow.
Question: What do Bully Sticks do for a Dog?
Answer: They help to improve their dental health, strengthen the jaw muscles, and help to reduce your dog's anxiety by giving them a way to de-stress (in a positive way)
Question: When Should you Throw Away a Bully Stick?
Answer: You should throw away a bully stick once your dog can fit the whole thing in its mouth! They become a choking hazard at this stage. If you're looking for an exact measurement, I recommend you throw away your bully stick once it's around 3 inches!
Is The Red Barn Bully Stick Worth It?
Red Barn says their Bully Sticks are meant for small to medium-sized dogs. I would put Pepper in the medium category, although she is on the higher end of that range. I think this bully stick would do well for a smaller dog or medium dog that isn't a power chewer. I do think they worked for Pepper, and she enjoyed them, but they weren't exactly what I was looking for to keep her occupied.
I do think I would have a couple of these on hand when I only need to keep her out of the way for a few minutes. But they're not going to be something I would buy a lot of.
Continue reading: