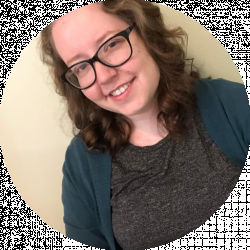 Latest posts by Hannah Haefele
(see all)
I remember going to the local pet store and getting bully sticks for my dogs when I was a kid. However, I more recently learned about bully slices so want to share what I know in this best bully slices guide. If you want to spoil your pet, bully slices can be a nice option, and they seem safer than bully sticks. But as I looked at the options, I learned that isn't always the case.
Some options are safe but require you to watch your dog closely. That way, you can remove the treats before they become a danger to your dog's health.
Bottom Line Up Front
Redbarn Bully Slices are the best slices, but Nature Gnaws has better bully slices that don't contain rawhide, which can be harmful to dogs. Either way, consider a few other options to decide which treats your dog might like.
Best Bully Slices
If you want to spoil your pup, you should consider some of the best bully slices. Not all slices and treats are created equal, and finding good treats can seem like a goldmine (or drain on your wallet if you spoil your dogs like my family and I do).
I looked at a variety of bully slices of different flavors and from multiple companies. Unfortunately, there aren't a ton of bully slices out there, but I found a few choices. To help narrow your search, I included mostly bully slices, but some are technically bully sticks. However, I also found treats at different price points.
Here are some options I'd recommend for loving pet parents.
Redbarn Original Flavor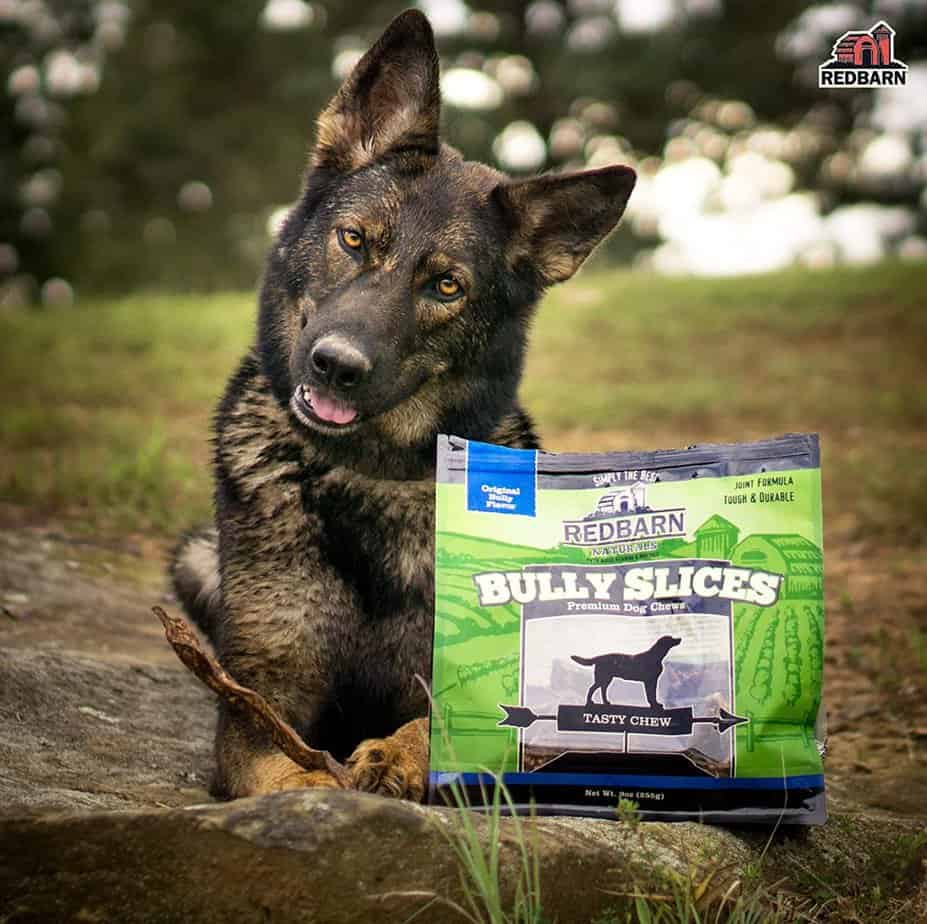 The Redbarn Original Flavor slices feature all-natural cowhide covered in special gravy. They roast the slices to help the flavor settle, so the treats are soft and not wet with the gravy. That gravy includes chicken cartilage, blueberries, cranberries, and vitamin E. I love that it can help clean your dog's teeth because both of my dogs have awful teeth and stinky breath.
These treats can also help support joint health, which is nice for older dogs as they develop arthritis. Redbarn doesn't use any artificial flavors or preservatives, and they consistently perform quality assurance tests.
Pros
All-natural
Good ingredients
Can support joint health
Helps clean teeth
Quality assurance
Cons
Requires supervision
Not for very large dogs
Redbarn Peanut Butter Flavor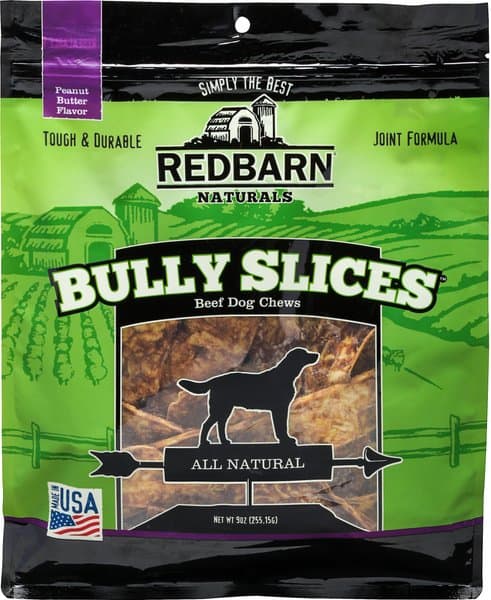 If my dogs could talk, they'd probably ask for the Redbarn Peanut Butter Flavor treats instead. These treats feature the same cowhide and unique gravy, but there's a bit of peanut butter as well. I love how it supports joint health, so my senior dog would get a lot of benefits from the slices. You can give the treat to your dogs and let them have at it for hours.
But I'd probably watch my dogs, at least for the first few times. That way, I could make sure the dogs are safe, especially if they spend hours gnawing at the treat.
Pros
Good flavor
Supports joint health
Lasts for hours
Affordable
Cons
Number of slices isn't consistent
Can be a choking hazard
Redbarn French Toast Flavor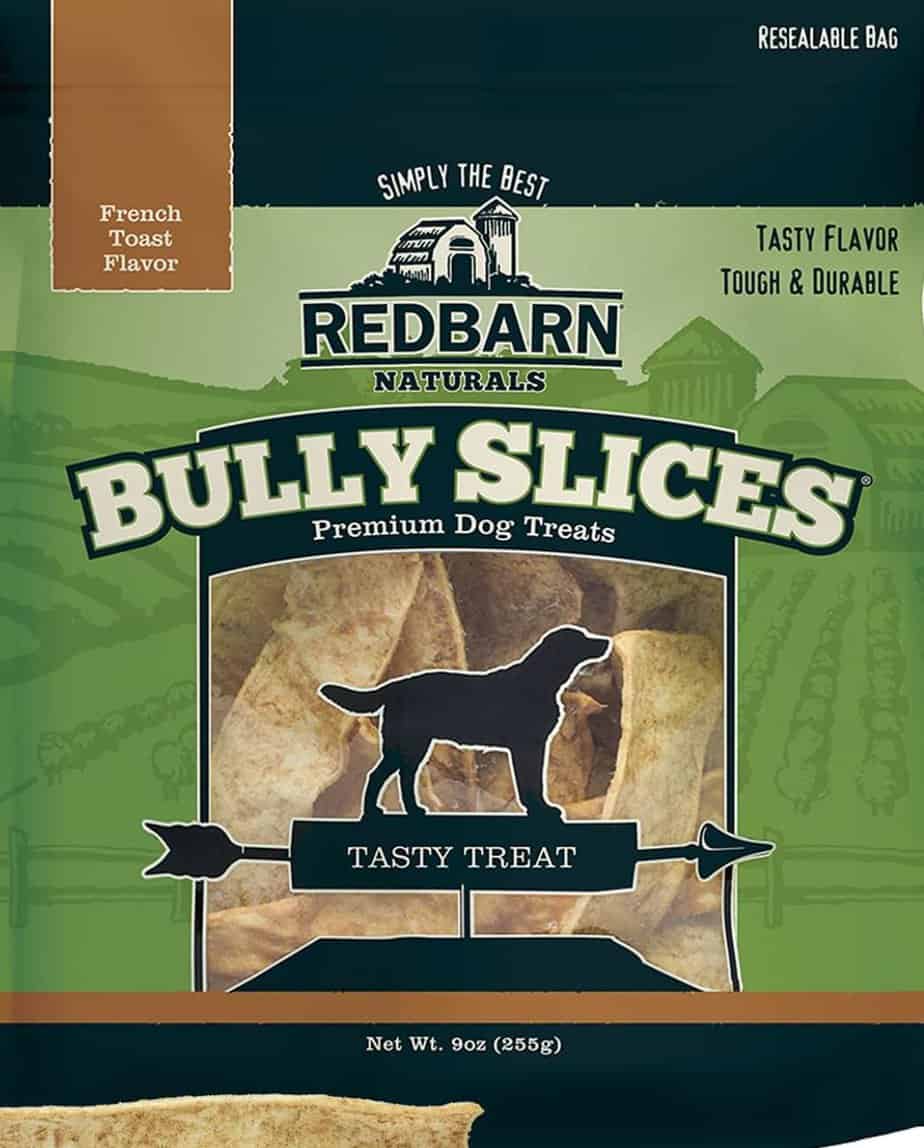 The Redbarn French Toast Flavor is another excellent option when it comes to bully slices. Like the other flavors, this one involves coating the cowhide in Redbarn gravy before roasting it. These treats smell and taste good to dogs, so your dogs may love them. I don't know how good French toast can be, but it could be worth experimenting to see if your dog enjoys the flavor.
As with the other flavors, this one uses all-natural ingredients. I love that the treats can help support a dog's dental and joint health since it can be hard to care for those things at home.
Pros
Unique flavor
All-natural
Supports your dog's health
Can reduce boredom
For dogs of all ages
Cons
Inconsistent quality
Rawhide is not the safest
Pawstruck Rawhide Bully Slices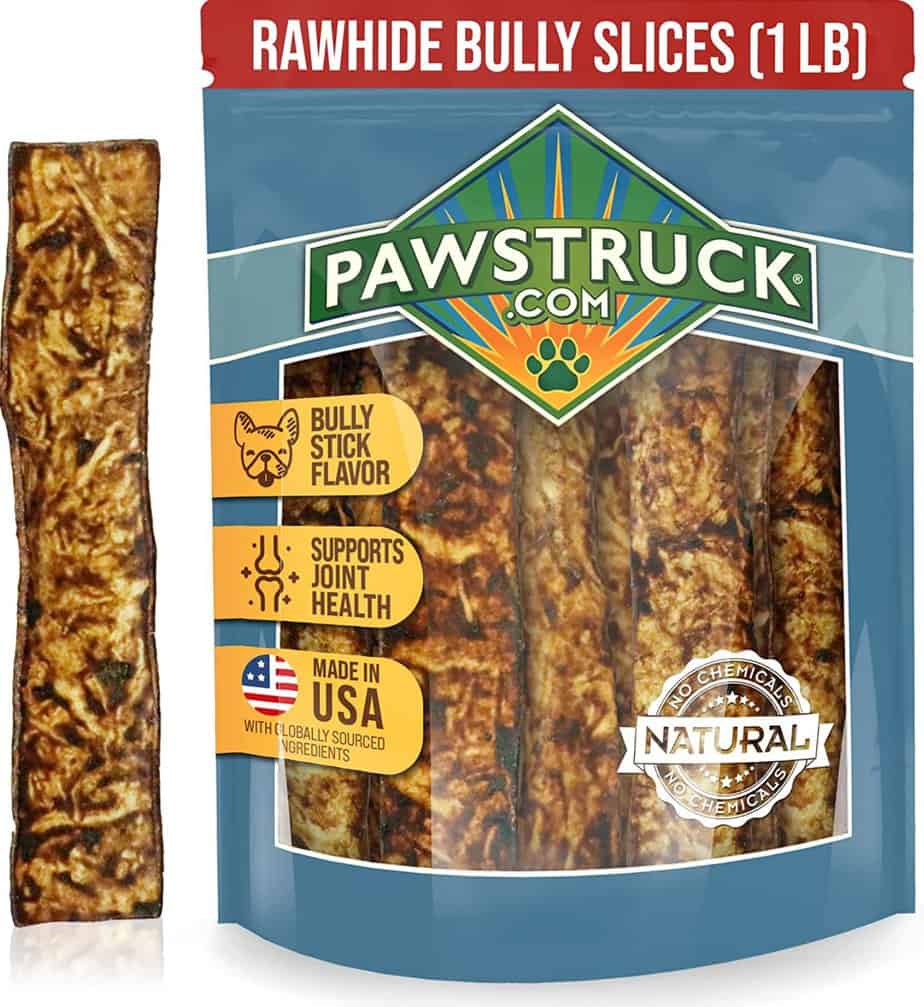 The Pawstruck Rawhide Bully Slices can be another good option as far as bully slices go. However, the rawhide makes them somewhat unsafe, so you'll need to pay close attention to your dog as they chew on it.
I love that it can support a dog's joint health, and it can help remove tartar and plaque. The company claims the treats are digestible, but I have my reservations since rawhide is generally a no-no for eating.
However, these treats also have ingredients that can help your dog's skin and coat. As long as you're willing to supervise and remove the treat when they get to be small enough to swallow, they could be a nice choice.
Pros
Good for dental health
Helps joints, skin, and coat
Natural ingredients
Suitable for picky dogs
Cons
Contains rawhide
Not very safe for dogs to eat on their own
Chewy Louie Bully Slices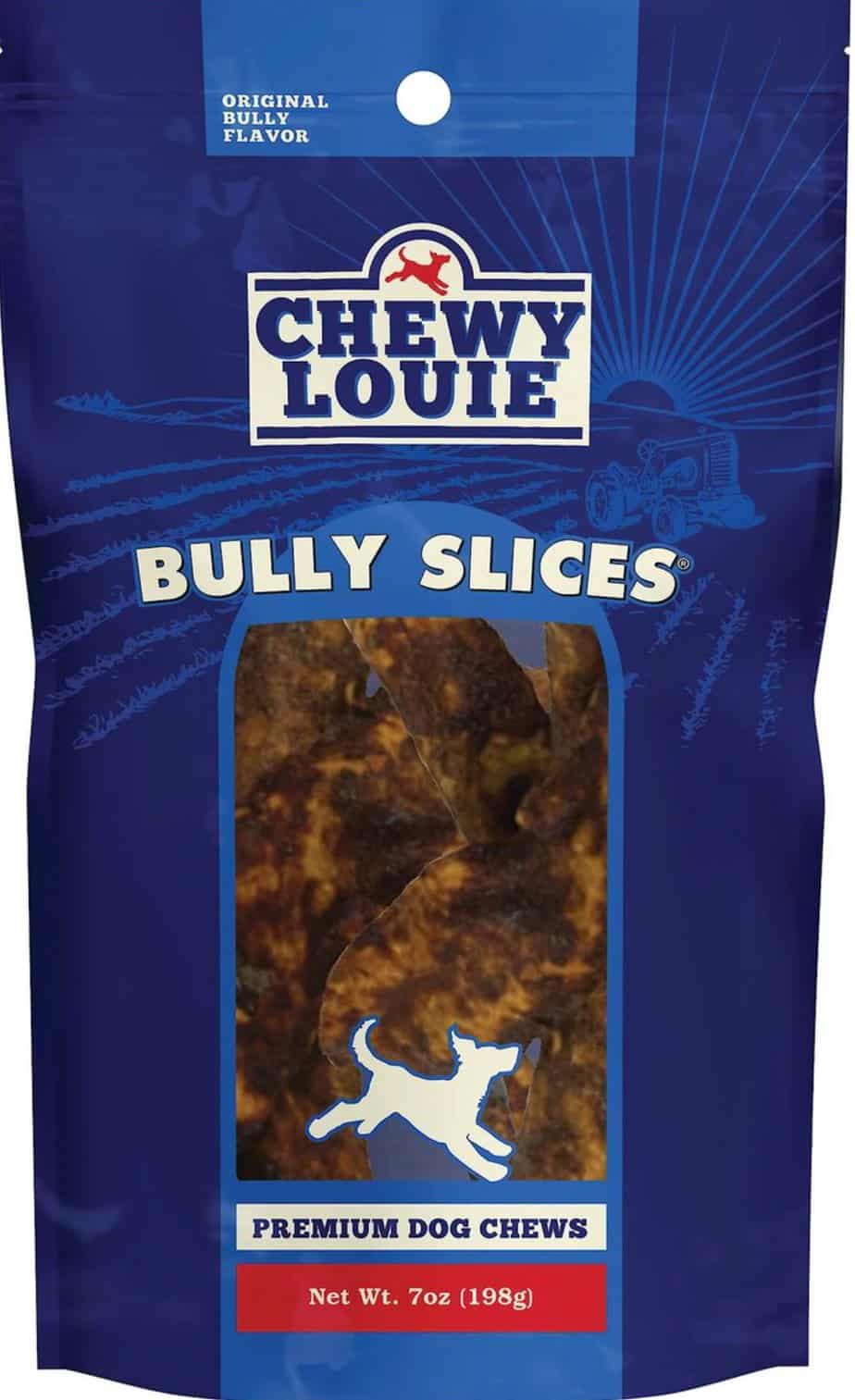 If you're looking for another option, consider the Chewy Louie Bully Slices. The treats contain salmon oil, blueberries, and cranberries so that your dog gets plenty of nutrients. I like that the treats can help get rid of tartar and plaque on your dog's teeth. The treats are grain-free, but my sister, who's a vet tech, said that grain-free products aren't as good as we thought.
I'd only recommend these treats if your dog gets grains through their regular food. However, the treat's product description includes feeding instructions so that you can keep your dog safe.
Pros
Helps clean a dog's teeth
Offers some good nutrients
Affordable choice
Easy to give to your dog
Cons
No grains
Not for super picky dogs
Bones & Chews Bully Strips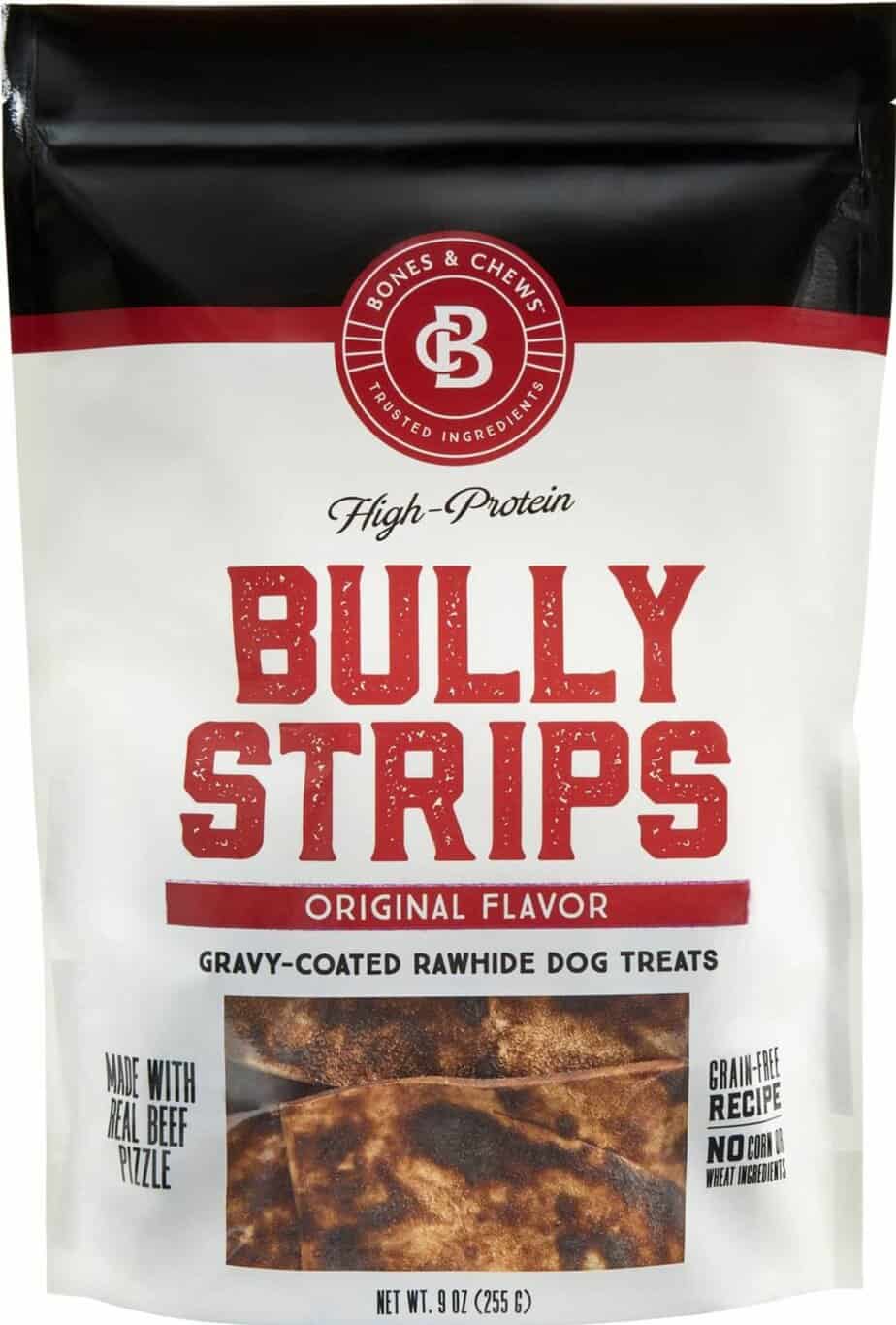 The Bones & Chews Bully Strips can also help give your dog a nutritious, tasty treat. They use beef hide, so the treats contain a lot of protein. Your dog can enjoy chewing, but you'll need to watch them. I like that it has a gravy coating to offer a better taste to your dog than straight-up rawhide, but it's still rawhide.
These treats don't contain grains, such as wheat or corn. Depending on the rest of your dog's diet, that could be a good or bad thing.
Pros
Gravy coating
Can be entertaining
Good nutrients and ingredients
Affordable
Cons
Requires supervision
Not for all dogs
Natural Farm Bully Sticks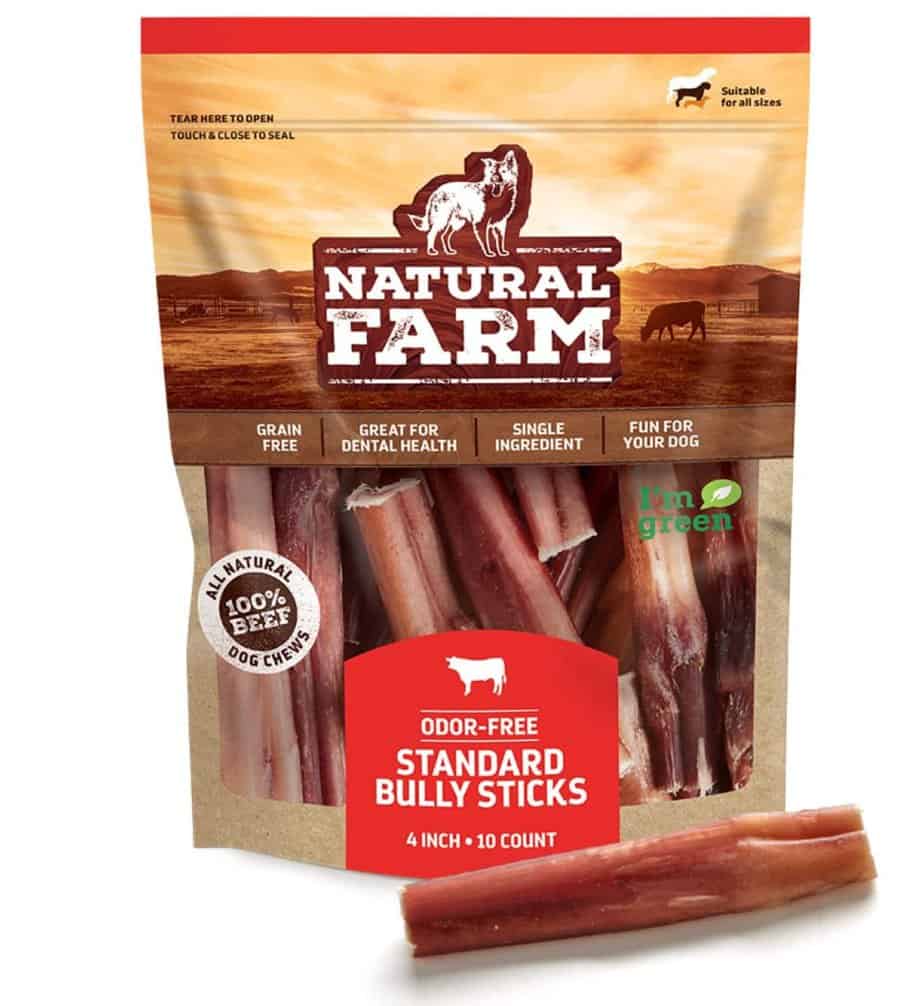 The Natural Farm Bully Sticks aren't technically sliced, but they come close. They're 100 percent beef, and the strips make them look like thicker slices. You won't find gravy coating or any ingredients other than beef hide. I love that these treats can help get rid of dental issues, such as the bad breath.
However, the sticks are only two to four inches, so they're not suitable for large dogs. Your dog could choke, and even small dogs could choke after the stick gets small enough.
Pros
All beef
Thicker than some treats
Good for smaller dogs
Easy to prepare
Cons
Too small for large dogs
Needs supervision
Nature Gnaws Bully Sticks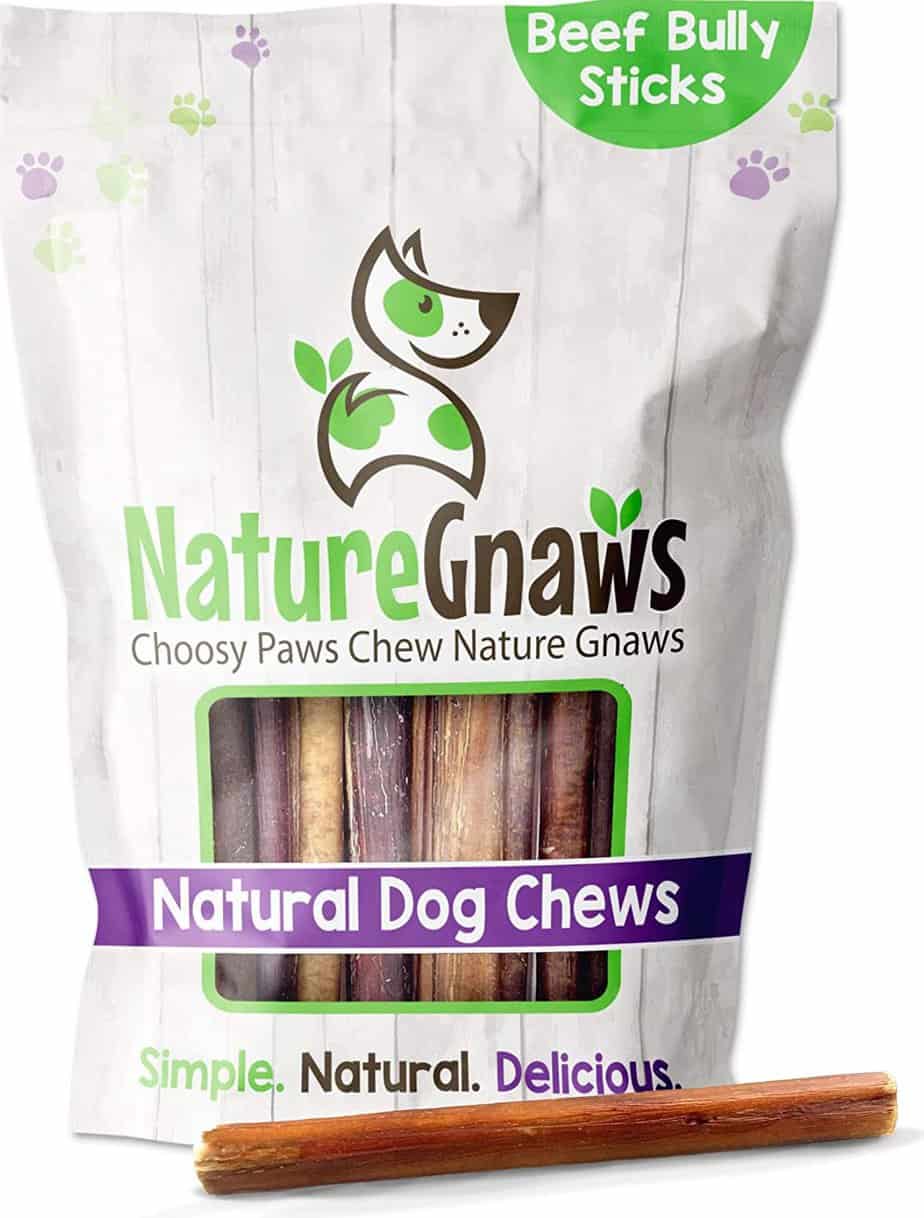 Another option to try is the Nature Gnaws Bully Sticks. The sticks are six inches long, so they can be better for medium-sized dogs, but I still wouldn't give them to really large pups. I love that they're rawhide free, so you can let your dog eat the entire thing. Like many other treats, these can help support better breath and reduce plaque.
The treats last a while, and they can help your dog if they need some sort of distraction. You can choose from three sizes of packaging to get enough treats for your dogs.
Pros
No rawhide
Decent length
Easy to give to your dog
Long-lasting
Cons
Jack&Pup Bully Sticks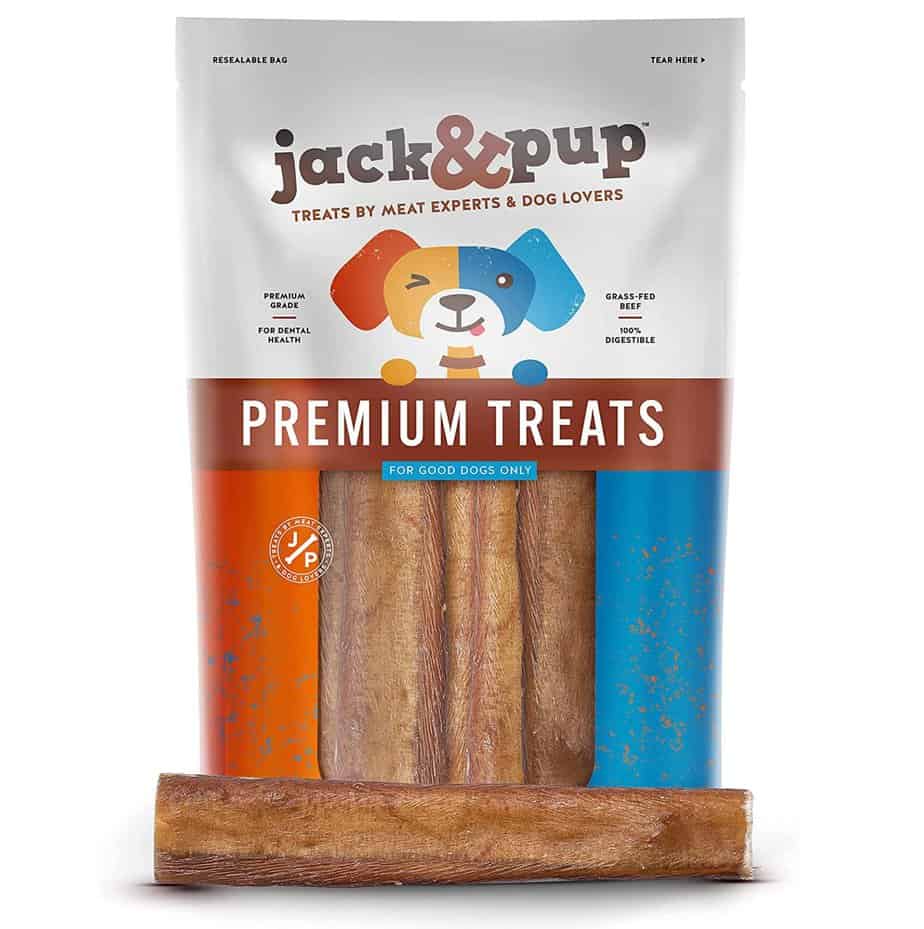 The Jack&Pup Bully Sticks may not be bully slices, but they're similar. Supposedly, these treats don't splinter so are safe for your dog to eat entirely. I'd probably watch my dog closely the first few times just to be safe. However, if that's true, it can be a good way to keep your dog from getting bored while you need to do something else.
I like how the company hand selects the bully sticks to include for sale. Other companies tend to throw all of their product into packages, so the quality here might be a bit better on average.
Pros
Thicker slices
Nice length
Few ingredients
Good for a variety of dogs
Cons
How to Choose the Best Bully Slices
After you look at some bully slices (and sticks), you may wonder how to decide which to buy. Some of the products are very similar, so you could get by with any of them. However, I'd recommend thinking about a few factors before choosing treats for your dog. Then, you can make sure you don't waste your money and that you don't cause your dog to get an intestinal blockage.
Here are some of my best tips for choosing the right treats for your pet.
Start With Your Vet
If you don't follow any of my other tips, at least talk to your vet before getting bully slices. Your vet will know your dog and their health history. A good vet can suggest a specific brand or treat for your dog. Or they might tell you bully slices aren't worth the risk for your dog, and they can offer alternatives.
You can ask your vet about treats at your next visit, or you can call them. My dogs' vet office is great about answering questions, so you should be able to ask your vet about good treats.
Consider Your Dog's Size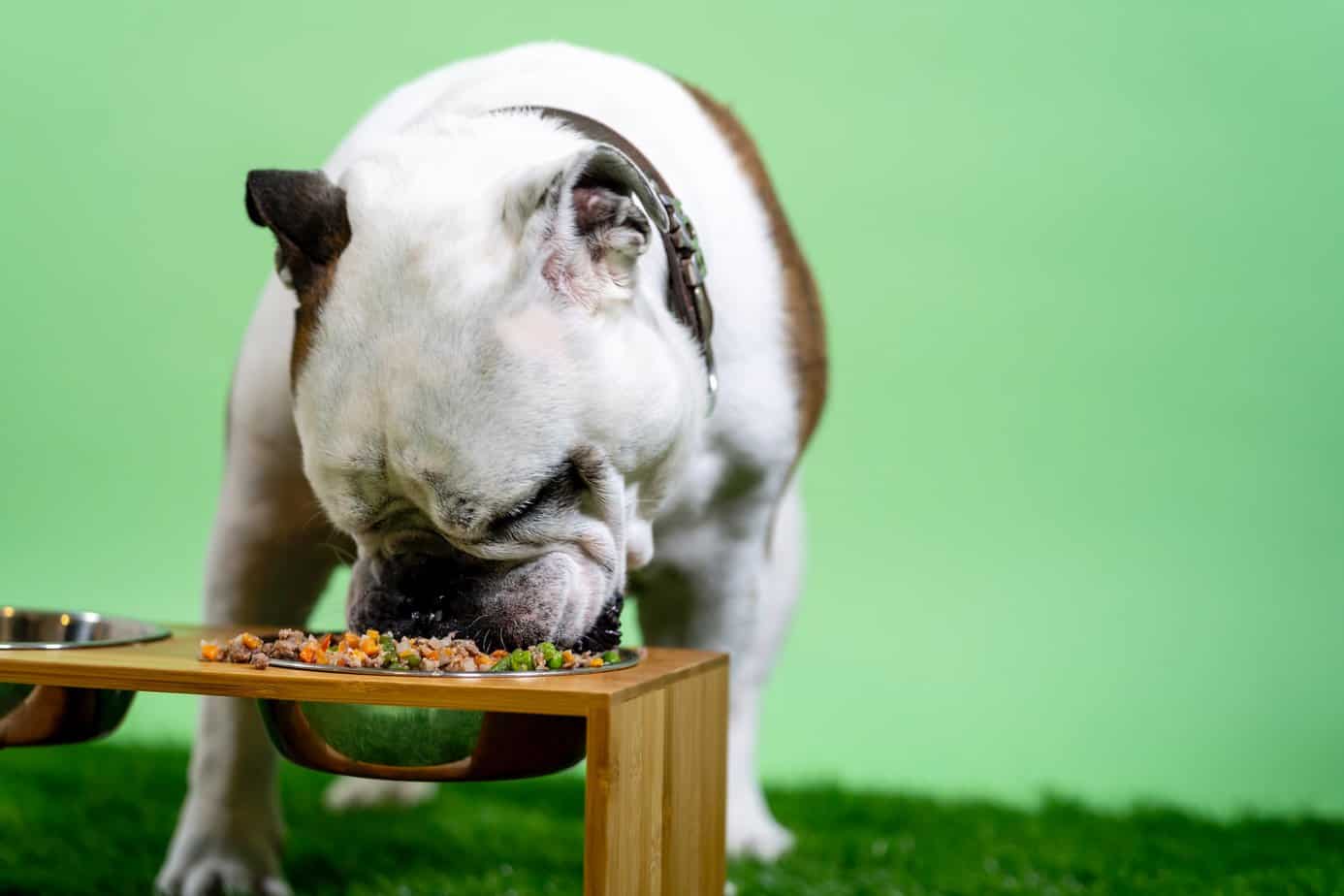 Next, you should think about how big your dog is, specifically the size of their mouth. If you're going to give your dog bully slices, make sure the slices are too big for them to swallow whole. Because of that, larger dogs will need longer and wider slices. As the dog chews on the treat, you should trash any small pieces that break off.
You'll also need to take the treat away as soon as it reaches a size where your dog can swallow it. Then, you can keep the treat from getting stuck in your dog's gastrointestinal tract.
Think About the Flavor
Another thing you may want to decide on is if you want to get a special flavor. Most of the bully slices I found don't have any flavor other than the company's special gravy. However, Redbarn does have original, peanut butter, and other options. Since my dogs love a good spoonful of peanut butter, I'd probably try that PB variety first.
But maybe your dog doesn't seem to care about unique flavors. You could give them a standard bully slice that just uses beef or a gravy coating.
Decide When You'll Give the Treats
I'd recommend deciding what time of day you want to give your dogs the bully slices. Ideally, you wouldn't give them the treat too close to dinner time. Consider waiting for an hour or two between the treat and a meal. That way, your dog can digest whatever they swallow from the treat, and you can watch for any digestive issues.
Plus, spreading out the treats allows your dog to become hungry for dinner. You won't have to worry about them not eating all of their kibble.
Determine If You Can Supervise
A lot of bully slices claim to be safe for dogs to eat, but I'd want to watch my dogs for the first few times. If you can't supervise your dogs, ask someone else you trust. Or wait until you can sit down and pay attention to your dogs as they chew. Then, you'll be able to confiscate the treats as they get too small.
If you want to give them a treat but can't supervise, give them a Nature Gnaws Bully Stick. It's the only treat I found that doesn't contain rawhide, so it's safer than the other options.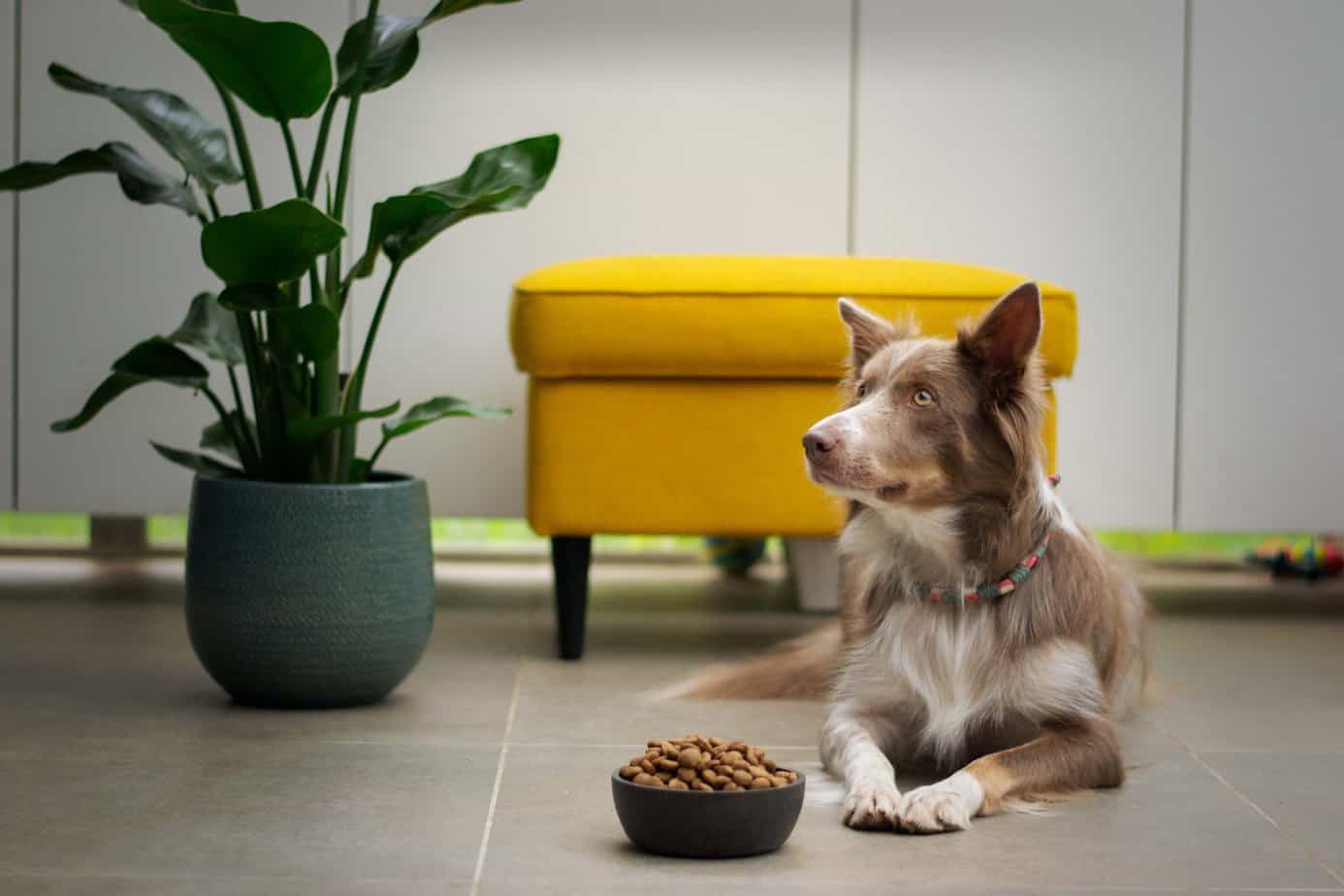 Know Your Budget
Of course, you should also think about how much money you can spend on treats each month. Think about the amount you already spend on treats for walks or before bed. You can change your budget, but some bully slices will be more expensive than others. As you compare prices, consider the number of treats you get, though.
Sometimes, a more expensive bag will be worth it if the cost per treat is lower.
Don't Forget Other Treats
Speaking of other treats, consider what treats you give your dog each day. You want to make sure they maintain a balanced diet, so this is another great reason to talk to your vet. Make sure the bully slices won't completely mess up your dog's diet. Especially if your dog is a puppy or senior dog, they may need different nutrients than adult dogs.
You can reduce the amount of other treats you give your pet, or you can find other ways to incorporate the bully slices.
Note the Packaging
In my search, most of the bully slices I found come in plastic bags with a resealable top. That's pretty common for dog treats, but it can be easy for some dogs to get into. One of my dogs is very food-motivated, and she's gotten into almost anything we leave on the counter. If your dog is the same, make sure you keep the treats out of their reach.
The treats are already somewhat dangerous when you watch your dog, and it can be even worse if they eat the slices when you're out of the house.
FAQs
Question: Are bully slices safe for dogs?
Answer: Many brands that make bully slices claim their treats are safe for dogs. However, any treat with rawhide in it can lead to digestive issues if your dog eats too much of it.
Be sure to watch your dog, and don't be afraid to take the treat away when it gets too small. You may annoy your dog, but you might save a trip to the emergency vet.
Question: Is it okay to give your dog a bully slice every day?
Answer: You probably shouldn't give your dog a bully slice every day unless it's the only treat they get. Most dogs should get a bully slice two or three times a week.
Make the occasion a special reward for your dog. For example, if they're in obedience class, you can give them a bully slice after each class if they do a good job.
Question: Can you cut a bully slice?
Answer: You can cut a bully slice, but you may need to use pliers or other heavy-duty scissors. I wouldn't cut the slices too small though because they can become choking hazards.
Most slices are a good size already, so you shouldn't need to cut them. The only time I'd cut a bully slice is if I had a dog that weighed about 10 pounds or less and thus was small enough to need smaller slices.
Question: How long do bully slices last?
Answer: You can buy bully slices in bulk and keep them for up to two years in a sealed package. However, be sure to check the expiration date to be sure. Some treats might not last as long, while others could have a longer shelf life.
Question: Are bully slices digestible?
Answer: Brands such as Redbarn claim your dog can digest their bully slices. I'd hesitate to say that's the case without trying it first, and even then, I wouldn't want to risk it.
Rawhide can mess up your dog's insides, so I don't think it's worth the risk. It's safer for you to watch your dog and take the treat away after a while.
Final Note on the Best Bully Slices Guide
If you want to give your dog a new treat, you have a lot of options. Fortunately, you found the best bully slices guide to help determine which treat is right for your pup. After comparing options, I'd recommend the Nature Gnaws Bully Sticks as the best. No, they're not technically bully slices, but they're the closest thing without harmful rawhide.
Be sure to talk to your vet, though, because they may have a more specific recommendation for your dog.