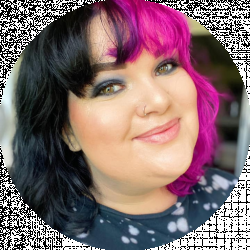 Latest posts by Alizabeth Swain
(see all)
Pepper is my pitbull and boxer mix, whom I sometimes refer to as "Jaws of Fury." She's not an angry biter by any means. But, when she gets her mouth on a tasty treat or a piece of food you've dropped, you might as well say your goodbyes.
Before I had my son, I spent all day playing with Pepper. Now that I have a toddler, there are some times when I need to keep Pepper out of the way so my son can go crazy around the house or so that I can focus on chores. But when you've got a clingy dog, keeping her up and out of the way can be hard.
The problem I always run into with bones and other treats is they don't last long enough for Pepper. Her jaws are too strong, and she eats through the bones too quickly. Most chew treats last her up to five minutes; I need her distracted for more time! That's why I started searching around for chew treats!
Kongs aren't my go-to answer because of how messy they are. I hate having to stuff them with peanut butter and cleaning up the peanut butter mess left on the floor after Pepper's done chewing on the kong. Now that she's getting older, I'm also more concerned with her health.
That's why I started looking around online for a brand that could provide all-natural treats I could give to Pepper. After a little bit of research, I discovered Red Barn! Did their bully ring stand a chance against Pepper?
Bottom fluff up front:
Get this ring if you have a power chewer! I would buy these in bulk if I could! This ring withstood the endurance test regarding my good 'ole Jaws of Fury.
Who Is Red Barn?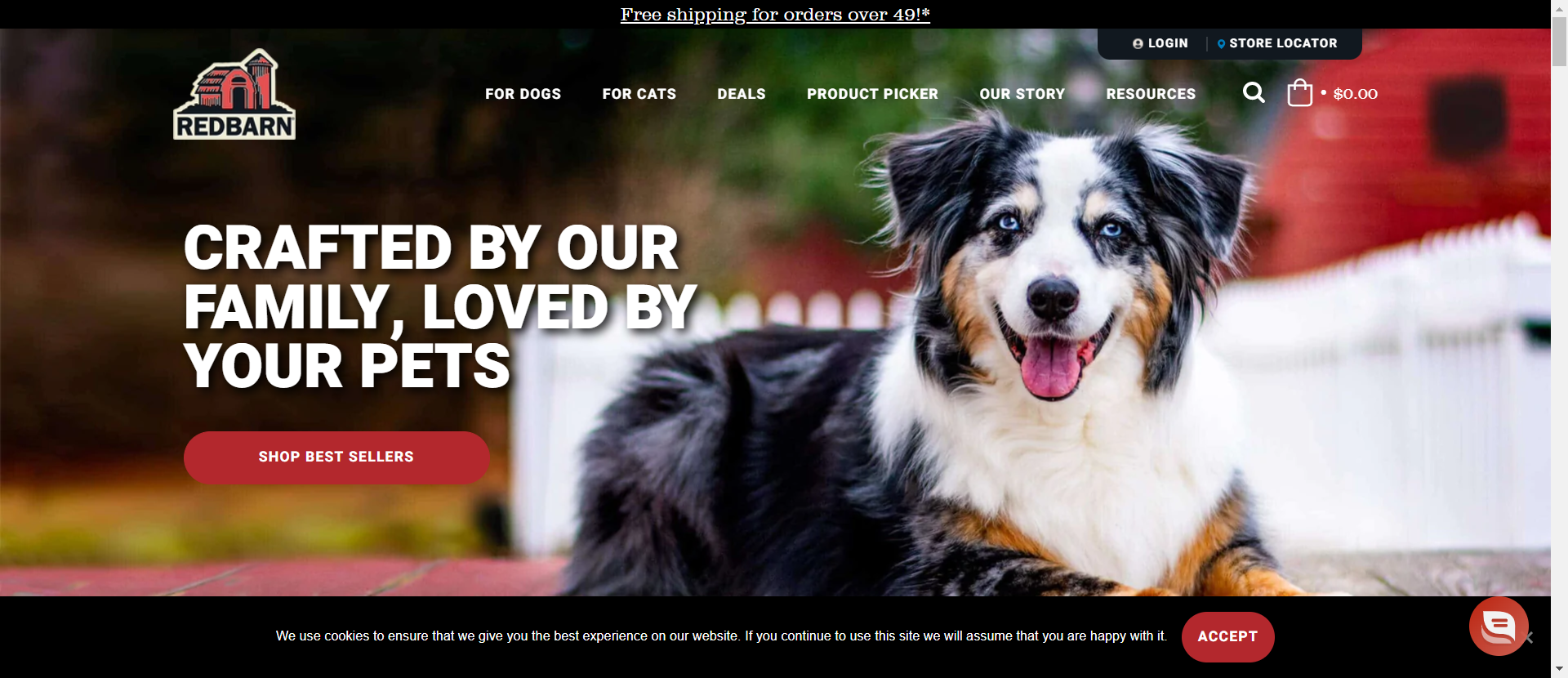 Red Barn isn't a famous dog treat brand, but to me, that's a good thing! I love supporting small businesses whenever I get the opportunity to do so. Red Barn is about producing high-quality treats that help your pup's health.
I'm always scared to introduce new foods and treats to Pepper's diet because of how many recalls are happening nowadays. Taking a gamble on some company's flashy promises is not worth the potential risk to Pepper's health. However, Red Barn is certified by the Safe Quality Food Initiative, which made me feel much better about trying out a new brand with Pepper.
The Ordering Process
Thankfully, the ordering process was a breeze! I loved the other ring options Red Barn had on the website too. I'm going to go back and order a few other ring options Red Barn had, just to see if Pepper likes them more than she liked this bully ring!
I ordered a few other things from Red Barn. Pepper also tried out bully sticks, bully slices, and a few bones. If you're interested in seeing what else Red Barn has to offer, I would take a look at the other reviews I have posted on Scoutknows!
The website navigation was a breeze. I got checked out within a few minutes of surfing the website. I got a confirmation email and another email when my order shipped. Everything was amazing!
The Unboxing
My entire order came securely packaged in a cardboard box. I love the design on the box. It's super cute and rustic! It communicates the value Red Barn offers to its customers; it's natural and wholesome!
I can appreciate how there wasn't a lot of bubble wrap or padding inside this box. In addition, I love that there wasn't a lot of plastic waste, either. The bones were wrapped in a thin plastic coating, and the other treats came in a re-sealable plastic bag. The bully ring had a small paper tag on it, so there was almost no waste with the ring!
The box lasted only a short time in my house. It's like Pepper knew that the box was for her! I think she could smell it coming off of the delivery truck.
The Bully Ring – Did It Stand A Chance Against Pepper?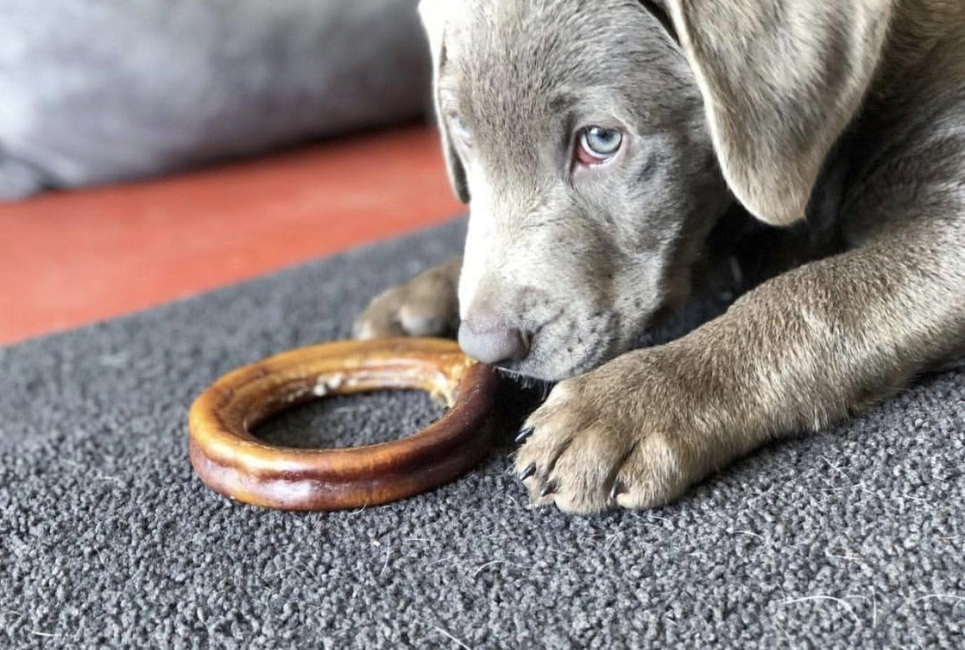 The bully ring was $11 for one! I was a little shocked at the price but happy to pay it considering all of the benefits that come with the ring, so I didn't hold back. I like how Red Barn has a subscribe and save option, which does help to cut down on the cost of the ring.
I was beginning to run out of hope, but I'm so glad Red Barn had a product they could offer my pup! Finally, a bully product that'll stand up (hopefully) against Pepper's jaws. Red Barn recommends these bully rings for light, moderate, and power chewers.
Like all other bully products Red Barn offers, the bully rings are soaked in natural juices. Red Barn made this bully ring with 100% grass-fed free-range cattle. There's only one ingredient in the bully ring (beef pizzle), so you don't have to worry about researching to see if there are any potentially dangerous chemicals!
I loved watching Pepper try to figure out how to handle this ring. This wasn't a shape she'd ever chewed on before, so watching her take her time as she explored the ring with her mouth was interesting.
Pepper spent A few minutes just rolling the ring around with her paws. She was fascinated with the ring because it could roll around like a ball, but she could still stick her paw through the center of the ring. Just for this alone, I already feel like the bully ring is my favorite treat that I bought from Red Barn.
I also love that this ring helps to support Pepper's jaw muscles. Not that I really feel like she needs help strengthening those muscles, but I love that she's able to keep them nice and healthy. Plus, this Dental ring also works to gently massage her gums and fight against any tartar buildup.
When I first gave Pepper this ring, it wasn't malleable. But as she chewed on it and soaked the ring in her saliva, the ring began to get soft and comparable to beef jerky. I was nervous about the smell. It reminded me of a very well-done piece of meat. However, I didn't notice any overwhelmingly stinky smells from this ring.
This ring kept Pepper occupied for so long! I was able to clean my kitchen, get a load of laundry done, and get dinner cooked by the time I went to check in on Pepper again. After I checked in on her, there was still plenty of ring left for her to chew on!
This bully ring lasted her 3.5 hours before I decided to take it away. I was worried the smaller curved parts would pose a choking hazard, so I threw the remaining pieces away. That was such a long time that Pepper I was entertained. I'm so happy with this bully ring and how entertained it kept her.
I noticed a big difference in her anxiety after taking the bone away. Normally, I have to be careful because she gets aggressive when I try to take treats away (especially rawhide.) But she was calm and relaxed after I took this bully ring away.
I would most definitely buy this ring again and again. I know Pepper gets bored pretty quickly, so I think that by offering her different flavors for me to change out every time I give her a new ring. I wish multiple flavor options were available for this specific bully ring.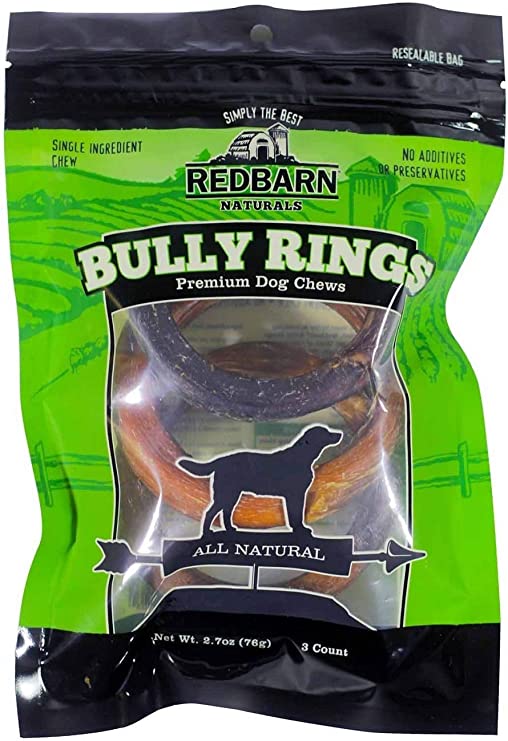 Pros and Cons
If you're unsure of what pros and cons the Red Barn bully ring has to offer, here's my takeaway:
Pros
Kept Pepper entertained for so long

Acted like a ball before she began to chew on it; she loved chasing the ring around the yard

Only one ingredient, so I don't have to worry about any icky ingredients

Didn't shatter into a million pieces, so it was easy to clean up

Helped to lower Pepper's anxiety
Cons
I wish there were more flavor options available

It would be fun to have different sizes
Alternatives to Consider
If you don't feel like Red Barn is the best choice for your and your fur baby, here are a few other options I'd recommend you look into:
Pawstruck Bully Rings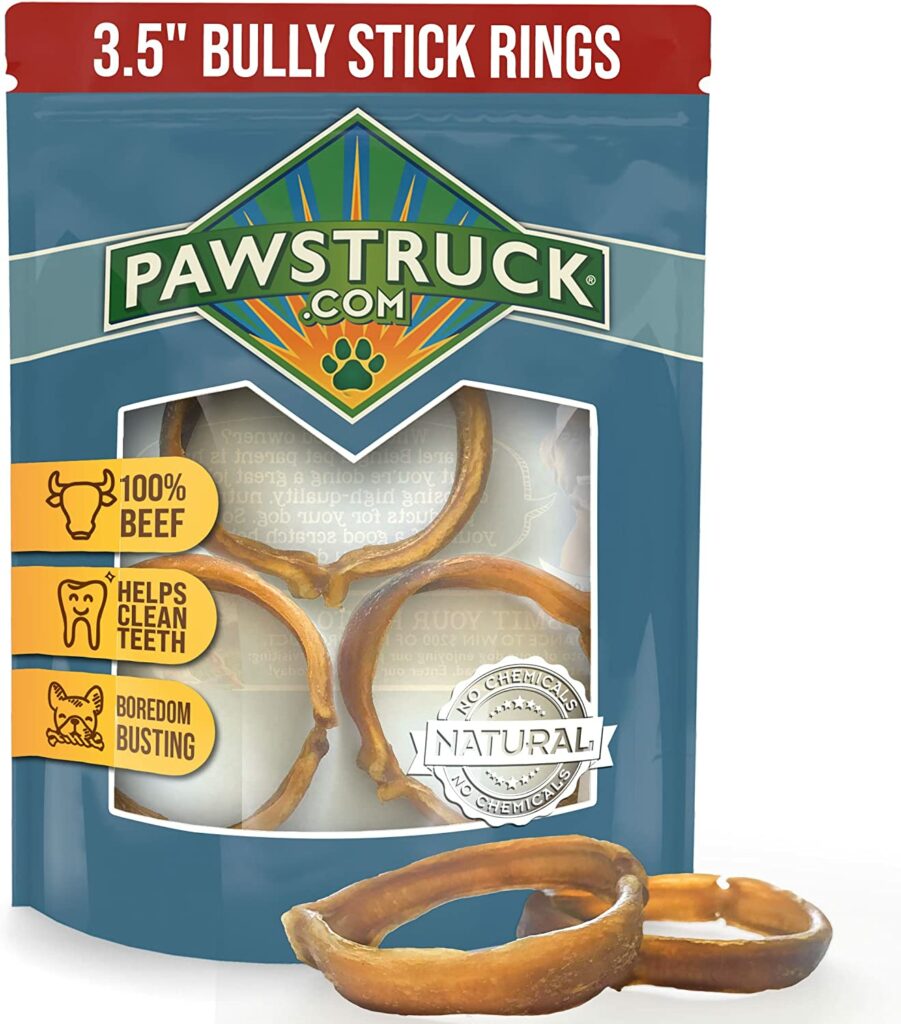 These bully rings are similar to Red Barn bully rings. They're also made from grass-fed free-range cows. They're also made from all-natural beef pizzle and don't contain any preservatives or nasty chemicals. You can get a bag of these bully rings, which I think is great, especially if you have multiple pups you're shopping around for. Pawstruck is another small family-owned business if you're passionate about supporting small and local companies!
Red Barn Bully Sticks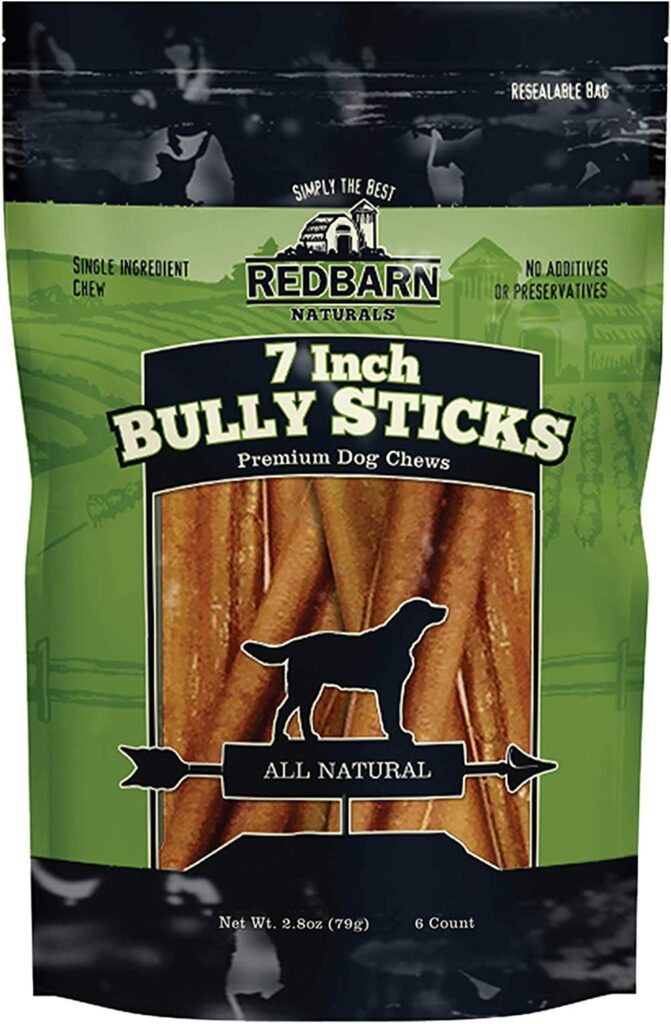 If you aren't a big fan of giving your dog a ring, Red Barn has a lot of other bully products to choose from. I would recommend you look into their Bully Sticks or bully slices. However, I would only recommend you do this if you have a light or moderate chewer. The Bully sticks didn't last Pepper very long at all. It kept her out of my way for 10 minutes before she demolished the whole thing.
Nature Gnaws Tripe Twist Spring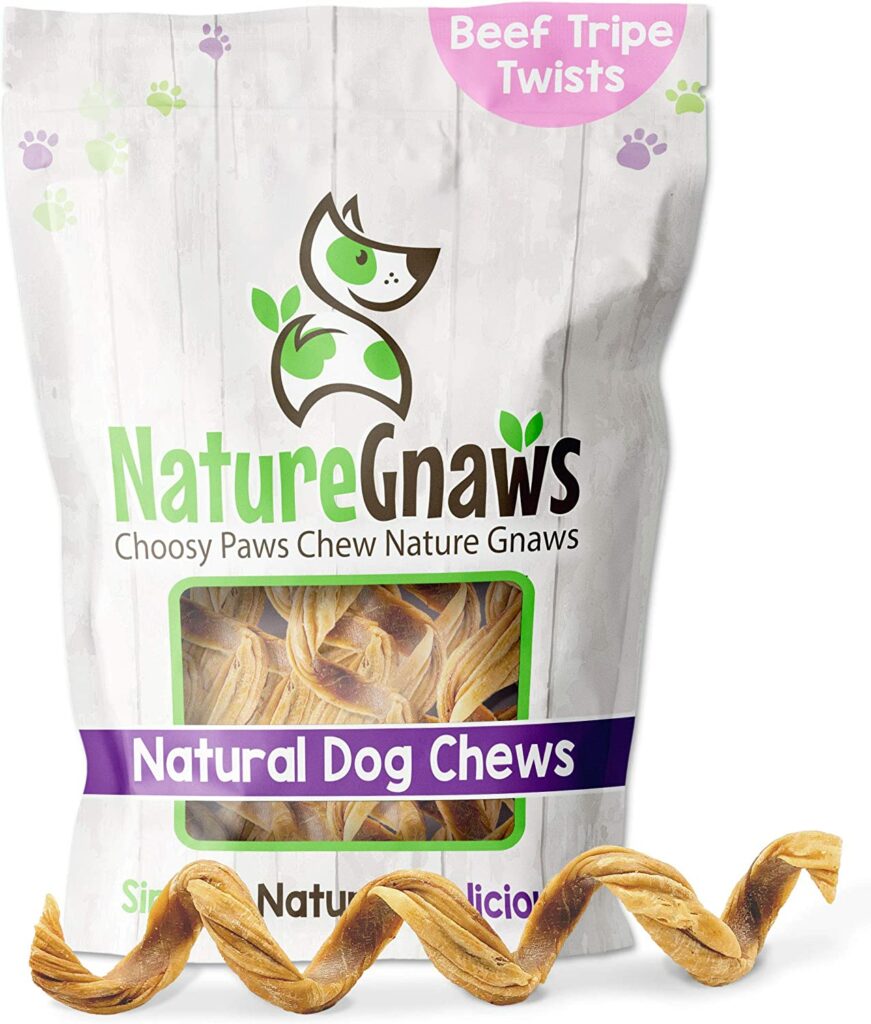 I love giving these to Pepper! I first started giving these to Pepper when she was smaller. They were small enough to give to her as a reward and kept her occupied for a couple of minutes! I recommend these twist springs to people who have aggressive chewers for puppies but don't want to commit to an adult-level chew treat! Similar to Red Barn, these twists are also all-natural.
FAQs
Question: Are Bully Rings Safe for Dogs?
Answer: Yes, a bully ring is completely safe for your dog! A ton of benefits come with using a bully ring too. They're Easy to digest, so you don't have to worry about the bully ring stopping up your dog's digestive tract like you would with other dog treats. Plus, they help to lower anxiety, strengthen your dog's jaw muscles, and offer a great way to keep them entertained for a few hours.
Question: Do Red Barn Bully Products Smell?
Answer: I've tried all of the bully products that Red Barn offers, and I haven't had any problems with anything smelling. Since all their bully products are treated in all-natural juices, there isn't any stinky dog smell you get with most other treats. I don't feel like my dog's breath, or house smelled before or after using the Red Barn bully products. They're pretty much odor free.
Question: Is the Red Barn Bully Ring Safe to Give to a Puppy?
Answer: Yes, the Red Barn bully ring is safe for a puppy. Since it's an all-natural product, you don't have to worry about any possible toxins or artificial ingredients making your puppy sick. However, I recommend limiting the time your puppy spends chewing on the bully ring. This way, you can protect their teeth and the inside of their mouth from any damage caused by excessive chewing.
Is The Red Barn Bully Stick Pepper Approved?
Yes! And as her owner, I approve of this bully ring too! I love watching Pepper love this bully ring. Watching her run around the backyard as she chased it around like a ball was fun. It made me even happier that I could accomplish a lot of chores and not have Pepper trailing behind me everywhere I went. She was quiet and content as she chewed on this bully ring.
I would recommend the Red Barn bully ring to anyone with a dog. You've got to try it!