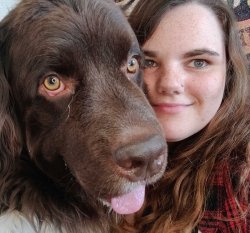 Latest posts by Miah Schmahl
(see all)
The minute I picked up my dog Hagrid, I knew I would want a stuffed replica of him one day, and Cuddle Clones certainly provided one. The unfortunate truth is that our furry friends won't be with us forever and while I always make the most out of my time with my bubba, having a stuffed animal that looks just like him is a little emotional.
After battling epilepsy and pancreatitis caused partially by his epilepsy medication, we've found stable ground. However, I've still had to face the inevitable truth that we won't be taking Sunday car rides or snuggling on the front porch every morning forever. While the thought alone breaks my heart to pieces, I'll have a little piece of my Hagrid in my Cuddle Clone when that day comes.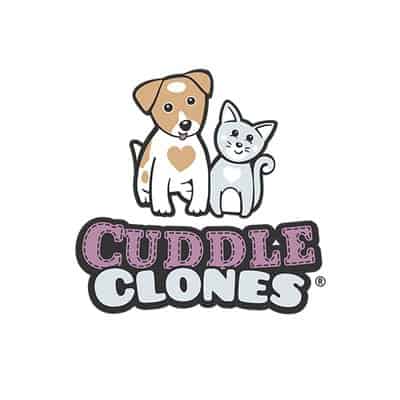 Custom Stuffed Animals of Your Pet | Cuddle Clones
100% custom hand-made to look exactly like your pet! We make ALL animals - dogs, cats, rabbits, horses, etc. The perfect gift for any pet lover! Save 10% at CuddleClones.com with code: CUDDLE10
Customize Now
We earn a commission if you click this link and make a purchase at no additional cost to you.
While the real thing is far superior, the uncanny representation from Hagrid's general unkemptness to just how big his head is well on point! However, there are a few small things I'd change. With that said, let's meet Hagrid and get into this Cuddle Clones review!
Pros, Cons & Bottomline
Cuddle Clones is probably one of the most talked-about stuffed pet animal replica services. There are a few alternatives, most notably Petsies, owned by Budsies. When it comes to finding a pretty accurate representation of your pet, you can't beat Cuddle Clones. They aren't the most cuddly of stuffed animals, and I would say lean on the display side of things. However, they have an uncanny resemblance. Even Hagrid is a bit wigged out by (okay, completely wigged out).
The ordering process is pretty easy and streamlined, and the Cuddle Clone's overall quality is fantastic. However, I found the packaging a bit lackluster for such an expensive and sentimental item.
Pros
The Cuddle Clone had an uncanny resemblance to Hagrid that still makes me jump a bit when I round the corner to the living room.
Feels like good quality and sturdy.
Easy to adjust the front legs and the mouth to get the expression you want
Creation and shipping were faster than stated on the website
The ordering process is pretty streamlined. Remember, you need to have good photos of your pet from various angles to order.
The overall detail is excellent, from the spots on his legs to the texture difference between his chest and back fur.
Cons
The shipping packaging was rather lackluster for such an expensive product with so much sentimental value. I'd prefer to see a box over two plastic bags.
They missed a small detail on his upper lip. I'm assuming they didn't notice in the original pictures. It's a little detail that would have been nice to see.
Some of the furs on his head are a bit thin in places.
If you have a pet, chances are you've heard of Cuddle Clones. The company specializes in making exact stuffed replicas of your beloved furry friend. Whether you are looking to memorialize your beloved pet or just want a stuffed animal of them, Cuddle Clones aims to deliver. They do a pretty good job of it, to boot.
Jennifer Williams and Adam Greene created Cuddle Clones in 2010, but the aha moment for this creation came way back in 2005 when Jennifer was cuddling her Great Dane Rufus. She realized quickly she wouldn't be able to find a stuffed animal that looked anything like him, a feeling I know well. However, it wasn't until Rufus passed away that this idea came back in full force. Jennifer wanted nothing more than to hug Rufus again.
With the help of a business colleague Adam Greene, they established Cuddle Clones LLC and created their prototype, a mixed-breed dog named Layla. Their first website launched in 2011, and by 2013 they opened a fully functioning e-commerce website as their digital storefront.
The company ran steady for a few years before acquiring Cartoonize My Pet in 2016 and expanding its offerings. Outside of stuffed animals, Cuddle Clones also offers custom household apparel and accessories products with your pet on them.
In 2021, Cuddle Clones LLC was acquired by Dianthus', an AI e-commerce company.
Cuddle Clones Review: Is It Worth It?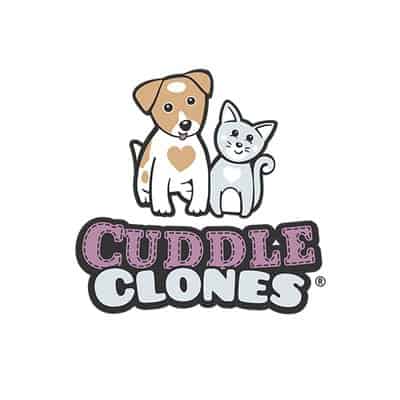 Custom Stuffed Animals of Your Pet | Cuddle Clones
100% custom hand-made to look exactly like your pet! We make ALL animals - dogs, cats, rabbits, horses, etc. The perfect gift for any pet lover! Save 10% at CuddleClones.com with code: CUDDLE10
Customize Now
We earn a commission if you click this link and make a purchase at no additional cost to you.
The process of ordering and receiving a Cuddle Clone is a bit of a lengthy one; this isn't Amazon Prime, after all. While the process might take a minute, it's streamlined and easy. Remember to have the same patience you had when you first trained your dog to sit!
Ordering Hagrid
The ordering process was pretty straightforward. When you hit the landing page of CuddleClones.com, you will be able to access the replica product page by clicking on the top drop-down that says replicas. From here, you can get started. The first step is to enter your pet's information, species, name, and breed. From there, you start customization!
The first step is to add photos of your pet, and they do ask for quite a few. I took photos of my dog as he was the day I decided to order the Cuddle Clone. I preferred that over a freshly groomed version because I knew I would capture his true nature. I used to dream of being that pet parent that had a perfectly groomed dog 90% of the time, but the reality of life is that it's not gonna happen. Not with a dog that matches your attitude perfectly and is not a fan of the groomers.
However, if you have a long-haired dog like mine and want them to look a bit more kept, I highly recommend a fresh groom or a good bath and some brushing pre-photo shoot. Here are a few examples of the poses I used to capture Hagrid's likeness. He has no shame.
After uploading photos, you select your pet's features, like their eye color and ear position, and add any distinguishing characteristics that your pet may have along with the photos. You can easily pick two different colored eyes if your pet has those and add up to 3 special features. If your pet is unique, choose the ones that mean the most to you.
From there, you add your product options. You can choose what mouth positions you want your stuffie in, close with no tongue, close with a little tongue, and open with a lot of tongue. I chose open; it seemed the most natural for my dog. Body position options include lying down, sitting, and standing; the tail position includes down, half, up, or no tail.
Lastly, you can choose a custom pet bandana in red, blue, or pink, and you can add a zipper pouch in their lower belly to store photos, ashes, or other things that remind you. This is one feature I wish I had gotten, as it takes the stuffie and adds an extra bit of sentimental value on top of the appearance. You can also add any other special notes you wish for the order.
Once your pet is added to the cart, you can add other items like custom pet pajamas or socks to your cart, along with choosing your delivery time.
Standard 8-week delivery is free
6-week delivery is $40
4-week delivery is $60
2-week delivery is $100
The Creation Process, aka Waiting…
After ordering, you simply wait to receive an email that your cuddle clone is ready to go. I chose standard 8-week delivery but received my Cuddle Clone in about 6 weeks. It may be because they have fewer orders to get through at the moment, but it was a pleasant surprise to receive it early. I still expect delivery to take 8 weeks during the holidays.
Delivery Day
The Cuddle Clone was shipped via USPS and showed up wrapped in a basic plastic shipping bag. Inside that bag were another recyclable plastic bag with the Cuddle Clones logo and a statement about how using this bag helps cut down on carbon emissions. Pretty basic packaging, but overall it works well. Given that it is a stuffed animal, I suppose you don't need a lot of protective packaging.
First Reactions
It only made sense to open this package with The Big Man, and honestly, he opens most packages with me. In the hopes, bubble wrap is included. Sorry, bud, not this time. We had very different initial reactions and still haven't come to an agreement.
My Initial Reaction
When I opened the package, I first noticed that the cuddle clone looked remarkably similar to Hagrid when I brought him home at 8 weeks old. His hair needed a bit of fluffing, but he was about the same size and equally as cute. When I sent a video, even a friend thought it was a real puppy.
I knew pretty much immediately that I would keep this by the fireplace in the living room instead of on my bed. It's not quite squishy enough to be a cuddle partner in the sitting position, but it makes a great display piece and a great addition to a memorial space for your pets if you have one.
I did enjoy playing with the ears and fluffing the fur up to my liking. Along with noticing all of the little details, they included how his eyes are red underneath the pupil because they droop a bit and how they managed to get the texture between his chest fur and back fur correct. I'll admit I did have a funny initial thought as I fluffed up my Cuddle Clone "thank god these aren't atomically correct."
I also spent some time adjusting the mouth and overall just getting a good feel for the stuffed animal. The animal feels sturdy and a bit heavy. There's a good bit of stuffing inside, and I doubt it'll soften much over time. The stitching seems very secure, and the fur pattern is pretty close. They got the spots on his legs perfectly, included extra fur around his paws, and did an excellent job blending colors to represent his coat color accurately.
I also loved that I can easily adjust the mouth and tongue to give the stuffed animal a more lively expression.
Hagrid's Reaction
Hagrid had a different reaction, and I truly doubt he will change his mind anytime soon.
He reacted similarly to a 6ft tall Nutcracker I bought a few years ago. Lifelike inanimate objects are not his jam.
What I Would Change
Overall, I enjoyed the process of ordering and receiving my cuddle clone. I appreciate the attention to detail and how soft the fur is. However, there are a few details that could have been done better. Hagrid has a pretty distinct white stripe on his lip and under his nose that has been a very distinguishing mark since he was young. However, it's not very noticeable in the plush. It's hard to see the mark even up close in photos, so it's more than likely they simply didn't notice.
I would also like to see the animal shipped in a box, especially an eco-friendly one. While the shipping bag serves its purpose and stuffed animals don't need much protection, these are expensive replicas of people's loved ones, and the shipping should reflect that. At nearly 300 dollars, I expected a bit more care to be put into the packaging.
However, despite these little things, I would happily order a Cuddle Clone for another pet in the future.
Alternatives to Cuddle Clones
There are a few alternatives to Cuddle Clones out there. However, there's only one I'd have the same trust in.
Petsies is owned by Budsies, the company that takes children's drawings and turns them into real-life stuffed animals. I've heard that Petsies stuffed animals are a lot softer and more cuddly. Less for display and more as a bedtime companion. Petsies has a few other features that I find preferable to CuddleClones. First, you can choose the size of your Petsie:
Mini- 10″
Regular- 16″
Large- 24″
However, they only use 3 photos of your pet, so I worry about the overall look of the Petsie. If you are looking for a stuffed animal for a child to sleep with, I recommend this option.
Out of all the other companies selling custom replicas, I struggled to find one I would trust. Largely due to a lack of reviews and information about the company. So I turned to the one place I knew sold custom, well, just about everything, Etsy!
You won't find anything like CuddleClones on Etsy, but you can find a variety of crocheted replicas you can order. This is perfect for someone who wants a more cartoonish version of their furry friend, wants to support a small creator, or doesn't want to pay as much as a Cuddle Clone or Petsie for their keepsake.
FAQ
Question: Where are Cuddle Clones made?
Answer: Cuddle Clones are made in China. According to Cuddle Clones, they have a small workshop with a team of designers and skilled support staff in Dongguan, China.
Question: What size are Cuddle Clones?
Answer: The size of your clone will vary from 13-24 inches for a dog or a cat. Hagrid was 20 inches tall; unfortunately, you can't specify an exact height.
Question: How can I keep my Cuddle Clone clean?
Answer: The most important thing is to never submerge it in water or put it through the wash. The airbrushing is water-based and could come off with excess moisture. Hugging your Cuddle Clone is one thing, but getting fully wet could wreck its beautiful color. Dry clean it only if it needs to be cleaned.
Final Thoughts
Ultimately, I would happily buy another Cuddle Clone for a pet, and the likeness is uncanny. The fact that my Cuddle Clone reminds me of my dog as a puppy is a cherry on top. I dreamed of bringing home Newfoundland for years. When the chance finally came to welcome one in my life, it changed completely, in the most beautiful way.
There's a special bond between my bubba and me. I've had pets in the past, but none like Hagrid. He marked the start of a significant transition in my life and keeps me on track every day. He's my best friend, the reason I get up in the morning on the hard days and the good days, and the best person to celebrate with. Having a Cuddle Clone of him will help keep that love going decades from now and become a cherished heirloom.
However, I'm equally curious to get a Petsie version of Hagrid. The idea of having a softer, cuddlier version is very appealing. I'd also like one more suited for hanging out on my bed, but I like soft stuffies like Squishmallows when I sleep. It's not too much to memorialize your pet twice in the stuffed animal form…is it?
I'll let you know if Hagrid ever warms up to his mini-me!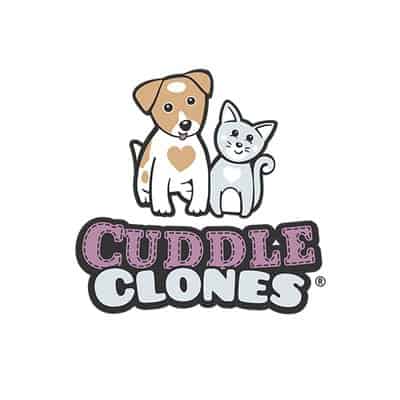 Custom Stuffed Animals of Your Pet | Cuddle Clones
100% custom hand-made to look exactly like your pet! We make ALL animals - dogs, cats, rabbits, horses, etc. The perfect gift for any pet lover! Save 10% at CuddleClones.com with code: CUDDLE10
Customize Now
We earn a commission if you click this link and make a purchase at no additional cost to you.
Continue reading:
Gift Guide: The Best Gifts for Dog Parents
Master The Ugly Dog Sweater: A Holiday Gift Guide For Pets
How To Dog Proof Your Home (Easy Step By Step Guide)