Latest posts by Talitha vanNiekerk
(see all)
I have always loved giving my dogs bully sticks, but sometimes it can be hard to source quality bully sticks. Recently, on a road trip to attend some of the out-of-state breeder's shows, I stopped at a local shop, where I bought what I believed to be good quality bully sticks. Sadly, I was mistaken, and my dog Tabasco and I became well-acquainted with the local vet as a result.
The "bully stick" had nothing remotely resembling the real bully stick ingredients, and the artificial ingredients quickly chewed to pieces and agitated Tabasco's stomach.
Tabasco is a tea-cup-sized Yorkshire terrier, fiery by nature, so seeing him so low and his little "war-face" all wrinkled with pain was most distressing. Bully sticks are his favorite, and I had never before had this problem as I always buy quality sticks—except for this one instance.
I wondered just what makes a great bully stick and what are the best bully sticks on the market so my dearest Tabasco (and your dog, too) wouldn't have such a nightmare experience again.
Best Bully Stick Bottom Line
Buying quality bully sticks is important to ensure your dog's good health, help clean their teeth, and promote healthy guts. I found these 6-Inch Thin Bully Stick from Best Bully Sticks.com to be the best overall bully stick on the market since it's all-natural and great tasting, and Tabasco loves it too.
But if you can't find the Best Bully Sticks, you can try one of these top picks too:
My Top Bully Stick Picks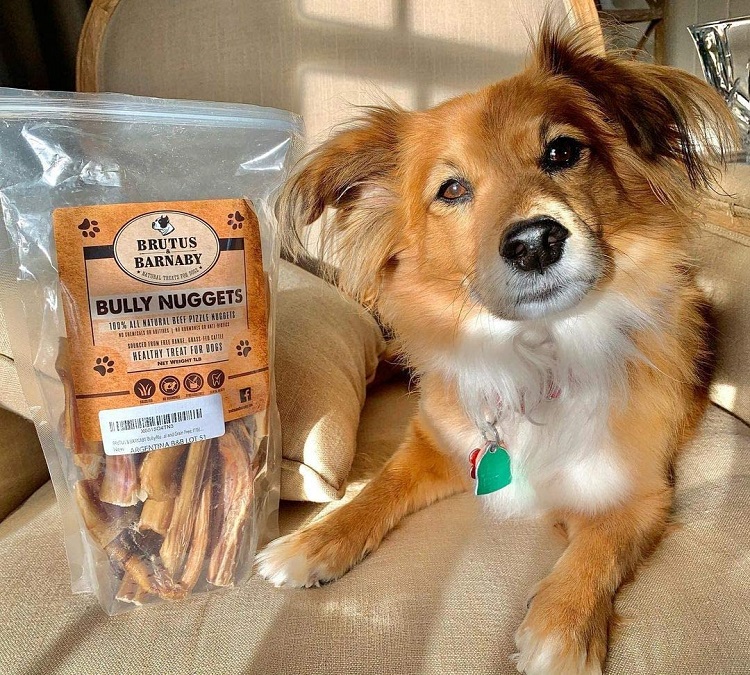 Best Overall Bully Stick
6-Inch Thin Bully Stick from Best Bully Sticks.com: It's a quality single-ingredient bully stick with the perfect dimensions for my overzealous Yorkie.
Best Runner-Up Bully Stick
Cadet Bully Sticks dog treats: These bully sticks are ideal for small to medium dogs, and you can choose three thicknesses of bully sticks for your prized pooch.
Best Long-Term Bully Stick Chew
Natural Farm Braided Bully Sticks: As a great twist on the regular bully stick, these braided bully sticks are versatile chews for your pup to keep them munching away happily for hours.
Best Senior Bully Sticks
Jack&Pup Skinny Bully Sticks 6-Inch Sheaths for Light Chewers: Thinner bully sticks that are ideal for older dogs or dogs with dental problems.
Best Bully Stick Pieces
BRUTUS & BARNABY Bully Nuggets: Ideal treats for smaller dogs or single portion chew treats for larger dogs.
Why Are Bully Sticks Good for Dogs?
Before we launch into the ins and outs of the best bully sticks, let's review why giving your dog a bully stick to chew is such a good idea. Bully sticks are:
Rich in protein and taurine, supplementing deficient diets to ensure healthy muscles and tendons

Low in fats, reducing weight

Great for maintaining healthy teeth as chewing removes plaque buildup

A source of entertainment for your dog to help avoid boredom

Stress-relieving chews that can help calm an anxious dog

100% natural with no added fillers

A great alternative to daily brushing to

prevent periodontal disease

Bully sticks are recommended by the American Kennel Club (AKC) for cleaning dogs' teeth
Tips and Advice for Buying Quality Bully Sticks and Other Dog Chews
When you walk into the pet supplies store, you may be quite confused by the wide selection of toys, treats, and chews on display. There are so many colors, shapes, and choices that it could be difficult to know which treat or chew to choose.
Luckily, I'm about to share the top tips that have helped me choose the best quality for my pets, especially for my prize dogs.
#1: Size Appropriate Chews and Treats
When you choose something, consider whether it is the right size for your dog. Never simply rely on the manufacturer's guide.
You know YOUR dog. While your neighbor's dog may happily chew on a 6-inch bully stick and be perfectly fine, your dog may choke on it or run with it hanging out of their mouth in a strange way—ending up like Jeff Dunham's newest puppet (on a stick).
#2: Content of the Chew or Treat
Make sure the ingredients of any dog chew or treat you buy for your pooch are manufactured from the best natural materials available. Try to opt for protein-based snacks that are low in fat and free of preservatives or colorants.
#3: Best-By Date
While you may believe that the dog treats you are looking at don't need a best-by date, you'd be wrong. Dog treats can also expire, and while they may lose their flavor, they can also lose their nutritional value.
#4: Appearance and Health
It may look absolutely hilarious to have your dog chew on a bright red Christmas father during the holidays, but you have to ask yourself what dyes have been used to color that treat red. Dyes and other forms of coloring are not natural to your dog's digestive tract.
Even whitened treats are unhealthy since these are bleached using chemicals that are not beneficial to your dog's health. Instead, choose all-natural color treats. Avoid decorated designs as these will not be suitable for your dog at all.
Be sure to choose low-odor bully sticks. A bully stick should be made from bull phallus that has been drained of blood and urine to ensure there are no waste products still in the phallus before baking or boiling. If the bully stick smells of urine or ammonia, it has not been properly cleaned before the manufacturing process.
#5: Packaging of the Treat or Chew
How the treat is packaged is also important to your dog's health. We all like to save the planet, but if you purchase an open chew toy, you risk that the treat is contaminated by chemicals and foreign particles that can easily make your dog sick.
While you can rinse a plastic chew toy, it's not so easy to soap and wash a bully stick or a pig ear. Therefore, edible treats should come in sealed packaging to prevent accidental contamination.
If you want to try a non-natural alternative chew to help clean your dog's teeth, consider our review of Dentastix and Greenies.
Selection Criteria for Buying Quality Bully Sticks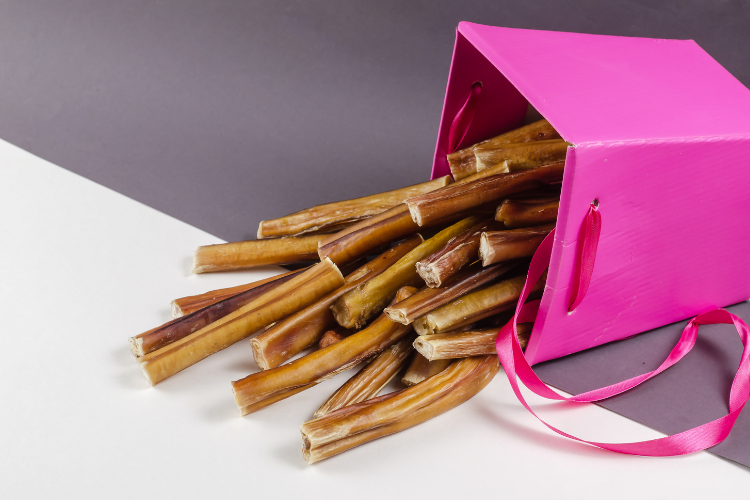 I have also discovered just how many bully stick brands and manufacturers are on the market. More bully stick products are available than most other dog toys or chews.
It can be intimidating to choose the right bully stick. However, this is what you should look for when buying quality bully sticks.
Single Ingredient Status
Be sure the bully sticks are made with a "single ingredient," which has to be cattle pizzlers. If there are other ingredients listed, the product is not a real bully stick and is not as healthy as it should be.
Also, follow up on the type of cattle used for the pizzlers. If these are not grass-fed and organically raised, you run the risk of getting meat that has been exposed to hormone enhancements and other drugs that the cows were given to boost growth. You wouldn't want to eat such contaminated beef, so don't feed it to your dog.
Free of Artificial Stuff
Ensure the bully sticks are free of preservatives, colorants, flavor enhancers, dyes, and fillers. Anything that's not 100% pizzler isn't going to be beneficial to your dog.
Method of Manufacture
It's your choice of which manufacturing process you prefer for the bully sticks your dog likes. Baking and roasting are the most popular ways to dehydrate and preserve the pizzlers and make the bully sticks. However, a more flavorful way is to boil the pizzlers.
Boiling pizzlers does cause more flavor to remain in the meat, which can cause a more potent smell to the sticks and give your doggo bad breath.
Shipping and Cost
While you want the best for your dog, you also don't want to spend a fortune and still have to pay for shipping. Sourcing bully sticks locally may be the best option then. This can significantly reduce the price per unit, allowing you to buy better quality and feed bully sticks more often.
Part of this consideration should also be the method of packaging. Buying open bully sticks can expose your dog to harmful environmental pollutants. Instead, opt for vacuum-packed bully sticks for the best freshness.
Thickness Compared to Your Dog's Jaw Size
You may think you are spoiling your miniature pinscher with a giant bully stick, but you are actually putting strain on their jaws by giving them something too big to chew on. Choosing a longer bully stick than what your dog needs is safer than choosing a wider or thicker one than they can chew.
An adventurous dog may force their jaws so wide that they either unhook the jaw joint or get their jaws locked on the bully stick and be unable to let go. Your dog may damage their incisors and front teeth by trying to chew with their front teeth only.
Choose the right length and thickness of bully stick to ensure your dog can comfortably chew on it.
The Best Bully Sticks on the Market
Let's take a more in-depth look at the different bully sticks that I found suitable for dogs to chew on safely.
Best Overall Bully Stick: 6-Inch Thin Bully Stick from Best Bully Sticks.com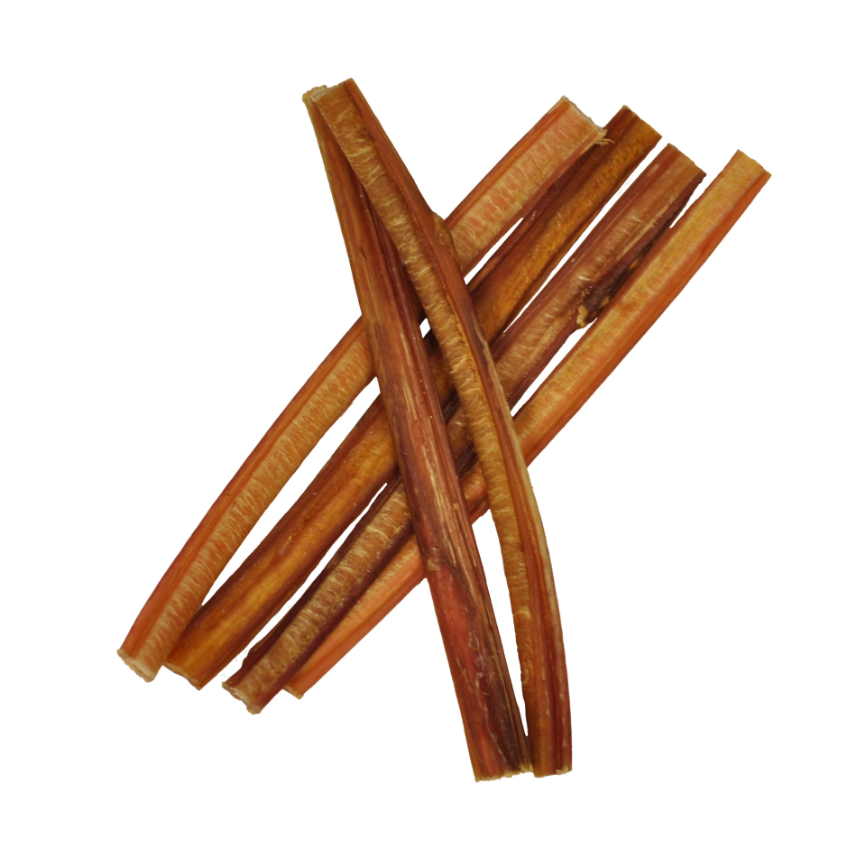 Best Bully Sticks are market leaders for dog-related treats and supplements like collagen. These bully sticks are an ideal size for smaller dogs, and my dear Tabasco loves them.
Pros
6-inch length sticks

It comes in packs of 6, 15, 25, and 50 sticks

Low-priced, making them economical

Thinner sticks for smaller size mouths and smaller teeth

Produced from the phalluses of grass-fed cattle (single ingredient)
Cons
Smaller size bully sticks can choke larger size dogs

The thinner bully sticks can snap if the dog chews forcefully

Easier for smaller pieces to be chewed off the thinner stick that can choke a dog if swallowed
I love these bully sticks, and they fit easily into my pocket or purse when we travel to shows with Tabasco. Tabasco is a miniature-sized Yorkie, so if you have a larger-sized dog, it's better to opt for larger-sized bully sticks.
Best Runner-Up Bully Stick: Cadet Bully Sticks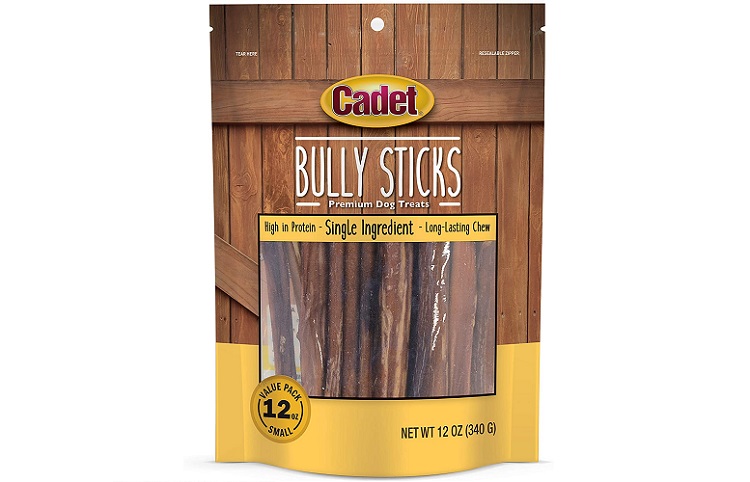 High in protein, Cadet bully sticks are manufactured from quality pizzle (bull phallus), and while the thickness and length aren't quite what Tabasco likes, I often use these when I can't source my usual bully sticks.
Pros
Made from single ingredient 100% bull pizzle

Roasted to draw the flavor

Made and inspected in the US, so there are no import costs, and the product is fresh

Easily digestible
Cons
Mixed pack with 4-7 inch sticks; some sticks may be too large or small for your dog

Widths are limited as there are only three options available
I have to be careful when buying these bully sticks as a 4-inch stick is too small for my adventurous Tabasco. He is quite capable of biting through a thin stick that he can solidly wedge against the car seat and then chew through, which increases the choking hazard somewhat. Closer supervision is required when I feed Cadet Bully Sticks.
Best Long-Term Bully Stick Chew: Natural Farm Braided Bully Sticks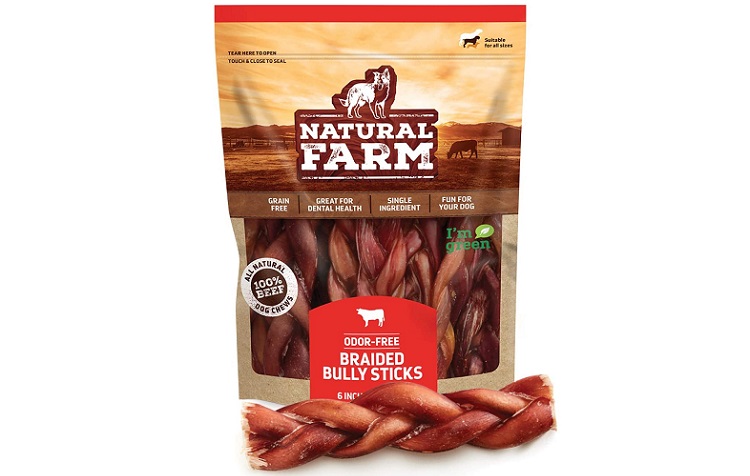 I like getting Tabasco a bit more challenging bully sticks on long trips, which is where Natural Farm Braided Bully Sticks are ideal. These bully sticks keep Tabasco occupied for hours on end, and since they are durable, I don't have to worry about keeping an eye in the rearview mirror for any pieces he may chew through and choke on.
Pros
Made from 100% grass-fed beef pizzle

Five units of 6-inches length per pack

Produced in a food-grade facility

Slow baked, not roasted

Made from free-range Brazilian beef
Cons
Imported beef can cause production delays

While labeled as suitable for all size dogs, it is best not to feed 6-inch bully sticks to large breed dogs that require a much larger size bully stick
Although Tabasco loves them, I find that these bully sticks tend to pick up fibers from his blanket more easily. The braiding creates areas where dirt can collect, especially when the bully stick has been chewed on for a few hours.
My friend's German shepherd managed to get one of these wedged in his mouth since the size was too small, so the product guide may be deceptive if your large breed dog is a ferocious muncher.
Best Senior Bully Sticks: Jack&Pup Skinny Bully Sticks 6-Inch Sheaths for Light Chewers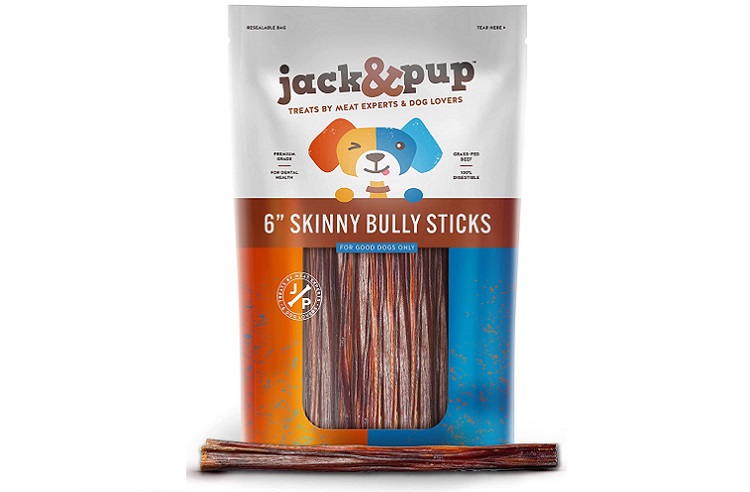 When I take my older dog, Chewy, with me to dog shows, I like to reward him with lighter bully sticks that are thin and easier to chew. These are a great alternative for your senior dog, but even young puppies will enjoy these softer chews. These bully sticks are made from the sheaths of the bull pizzle, making them thinner and more easily chewed.
Pros
Thinner sticks

Better digestibility

Less damage if the dog ingests a large piece

Produced from grain-fed beef sheaths

Free of hormones or additives

Leaner at 65% protein; ideal for overweight dogs
Cons
Thinner bully sticks may result in overfeeding your dog

Less protein provides less nutritional value
Chewy adores these bully sticks. While the length is sufficient to prevent my dogs from choking if they chew through a stick, these sticks do soften with use, and Chewy ended up with a double folded stick that got stuck in his mouth. I know now to remove these bully sticks after he's been chewing on them for a few hours and before they soften and fold up.
Best Bully Stick Pieces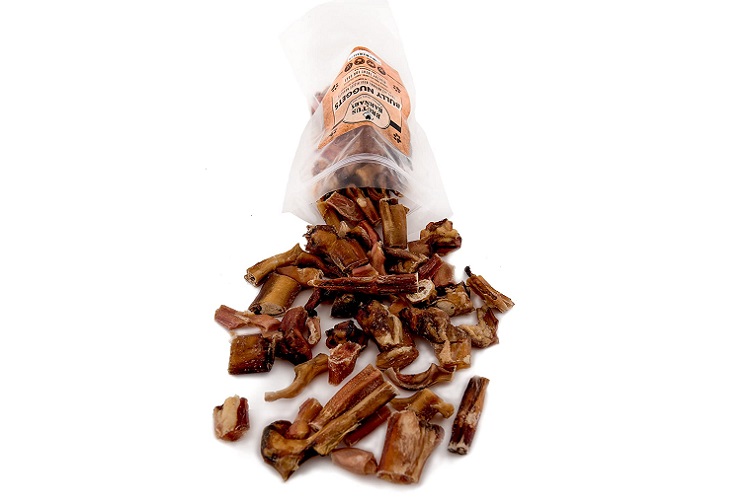 If you are looking for a variety of sizes and bite-size portions of bully sticks for your pooch, then BRUTUS & BARNABY Bully Nuggets are an ideal option.
While I can't feed these to Tabasco as he'd swallow them whole and end up at the vets (again), these bully stick pieces are a great choice for larger small breed dogs and medium-size dogs too. My brother has a large pittie, who enjoys chomping on these too.
Pros
Made from 100% beef pizzle

High protein snacks that are fully digestible when swallowed

Different sizes for a variety

Can be swallowed when the dog has chewed on the pieces enough to soften them
Cons
Smaller size dogs can choke on pieces that are too small

Greedy dogs may swallow the pieces whole without first chewing them

More potent odor compared to other bully stick brands due to being boiled
At first, when I opened this bag, I was convinced the sticks had to be off, but this is a natural beef smell. The smell is somewhat more intense since the stick pieces are boiled and not baked or roasted. However, my brother's dog simply can't get enough of them.
Bully Stick FAQs
Question: What is a Bully Stick Made Out Of?
Answer: Bully sticks are traditionally made out of cattle pizzlers or phalluses. These muscle-dense sections of cows aren't really used for human consumption, yet they are ideal for dogs.
Question: Are Bulls Killed for Bully Sticks?
Answer: If you are concerned that bulls are especially killed for making bully sticks, you need not worry. Bully sticks are made as a byproduct of steers that are slaughtered for human consumption. Therefore, bully sticks are simply made from sections of the bull that would otherwise have been discarded and wasted.
Question: Why do Bully Sticks Turn White?
Answer: When bully sticks have been chewed on, the beef reacts to the enzymes in your dog's spit. This begins the digestive process, which is why the bully stick turns white.
Question: How do you Keep a Partially Chewed Bully Stick Fresh?
Answer: When a bully stick has been chewed on, it is best to store it in a cold place to prevent mold spores from growing. Placing your dog's half-chewed bully sticks in an air-tight container in the fridge is a good way to ensure they stay fresh.
Question: When Should You Throw Out a Bully Stick?
Answer: Once your dog has chewed the bully stick, so it becomes too small for them to hold with their paws while chewing, it is time to discard the stick.
Never let your dog chew on a bully stick that fits completely in their mouth as they can easily choke on this. While bully stick pieces are smaller, they are often much smaller than a chewed section of a bigger stick, which means the dog can swallow and digest these stick pieces.
The Final Bully Stick Verdict
Opting for a safe, economical, and perfectly practical bully stick that suits your dog's needs will guide you to the 6-Inch Thin Bully Stick from Best Bully Sticks.com. You can try the braided bully sticks if you want a thicker and more complicated chew. But if you want a bully stick for your geriatric pooch, then a thinner bully stick is better.
Whatever your dog's chewing needs, there's a bully stick out there for them. Just ensure you buy bully sticks made from 100% beef pizzle. If your dog devours bully sticks in two minutes, and you'd prefer something more durable yet still 100% organic, read up on the best bones for aggressive chewers.
PS: If you've never seen the "war face" that my dear little Tabasco flaunts, then feed your pooch a bully stick and try to take it away before they're done. I guarantee you'll see it then!
Continue reading:
The 13 Best Dog Bones for Aggressive Chewers
Best Indestructible Dog Chew Toys