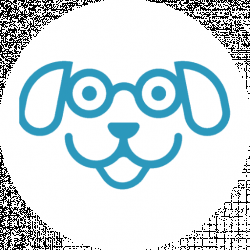 Latest posts by Scout Knows Team
(see all)
Nulo dog food was founded by a man named Michael Landa. He wanted nothing but the best for his furry companion and had decided to create Nulo, a healthy and nutritious pet food company. In this Nulo dog food review, we'll take a deeper look at the brand as well as their overall products.
At A Glance
Parent Company: Nulo Pet Food
Started: 2009
Headquartered In: Austin, Texas
Types of Food: Wet, Dry, Treats, Freeze Dried Raw
Real Meat in First 5 Ingredients? : Yes
Ever Recalled? : No
A Deeper Dive Into The Brand
Nulo was created in a happy accident sort of way. The founder, Michael Landa, had trouble finding reliable care for his pup. In turn, he decided to begin his own pet sitting service. Through that, he met a lot of different pups and noticed an increase in overweight pets as well as health problems. Michael took a deeper look into the food that was being fed to them. Thus, Nulo dog food was born.
Michael sought help from animal nutritionists and veterinarians to formulate recipes for Nulo that are highly nutritious and healthy for all pups. Nulo recipes have high protein from animals as the number one source and ingredient as well as low-glycemic carbs. This is a well-balanced diet for your dog's body to increase their immune system, digestive system, as well as give them steady energy.
What Is the Variety Of Foods They Produce?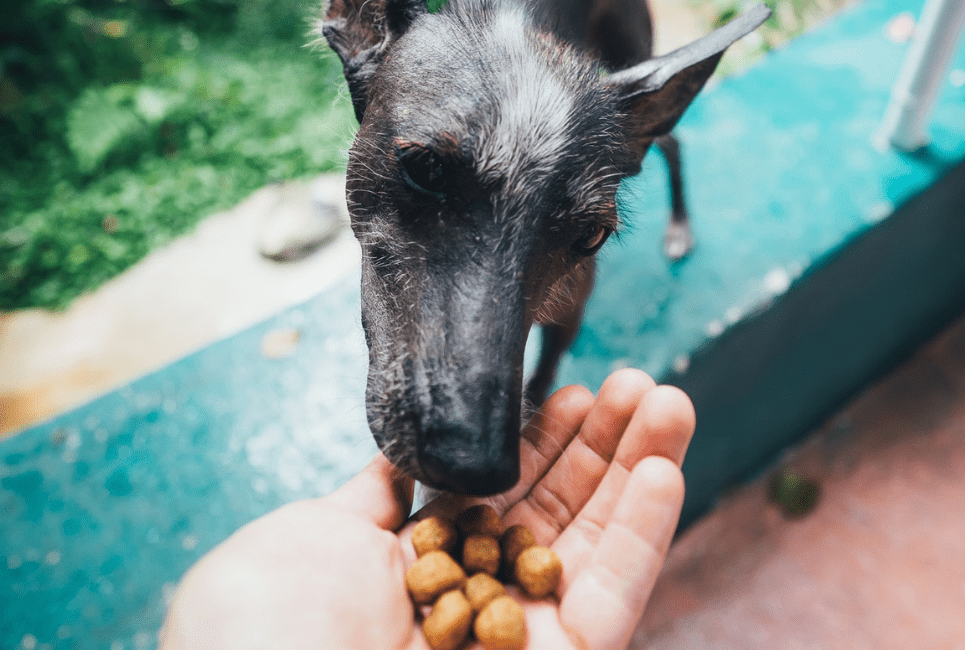 Nulo dog food has quite a range of pet food options. They offer dry dog food, wet canned food, and freeze dried raw food for your pooch. They even make treats for your pup for a healthy snack. This food has various options to choose from as well so you can get the best for your pet – whether it's grain free or weight control, Nulo has it.
Dry Foods
Nulo has a few different dry dog foods to choose from for your dog's diet. The recipes vary from grain free dog foods, high protein, pea free, and weight control. Whether your pet is a puppy or an adult, giving them dry food is great for their teeth and jaw muscles as they chew.
Grain Free
The grain free dog foods have are great because not only are they grain free, but they're also gluten-free and have low-glycemic carbs. This is all great for a well-balanced diet for your pooch as it'll help with sensitive stomachs, food allergies, and sugar levels should your pup need to watch their blood sugar levels. However, some of these flavors contain peas or sweet potatoes, which can be a common allergy in pets.
Salmon & Peas (puppy and adult)
Turkey & Sweet Potato (puppy and adult)
Lamb & Chickpeas
Trout & Sweet Potato (senior)
Cod & Lentils
Salmon & Red Lentils (small breed)
Turkey (limited ingredient diet for puppies, adults, and small breeds)
Salmon (limited ingredient diet for puppies and adults)
High Protein
These high protein recipes are formulated for your pet to have increased energy all the while getting the nutrition they need. High protein is one of the better options for your dog's body should they have no allergies or food sensitivities. These products are made with 85% protein straight from the animal source, which is a better diet from plant-based proteins. Your pup will get more nutrients this way. These recipes are also grain free, gluten free, and low-glycemic for your furry friend.
Salmon & Peas (puppy and adult)
Turkey & Sweet Potato (puppy and adult)
Lamb & Chickpeas
Trout & Sweet Potato (senior)
Cod & Lentils
Salmon & Red Lentils (small breed)
Pea Free
Most pet food, especially grain-free recipes, contain peas, potatoes, lentils, or the like. Taurine is an amino acid that a dog's body creates itself. It helps with vision, digestion, and heart muscles. This amino acid can also be found in meat. However, ingredients such as peas can cause harm to our beloved furry friends, according to the FDA. This is why Nulo dog food has a pea free option to ensure the best for your dog's health.
Salmon (limited ingredient diet for puppies and adults)
Turkey (limited ingredient diet for puppies, adults, and small breeds)
Weight Control
The older your pup gets, the harder it may be for them (and you) to help control their weight. That's why Nulo has a weight control option for their dry dog food. This particular product the protein and amino acids your pooch needs but has more fiber and fewer fat calories.
Wet Foods
Canned food is a great option to have for your pet in addition to the dry food so that your pup has a well-balanced diet. The wet meal has more nutrition and moisture packed inside the can, adding more flavor that your pooch will surely love.
Grain Free
The grain-free options are similar to the dry dog food choices and have a lot of different variants that you can choose from for your dog's diet. The grain free dog foods are also gluten-free, high protein, and low-glycemic. Some of these flavors also add vegetables to your dog's body, which is a plus.
Turkey & Sweet Potato
Peas & Carrot
Turkey, Salmon & Chickpeas
Chicken, Carrots & Peas
Lamb & Lentils
Turkey & Cod
Turkey, Cod & Sweet Potato (puppy)
Chicken, Salmon & Lentils (puppy)
Lamb & Sweet Potato (puppy and small breed)
Turkey & Lentils (puppy and small breed)
Duck & Chickpeas (puppy and small breed)
Weight Control
Like the dry food option, wet canned food also has a weight control choice for adult pups. It only comes in the one flavor, so if you have a picky eater then your pup may not like the turkey and cod taste, but if they're struggling with their weight, it may not be a bad idea to try just one can.
Treats
Treats are a fun way to show your pup how much you love them. Not only are they getting a snack, but they're also getting some extra nutrition in them as well. Nulo offers two different kinds of treats that are perfect for any age dog and all breeds making them easy to chew and delightful as well. The treats come in soft and chewy as well as jerky.
Soft & Chewy
These soft and chewy treats are ideal for any pooch since their tasty and nutritious. These particular treats are great for training as well. They're only two calories per treats which helps promote a healthy weight and each bite has fruits and vegetables, Omega-3 fatty acids, and salmon oil.
Jerky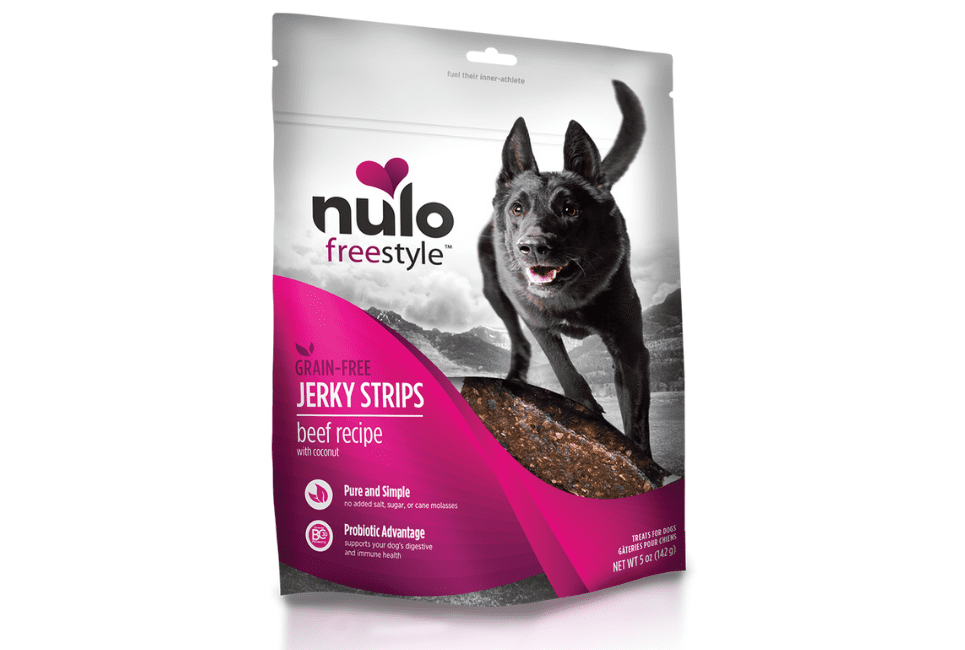 The jerky strips are a great snack for any pup. They're in a fun shape that makes it easy to hold for your pooch. They're soft and bendable so that you can break each strip apart to give your pup half a treat at a time or if you're training. Or you can give the whole strip to your pooch and watch them devour it eagerly. They're packed with fruits and vegetables and probiotics to boost their immune system and aid their digestive health.
Salmon with Strawberries
Chicken with Apples
Beef with Coconut
Turkey with Cranberries
Duck with Plums
Freeze Dried
Freeze dried dog food is a great alternative to other dry or wet food for your pup because the food is raw. These particular products can be stored in room temperature and last longer without spoiling because the moisture is taken out though it leaves the flavor and nutrients for your dog's diet. These recipes are filled with high protein as well as fruits and vegetables. The raw diet contains good bacteria and supports their overall health between digestion and their immune system.
Raw
Duck with Pears
Lamb with Raspberries
Beef with Apples
Turkey with Cranberries
Salmon and Turkey with Strawberries
Recall History
At the time of this Nulo dog food review, this brand has never been recalled. Nulo was started in 2009 and it just about ten-years-old at this point, so it's great to know that they've never been recalled. However, the company is still fairly young. As they continue to create meals for our furry friends, they may change certain ingredients in an attempt to improve their recipes. Things do, unfortunately, happen, but at this point in time, they're a brand you can trust.
Best Nulo Dog Foods
We'll take a look at some of the best Nulo dog food that's out there. For these quick reviews, we'll talk about dry, wet, and freeze-dried recipes.
Nulo Puppy & Adult Small Breed Freestyle Limited Plus Grain Free Dry Dog Food
No products found.
Nulo has a variety of dry dog food you can choose from, but the limited ingredient, grain-free option is a great recipe. It's high protein and low carb as well as allergy-friendly since it contains no chicken, corn, wheat, soy, peas, white potato, eggs, or tapioca.
First Five Ingredients
Deboned turkey
Turkey meal
Chickpeas
Sweet potatoes
Canola oil
Deboned turkey is a great first ingredient because that means your pup will be getting real, fresh meat first when they take a bite of this kibble. This particular product is great for all breed sizes as well as adults and puppies. It has GanedenBC30, which is a probiotic for sensitive stomachs. It's a limited ingredient diet with animal protein as the main source with 30% crude protein.
If you'd like to learn more about this product, you can check out the in-depth review we've done here.
Nulo Adult & Puppy Grain Free Canned Wet Dog Food
No products found.
In addition to kibble, canned food is a great option for your pooch. Not only does it add extra moisture into your pup's food, but it also adds more flavor for their taste pallet. This particular product is a great idea because it's perfect for all breeds, small, medium, and large, and it's all natural.
First Five Ingredients
Beef
Turkey
Beef broth
Beef liver
Peas
Beef and turkey as the first two ingredients is definitely a good idea. Your pup will be getting high protein straight from the animals. This recipe is also grain free as well as low carb. It's safe for any allergies and digestive health while supporting healthy skin, your pup's immune system, and energy. This is all done through vitamins A, D, and B12 plus minerals, antioxidants, and Omega-3 and Omega-6 fatty acids. It has 10% crude protein and contains calcium, phosphorus, fruits, and vegetables. It's packed with nutrients your pooch will surely enjoy.
Nulo Freeze Dried Raw Dog Food for All Ages & Breeds
No products found.
All dogs are carnivores, and real meat is essential to their diet. Freeze dried raw food is a great option for your pet if you're looking to give them a little extra nutrients as well as flavor. This particular product keeps longer and won't spoil as quickly as canned food or kibble, which means that you can buy more in a less amount of time.
First Five Ingredients
Duck:
neck
heart
wings
liver
The first five ingredients all come from the same source and is real and fresh. Your pup will get the most nutrients they ever needed out of this recipe. It contains 80% meat with fruits and vegetables for added flavor and nutrients. It's grain free and easy on allergies as well as weight management. It has 43% crude protein and probiotics for healthy digestion. The freeze-dried food can be used as a meal or as a food topping for their regular kibble or canned food. That way your pup is getting a little extra no matter how you give it to them.
Nulo Customer Reviews
The Nulo brand has pretty good reviews overall on Amazon as well as Chewy. In fact, there are some recipes that have no negative reviews at all. There's a lot to like about these products though there are some people who have had trouble with picky eaters or some digestive issues. Take a look at what these customers had to say about Nulo dog food.
What Do People Like About This Brand?
Needed a novel protein for my allergy prone golden retriever. This food is working well for us and she likes it

Pat J., Amazon.com
Used these as a high value treat, and topper for regular dry Nulo food. No digestive issues from it.

Kat, Amazon.com
She likes it and it doesn't make her itch or make her sick!

Indie, Chewy.com
My dogs love it. I'm feeding my Rotty less and she has less poop and her coat is very shiny. My little Boston is also loving it.

Moms, Chewy.com
They have had many stomach issues with so many other brands of canned dog food. But now that I put them on the nulo they are happy and no more issues with there tummy.

Aleastorm, Chewy.com
What Do People Dislike About This Brand?
The item looks like squares in the photo but our bag was basically full of crushed food and a few pieces in tack. Not sure if the bag was mishandled or if this flavor is softer which makes it crumble.

Lucia B., Amazon.com
Not worth the money the size that came it was really small I have a large dog that is 50 pounds this is like a snack to her

Jaz, Amazon.com
For the price you would think they could provide better packaging! I'm surprised that a 10lb bag is not resealable.

Crudsy, Chewy.com
She couldn't bite into it because it formed the hard & smooth surface. I wish the product hadn't solidified into a smooth surface. She couldn't bite into it; gave up frustrated.

Effie, Chewy.com
I've been getting my Boston terrier this food for a year now and something has changed in the recipe which caused my dog to have loose runny stools, diarrhea, excessive gas, and itchy skin.

Julie, Amazon.com
Conclusion – Nulo Dog Food Review
This Nulo dog food review showed it's a great brand to think about for your furry friend. They have nothing but the best in mind for your dog's health. The ingredients are nutritious for your dog's diet, and they come in an array of forms and flavors. The brand can be a bit pricey, and some choices are limited – such as weight control or for seniors – but there's still a lot to choose from. Overall, Nulo is a great contender if you're torn between a few different brands of dog food.
Do you feed your pup Nulo? If so, what kind do they enjoy best? Let us know in the comments below.
Also, we have a plethora of brand reviews here on Scout Knows. Feel free to give some of them a read. We all want what's best for our furry companions.
Continue reading:
Nulo Freestyle Grain-Free Adult and Puppy Dry Dog Food Review
Blue Buffalo Basics Limited Ingredient Grain-Free Formula Adult Dry Dog Food Review