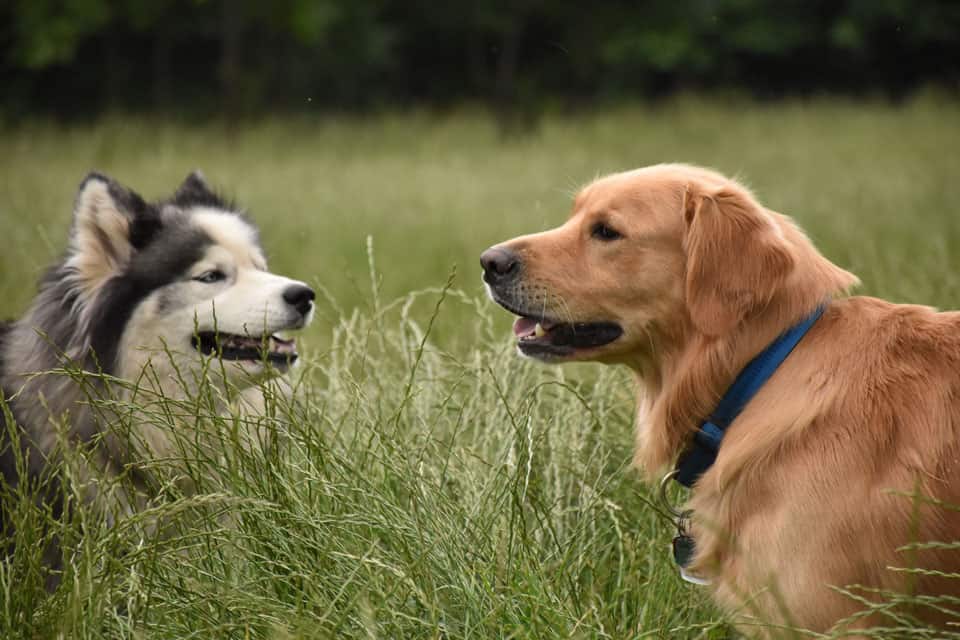 It's a well-known fact: Golden Retrievers are among the most loyal, intelligent, family-oriented dog breeds.
How often have you spotted a Golden, whether driving by in your car while he/she is on a walk with its human, or on a television commercial, and felt a smile spreading across your face?
Yes, everyone loves the Golden Retriever, synonymous with joy, youth, and purity. Now that you have a Golden Retriever, what about a companion for her?
What Do I Need to Know About My Golden?
The Golden Retriever breed was developed in Scotland during the late 19th Century. Initially bred for hunting, they acquired the "Retriever" title because of their unique ability to gingerly fetch shot waterfowl.
Goldens have a love of water, and an inner and outer coat which regulates body temperature, withstands a range of climates, and repels moisture. According to the Country Living list, here are more fun facts about your Retriever:
They are often used on search and track missions, because of their keen sense of smell.
Golden Retrievers make great therapy dogs.
They are considered to be the 4th smartest dog breed.
They are the 3rd most popular breed in America.
Presidents Ford and Reagan both had Goldens while in office.
They are easy to train.
Golden Retrievers are known to become sad and even depressed when left alone for long periods of time. According to experts, you should not leave your Golden alone for more than 7 hours at a time.
What Are the Benefits of Having a Companion?
I rescued my Georgie a few months prior to adopting my Gus. When I had only Georgie alone, I felt as if it was a challenge at times to meet her every need. She seemed to require my constant attention.
I did not know exactly what was missing until I got Gus five months after. I knew then that what was lacking was the relation to another one of Georgie's own kind.
Her brother became immediate kin, and they developed a routine of play and affection that had long since begged to be awoken.
I should reiterate the last fact from a previous paragraph: Golden Retrievers are known to become sad and even depressed when left alone for long periods of time; you should not leave your Golden alone for more than 7 hours at a time. Yikes! This is news to me!
Let's look at other reasons you might want to get a companion dog for your Golden:
Two is better than one. What do I mean? You get more joy, more laughter, more life.
Your Golden will "train" his/her new companion. Your Golden has already established their place in your home and will help set the tone for dog number two, whether it be potty-training or bedtime routine.
Your Golden will have a playmate whether you are home or not. Increased physical and mental stimulation means increased fulfillment for your dogs.
Loneliness for your O.G. (that is, Original Golden) will be minimized. Depression will cease to be an issue.
Read a first-hand account: Adding a Second Dog to the Family
What is the Best Companion Breed to My Golden?
According to information on Purina's website, among the 25 listed best breeds for multi-dog households are the following breeds:
Pekingese
Beagle
Boston Terrier
Poodle
Collie
Portugese Water Dog
Golden Retriever
Pug
You may be wondering, as am I, which breed would best pair with your Golden. I believe it is a matter of breed preference.
You are already familiar with the temperament of your Golden Retriever, so I would suggest reading material for specific breeds before making a decision: Best Dog Books For New Owners
Perhaps you may even consider another Golden Retriever to complete your pair.
To further your dog education, you might want to speak with your veterinarian, and maybe some folks who currently have a two-dog household with a Golden.
How Do I Introduce a New Dog?
You have decided to get your Golden Retriever a companion. Congratulations! Now it's time to find out the best way to acquaint dog to dog.
Let's begin by taking dog, er, baby steps, further explained in: Introducing a New Dog to your Current Dog:
Introduce in neutral territory on leashes, such as on a walk, or in a park. Let your dogs walk side by side (you will need another human to help), and praise behavior. Keep the mood light and fun.
If you are going to crate your dogs while away, crate them side by side. I only crate on occasion, but I have the double-doored crate with paw protector bottom from Amazon, which I love. I put my dogs' crates close enough that if they lie against the side, they can touch. That way, they have the comfort of each other and can deeply bond aside from human facilitation. This particular crate is available in multiple sizes that suit both my big boy Retriever and my little girl Beagle!
While feeding, you may want to consider separation with a baby gate at first, which helps establish a safe and healthy feeding boundary. This allows your dogs to see each other but does not invite a reason for them to create the behavior of food protection. I have the one from Amazon show below.
Establish a schedule. Dogs feel safe when they know what to expect. Your Golden Retriever and her new friend will be assured by a routine.
Get proper training. This means, work either with a trainer or solo to establish healthy and clear behavior expectations with both dogs. Your expectations can differ from someone else's. This is your language with your dogs. You may decide this means that they do not beg for your food, or you may decide this means sit, shake, and stay. Whatever boundaries you determine as healthy must be consistent.
Scout's Pick
Now that we have a bit of education on the history of your Golden, the behavior tendencies, and the benefits of a companion for him, it is up to you to make the best decision for your home.
I had a full life when I had just Georgie. I had my hands full, my home full, and my heart full. I personally did not believe there could possibly be any more room to fit another dog.
I had no idea the way that everything– hands, home, and heart– could shift to make room until I got Gus. My whole world grew. So did Georgie's.
Do you think it's time that you and your Golden might need some growth?