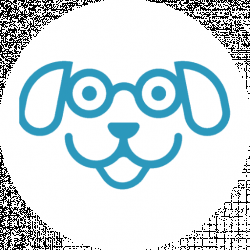 Latest posts by Scout Knows Team
(see all)
Does your messy eater keep splattering food all over the floor?
Do you worry constantly about your floors getting stained with pet food, or find yourself continually mopping up puddles after your pet has been at the water dish?
It's time for a high quality dog feeding & water mat…
With a decent-sized pet food mat holding the dog bowl and the water bowl, there will be fewer messes on the floor or in the dog crate, if that's where you feed your dog. There are even eating accessories like the Neater Feeder that help to make mealtimes more manageable.
In any case, the mat in itself will be sufficient to keep the eating area clean and tidy. You can simply rinse the feeding mat in the sink after each meal, and that's it. Dog food mats are easy to clean, and some are even dishwasher safe.
Bottom Line Up Front Summary: One of the best dog food mats options (interchangeable as dog water mat) on the market currently is the Reopet Silicone Dog Mat, because it combines waterproof membrane and durability, plus coming in at an affordable price. Made from FDA-approved silicone that is safe for your pet and easily washable, the silicone mat is flexible enough to be rolled for storage or traveling.
In addition, there are a variety of mats in the market. We'll have a look at more of them further down. Keep reading.
Best Dog Food & Dog Water Mats
This waterproof silicone mat is the perfect splash guard for those messy eaters. The non-stick mat is flexible enough for any feeding situation, while also being easy to wipe clean.
A subtle advantage with this brand is the slightly raised grooved outer lip, which helps contain the mess to the mat in a non-obtrusive way.
Comes in 10+ different colors and easily rolls up for storage.
Dog bowl mat sizing is also flexible for different sized canines:
18.5″ x 11.5″
21″ x 15″
24″ x 16″
34″ x 23″ (for those BIG breeds)
Best of all, the mats are affordable at less than $16 each (as of this writing).
This cotton and polyester food mat has a rubber backing to keep spills from seeping through and to prevent the mat from sliding on the floor.
The dog bowl mat surface is covered with a fun typographical pattern made up of words like snooze, cuddle, lick, and so on, a nice reminder of the various things that your pet undoubtedly enjoys doing.
The mat comes in eight design styles, so you should be able to find one that looks good with your décor. It is durable and can be washed in a dishwasher.
PetFusion Waterproof Pet Food Mat | Amazon
Premium silicone material in a stylish design that blends in seamlessly with your modern home. Easy to clean under the sink or with a wet cloth/paper towel. Flexible to bend for cleaning food/water residue that has dried to the surface.
Buy at Amazon.com
We earn a commission if you click this link and make a purchase at no additional cost to you.
This Pet Fusion is made from FDA-approved silicone dog feeding mats, which makes it safe for your pet to use. The rectangular mat has quite an interesting look with the longer sides curving inward and the shorter sides curving outward.
There is a raised outer edge (outer lip) to contain spills and raised dots on the surface to give your pet a better paw grip. The mat can be cleaned in a dishwasher and the flexible material allows it to be rolled up for storage.
You can buy it in small, large, and extra-large dog bowl mat sizes, and in blue, gray, and beige colors.
Esosy Anti-bark Device | Amazon
The Updated ultrasonic dog bark deterrent makes you handy when training your dog. The barking control device automatically emits high-pitched sounds that only dogs can hear. Once the dog stops barking, the ultrasonic bark control automatically stops emitting ultrasonic sounds.
Buy at Amazon.com
We earn a commission if you click this link and make a purchase at no additional cost to you.
12/03/2023 12:57 pm GMT
At 17.5 by 14 inches in size, with a stylish, non-skid pattern and a 1 inch raised edge for containing spills, the mat is made from polymer that is safe for pets and is easy to clean.
As the mat is rigid, you won't be able to roll it up, but you should certainly have no trouble picking it without spilling any water or food and carrying it over to the sink. The food mat is available in different colors.
Made from non-toxic, FDA-approved silicone, this is a stylish food mat with a surface pattern of dots, paw prints, and the word DOG. This raised design will keep your dog's utensils from sliding on the surface and also give your pet a better paw grip while eating.
The raised outer edge is useful in preventing food spills. The mat is durable and cleaning it is not a chore. A quick rinsing under the tap is enough, and, if not, you can also wash it in the dishwasher.
Tip-Top Petware New Premium Pet Food Mat | Amazon
Our 18.5"x11.5" pet mats are made from 100% FDA Grade Non-Slip Silicone to help ensure the safety and well-being of your pet. The raised outer border helps keep food and water contained in the feeding area.
Buy at Amazon.com
We earn a commission if you click this link and make a purchase at no additional cost to you.
12/03/2023 06:07 am GMT
The food mat, made from FDA-approved silicone, combines simple elegance with practicality and durability.
There is a quirky paw print design on the edge of corner. At 18.5 by 11.5 inches, the mat is big enough to hold your dog's food and water bowls, and the raised outer edges will keep food and water spills off the floor. A quick rinse is sufficient to clean the mat, but you can also put it in a dishwasher if necessary.
The material is flexible, so you can roll it up for storage. The mat is available in grey, black, and red colors.
WooPet! Pet Food Mat | Amazon
Your wood floors will say thank you! The higher edge design traps spilled food & liquid in the mat, resulting in no more sweeping and keeping the floor dry.
Buy at Amazon.com
We earn a commission if you click this link and make a purchase at no additional cost to you.
Available in gray, beige, and blue colors and made from non-toxic, food grade silicone, this food mat is 24 by 16 inches in size. It has an eye-catching design with three rounded corners and an interesting pattern of raised circles; these circles give the surface a better grip.
There may be some issues with spilled food sticking in the circular design edges, but the mat is easy to clean and durable enough to last you a good long while.
This is an attractive-looking mat with a design of paw prints in each corner. At 24 by 16 inches, it is a sizable enough for both a water and a food bowl.
It is made from pet-safe vinyl and silicone, and has a textured, absorbent surface that provides a steady paw grip and also prevent liquids from leaking through to the floor.
The mat is easy to clean and can be rolled up for storage.
You won't be able to roll this mat as it is made of rigid polymer. On the plus side, this rigidity and the raised edges will prevent spills and save your floors from food stains and water damage.
As the mat is light-weight, you can easily carry it to the sink for cleaning.
This isn't a dishwasher safe mat, so you will need to wash it by hand or with a bristle brush.
The surface has an attractive wavy pattern that, along with being aesthetically pleasing, has the functional purpose of making the mat non-slippery. You can buy the mat in several different colors.
California Home Goods Multi-Purpose Boot Mat
This dog food mat is made of solid polymer and has raised edges that can contain food and water spills. The 30 by 15 inches size is large enough to hold your pet's utensils, and the attractive wavy pattern on the surface gives the mat its non-slippery quality.
The mat is very easy to clean, a quick rinsing should do the trick. The manufacturer offers a lifetime guarantee of durability.
ONME Dog Cat Feeding Mat | Amazon
Not only bowl can be placed on this pet feeding mat also the mat can be used under the pet drinking fountains, automatic feeders, stands, and much more.
Buy at Amazon.com
We earn a commission if you click this link and make a purchase at no additional cost to you.
The ONME feeding mat is made from non-toxic, FDA-approved silicone, and the manufacturer claims it will last you a long time without breaking and deforming.
The raised outer edge of the mat will prevent food from spilling out and staining your floor. You will have no issues with cleaning the food mat, you only have to rinse it in the sink or run it through the dishwasher, and it's ready for reuse.
As the material is flexible, you can roll it into a tube for storage whenever it is not needed. The mat is available in blue and grey colors.
Why Your Pet Needs a Dog Food Mat
Some dogs can make a real mess while eating, turning meal times into a nightmare for house-proud pet parents.
Imagine having to cope with the after effects of an overturned dog bowl of wet pet food or of an overturned water bowl at the end of every single meal. And if this is problematic with a small breed dog, it gets even more hair-raising with a large breed dog. Especially if you have hardwood floors or a fully carpeted house.
Using newspapers or cloth rags underneath the feeding utensils is not practical as the messes can soak through them. In such a scenario, rather than let dog food and water ruin your wonderfully pristine floors, you definitely should get a floor mat for your dog.
The mat, for the most part, will keep the food and water spills contained, and cleaning the mat will take up less of your time than what cleaning the floor or the carpet would entail.
Another plus about feeding your dog in a pet bowl on a food mat is that it will train them to eat in a designated area, and this will be useful in maintaining overall cleanliness.
How do I Pick the Right Type of Dog Food Mat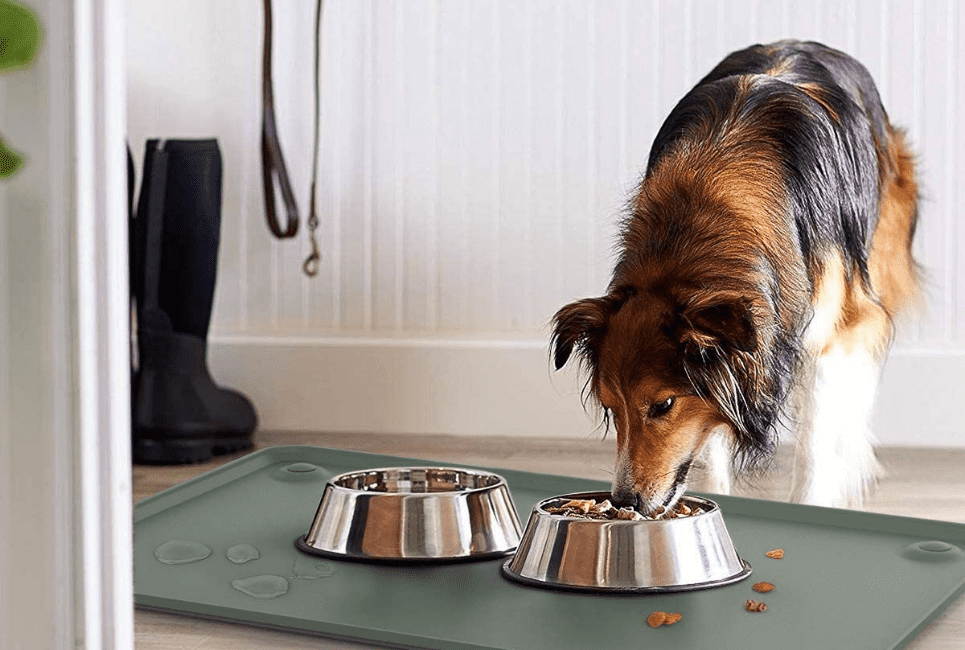 Things to Consider When Looking for a Dog Food Mat
Material of the Food Mat
The dog food mat should be made of waterproof material like silicone or rubber, or, at least, have a waterproof backing. You don't want spills soaking through the mat to the floor. It should also be made of safe FDA-approved material that won't harm your dog if they eat off it or happen to lick it.
The material also needs to be non-slippery in order to allow food and water bowls to remain steady on it and also to let your pets have a good paw hold on the mat while eating.
Ease of Cleaning
Look for a dog mat that is easy to clean. The reason you are purchasing the mat is because you don't want to spend your time scrubbing the floor or mopping the carpet. You don't want to be all day cleaning the mat either.
A quick rinsing in the sink should suffice. There are mats that can be cleaned in a dishwasher to make life even easier, but they may be available in smaller sizes. If you get one of those, be sure to check if they have room enough to contain the dog bowl as well as the water bowl.
Durability
Will the mat withstand chewing and rough usage by your pet? Some dogs are overly curious and won't let well alone without some experimental chewing. The dog food mat should either be able to survive that, or be made of materials like FDA-approved silicone or rubber that, while safe, won't exactly delight your dog's taste buds.
Size of Food Mat
You want a water bowl and dog bowl to both fit on the food mat, so that your dog can eat and drink comfortably without spilling anything on the floor. Look for a mat that is large enough to accommodate both utensils and also contain any mess that your pet might make while eating.
Size of your dog
Your dog's size should also be a consideration when shopping for a food mat. A small or medium sized mat can be sufficient for small dogs, but if you have a larger dog, you will have to look for some large or extra-large options. Food mats come in a range of sizes, so this shouldn't be a problem.
Design of Mat
The design of the food mat is important not only for aesthetic reasons, but for practical considerations as well.
Along with looking good with your decor, can the mat serve its main purpose of keeping the food from the dog bowl off the floor? Some mats have raised edges that prevent food and water spillage, and which also make it easier for the mat to be carried to the sink for washing purposes.
The mats with square edges are easier to fit in corners than mats with rounded corners. Raised designs on the mat surface provide a better paw grip for your pet, but, at the same time, the design edges can turn out to be dirt magnets and can be difficult to clean.
Price of Mat
Is the mat affordable for your budget?
Dog food mats come in different price ranges, depending on design, material, and manufacturer. You should be able to find one that fits your budget, goes with your decor, and is also just right for your dog.
Types of Dog Food Mats Currently Available
Many of the top-selling dog mats in the market currently are made of BPA-Free plastic, rubber, silicone, and cotton. The label should clearly state that the materials are non-toxic and non-allergenic.
Avoid buying mats without this disclaimer. You don't want to risk your dog's health with mats made
of potentially harmful materials.
Dog food mats are available in an assorted colors. Your dog is not going to care one whit about the color, but you will have the satisfaction of picking a shade that suits your aesthetic sense and your home décor. The dog food mats may have rounded or square corners.
While the rounded corners look good, the square ones will be more practical for fitting the mat in a designated eating corner.
The food mats may have a smooth surface, or may have raised designs meant to give a better paw grip. The latter is also useful for keeping the dog bowl and the water bowl steady, but, be warned, spilled food can lodge in between the raised surfaces and this can make cleaning the mats somewhat tricky.
Some food mats have raised edges and you may find these more practical than mats without raised edges. Not only do the raised edges keep food and water messes off the floor, it is also convenient to pick such mats and carry them for cleaning to the sink without spilling anything en route.
Dog food mats are generally slim in width and light in weight. This makes it easier to move them about or pick them up. Some mats are flexible enough to be rolled up and can be stacked away when not in use.
Keep Your Messy Eater Corralled
A food mat is a great and inexpensive investment if your pet is in the habit of making a mess while eating. The mat will contain water and food spills, and save you the time and energy required to scrub stains from your floor.
You will especially appreciate the dog food mat if you have hardwood or carpeted floors that you don't want soaking up any water, or any other types of floors that stain easily and are difficult to clean.
A good-sized mat like the aforementioned WooPet! Pet Food Mat can hold both the water bowl and the dog bowl and, along with minimizing accidents, will look good with your décor.
In addition, there are plenty of other attractive-looking mats made of FDA-approved silicone, rubber, plastic, and cotton that are available at a variety of affordable prices, so finding a mat that works well
for your pet shouldn't be at all difficult.
Further Reading on Dog Feeding: