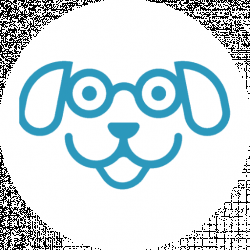 Latest posts by Scout Knows Team
(see all)
When it comes to our little canines, picking a harness that best works for them is a priority.
Depending on the type of breed, harnesses for little dogs come in different shapes, designs, colors, and straps. Because of the latter, there are some factors to consider when choosing the right types of harnesses for your furry friend.
No products found.
Comfort for your canine should be your first concern. Matching the harness with the collar or leash should be an afterthought.
What is a Dog Harness?
Harnesses go over the dog's chest and connect to the back between the shoulders, and attaches to the leash.
They are a great way to walk dogs without putting pressure on your dog's neck like a collar would. Especially if your dog pulls, there are no-pull harnesses and harnesses with different attachment points that can ease the pulling of your dog as you walk.
Most harnesses have a padded chest or a chest plate where the brunt of your dog's pulling pressure gets centered rather than the neck. A lot of easy walk harnesses are of the 'step-in dog harness' design that make it easy to get your pooch in and out of. When snugged with a perfect fit, a good harness will appear like a dog vest with a leash attachment for walking.
Why Consider a Harness
The main reason most dog owners and dog parents (including myself) prefer to use a harness with the leash is that a harness allows a dog parent to have more control over their dog. Little dogs tend to have an abundance of energy, especially when they are pups. While they are being disciplined, dogs are rambunctious and love to run around. During dog walking, a harness provides that control.
What Challenges do Little Dogs Face?
Collapse Trachea
The trachea allows air to travel to and from the lungs. It's a dog's windpipe. A collapsing trachea in dogs is formed from an incomplete formation or weakening of the rings that support the trachea. When the trachea collapses, they start to cough. Their eyes bulk out as they show difficulty in breathing. Their cough makes desperate honks while they desperately try to calm down their breathing.
Because of their collapsed trachea, dogs with this problem have very sensitive necks. Even drinking water makes them cough and spit some water out. To avoid their sensitive necks from being tugged or pulled on, many doggies parents use a harness to attach to the leash instead of tacking the leash to the collar.
Neck Injuries
Little dogs and smaller dog breeds are weaker than a medium to large dog. As such, the necks of little dogs are not very muscular or strong. When dogs are pulled on the collar, their necks are abruptly pulled too. For stronger dogs, this pull is simply a gentle tug. However, for little dogs, pulling on the collar could also injure their delicate necks.
Using a harness alleviates any pressure put on the neck so little dogs enjoy their walk while being disciplined.
Harness Benefits
Harnesses enable you to fasten a smaller leash to the car seat belt. They provide safety by keeping your dog from moving while you drive. The dog remains fastened to the seat so in the event you brake or are forced to make a sudden stop, your pup remains snuggled against the seat. By wearing a seat belt, during a car accident, both you and your dog have better chances of being safe.
Top 5 Little Dog Harnesses
Upon reviewing harnesses in Amazon, we came across these five impressive products.
No products found.
The Comfort Fit Soft Dog Harness is made from breathable lightweight Metric 66 material that comfortably hugs your dog's curvature. The washable padded harness comes with two reinforced D-rings that help decrease the strain of your dog's back and trachea.
The Comfort Fit comes in pink, purple, red, green, black and blue. It's made to fit size extra, extra small, small and medium size dogs.
No products found.
If you are looking for a reflective harness, Chai's Choice Best Outdoor Adventure Dog Harness is made from 3M reflective, scratch-resistant Oxford material. The lightweight, duraflex buckled vest comes with two leash attachments.
Its interior lining is made from nylon webbing which eliminates the pressure from your dog's neck and provides comfort. It's an alternative to padding that works just as well. Its 3M reflective material makes your pup visible at night which decreases their chances of getting hurt. This versatile harness is also fitted to assist injured or handicapped canines with their mobility issues.
No products found.
Pawtita's Pet Training Oxford harness is made for all stages of a dog's life. Their extra, extra small harness is made for small puppies, Chihuahuas, Pomeranian, Yorkie, Shitzus, Maltese, and Miniature Pinschers.
Padded with neoprene, the harness is soft and ergonomically designed so your dog can step into the vest. Its reflective strip was created to reflect ambient light in extreme low lighting conditions. Grey camouflage, red, and black are among the 12 colors you can select from.
No products found.
The "no-pull no-choke humane design" of the Sporn Dog Harness is made from premium, sturdy and durable nylon mesh. Its nickel-plated hardware is durable and weather resistant. Moreover, the flexible mesh fabric was made to reduce wear and tear. Your little one will be able to move about with ease and comfort.
This little Sporn vest was designed for the fit, comfort, and safety of Jack Russels, Cairns, Gain Terriers, Toy Poodles, Dachshunds, and other small breeds.
No products found.
If you have just welcomed a puppy into your home, the PUPTECK Dog Harness is made from 100% Polyester with the interior made of soft breathable mesh.
The PUPTECK comes with an adjustable chest belt and stable buckle that protect your little puppy at all times. The harness/vest is machine washable but PUPUTECK recommends you wash the harness by hand and hang it to dry.
Choosing a harness for your pup can be fun and rewarding for both you and your dog. Before you set out to pick out the right one, make sure you measure your canine first. Once you have the correct harness size and fit, adding a matching collar and leash will make your little one a safe, little fashionista.
Continue reading:
Best Harnesses For Dogs with Back Problems (Feel Better!)