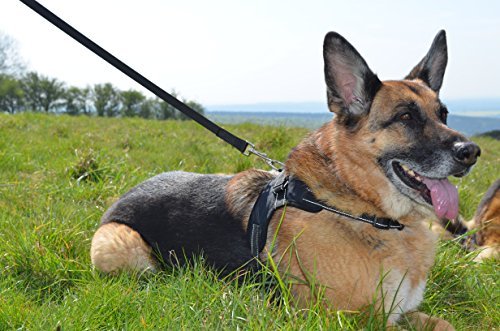 Some active dog breeds, like the German Shepherd, can be a handful when training to walk on a leash while others can continue to be pullers even when they are fully grown dogs. Even small dogs– whether you have a German Shepherd puppy or toy poodles–can benefit from an anti pull harness. A no-jump dog harness or lead can help take the strain off their neck every time your dog pulls.
If you are a dog owner or dog walker whose dogs are always pulling against the collar and lead they are on then the wheezing sounds they make can be quite distressing.
Also, it is of course hard on the dog's body. Scout knows that it can be hard for a pet owner to find good no-pull dog harnesses or leads, so the team has put together a list of some of the good ones out there to save you time while you teach your dog that dog pulling is not okay, and to find the best no jump harness that will make your life easier.
Keys To a Good Fit
Look for harnesses that are highly adjustable in many areas. Just like people, various dog breeds are made in all shapes and sizes. If your dog is at the borderline for one size or on the stocky side, go for one size up as long as the leash is adjustable, but make sure it's not a loose leash.
Check Out Your Dog During and After That First Walk About
Pay attention to signs that the anti pull harness is not fitting correctly, like rubbing or any raw looking spots. Hopefully, you can spot these before they increase in severity on the first walk.
Make Sure Leads are Made For the Weight of Your Dog
Larger dogs can exert a lot of force if they are pullers! Make sure that the lead you are buying has a good weight rating as to not strain your dog's legs. If you put a 120lb dog on a lead designed for one that is 60lbs then you are asking for trouble.
This basic easy walk head collar harness offers a high level of adjustment while keeping a minimal profile. For dogs that don't like to wear a no-pull harness that covers a lot of their body, this can be the best option. Scout likes that there are a lot of sizes and colors available to suit any dog!
This 3M reflective vest style no-pull harness offers sturdy nylon webbing adjustable strap on the sides. This is a good vest for those that want a high degree of visibility as well as control. The no-pull harness vest is easy to size, put on, and has adjustable straps. When you want to take it off, just undo the sturdy buckle clips with a simple click and you are good to go. Two different leash attachment points allow you to customize the control you have over your dog.
If you are looking for a high visibility no-jump harness that is comfortable and rugged then this no-jump harness is just what you need to hit the trail with your pooch. Soft mesh and padding make this harness well ventilated while being very comfortable to wear on extended walks and trips.
The handle on the top makes it easy to secure your dog when they are riding in the car. Two different leash points a dog's chest strap and one on the dog's shoulder, offer you the security and control you need for an excitable pooch! This anti-jump harness is a great choice for those on four legs and on two.
2 HOUNDS DESIGN Freedom No Pull Nylon Dog Harness and Leash | Chewy
The patented design works by discouraging what's known as the "opposition reflex," which is the reflex that encourages dogs to pull against pressure caused by traditional harnesses. Instead, this leash features an action loop at the back between the shoulders, enabling your dog to walk in a straight line without twisting or straining.
Check price
Buy at Amazon.com
We earn a commission if you click this link and make a purchase at no additional cost to you.
This beefy no jump dog harness is ideal for those that want a heavy-duty harness that allows for ultimate control, even when your splendid pets are being less than delightful. The leash attachment point on the front padded chest area discourages pulling or you can just use the back attachment for casual walks.
For extra control and training, you can use both attachment points. The velvety inner lining of this no jump dog harness makes it very comfy for any dog to wear and it will not dig in and cause marks or abrasions. Scout likes that it comes in sizes to fit dogs up to 200 lbs! Veterinarians like this design because it helps dogs to walk straight which is better for their back over time.
This outdoor adventure grade vest style dog harness is reflective and has padded chest for your pooch's safety and comfort. Whether you're on an adventure or trying to teach your dog to sit, the outer material is durable and made to resist scratching and wear and tear that can happen on outdoor adventures. The lightweight buckles and straps make for easy adjustments.
The simple two-buckle on-and-off design means your dog is easy to get ready for a trip to the trail or park. Dog parents can choose from seven colors and five sizes, so there is an option for every dog in the family.
Sualer Dog Harness Vest with Flashlight Storage | Amazon
This pet seat cover has a non-slip surface to prevent your dog from slipping every time you apply the brake. Also built-in nonslip backing and sturdy luxury seat anchors to prevent seat cover from sliding around.
Buy at Amazon.com
We earn a commission if you click this link and make a purchase at no additional cost to you.
09/16/2021 03:16 pm GMT
This large anti-jump dog harness is padded and quadrupled stitched for strength and durability. The reflective material and handy flashlight stash point make this an ideal vest for those that walk their big dog in busy places or under low light conditions. A grab handle on the back makes it as simple as reaching down if you need to restrain your big dog more than usual. The leash attachment is on the back. There is no other attachment point.
HDP Big Dog Soft No Pull Harness | Chewy
Wide, padded design distributes the pressure to give your pup the most comfortable walk ever. D-ring attaches firmly to a center ring, which allows freedom of motion for dogs and control for you.
Check Price
Buy at Amazon.com
We earn a commission if you click this link and make a purchase at no additional cost to you.
For really big dogs with large chests, this is a great no-jump dog harness to invest in. This harness is heavily padded and made tough to stand up to the strain and abuse a big dog can put on it. A sturdy reinforced grab handle and D-Ring make this a heavy duty dog walking solution. Several colors are available and all have a reflective stripe that is appropriate for long walks in town where visibility is a constant concern on busy streets.
If you want to have a little more control over small dogs and medium dogs, then this cute vest offers a lot of style, and it is comfortable for them to wear. This harness is only available in sizes from XXS to Medium. The cute puffed paw design fabric is durable and breathable and comes in 4 fun colors to reflect your dog's unique style and personality. This is an affordable anti-jump harness that matches perfectly with your favorite dog leash.
For those that want maximum durability and visibility, there is the EzyDog harness. This harness for dogs on the go comes with a free seatbelt clip with 11 fun colors and sizes to fit teacup dogs to giants! The easy quick-release system makes this a harness that you will never struggle with. The welded steel D-ring makes for sturdy attachment and control of your dog. Foam padding on the harness allows your companion to be comfortable during long walks and bike rides.
Gooby Trekking Harness Small Dog Fleece Lined Harness | Amazon
Gooby's Trekking Harness is made for small breed dogs. This means that our largest size will fit a dog up to 35 lbs. In order to fully utilize the functionality of the harness, as well as the fit, we recommend measuring the largest part of the dog's chest. If the measurement is between sizes, please size up.
Buy at Amazon.com
We earn a commission if you click this link and make a purchase at no additional cost to you.
If you want a supreme level of comfort for your dog then it is hard to go wrong with memory foam. This vest-style harness is fleece-lined and features sturdy plastic rings. The step-in harness style is easy to use and ideal for small to medium dogs. Many dogs prefer the step-in approach, as they dislike having things put over their dog's head.
The largest size of this harness will fit a pooch that weighs 30 lbs. You can choose from five different colors, some of which are clearly visible for those that walk in busy places.
Obedience Training
In addition to using a no jump dog harness, obedience training is key. Check out the best tips for obedience training in the ScoutKnows Behavior and Training section.
Are You and Your Pooch Ready for a Fabulous Trip to the Dog Park?
As you can see, there are a lot of humane and comfortable harnesses out there that can make it a lot easier to go on those walks to the dog park. Scout hopes that this list has helped you find the harness that is right for your dog. Now on to some adventures in the great outdoors!
FAQs
Question: Why does my dog jumps to everyone?
Answer: Dogs that are accustomed to lots of people, and friendly behavior love to play, so their jumping is usually an invite to play, and they also show their affection for you by doing this.
Question: Do the no-jump harness actually work?
Answer: Yes, the no jump harness works when you are training your dog, however, this type of harness is not very comfortable for long term use, so you should take it off from time to time, to allow your dog's skin to breathe and to prevent any redness or swelling around the legs.
Question: Are leather no-jump harnesses good for training?
Answer: The leather no-jump harnesses are good for stronger and larger breed dogs, and they are especially good on colder weather, and when you are hiking or running with your dog. You should have in mind though that they are not very comfortable for longer periods, and they can cause the dogs to excessively sweat and also, to irritate their skin on hotter days.