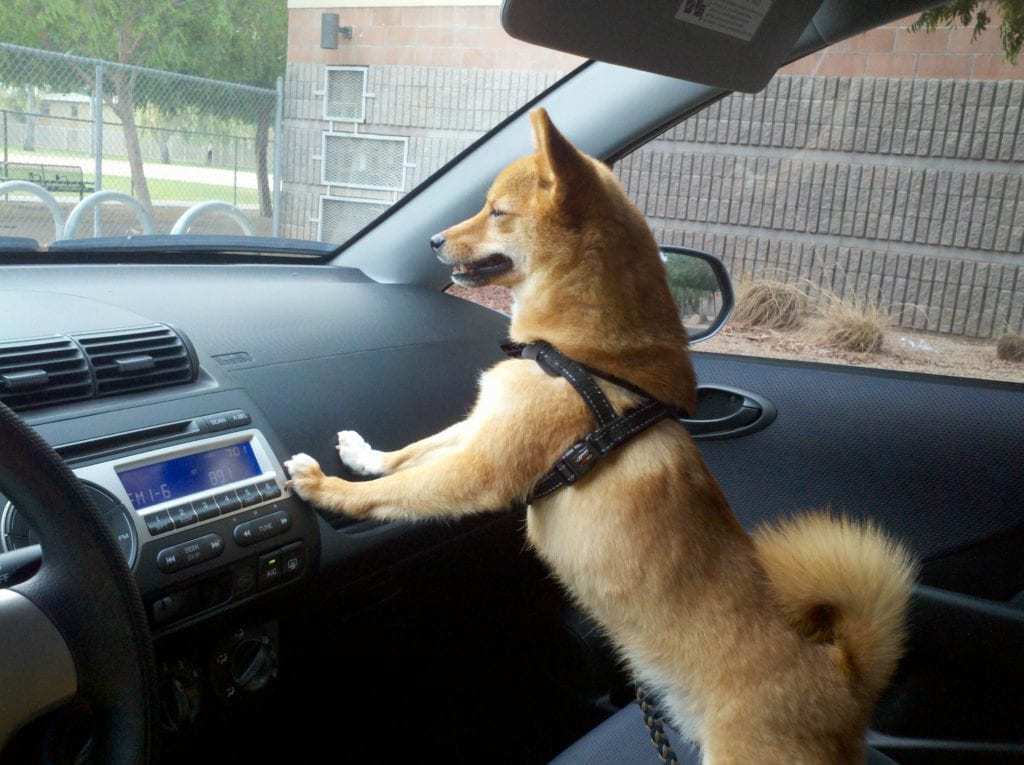 Every pup wants to hear that magical question, "Wanna go for a car ride?" It's fun to watch your pooch jump up and down, before running to the door in anticipation of where they're going. As pet owners, we all love taking our best friend with us where ever we go. If you enjoy taking your pet places with you, then you might want to look into getting a dog car harness.
PetSafe Happy Ride Certified, Crash-Tested,...
CRASH-TEST CERTIFIED: Small, medium and large size safety harnesses are certified crash-tested
SAFELY SECURE: Proper fit is important; to best protect your dog, please refer to the sizing...
We've taken a look at the best dog car harnesses with safety as a big factor as well as comfort for man's best friend. We believe man's best friend should love the car. This is why getting one that your pooch loves and is comfortable in is a plus. It's always a good idea to research any product before you buy, but here are our top 5.
5 Top-Rated Dog Car Harnesses
Our Top Pick: PetSafe Solvit Deluxe Car Safety Dog Harness
This company makes a variety of canine products for young and old dogs as well as small and large. On the outside, this deluxe seat belt strap looks simple. However, it is made with the utmost care for your dog's safety as a number one priority along with comfort.
This dog car harness is treated like regular seat belts for humans. While it doesn't guarantee your pup to be completely injury-free in case of an accident, it passed a crash test in a DOT facility. This ensures it's up to date in all safety standards. This one provides the most protection.
Features
Comes in various sizes for any breed such as small, medium, large, and extra large
Acts as a safety belt and integrates with the seat belt system which allows for some movement but locks when the car stops short
Fits in all vehicles
Has multiple attachment options including a leash attachment that makes this one great for taking walks
Has a lifetime warranty
Our Runner-Up Pick: EzyDog Drive Safety Travel Dog Car Harness
This particular Ezydog harness, while on the more expensive side, is built to last. It's made with aluminum alloy and webbing, the same material as seat belts. It also has a strong, padded chest plate to ensure your pooch is comfortable and protected in the car.
This one, like most on this list, also passed a crash test. It has been approved in the USA, Europe, and Australia in compliant with all car safety regulations in each area.
Features
Comes in various sizes such as small, medium, and large for different breeds
Only needs to be fitted once – no adjusting and readjusting every time you get in the car
Easy to use and install into your car
Easy to clean and can be hand washed and set to air dry
Best Budget Pick: PAWABOO Dog Safety Vest Harness
This safety vest is probably the simplest on this list and also one of the most affordable. Compared to the other harnesses listed here, this is a simple vest that covers most of the dog's chest with sponge-like padding. This makes it breathable and adds a high level of comfort. This ensures your pup is cozy in the back seat of your car.
While this one is short when attached to the seat belt, it's flexible for movement allowing your canine to still move freely in the back seat. It easily locks during short stops keeping your dog from falling off the seat and keeping him safe from harm.
Features
Comes in various sizes such as small, medium, large, and extra large for many different breeds
Has an attachment hook for the seat belt and can be used with the leash
Also makes for a great walking harness
It's light and soft for ultimate comfort for your dog allowing them to feel relaxed with it on
Best For Any Size Dog: SlowTon Dog Car Harness
One size does not fit all and this SlowTon dog harness knows that. Breeds come in all shapes and sizes and so does this strap. Like all harnesses, it's a good idea to measure your pup before buying. It's helpful to know what the right fit for your canine is so your pooch is not only safe with it on, but they're also comfortable with it on. This particular one comes in various sizes perfect for any breed as well as adult large pups or small puppies.
The SlowTon dog car harness also has an elastic attachment allowing for your pup to move around and tug without the seat belt or strap breaking. This also makes it so its attachment to seat belts isn't too long. Your canine won't get tangled up in the backseat should they decide to not move around in the back seat.
Features
Comes in many different sizes such as xxx-small, xx-small, extra small, small, medium, and large
Easy to set up in the car and put on your pup
Made with breathable mesh material and a nylon fabric strap
This one is good for taking walks and can be attached to a leash
Best For Multiple Uses: Kurgo Tru-Fit Dog Harness
On Sale Today -13%
This harness from Kurgo is great for multiple purposes. This one is sturdy which makes it wonderful for car rides as well as other uses. For example, it is great for taking walks and has a hook in the front for the leash attachment. This also allows aiding with no pull training. You can take your pup in the car, go for walks, and train while walking all at the same time.
This Tru-Fit harness comes in two different buckle styles – crash tested or easy on and off. We recommend the crash tested buckle style. It's proven to be safer in the car rather than the easy on and off buckles. The easy on and off is easier to use. However, aside from not being crash tested, is the only difference between this style and the crash tested style. However, both styles are simple to set up.
Features
Comes in various sizes such as extra small, small, medium, large, and extra large for many breeds
Crash tested style buckles can fit in any vehicle with easy setup and also doubles as a walking harness
Has a lifetime warranty
---
Buyer's Guide
Whether you're headed to the park or going on a road trip, a dog car seat belt is a good idea to keep your pet safely in the back seat. A car seat for your pup acts as a restraint, though your canine friend can still sit, stand, and lie down while in the car. The car seat won't let them slide around too much and it'll help you stay free from distracted driving so that you don't get into an accident.
No matter where you're going – headed on vacation or running to the pet store down the street – a dog car harness is a good investment. We've done some research looking into the best dog car harnesses. Not only will the ones on this list keep your canine safe and sound, but they also won't break your wallet.
We've picked out the top five best dog car harnesses, but it's always a good idea to do some research before you buy any product for your pet. For example, you want your pup to be safe but you also want them to feel comfortable. We want them to want to go in the car while wearing it. There are also other factors to look into when buying a dog car harness, so here are some tips to get you started.
Why Should You Buy A Dog Car Harness?
Anyone who is a dog owner should think about getting a dog car harness. It'd be awesome to take our pups with us where ever we go. We take them to the pet store, the vet and groomers, and parks as well as taking them with us when we visit friends or family and also when we go away on vacation.
With that said, there are a lot of places we can bring our pooch. No matter how long the car ride will be, setting your pet up in the back seat with a secure strap is a good idea for multiple reasons.
It keeps them safe
They won't slide around in the backseat, stick their head out the window, or hop into the front seat or in your lap while you're driving. It will also allow you to be free from any distractions as you drive.
It still allows them some free movement
Despite not being able to hop into the front seat or even the trunk, your pooch will still be able to roam around the backseat with ease. They can sit, stand, and lie down. Depending on the length of the strap's seat belt attachment, they can walk among the whole back seat should they need to stretch their legs.
What Type Of Dog Car Harness Should I Buy?
Things To Consider:
The Size of Your Dog
There is a dog car harness for every canine out there as they come in all different shapes and sizes. Before you buy a car strap for your pooch, be sure to know the measurements of your pup. Most come in sizes such as small, medium, and large (with extra-small or extra-large depending on the brand) and typically show a size chart – the pup's neck, girth, and length – so you can easily see which size would best fit your pet.
Your Dog's Comfort Level
Most dogs love going in the car. However, not all are a fan. For example, my pup likes the idea of being in the car, but if we're driving longer than ten minutes she gets anxious. It's a good idea to know where your pup's comfort level is at. If your pup gets nervous in the car, being in the back seat alone may frighten them. If you decide to try a harness, which restraints them a bit, maybe have someone sit in the back with them so they can get used to it – especially if they've never worn one before.
The Material of the Harness
While all the harnesses on this list were made with comfort in mind, not all materials are suitable for all pups. Depending on the fur and hair type, and how it may fit, they may get itchy or be uncomfortable. If you're taking a long road trip, you don't want your canine distressed in the backseat the whole time.
How You Want the Harness to Attach
All of the dog car harnesses on this list are complete with chest plates that come with an attachment for seat belts. Some of these come with a simple attachment that can hook up to the seat belt buckle and/or leash. Others are a little more intricate and come with straps to weave into the safety belt system. So, the question is, do you want a simple harness you can just take in and out of the car? Or would you like something more permanent in the car?
Frequently Asked Questions
How should I measure my dog?
Most products, before you buy, have a size chart that shows which size would fit certain sizes. It also shows how to measure your pup's body (or length), neck, and chest area. Be sure to check out the product description before you buy to find this chart. Or, you can always ask your vet.
Can my dog lie down in the backseat with the harness on?
Yes, most harnesses are flexible and lengthy enough to allow your pooch to roam a little in the backseat. This includes being able to sit, stand, or lie down. However, it doesn't allow them to jump into the front seat or the trunk of the car.
Do all harnesses fit in any vehicle model?
No. Some fit in all cars while some have a short list of models that are not compatible with. Be sure to check the product description before you buy.
Other Dog Car Harnesses We Reviewed
MightyPaw Vehicle Safety Harness
On Sale Today -52%
This MightyPaw harness is built with durability and your dog's safety in mind. The one is softly padded in the chest area for comfort. It's made with seat belt material and metal buckles to ensure the strap remains strong to keep your pet safe.
The vehicle safety harness is also good for outdoors as well. It comes with two different attachments for the leash. You and your pup can hop in the car, go for walks, and hiking.
Features
Comes in various sizes such as small, medium, large, and extra large
It's easily adjustable with four tri-glide attachments
Easy to clean and good in all types of weather
Has a 90-day customer satisfaction guarantee
Lukovee Dog Safety Vest Harness With Seatbelt
While this particular harness is incompatible with a handful of car models, it's a great choice if nothing else on this list tickles your fancy. The Lukovee dog safety vest is as it sounds – a secure strap with their safety in mind. It has a leash attachment but also comes with a connector for the seat belt in the back of the car.
This one is easy to set up with a simple on and off click buckle, which mimicks putting on a seat belt. Complete with a bungee strap to allow your pup free movement, it has reflective stitching to be easily seen in the dark.
Features
Comes in various sizes such as xxx-small, xx-small, extra small, small, medium, and large
Seat belt attachment and chest plate are comfortable mesh fabric
Adjustable fit on your pooch as well as adjustable attachment to the backseat
Can attach to a leash and is great for taking walks
Easy Rider Car Harness For Dogs
This Easy Rider car harness is most likely the simplest on this list. It's designed to keep your pooch stationed in their seat. Yet, they can still move around a little. However, it keeps your pet secure enough in case of short stops or a small accident. Like most harnesses, the chest plate is padded and the straps are metal making it sturdy yet comfortable.
This dog car harness can connect to any front or rear seat belt connector on its own. However, a seat belt clip is not included with this one.
Features
Comes in various sizes such as extra small, small, medium, large, and extra large
Crash tested
Also great for taking walks
A seat belt clip is not included
Conclusion
Car harnesses are a great investment for all dog owners. We want the best for man's best friend. There's no greater way to do that than to make sure they're safe while traveling. Most harnesses coming in a variety of colors or patterns giving your pooch some style. All the while, they're comfortable and safe in the car or on walks.
Have a smaller pup? Check out the best dog harness for small dogs.
Do you have a car harness for your pup? Share your experiences in the comments below!