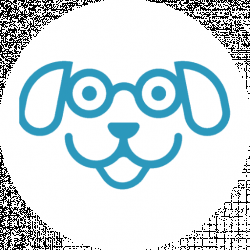 Latest posts by Scout Knows Team
(see all)
If you have a dog that's an aggressive chewer, then you may have found it challenging to find a treat that is natural, durable, and actually lasts longer than an hour! Quality treats that last doesn't have to cost a lot but at the same time, you can expect to pay more per treat than the less expensive pig ears, elk antler, meaty bones, and rawhide bones that are so popular.
Scout has found some of the best dog bones for aggressive chewers. These long-lasting dog bone treats are great for strengthening your dog's teeth and gums and preventing periodontal disease. It is important when making a decision on treats to follow some basic guidelines as well. Our favorite is the Nylabone Healthy Edible bone, which comes in a variety of sizes from small to large for powerful aggressive chewers of any weight.
You can also check our list of durable chewing toys for your dog.
Scout's Pick
What to Look Out For
Dogs with strong jaws are much more likely to ingest portions of real bones than dogs who just nibble, which can be a huge choking hazard and wreak havoc on their digestive tract. You should be paying extra close attention to exactly what you're giving your aggressive chewer dog when you consider raw bones.

---
Why Buy from Chewy?
Because of their around-the-clock access to pet experts!
See Chewy Video
First, make sure the treat is sized appropriately for your dog. There are a lot of different sizes of treats out there. Small dogs need treats that they can actually get their mouth on without strain. On the other hand, you need to make sure that large dogs who are considered to be aggressive chewers have treats that don't pose a strong choking hazard.
Country of origin
Unfortunately, some countries do not have the same standards dog parent's would like to see everywhere. You can find the best dog bones in the USA, Canada, and Argentina. Himalayan dog treats have good reputations for quality ingredients.
Cost per treat
Those with multiple aggressive chewer dogs may need to consider cost more than others. The actual price tag of a treat can sometimes be misleading because a treat that lasts longer is a better value in the long term even if it is more expensive than you are used to paying.
Cleanliness and odors
Scout has tried to pick out treats and chews that have no odors, stains, or other unpleasantness to contribute to your household or cause bad breath to your aggressive chewers. If you have a dog that sometimes loses or hides treats, then this can be an even larger factor.
Does Breed Matter?
When assessing the best dog bone for aggressive chewers and trying to source indestructible dog toys, many dog owners ask if the breed matters. Any type of dog can be a heavy chewer, but some breeds, like pit bulls, have extra strong jaws and can wreak havoc on even the most indestructible toys for their dogs. They can easily be considered aggressive chewers. On the other hand, a small breed might not have the same bite force as a pit bull, but they can do damage to their toys easily enough.
When you are looking for dog chew toys for your lightweight heavy chewer, you want to be sure they can't do any damage to their tiny teeth. Little dogs love chewing on tennis balls and rope toys (but be sure not to pull!), but harder things, like elk antlers, could do some damage.
If you have large dogs, you'll want truly indestructible toys for your aggressive chewers. Otherwise, they may splinter or break and be ingested, causing damage in their digestive tract. Regardless of what breed of dog you have, pay attention to their teeth, and ensure their toys don't get damaged to the point where they cause harm. Keeping an eye out for broken teeth also gives you an opportunity to check for plaque and tartar, while prioritizing periodontal health.
These 12-inch bully sticks are made to last a long time, even with larger dogs that are aggressive chewers and really try to chew up their treats as fast as possible. These 100% natural treats come from free-range grass-fed cattle. Unlike some dog chews, these do not have an odor so if your dog stays inside with you part of the time, they can chew on this treat without worrying about bad breath. No artificial dyes or other ingredients means no stains on your floor, your dog, or you with this dog chew!
Best Bully Stick Odor-Free Angus 12-inch Bully Sticks | Amazon
Best Bully Sticks are a single-ingredient dog treat, making them one of the most natural and nutritious chews available for your pup. These high-quality dog chews are 100% beef and contain no artificial preservatives, colors, flavors, or other additives.
Buy at Amazon.com
We earn a commission if you click this link and make a purchase at no additional cost to you.
12/03/2023 06:52 am GMT
Most dog owners are familiar with Nylabone for their synthetic treats but they actually have a big range of treats to meet the needs of dogs from all backgrounds and all sizes. These long-lasting buffalo and venison bones for dogs are guaranteed to be splinter-free for a safe dog chew experience free of choking hazards. These dog chews are made in the USA and will not grow mold so if your dog decides to bury a treat or loses one around your house you don't have to worry about the mess and smell that some traditional dog bone chews can exhibit under the right conditions.
Nylabone Healthy Edibles and your aggressive chewers are really a perfect match!
Scout's Pick
Deer antler and elk antler is naturally shed each year, so antler chews are a sustainable and renewable source of healthy dog chews. Antler dog chews last a very long time with even the most enthusiastic power chewers out there. Antlers are available in different sizes for the comfort of your aggressive chewers and their dog chew habits.
These bully sticks are 6 inches long but thicker than a lot of other brands meaning they are going to last your aggressive chewers a lot longer than thinner versions of the same length. No preservatives or artificial ingredients in these treats and they are made in the USA.
LukPaw Dog Toys Nylon Tough Chew Toys Braided Tug Toy | Amazon
Do you want to exercise with your pet whenever you want? Have you ever gotten angry because your dog chews sofa, shoes, table, or other things often? Do you want to enjoy playtime with your furry friend? Try "LukPaw" Dog Pull Toys and have fun! Play more, better health!
Buy at Amazon.com
We earn a commission if you click this link and make a purchase at no additional cost to you.
Himalayan Yak sticks have increased in popularity over the years. Made from yak, cow milk, lime, and salt, these sticks last a long time and they offer a different flavor experience for your aggressive chewers.
Monster Himalayan Yak Dog Chew | Amazon
Dog dental care is important! These natural dog dental chews help to remove harmful plaque and tartar leading to improvements in overall dental health. Let your dog chew on these dental treats and watch his or her teeth sparkle.
Buy at Amazon.com
We earn a commission if you click this link and make a purchase at no additional cost to you.
12/03/2023 10:38 am GMT
This is perhaps the ultimate bully stick because it is braided and super thick for a long-lasting and enjoyable chewing experience. These sticks are made from natural beef, giving the same experience as beef bones. While the price is in the $13-$15 range you have to realize that is 8 regular bully sticks braided together.
7" Monster Braided Bully Stick for Dogs | Amazon
Contains No artificial ingredients, No hormones, and No chemicals. These all-natural giant beef pizzle dog treats are long-lasting and made from free-range, grass-fed cattle.
Buy at Amazon.com
We earn a commission if you click this link and make a purchase at no additional cost to you.
Pork rolls are a less expensive alternative to the bully stick. They are not as tough so they will get chewed through a little faster but they are still a lot better than pig ears or rawhide bones that seem to get chewed up in no time at all. You get a full dozen treats of Pork Roll Dog Chews, so this pack is going to last awhile.
Holsome Valley Pork Roll Dog Chew Treats | Amazon
Holsome Valley Pork Roll Chews Treats deliver a healthy, deliciously long-lasting chewable experience for most dogs of all shapes and sizes. Our Holsome Valley Chews are the naturally healthy and nutritious alternative to rawhide Sourced and Made in the USA supporting American families!
Buy at Amazon.com
We earn a commission if you click this link and make a purchase at no additional cost to you.
For those that are trying to avoid rawhide bones and raw meaty bones, there is this unique natural chew alternative. This chew is made from wood from the Araack tree that never splinters. If you have one of those dogs that like to chew on sticks and wood, then this might be a good option.
Chicken bones are a no-no for dogs but these bones offer all that chicken flavor without all the danger. These 100% digestible chews are rolled, cooked, and dried for a long lasting and delicious treat.
Earth Animal Small No-Hide Dog Chews | Amazon
Just the right size for dogs 16-45 lbs, these all-natural No-Hide Chews are made with humanely raised, American chicken. Each Chew delivers a delicious, long-lasting chewable bliss
Buy at Amazon.com
We earn a commission if you click this link and make a purchase at no additional cost to you.
12/03/2023 11:07 am GMT
Natural cow hooves are an affordable and long-lasting treat for your dog. These single ingredient treats will provide many hours of chewing entertainment. These are fairly large treats so they may not be the best choice for smaller dogs.
Pawstruck Natural Cow Hooves for Dogs | Amazon
Each cow hoof is made with No artificial ingredients, No hormones, and No chemicals. These all-natural dog treats are long-lasting, full-sized, and are a great alternative to rawhide.
Buy at Amazon.com
We earn a commission if you click this link and make a purchase at no additional cost to you.
12/03/2023 09:06 am GMT
EcoKind is a family-run business that is passionate about providing 100% all-natural dog treats for our much-loved furry friends. Their Giant Femur Bone is a fantastic example of this. Made with just one ingredient, 100% grass-fed cattle, this mammoth bone will keep even the most aggressive chewers busy for a while!
The large bone features two large knuckles on either end with pieces of tendon and meat still attached that your pooch will surely go crazy for. The smoked flavor will get them instantly interested and, best of all, it's good for them! These bones are packed full of vitamins, minerals, and protein that all contribute to keeping your dog as healthy as can be.
These treats are suitable for any breed of dog and any size! It just may take your little chihuahua slightly longer to get through than your Doberman!
EcoKind Giant Femur Bone | Amazon
Your dog will go crazy for this GIANT meaty, delicious mammoth bone! EcoKind's dog bone for aggressive chewers is a great option to keep your dog busy, their teeth clean, and their appetite satisfied.
Buy at Amazon.com
We earn a commission if you click this link and make a purchase at no additional cost to you.
12/03/2023 05:37 am GMT
Barkworthies knows a thing or two when it comes to producing fantastic dog treats that your dog loves, but which are also good for them! These large beef bones come stuffed with a well-thought-out stuffing of beef and peanut butter. Combining your dog's favorite ingredients will surely pique their interest and while they're munching their way through the delicious filling, the texture and shape of this treat will be fighting against plaque and bad breath!
Barkworthies is committed to making treats that are as natural as possible and these shin bones don't contain any gluten, grains, added sugar, preservatives, hormones, or antibiotics. One of the best parts about this treat is that once your dog has gotten all of that delicious filling out (which, even with super aggressive chewers, will take a fair few hours) you can keep the bone and refill it with your dogs favorite foods!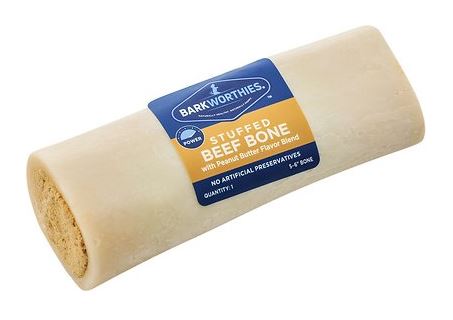 Barkworthies, renowned for their natural, durable treats, have not disappointed with the Beef Rib Bone Treat. This delicious dog treat is supplied with bits of tendon and meat still attached which are sure to make your pup go crazy. As they chew and gnaw on this bone, it'll naturally clean their teeth which is great. One less job for you to do, right!?
With an abundance of iron, zinc, and calcium, this treat has a bunch of health benefits too. Your little one's immune system, bones, and teeth will all benefit from this Rib Bone Treat and it's 100% digestible. You won't find any unnatural ingredients or chemicals here.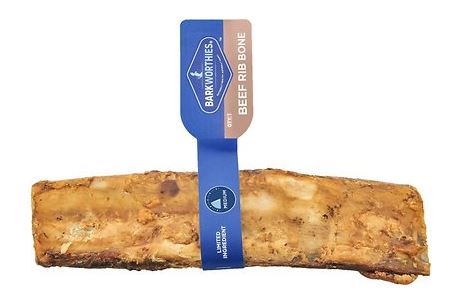 Barkworthies Beef Rib Bone Treat | Chewy
Keep your active chewer busy with the Barkworthies Beef Rib Bones Dog Chew. A great way to cure boredom and save your shoes, this chew is baked with pieces of meat and tendons still attached, for a flavor that your dog will absolutely love.
Check Price
We earn a commission if you click this link and make a purchase at no additional cost to you.
Homemade Dog Treats and Chews
If the best dog bones listed above don't appeal, you can take a DIY approach to dealing with your power chewer.
Dog owners can look for durable toys, such as the famous Kong, and fill it with peanut butter for hours of chewing entertainment.
Consider visiting the local butcher to pick up some raw meaty bones or beef bones to give your dog a fresh treat for their teeth.
Pet owners who are also hunters can make the most of the animals which they hunt, by saving a deer antler or elk antler for their dogs chew.
You can bake hardened homemade treats for your dogs with peanut butter for small pooches who think they're the Alpha of the pack when it comes to chewing.
As with anything, be creative when looking at DIY options, and be sure to take care of your dog's teeth. And remember, your humble peanut butter works wonders! 😉
Benefits of a Good Chew
Good chews provide entertainment and help keep your dog's mouth, teeth, and gums clean and healthy. Healthy gums are of the utmost importance when preventing periodontal disease and other illnesses stemming from abscessed or splintered teeth. The Veterinary Oral Health Council recommends regularly using dental bones and dental chews, as well as using healthy treats for rewards. Be sure to brush your dog's teeth often, to keep those power chewing teeth clean. Not only does this prevent bad breath, but it helps pet owners deal with their future senior dogs and offset the degradation of their teeth over time.
If your dog has sensitivities and can only eat grain-free dog food, ensure any treats or chewers you provide your dog with are free of fillers. There are lots of great bones for dogs that don't use anything damaging, beyond the basic raw bones.
Providing quality chews for your dog will help curb destructive behaviors. Sometimes behavior comes down to just pure boredom. Dental health is often something that is overlooked in dogs. You can take care of both of these problems so easily with the list of long-lasting treats Scout has looked at for you!
Scout's Pick
Continue reading:
How To Dog Proof Your Home (Easy Step By Step Guide)
Dentastix vs Greenies Review: Compare Which Dental Chew To Get Your Dog