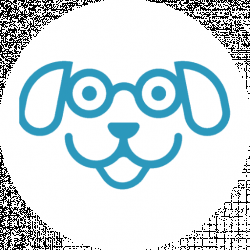 Latest posts by Scout Knows Team
(see all)
Joint problems and other cartilage issues are a major concern for a lot of dog parents out there. Both smaller and larger dogs can be prone to joint problems, such as arthritis, joint deterioration, hip dysplasia, and other debilitating conditions.
Scout's pick for the best dog food with glucosamine and chondroitin for joint health is Diamond Naturals Brand Large Breed due to its great ingredients, price, and availability to dog parents. There are other dog brands worth considering and we will get into that further into the article.
First, here are some things to consider when choosing a dog food that addresses joint health and the importance of a good diet. Scout has also found some of the best dog foods for preventing and combating joint pain and hip issues.
Scout's Pick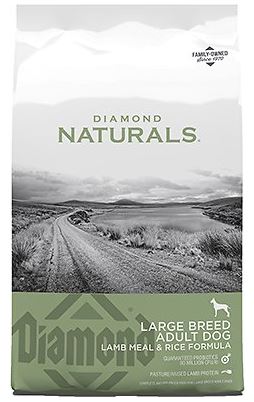 What to Consider When Picking a Joint Health Blend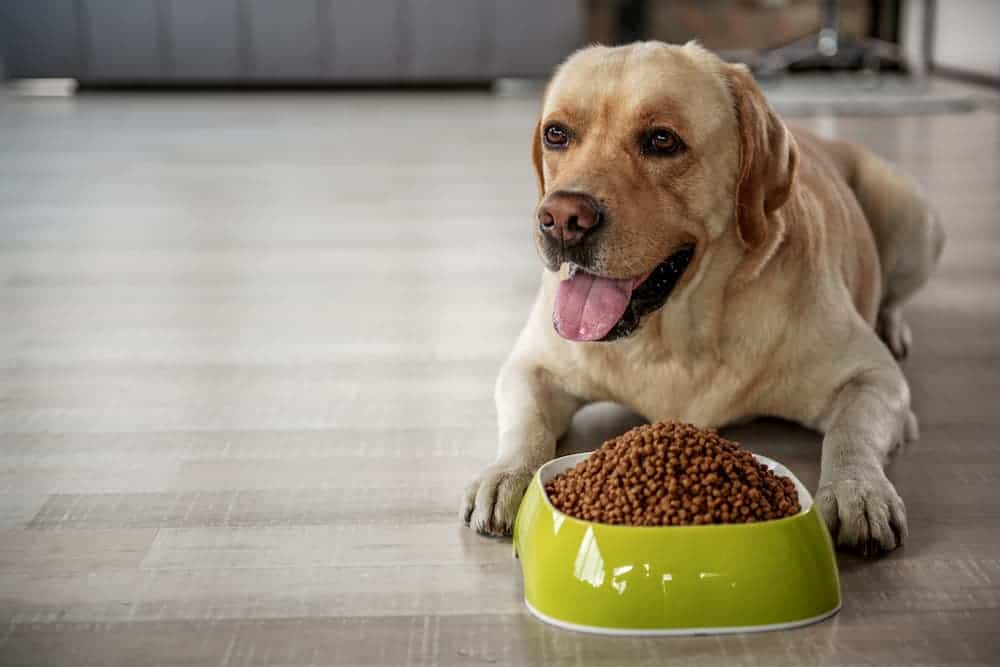 What Breed is Your Dog?
Larger breeds such as the Great Dane, Great Pyrenees, Mastiffs, and German Shepards are all prone to the problems that come from having a lot of extra weight to carry around.
These breeds benefit the most from proper care for their joints from the time they are a puppy and beyond. Mixes of the breeds listed previously are also prone but not always as much as purebreeds that have less genetic diversity.
How Old is Your Pooch?
Puppies have very different needs than adult or senior dogs. This means that when it comes time to choosing a dog food you need to get one that is right for the developmental or life stage they are at.
Large breed puppy formulas are made so that growth and weight are more controlled for larger breeds that have a longer and slower growth rate than dogs that reach adult size within 6 months or a year. Calories get burned a lot faster by some breeds than others as well.
Kibble is Not Enough: Supplementing Your Dog's Feeding
While a good dog food formula for joint health can be beneficial and lead to long-term good health and improvement in mobility, some dogs may still need anti-inflammatory drugs if they are already suffering from joint pain caused by deterioration or arthritis.
You don't want your arthritic dog to be in pain but at the same time, some vets and pet owners question how much you should use any type of painkiller or anti-inflammatory drugs on a dog because it sometimes encourages more activity than is healthy for the condition and age to the dog. There is a balance between just the right amount of relief.
Joint Support Supplements
While ideally you will be able to find a joint support dog food for your dog that they like (with sources of glucosamine and chondroitin included), if you have a very picky dog or one that just seems to tolerate very specific foods then you can add supplements to their existing brand.
This also gives you the opportunity to customize the number of joint support ingredients your dog is getting.
Those with dogs that have been diagnosed with hip or joint problems such as inflammation, arthritis, cartilage loss, etc., may want to combine a joint support formula dog food with an additional supplement anyway for added joint pain relief.
If you have a breed that is prone to these issues but have seen no signs of it yet then prevention is recommended so adding treats or powder supplements that contain glucosamine and chondroitin can help your dog not have to suffer in the future.
Ingredients to Look For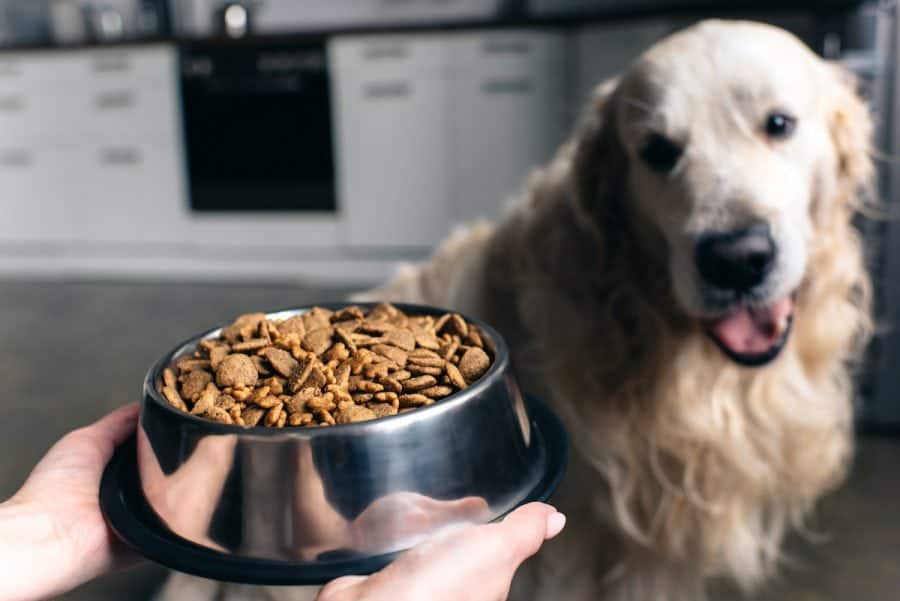 Glucosamine and Chondroitin
Glucosamine has long been proven to help with cartilage production and restoration. It achieves this by acting as a building block for proteoglycans that attract and retain water and help in the production of collagen and cartilage for healthy skin.
Chondroitin is a structural component of cartilage. As such, you can imagine how chondroitin for joint pain can help relieve arthritis and other joint issues. Like Glucosamine, animal products are a natural source with most coming from cattle and pigs.
Together, glucosamine and chondroitin act as a non-steroidal anti-inflammatory for your senior dog.
Rice, Barley, Or Grain-Free
Corn, wheat, and soy can aggravate inflammation in some cases and there is also the issue of them being heavily sprayed with pesticides and herbicides. While rice or barley may not be certified organic in all cases, it is a healthier choice for dogs.
Most of the best dog foods that use rice or barley are not trying to cut costs as much. The price difference can be minimal but the difference in your dog's health can be substantial.
Many pet owners are choosing grain-free dog food to avoid the whole possibility of grains harming their dog's health.
For our best grain-free dog food recommendations, check out this post. Alternatively, you can monitor ingredients by making your own homemade dog food.
Fatty Acids
Omega-3 fatty acids do wonders for your dog's joint problems. In fact, you should check your intake of fatty acids to maintain healthy joints as well.
Joint supplements that contain fatty acids derived from fish (especially wild salmon and green-lipped mussel) are filled with nutrients that help maintain healthy cartilage and connective tissue, offsetting the impacts of arthritis and hip dysplasia.
Omega-3 fatty acids are an essential fatty acid, meaning they must be derived from the diet as our bodies can't make them.
You can get more essential fatty acid in your dog's diet by increasing the seafood intake through homemade dog food or administering fish oil supplements derived from salmon, green-lipped mussel, and other high-quality protein sea creatures.
Amino Acids
Not to be confused with fatty acids, amino acids– found in protein– are the building blocks of life. This is why it is so important to find pet food with high-quality protein sources.
In conjunction with fatty acids, amino acids can build muscle, strengthen bones, and maintain healthy cartilage.
The Best Dog Foods for Joint Health
Wellness is a very well known dog food brand. They have been around a long time and take great pride in offering quality formulas and ingredients that are matched to your dog precisely.
This senior dog food formula uses chicken fat as a natural anti-inflammatory source of glucosamine and chondroitin so that senior dogs get what they need to maintain healthy cartilage levels.
They do add some additional glucosamine and chondroitin as well so levels are high and more supportive of senior dog's needs. This delicious formula is very affordable for the quality you are getting and it is easy to find, making it our overall best dog food for glucosamine and chondroitin.
If this becomes your dog food of choice you can save money by setting up an auto-delivery subscription so you don't run out.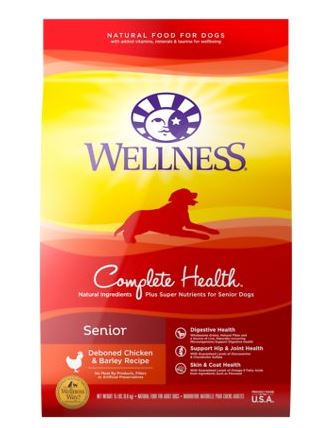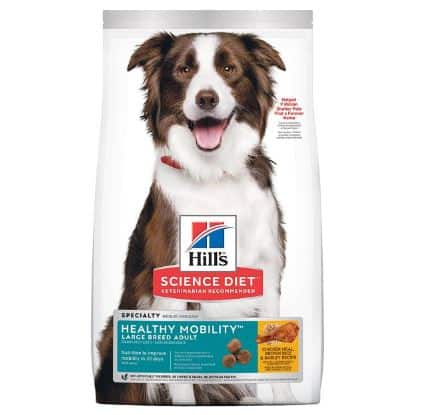 You have to give Hill's some credit for having a lot of formulations that are very specific to your dog. This formula is specific for adult dogs that need to improve their range of motion or make sure that more rapid issues don't occur.
This formula makes a bold claim that it will improve mobility within a month of switching over driven by its use of chicken meal and other high quality ingredients.
Plenty of dog parents agree that this is a brand they can trust for good results. Hill's uses fish oil as a natural highly concentrated source of glucosamine and chondroitin as well as essential fatty acids. This is a chicken meal and rice-based formula so you are avoiding the cheap corn, wheat, and soy fillers that can take away from the nutrition of your pet.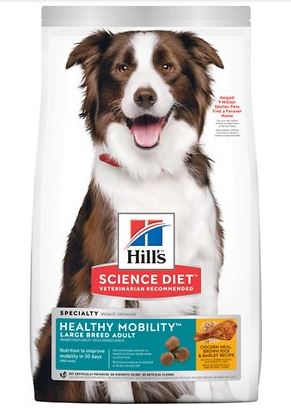 Hill's Science Diet Adult Healthy Mobility Large Breed Chicken Meal | Chewy
Large-breed canine companions can be prone to joint issues, that's why this kibble formula was designed to support their hip and joint health from day one. It contains natural sources of glucosamine and chondroitin, which are the building blocks of healthy cartilage.
Check Price
We earn a commission if you click this link and make a purchase at no additional cost to you.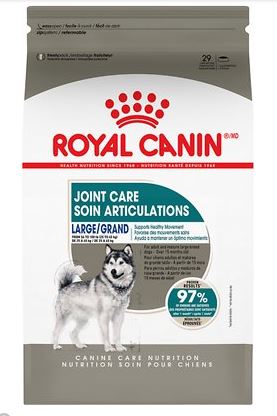 Royal Canin Large Joint Care Dry Dog Food | Chewy
Royal Canin Large Joint Care Dry Dog Food is tailored dog nutrition to support your adult dog's joint health. This bone and the joint formula are designed with advanced nutrients like collagen to support joint and bone health.
Check Price
We earn a commission if you click this link and make a purchase at no additional cost to you.
There are a lot of Royal Canin fans out there, and like Hill's, it is because they put a lot of thought into developing specific formulas of dog food. You can even get breed-specific dog foods that address the unique needs of your dog. This means if they are prone to a certain condition than the dog food you are feeding takes that into consideration.
This formula does break the rule of avoiding corn, wheat, and soy but they are not the main ingredients. While not grain-free dog food, dog parents seem to be very happy with the results and performance they get with this formula.
The main ingredients are chicken and rice along with added vitamins, minerals, and vegetables. Fish oil and brewer's yeast help the coat and skin along with adding extra glucosamine for joint support. Chondroitin Sulfate assists with creating healthy cartilage, pain relief, and strong bones when added to pet food.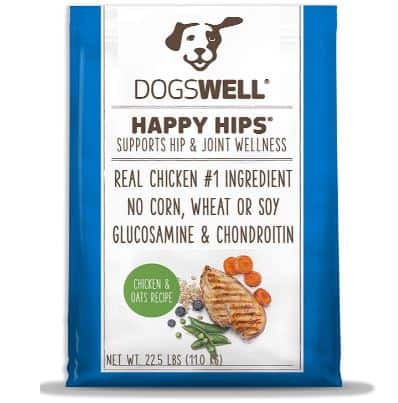 This dry food has chicken, fresh vegetables–including much-desired sweet potatoes–, and oats are some of the major ingredients in this quality dog food formula. If you are looking for a brand with a good reputation for quality then look no further than Dogswell.
Added glucosamine and chondroitin from natural anti-inflammatory sources boost this formula so your dog maintains or improves mobility.
This dog food is formulated for adult dogs. Scout likes that it also has natural probiotics and prebiotics for the immune system and digestive support.
Blueberries and tomato pomace are natural sources of antioxidants that can protect your dog against free radicals. Dog parents report that this formula has definitely improved the regularity of their dog and helped improve weight and enthusiasm for physical activity.
Even those that say their dog is a picky eater or experience allergies report that this food is well tolerated. Although Dogswell is available at a lot of stores, you can get it on Amazon easily in several different size bags, and you can even get wet food and treats that are in the Happy Hips line of products.
It doesn't have an unpleasant smell either and dogs stay regular when eating it which can be a big plus if your dog has to stay inside very much at all.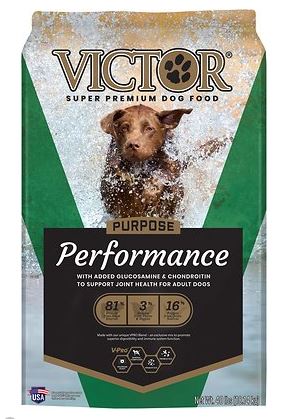 Victor Purpose Performance Formula Dry Dog Food | Chewy
This nutrient-dense formula has glucosamine and chondroitin for long-term joint health in adult and large breed dogs. It also promotes stamina and endurance with sustained energy.
Check Price
We earn a commission if you click this link and make a purchase at no additional cost to you.
Perpetually hungry, active pooches will love this hip supportive formula that combines high-quality protein derived from beef, chicken, and pork meal for high levels of Omega 3 & 6 fatty acids and natural sources of glucosamine.
This made in the USA dog food is premium quality yet affordable. This dog food does not contain any GMO grains or by-products so you are getting a lot of attention to quality. Dogs with sensitive stomachs tolerate this food well.
The only major complaint in reviews seemed to be that a few picky dogs took a while to get used to the switch in their diet. Then, there is the case of the bag getting delivered and a hungry Lab being so enthusiastic that they tore into the box before the owner got home and ate way too much at once.
Many happy large breeds puppy parents report that it offers good support and growth and puppies seem very healthy with no skin issues or allergies. This is an important thing to consider because large breed puppies have very specific nutritional needs that mean that an adult joint support dog food can sometimes provide if it is high quality like Victor.
While puppies may eat a bit more of an adult dog food, large breeds do well with dog food that is made to control growth and weight gain from occurring so rapidly that it is harmful
If you want to learn more, check out our review for Victor Dog Food products.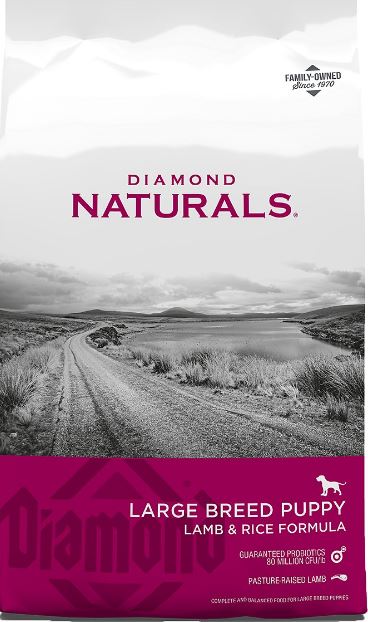 Diamond Naturals Large Breed Puppy Formula Dry Dog Food | Chewy
Start your brand new big puppy off right with superior nutrition from Diamond Naturals Large Breed Puppy Formula Dry Dog Food! This dry puppy food recipe is made with real lamb as the first ingredient followed by real fruits and vegetables including peas, garbanzo beans, papaya, and coconut!
Check Price
Buy at Amazon.com
We earn a commission if you click this link and make a purchase at no additional cost to you.
Diamond Brand does an outstanding job creating affordable quality dog food that is easy to find. This brand is available not only on Amazon but also at major stores such as Tractor Supply and even independent feed stores in case you need to buy locally or just run out.
Diamond always makes sure to add probiotics and antioxidant ingredients to every blend so even dogs with sensitive stomachs tolerate their foods quite well. This formula has added DHA for good brand and eye development during puppy's major growth phases.
A lot of attention is paid to balancing out calories and fat for larger breed puppies that have a longer growth period and need additional vitamins and minerals to develop strong muscles and joints.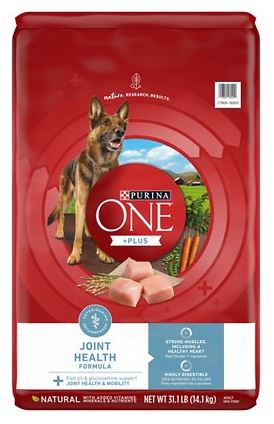 Purina ONE +Plus Joint Health Formula Dry Dog Food | Chewy
Encourage your pup's daily adventures with Purina ONE +Plus Joint Health Formula Adult Dry Dog Food. This premium dog food kibble has fish oil and glucosamine to support joint health for dogs.
Check Price
We earn a commission if you click this link and make a purchase at no additional cost to you.
Purina ONE is a very well-known dog food brand, and for good reason. They've poured all their expertise and experience into producing this +Plus Joint Health Formula Dog Food. It contains glucosamine and fish oil which both work together to help protect your dog's joint health.
Purina ONE is proud that their dog food blend is based on nutrition with 0% fillers. They've included four sources of antioxidants, the first ingredient is protein and every other ingredient included in this tasty kibble is there for a reason. There are added vitamins and minerals also to help keep your dog in the best shape of its life. If you don't believe us, trust the veterinarians that recommend this dog food.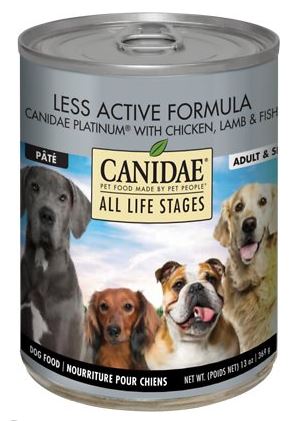 If your dog prefers wet food, do not fear. Canidae are here with their specially formulated dog food that includes glucosamine and chondroitin for healthy joints, even in less active dogs. All of your dogs will love this ingredients list, with chicken, fish & lamb all simmered in a delicious broth. That's enough protein to keep every dog fit and keep their muscles growing and strong.
Fuel every day with wholesome grains but don't worry, this formula contains no soy, wheat, or corn so if your pup is allergic to these you can rest assured. This canned food is suitable for all dog breeds, no matter their size, so it would work perfectly for a multi-dog home where you don't want to mess around trying to feed each dog their own specific dog food!
Be Smart: Overall Joint Health Strategy
A quality joint-health kibble should be only one part of your overall joint-care routine.
Make sure to:
Switch Dog Foods Safely
Whether you are currently feeding your pooch grain-free dog food, senior dog food, or homemade dog food, be sure that you make any major changes to your dog's diet over the course of a week.
This is important so your pup has more time to accustom themselves to the chicken meal, cage-free chicken, or another new first ingredient each and every day – whether they are trying Blue Buffalo or another brand.
This helps your dog make a healthy transition without having any major stomach problems or making messes in or around their house. To do this merely replace an increasing amount of their kibble with the new food and see how they tolerate it.
If your dog doesn't adapt well after a week then you need to try another brand or visit your veterinarian to make sure that there is not another problem.
Commit to Regular Check-Ups
Dogs that are of breeds that are prone to hip issues or joint problems definitely benefit from regular check-ups with the veterinarian.
Once a year for healthy dogs is a good idea but if you ever notice any stiffness or limping that doesn't solve itself within a day or two or if you have an older dog then you should get your dog to the vet and get them checked out.
The sooner joint problems and hip issues are dealt with the better.
Making the Right Choice
While Scout is confident that the kibble reviewed in this article is pretty great, finding the exact one for your dog may require a bit more research or just trying out a few brands if one doesn't work.
Reading more reviews on each of the kibbles listed above may help well-meaning and loving dog parents like yourself make an even more informed choice.
Always remember to ask your vet for advice on joint health and realize that while a good dog diet is helpful with preventing and treating hip and joint issues, it is not an all in one cure or treatment for conditions.
Scout's Pick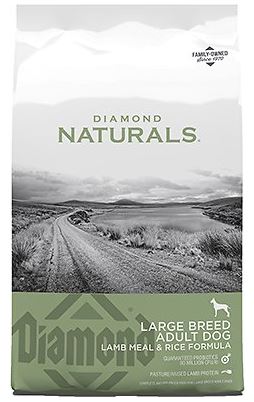 If your dog is suffering they may need further treatments for relief and quality of life.
Continue reading:
The 6 Best Dog Foods For Border Collie Pet Owners
The 5 Best Must-Have Dog Food For English Bulldogs in 2022