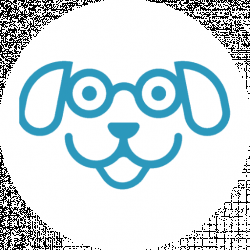 Latest posts by Scout Knows Team
(see all)
A border collie is a cute, hardy, and smart furball. Heck, she is one of the smartest dog breeds ever to grace the earth.
It's a remarkable mix of traits in just one breed.
How else would she be trusted to herd farm animals for hours on end?
Her energetic disposition can be a lot of work for the regular homeowner to take on. She'll demand regular exercise and constant mental stimulation to keep her sanity. Yes, I meant that literally.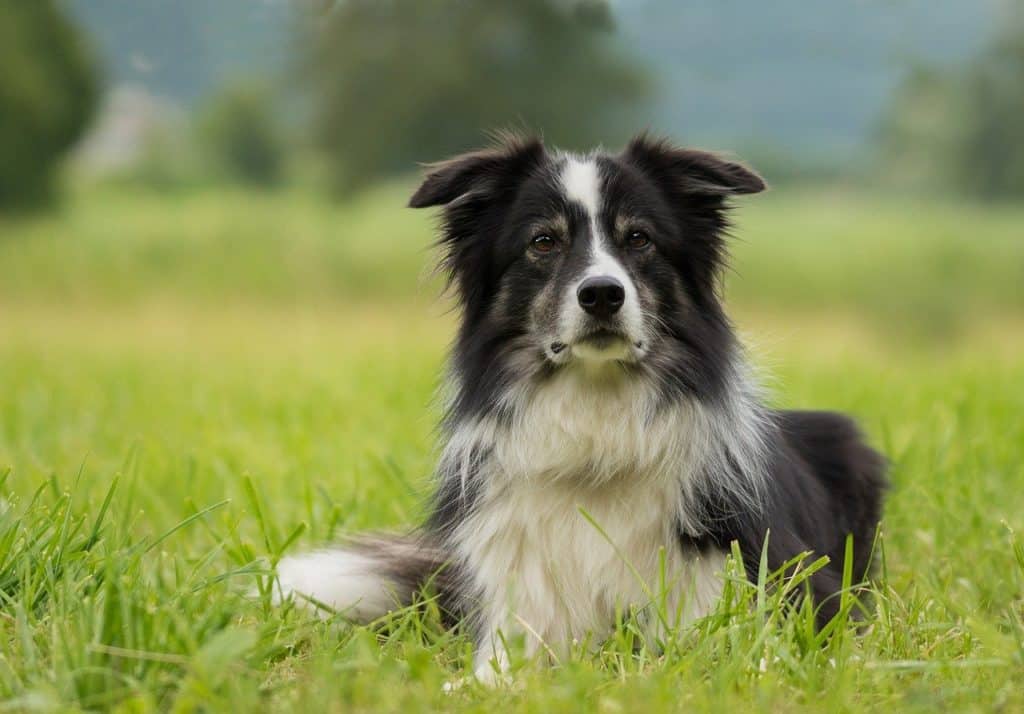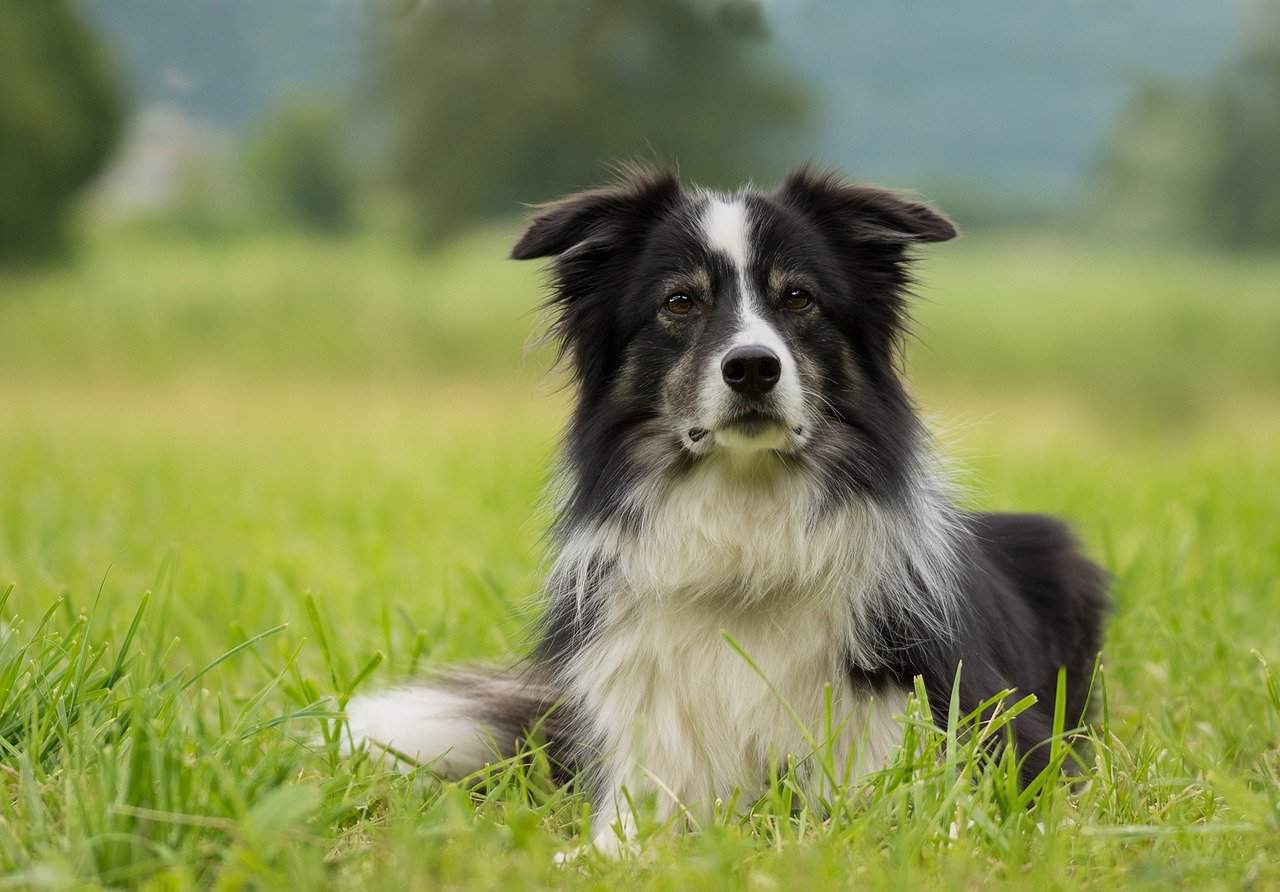 However, if you are one of the many strong-hearted people who have taken up the challenge, you'll have also need to help her stay nourished on a balanced diet.
There are lots of dog foods on the market, the rest of her breed, she's not a picky eater.
But you must feed her a pure dog food formula with all the necessary vitamins to help her stay nourished and energized.
Scout has helped you compile a list of some of the best border collie foods for your pup or adult dog. Also, you'll discover precisely the right ingredients to feed four-legged friend.
6 Best Dog Foods For Border Collies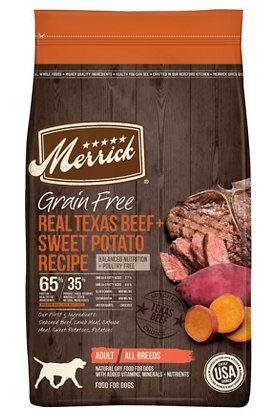 Key Features
Deboned beef
Lamb meal
Salmon Meals
Peas
Sweetpotato
Merrick is one of the most popular dog food manufacturers in the world, thanks to its high-quality recipes.
At first, it was hard to pick one of their many palatable recipes for border collies, but the Grain-Free Texas Beef and Sweet Potato kibble stood out. It's a "Balance Nutrition" formula that has a generous ration of whole proteins, healthy fat, and other nourishing natural ingredients.
It has a whopping 38 percent animal protein per serving, with deboned beef as the main ingredient. Coupled with other sources of protein, like salmon meal and lamb meal, your BC would build a lean muscle and grow a shiny coat.
As stated clearly in its name, it contains only grain-free carbs like sweet potatoes, peas, and potatoes. It makes the perfect choice if you aren't a fan of grains in your dog food.
The percentage of carbohydrates in the kibble is only 22 percent, which is optimal. Even better, the 3 percent crude fiber aids excellent mineral absorption for your collie.
It also contains fruits and vegetables, like apples, blueberries, and peas. This makes it a wholesome meal for your dog, if it doesn't have allergies.
What's astonishing about this recipe is it has a leading level of Omega-6 and Omega-3 fatty acids. This would help your pooch groom a shiny and glossy coat that would make leave people in awe.
Since a border collie would be active on most days, Glucosamine and Chondroitin would help her maintain healthy hips and joints.
As you'd expect from a premium dog food brand, all its ingredients are sourced from farmers around the facility. It's why the beef in the formula is named "Texas Beef. "
Pros
Impressive 38 percent protein
Grain-free carbohydrates
High levels of omega fatty acids
Contains fresh fruits and vegetables
Aids healthy joints for collies
Cons
Some packs are delivered damaged
Expensive as a regular diet
Not suitable for sensitive dogs
Takeaway
The Merrick Grain-Free Texas Beef and Sweet Potato recipe is a premium meal if you want the very best for your border collie.
It balanced nutrition and poultry-free formula that's specially formulated from farm-sourced ingredients for adult dogs. Of course, it comes at an expected high price.
Best Border Collie Dog Food Recipe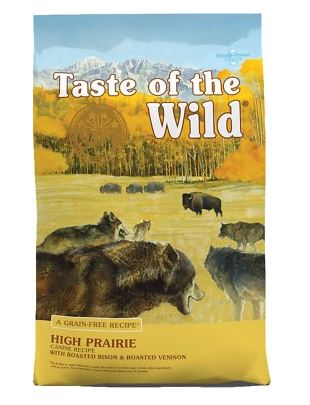 Key Ingredients
Buffalo
Lamb meal
Chicken meal
Sweet potatoes
Peas
This is one of the most popular dog foods on the market, and you can be sure it's for a good reason.
Not only is it economical, but the brand adds a classy touch by adding exotic meats to their recipes. Taste of The Wild tries to give your canine friend a taste of its ancestor's (wolf's) diet in the wild through their recipes.
This High Praire recipe contains roasted buffalo as the first ingredient. The list contains other wild animal protein such as venison, bison, beef, which helps to build strong muscles while also delivering a flavor of the "wild."
To cap it all off, the meats have a roasted flavor that's rare in other dog food and a delight for your pooch.
All of these give it a 32 percent protein level that's right up there with the best dog foods. Also, it contains an optimum level of Omega fatty acids that are crucial for survival.
The crude fat content of the High Praire is listed at 18 percent minimum, which isn't bad for its price. As such, you can expect your pooch's coat to flourish after some time.
With a maximum of 4 percent cruse fat, the amount of carbs in this formula is kept to a minimum. This is astonishing since other similar priced recipes would be stuffed with carbs to keep the price low.
Pros
Good bang for the buck
Uses rare wild animal protein
Rich in omega fatty acids
Roasted flavor
Supplements essential vitamins
Contains K9 probiotics to improve digestibility.
Cons
Not every dog would take it
Only a few cents shy of the eligible cost for free shipping
Could lead to some dogs gassing uncontrollably
Takeaway
The TOTW High Praire is a high-quality economical option for your border collie and offers your pooch a completely new taste. Its wild animal protein content and the roasted flavor are worth trying out.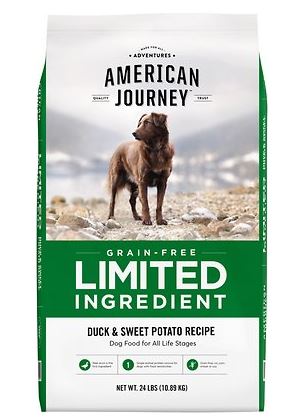 Key Ingredients
Deboned duck
Duck meal
Peas
Sweet potatoes
Pea starch
Just like the TOTW recipe we just reviewed, a premium dog food for your border collie shouldn't cost a fortune. But the American Journey Grain Free Duck and Salmon offer an even better irresistible offer.
It offers a more palatable and familiar recipe that your pooch is unlikely to refuse or cause him any allergies or reactions. It uses real duck as its main ingredient, highly digestible sweet potatoes as the primary carb source, and overall, is a limited ingredient diet.
Besides, the absence of chicken is a big plus if your pooch has allergies.
However, the limited amount of animal protein puts its crude protein content at 25 percent. This is relatively low compared to premium recipes, but still acceptable at an acceptable level for your BC.
The goes for its 15 percent crude fat that's mostly made up canola oil. In addition, your dog's coating would continue to glow with its decent levels of omega-6 and omega-3 fatty acids.
However, it uses fish oil as part of its fat sources, which is great but can cause the kibble to turn rancid easily.
Aside from flaxseed, it's omega-3 fatty acid supplement also consists of docosahexaenoic acid (DHA). It's much of a tooth breaker, but it'd aid the development of an adult or growing border collie's brain and nervous system.
The rest of its nutrients and vitamins in the formula stay just in line with AAFCO Dog Food Nutrient. It also has other single-source protein recipes, like Lamb, Turkey, Salmon, and venison, if your dog prefers other meats.
Pros
Single animal protein source
Optimal content of protein
Handy limited ingredients diet with no artificial additives is a plus for sensitive dogs
Easily digestible and healthy grain-free carbs
Strong fiber fills up stomach easily
Cons
Takeaway
American Journey helps dog owners affordably put sensitive dogs on potent limited ingredients. It has a single source of animal protein that's backed up with other natural ingredients to provide essential vitamins and carbs for your pooch.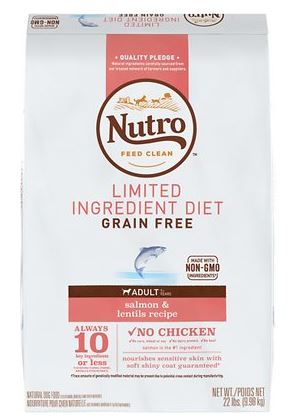 Key Ingredients
Salmon
Salmon meal
Dried potatoes
Lentils
Chickpeas
If your canine companion is plagued with a sensitive stomach, she would need a dog food that has as little ingredients as possible.
Nutro LID is a pet food company with a long history of making quality and high-standard products by using real and recognizable ingredients.
The Nutro LID grain-free formula has the only salmon as its animal protein source. It's supplemented by rich legumes such as lentils, chickpeas, and also dried potatoes. Clearly, it contains no grains, but neither does it include chicken by-products that can cause triggers.
These plant-based sources of protein also help to provide fiber and carbohydrates for dogs. The good thing about this is that your dog stays energized for longer periods due to slowed digestion.
Also, it serves more calories (426kcal per cup) than every other dog food that I've seen, or in this review at least.
However, It contains some ingredients that provide essential omega fatty acids like sunflower oil, but surprisingly, without indication of the nutrient levels. Nonetheless, it has an optimal (3.5 percent) level of linoleic acid, an essential fatty acid to your dog's survival.
It would help your pooch grow a lush and shiny coat without consuming other additional fat from any other animal source.
Overall, it's relatively expensive compared to many dog foods. But I believe it's worth the price and health of your BC if she's has a sensitive stomach or allergies. The Nutro LID is also available in a Grain-Free Adult Lamb and Sweet Potatoes version for almost the same price.
Pros
Single protein source
Limited ingredients
Higher calories for reduced meal times
Essential fat and fatty acids boots energy and skin health
Cons
Relatively expensive
No indication of omega-6 and omega-3 levels
Takeaway
If you have a sensitive dog that has developed itchy skin or upset stomach, this is one of the best formulas you can put in her bowl. Despite its relatively high price, it reduced all symptoms to nil, if your dog finds it palatable.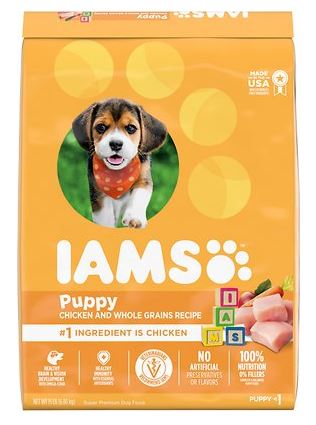 Key Ingredients
Real chicken
Chicken whole grain corn
Chicken by-product meal
Ground whole grain sorghum
Dried beet pulp
Feeding border collie puppies can be tricky. Most times, the puppy's breeder would have a better idea about what to feed her to avoid overgrowing or hip dysplasia.
The Iams Proactive Smart Puppy dog food formula is focused on raising a healthy pup. It's also formulated for pregnant and nursing dogs.
Rather than serving the pup or unborn pup the same generic industry nutrients, it's tailored to improve a healthy cognition and strong muscles.
It contains 29 percent protein and 17.5 percent crude fat. And it has good calcium to phosphorus ratio, which is necessary for growing puppies.
The first ingredient in the formula is real chicken, followed by ground whole corn. This sets it apart from the grain-free products that have circulated the pet food industry recently.
It makes sense to use refined whole grain corn as it provides essential carbs, fatty acids, and fiber. Plus, there's no reason to feed grain-free kibble if your pup has no allergies.
Coupled with their potent dosage in the Iams Smart Puppy, grains support the skin, hair, and immune system. All of which are essential for your BC pup to grow into a healthy adult.
It's also loaded with chelated minerals, nutrients, and prebiotics that promote digestion, immune system, and stronger bones and teeth.
The best part about the Iams Proactive Smart Puppy is it's incredibly affordable. So, you don't have to break the bank to feed the newest member of your family.
Pros
Great value
High-quality ingredients for better digestibility
Rich in omega fatty acids
DHA helps you grow a smart puppy
Cons
Many dog owners don't fancy grain foods
Takeaway
If you want to feed your pup high-quality ingredients without spending so much, this Iams Smart Puppy Recipe is a great candidate.
It contains all the necessary nutrients and vitamins that would form a building block to your pup's overall health. Also, the Smart Puppy formula would help you grow a smart pup with its DHA supplement.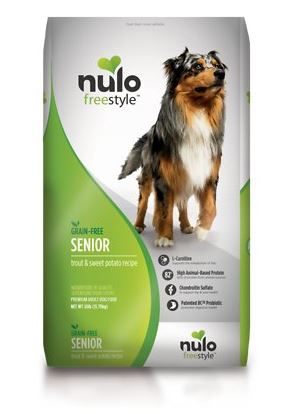 Key Ingredients
Deboned trout
Turkey meal
Salmon meal
Yellow peas
Sweet potatoes
Nulo Freestyle is a grain-free dog food that's inspired by the diet of world-class athletes (dogs). Since your border collie is also an active pooch, this recipe would help him stay fit and healthy.
It contains premium sources of protein, with about 80 percent coming from quality animal meat, like trout, salmon, and turkey.
Also, the crude fat level of this senior formula is kept at a minimum to ensure your pooch gets only the best into his aging stomach.
The carbohydrates and fiber sources are off the charts. It has a rare combination of sweet potatoes and lentils. Then, it adds fruits and vegetables, like dried tomatoes, apples, and blueberries into the mix.
Although most of the ingredients would be highly digestible, L-carnitine also helps to support his metabolism. So, if your BC isn't as active as he used to be anymore, this would support fat breakdown.
In addition, the recipe decent dose of glucosamine and chondroitin that would help him grow healthy hips and joints. However, as much as I'd like it to be, they are not at levels like what's seen in the Merrick Texas Beef and Sweet Potatoes formula.
All in all, this is a premium border collie senior food, with a matching price. It's even more expensive than our top pick. I'll advise you to check with your vet first for compatibility options to avoid waste.
Pros
Single animal protein source
Boosts metabolism
Promotes flourishing skin and fur
Aids healthy hips and joints
Cons
Takeaway
If you want the food that goes into your long-time buddy to be the best for his aging body, this is a great option.
The Nulo Freestyle isn't the cheapest, but it provides your senior dog with easy-to-digest vitamins and protein for long-lasting energy.
How To Feed A Border Collie
It's normal for a first-time dog owner to get anxious about how much food to give their border collie.
But feeding your dog shouldn't be rocket science. And it isn't.
Most times, you'll find a feeding guide on the back of a dog food formula. This amount of cups to feed your pooch would usually be categorized by weight.
However, you should also factor in the height and activity level of your BC to decide how many meals he needs per day. It helps to keep his caloric intake at an optimum level to stay energized and prevent obesity.
Nonetheless, I'll recommend only feeding him kibble or meals twice a day. If he's a sporty or working dog, you may supplement with treats between meals.
On average, border collies would need about 1000 calories daily. Most premium dog foods would supply around 350-400 calories per cup. So, two servings per day should be ideal.
Also, avoid free-feeding your border collie. This is when you leave a whole pack of food out or give him extra servings if he voraciously finishes and licks his bowl.
Don't be fooled by this display because he would always be hungry. If you fall for it, he may make it a habit to beg for food.
Border collies, like every other dog, always have room for extra food when they're full. And this can cause weight gain, regardless of how active your pooch is.
With Grains or Grain-Free Border Collie Food?
For a while, there was a heated controversy linked to grain-free formulas causing DCM (canine dilated myopathy) in dogs.
However, the FDA found no evidence-based facts to suggest that dog owners should avoid grain-free foods.
Typically, grain foods would contain ingredients such as wheat, oat, rice, sorghum, and so on. But grain-free dog foods would contain none of these ingredients. Instead, they'd use alternative carb sources like sweet potatoes, lentils, and potatoes.
Contrary to what many might think, grains are packed with carbohydrates, fats, and antioxidants, which are crucial to your dog's overall health.
Unless your dog has a history of allergies to grain or a sensitive stomach, you'll have no cause to switch to a grain-free diet. In the same coin, there's no evidence of grain-free diets causing DCM in dogs.
So, there's no point fixing what isn't broken.
But you can check with your vet for the best options.
What To Look Out For In a Good Border Collie Food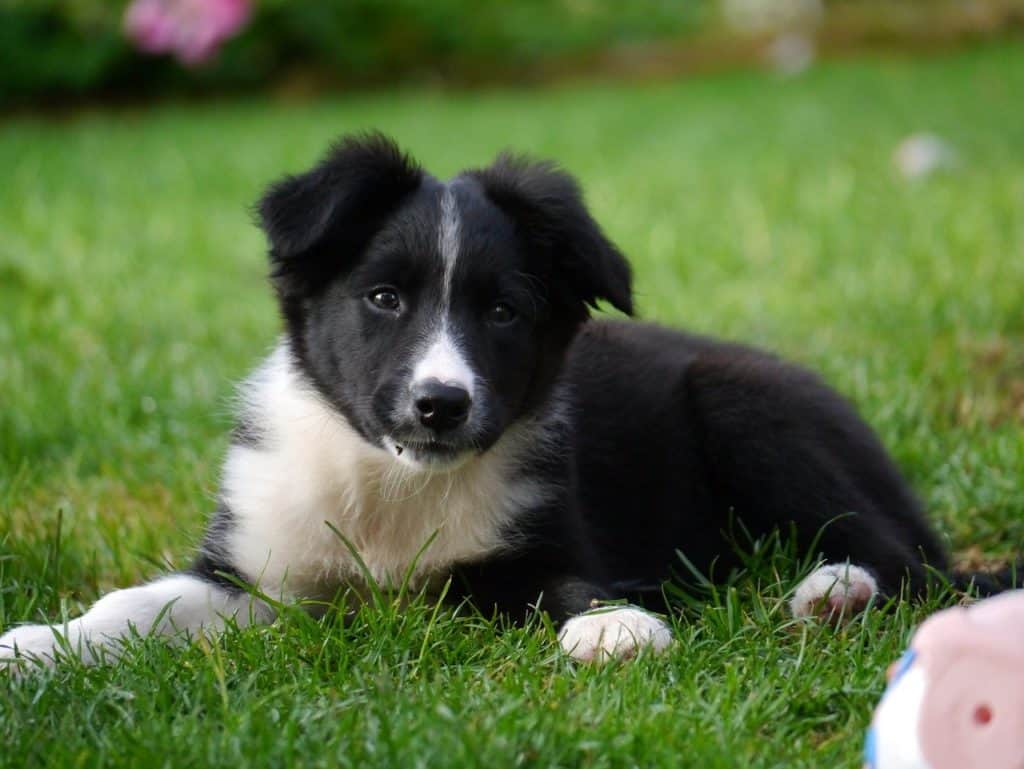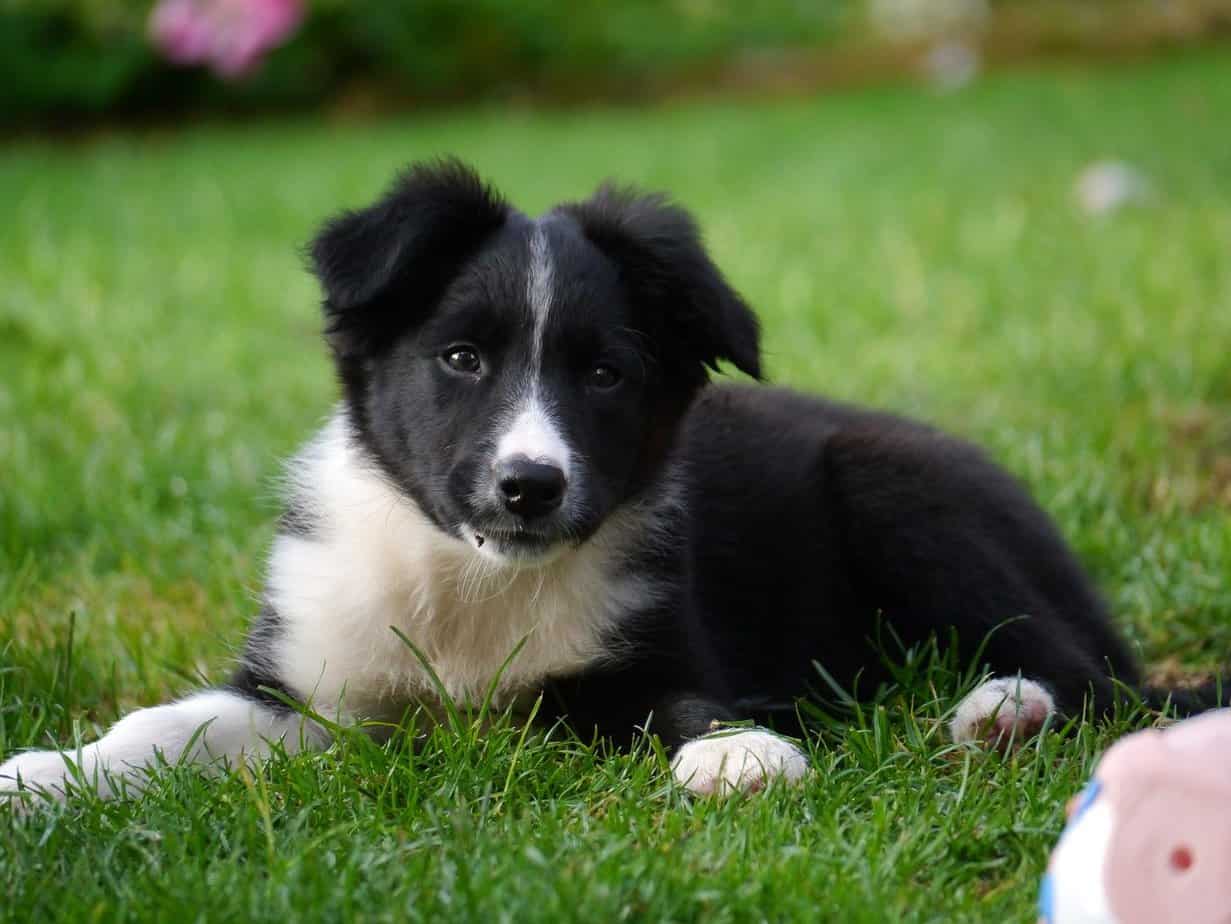 There's a good chance any "premium" dog food would provide all the nutrients your border collie needs. However, the source of these nutrients and their quantity matters a lot.
Here are some of the most important ones to watch out for.
Protein
As you may already know, most dog foods would have a high amount of protein. Protein is crucial to your pooch's health since he can't produce all the essential amino acids by himself.
However, the most important thing is the source of protein. A high-quality dog food would have its main ingredients sourced from two or more meat sources. Unless it's a limited ingredient diet, then you can settle for a single protein diet.
Substandard dog foods may contain unprocessed protein sources or meat by-products, like chicken hooves and goat hair. These aren't digestible protein, so they would provide little or no nutritional benefit.
Fats
Fats give your BC the energy he needs to hike long trails with you daily. So, contrary to what you may think, fat is crucial in your dog's diet.
Also, fat helps your pooch maintain healthy skin. You can also expect to see your fur friend grooming a glistening coat with the right dog food.
Omega 6 and omega 3 fatty acids are essential nutrients for your pooch. They can be found in high-quality protein and fat sources like fish and fish oils. Flaxseed and sunflower oil are also good sources.
In short, ensure your dog is getting his fat supplied from select natural ingredients.
Glucosamine and Chondroitin
Active dogs, like border collies, place a tremendous amount of stress on their hips and joints. This can cause them to feel pain as they grow.
Most dog foods would contain a reasonable amount of calcium to build stronger bones. But your pooch can maintain even healthier joints and hips with glucosamine and chondroitin.
These nutrients are usually only found in expensive "all-life stages" dog food, and some puppy and senior recipes.
Wrapping Up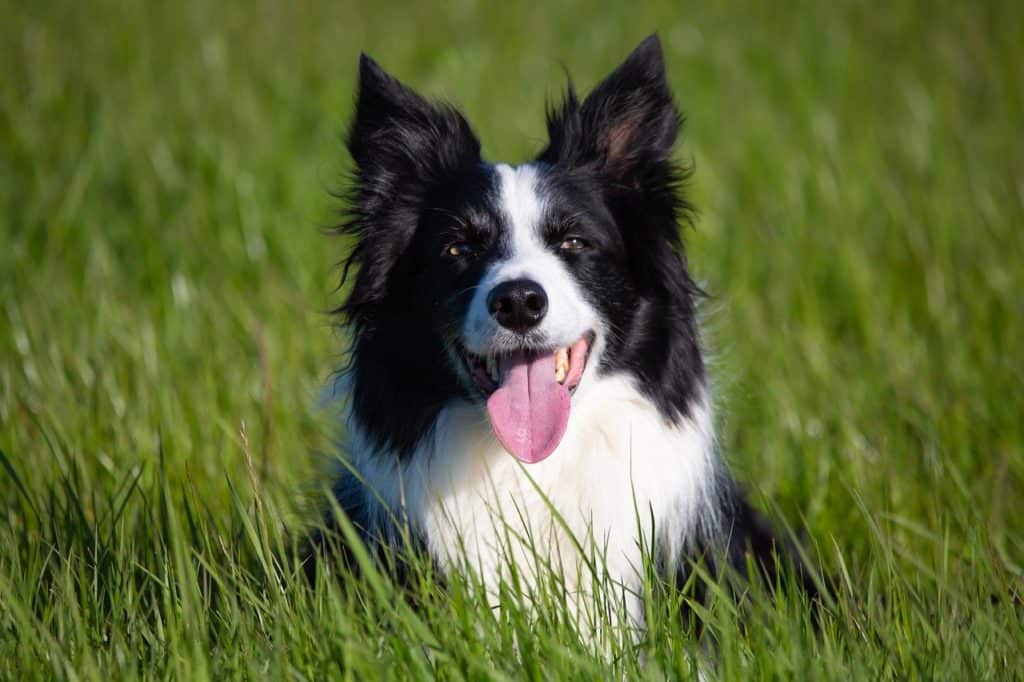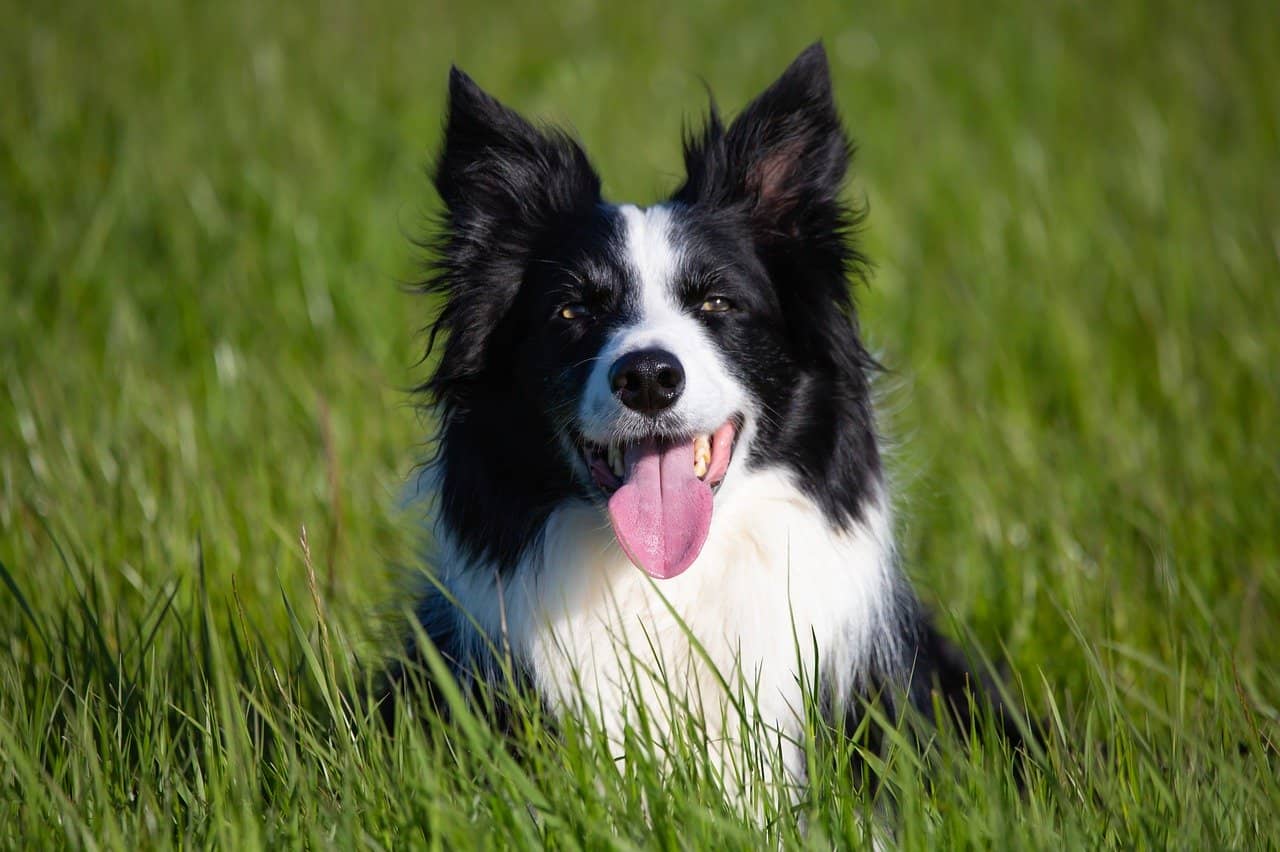 Your border collie is as good as the food she takes.
Feeding the right dog food would help her groom a shiny coat, build lean muscle, and have enough energy to live a healthy life.
Always feed your border collie the highest quality kibble you can afford. Remember to read the labels to avoid getting a recipe with ingredients that she won't eat.
I'll recommend the Merrick Grain-Free Texas Beef and Sweet Potato recipe if you want the best border collie food for her. Aside from its high protein content, this kibble contains leading levels of essential nutrients, like omega fatty acids, glucosamine and chondroitin.
All of which would help your border collie maintain an active and healthy lifestyle.
Also, it's a poultry-free and grain-free recipe, so she'd' be unlikely to have a bad reaction to it.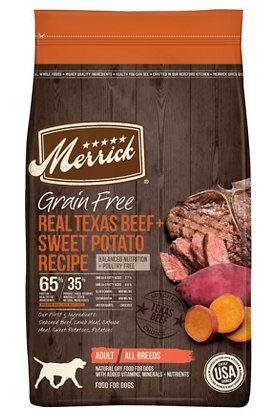 Continue reading:
12 Pros and Cons When Owning A Border Collie
Best Wet Dog Food To Mix With Dry