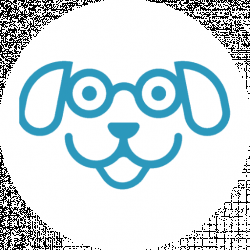 Latest posts by Scout Knows Team
(see all)
Pumpkins are the quintessential Halloween accessory, and they make for the perfect low-maintenance dog costume too. There are plenty of adorable store-bought options, but our favorite is this super simple DIY pumpkin costume from Martha Stewart.
We found our stars and accessories of this show by searching high and low for the cutest pumpkin costumes out there online. We discovered all of the different styles out there, with many various fabrics, styles, sizes, and more. We compiled information on our favorites doggie pumpkin costumes, and then added a dash of DIY versions for those who'd enjoy creating their own. We're also talking safety, prices, and who should be wearing what. For those on budgets, or who want to keep things simple, we found some adorable accessories and an easy no-sew Halloween bandana instructable.
The Whole Pumpkin
Let's start off with these show stoppers! You'll want to check them out if you're someone who wants to make sure that things stay pretty realistic with the costume. These costumes will make sure that your best buddy will be dressed to impress as the entire pumpkin, top, stem, and all. They're the complete costume. You can easily consider one of these full get-ups if your dog is the calm and cool type. You know that pooch that's not phased by much at all and won't mind having all the added fabric on them for a while.
First, let's check out the pup leading the runway in this one offered on EntirelyPets.com. It's a cute and cuddly realistic-looking version of a jack-o-lantern pumpkin costume that's sure to make the crowd go wild while creating lots of "Awwws." When we picture a pumpkin costume, no doubt, this is what first comes to mind. It comes in a full range of sizes and includes the cap aka the pumpkin's top.
Forum Novelties Pet Pumpkin Costume for Dogs and Cats, Large
How Cute Am I in this Dog Pumpkin Costume?
Zack & Zoey Pumpkin Pooch Costume, Medium
Zack & Zoey Pumpkin Pooch Costume in Medium
Simply Stylin'
Maybe you want to keep things on a more simple level and not dress your pooch up to the extreme point in the fashion world. Or maybe you have to stick to budget restraints. Either way, your pampered pup can still be in the show! With the following products, you and your pooch will remain in the spirit of things inspired by pumpkin. Know that it's possible to keep in style even if you don't want to overload your pooch with too much fabric. Just avoid some of the bulkier costumes.
Amazon offers this pumpkin-themed sweater by Menpet, for the canine who likes things much more simple yet still wants to keep with the vibe! With the black background highlighting the orange pumpkin, it shows that keeping things simple often works well. Best thing is that this adorable sweater vest can also help keep your pooch warm even after the show is over.
Menpet Pet Holiday Halloween Pumpkin Dog Sweater
Menpet Pet Holiday Halloween Pumpkin Dog Sweater
Jack-O-Lantern Bandana
Buy from Amazon
How adorable is the above bandana styled as a Jack-O-Lantern? It's surely a simple fix to the question of whether you're going to be able to get a costume onto your fussy pooch!
Going down the runway we also have some pooches who know that accessories can add just the right amount of sparkle to any canine. Do you want something to show off your fashionable pooch with just a touch of the pumpkin spirit orange with a tiny bit of spooky cuteness? Then how about these cute name tags? This mini fashion statement is also a good way to keep the Halloween feeling going all year long and help with your best bud's safe return if he gets lost.
The Smoocher decorative collar also adds a touch of flair. It's for the dog who knows how to look like a million with just a few dollars!
Etsy Halloween Spider Pet Tag
Smoocher Decorative Pumpkin or Ghost Dog Collar on Etsy
Over the Top
Fancy Pumpkin costume on Etsy
Funny Dog Clothes for Small Dogs, Carrying Pumpkin Halloween Fancy Jumpsuit Puppy Costume, with Cuddly Soft Plush Better to Keep Warm in Winter, for Pet Dogs, Cats.
Carrying Pumpkin Halloween Jumpsuit
Funny Dog Clothes for Small Dogs, Carrying Pumpkin Halloween Fancy Jumpsuit Puppy Costume, with Cuddly Soft Plush Better to Keep Warm in Winter, for Pet Dogs, Cats.
Pilgrim Carrying a Pumpkin Dog Costume
Maybe your small to medium-sized pooch has a funny sense of humor and wants to be carrying a pumpkin instead of being one. This has to be one of the sweetest pet costumes we've got strolling down the runway today! This pet costume paying homage to pilgrims would be great for a Thanksgiving celebration too.
If you want to dress your small to medium sized pup up in a more frilly pumpkin costume, check out this beauty. Sparkly tulle fabric was used to create this skirt to give it a really bright stand-out appearance. The runway is all aglow with this pooch walking by! No doubt, this is one of our favorites!
Or maybe you need to set the course for a new fashion statement in the world of pumpkin costumes. Do you want your pup to take over the runway in garb that will leave a lasting impression on the judges? Maybe you want to stray a bit from the actual pumpkin itself, but love the idea and color. How about this really sweet looking pumpkin-colored(orange) butterfly costume by Rubies? The judges know that you chose it because you love the orange in it, as it represents the color of pumpkin!
Dog Butterfly Costume(with orange)
Buy from Amazon
Measure, Measure, Measure
Before ordering your pet costume, be sure to measure your pooch to ensure a good fit. Take note of the sizes that are offered when looking at a specific costume, to be sure that your pooches size is available. But remember that it may not fit when you get it home. And since both your time and money are precious, so always check the seller's return policy as well.
DIY Pumpkin Costumes
Want to create your own runway sensation? Here are some ideas for those who enjoy sewing their own fashion works of art. If your creative juices are always flowing, and you can't handle the thought of your dog strutting his furry stuff down the runway in something that someone else made, and you'd love to create your own. We dug up these versions of costumes that are DIY just for you:
Martha Stewart Pumpkin Pet Costume
Mimi & Tara Pumpkin Costume Instructional
Safety Tips
When purchasing or creating anything for your pet, keeping their safety in mind should always lead the mission, including searching for costumes for your canine companion. Part of this is making sure that your pup is comfortable temperature wise. Where he or she cannot get overheated because of the costume. This, of course, wouldn't end well, or be fun, for anyone. On that note, please be sure that your pet is safe by checking out this list of things to look for with their costume.
Also, if you'll be doing a lot of walking with your pet make sure that they are up for the physical challenge of being on all four paws, all day. If not, be sure to bring along a wagon or something of this sort, so you can get them around easily. You can even make it part of their costume. Unless of course, your pooch is a tiny girl or fella that you're used to carrying around.
Finally, our most important tip: have fun!
Looking for more cute and fun costumes for your dog? Check out this list of adorable and cute unicorn costumes for dogs.
Continue reading:
10 Adorable Pokemon Costumes For Your Dog (Including Charmander!)
11 Best Thanksgiving Costumes For Your Dog (Updated 2022)