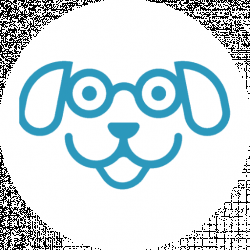 Latest posts by Scout Knows Team
(see all)
Have you ever imagined how much fun it would be to dress up your dog for any number of occasions? Dogs of all shapes and sizes can make a super cute dinosaur. The next time you decide that your dog needs a little something extra to wear at the dog park, a birthday party, parade, or other special event, then dinosaur costumes are the way to go.
Headpieces and hoodie style costumes are the best bargains out there. The hoodie style costumes are usually not as realistic looking, so there is a trade-off in that respect. On the other hand, if your pooch is already used to wearing t-shirts and sweatshirts then it may be a lot easier to get them to wear this style. Out of all the dog costumes we found our two favorites were the Arjosa Dog Jumpsuit Basic Dinosaur Costume for smaller dogs, and the Martha Stewart Doggie Dino Tank for larger dogs.
When it comes to costumes, it's good to shop around. Prices vary, and you definitely get what you pay for. Cheaply made dog dinosaur costumes are not likely to last through a lot of Instagram photo shoots, but if you don't need it more than once then the cheaper options may work for you.
Our 5 Favorite Dinosaur Costumes
1. Animal Planet Triceratops Headpiece
Animal Planet PET20104 Triceratops Dog Costume, Medium
This cute solution to a dog costume is affordable and easy to put on your dog. All you have to do is strap it on under the chin and your dog is instantly transformed into the famous three-horned dinosaur. This comes in several sizes and is priced according to size. This is an ideal compliment if you are making the rest of the costume or you have a dog that doesn't seem too keen on wearing a full-body dinosaur costume. Since it can be taken on and off easily, it is a fun addition to homes with kids that like to have a lot of fun with their dog. This headpiece is ideal for breeds such as the French Bulldog.
2. Animal Planet Stegosaurus Dog Costume
Animal Planet PET20105 Stegosaurus Dog Costume, Small
This costume covers a lot of your dog's body and is made of mostly foam. The headpiece covers the ears though so some dogs may be resistant to this particular costume until you get them used to having their ears covered. The attention to detail is pretty amazing. The scales on the back stand up well and the tail hangs at a height that is manageable for dogs to walk around in a lot. For dogs with up to a 20″ neck this is a super cute costume for majorly dressing up your dog. Dog parents do report that it runs a bit small especially in the dog stomach and neck area. The shiny quality of the scales is a nice touch. Dog parents report this costume being a hit and even helping them win contests.
3. Animal Planet Raptor Dog Costume
UHC Raptor Dinosaur Animal Planet Funny Theme Halloween Pet Dog Costume, S
The Raptor is a popular ferocious dinosaur so it can be a fun and amusing contrast to put your gentle pooch into this role. The Jurassic Park movie franchise is perhaps to blame for a lot of this popularity. This costume features glinty eyes and the arms and talons that the dinosaur is famous for. You have to love how the tail is made to carry high which makes it a comfortable choice for dogs that are very aware if something is dragging behind them. This costume is widely available but ranges a lot in price so searching between multiple sellers on Amazon is recommended.
4. Arjosa Dinosaur Jumpsuit Costume
Puppy Dog Dinosaur Dragon Costume Hoodie Jumpsuit Jumper Pet Winter Coat Warm Clothes (XL, Green)
This is a very basic yet cute costume for a small or medium sized dog. Scout likes it because it is made to stay up and out of the way so active little dogs don't find it as intrusive to their lifestyle. There are plenty of brands that offer a similar style. This costume could be a bit hot during the summer because it fits snug and is secured at the legs and head with elastic for a great fit. Ear holes are nice for dogs that just can't handle some of the costumes that cover their entire ear.
5. The T-Rex Dinosaur Costume
Dinosaur Dog Costume Plush Green T-Rex Pet Outfit XXS
At around $15 this is an affordable and easy-to-wear T-Rex costume. The head is hood-style so you can pull it back as needed for comfort and play. Just slip this on your dog for some fun. The tail does drag on the ground some so this costume is best for use indoors on a smoother surface. This is really one for the smaller dogs out there. Scout loves the hands and big teeth this costume sports!
Costume Sizing
What shape is your dog?
The type of dinosaur you transform your dog into is influenced by their body shape. If your dog is kind of squat and square then a Triceratops or T-Rex costume might be a good bet. A long and lean dog may look good as a Brontosaurus. If you have tried to find clothing and costumes for your dog before and have had trouble with sizing then go for costumes that have some give to them via elastic or velcro straps. It is usually better for a costume to fit a little looser rather than being too tight, especially if your dog is sometimes resistant to wearing anything at all.
How mobile is your dog going to be when wearing it?
A tail that drags or anything too floppy may get in the way of what you are doing with your dog. If your dog is going to be exercising a lot then a lighter weight material might be best if it is during the warmer months of the year. If your dog finds something uncomfortable the first time they have to wear any type of costume or garment, it is going to be much harder to convince them to wear anything again.
Is it too hot?
Dogs can get overheated quite easily so you want to make sure that your dog is not in danger of this when wearing a dinosaur costume. Really long haired or thick coated dogs tend to suffer more in the warmer months so you want to make sure that you don't cause your dog a lot of discomfort.
Can they destroy it?
If your dog is not used to wearing some things then you might want to start out with something less elaborate than a dinosaur costume. Get them used to wearing a t-shirt or hat and then try out the costume so you don't just have a shredded mess on your hands. No one wants to spend $50 on the trendiest dog costume only to see it get majorly chomped and torn right away. While most dogs can be taught to wear some things, there are definitely some that will make efforts to get off whatever you put on them. The younger a dog is when you train them to wear costumes, the better.
Not Just for Halloween: Excuses to Dress Up Your Dog All Year Round
Just in case you or someone in your family needs some more convincing when it comes to making the choice to dress your dog as a dinosaur, here are Scout's top 8 reasons that are very persuasive.
1. Just for fun
Sometimes it is just fun to do something different. Dressing up your dog adds some humor and fun to your household and those around you.
2. Entertaining for kids
Finding fun and exciting things for kids to do doesn't have to be challenging if you have a dog that is willing to play dress up once in awhile. Kid's love it when dog's look different and cuter than ever. Perhaps use dressing up the dog as a way to tell a story or teach a lesson on dinosaurs!
3. Fundraisers
If your local humane society or other animal welfare group is having a fundraiser then that may be an excuse to raise awareness while dressing up your dog. Dog parades and dining out with your dog events are given new life when you bring in a dog dressed in a far out costume like a T-Rex or Raptor!
4. Parades
No matter where you live there is a decent chance that your community has a parade at some point during the year. Kids can have fun walking their dog and dressing up or you may just want to get together with other dog parents and raise awareness about dogs.
5. Special occasions
Birthday parties are another great time to dress up your pooch like a dinosaur. Any special occasion is more special when you have cute dogs around wagging their dinosaur tails.
6. Meet others at the dog park
Any type of dinosaur costume is going to get attention at the dog park. While it might not be appropriate for rough playing with other dogs, it is a good way to get the attention of other dog owners and meet some new friends. Just make sure your dog isn't too hot.
7. Get your dog used to attention
If you are working on your dog's social skills, dressing them up can help get them used to extra attention and love from others besides you and your family.
8. Using a fun costume for a therapy dog to entertain others
A lot of dogs are being used as therapy dogs at adult living facilities, hospitals, schools, special needs programs, and more. A dinosaur costume can get a lot of smiles and laughs from others. You can also use dressing up a dog as part of a school play or educational presentation to learn about the past.
DIY Dinosaur Costumes
If you are handy with a sewing machine then you can probably make just about any dog costume you want. A lot of people don't choose to do this because, by the time you add up the cost of materials and the time it takes, you can purchase a pre-made costume. That being said, it can be a lot of fun doing it yourself and if you have a very large or disproportionately-shaped dog, then making your own could be the best option.
Leave it to Martha to create a design that makes it so easy to make a simple dinosaur costume. All you need is an infant or children's sized tank top and some wool felt. Print out her template and it is as simple as tracing and cutting the felt and tank top. Pull the spikes through and you have a fun look for a cheap price.