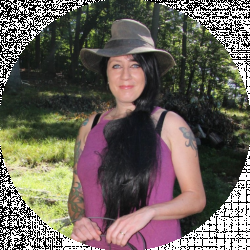 Latest posts by Samantha Biggers
(see all)
A costume for your dog allows you to explore a world of fun with your pooch. You can turn your dog into something cute such as a pumpkin for Halloween or even a unicorn. The mystical unicorn is a character that your dog can get into with ease with the array of fun accessories and costumes that are out there. When it comes to unicorn costumes, Scout had a hard time deciding which one we like best, but the last product on our list, a tail and headband combo, offers the best value and versatility. If you don't consider the price to be a factor, this crocheted custom dog costume from Etsy is hard to beat (the cute wings just seal the deal for us). If you're handy with a glue gun – heck, even if you aren't – we also love this DIY look unicorn costume from Brit+co.
Best Store-Bought Finds
Handmade costumes are great, but if you're short on time or creativity, there are plenty of super cute store-bought options.
This strap-on headdress and mane is easy to put on your dog and creates a fun look. It comes in three sizes so you can get one for each of your dogs. This is a great option for kids that like to play dress up with their dog. Scout likes that this is a costume that can be removed with ease if your dog needs a break from wear or if you are just trying to get them used to costume wearing by using for short increments of time.
No products found.
Another basic but fun headpiece that is easy to get on and off. The one issue that you might have with a headpiece that covers so much is that some pets simply do not like their ears covered. Since this covers a lot of the head your dog might feel a bit hot if they are wearing this in the direct sun or even just on a hot day.
No products found.
Those looking for a more complete costume should consider this cape style costume with attached headpiece and a sassy light up collar. You can get this fun costume in small to 2XL sizes. A gold glitter horn and rainbow mane and tail make this a unicorn costume that draws a lot of attention no matter who sees it.
No products found.
This costume is different with the bright purple coloring and the more extensive stuffed headpiece. While some reviews are critical, the main reason for this is that the costume tends to run smaller than the size chart indicates. If you want maximum flash and brightness in a dog unicorn costume then this has potential. This costume covers a lot of your dog so if they are prone to getting hot then you might want to limit time in the costume or just use during cooler times. This look has a lot of detail to it. Not many costumes make it look like your dog has hooves in the front. A strap around the belly keeps the costume in place and comfortable.
No products found.
This plush pink unicorn costume includes a shiny silver horn and even some adorable little wings for a different look. This soft high coverage costume looks good for any special dog occasion, birthday party, parade and more. You might want to put this on your dog a few times before an event to see how they handle having such a substantial headpiece and an extra green tail!
No products found.
Ok while this is not by any stretch a unicorn costume, this bandanna is a fun and fashionable accessory that adds some unicorn pride to your dog's wardrobe. Even dog's that won't normally consider wearing a costume can probably manage to get used to having this near their collar. Pet parents can choose between two sizes for an awesome fit every time. This could become a favorite accessory for trips to the dog park or to see family! Therapy dogs that need some basic fun accessories might also find this a comfy and easy choice.
No products found.
This inflatable unicorn horn is lightweight and fun but could be a little large for some dogs to deal with. It straps onto the head for a fast look. If you have other pets or a dog that likes to romp a lot then this accessory is at risk for getting a hole in it. If you just want something fun that can be combined with a t-shirt or dog wig then it is worth looking at as an alternative to the more elaborate costumes that cover a lot of your dog with fabrics and fill.
No products found.
This costume is handmade to order so you are assured of a fit that is made exactly to fit your dog. While the crafty person behind these custom orders lists some sizes for guidelines, they encourage you to measure your dog and offer up the measurements you need. This is a very warm and soft dog costume that is suitable for just plain dressing up your dog in the winter months. There are a lot of satisfied dog parent's that have bought this costume. For those with larger dogs, it might be a little cost prohibitive. This costume is $45-$85 depending on the size of your dog but with the amount of work and detail that goes into it, the craftsperson is not overcharging for their time at all.
A crocheted unicorn hat is an excellent choice for dogs that like something warm to wear. It does cover their natural ears so some dogs may not want to wear the snood as readily as others. This is still a cut choice for your dog's larger wardrobe.
No products found.
Choose from a bunch of fun colors of unicorn headbands that can be used for your dog's costume. You could get some in different sizes and colors and dress up all your dogs as a herd of unicorns. At this price why bother making your own unicorn horn if you don't have the things you need just laying around? Some adjustments or a clasp added on may be needed for comfort and long-term wear but plenty of pooches are probably ready to roll when you put this on their head!
No products found.
Etsy wins again with this beautiful horn headband for your dog. Pink chiffon flowers and a silver satin twisted horn make this dog headband look like something straight out of a fairy tale. Add a dog t-shirt in a bright color or maybe just an LED light-up dog collar and you have a great unicorn costume that will have your dog standing out from the crowd.
This headband and tail combo is a bargain all in one unicorn costume. It is really only suitable for medium to large dogs though since it is actually intended to be child sized. It is still a good idea to think outside the box when it comes to costumes and realize you can make ones made for kids work for some dogs. It would be pretty easy to shorten the tale with some scissors if you have a shorter dog like a Basset Hound.
No products found.
DIY Options – Make Your Own Unicorn Costume
There are a lot of options for putting together your own dog unicorn costume. If you have a dog that is not a size or shape that makes it easy to find full costumes then using a combination of accessories might be the best option for the comfort of your dog. Putting together or entirely making your own costume allows you to add unique touches that ensure your dog's costume is unlike any others! Here are a few ideas and combinations for the DIY types out there in the dog parent world!
This looks more complicated than it is! All you need is a quick trip to the fabric store (unless you already have some iridescent fabric laying around), multi-colored pipe-cleaners, and a large white t-shirt. For a little more oomph, consider swapping out the white t-shirt for a pink, purple, blue, or another brightly-colored shirt. If you've already got a white t-shirt and don't feel like splurging on a different color, fabric paint and some fun stripes will also jazz it up.
If a whole costume from scratch is a little more ambitious than you're comfortable with but you dig the DIY theme, try this super easy foam unicorn horn from Brit + Co. This design is super minimalist, which means it's doable for even the most hesitant of beginners. Here, they've kept the horn understated with only a hint of sparkle. If you want more pizzazz, just swap the white for something more sparkly (there are a ton of options at your local craft store).
For craft wizards, there's also the option to crochet their own unicorn hat for their dog. Combine this with a dog sweater and you have a basic unicorn costume. You can buy cheap synthetic clip in hair extensions in a rainbow of colors and clip them into the fur of a larger dog. If you do this you need to make sure that you take them out after the fun is over because they can tangle in dog fur. If clip-ins are out of the question you can get a cheap rainbow wig and sew sections onto a hair soft fabric hair scrunchies to make a colorful unicorn tale for your dog that stays on but is not too tight. Simply slip the hair scrunchie over your dog's tail to add some color and fun.
General Tips
Some of the options we've shown you require some planning and take more time to get to you. You need to allow 1-2 weeks and transit time for a custom-made crochet costume or other made to order complete costume. On the other hand, a lot of the other options are shipped via Amazon Prime and can even be to you as soon as one day. Those buying or making a costume for an event or special occasion should try to get it well ahead of time in case adjustments are needed or a size is not as stated. Dog's are much more likely to want to wear all those cute costumes you are buying them if attention is paid to their overall level of comfort. We hope that you have found some good ideas for your dog and maybe that you are even inspired to create your own unique unicorn costume.
Continue reading:
10 Best Dog Pumpkin Costumes (Where to Find Them)
10 Adorable Pokemon Costumes For Your Dog (Including Charmander!)