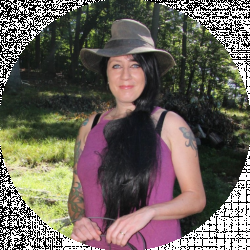 Latest posts by Samantha Biggers
(see all)
Some dogs really love to hit the road with their family while others are more reluctant. Feeding your dog on the road can be a challenge at times. Scout has compiled a list of do's and don'ts to make any road trip more comfortable for everyone. Here are some tips for making feeding time go smoother and with less mess!
Plan Ahead
Traveling with a pooch requires a little more prep work than usual. There are a few things you'll need to do before setting out into the great wide open.
Develop and Stick to a Routine
Dogs don't always respond well when they have to change their routine. Regular meal times are part of a stable pooch homelife! If you feed once a day then perhaps you should try to make that right around the same time you eat breakfast or the evening meal. This gives your dog time to eat in a more relaxed setting.
Think About Where You'll Feed
Dogs are naturally somewhat protective of their food. Even the best-behaved pooch can act out in a strange environment if they feel threatened. Also, you don't know if other dogs are as well behaved as yours.
Schedule Bathroom Breaks Every 3-4 Hours
Dogs like to be able to stretch their legs and chances are you will need to stop in 3-4 hours too. Some dogs may be able to go longer than others between bathroom breaks. Puppies and older dogs can need a lot more frequent breaks when traveling than regular adult dogs.
Don't Forget Bowls!
Travel dishes pack conveniently away and are made of materials that are easy to keep clean while on the road. There are all types of these out there to choose from. The collapsible silicone variety can fit on a key ring or carbiner and attach to a pack. They can even be stashed in your dog's pack for hiking and other adventures on the road.
Avoid the temptation to get too small of a dish because you are traveling. Your dog can make a real mess if they are using a bowl that is too small. Since they pack down flat in most cases, you really don't save a lot of space or money.
Collapsible Silicone Pet Bowl,IDEGG Food Grade Silicone,BPA Free Foldable Expandable Cup Dish for Pet Dog/Cat Food Water Feeding Travel Bowl (Set of 4-Two Large Size + Two Small Size, Purple+Green)
This set of 2 small and 2 large bowls is ideal for those that travel with multiple pets. These heavy duty bowls are lightweight and made of easy to clean silicone.
Port a Bowl Collapsible Hiking and Travel Folding Food and Water Bowl for Dogs by Outward Hound, Large
This affordable collapsable dog bowl from Outward Hound is a pet care classic for a reason. If you love to hit the trail or road with your dog then these bowls can make it easier to feed and water your dog. You can get a smaller size if needed but the larger bowl is a major bargain as part of Amazon's add on program.
Avoid Diet Disaster
Watch out for unforeseen snacks! People drop things and if your dog snuffles it up it might make them sick. Rest areas and the side of the road can have a lot of garbage around that your pooch is going to be overly attracted to. Be aware of the surroundings, and make sure to remember:
Water Over Snacks!
Your dog needs access to water a few times a day minimum. Air conditioning helps with your dog staying cool but that is not enough for an extended car trip. Bathroom breaks are going to happen so you should never try to go too long without giving them access.
Don't forget, bottled water can be expensive and a dog can drink a lot of it. Bring a few gallons you fill at home and you will save some money. Even if you buy water for your dog it is still cheaper to pick it up in a gallon at the grocery store for $1.30 than pay that much for a pint at a gas station. You also get to have control over what is in your dog's water. If you live in the country and travel to the city you may only have access to chlorinated and fluoridated water.
Don't Make Changes to Their Diet
Even if done a little at time, it is best to save any diet changes for calmer times. Dogs can get nauseated more easily when their diet is changed suddenly. No one wants to be on the side of the road cleaning up a big mess.
It will save you a lot of time if you don't have to stop and find your dog's brand of dog food. Store it in an airtight container. Even if your brand has a resealable bag you should still put it in a plastic tote or similar to keep it from going everywhere and keep your pooch from overindulging. If you normally buy dog food in large bags you may want to get a smaller travel size bag for your trip. Some dog and cat owners say that when traveling to Canada from the US they had their pet food taken because it was not in the original container with ingredients listed.
If you are hitting the road at 9 am then don't feed your dog at 8. A heavier load in their stomach or jumping into a vehicle going down a winding road can be too much even for a calm dog. Experts recommend a light meal 3-4 hours before a trip.
Calming Aids
Take along some
natural dog calming aids if your dog doesn't travel well. While no one is
saying that you need to drug your dog, if they get really upset when
traveling, you might consider using at least a natural calming aid.
There are many homeopathic options out there to choose from that calm
but don't make your dog overly sleepy and tired the next day.
Calming Soft Chews for Dogs – Anxiety Composure Aid Treats With Suntheanine – Organic Hemp Oil & Valerian Root + L Tryptophan for Dog Stress Relief – Great for Storms + Barking & Chewing – 90 Count
Anxiety Support Dog Calming Treats | L-Tryptophan, Chamomile, Passion Flower, & Ginger Root | Support for Separation Anxiety, Grooming, Thunderstorms, Travel | 100% Natural | 100 Chew Treats | E-book
What to Do at Meal Time
Portion Food Appropriately
If dogs are on the trail and or carrying a pack during part of your trip, they may need some extra calories to maintain condition. If you have doubts as to how much extra is safe to give your dog then ask your vet. Generally, you can feed 20% more without any issues. There is also the option of offering your dog two smaller meals when on the trail.
Separate from Human Eating Area
The last thing you want is your dog jumping around while you are driving. Food can be too much for some fun loving dogs to deal with. If you are traveling with kids and everyone needs to eat then stop at a rest area. A big dog can be hard for younger kids to keep away from food going down the road and kids might think it is cute to feed the dog a lot of people food. While the dog will love it, too many scraps can upset their stomach.
Don't Rush It
Some dogs eat really fast but some like to take their time. Slower consumption of their meal is better for their digestive system. If your dog eats very fast they may need one of the special bowls designed to make food a bit harder to get. These puzzle type bowls are rigid but you may have to take one on the road with you if that is what your dog usually eats out of. This can definitely help out dogs that eat too fast and get an upset stomach.
Keep Everyone on the Same Page
A lot of people don't realize that what they offer your dog can be harmful. They may think that they are just being nice. Some foods can make dogs really sick if they have the opportunity to snatch them up. Politely ask that they don't feed them extras.
Control the Mess
If you are staying with others or checking into a hotel it can be helpful to have a mat to put down to place food and water dishes on. This contains any messes and spills so you don't have to clean up a lot of mess or pay for extra cleaning services. Your hosts will secretly thank you for being so considerate.
Hoki Found Silicone Pet Food Mat Tray- Pet Bowl Mat – FDA Grade Dog Feeding Mat – Dog Cat Food Mat – Pet Feeding Mat – Waterproof Pet Mats – Non slip Dog Bowl Water Mat Placemat, 18.6″ x 11.8″, Gray
A silicone mat is easy to clean while traveling and offers waterproof protection for wherever your dog is eating.
General Travel Tips
Don't Forget the Training Treats
Dogs respond well to
a special little morsel. This can help show them where it is that
they can eat and get them relaxed. They are also very handy for
getting them to mind when you need them to. This can help a dog focus
when there is a lot of new people to sniff and they are getting
excited. This also gives you something you can let others give your
dog if they are intent on giving them a treat.
PureBites Beef Liver for Dogs, 16.6oz / 470g – Super Value Size
Leave Time for Exercise
If you are feeding your dog at a rest area or campsite, give them a few minutes to walk around or relax after they are done eating. Suddenly going from eating to on the road can cause them to get nauseous. Dogs often ride better if they are allowed to stretch their legs a bit. You also want to make sure they have ample bathroom time.
Pack the Essentials
Food and water are important but for a safe road trip, you also want to make sure that your dog has good identification on them and that it is secured well to their collar if it is not printed on the collar itself. Up to date vaccinations are also advisable just in case.
Toys and something for your dog to lay on when they at their destination is also good and helps you to let them know what space is theirs. Some fancier and more dog-friendly hotels offer dog beds but for a lot of dogs there is nothing like their own so if you have room for it then bring it. If you cannot bring their regular bed then bring something that is close to it. A soft bed that is easy to cram in the car or even a fleece blanket is a lot better than nothing.
Dog waste bags are also not a bad idea. While some rest areas and parks provide them, you may need to let your dog take care of their business somewhere that doesn't have them. A leash that has bags in a small dispenser attached to the leash can be handy for travel time and helps prevent you from forgetting them in the car.
PETMAKER 24″ x 37″ Roll Up Travel Portable Dog Bed, Blue Stripe
Dog waste bags are also not a bad idea. While some rest areas and parks provide them, you may need to let your dog take care of their business somewhere that doesn't have them. A leash that has bags in a small dispenser attached to the leash can be handy for travel time and helps prevent you from forgetting them in the car.
Plan, Plan, Plan!