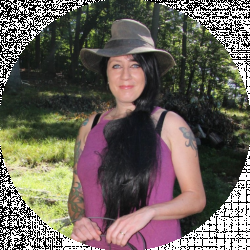 Latest posts by Samantha Biggers
(see all)
German Shepherds are sweet and loving dogs but any German Shepherd pet parent can tell you some great stories about shedding and hair. It is important to get a good grooming routine established as early as possible with these large shaggy friends. Having the right tools for the job will help ensure that everyone has the best experience possible with the least amount of stress and fuss.
No products found.
A good brush out offers your German Shepherd a lot of benefits such as better temperature regulation and less chance of skin issues. If any skin problems are present, then brushing provides an excellent opportunity to catch them before they become more serious.
Scout recommends the Furminator Deshedding Brush because it offers owners durability and comfort for getting rid of the worst patches of tangles and mats as well as all the fuzz. Seasonal shedding doesn't have to be the hassle it once was with this brush. It's not cheap though, so if you're a Shep parent on a budget, keep reading.
Groomed for Grooming: Getting Your Dog Used to It
Before we jump into more detail on this brush and the other great ones we found, let's think about what you can do to make grooming your German Shepherd easier and more effective.
Start out Slow and Young
If you can get your dog trained to be groomed as a puppy then you are well ahead of the game. Loose hair needs to be removed regularly and the sooner you start the better. It is a lot easier to manage a 20lb puppy than a 70lb+ adult dog.
Have Everything you Need on Hand
Wasting time running around and gathering things as you go just results in frustration on your part and that of your dog. When you leave to go find something your dog is going to be tempted to hightail it right on out of wherever you are grooming them. The sooner you get it over with the better.
Use Rewards and Positive Reinforcement
Your dog needs to know that they are getting something out of grooming time. Soothing talk and petting can go a long way but also make sure to do something more rewarding for them afterward. A new chew treat or a walk or anything of that nature can make them start to look forward to grooming a whole lot more.
Set Aside a Regular Time Each Week for at Least Some Grooming
Dogs are creatures of habit so take advantage of this part of their nature by establishing a true routine. While you may not need to do every single aspect of grooming on a weekly basis, a brush out should be on the list every week as close to the same time as possible and followed with a reward. Routine takes the fear out of this for your dog.
How Often Should I Brush my German Shepherd?
A lot of German Shepherd's need to be brushed 3-4 times per week to keep up with all the hair. Dog's are unique creatures so you need to pay attention to your dog's personal needs. Most of the time you will just need a slicker brush like the Safari Evolution if you are keeping up with undercoat maintenance by using a deshedding tool or similar as needed.
Best Brushes for Your German Shepherd
Furminator Deshedding Tool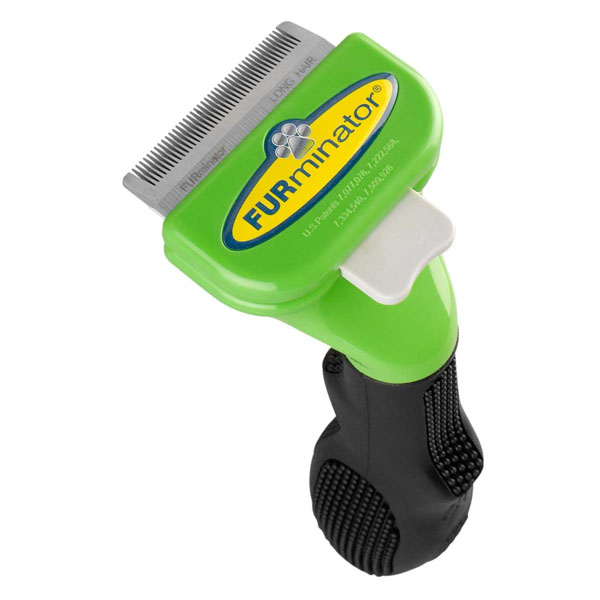 No products found.
This is the ultimate dog rake out there and does a fabulous job of reducing the shedding of your German Shepherd by up to 90%. Amazon sells a ton of these deshedders because they remove hair without damaging delicate parts of the coat like some other competitors can do. The handle is super comfortable and cushy for those long and extended grooming sessions. This makes it the ideal deshedder for those with multiple dogs. The handle is long enough that you don't rake your knuckles or lose control of the brush even with a wiggly dog. This tool is sure to make your home a cleaner place and help with reducing the amount of pet dander that winds up in your home's heating and cooling system. Even dogs that seem to be very sensitive to brushing can use this deshedder to eliminate loose hair and stubborn tangles. The stainless steel blades are made to last.
If you want to learn more, check out our comparison review between Furminator and SleekEZ.
Pet Lover Co. Deshedding Tool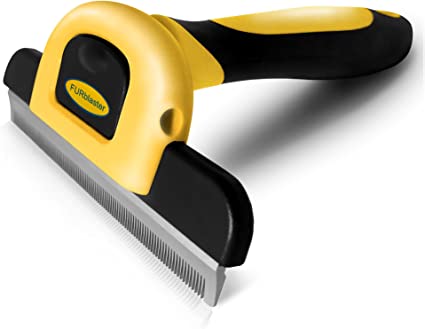 No products found.
For those that want something that is easy to clean and get the most out of grooming time, there is the Pet Lover Co. Deshedding Tool. This helps get rid of the most stubborn spots on your gorgeous German Shepherd. Pet Lover Co. is so convinced you will love their product that they give you 30 days to decide if you love it or hate it so you don't have a lot to lose when it comes to trying this self-cleaning brush. With the mere touch of a button, you can release the hair from the brush for easy cleaning between uses. The brush is designed to be super comfortable on your hand as well as your dog so they won't notice a bunch of pulling and tugging. The bright colored handle means you won't be struggling to find this brush even if you drop it somewhere.
Safari Evolution Self Cleaning Slicker Brush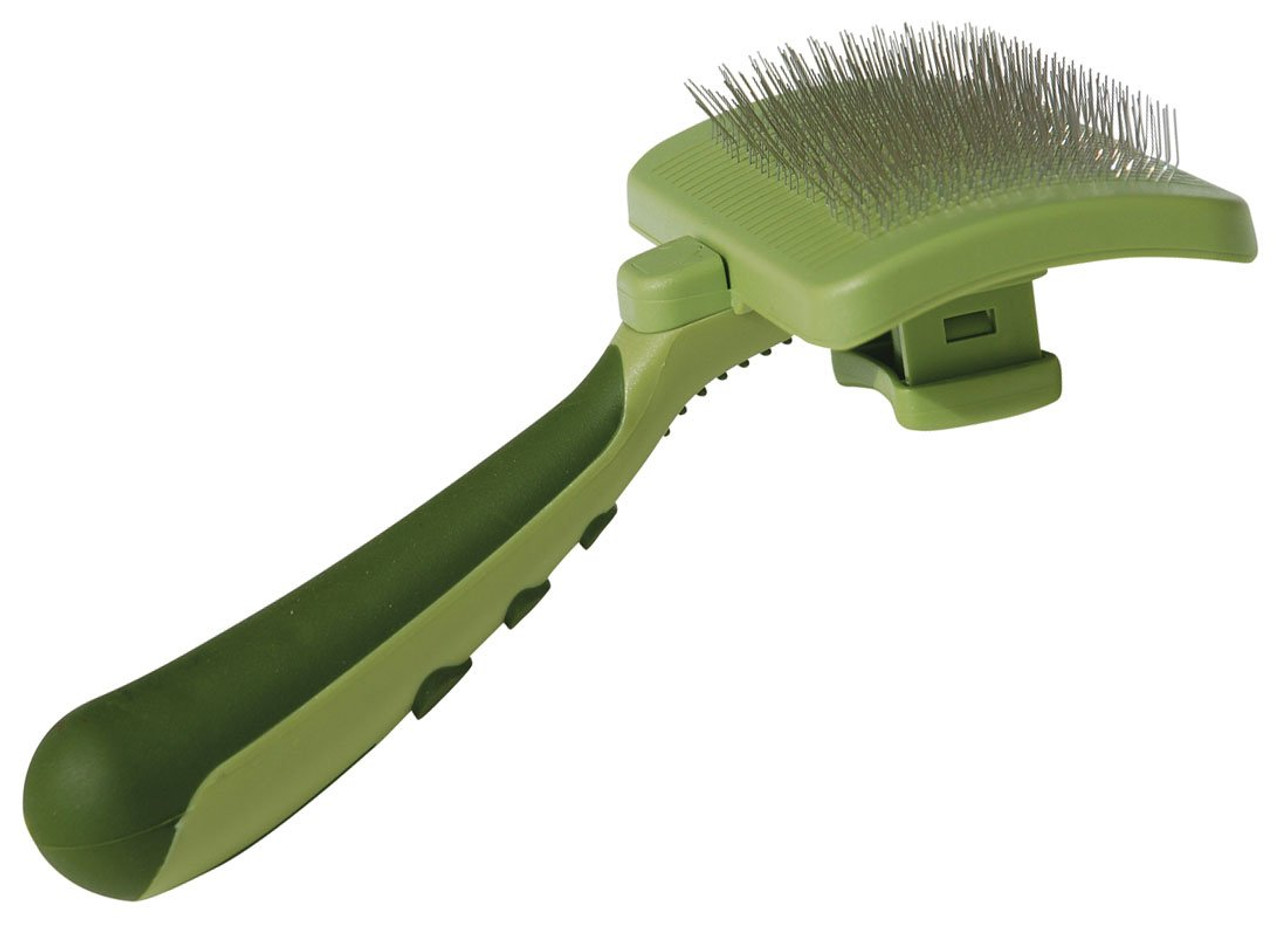 No products found.
Safari pet grooming supplies from an all around perspective get good feedback and this slicker brush is just what you need to smooth and slick your German Shepherd's coat. This brush has stainless steel pins that can hold up to a lot of brushings. On top of all that this brush has bristles that retract so you can remove hair with a simple swipe so there is no time wasted pulling hair out of the brush every time it gets filled up. This is a great brush for daily use to keep coats smooth and glossy with an even distribution of natural oils.
Dele Pin Style Dog Grooming Brush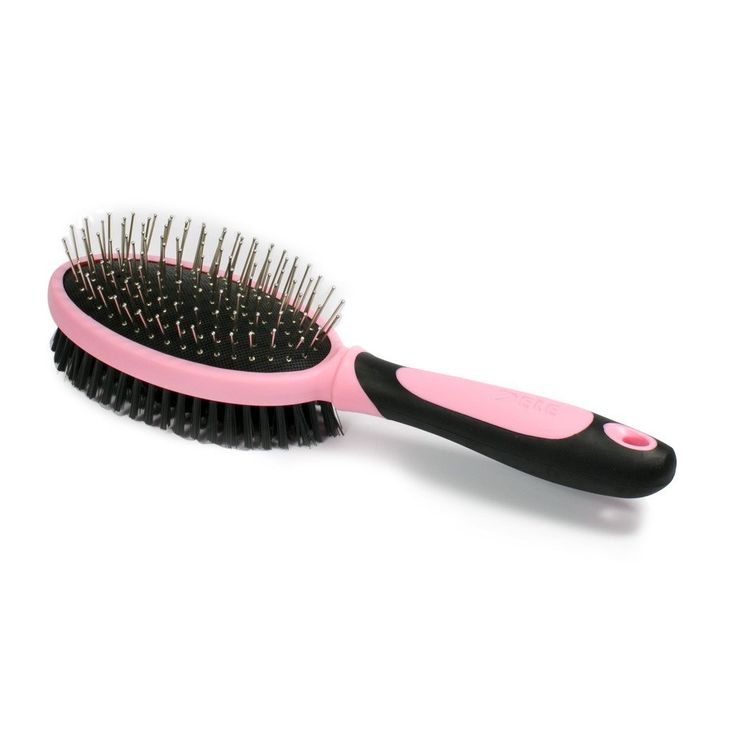 No products found.
This is a fabulous brush for basic grooming and everyday maintenance. If your dog has massive undercoat tangles then you need to start with a rake and then use this brush. If you keep up on maintenance though then you will definitely find yourself going back to this brush time and time again. Scout loves that the pins are made of nylon and have very rounded coated tips so there is never any scratching or irritation when you are trying to get rid of all that loose hair.
Wisepet Grooming Gloves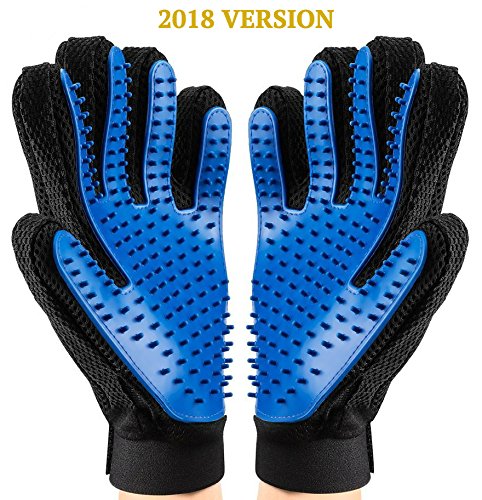 No products found.
For those that want a more soothing and gentle touch to their grooming routine, there is the Wisepet Grooming Gloves. For under $20 you get both right and left gloves. You can turn the daily or every-other-day overcoat grooming routine into a soothing massage experience for your German Shepherd. The gloves have elastic at the wrists to keep hair out from between your skin and the glove and make sure that gloves don't fall off easily. This is a good first grooming tool for a puppy with sensitive skin or dog's that get a bit frightened or agitated with any type of grooming. The silicone nubs are easy to clean and the gloves are useful for brushing out the cat buddies in the household. Use the red mitt included as a bonus to remove hair from furniture and other surfaces.
Eogro 2-in-1 Pin and Bristle Dog Grooming Brush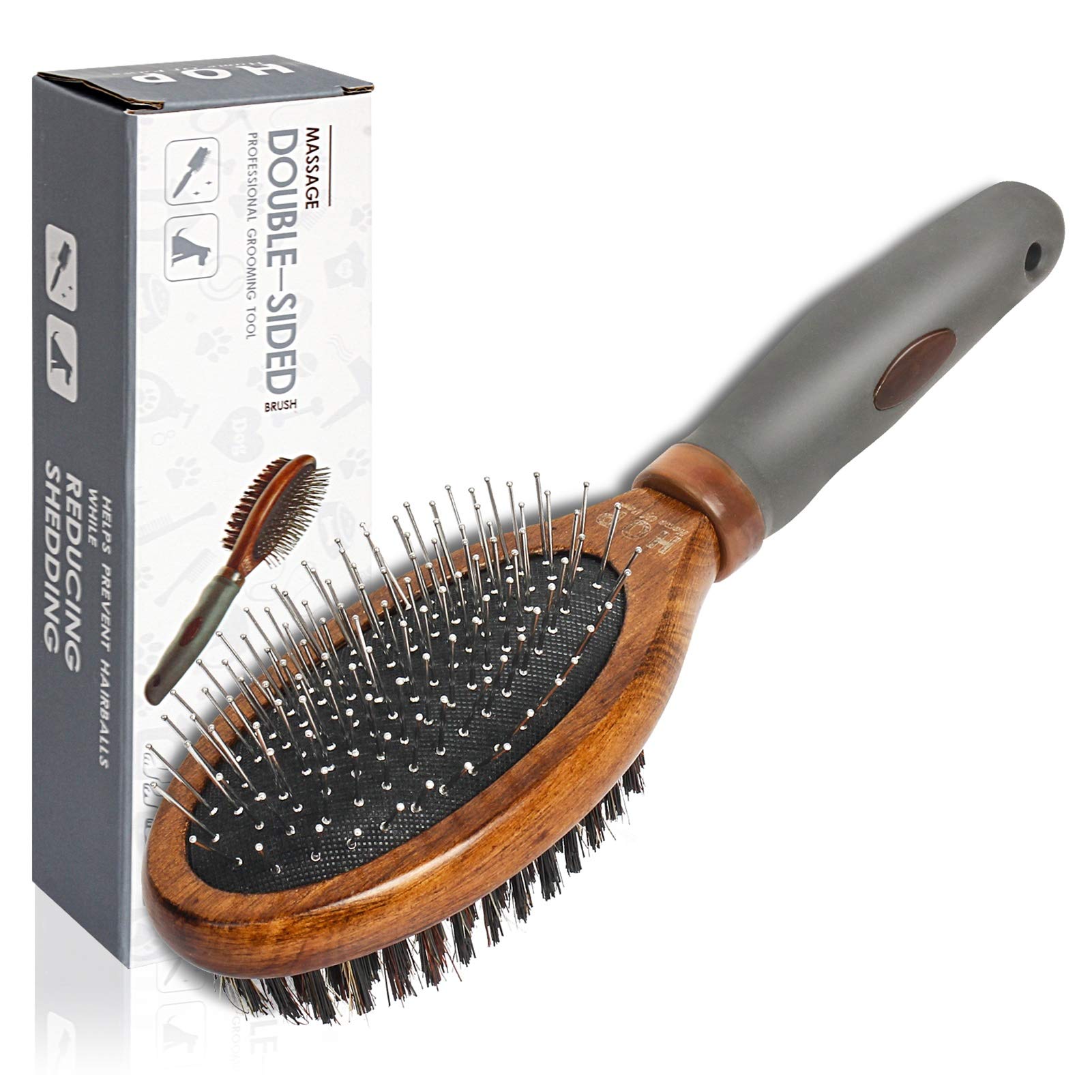 No products found.
This dual sided dog brush gives you the best of both worlds when it comes to everyday grooming needs. The pin side is great for getting rid of minor to moderate tangles and matting issues while the smooth bristles on the other side distribute natural oils for a shiny and very healthy looking coat. This is a good brush for travel or for keeping in your car for after hikes. This classic style has a comfortable handle is similar to the shape of a lot of brushes for people making it very comfortable and easy to use even for those that are not the most experienced dog parents and groomers.
King Kanine King Komb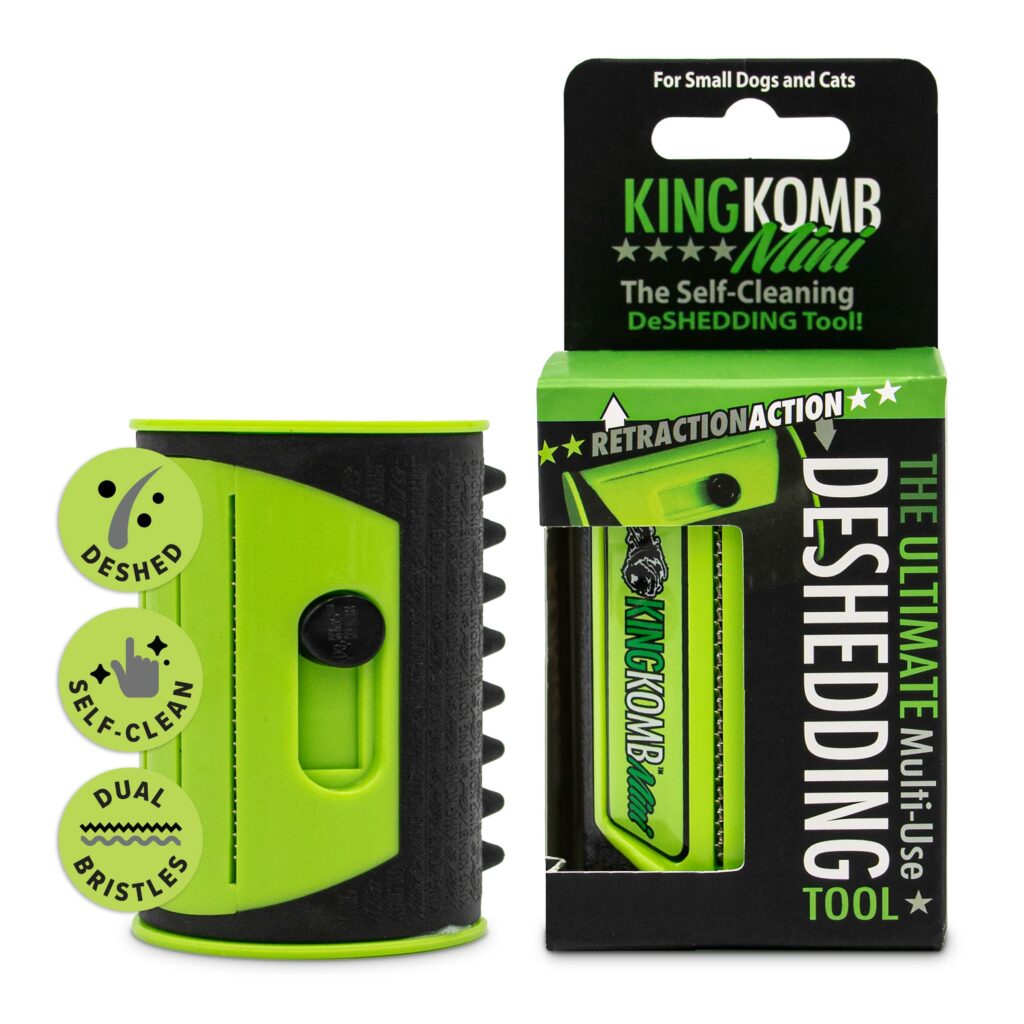 No products found.
This comb out tool may look odd but it can work wonders on single or double coated dogs. On one side is quality stainless steel blades to get loose hair and prevent future shedding. The other side has soothing massaging rubber bristles for a more relaxing experience for your dog. If you have other large pets then they may enjoy this brush as well. This brush will never tear or damage healthy hair that needs to be left alone unlike some deshedders on the market.
Staying Motivated
Scout hopes that the choices in this post have helped our German Shepherd friends find the brushes they need to look and feel fabulous with a slick and shiny coat. Finding the right brush is definitely important because it sets the whole tone for the grooming session. Gentle and effective brush outs yield the best results and the happiest pooches and dog parents.
Continue reading:
The 7 Best Dog Brushes For Your Husky (Grooming Tips)
The Best Dog Brushes for Golden Retrievers
Doggie Dental: Homemade Toothpaste & Maintaining Teeth at Home