Latest posts by Amanda Creasey
(see all)
In my neck of the woods, there's a local holiday tradition that revolves around pajamas. Each Christmas Eve, the entire family dons brand new pajamas. Fido is part of the family, too. So to give him our Christmas present and make him a part of the family, we made sure to get him his Christmas Eve PJs this and every year!
To help you determine which doggy PJs might best suit your pooch, we scoured canine Christmas pajamas available on both Amazon and Etsy to find the best, cutest, and most festive sleepytime outfits.
Our favorite is Christmas Pajamas from Etsy newcomer, MilaSmilas, who came onto the scene in 2016. We love her story, and the personal motivation she has for sewing dog clothes–a motivation we feel sure means your dog's Christmas pajamas are made with love if they come from MilaSmilas.
Read on to learn about the best options for dogs of all sizes, for families, for coziness, and for our best overall crowd-pleaser, mentioned above!
Winners in the Small Dog Category
We just couldn't pick between Dogit's Santa Pajamas and Klippo Pet's Penguins and Snowflake Flannel Pajamas, so they both take a seat in first place for small dogs!
Dogit's red and white Santa Pajamas will look even more adorable when your canine companion is wearing them! They feature cute candy-cane striped suspenders ending in red buttons, and are a good fit for small dogs weighing in at under 15 pounds. Many reviewers comment on their softness and warmth. Several describe them as being velvety and plush. In fact, 86% of customers were so happy with these festive PJs, they rated them at five stars, and the remaining 14% were also satisfied, awarding them four stars. This product is available on Amazon for $34.28.
If you're looking to save a little dough or your dog is slightly larger than 15 pounds, we recommend the Penguins and Snowflake Flannel Pajamas for $26.00, also available on Amazon. These PJs are good for dogs weighing up to 22 pounds. The reviews were more evenly split here, with 75% of customers rating the product at five stars, and 25% rating it at four stars. Every reviewer commented on the good fit and high quality of these pajamas, which feature a snap-button closure, white lining, pockets, and a clip in the collar where your dog can wear his identification tag.
Winner in the Medium Dog Category
Our favorite PJ set for medium dogs can be found on Etsy. Check out Rockin Dogs Cool Cats' Red Fleece Longjohns (pictured below). These pajamas are handmade in custom sizes (at no additional charge!) to your dog's exact measurements. Custom sizes can be important for medium dogs, who can often fall between sizes – and these PJs cost $29.95 regardless of the size or measurements. An opening at the belly allows your dog to take care of business without removing his PJs–a nice feature for cold winter nights. Reviewers were impressed with the stellar customer service, perfect fit, warmth, comfort, and quality.
Winner in the Large Dog Category
We searched high and low for the perfect set of holiday pajamas for your big dog and learned this: Finding clothes for big dogs isn't easy! But we managed it, and our pick for big-dog PJs are the Size Large Plaid Pajamas (below) by Flying Pigs, Inc. on Etsy. The cost is low at just $30.00, and one reviewer who purchased them for her extra-large dog claims they fit perfectly. Another reviewer said these pajamas manage to keep her dog warm outside in the frigid winters of upstate New York. And no wonder–they're made of snuggly, soft fleece. Several customers discuss how adorable the pajamas are (true to the picture featured on Etsy), and the fact that they fit their large dogs perfectly. These PJs are also easy to care for. You can machine wash and dry them, and your dog can even go potty without removing them. The holiday version features a festive plaid, but other patterns are available as well.
Winners in the Family Category
The results in this category were too close to call between Candy Cane Fleece Matching Family Pajamas and Santa Suit Family Pajamas, both by Pajamagram. Both are available in a wide array of canine, women's, men's, and children's sizes to accommodate the entire family.
The cute, festive pattern of the Candy Cane Fleece pajamas features vertical red and white stripes with green accents. The doggy PJs run from $14.99 for an extra small to $19.99 for an extra-extra large. Eighty-three percent of customers gave them a five-star review, with the remaining 17% rating them at four stars. Eighty-five percent of customers rated the Santa Suit Pajamas as four or five stars, and the smaller sizes run a little less expensive, starting at $12.99 for an extra small. The price for an extra-extra large remains $19.99. At prices like that, you could outfit the whole pack in matching holiday sleepwear! Just imagine how cozy a night by the fireside would be, curled up in matching Christmas pajamas with your furry friend.
Candy Cane Fleece Matching Family Pajamas Dogs Medium
Winner in the Cozy Factor Category
Speaking of cozy nights by the fireside, Tartan Fleece Dog Pajamas (below) from Etsy's Cane & Co are our recommendation if your priority is snuggling. These handmade pajamas are custom made to size, and the seller will even complete free alterations if needed. But what really makes these pajamas cozy is their warmth. They feature long "sleeves" and a turtleneck, in addition to maximum coverage of your dog's belly for protection from the cold, while still allowing for potty breaks. They're available in black, red, cream, or white and cost $69.99 regardless of size.
Winner in the "Please Everyone" Category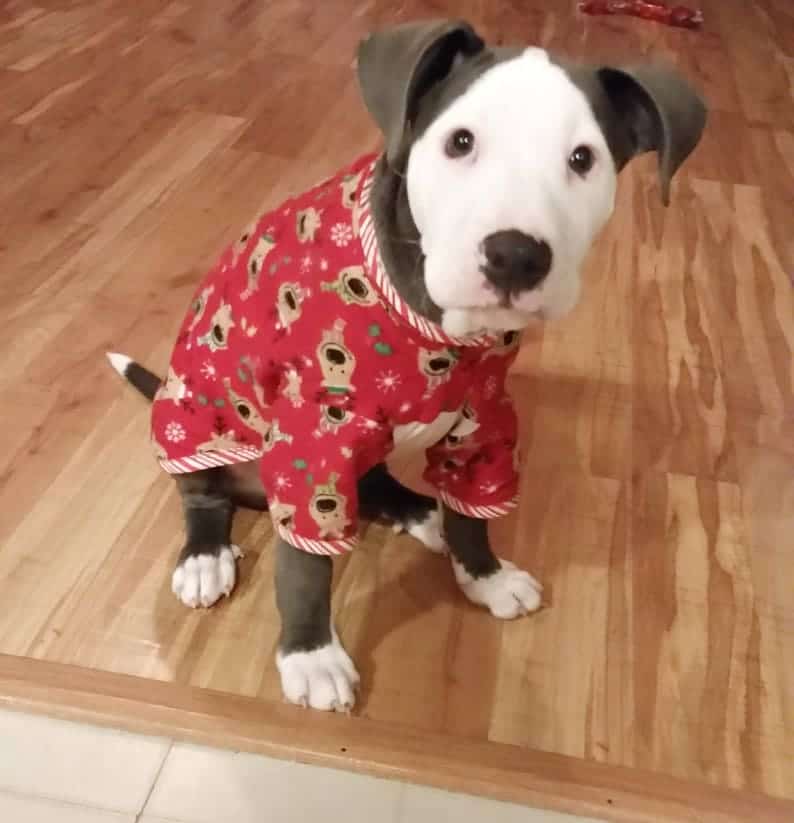 If you're not smiling yet, just imagining your fur baby in some outrageously adorable Christmas pajamas, then check out Etsy's MilaSmilas Dog Clothes Christmas Pajamas – sure to make everyone smile. These pajamas are our top overall pick for the excellent reviews they boast. It seems this company goes above and beyond to make you and Rover happy, even making one loving dog momma pajama pants to match her fur baby's MilaSmila onesie. These pajamas are handmade to order and ship worldwide. They're made of soft cotton, and easy to take care of: Just throw them in the washing machine and dryer. All sizes are priced the same at a very reasonable $20.00
Continue reading:
10 Best Dog Pumpkin Costumes (Where to Find Them)
11 Best Thanksgiving Costumes For Your Dog (Updated 2022)